7 Easy Snack Recipes to Make for Your Super Bowl Party
Aside from historic plays and commercials about Clydesdales and puppies, the Super Bowl is about the party you have while you watch it – the people, the drinks, and of course, the food. If this is your first time hosting the party for the big game at your place, you might be tempted just to buy some tortilla chips and salsa, order some pizza, and call it a day. Covering the basics is a good call, but taking the hosting game up a notch will impress your guests and keep them snacking all night.
Even if you're just showing up to someone else's house (who owns the bigger TV), it won't hurt to bring something other than a bag of potato chips. The chips are great, but if you're planning to fill your plate with the wings, dips, and other fare brought by your friends, you'd better bring something of equal value to the table.
Still, you don't have to go to great effort to prepare a dish worthy of half-time gorging. Most of these ideas are relatively simple to make, but they're going to be a hit.
So go ahead: Pick your team, and one of these Super Bowl-ready snack recipes for the big day. We can't do anything about guaranteeing a victory for your chosen team, but at the very worst you'll be able to drown your sorrows in another helping of delicious game-day snacks.
1. Garlic and Parmesan Chicken Wings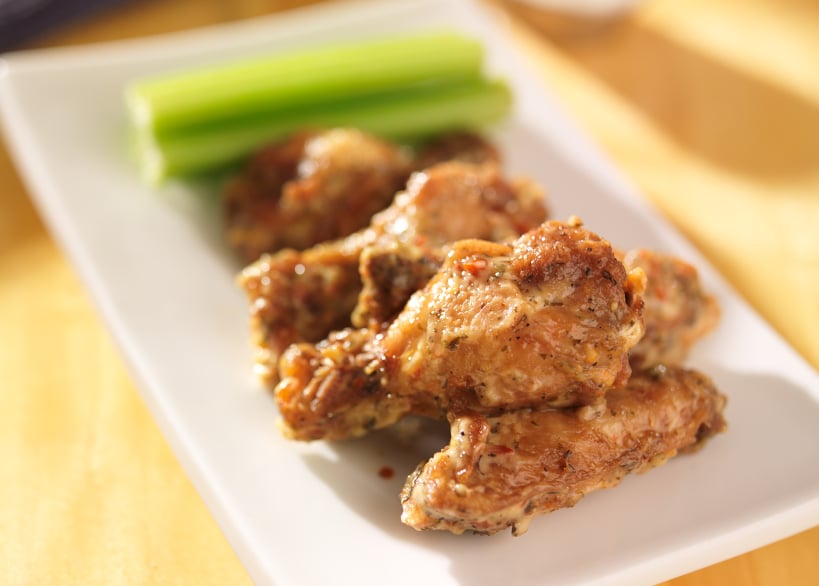 If you're hosting a typical Super Bowl party, your kitchen should be dripping in hot sauce. But that doesn't mean that you have to like it, and it's not a guarantee all of your guests do, either. Traditional wings are great, but adding some variety to the tonnage of wings you plan to eat is also a good call. This garlic and Parmesan version from Allrecipes relies on parboiling the wings and then baking them, meaning you'll get a crispy texture without deep frying them.
It got rave reviews from Allrecipes users who tried it, with some people adding more breadcrumbs for extra crispiness or others keeping them warm in a slow cooker with a dousing of garlic butter over the top. Feel free to add your own variation, though people who followed the recipe exactly were thrilled with the result.
Ingredients:
cooking spray
3 quarts cold water
⅓ cup balsamic vinegar
¼ cup salt
1 bay leaf
1 teaspoon dried thyme
1 teaspoon dried oregano
1 teaspoon dried rosemary
8 cloves garlic, minced
1 pinch salt
3 tablespoons olive oil, or as needed
1 tablespoon freshly ground black pepper
2 teaspoons red pepper flakes, or to taste
4 pounds chicken wings, separated at joints, tips discarded
2 tablespoons fine bread crumbs
1 cup finely grated Parmigiano-Reggiano cheese, divided
Directions: Preheat an oven to 450 degrees Fahrenheit. Line a baking sheet with aluminum foil and coat foil with cooking spray.
Combine water, vinegar, ¼ cup salt, bay leaf, thyme, oregano, and rosemary in a large stockpot and bring to a boil. Add chicken wings, return to a boil, and cook for 15 minutes. Remove chicken wings with a slotted spoon to a cooling rack and allow to dry for 15 minutes.
Mash garlic and a pinch of salt together in a mortar and pestle until smooth. Combine mashed garlic, olive oil, black pepper, and red pepper flakes in a large bowl. Add chicken wings and bread crumbs; toss to coat. Sprinkle with ½ cup Parmigiano-Reggiano cheese. Transfer to the prepared baking sheet and sprinkle with remaining 1/2 cup Parmigiano-Reggiano cheese.
Bake in the preheated oven until browned, 20 to 25 minutes.
2. Wingless Buffalo Chicken Pizza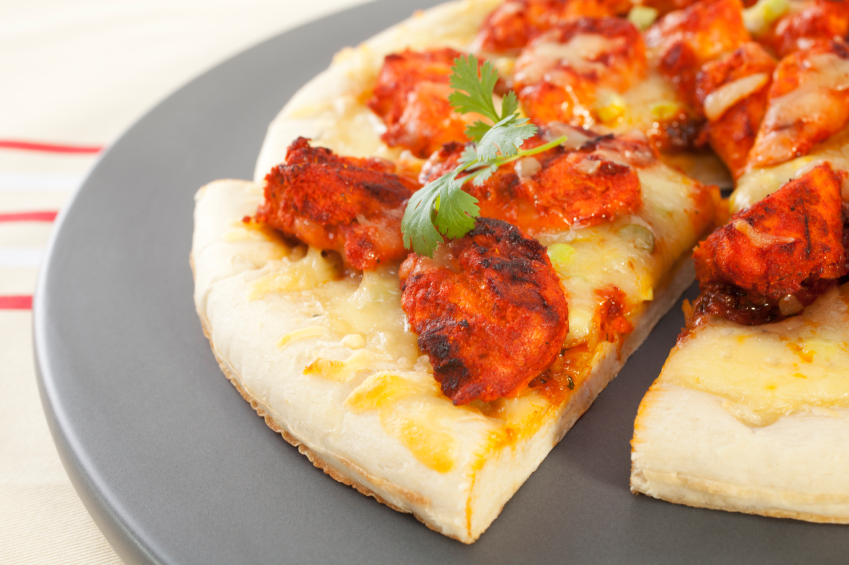 If you're looking for a heartier snack, try this crowd-pleasing buffalo chicken pizza from Rachael Ray and The Food Network. It's a way to have your wings and pizza together, all without waiting two hours for the pizza delivery guy to show up with lukewarm offerings. Grilling the chicken will provide depth of flavor, and buying the crust ahead of time means your preparation will be minimal.
Ingredients:
¾ pound chicken breast cutlets
Extra-virgin olive oil, for drizzling
2 teaspoons grill seasoning (Ray recommends McCormick Montreal Seasoning)
1 pizza dough, store bought or from your favorite pizzeria
Cornmeal or flour, to handle dough
2 tablespoons butter
1 tablespoons Worcestershire sauce
2 to 3 tablespoons hot sauce, medium to spicy heat
½ cup tomato sauce
1 cup shredded Monterey Jack cheese, a few generous handfuls
½ cup blue cheese crumbles
3 scallions, thinly sliced
Directions: Preheat oven to 425 degrees Fahrenheit. Preheat grill pan to high.
Place chicken on a plate and drizzle extra-virgin olive oil over the chicken then season with grill seasoning. When the grill is hot, add chicken and cook about 3 minutes on each side.
Stretch dough to form pizza using cornmeal or flour to help you handle it. If you let it rest and warm up a few minutes it will handle even easier. Set pizza on pizza pan to the side and clean board.
In a medium skillet over medium heat, melt butter and stir in Worcestershire, hot sauce, and tomato sauce.
Remove the chicken from the grill and thinly slice it. Add chicken to sauce and coat. Cover the pizza dough with the saucy Buffalo chicken, cheeses, and scallions. Bake 18 minutes or until crisp.
3. Taco Queso Dip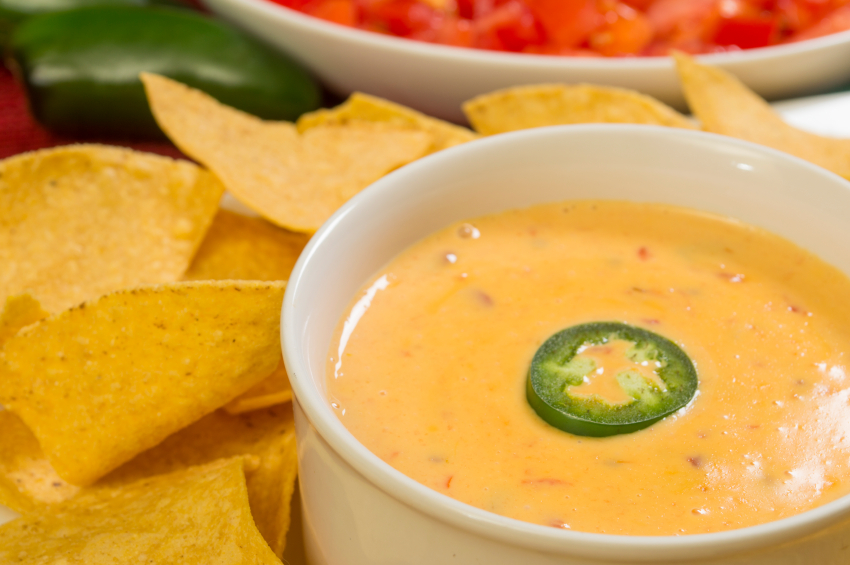 A Super Bowl party isn't complete without a variety of dips. While microwaving Velveeta with Ro-Tel is great for the traditionalist, try taking it up a notch with this taco dip from Serious Eats. If you're hosting the party this will be best when served directly after making it, but you can resort to warming it in a slow cooker if necessary. Don't let the long ingredient list scare you away – you basically just dump all the items into one big pot. (In a certain order, of course.)
Ingredients:
½ pound Monterey jack cheese, grated
½ pound sharp cheddar cheese, grated
1 tablespoon cornstarch
2 tablespoons olive oil
¼ cup finely chopped yellow onion
1 small jalapeño, stemmed, seeded, and finely diced
1 teaspoon garlic (about 1 medium clove)
1 teaspoon chili powder
1 teaspoon ground cumin
1 teaspoon dried oregano
½ pound ground beef chuck
¼ cup salsa
5 ounces evaporated milk
¼ cup sour cream
2 tablespoons chopped fresh cilantro leaves
½ teaspoon zest from 1 lime
Kosher salt
Directions: Place Monterey jack and cheddar cheese in a medium bowl and toss with cornstarch until evenly coated. Set aside.
Heat oil in a medium saucepan over medium-high heat until shimmering. Add in onion and cook, stirring occasionally, until softened and lightly browned around the edges, about 5 minutes. Add in jalapeño, garlic, chili powder, cumin, and oregano and cook until fragrant, about 30 seconds. Add in ground beef and cook, breaking up with a wooden spoon, until browned, about 5 minutes. Stir in salsa, reduce heat to medium, and simmer for 5 minutes.
Stir in evaporated milk, scraping bottom of pan to release any fond, and bring to a boil. Reduce heat to low and add in cheese. Stir constantly until cheese is melted and smooth. Stir in sour cream, cilantro, and lime zest. Season with salt to taste. Transfer to a bowl and serve immediately.
4. Muffuletta Dip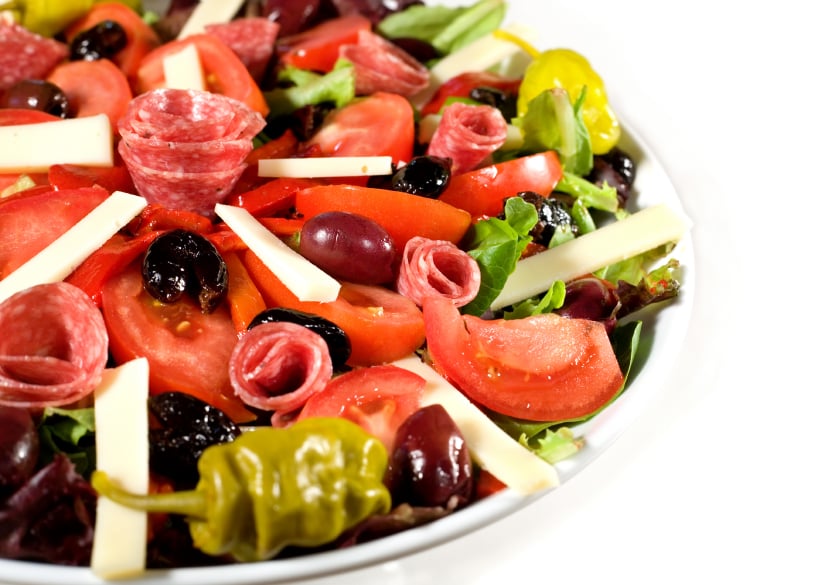 If you're looking for a slightly less dense dip option, try this Muffaletta recipe from Southern Living. The combination of an antipasto plate and the celebrated New Orleans sandwich is lighter than other dips, but with salami, olives, and peppers, it will still pack a delicious punch. Southern Living suggests serving with French bread crostini, but you could also serve it over a block of cream cheese with crackers. In the unlikely event of leftovers, you can try tossing the dip into a Caesar salad for another round of flavor.
Ingredients:
1 cup Italian olive salad, drained
1 cup diced salami (about 4 ounces)
¼ cup grated Parmesan cheese
¼ cup chopped pepperoncini salad peppers
1 (2 ¼-ounce) can sliced black olives, drained
4 ounces provolone cheese, diced
1 celery rib, finely chopped
½ red bell pepper, chopped
1 tablespoon olive oil
¼ cup chopped fresh parsley
Directions: Stir together first nine ingredients. Cover and chill 1 to 24 hours before serving. Stir in parsley just before serving.
Serve with French bread crostini. Store leftovers in refrigerator up to 5 days.
5. Chesapeake Bay Snack Mix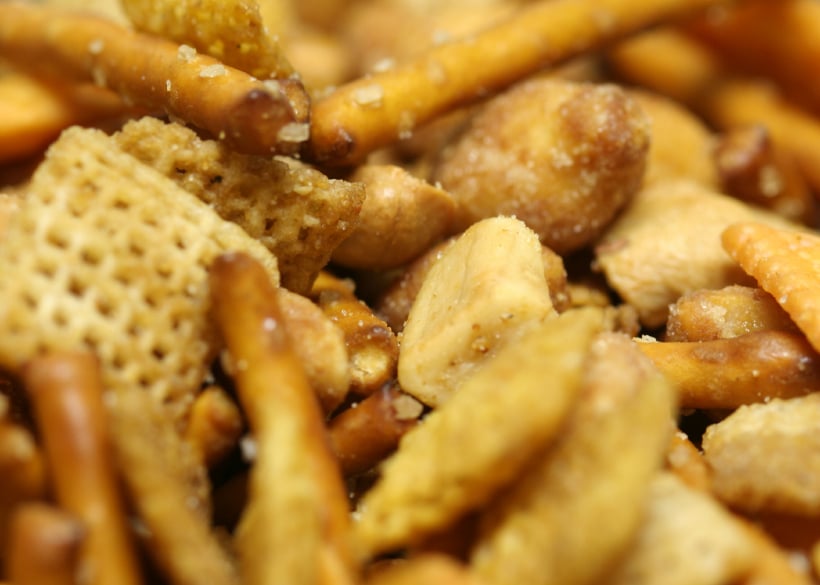 Put a slightly unique spin on a popular snack mix by incorporating Old Bay seasoning with your favorite munchies. For seafood lovers and people who like a little bit of a kick, this mix from Martha Stewart will be perfect to snag by the handful well into the fourth quarter.
This variation relies on oyster crackers in place of some traditional crackers, almost guaranteeing there won't be another mix quite like it at the party. Plus, it's as simple as roasting the ingredients together ahead of time, so you can avoid game-day preparation with this choice.
Ingredients:
6 cups crisp corn, rice cereal, such as Crispix or Chex
3 cups thin pretzel sticks
3 cups oyster crackers
2 cups roasted unsalted peanuts
½ cup (1 stick) unsalted butter, melted
2 tablespoons Worcestershire sauce
2 tablespoons plus 2 teaspoons Old Bay Seasoning
2 tablespoons fresh lemon juice
2 teaspoons hot-pepper sauce, such as Tabasco
Directions: Preheat oven to 250 degrees Fahrenheit. In a roasting pan, combine cereal, pretzels, crackers, and peanuts.
In a small bowl, mix together melted butter, Worcestershire sauce, Old Bay, lemon juice, and hot-pepper sauce. Pour butter mixture over cereal mixture and stir until ingredients are completely coated.
Bake 1 hour, stirring every 15 minutes. Transfer mixture to two rimmed baking sheets to cool completely.
6. Jalapeño Poppers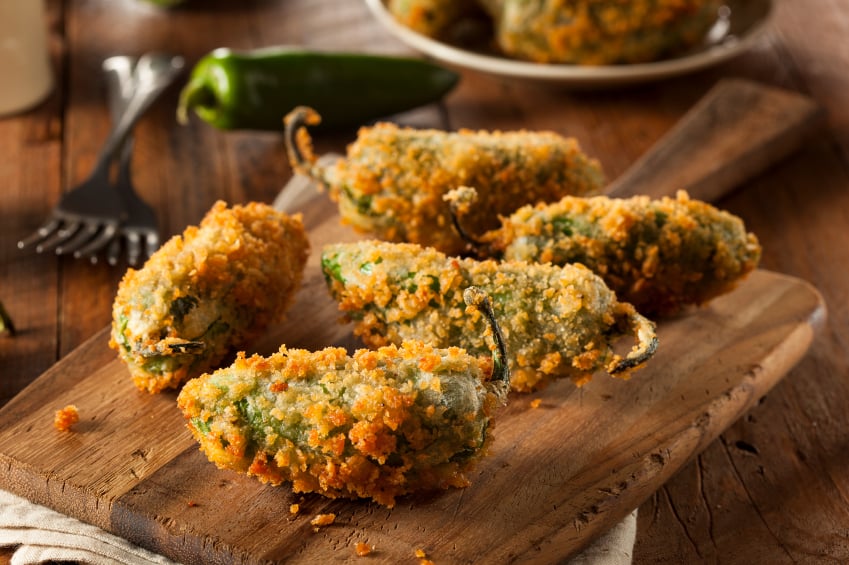 There's about a million versions of poppers out there, and you could just buy a box at the grocery store. But if you're brave enough to fry them yourself, this recipe from Kraft has all the elements you'll need to make poppers that are sure to fly off the plate. What's a big game without a little deep-fried goodness now and then, anyway?
Kraft suggests using Ritz crackers as your crunchy breading on the outside, but if you've had success with other breading (like panko or regular breadcrumbs), that should also work as a good option.
Ingredients:
24 fresh jalapeño peppers (about 2 pounds)
1 package (8 ounces) cream cheese, softened
1 package (8 ounces) shredded cheddar cheese
8 slices cooked bacon, crumbled
¼ cup flour
2 eggs, beaten
40 Ritz Crackers, finely crushed (or your preferred breadcrumbs)
2 cups oil
Directions: Cut lengthwise slit in top of each pepper; scrape out seeds and veins. (This is where the heat is. If you prefer a hotter version, leave some of the veins/seeds intact.) Combine cream cheese, cheddar cheese, and bacon; spoon into peppers.
Roll peppers in flour; dip in eggs, then roll in cracker crumbs until evenly coated. Place in single layer in shallow pan. Refrigerate 15 minutes.
Heat oil in medium saucepan to 375 degrees Fahrenheit. Add peppers, in batches; cook 3 min. or until golden brown. Drain on paper towels and serve warm.
7. Red Velvet Cake Batter Dip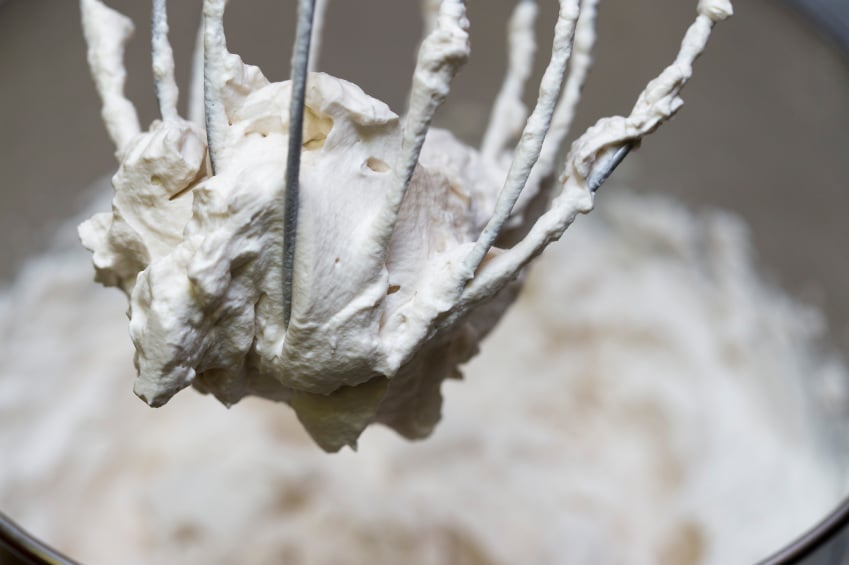 Super Bowl parties normally focus on the savory, but there's nothing stopping you from adding a little dash of sweetness to the mix. Plus, there's almost nothing easier than whipping up this cake batter dip, adding some graham crackers or other favorite dipping items (like fruit or pretzels), and quickly winning the vote for favorite dish. Try this recipe from Delish – both the list of ingredients and the directions are a foolproof way to earn a Super Bowl snacking win.
Ingredients:
1 block cream cheese (8 ounces), softened
1 cup frozen whipped topping, like Cool Whip
¾ cup red velvet cake mix
½ cup mini white chocolate chips
1 package graham crackers, for dipping
Directions: Beat cream cheese using an electric mixer until it's light and fluffy.
Turn the mixer to low and add in the whipped topping and red velvet cake mix. Once thoroughly combined, turn off the mixer and use a silicone spatula or spoon to fold in the white chocolate chips.
Serve with graham crackers, chocolate wafers, or your preferred items for dipping.