7 Fantastic Fish Recipes Making You Into a Grill Master
Summer is the season of sun, fun, and firing up the grill. In honor of our favorite way to cook when it's hot outside, we're bringing you our Grill Master series where we'll highlight a different food each week. Follow along to learn everything you've ever wanted to know about cooking over open flames. 
Grilling usually involves eats like burgers, chicken, and ribs. While those standards are great, you can make a delicious meal in way less time if you opt for tossing some seafood on the grates. Even meaty swordfish takes significantly less time than a rib eye. These seven recipes show you just how easy it is to pull together a grilled feast in a flash. Think you don't have time for a last-minute cookout with friends? Think again.
1. Grilled Snapper Veracruz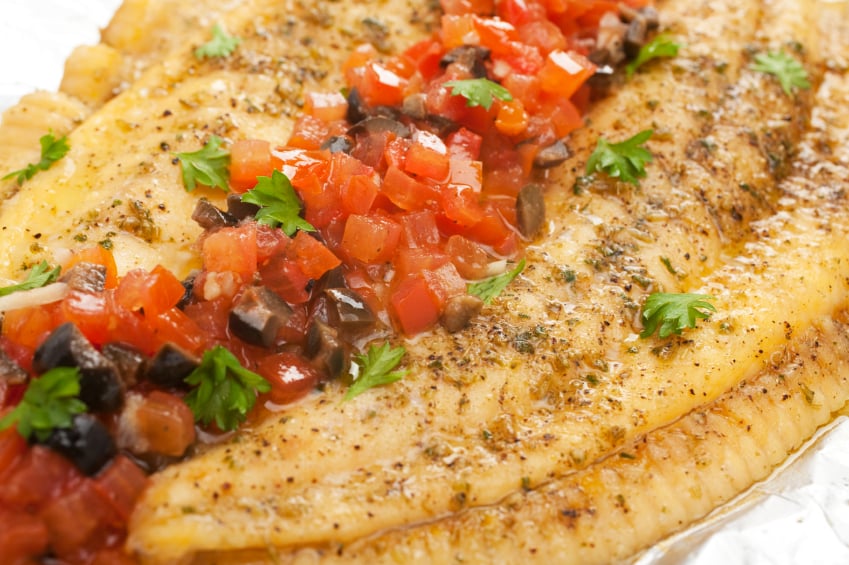 Give this classic Mexican dish an update by taking the cooking outside. Bobby Flay's recipe, which he shared with Food Network, delivers the same flavors with a quicker method. Just cook the fillets on the grill, then set a skillet right on the grates to make a quick tomato and olive sauce. Add the fish to the finished sauce, and this stunning meal is ready to eat.
If you can't find snapper, you can substitute another type of flaky, white fish. Be sure to pick something thin, so the cooking time stays about the same. Tilapia is a good, and cheaper, alternative.
Ingredients:
4 (6-ounce) snapper fillets
4 tablespoons olive oil, divided
Salt and freshly ground pepper
1 large onion, finely sliced
2 garlic cloves, finely chopped
¼ cup dry white wine
2 large tomatoes, chopped
¼ cup green olives, pitted and chopped
2 tablespoons capers, drained
1 serrano chile, finely chopped
½ teaspoon sugar
1 bay leaf
Directions: Preheat grill to medium-high heat. Brush fish with 2 tablespoons olive oil, and season with salt and pepper. Grill 2 minutes on each side. Remove, and cover.
Heat remaining olive oil in a non-corrosive sauté pan over medium-high heat. Add onions and garlic, and cook until soft. Add wine, and cook to reduce. Add tomatoes, olives, capers, sugar, serrano, and bay leaf. Bring to a boil and cook until thickened. Reduce heat, add fish, and cook 2 minutes longer. Serve.
2. Grilled Black Cod with Cucumbers and Ginger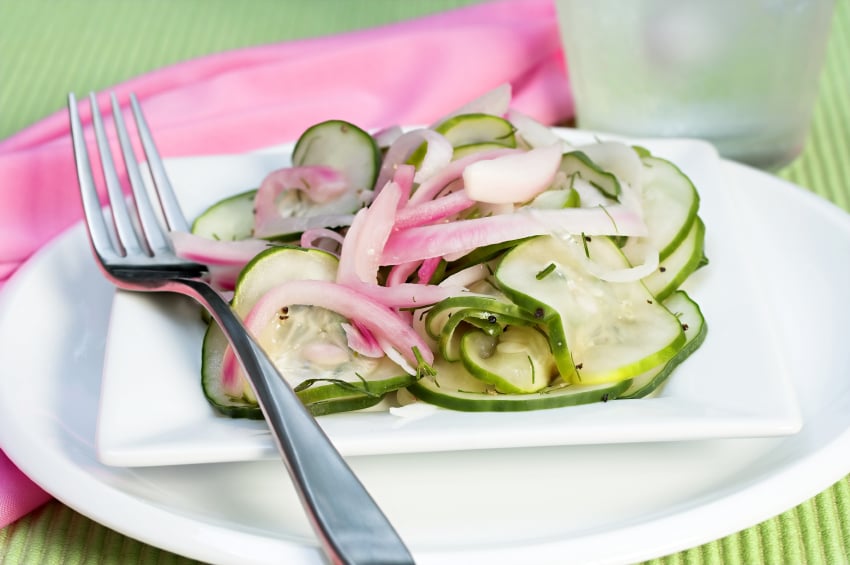 Though it was once suffered from overfishing during the 1970s, black cod is back in a big way. Good thing, because this is one delicious fish. Williams-Sonoma's simple recipe, adapted from Cooking from the Farmers' Market, lets the fish shine with nothing more than a quick cucumber salad.
Don't be tempted to remove the skin before grilling, because it gets a wonderfully crisp texture once cooked. Leaving the skin on also helps create a barrier between the intense heat from the flames and the delicate flesh, so you're less likely to overcook it. If you absolutely hate the idea of eating something that used to have scales attached, remove it after grilling.
Ingredients:
2 English or Japanese cucumbers, thinly sliced
1 cup thinly sliced red onion
2 teaspoons salt
3 tablespoons chopped pickled ginger
1 tablespoon rice vinegar
3 tablespoons canola oil, divided
4 (6-ounce) black cod fillets
½ teaspoon freshly ground pepper
Directions: Prepare a charcoal or gas grill for direct grilling over high heat. Alternatively, heat a grill pan.
In a bowl, combine cucumbers, onion, and 1½ teaspoons salt. Let stand 15 minutes. Add ginger, vinegar, and 2 tablespoons canola oil. Set aside.
Brush fish fillets with remaining oil, and sprinkle with salt and pepper. Oil grill rack. Grill fish, skin-side down, turning once, until just opaque, about 8 minutes total. Transfer to a platter. Top with cucumber salad, and serve at once.
3. Salmon with Sweet Corn, Tomato, and Avocado Relish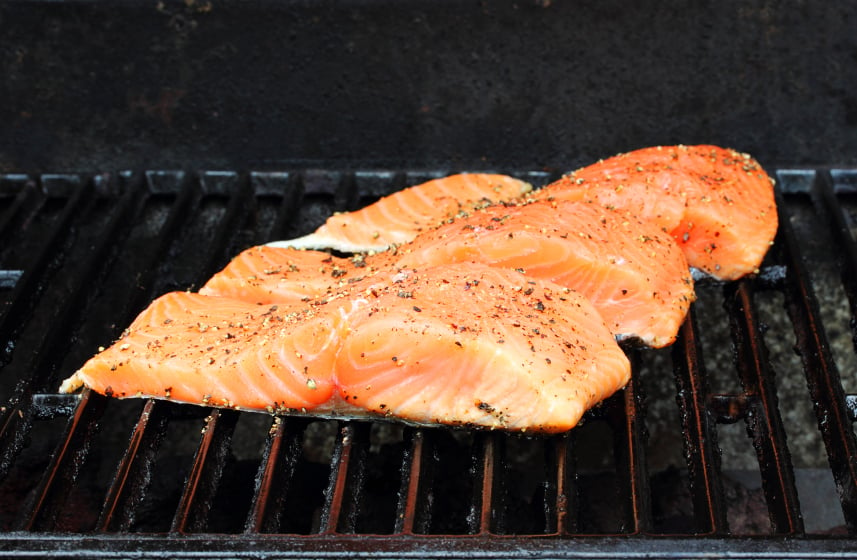 This fish and relish combo from Martha Stewart's Everyday Food practically screams summer. The topping tastes like a mix between salsa and guacamole, and the pop of fresh corn makes it even better. If you like, you can skip the pot of boiling water and cook the corn right on the grill. Fewer dishes make a good cookout great.
If you can only manage to find rock-hard avocados at the store, try wrapping them up in a paper bag with a banana or an apple overnight. It'll increase the production of ethylene gas, which speeds the ripening process. They should be soft enough to work with the next day.
Ingredients:
2 ears corn, husked, and silks removed
2 tomatoes, cored and cut into ¾-inch pieces
2 avocados, halved, pitted, and diced
½ small red onion, finely chopped
2 tablespoons finely chopped fresh parsley
3 tablespoons extra-virgin olive oil, divided
2 tablespoons fresh lemon juice
Salt and pepper
Vegetable oil
4 (6-ounce) skin-on salmon fillets
½ teaspoon Creole seasoning
Directions: In a large pot of boiling water, cook corn until just tender, about 4 minutes. Cut off tip of each cob, and stand in a wide, shallow bowl. Using a sharp knife, cut kernels of cob. Add tomatoes, avocado, onion, parsley, 2 tablespoons oil, lemon juice, 1 teaspoon salt, and 1 teaspoon pepper. Toss to combine.
Heat grill to medium-high. clean and oil grates with vegetable oil. Rub fish with 1 tablespoon remaining olive oil, and sprinkle with Creole seasoning, salt, and pepper. Grill fish, skin-side down, until skin is crisp, about 4 minutes. Flip, and cook until just slightly pink in center, about 4 minutes longer. Serve with relish.
4. Korean Grilled Mackerel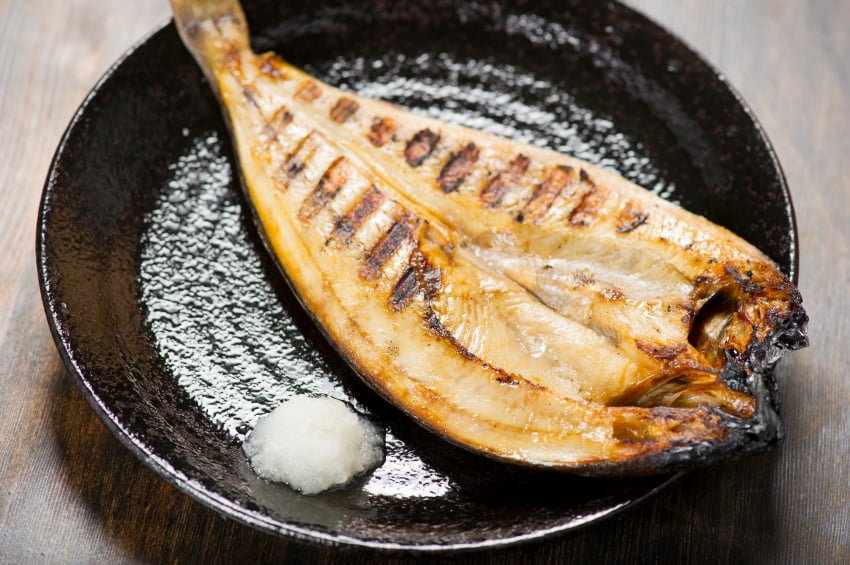 Salmon gets all the omega-3 glory, but mackerel is another great source. Since it's an oily fish, it stands up to strong flavors in a way that most fish can't. Get a taste with Eating Well's grilled mackerel with a robust marinade made from soy sauce, ginger, and spicy chile paste. One bite will have you rethinking everything you thought you knew about this fish.
Ingredients:
Salsa
2 cups small diced, peeled English cucumbers
1 cup small diced cantaloupe
¼ cup finely chopped red onion
4 teaspoons fresh lemon juice
4 teaspoons olive oil
2 teaspoons finely chopped Italian parsley
1 teaspoon lemon zest
1 teaspoon finely chopped fresh oregano
½ teaspoon kosher salt
¼ teaspoon freshly ground black pepper
Fish
Vegetable oil
6 (4- to 6-ounce) swordfish steaks
Salt
Freshly ground black pepper
Directions: Combine all salsa ingredients in a large, nonreactive bowl. Stir to combine. Cover and refrigerate until ready to serve.
Heat a gas or charcoal grill to medium-high heat. Alternatively, heat a grill pan. Oil grates. Coat both sides of fish with oil and season with salt and pepper.
Place fish on grill and cook, undisturbed, until marks form, about 5 minutes. Turn fish, and cook until desired doneness, 3 to 4 minutes longer for fully cooked. Transfer to plates, and serve topped with salsa.
5. Grilled Swordfish with Cucumber-Melon Salsa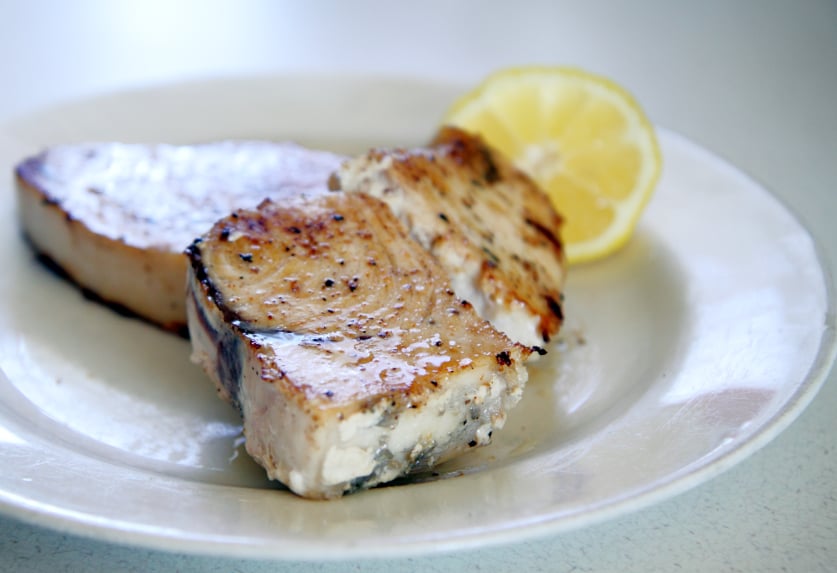 With a mild flavor and a meaty texture, swordfish steaks are kind of like the sea version of pork chops. This fish can also be cooked to a lower temperature, similar to tuna, which will help it retain moisture. Try this simple method from Chow.com for a fast and flavorful dinner.
When you're buying steaks, look for firm flesh, and a thickness of at least ¾ inch. Anything thinner will overcook before you get a chance to develop grill marks. Once the first side is nicely marked, flip the steaks, then let them finish in just another minute or two.
Ingredients:
2 tablespoons Korean chile paste
1 tablespoon canola oil
1 tablespoon reduced-sodium soy sauce
2 teaspoon rice vinegar
1 teaspoon grated fresh ginger
2 (1½-pound) whole mackerel, cleaned, butterflied, tails left on
Directions: Whisk chile paste, oil, soy sauce, vinegar, and ginger in a small bowl to combine. Transfer 2 tablespoons marinade to a small bowl, and reserve.
Open each fish to expose flesh. Place on large baking sheet, and spread remaining marinade over flesh. Let marinate in refrigerator 30 minutes to 1 hour.
Preheat grill to high. Brush rack to clean, and oil well. Grill fish, flesh-side down, 3 minutes. Flip, and spread reserved marinade over fish. Grill until opaque in center, 3 to 4 minutes longer. Serve.
6. Grilled Tandoori Fish and Chips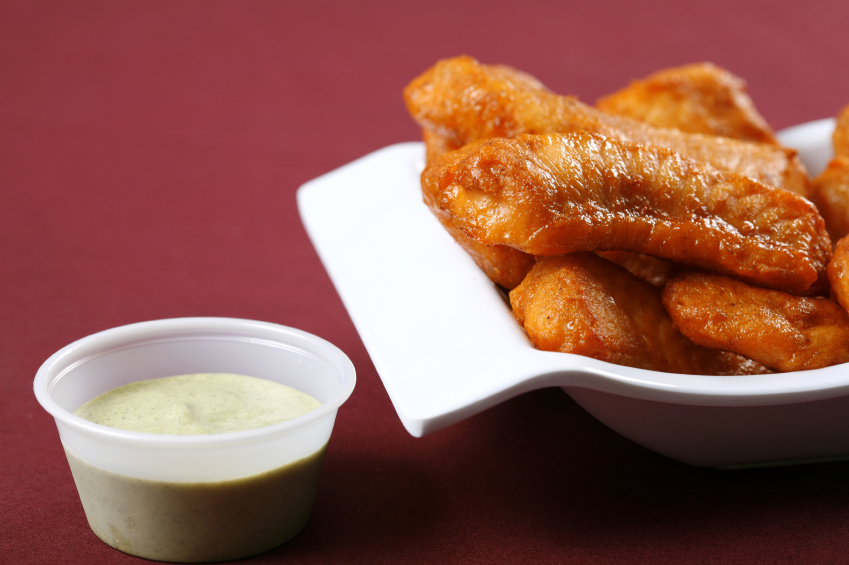 Apart from the combination of potatoes and seafood, Delish's spiced-up rendition of fish and chips is nothing like the British version you know. Though, it's not all that unusual when you consider Indian cuisine's popularity in England. This recipe uses a yogurt marinade to help the spices adhere to the fish and also keep it moist during cooking. Reserve some of the yogurt mixture before coating the fish so you'll have a creamy condiment to serve alongside the finished dish.
Ingredients:
Fish
1½ cups plain, low-fat yogurt
2 teaspoons garlic paste
2 teaspoons grated fresh ginger
2½ teaspoons paprika
1 teaspoon curry powder
1 teaspoon chili powder
1 teaspoon ground cumin
½ teaspoon salt
4 (¾-inch-thick) tilapia, mahi-mahi, or snapper fillets
Sweet potatoes
2  sweet potatoes, cut into wedges
2 tablespoons unsalted butter
1 teaspoon garam masala
¼ teaspoon sea salt
¼ teaspoon freshly ground black pepper
Olive oil
Directions: In a large bowl, whisk yogurt, garlic, ginger, paprika, curry powder, chili powder, cumin, and salt to combine. Remove 1 cup of mixture to a small bowl, and reserve.
Place fish in a shallow dish, and brush with remaining yogurt mixture to coat completely. Cover and refrigerate 1 hour.
Place sweet potatoes, skin-side down, on a large microwave-safe plate. Cover with plastic wrap, and vent by piercing with a fork several times. Microwave on high 3½ to 4 minutes, or until almost cooked. Let cool.
Heat outdoor grill to medium-high. Mix butter, garam masala, ¼ teaspoon salt, and ¼ teaspoon pepper in a large bowl. Add sweet potatoes, and toss to coat.
Remove fillets from marinade, wiping to remove excess. Brush cooking grates clean and oil rack. Lightly oil fillets. Grill fillets and sweet potatoes, keeping lid closed, until fish is cooked through, but still moist, and sweet potatoes are lightly charred, 6 to 8 minutes, carefully turning fillets once, and turning sweet potatoes as they brown. Serve with reserved yogurt sauce.
7. Grilled Trout with Lemon-Caper Mayonnaise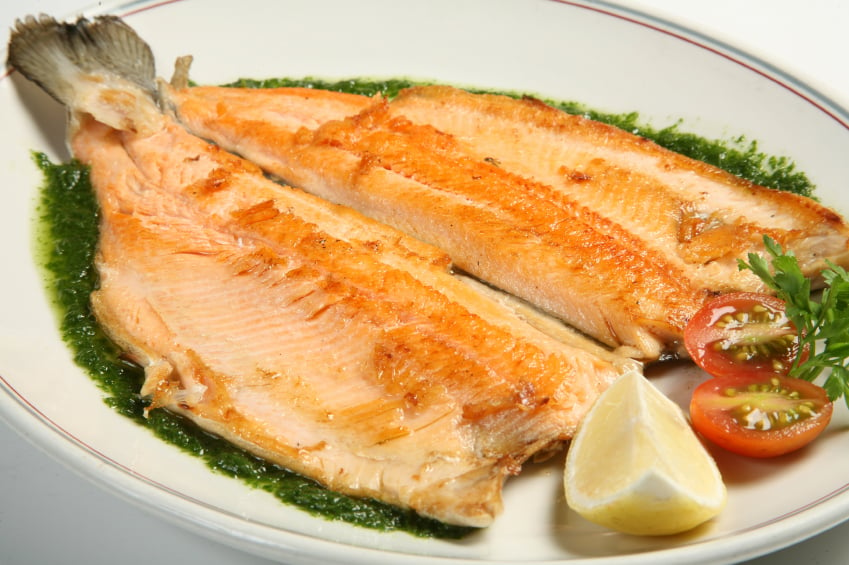 Tiny trout are a great choice for fast meals, because they cook in just minutes. Speed your way to supper with Food & Wine's delicious Grilled Trout with Lemon-Caper Mayonnaise. The flavored mayo does double duty as a coating for the fish and a sauce, making this recipe a complete cinch. While you can make this dish with individual fillets, a butterflied fish with the tail attached makes for a more impressive presentation.
Consider this more of a method than a strict recipe. You can change the ingredients to take the dish in any direction you please. Try mixing minced chipotle, lime zest, lime juice, and cilantro into the mayonnaise. Orange and rosemary also make a great flavor combination.
Ingredients:
3 scallions, thinly sliced
2 tablespoons capers
2 tablespoons chopped parsley
1½ tablespoons fresh lemon juice
½ teaspoon lemon zest
¾ cup mayonnaise
Salt and freshly ground pepper
4 (10-ounce) boneless rainbow trout, heads and pin bones removed
Directions: In a small food processor, pulse scallions, capers, parsley, lemon juice, lemon zest, and mayonnaise until scallions are finely chopped. Season with salt and pepper.
Preheat grill or grill pan to high heat. Spread ½ tablespoon lemon-caper mayonnaise on each side of each trout. Season with salt and pepper. Grill fish, turning once, until lightly charred and cooked through, about 6 minutes. Serve with remaining mayonnaise.
More from Culture Cheat Sheet:
Want more great content like this? Sign up here to receive the best of Cheat Sheet delivered daily. No spam; just tailored content straight to your inbox.