7 Football Sunday Snacks for Cheese Lovers
There's a time and place for savory and sweet, and when it comes to football Sundays, it's all about the cheese. Consumers love to dive first into the dairy product no matter how it is prepared, and if cheese is your vice of choice, this recipe roundup is for you. We're highlighting the best cheesy snacks you need to serve or bring to your next sports gathering. No matter if football, baseball, or basketball is on the screen, the most attention is bound to go to the cheese, and you'll be the star of the party if you bring the good stuff. Before the whistle blows, prepare one of these cheesy and dreamy snack recipes.
1. Three Cheese Skillet Nachos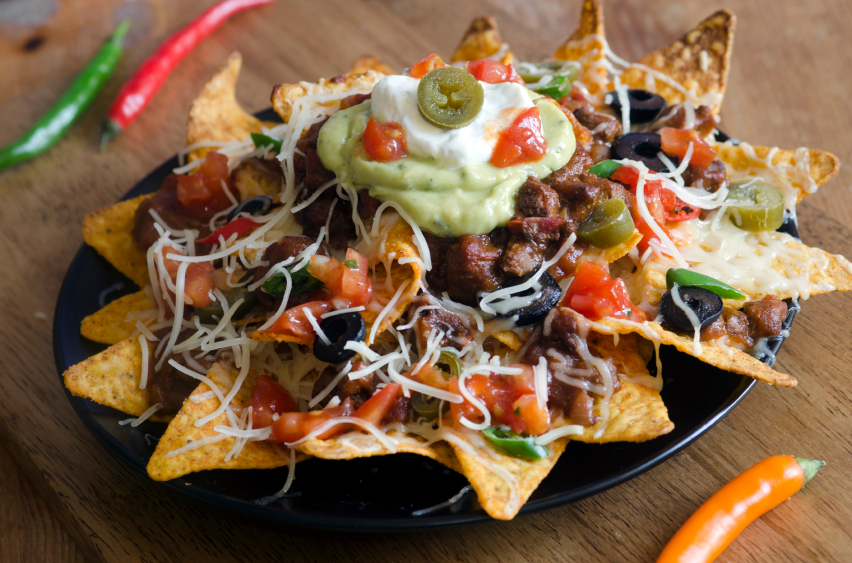 Bring on the good stuff. These Three Cheese Skillet Nachos from Three Peas and Their Pod are what dreams are made of. As the name suggests, these nachos are mastered in the skillet and topped with cheddar cheese, pepper jack cheese, and queso fresco or Cotija cheese. Tortilla chips provide the base of the snack while the three cheeses, beans, tomatoes, olives, avocado, and jalapeño are the stars of the show. Back your nachos for 10 to 15 minutes, and serve them warm.
Ingredients:
Tortilla chips, enough to fill your skillet
1 cup shredded cheddar cheese
1 cup shredded pepper jack cheese
1 cup black beans from can, rinsed and drained
⅓ cup queso fresco or Cotija cheese
Toppings
Diced tomatoes
Black olives
Chopped avocado
Chopped cilantro
Jalapeño, cut into slices
Chopped green onion
Sour cream
Directions: Preheat oven to 400 degrees Fahrenheit. Place half of the tortilla chips into a cast iron skillet. Layer half of the cheddar and pepper jack cheese over the chips. Top with half of the beans. Add the remaining chips, cheddar cheese, jack cheese, and beans.
Place skillet in oven, and bake for 10 to 15 minutes, or until cheese is melted. Remove from oven, and top with queso fresco cheese. Add additional toppings of your choice.
2. Creamy Feta Dip with Jalapeños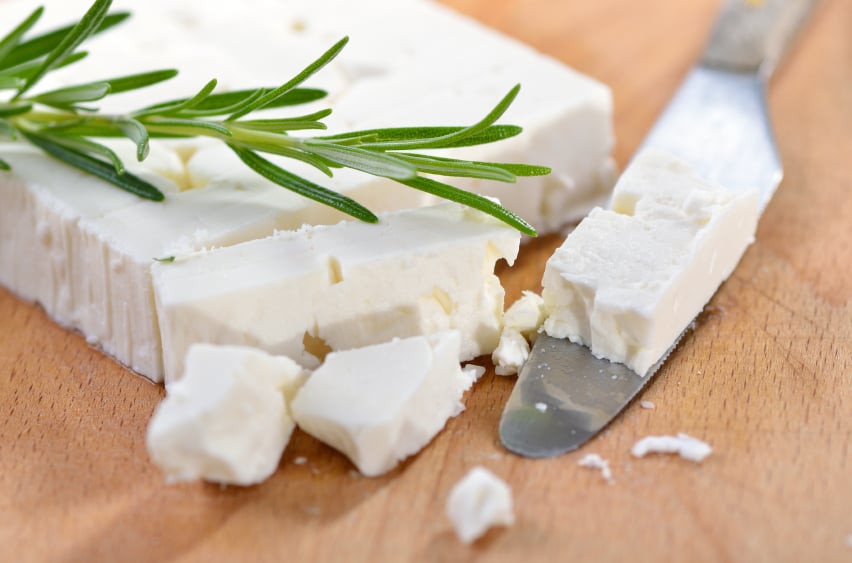 A different kind of cheese you can enlist on game day is feta. If you want to serve a Mediterranean-inspired snack that is destined to impress, whip up this Creamy Feta Dip with Jalapeños from How Sweet Eats. It's not your typical football food, but it's so much tastier. Combine your feta with jalapeños, lemon juice, roasted garlic, and olive oil, and then you're good to go. Serve your dip with pita chips or warm pita, and knock the sophisticated snack game out of the park.
Ingredients:
2 bricks of feta cheese, 8 ounces each
3 whole jalapeño peppers
¼ cup plus 1 tablespoon olive oil
1 bulb garlic
Juice of half lemon
Zest of half lemon
Salt and pepper
Directions: Preheat oven to 400 degrees Fahrenheit. Chop the top off the garlic bulb, and drizzle it with a teaspoon of olive oil. Wrap it in foil, and roast for 25 to 30 minutes, or until garlic is golden in color. At the same time, brush the jalapeños with olive oil, and sprinkle with salt and pepper. Either grill or roast them. Remove both from oven, and let cool. Once jalapeños are cooled, remove skins, cut in half, and discard the seeds. Chop into small pieces.
In a large bowl, crumble the feta bricks. Add chopped jalapeños, the zest of half a lemon, and the juice of half a lemon. Squeeze the roasted garlic out of the bulb directly into the feta. Add ¼ cup of olive oil, and mash with a fork. Taste the feta, and season with salt and pepper. Serve with pita chips, warm pita, or naan, or spread it on sandwiches.
3. Garlic Cheese Fries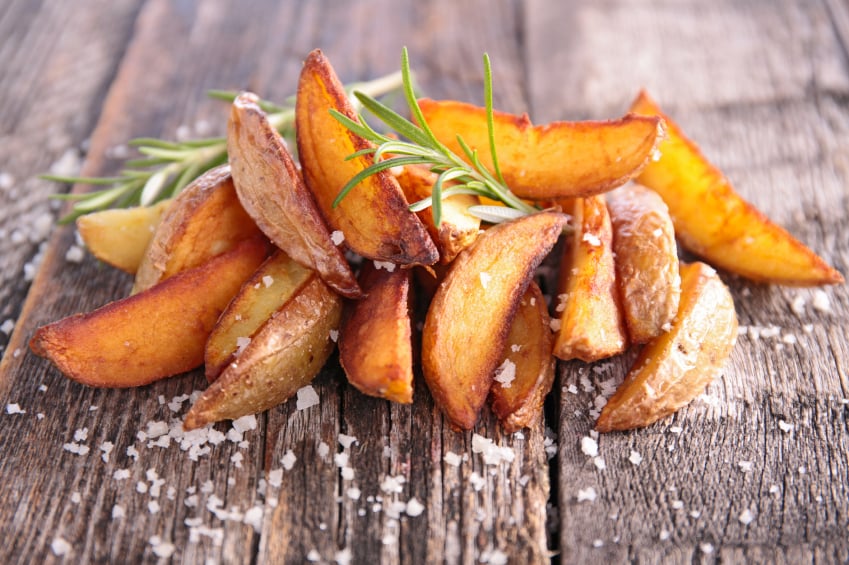 This next recipe is definitely worth the garlic breath. Enter: Garlic Cheese Fries from Damn Delicious. Expertly pick your seat on the couch next to where these fries end up. They're made from two different kinds of cheeses, milk, and three gloves of garlic, and while they're not exactly health food, at least because the fries are made homemade, you know exactly what is going into your snack. Give yourself at least an hour to get these fries on the table, and then get ready to fight for them. The recipe serves 4 but should probably be multiplied.
Ingredients:
Fries
2 russet potatoes, peeled and cut into ⅓-inch thick fries
1½ pints peanut oil
Kosher salt, to taste
Garlic cheese
2 ounces cream cheese
2 tablespoons milk
3 cloves garlic, minced
1 teaspoon vegetable oil
¼ teaspoon salt
⅓ cup shredded sharp cheddar
Directions: In a large bowl with water, soak the potatoes to remove the excess starch, about 30 minutes and up to 24 hours. Drain well, and pat dry to remove excess water.
Heat peanut oil in a Dutch oven or heavy stock pot to 350 degrees Fahrenheit. Add the potatoes, and par cook until light brown, about 4 to 5 minutes. Transfer to a paper towel-lined plate.
Increase oil temperature to 400 degrees Fahrenheit. Add the potatoes again, and cook until golden brown and crispy, about 2 minutes. Transfer to a paper towel-lined plate.
Melt cream cheese in a small saucepan over medium high heat. Whisk in milk, garlic, oil, and salt. Stir in the cheese until smooth. If the sauce is too thick, add more milk as needed. Serve fries immediately, drizzled with cheese sauce.
4. Cheesy Garlic Pizza Sticks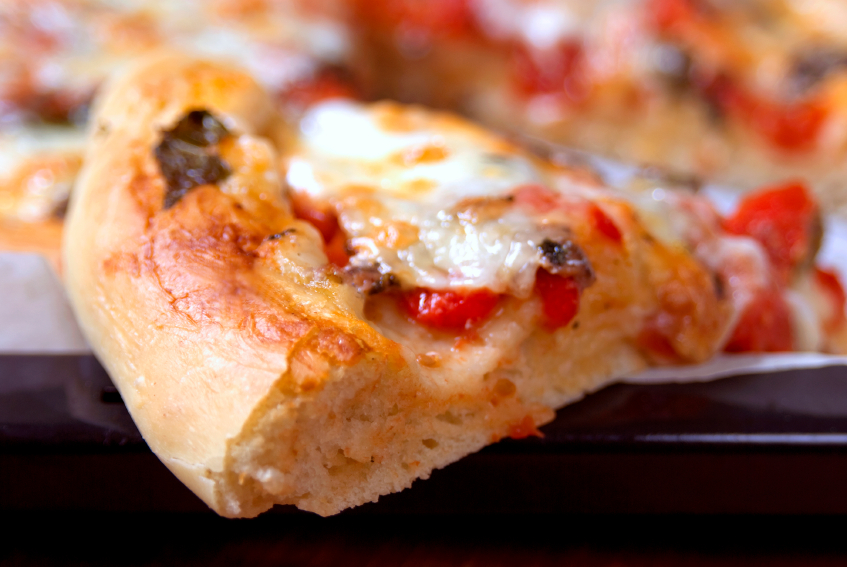 Another gameday snack that goes heavy on the garlic and the cheese are these Cheesy Garlic Pizza Sticks from Add a Pinch. Pizza dreams really do come true. Get your pizza fix, but leave room for other snacks, too. To make these pizza sticks, grab your pizza dough, your sauce, your garlic, and your three cheeses. Whether you make your dough and sauce at home or enlist storebought shortcuts, the pizza sticks are guaranteed to be a success. They'll bake in the oven for 15 minutes before you cut them into 2-inch rectangular "sticks."
Ingredients:
1 pizza dough recipe
1 bulb roasted garlic clove
4 tablespoons butter, softened
½ cup pizza sauce recipe
2 cups grated mozzarella cheese
1 cup grated Monterey jack cheese
1 cup grated cheddar cheese
Directions: Preheat oven to 475 degrees Fahrenheit. Sprinkle cornmeal onto a rimmed baking sheet.
Spread pizza dough onto baking sheet, forming a large rectangle. Remove roasted garlic from bulb, and add to a medium bowl with softened butter. Cream together to make a garlic butter spread to spread over the pizza dough.
Spread pizza sauce on top of garlic butter mixture. Top with grated cheeses, and bake in the oven until crust has turned slightly golden around edges and the cheese has melted and become bubbly, about 15 minutes. Remove from oven, and allow to rest for about 5 minutes. Slice into 2-inch rectangular "sticks" and serve.
5. Panko Crusted Fried Cheese Curds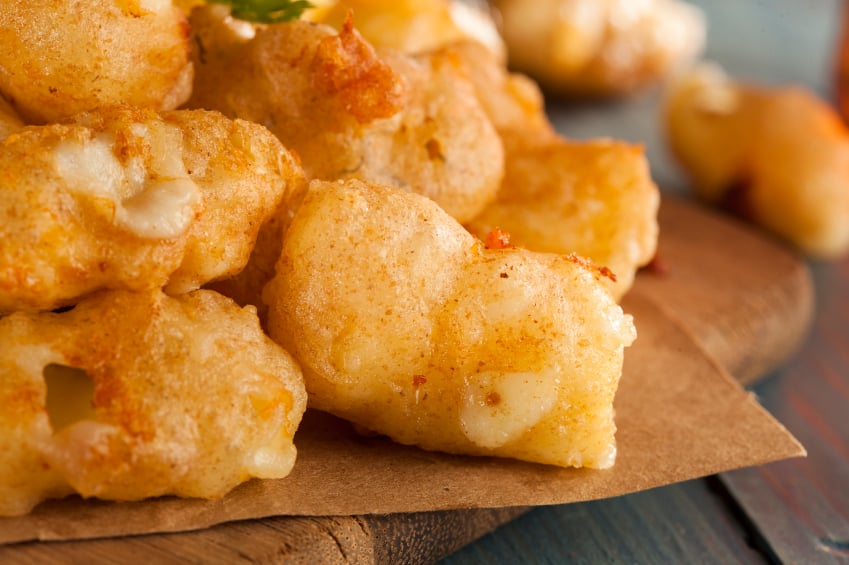 Think you can't make fried cheese curds at home? Think again. This recipe from Life's Ambrosia will help you impress yourself and your guests. The food formula yields 2 to 4 servings of Panko Crusted Fried Cheese Curds, but those will be gone before you can blink an eye. Multiply the recipe, and plan for 15 minutes of prep time. The ingredients list for these cheese curds is short, and the directions are fool-proof. As long as you're not afraid to fry, there's no reason you can't whip up your own fried cheese curds.
Ingredients:
¼ cup whole milk
1 egg
½ cup all-purpose flour
½ to ¾ cup panko bread crumbs
1 cup cheese curds
Oil for frying
Salt
Directions: Set up an assembly line to coat the cheese curds. In one bowl, whisk together milk and egg. Place flour in another bowl. Place bread crumbs in a resealable plastic bag.
Dip the cheese curds in the milk and egg, then dredge in the flour, then back into the egg, and finally, place them in the bag with the bread crumbs and shake to coat. Repeat until all cheese curds are coated.
Heat ½ inch of oil in a skillet over medium-high heat. Drop a piece of panko into the oil, and if it sizzles, it's hot enough. Fry the cheese curds, stirring often and in batches if necessary, just until golden brown. Use a slotted spoon to transfer to a paper towel-lined plate. Sprinkle lightly with salt, and serve hot.
6. Baked Mozzarella Sticks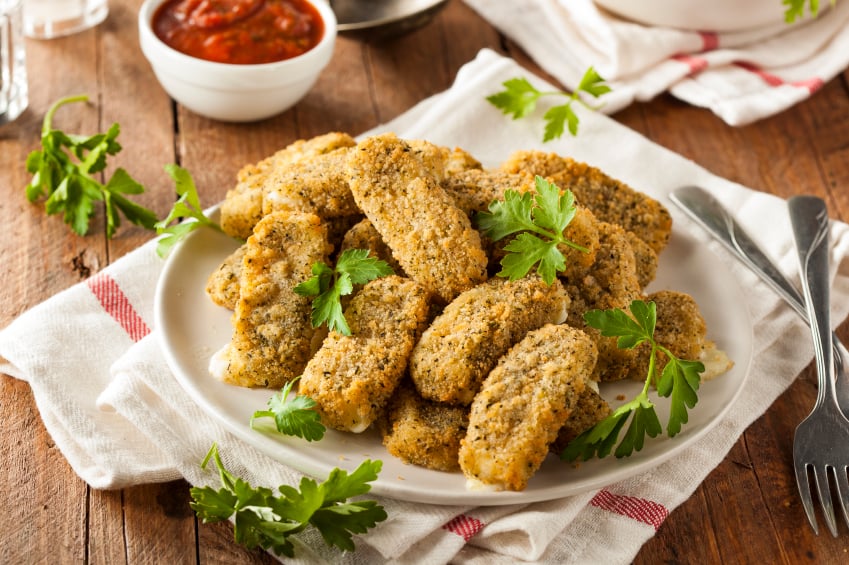 If you have a fear of frying, try your hand at these mozzarella sticks from Le Creme De La Crumb instead. They are baked in the oven, and their secret ingredient is string cheese. No one has to know your shortcut secret, as they'll be too busy enjoying this somewhat healthier treat of cheese coated in bread crumbs, onion powder, garlic powder, and chili powder. The mozzarella sticks will bake in the oven for just 5 to 8 minutes before you can serve them alongside ranch or marinara dipping sauce.
Ingredients:
25 part-skim string cheese sticks, chopped in half
½ cup flour
1 egg, slightly beaten
1 cup bread crumbs
2 teaspoons onion powder
2 teaspoons garlic powder
½ teaspoon chili powder
2 teaspoons salt
Optional: ranch or marinara sauce
Directions: Preheat oven to 425 degrees Fahrenheit. Line a baking sheet with foil, and spray heavily with cooking spray. Freeze cheese sticks until hard.
Place flour in one bowl and egg in a second bowl. In a third bowl, add bread crumbs, onion powder, garlic powder, chili powder, and salt, and whisk to combine. Toss the cheese sticks in the flour to coat, then in the egg mixture, then in the crumb mixture. Dip each coated cheese stick into the egg mixture one more time, and then back in the crumb mixture one more time. Freeze sticks about 15 minutes.
Place cheese sticks in a single layer on prepared baking sheet. Spray thoroughly with cooking spray. Bake 5 to 8 minutes, then turn and cook another 5 to 8 minutes on other side until golden and crispy. Allow to cool slightly before serving with ranch or marinara dipping sauce.
7. Philly Cheese Steak Dip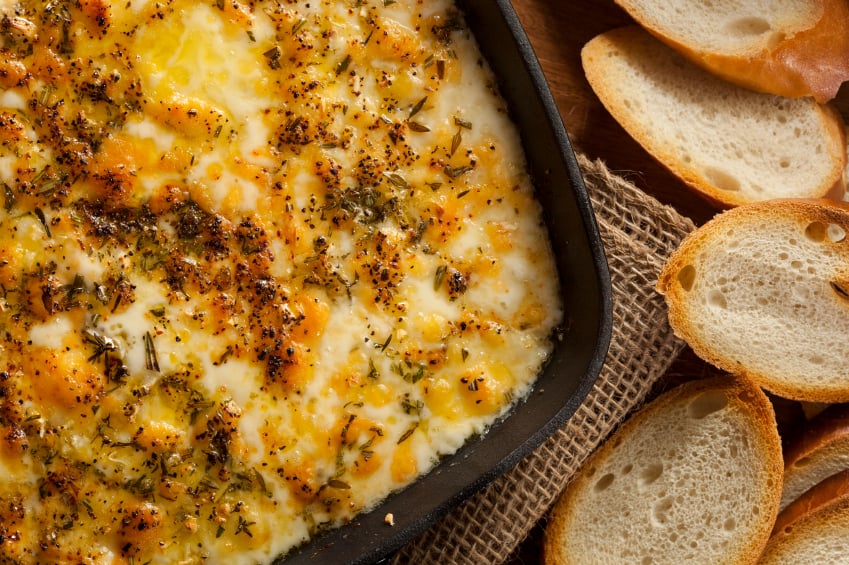 Up last is one more dip recipe from Chef-in-Training. Most people have heard of the iconic Philly cheesesteak, but not all have sunk their teeth into the cheesy and meaty sandwich. This Philly Cheese Steak Dip brings you the good stuff in dip form. Now your guests can enjoy the cheesesteak flavors with their own baguettes and chips. The recipe from Chef-in-Training requires only 7 ingredients and will take you less than 30 minutes to make. The dip is made by combining cream cheese, mayo, provolone, and steak, and as we noted before, it should be served with chips and bread.
Ingredients:
1½ cups grilled, small-chopped, and thin-cut shoulder steak
2 tablespoons olive oil
1 cup diced onion
1 cup diced green pepper
8 ounces cream cheese, softened
½ cup mayo
4 ounces shredded or chopped provolone cheese
Directions: Saute onion and green pepper in olive oil over medium heat. Set aside. In medium bowl, mix cream cheese, mayo, provolone, and chopped steak. Stir until well combined. Add sautéed onion and green pepper to bowl, and bake at 350 degrees Fahrenheit for 20 to 25 minutes.
Serve with chips or toasted baguettes.
More from Culture Cheat Sheet:
Want more great content like this? Sign up here to receive the best of Cheat Sheet delivered daily. No spam; just tailored content straight to your inbox.