Healthy Chicken Breast Recipes to Make for Dinner Tonight
Grilled chicken breasts are a sure-fire way to get in your daily protein, but there's no denying that plain poultry can get old fast, and that's why it's important to try new and inventive recipes. Dishes starring chicken breasts can be delicious and nutritious with the right additions, and today we're highlighting seven recipes that prove our point. These food formulas can be mastered by novice and experienced home cooks alike, and we guarantee they'll be dinners you add into your regular rotation on busy weekday nights.
1. Spinach and Feta Stuffed Chicken Breasts
Our first recipe comes from Cooking Light, and it yields a fun Mediterranean twist on your typical chicken breasts. For this dish, you're stuffing your poultry with spinach and feta cheese, and then simply pan cooking the chicken for 10 minutes or less. These spinach and feta stuffed chicken breasts don't only taste good — they look impressive, too, and you'll be surprised by how easy you can whip up this poultry and make it look pretty.
Ingredients:
1 tablespoon olive oil
1 cup chopped yellow onion
2 tablespoons chopped fresh dill
5 ounces baby spinach
2 ounces crumbled feta cheese
4 skinless, boneless chicken breasts
½ teaspoon kosher salt
¼ teaspoon black pepper
1½ teaspoons olive oil
Directions: Heat a large skillet over medium heat. Add 1 tablespoon olive oil to pan. Add onion; cook 8 minutes, stirring frequently. Remove pan from heat; stir in dill, spinach, and feta cheese. Cool 10 minutes. Cut a horizontal slit through the center of each chicken breast to form a pocket. Stuff each pocket evenly with spinach mixture. Close pockets with toothpicks. Sprinkle with salt and pepper. Heat skillet over medium-high heat. Add 1½ teaspoons olive oil to pan. Add chicken; cook 4 minutes. Turn chicken. Cover pan, reduce heat to medium, and cook 5 minutes or until chicken is done.
2. Chicken Breasts with Artichoke Olive Oil Sauce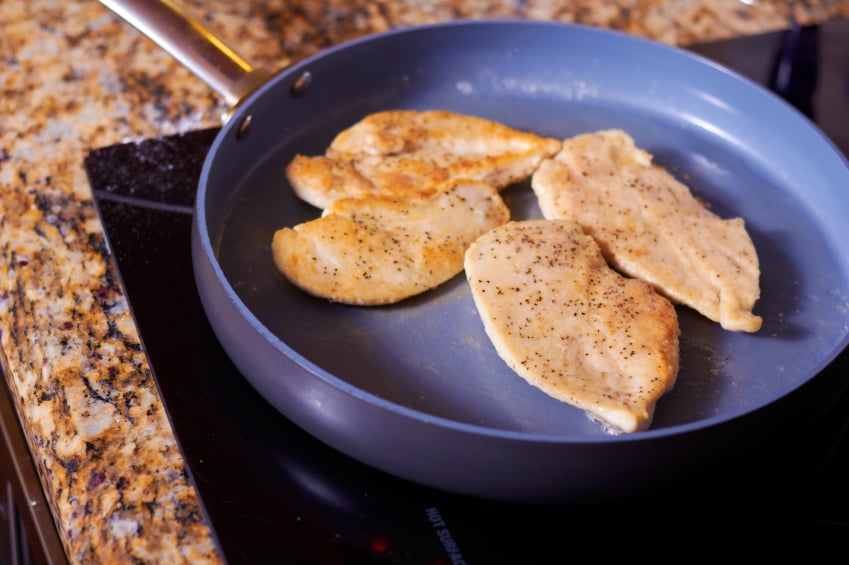 Sticking with our Mediterranean theme, we're highlighting this recipe from Food & Wine for chicken breasts with artichoke olive oil sauce. Pull out your artichoke hearts, herbs, feta cheese, and olives; you'll need them to make this dish, which proves that nutritious Mediterranean dishes can also be the most delicious.
Ingredients:
¼ cup plus 1 tablespoon extra-virgin olive oil
3 tablespoons fresh lemon juice
2 teaspoons finely grated lemon zest
3 garlic cloves, minced
1 tablespoon chopped oregano
1 (10-ounce) box frozen artichoke hearts, thawed and patted dry
8 pitted kalamata olives, halved
½ cup coarsely crumbled feta cheese
Salt and freshly ground pepper
4 (6-ounce) skinless, boneless chicken breast halves
2 tablespoons chopped parsley
Directions: Preheat the oven to 400 degrees Fahrenheit. In a bowl, whisk ¼ cup of the oil, lemon juice, zest, garlic, and oregano. Fold in the artichokes, olives, and feta; season the sauce with salt and pepper.
Season the chicken with salt and pepper. In an ovenproof skillet, heat the remaining 1 tablespoon of oil. Add the chicken, skinned side down, and cook over moderately high heat until browned, 3 minutes; turn and transfer the skillet to the oven. Roast the chicken for 10 minutes, until white throughout. Transfer the chicken to plates and spoon the sauce on top. Garnish with the parsley and serve.
3. Chicken Breasts Dijon
This recipe proves that if you invest your time in thyme, it makes all the difference. Though there are many different flavors in this chicken breasts dijon dish from Bon Appétit, the key ingredient is thyme, and 2 tablespoons of the fresh herb go a long way. The glossy sauce that dresses this chicken consists of broth, white wine, garlic, and Dijon mustard, and a little bit of butter also plays a starring role.
Ingredients:
2

tablespoons

olive oil

4

skinless, boneless chicken breasts 

Kosher salt and freshly ground black pepper

2

small leeks, white and pale-green parts only, thinly sliced 

1

small onion, minced 

4

garlic cloves, minced

2

cups

low-salt chicken broth

1

cup

dry white wine

½ 

cup

Dijon mustard

2

tablespoons

minced fresh thyme plus thyme leaves for garnish

1

tablespoon

unsalted butter
Directions: Heat oil in a large heavy Dutch oven over medium-high heat. Season chicken breasts with salt and pepper. Place chicken in Dutch oven and cook until brown on both sides, 12 to 15 minutes total. Transfer to a plate and set aside.
Place leeks and onion in same pot and sauté until tender, about 8 minutes. Add garlic and sauté until tender, about 2 minutes. Stir in broth, wine, Dijon mustard, and minced thyme and bring to a simmer. Return chicken to pot. Cover and simmer over medium-low heat until chicken is cooked through, about 15 minutes.
Transfer chicken to plates. Bring liquid in pot to a boil; cook until sauce is thickened and glossy, about 15 minutes. Whisk in butter and season with salt and pepper. Spoon sauce over chicken and garnish with thyme leaves.
4. Herb-Grilled Chicken Breasts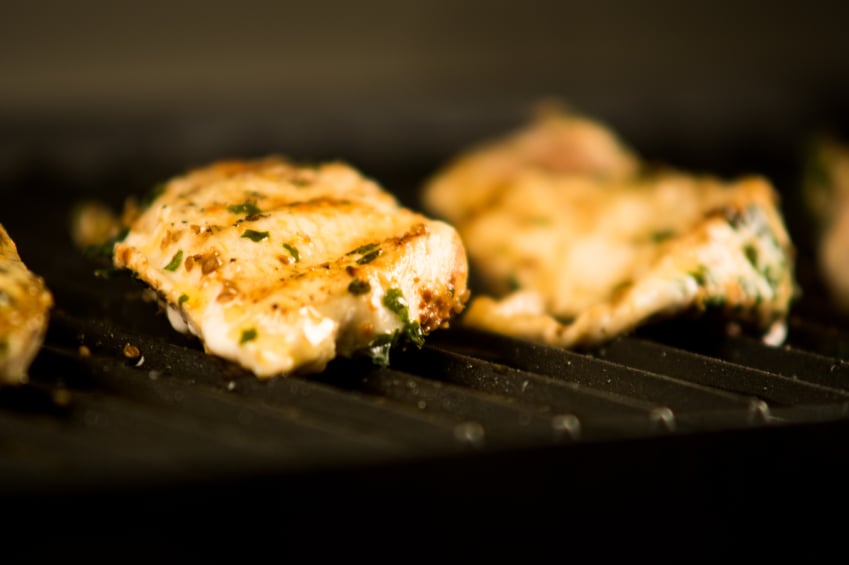 These herb grilled chicken breasts from Fine Cooking couldn't be easier or healthier, and the chicken's seasonings — salt, pepper, lemon juice, and herbs — are simple, while the required olive oil gives the poultry that extra punch of flavor. You also won't need to grill your breasts for more than 1 to 2 minutes as long as you pound them with a meat pounder first, and then it's time for some good (nutritious) eating.
Ingredients:
4 boneless skinless chicken breast halves (6 to 8 ounces each), trimmed and rinsed
Kosher salt and freshly ground black pepper
Crushed red chile flakes
3 cloves garlic, minced
2 tablespoons chopped fresh rosemary, flat-leaf parsley, or other fresh herb
¼ cup fresh lemon juice, plus 4 lemon wedges for serving
¼ cup extra-virgin olive oil; more for drizzling
Directions: Lightly wet a chicken breast with cold water and set it between two sheets of plastic wrap. Pound it into a broad, flat sheet about ¼-inch thick (called a paillard), using a meat pounder, the side of a heavy cleaver, or a skillet. Pound the other breasts into paillards the same way and arrange them on a baking sheet.
Generously season each paillard on both sides with salt and pepper and a pinch or two of chile flakes. Sprinkle both sides with the garlic and rosemary. Drizzle both sides with the lemon juice and olive oil and pat into the meat with your fingertips. Refrigerate the paillards for 20 minutes while you prepare the grill.
Heat a gas grill to high or prepare a hot charcoal fire. Brush and oil the grill grate.
Arrange the paillards on the grill grate and grill until cooked and firm to the touch, 1 to 2 minutes per side. Transfer the paillards to a platter or plates. Drizzle with olive oil and serve immediately with lemon wedges for squeezing.
5. Roast Chicken Breasts with Tomatoes, Garbanzo Beans, and Paprika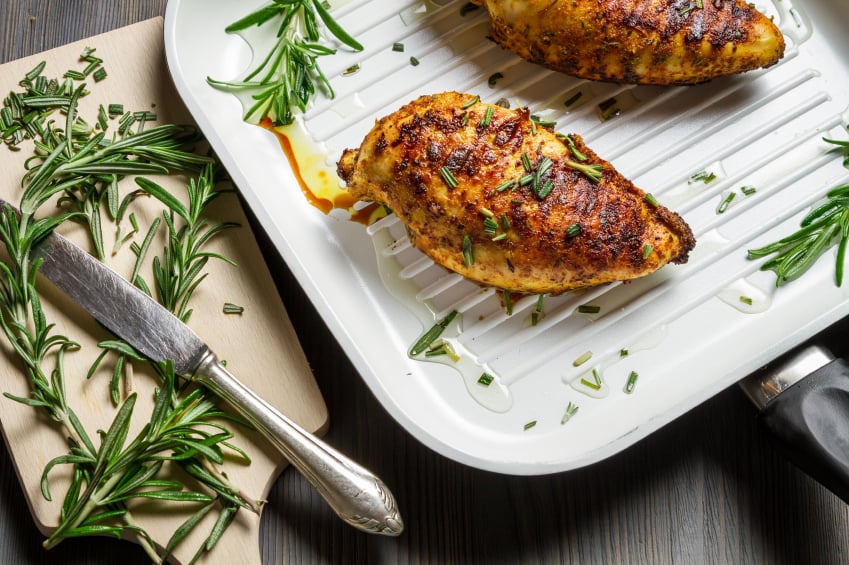 Would you like some beans with your chicken breasts? If so, try this recipe featured on Epicurious for roast chicken breasts with tomatoes, garbanzo beans, and paprika. This dish is protein-packed and pretty, with different flavors and colors from the chickpeas, cherry tomatoes, and fresh cilantro. Not only are you getting your protein from the poultry, but also from the garbanzo beans and yogurt sauce, and it doesn't get much healthier than that.
Ingredients:
¼ cup extra-virgin olive oil
4 garlic cloves, pressed
1 tablespoon smoked paprika
1 teaspoon ground cumin
½ teaspoon dried crushed red pepper
½ cup plain yogurt or Greek yogurt
4 chicken breast halves with bones
1 (15-ounce) can garbanzo beans (chickpeas), drained
1 (12-ounce) container cherry tomatoes
1 cup chopped fresh cilantro, divided
Directions: Preheat oven to 450° Fahrenheit. Mix first 5 ingredients in medium bowl. Pour 1 teaspoon spiced oil mixture into small bowl; whisk in yogurt and set aside for sauce. Place chicken on large rimmed baking sheet. Rub 2 tablespoons spiced oil mixture over chicken. Add beans, tomatoes, and ½ cup cilantro to remaining spiced oil mixture; toss to coat. Pour bean mixture around chicken. Sprinkle everything generously with salt and pepper.
Roast until chicken is cooked through, about 20 minutes. Sprinkle with ½ cup cilantro. Transfer chicken to plates. Spoon bean mixture over. Serve with yogurt sauce.
6. Chicken Breasts with Lime Sauce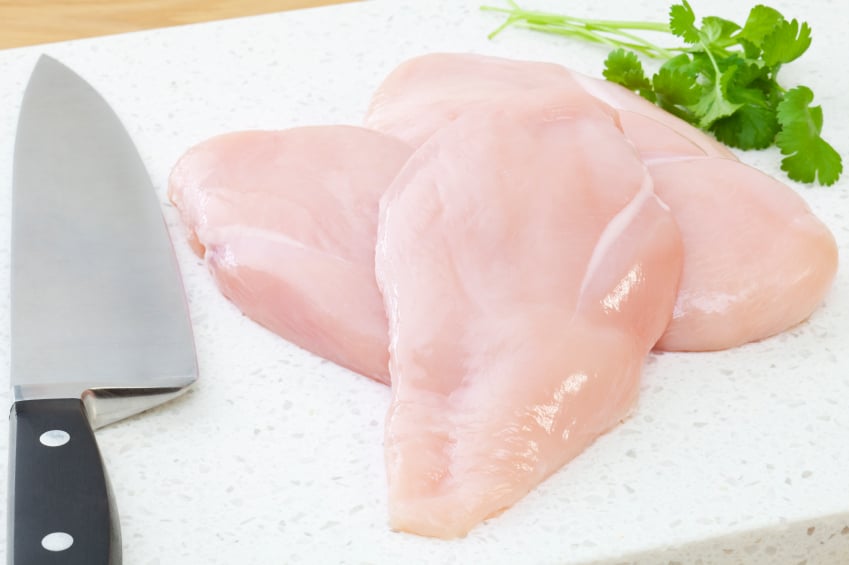 Pair this next recipe from Allrecipes.com with a margarita and you'll be good to go. Requiring only eight ingredients, there's no reason you can't whip up this chicken on a busy weeknight or even a lazy weekend evening — just make sure you have fresh limes and chives on your hands.
Ingredients:
4 skinless, boneless chicken breast halves, pounded to ¼-inch thickness
1 egg, beaten
⅔ cup dry breadcrumbs
2 tablespoons olive oil
1 lime, juiced
6 tablespoons butter
1 teaspoon minced fresh chives
½ teaspoon dried dill weed
Directions: Coat chicken breasts with egg, and dip in breadcrumbs. Place on a wire rack, and allow to dry for about 10 minutes.
Heat olive oil in a large skillet over medium heat. Place chicken into the skillet, and fry for 3 to 5 minutes on each side. Remove to a platter, and keep warm.
Drain grease from the skillet, and squeeze in lime juice. Cook over low heat until it boils. Add butter, and stir until melted. Season with chives and dill. Spoon sauce over chicken, and serve immediately.
7. Bacon-Wrapped, Cream Cheese-Stuffed Chicken Breast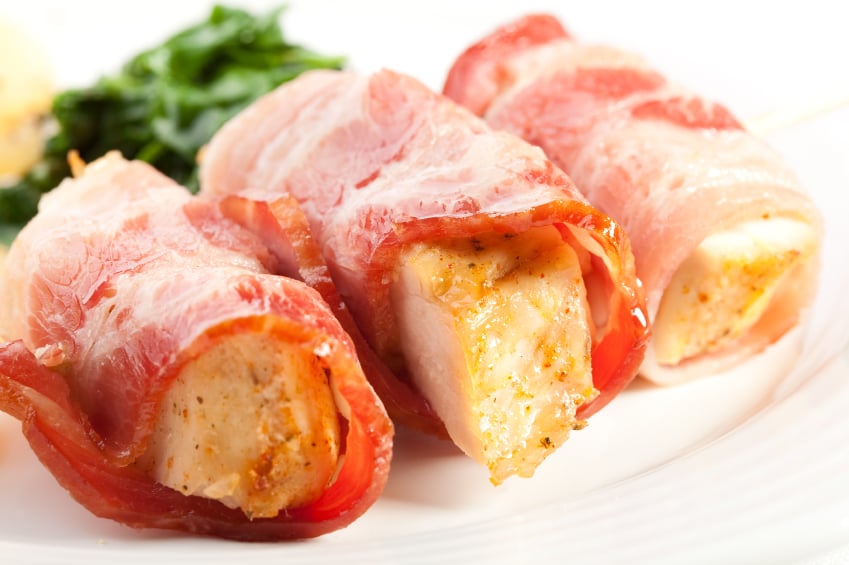 We're wrapping things up with a recipe from Food.com that is more on the indulgent side of the spectrum. Enter: bacon-wrapped, cream cheese-stuffed chicken breasts. You know you want to make this for your next cheat meal. How could you not when the recipe only requires four ingredients and the cooking time rounds out to 35 minutes? To make your ideal dinner, simply roll the cream cheese spread into your chicken breasts before the poultry gets wrapped in partially cooked bacon. The chicken then goes into the oven for 30 minutes and you round things up with five minutes of bacon broiling time. Bon appetit!
Ingredients:
1 boneless skinless chicken breast
2 tablespoons cream cheese
1 tablespoon green onion, Chopped
2 pieces bacon, Partially Cooked
Directions: Pound out chicken breast so it is about ¼-inch thick. Mix together cream cheese and green onions and spread cheese mixture over 1 side of chicken breast. Roll Chicken breast up to conceal cream cheese. Wrap partially cooked bacon around chicken breast and secure with toothpick. Place on baking sheet and back for about 30 minutes at 375 degrees Fahrenheit. Broil for about 5 minute to crisp bacon.
More from Culture Cheat Sheet: