Homemade Recipes That Use Fresh In-Season Tomatoes
Tomatoes are finally in season, and gardeners are handing over their bounty left and right. Even if you don't harvest your own garden, you can easily get your hands on fresh red tomatoes, and today, we're highlighting seven different ways you can use up the good stuff. While the simple combination of fresh tomatoes and sea salt will never get old, you can also surprise yourself with how easy it is to master other sophisticated food formulas starring tomatoes.
1. Fresh Tomato Salsa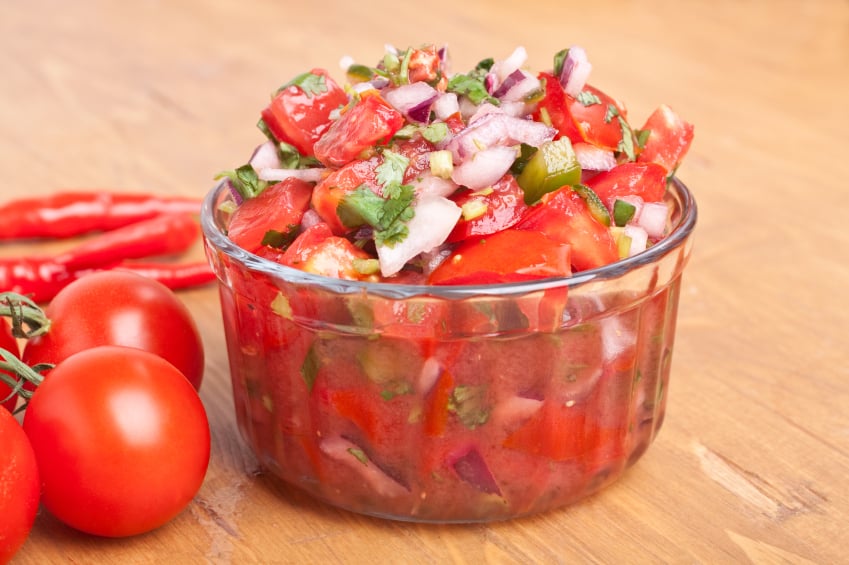 Perhaps the easiest way to take advantage of tomatoes is by enlisting them in a salsa recipe. Salsa out of a jar is not always satisfying, so instead of going the store-bought route, try this recipe from Martha Stewart to make your own. Requiring only a handful of ingredients and minutes of prep time, this recipe yields 3½ cups of salsa that will pair perfectly with your tortilla chips of choice.
Ingredients:
1½ pounds plum tomatoes, cored, halved, and seeded
½ medium red onion, minced
1 jalapeño or serrano chile, minced
1 small garlic clove, minced
½ cup chopped fresh cilantro
2 tablespoons freshly squeezed lime juice
Coarse salt
Tortilla chips, for serving
Directions: Chop tomatoes into ¼-inch pieces; transfer to a medium bowl. Add onion, chile, garlic, cilantro, and lime juice; season generously with salt. Mix to combine. Let stand 15 minutes to develop flavor. Salsa can be kept at room temperature up to 2 hours. Serve with tortilla chips, if desired.
2. Chilled Tomato Soup with Tarrgon Crème Fraîche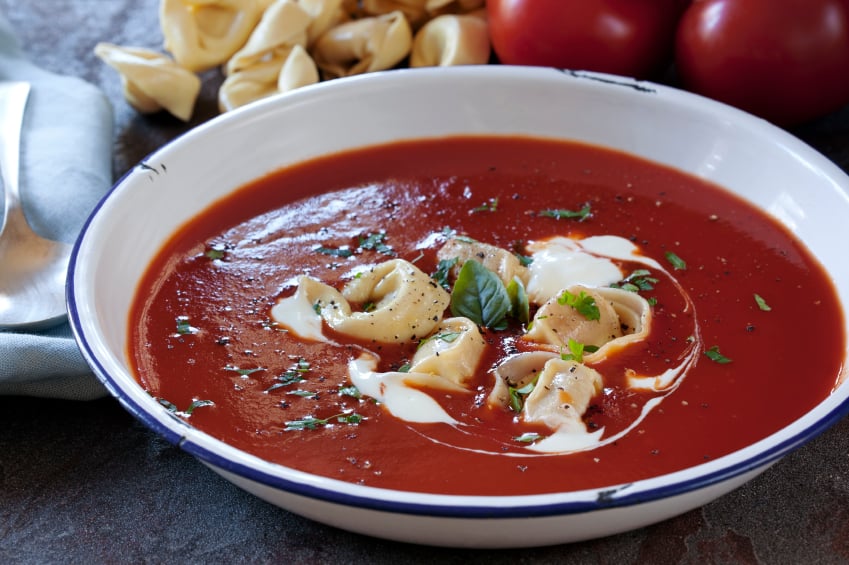 Next up is a chilled tomato soup from Food & Wine. Contrary to popular belief, tomato soup doesn't have to come piping hot and served alongside rich grilled cheese. The soup also is satisfying when served chilled, and in the sweltering summer months, this approach might be best. Try this food formula for chilled tomato soup with tomato creme fraiche and enjoy a homemade velvety soup. The satisfying lunch or supper can easily be refrigerated for leftovers.
Ingredients:
4 pounds tomatoes, quartered and seeded
2 cups low-sodium vegetable broth
½ cup extra-virgin olive oil
¼ cup tomato paste
1 tablespoon red wine vinegar
2 teaspoons sugar
Kosher salt and freshly ground pepper
½ cup crème fraîche
1½ tablespoons chopped tarragon, plus tarragon leaves for garnish
Directions: Working in a blender in 2 batches, puree the tomatoes with the vegetable broth, olive oil, tomato paste, red wine vinegar, and sugar until very smooth. Transfer to a bowl, season with salt and pepper and refrigerate until chilled, about 2 hours.
In a small bowl, mix the crème fraîche with the chopped tarragon and season with pepper. Ladle the soup into bowls. Top with a dollop of the crème fraîche, garnish with the tarragon leaves and serve.
3. Tomato Stack Salad with Corn and Avocado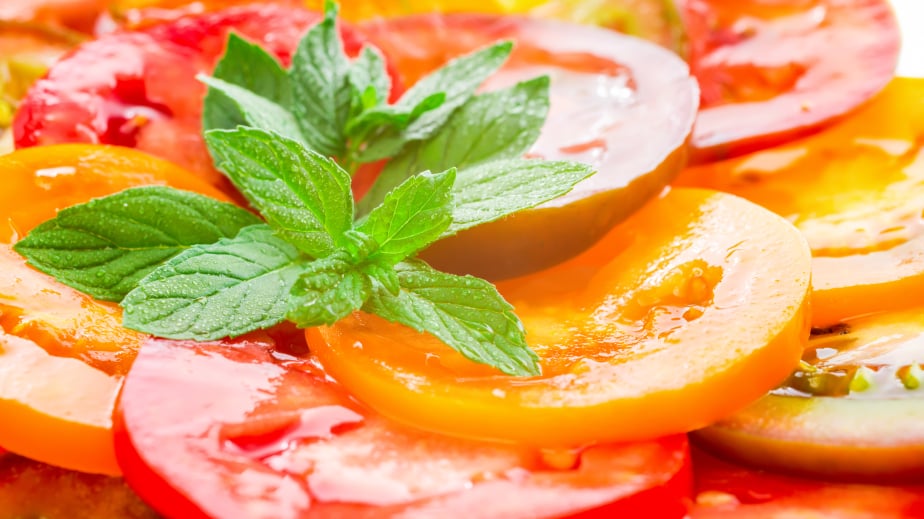 We're highlighting a sophisticated summer salad recipe from Cooking Light next. This tomato stack salad with corn and avocado just took your greens game up a notch. In this food formula, herbs, corn, and bacon top a stack of fresh tomato and avocado slices, and a creamy dressing ties everything together. The salad takes only 30 minutes to make and serves 4, so dive first into seasonal eating with this light entree and enjoy the healthy flavors of summer.
Ingredients:
2 bacon slices, halved
¼ cup low-fat buttermilk
1 tablespoon finely chopped fresh chives
1 tablespoon finely chopped fresh basil
2 tablespoons canola mayonnaise
2 teaspoons cider vinegar
1 garlic clove, minced
½ teaspoon freshly ground black pepper, divided
Dressing
2 ears shucked corn
Cooking spray
2 large beefsteak tomatoes, cut into 8 slices total
2 globe tomatoes, cut into 8 slices total
⅛ teaspoon kosher salt
½ ripe peeled avocado, thinly sliced
4 teaspoons extra-virgin olive oil
Directions: Preheat the grill to high heat.
Heat a large nonstick skillet over medium heat. Add bacon to pan; cook 8 minutes or until crisp, tossing occasionally to curl. Drain bacon on paper towels.
Combine buttermilk and next 5 ingredients, stirring with a whisk. Stir in ¼ teaspoon pepper. Coat corn with cooking spray. Place corn on grill rack; grill 8 minutes or until well marked, turning occasionally. Remove from grill; cool slightly. Cut corn kernels from cobs.
Sprinkle tomato slices evenly with salt. Alternate layers of tomato and avocado on each of 4 plates. Scatter corn evenly onto plates. Drizzle each tomato stack with about 1 ½ tablespoons dressing and 1 teaspoon oil. Sprinkle remaining ¼ teaspoon black pepper over salads; top each salad with 1 bacon piece.
4. Tomato Tart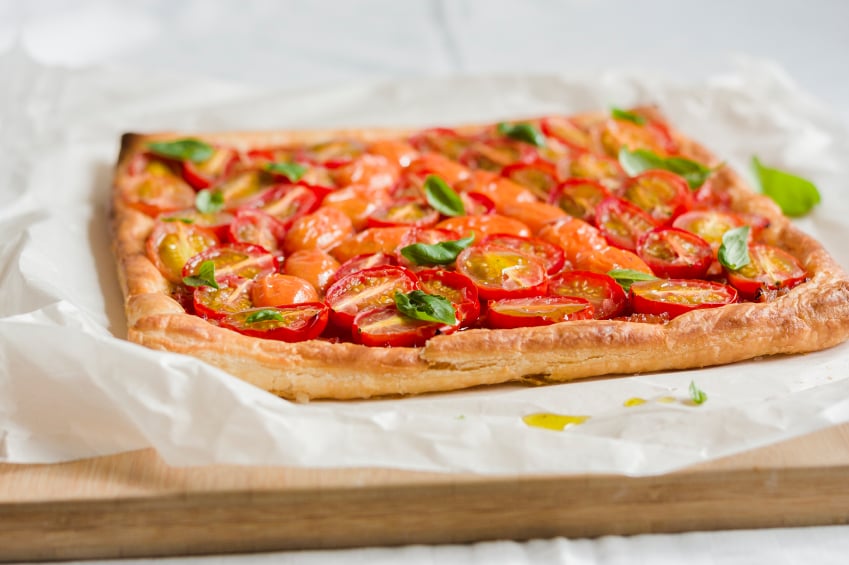 Tomato tart, anyone? If you like pizza, we bet you'll like a tomato tart, and now you can make the summer side dish homemade via this recipe from Southern Living. The ingredients list is short and the prep time is capped at 45 minutes. Simply buy your pie crust pre-packaged and pull out your fresh tomatoes, fontina cheese, garlic, and olive oil. This summery dish will be one of the first to go at your next party.
Ingredients:
½ package refrigerated pie crusts
1 garlic bulb
½ teaspoon olive oil
1½ cups shredded fontina cheese, divided
4 large tomatoes
½ teaspoon salt
¼ teaspoon pepper
Directions: Press refrigerated pie crust on bottom and up sides of a square 9-inch tart pan. Bake at 450 degrees Fahrenheit for 9 minutes or until pie crust is lightly browned; set aside.
Cut off pointed end of garlic bulb; place garlic on a piece of aluminum foil, and drizzle with olive oil. Fold foil to seal.
Bake garlic at 425 degrees Fahrenheit for 30 minutes; cool. Squeeze pulp from garlic cloves into bottom of baked piecrust. Sprinkle ½ cup fontina cheese over the garlic.
Slice tomatoes, and sprinkle evenly with salt and pepper. Place on folded paper towels, and let stand 10 minutes. Arrange tomato slices over shredded cheese. Sprinkle with remaining 1 cup cheese.
5. Tomato and Mozzarella Quesadillas with Basil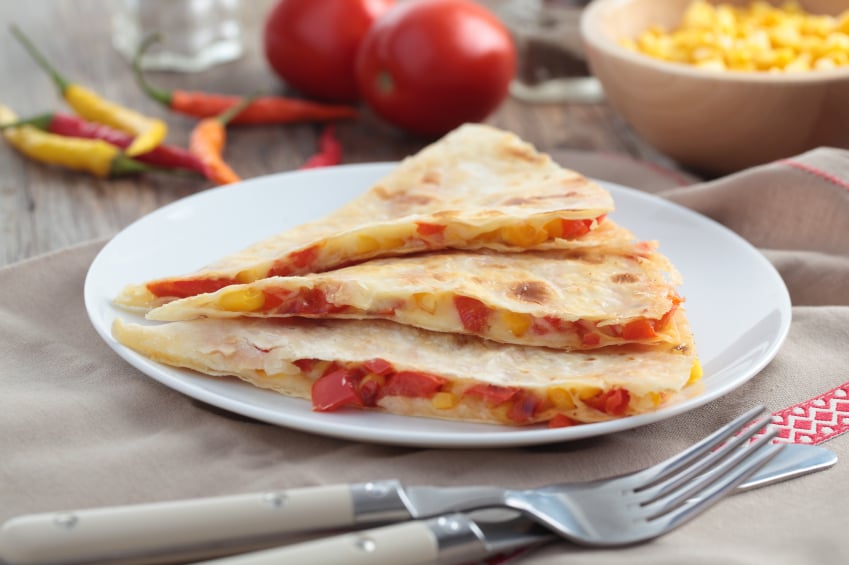 Tomatoes and mozzarella cheese are a match made in fresh foodie heaven, and this recipe from Real Simple stars the killer combo stuffed inside hot carbs. Tomato and mozzarella quesadillas are the perfect summer sandwiches to pack for a picnic, or serve as finger food at a party. They couldn't be easier to make or easier to eat, and especially if you're using fresh basil, tomatoes, and mozzarella, they really couldn't be more irresistible.
Ingredients:
8 (8-inch) flour tortillas
12 ounces grated or sliced mozzarella
2 tomatoes, cut into ¼-inch-thick slices
½ teaspoon plus ⅛ teaspoon kosher salt
½ teaspoon freshly ground black pepper
1 bunch fresh basil, leaves picked
¼ cup pine nuts, toasted
4 teaspoons extra-virgin olive oil
Directions: Heat grill to medium. Place 4 of the tortillas on a cutting board and top with the mozzarella and tomatoes, leaving a 1-inch border.
Season with ½ teaspoon of the salt and the pepper and top with the remaining tortillas.
In a medium bowl, combine the basil, pine nuts, oil, and remaining salt; set aside. Cook the quesadillas around the perimeter of the grill until the cheese melts and the tortillas are crisp and golden, about 2 minutes per side. Immediately cut the quesadillas into wedges and serve with the basil salad.
6. Tomato Gazpacho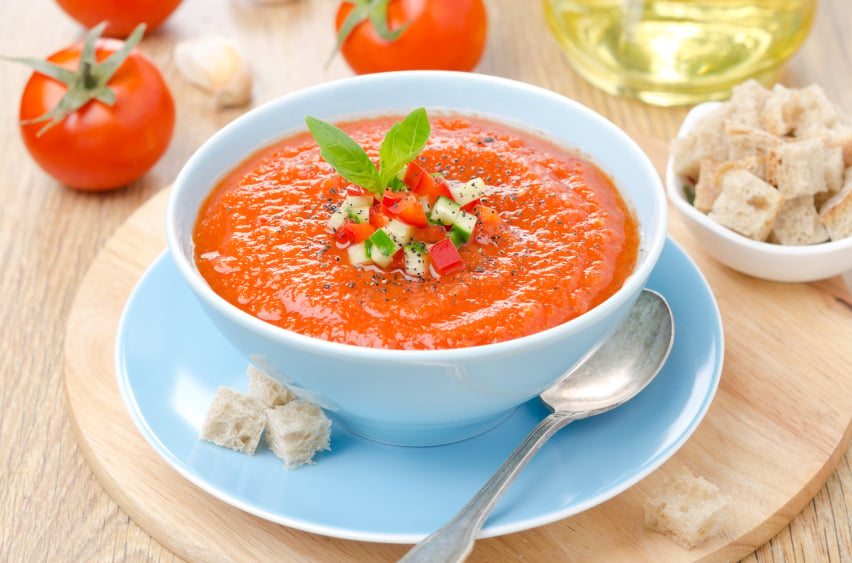 And we can't do a tomato recipe roundup without highlighting a food formula for the always popular summer dish: gazpacho. Make it homemade via this recipe from Chow and serve the soup chilled on a seasonably hot day. Combining tomatoes, peppers, cucumbers, and onions, this gazpacho is not only healthy, it's also easy and takes only 25 minutes to make. The recipe also feeds a crowd, but trust us when we say you won't need to worry about leftovers. Just don't forget to use fresh ripe tomatoes.
Ingredients:
1½ pounds ripe tomatoes, cored and large dice
1 medium green bell pepper, cored, seeded, and large dice
1 medium English cucumber, large dice
½ medium red onion, large dice
1 medium garlic clove, coarsely chopped
3 cups tomato juice
3 tablespoons extra-virgin olive oil, plus more for drizzling
2 tablespoons red wine vinegar, plus more as needed
1½ teaspoons kosher salt, plus more as needed
Freshly ground black pepper
Directions: Place the tomatoes, bell pepper, cucumber, onion, and garlic in a blender and blend into a smooth purée.
Transfer to a large serving bowl, add the tomato juice, measured oil, vinegar, measured salt, and pepper to taste and stir to combine. Taste and season with additional vinegar, salt, and pepper as needed. Cover and refrigerate until chilled. Serve with croutons, if using, and a drizzle of olive oil.
7. Fresh Tomato Bruschetta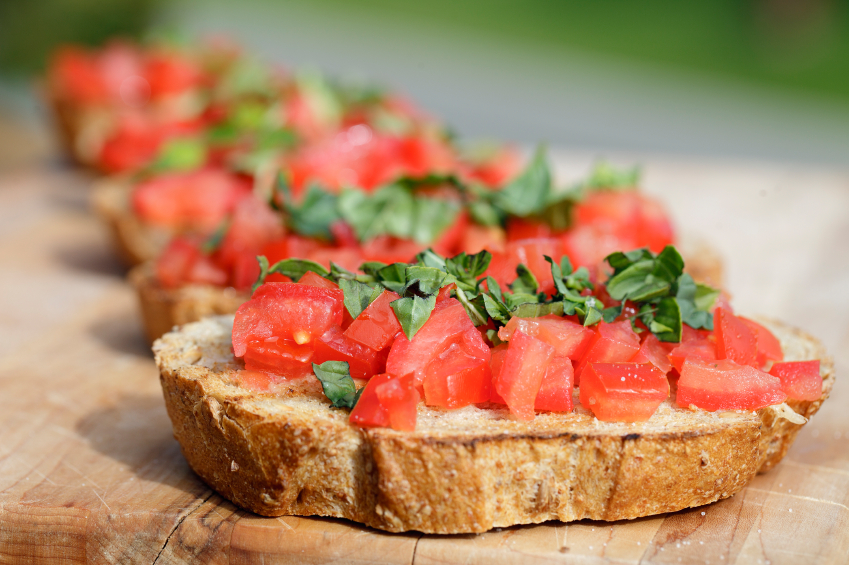 Last but not least is one more recipe for fresh finger food. Enter: tomato bruschetta from Taste of Home. This recipe proves once again how perfectly tomatoes pair with fresh cheese and carbs. Your guests won't be able to keep their hands off this fun appetizer, and luckily they won't have to. The food formula makes 36 servings – taking into accounts those invitees who will take this bruschetta appetizer and turn it into their dinner.
Ingredients:
4 plum tomatoes, seeded and chopped

½ cup shredded Parmesan cheese

¼ cup minced fresh basil

3 tablespoons olive oil

2 tablespoons minced fresh parsley

3 garlic cloves, minced

2 teaspoons balsamic vinegar

⅛ teaspoon salt

⅛ teaspoon crushed red pepper flakes

⅛ teaspoon pepper

1 French bread baguette, cut into ½-inch slices

¼ cup butter, softened

8 ounces fresh mozzarella cheese, sliced
Directions: In a small bowl, combine the first 10 ingredients.
Spread baguette slices with butter; top each with a cheese slice. Place on ungreased baking sheets. Broil 3 to 4 inches from the heat for 3 to 5 minutes or until cheese is melted. With a slotted spoon, top each slice with about 1 tablespoon tomato mixture.
More from Culture Cheat Sheet: