7 Outstanding Memorial Day Recipes You Can Cook Inside or Outside
As the unofficial start to grilling season, Memorial Day is all about outdoor cooking. So it's a massive bummer when rain clouds show up to the party. Instead of banking on sunny skies, try these seven Memorial Day recipes you can cook no matter what the weather does.
1. Maple-Glazed Chicken Kabobs with Sweet Jalapeño Salsa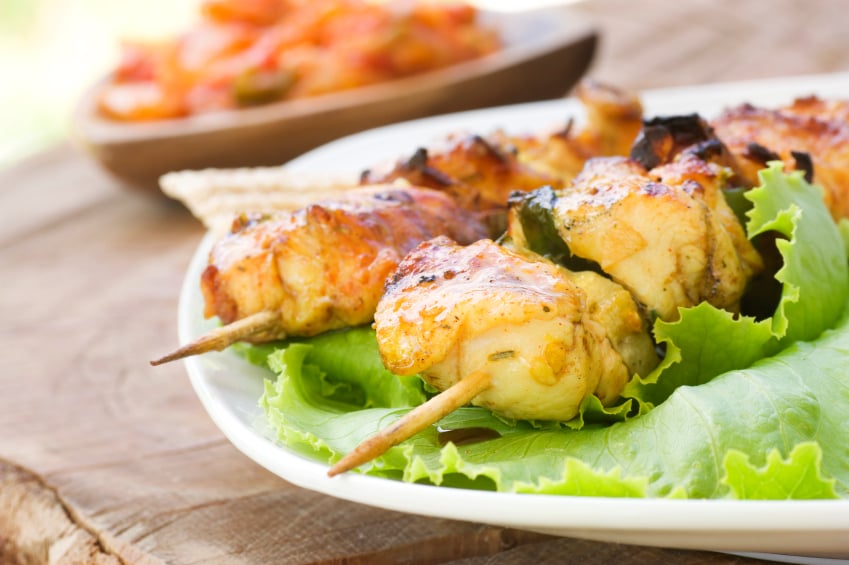 Chicken skewers can be pretty boring, but not if you brush them with a maple glaze and add some pineapple salsa. While this recipe from The Pioneer Woman might sound complicated, it's a cinch to pull off. All you have to do is grill some skewers, brush on a simple glaze, and toss together a raw salsa. You can even prepare the salsa ahead of time to make the big day that much easier.
Ingredients:
6 (6- to 7-ounce) chicken breasts
½ cup maple syrup
¼ cup soy sauce
¼ cup pineapple juice
½ pineapple, finely diced
2 jalapeños, minced
1 small bunch cilantro, chopped
1 small red onion, diced
1 teaspoon rice wine vinegar
1 tablespoon sugar
½ teaspoon salt
Black pepper
2 cans baked beans, heated
Directions: If using wooden skewers, soak for at least 30 minutes prior to using. Cut each chicken breast into six pieces, then thread six pieces on each skewer.
Combine syrup, soy sauce, and juice in a small saucepan. Set over high heat, bring to a boil, reduce to medium, and simmer until reduced by three-quarters. Let cool.
In a small bowl, combine pineapple, jalapeño, cilantro, onion, sugar, vinegar, salt, and black pepper. Toss well to combine and set aside.
Grill chicken until cooked through, basting with glaze until almost finished. Remove from heat. Serve kabobs with salsa and baked beans.
2. Grilled Potato Salad with Scallion Vinaigrette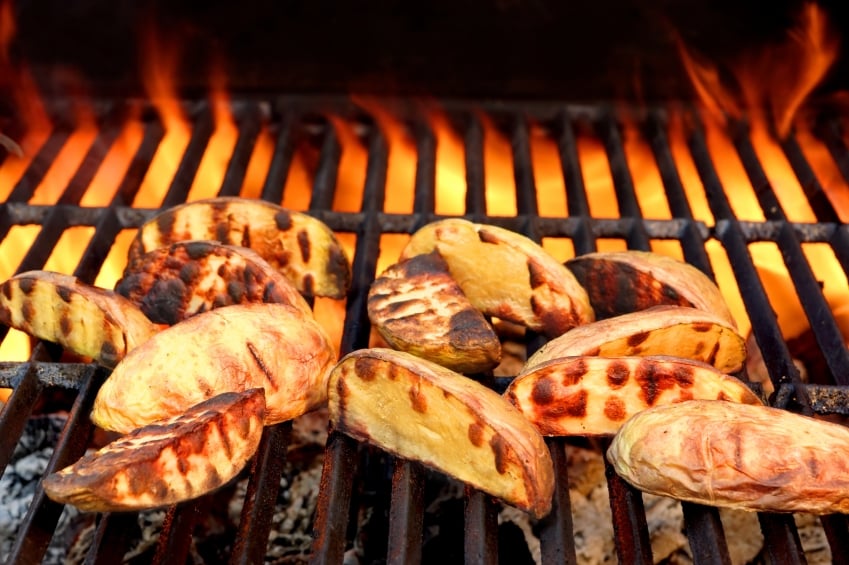 If you're sick of the same potato salad year after year, give your spuds a flavor boost by grilling them first. We like this easy recipe from Food & Wine. You boil the potatoes ahead of time, so they just need a few minutes over the indoor or outdoor grates to get a bit of char. Because there's no mayo or dairy in this dish, feel free serve it at room temperature. If you can't find piment d'Espelette, substitute hot paprika.
Ingredients:
1½ pounds fingerling potatoes
Kosher salt
10 scallions, trimmed
⅓ cup extra-virgin olive oil, plus more
Black pepper
2 tablespoons rice vinegar
2 teaspoons fresh lemon juice
Piment d'Espelette
1 small jalapeño, stemmed, seeded, and thinly sliced
Directions: In a large saucepan, cover potatoes with water and bring to a boil. Season with salt, reduce to a simmer, and cook just until tender, about 15 minutes. Drain and let cool slightly, cut in half lengthwise.
Meanwhile, light a grill or preheat a grill pan. Brush scallions with oil and season with salt and pepper. Grill over high heat, turning, until lightly charred, about 2 minutes. Remove to a plate, cover with plastic wrap, and let steam for 10 minutes. Remove plastic wrap, and cut into 1-inch-long pieces.
Brush potatoes with oil and season with salt and pepper. Grill, cut-sides down, until charred, about 3 to 5 minutes. Transfer to a plate.
Whisk ⅓ cup oil with vinegar and lemon juice in a large bowl. Add scallions and potatoes. Toss to coat, season with piment d'Espellette and toss again. Garnish with jalapeños and additional piment d'Espelette. Serve warm or at room temperature.
3. Pan-Grilled Ginger-Honey Pork Tenderloin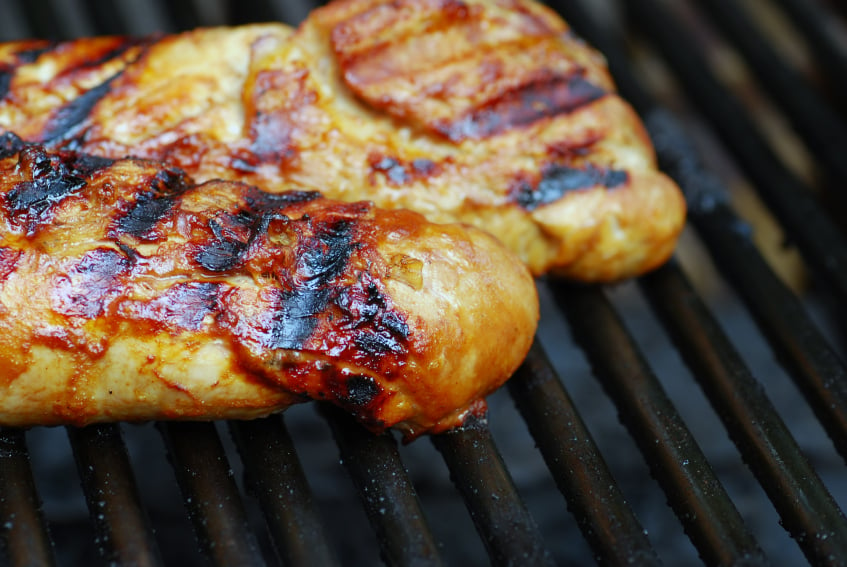 When you're grilling pork chops for a crowd, it can be pretty difficult to cook them all to just the right temperature. Make things easier on yourself by grilling this delicious pork tenderloin from Cooking Light. Even if you opt to make two at once, you can easily keep an eye on both of them and switch their positions to ensure they cook at the same rate.
Ingredients:
1 tablespoon grated peeled fresh ginger
3 tablespoons honey
1 tablespoon fresh lemon juice
1 tablespoon low-sodium soy sauce
1 (1-pound) pork tenderloin, trimmed
Salt and pepper
Directions: In a small bowl, whisk ginger, honey, lemon juice, and soy sauce to combine. Heat a grill pan over medium-high heat and grease with cooking spray. Season pork with ½ teaspoon salt and ¼ teaspoon pepper. Grill, turning and basting with sauce, until an instant-read thermometer inserted into the thickest portion registers 145 degrees Fahrenheit or your desired degree of doneness. Let stand for 5 minutes, then serve.
4. Bacon, Onion, and Cheese Stuffed Burger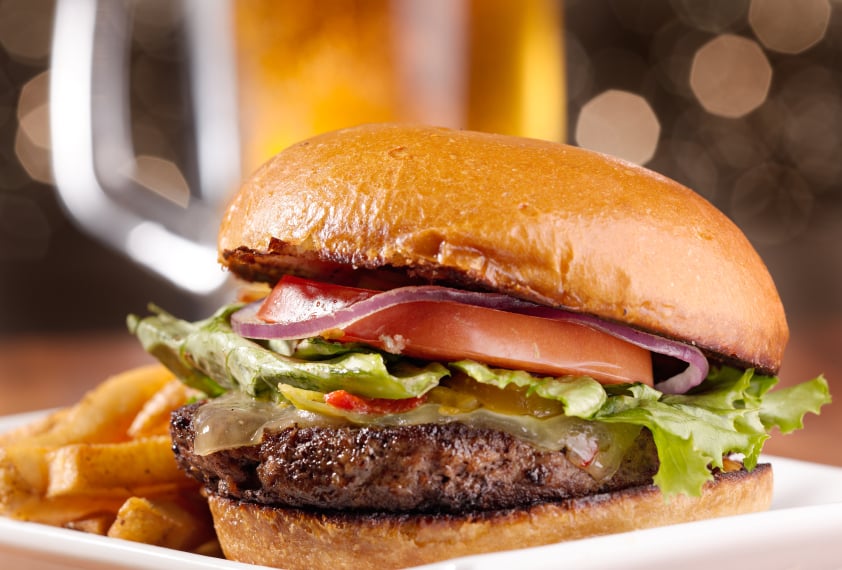 It wouldn't be Memorial Day without at least one burger offering, so go for these stuffed patties from Sunny Anderson, featured on Food Network. We particularly like that you can prep everything in advance. And since they're filled, you don't have to worry about individually adding cheese, onions, and bacon to each patty while you grill.
You can use any type of beef you prefer for this recipe, but you'll be best off going for something that contains 20% fat. You'll be rewarded with flavorful, juicy burgers.
Ingredients:
1½ pounds ground beef
1 clove garlic, minced
1 teaspoon hot sauce
Salt and freshly ground pepper
4 bacon strips, diced
½ onion, chopped
1 cup grated sharp cheddar cheese
4 burger buns
Optional toppings:
Lettuce
Tomato slices
Pickles
Directions: In a bowl, combine beef, garlic, hot sauce, salt, and pepper. Mix gently to combine.
Heat a skillet over medium and cook bacon until crispy. Remove to a paper towel-lined plate to cool, then chop. Cook a small portion of beef mixture in the same skillet. Adjust seasoning if needed. Form mixture into eight patties, about ½-inch thick.
In the same skillet, cook onions until tender, about 5 minutes. In a medium bowl, combine onions, bacon, and cheese. Form  bacon and cheese mixture into four even balls, then add to center of four patties. Top with remaining patties, and pinch edges to seal.
Grill burgers over medium-high heat, flipping once, until they reach your desired level of doneness, about 4 minutes per side for medium. Alternatively, cook in a medium skillet set over medium-high heat. Serve with buns and toppings.
5. Grilled Cod with Tomato, Caper, and Walnut Dressing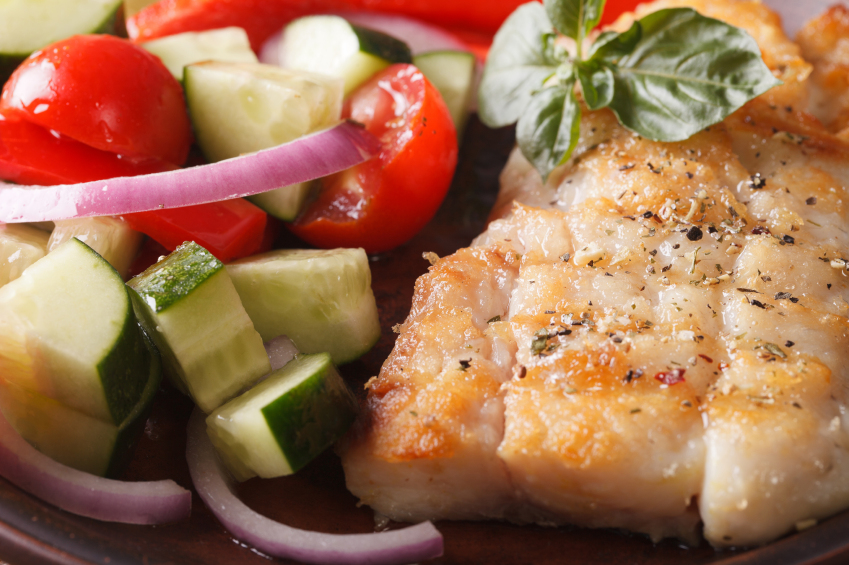 Please the pescetarians in your life with this delicious cod dish from RecipesPlus. It's a little lighter than your standard cookout fare, but still completely satisfying. This recipe is also really easy to scale up for a crowd. And don't worry if your tomatoes aren't spectacular because cooking them will concentrate the flavor and boost their sweetness.
Most well-stocked seafood markets will have plenty of cod on hand, but there's no need to panic if you can't find it. Any type of firm white fish will do. Just talk to your fishmonger about what he or she has in stock that works well on the grill.
Ingredients:
1 tablespoon olive oil
¾ cup cherry tomatoes
2 tablespoons butter
2 teaspoons finely grated lemon zest
1 teaspoon lemon juice
1 teaspoon capers, drained, rinsed, and minced
2 tablespoons walnuts, finely chopped
2 tablespoons chopped fresh flat-leaf parsley
Salt and pepper
2 (6½-ounce) cod fillets
Directions: Preheat an outdoor grill or grill pan. Heat olive oil in a skillet, then cook tomatoes for 2 to 3 minutes, or until they begin to burst. Melt butter in a small saucepan, then add tomatoes, lemon zest, lemon juice, capers, walnuts, and parsley. Season with salt and pepper.
Season fish with salt and pepper and grill on oiled grates until cooked through, about 3 minutes per side. Serve with tomato and caper dressing.
6. Garlicky Grilled Kale Salad with Grilled Bread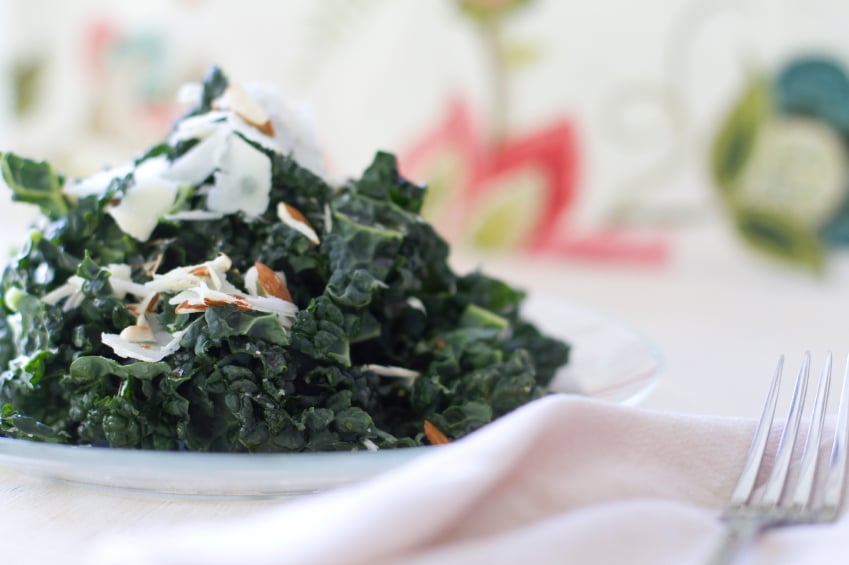 Serving salad at a cookout rarely works well because the leaves start to wilt once you add the dressing. The best way to get over this problem? Using kale instead of more fragile greens. We especially like this version from The Kitchn, which adds another layer of flavor by grilling the greens. Say goodbye to soggy salad.
Ingredients:
Salad:
2 bunches kale, washed and dried
3 tablespoons grapeseed or other neutral oil, divided
¼ teaspoon salt, plus more
2 thick slices sourdough bread
1 small garlic clove
2 tablespoons shaved Parmesan cheese
Dressing:
1 large garlic clove, grated
2 tablespoons lemon juice
¼ teaspoon salt
2 tablespoons extra-virgin olive oil
Directions: Remove stems from kale and discard. Add leaves to a bowl and toss with 2 tablespoons grapeseed oil plus ¼ teaspoon salt. Rub both sides of bread with remaining grapeseed oil and season with salt. Rub the small garlic clove over both sides of bread.
Preheat a grill or grill pan to high heat. Working in batches, grill kale until beginning to brown and crisp, 30 seconds to 1 minute per side. Remove to a plate. Grill bread until charred on both sides, 1 to 2 minutes per side. Remove to same plate. Coarsely chop kale into bite-size pieces and transfer to a large bowl. Cut bread into cubes.
Combine grated garlic, lemon juice, and remaining salt in a small bowl. Whisking constantly, drizzle in olive oil to combine. Add dressing to bowl with kale and toss to combine. Add cubed bread and toss. Transfer to a large platter or bowl, garnish with cheese, and serve.
7. Grilled Salted Caramel S'mores Pizza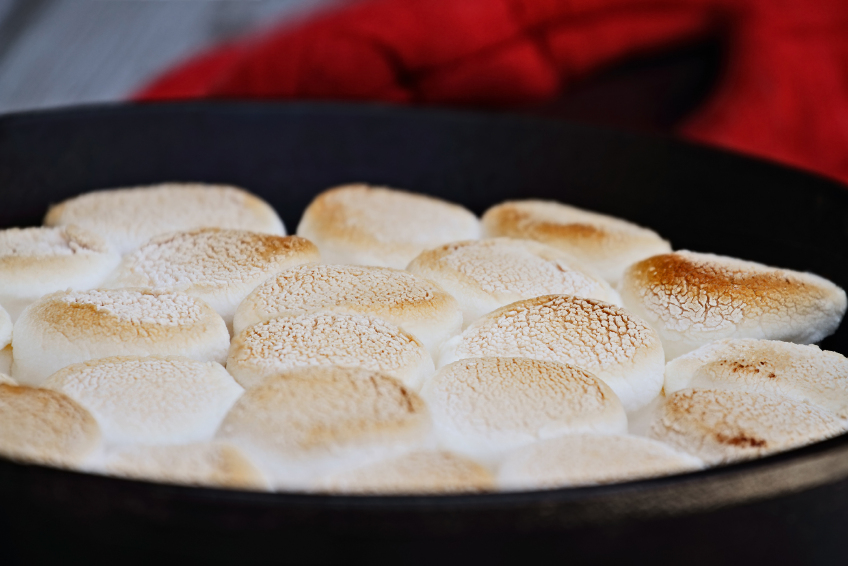 While a grilled dessert pizza topped with chocolate and marshmallows already sounds fantastic, this version from The Cookie Rookie takes things to a whole new level by using cookie dough for the crust and adding a drizzle of caramel sauce. It works just as well in the oven as it does on the grill, so this dessert is a fantastic choice for any type of weather. For even more of a s'mores feel, sprinkle the finished dessert with some crumbled graham crackers.
Ingredients:
1 (17-ounce) package refrigerated snickerdoodle cookie dough
½ (6-ounce) jar salted caramel sauce
2 cups mini marshmallows
1 cup large milk chocolate chips
Directions: Spray a pizza grill pan with nonstick cooking spray and preheat grill to 325 to 350 degrees Fahrenheit. Alternatively preheat oven to 350 degrees Fahrenheit. Roll out dough on prepared baking sheet. Bake or grill until about three-quarters of the way cooked, about 20 minutes on the grill.
When dough is firm enough, spread caramel evenly over top. Sprinkle with marshmallows and chocolate chips. Continue to grill or bake until marshmallows are melted and beginning to brown, about 5 minutes longer.
Let sit for at least 5 minutes. Slice and serve.