Lemon-Flavored Dinner Dishes That Are Light and Refreshing
Once the spring season rolls in, consumers start craving fresh, detoxifying foods. Out go the heavy comfort suppers and in come the lighter, more refreshing dishes. Conveniently located at the end of citrus season, spring is when home chefs can take advantage of in-season fruit to prepare the energizing dinners they are craving. Enlisting lemon in your dishes can change the whole flavor of the meal, and the zest makes it feel feel fresh and revitalizing. Check out these 7 lunch and dinner dishes that include lemon on their ingredients list. For the lemon lovers of the world, this round-up is for you.
1. Lemon Chicken with Asparagus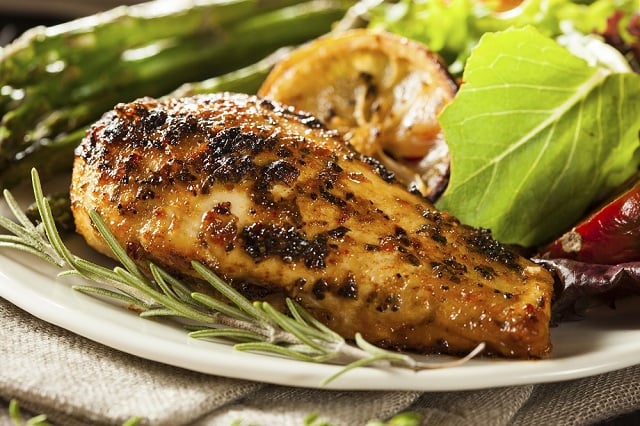 An especially popular lemon dinner dish is lemon chicken and this recipe for lemon chicken with asparagus from Pinch of Yum allows you to make the supper in a skillet with all of 5 ingredients. Enlisting two pieces of in-season produce — lemons and asparagus — this dish epitomizes the skill of cooking with what's in season, and it's healthy to boot. Asparagus season is short, so get the good stuff while you can and then throw it in the skillet.
Ingredients:
1 pound boneless skinless chicken breasts
¼ cup flour
½ teaspoon salt, pepper to taste
2 tablespoons butter
1 teaspoon lemon pepper seasoning
1 to 2 cups chopped asparagus
2 lemons, sliced
2 tablespoons honey plus 2 tablespoons butter (optional)
Parsley for topping
Directions: Chicken: Cover the chicken breasts with plastic wrap and pound until each pieces is about a ¾ of an inch thick. Place the flour and salt and pepper in a shallow dish and gently toss each chicken breast in the dish to coat. Melt the butter in a large skillet over medium high heat; add the chicken and saute for 3 to 5 minutes on each side, until golden brown, sprinkling each side with the lemon pepper directly in the pan. When the chicken is golden brown and cooked through, transfer to a plate.
Asparagus and Lemons: Add the chopped asparagus to the pan. Saute for a few minutes until bright green and tender crisp. Remove from the pan and set aside. Lay the lemon slices flat on the bottom of the pan and cook for a few minutes on each side without stirring so that they caramelize and pick up the browned bits left in the pan from the chicken and butter. Remove the lemons from the pan and set aside.
Layer all the ingredients back into the skillet – asparagus, chicken, and lemon slices on top.
2. Spaghetti with Lemon and Olive Oil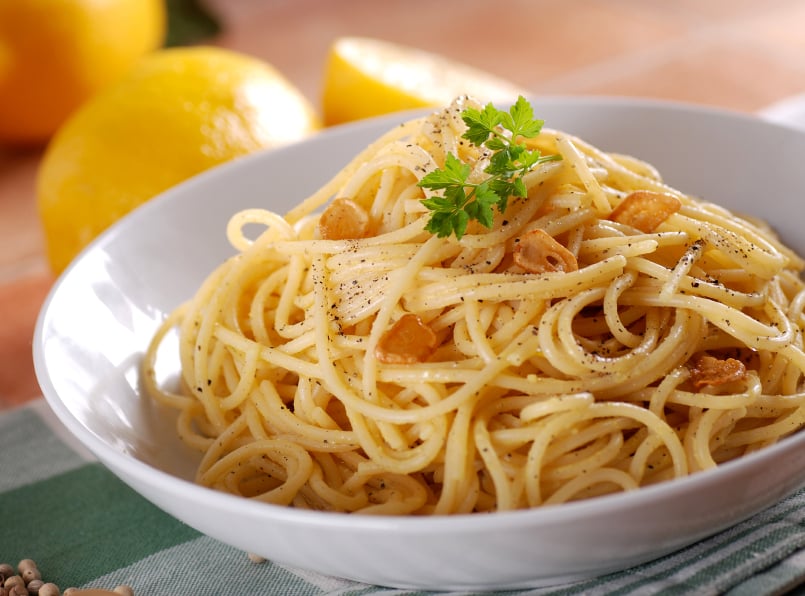 This spaghetti with lemon and olive oil from Smitten Kitchen proves that simple is sometimes best. Next time you're craving carbs, leave out the heavy sauce and instead flavor your spaghetti naturally with olive oil and lemons. The simplicity of the dish keeps its ingredients list short, but the spaghetti will still be creamy and dreamy thanks to the late addition of cream and Parmesan cheese. Serve your spaghetti studded with fresh basil or arugula and you have an easy yet sophisticated meal ready to go.
Ingredients:
1 pound spaghetti or linguine
Salt
3 lemons
¼ cup extra virgin olive oil , plus additional for serving
¼ cup heavy cream
1 ounce finely grated Parmesan cheese, plus additional for serving
Ground black pepper
Small handful fresh basil or arugula (what I used, deliciously, in a pinch) leaves, shredded
Directions: Cook linguine or spaghetti in well-salted water to your al dente tastes in a large, wide-bottomed pot. While pasta is cooking, zest lemons until you have a little shy of a tablespoon of zest. Juice lemons — you'll have anywhere from 1/3 to ½ cup lemon juice.
Drain pasta, reserving 1 ½ cups of pasta cooking water. Dry out your pot, then boil the olive oil, cream, zest and 1 cup of the reserved pasta water together for two minutes over high heat. Return pasta to pot and stir until coated. Add the cheese and ¼ cup lemon juice and toss everything together. Add more pasta water, ¼ cup at a time, if you'd like your dish a little looser. Quickly taste a strand of pasta and see if you want to add the remaining lemon juice. Stir in basil or arugula and season generously with salt and pepper.
Serve immediately, drizzling individual portions with a bit of extra olive oil and sprinkling with extra Parmesan cheese.
3. Lemon-Garlic Shrimp Scampi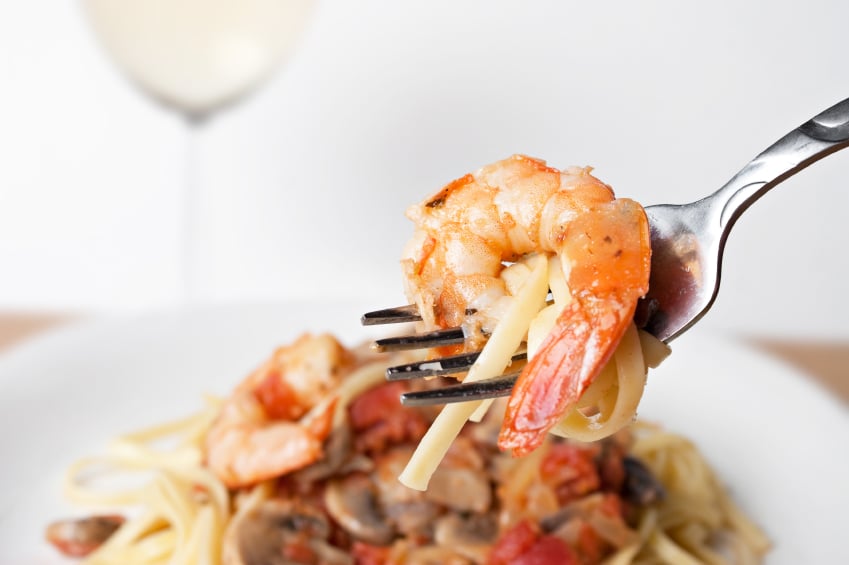 Ready for some seafood? Here's a recipe from Eating Well that will help you get your fix. Enter: lemon-garlic shrimp scampi — a lighter, healthier take on traditional shrimp scampi. Instead of coating your shrimp with butter, take the detox route and sub in fresh vegetables, asparagus, and lemon. The pungent flavor of the lemon juice will make up for the absence of butter, and it lets the natural flavors of the dish shine.
Ingredients:
4 teaspoons extra-virgin olive oil, divided
2 large red bell peppers, diced
2 pounds asparagus, trimmed and cut into 1-inch lengths
2 teaspoons freshly grated lemon zest
½ teaspoon salt, divided
5 cloves garlic, minced
1 pound raw shrimp, (26-30 per pound), peeled and deveined
1 cup reduced-sodium chicken broth
1 teaspoon cornstarch
2 tablespoons lemon juice
2 tablespoons chopped fresh parsley
Directions: Heat 2 teaspoons oil in a large nonstick skillet over medium-high heat. Add bell peppers, asparagus, lemon zest and ¼ teaspoon salt and cook, stirring occasionally, until just beginning to soften, about 6 minutes. Transfer the vegetables to a bowl; cover to keep warm.
Add the remaining 2 teaspoons oil and garlic to the pan and cook, stirring, until fragrant, about 30 seconds. Add shrimp and cook, stirring, for 1 minute. Whisk broth and cornstarch in a small bowl until smooth and add to the pan along with the remaining ¼ teaspoon salt. Cook, stirring, until the sauce has thickened slightly and the shrimp are pink and just cooked through, about 2 minutes more. Remove from the heat. Stir in lemon juice and parsley. Serve the shrimp and sauce over the vegetables.
4. Tomato, Onion, and Roasted Lemon Salad
Next up is an especially fresh and detoxing salad from Bon Appetit. Guests will go crazy over this tomato, onion, and roasted lemon salad that resembles a salsa but doesn't need to be served with chips. The star ingredient is the lemon and when you add sugar and roast the fruit, it can be eaten from rind to flesh without worry. Pair that tangy lemon with flavorful tomato and crunchy onion and you have a match made in salad heaven. This salad will get you, your body, and your tastebuds ready for summer.
Ingredients:
1

lemon, halved lengthwise, thinly sliced, seeds removed

1

tablespoon

thinly sliced fresh sage leaves

½

teaspoon

sugar

2

tablespoons

olive oil, divided

1

tablespoon

pomegranate molasses

½

teaspoon

ground allspice

Kosher salt and freshly ground black pepper

1½

pound

mixed small tomatoes, such as Sun Gold, cherry, or heirloom, halved

½

small red onion, thinly sliced

¼

cup

fresh flat-leaf parsley leaves with tender stems

¼

cup

fresh mint leaves, torn if large

¼

cup

purple sprouts or microgreens (optional)
Directions: Preheat oven to 325 degrees Fahrenheit. Cook lemon slices in a medium saucepan of boiling water for 2 minutes to remove bitterness. Drain and pat dry.
Gently toss lemon slices with sage, sugar, and 1 tablespoon oil in a medium bowl. Spread out on a parchment-lined baking sheet and bake until lemons are no longer wet and only slightly colored, 15 to 20 minutes. Let cool.
Whisk pomegranate molasses, allspice, and remaining 1 tablespoon oil in a large bowl; season with salt and pepper. Add lemons, tomatoes, onion, parsley, mint, and sprouts, and toss gently; season with salt and pepper.
5. Spicy Lemon Quinoa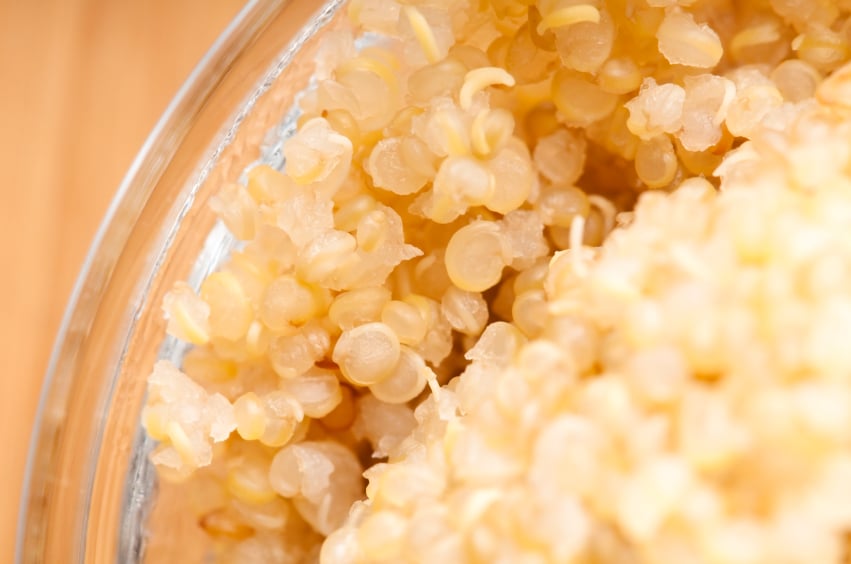 If you want to get into your grain game this spring, here's a recipe for spicy lemon quinoa from Martha Stewart. It's a simple and healthy side dish that can accompany any main meal. Into the quinoa go pine nuts, lemon zest, parsley, cumin, and cayenne, giving the accompaniment a fresh and somewhat surprising kick that will have your tastebuds wanting more. If you know of dinner guests who thinks quinoa is bland and boring, serve them this dish and watch them change their mind before your eyes.
Ingredients:
2 cups quinoa
Coarse salt
½ cup toasted pine nuts
2 teaspoons freshly grated lemon zest
½ cup chopped flat-leaf parsley
1 teaspoon ground cumin
¼ teaspoon cayenne
¼ cup lemon juice
¼ cup extra-virgin olive oil
Freshly ground black pepper
Directions: Place quinoa in a fine mesh sieve. Rinse under cold water until water runs clear. Transfer to a medium saucepan, add 1 teaspoon salt and 2 ¼ cups water. Bring to a boil, cover, and reduce to a simmer. Cook until water is completely absorbed, 18 to 20 minutes.
Transfer quinoa to a medium bowl along with pine nuts, lemon zest, parsley, cumin, cayenne; drizzle with lemon juice and olive oil. Season with salt and pepper; toss until well combined. Serve warm or at room temperature.
6. Ginger-Lemon Beef and Broccoli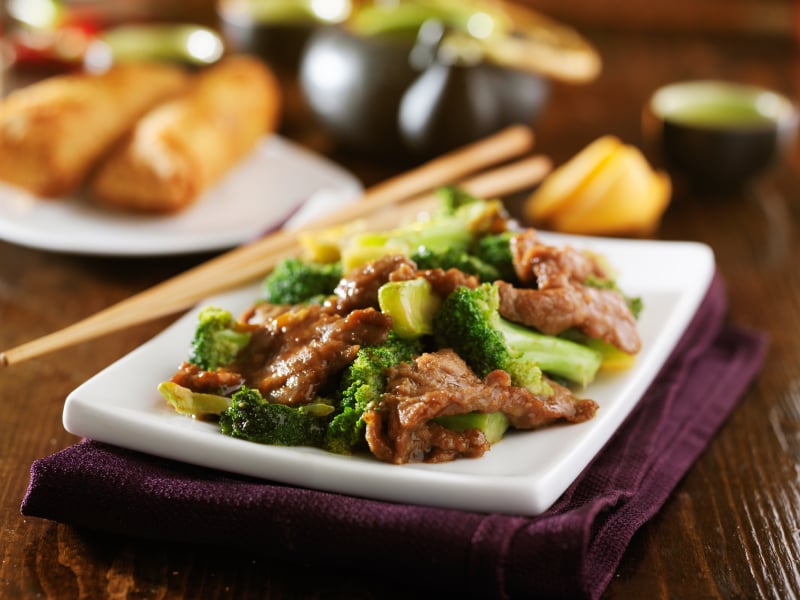 What's better than take-out but is still delicious and nutritious? That would be homemade ginger-lemon beef and broccoli. Get the recipe from Dairy Goodness and see for yourself. You don't need to order delivery to get the Asian flavors in your kitchen — simply pull out the lemons, soy sauce, honey, steak, butter, and broccoli, and you're good to go. You can easily make the dish at home and by doing so, you'll save yourself money and calories. The lemon zest and lemon juice give the dinner a refreshing zing, so you'll even taste the flavors of spring in your favorite Asian fare.
Ingredients:
1 cup

 milk

2 teaspoons 

cornstarch

2 teaspoons 

grated

lemon zest

1/3 cup

 

reduced-sodium soy sauce

1 tablespoon 

liquid honey

¼ teaspoon 

hot pepper flakes

, or to taste

1 tablespoon

 

butter

1 pound

 

boneless beef grilling steak

, cut into thin strips

1

onion

, cut in half and sliced

6 cups

broccoli

, cut in pieces

2 tablespoons

 grated

fresh gingerroot

2 tablespoons f

reshly squeezed

lemon juice
Directions: In a bowl, whisk a little of the milk into cornstarch to make a smooth paste. Whisk in remaining milk, lemon zest, soy sauce, honey and hot pepper flakes; set aside.
Heat a wok or large skillet over high heat. Add half of the butter and swirl to coat. Add beef and stir-fry for 3 min or until browned; transfer to a bowl. Add remaining butter to pan then onion and stir-fry for 1 min. Add broccoli and ginger and stir-fry for 3 minutes or until onion is tender. Return beef and accumulated juices to pan.
Whisk milk mixture and pour into pan. Cook, stirring and scraping up brown bits, for about 2 minutes or until thickened. Stir in lemon juice.
7. Rosemary Lemon Roasted Vegetables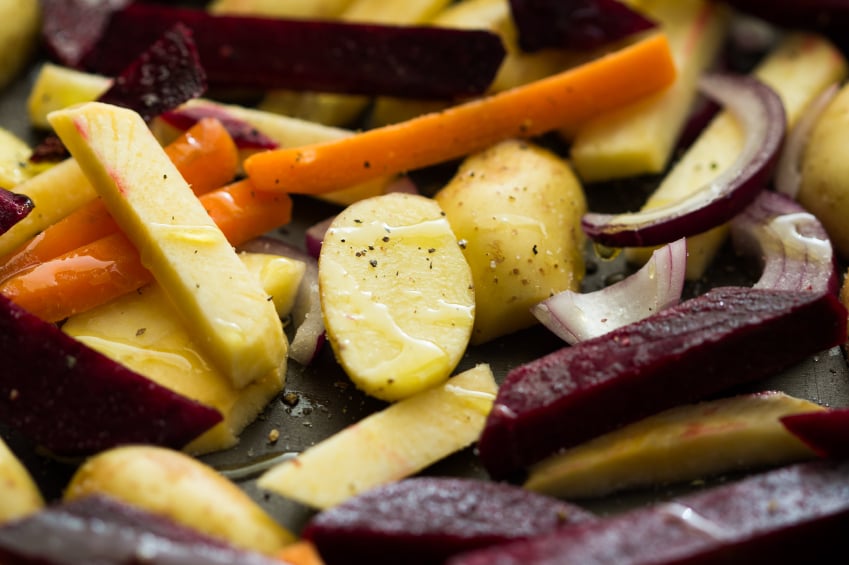 Last up is a dish from A Cedar Spoon that bridges the seasons. It uses up the last of the root vegetables while still enlisting the flavors of spring. The recipe yields rosemary lemon roasted vegetables and it serves 5 or 6. Simply combine your vegetables with garlic, rosemary sprigs, oregano, and olive oil, and then squeeze a fresh lemon over the mix. The simple and refreshing dish is the furthest thing from complicated, but the simple and natural flavors make it the refreshing accompaniment that it is.
Ingredients:
1 zucchini, chopped into sections
1 butternut squash, peeled and cubed
4 carrots, peeled and chopped
½ red onion, chopped into quarters
½ lemon, cut in quarters
3 garlic cloves, whole
2 fresh rosemary sprigs (or use 1 teaspoon dried rosemary)
1 teaspoon oregano
¼ cup oil (olive oil or grape seed oil)
Salt and pepper
Directions: Preheat oven to 450 degrees. In a large mixing bowl combine all ingredients except 1 quarter of the lemon. Squeeze the 1 quarter of lemon over the vegetables and mix.
On a baking sheet lined with foil spread the vegetables. Roast in oven for 30-40 minutes stirring halfway through to make sure they cook evenly. Remove from oven and let set for 2 minutes. Serve warm.
More from Culture Cheat Sheet: