Low-Carb Lunches That Give You Energy Without Weight Gain
The distinction of no- and low-carb is often associated with no- and low-flavor, but this doesn't have to be the case. The absence of carbohydrates doesn't mean a meal is devastated, and a dish can be still be satisfying and satiating even without the pasta and bread. Instead of putting yourself into a carb coma by 1 p.m., if you're trying to eat healthy, consider going low-carb for lunch and trying one of these seven recipes that promise to fill you up without filling you out. Thanks to the high fiber and protein content of these midday meals found around the web, you won't finish your lunch feeling hungry and unsatisfied. Rather, you'll be satiated but not sluggish, and you'll be ready to tackle the rest of the day's workload properly fueled.
1. BLT Salad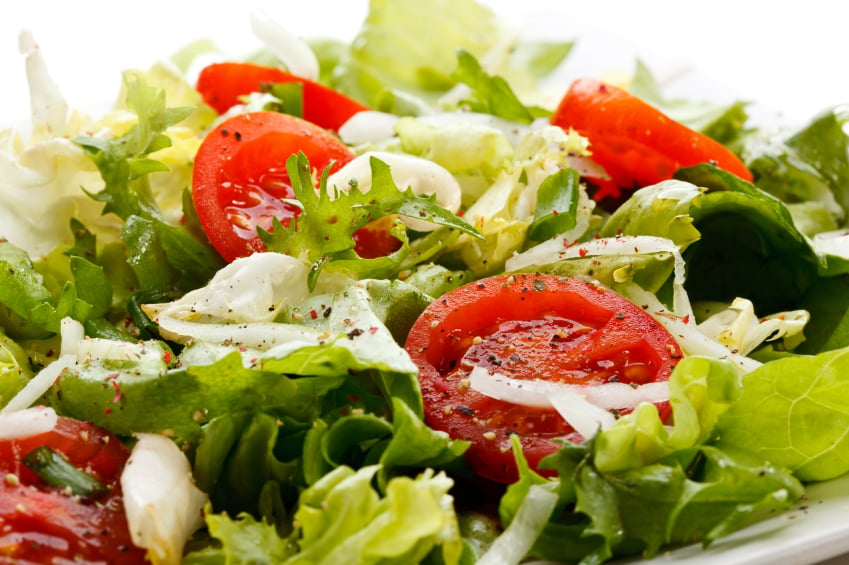 Up first is your favorite sandwich, hold the bread and bring on the greens. This BLT salad recipe from Eating Well still stars your favorite bacon, lettuce, and tomato combo, but it makes your meal a little healthier by plating your sandwich on a bed of greens rather than carbs. Bread is still on the ingredients list for this BLT salad, but it is used more sparingly and made into croutons. After all, this lunch isn't no-carb — it's low-carb.
Ingredients:
1 cup cubed whole-wheat country bread
2 teaspoons extra-virgin olive oil
4 medium tomatoes, divided
3 tablespoons reduced-fat mayonnaise
2 tablespoons minced chives, or scallion greens
2 teaspoons distilled white vinegar
¼ teaspoon garlic powder
Freshly ground pepper, to taste
5 cups chopped hearts of romaine lettuce
3 slices center-cut bacon, cooked and crumbled
Directions: Preheat oven to 350 degrees Fahrenheit. Toss bread with oil and spread on a baking sheet. Bake, turning once, until golden brown, 15 to 20 minutes.
Cut 1 tomato in half. Working over a large bowl, shred both halves using the large holes on a box grater. Discard the skin. Add mayonnaise, chives, vinegar, garlic powder, and pepper; whisk to combine.
Chop the remaining 3 tomatoes. Add the tomatoes, romaine and croutons to the bowl with the dressing; toss to coat. Sprinkle with bacon.
2. Mexican-Stuffed Bell Peppers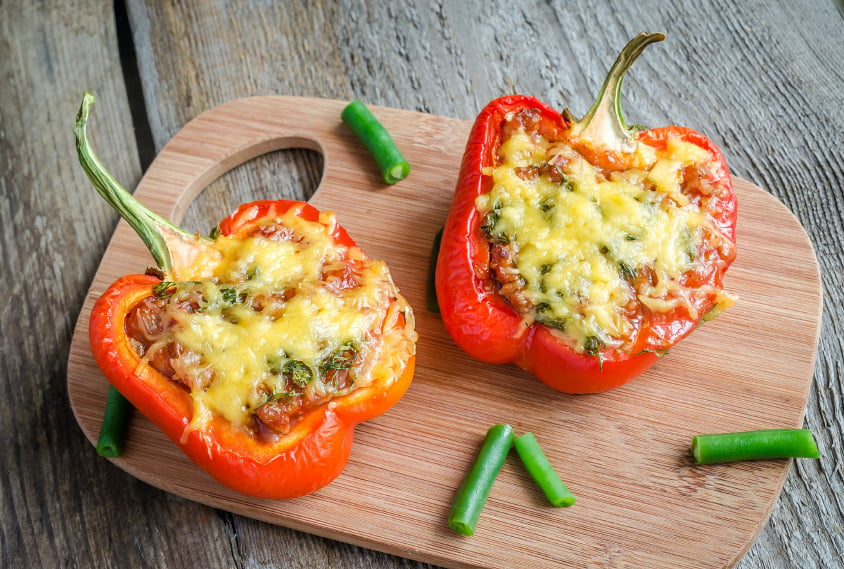 Have your Mexican and eat healthy, too. Ditch the tortilla and instead enjoy the rich flavors of the cheesy and meaty insides via this recipe from Fit Living Foodies for Mexican-stuffed bell peppers. This food formula has you packing your ground turkey, cheese, olives, and salsa fresca into fresh bell peppers, and then it's bon appetit. The dish can be prepared ahead of time and easily packed for lunch each day.
Ingredients:
4 whole bell peppers
2 tablespoons coconut oil
1 pound ground turkey
2 tablespoons taco seasoning
1 can black olives
½ cup shredded Mexican cheese blend
½ cup salsa fresca
Directions: Set oven to broil with top rack about six inches from flame. Line a baking sheet with aluminum foil. Spray with non-stick cooking spray. Lay pepper halves skin side down on baking sheet. Drizzle with coconut oil and sprinkle with salt and pepper. Broil pepper halves in oven for 10 to 15 minutes, until slightly soft and browned around the edges. Remove from oven and set aside.
Set oven to bake at 350 degrees and move rack to middle of oven. Heat a large skillet over medium-high heat. Cook ground turkey until no longer pink, breaking it up well as it cooks. Drain any excess fat. Add taco seasoning; cook until heated through, then set aside. Add olives to the meat, stir to combine. Divide the turkey among the peppers, pushing as much meat into each pepper as you can. Top each pepper with Mexican cheese blend. Return peppers to oven for 10 to 15 minutes, or until cheese is melted and slightly brown. Remove form oven and serve warm with salsa.
3. Low Carb Pesto and Turkey Cucumber Roll-ups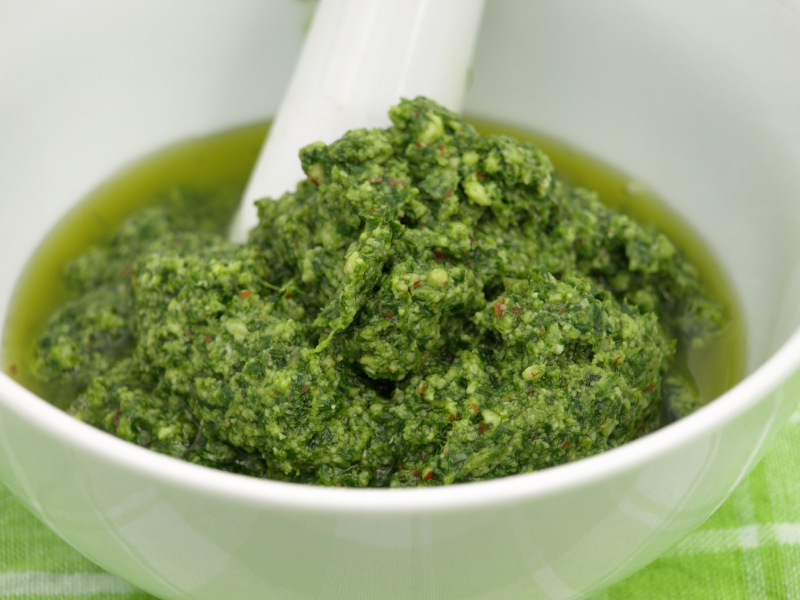 This next lunch idea from Ambitious Kitchen is fun to make, fun to eat, and couldn't be easier to prepare. You can make it at home the night before, or at your work desk the day of. Pesto and turkey cucumber roll-ups are what you need in your life if you're trying to go low-carb at lunch but still get your protein fix and feel satisfied. Monique from Ambitious Kitchen peels cucumber or zucchini into thin strips and then layers on the cheese, greens, turkey breast, and pesto. This snack-like dish promises to fill you up without leaving you feeling sluggish.
Ingredients:
3 medium cucumbers
¼ cup store-bought basil pesto
6 slices of cheese, cut into ½ inch strips
6 ounces deli smoked turkey breast, shredded
1 bell pepper, thinly sliced into matchsticks
½ cup spinach, shredded
Salt and pepper, for seasoning
Directions: Slice the cucumbers lengthwise. Place the cucumber slices on parchment paper and pat dry with a paper towel.
Spread about 1 teaspoon of pesto on each cucumber, then evenly distribute cheese, turkey, bell pepper, and spinach on each. Sprinkle with a little salt and black pepper. Roll up and place seam down. Serve with extra pesto or sauce of choice. Makes about 18 rolls.
4. Rainbow Spring Rolls with Ginger Peanut Sauce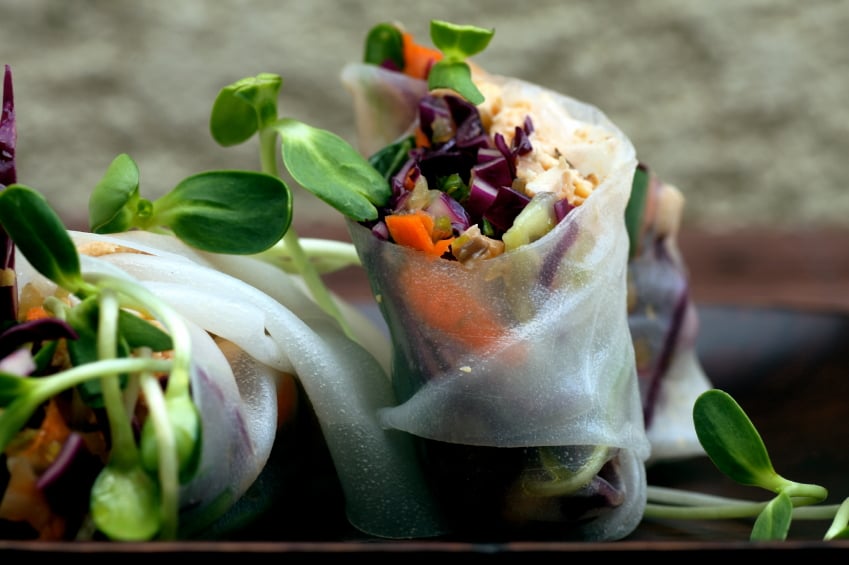 If you're feeling ambitious, try these rainbow spring rolls from Minimalist Baker. You can do this, and you're even going to learn how to make your own ginger peanut sauce. You're going to need spring roll papers, a handful of veggies, mint, and cilantro. From there, all you need to do is wrap your ingredients into the delicate spring roll papers, and follow Minimalist Baker's fool-proof formula for peanut sauce. Get ready to bring these to work and enjoy food envy from everyone else in your office.
Ingredients:
7 to 8 rice spring roll papers
1 beet, skin removed and finely grated
½ yellow and red pepper, seeded, thinly sliced
1 cup carrots, thinly sliced
1 ripe mango, cubed
1 large bunch mint leaves
1 large bunch cilantro, cut from stems
Optional: 8 ounces extra firm tofu, 1 cup cooked quinoa, or 8 ounces cooked vermicelli noodles
Ginger peanut sauce
½ cup salted natural peanut or almond butter
1½ tablespoons soy sauce
2 to 3 tablespoons brown sugar or maple syrup
½ lime, juiced
½ teaspoon chili garlic sauce
½ teaspoon fresh grated ginger
Hot water to thin
Directions: Prep veggies and set aside for easy assembly. Bring 3 cups water to a boil in a saucepan or kettle and set aside to cool slightly for cooking rice papers. Prepare peanut sauce by adding all ingredients except water to a mixing bowl and whisking. Add hot water 1 tablespoon at a time and whisk until desired consistency is desired. Set aside.
Add hot water to a large shallow dish and submerge a rice paper to soften for about 10 to 20 seconds. If you let it go too long or if your water is too hot, they will get too fragile to work with. Once soft, transfer to a clean, slightly damp surface, and gently smooth out into a circle.
Add carrots, peppers, mango, beets, and a healthy handful each cilantro and mint. Fold bottom over the fillings, then gently roll over once and fold in the side to seal, then roll until completely sealed. Place on a serving plate and top with a room temperature damp towel to keep fresh.
Repeat process until all toppings are used, about 7 or 8. Serve with dipping sauce and sriracha, if desired.
5. Cauliflower Pizza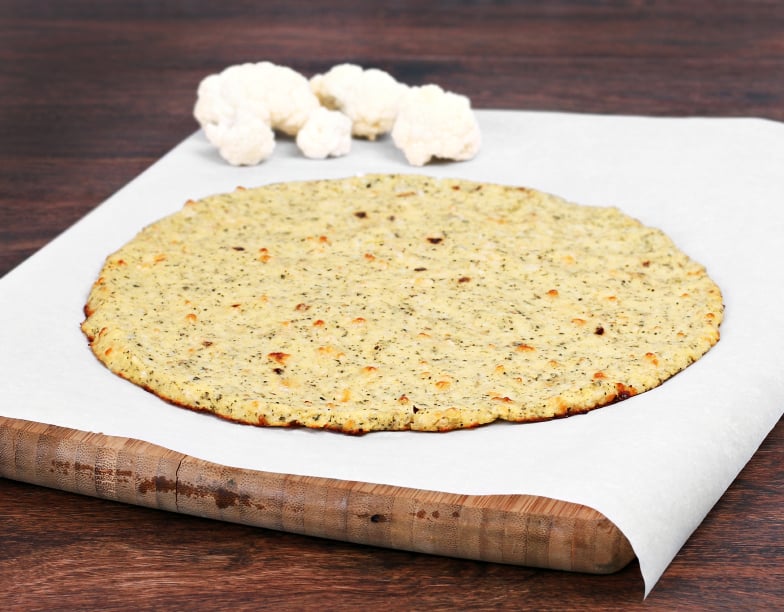 We bet you can go low-carb at lunch if it involves pizza. Try this cauliflower pizza from Eating Bird Food and prepare for a cauliflower crust to fool you. The nutrient-packed crust tastes just as satisfying as your typical dough but doesn't leave you in a carb coma, and when it's topped with cheese, veggies, and seasonings, you easily have a fiber-rich nutritious meal on the go. This cauliflower pizza only calls for six ingredients and is the perfect pie to pack in your lunch the night before.
Ingredients:
½ head cauliflower (about 2 cups riced)
1 clove garlic, minced
1 cup part-skim shredded mozzarella cheese
1 egg, beaten
1 teaspoon basil
1 teaspoon oregano
Directions: Pre-heat oven to 400 degrees Fahrenheit. Prep a cookie sheet or pizza stone by grease it with oil. You can grease the cookie sheet or use greased aluminum foil. It will stick if you don't grease it properly.
Remove the stems and leaves from your cauliflower and chop the florets into chunks. Add to a food processor and pulse just until the texture is similar to rice. Sauté cauliflower "rice" in a non-stick skillet over medium heat and cook until translucent, approximately 6 to 8 minutes.
In a bowl combine the cooked cauliflower with all remaining ingredients. Spread dough out evenly over foil (or stone), about ¼ to ⅓ of an inch thick. The pizza should be about 9 to 10 inches in diameter. Bake for 25 to 30 minutes or until the crust is golden, crispy on the edges and cooked through the middle. Remove the crust from the oven.
Top with pizza sauce and toppings. Be careful not to add too many heavy toppings as you don't want to weigh down the crust. Broil the pizza for 5 minutes, or until the toppings are hot and the cheese is melted. Allow the pizza to cool for 2 to 3 minutes then cut.
6. Lentil, Cucumber, and Tomato Salad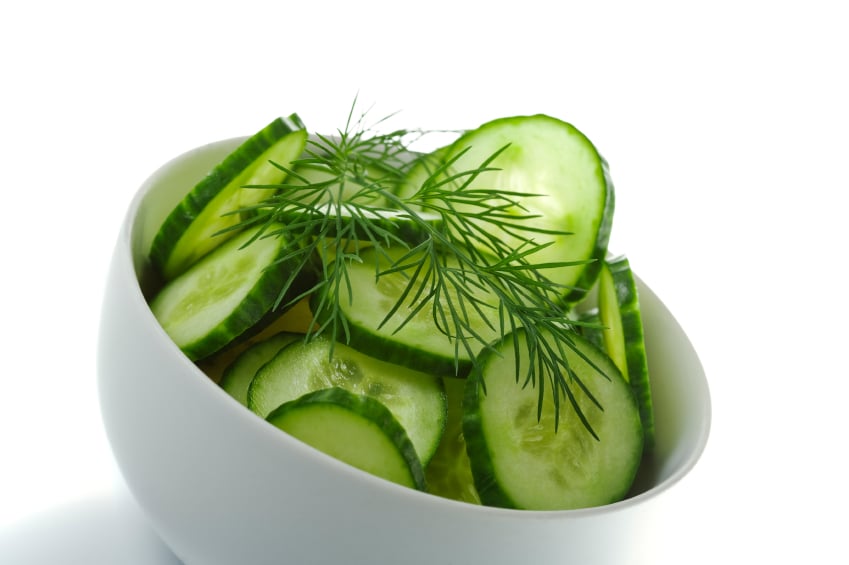 And if you're going to go low-carb, try this beautiful lentil, cucumber, and tomato salad from Making Thyme for Health. The vegetarian salad is surprisingly filling thanks to the fiber-packed and nutrient-dense lentils, and the fresh veggies and salty feta doesn't hurt either. This recipe serves 4 and can be mastered in just 15 minutes. Bring it to work along with some fresh fruit and you'll feel satisfied and light on your feet all afternoon.
Ingredients:
2 large cucumbers, sliced
1 pint cherry tomatoes, diced
1 small red onion, sliced
2 cups cooked French green lentils
¼ cup fresh dill
¼ cup fresh parsley
2 tablespoons fresh mint
2 tablespoons white vinegar
¼ cup fresh lemon juice (approximately 2 large lemons)
¼ cup extra virgin olive oil
4 ounces crumbled feta cheese
Directions: Combine vinegar, lemon juice, and olive in a large bowl and whisk together. Then add the cucumbers, tomatoes, onion, and lentils to the bowl.
Finely chop the fresh herbs and add them to the bowl. If using crumbled feta, add it as well and then stir together until everything is evenly coated. Sprinkle with salt and pepper to taste, adding more as needed. Serve cold or store in the refrigerator in a sealed container for up to 4 days.
7. Baked Spaghetti Squash with Garlic and Butter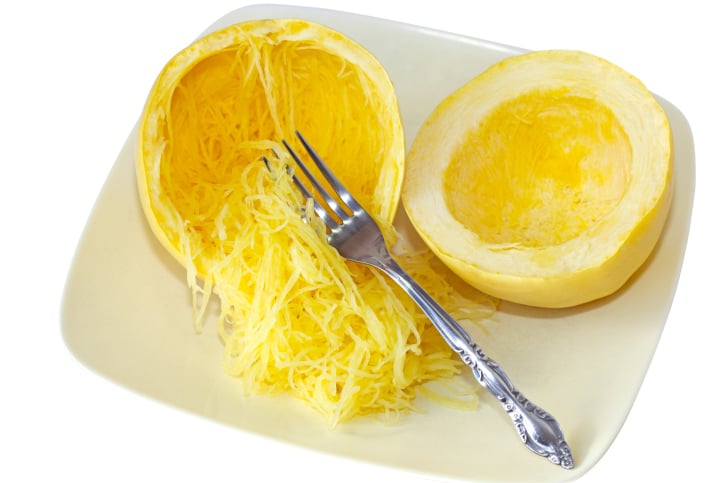 When you need some faux comfort food, warm up at your office desk with this dish of spaghetti squash with garlic and butter from Steamy Kitchen. It'll make you feel like you're tucking in a big bowl of carbs, when in reality, you're only filling up with nutrients. The spaghetti squash is a superfood in more ways that one, but the way it can charade as real spaghetti is the biggest reason most consumers love it. Try out this recipe and see for yourself. You can prepare the surprisingly healthy lunch ahead of time and enjoy it for days.
Ingredients:
1 small spaghetti squash (about 3-4 pounds)
2 tablespoons butter
2 cloves garlic, finely minced
¼ cup finely minced parsley (or basil)
½ teaspoon salt (or to taste)
¼ cup shredded parmesan cheese
Directions: Preheat oven to 375 degrees Fahrenheit. Pierce squash a few times with sharp paring knife. Bake spaghetti squash for 60 minutes, or until a paring knife pierces easily through skin with little resistance. Let squash cool for 10 minutes.
Cut squash in half, lengthwise. Use a fork to remove and discard the seeds. Continue using fork to scrape the squash to get long strands. If the squash seem difficult to scrape, return the squash to bake for an additional 10 minutes.
Heat a large saute pan with the butter and the garlic over medium-low heat. When garlic becomes fragrant, add parsley, salt and spaghetti squash strands. Toss well, sprinkle in the parmesan cheese and taste to see if you need additional salt. The spaghetti squash should have a slight crunch, but if you like it softer, cover the pan and cook 2 more minutes.
More from Culture Cheat Sheet: