7 Low-Carb Recipes for Your Carb Cycle Diet
On the surface, the carb cycle diet couldn't be more simple. On days you work out the most, you eat a lot of healthy carbs, like whole grains or legumes. On less-intense training days, you limit carbs and focus on eating protein-rich foods and low-carb veggies. The carb-heavy days give you the energy you need to fuel your workouts, adherents say, while the low-carb days help you lose weight.
"Eating healthy carbs on certain days keeps your metabolism revved up, and sticking to mostly protein and vegetables on days in between keeps insulin low enough that you can burn fat without losing muscle," Shelby Starnes, a competitive bodybuilder and carb cycling expert, told Daily Burn.
Carb cycling might not seem terribly complex, especially compared to some diet plans, but it still requires work if you're going to stick to it, especially over the long term. Boredom can easily set in if you always end up cooking a plain chicken breast and steamed broccoli for dinner on your low-carb days.
To help you reach your fitness goals and shed those extra pounds, here are seven creative low-carb recipes that will help you stick to your carb cycle diet.
1. Balsamic Brussels Sprouts with Almond-Encrusted Seared Tuna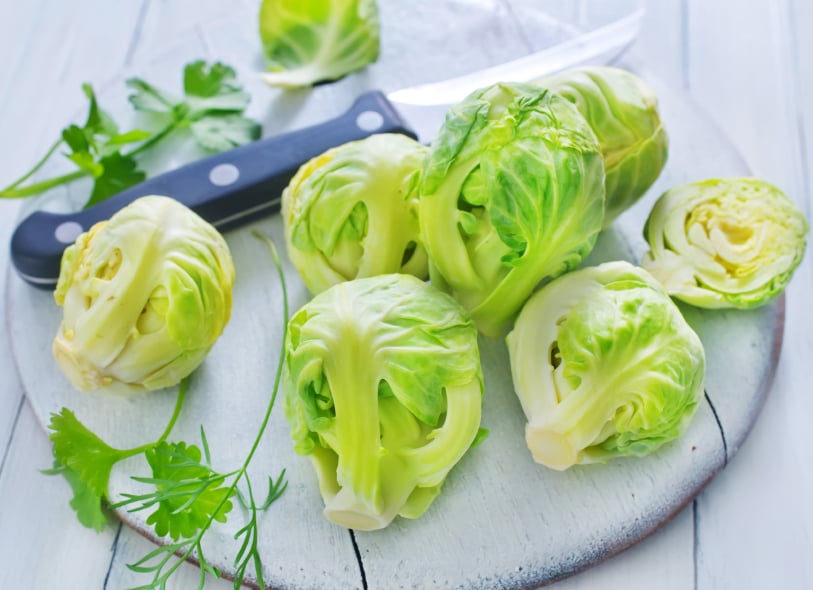 An almond coating gives low-fat, high-protein tuna steaks some extra crunch in this quick-cooking dinner recipe from Little Southern Life. For your vegetable side, Brussels sprouts are slowly cooked in coconut oil and balsamic vinegar until tender.
Ingredients:
For the Brussels sprouts:
1½ pounds Brussels sprouts, trimmed and split
¼ cup coconut oil
1 tablespoon thick balsamic vinegar
Sea salt and black pepper to taste
For the tuna:
3 tuna steaks
Crushed almonds
Sea salt to taste
Pepper to taste
2 tablespoons coconut oil
Directions: To prepare Brussels sprouts, add coconut oil to a saucepan and turn heat to medium-high. When the oil melts, add the Brussels sprouts, salt, and pepper, then mix. Cover, reduce heat to low, and let cook for 15 minutes.
Add the balsamic vinegar to the pan and stir. Cover and cook on low for 10 more minutes, until Brussels sprouts are tender.
To make the tuna, crush the almonds using a food processor or rolling pin. Salt and pepper the tuna steaks. Press each tuna steak into the crushed almonds to coat, then flip and repeat on the other side.
In a large frying pan, heat the coconut oil until melted and clear. Place tuna steaks in the pan and sear for 2 minutes. Flip and continue to cook for another 2 minutes. Remove the steaks from the pan and slice into strips. Serve with the Brussels sprouts.
2. Zuppa Toscana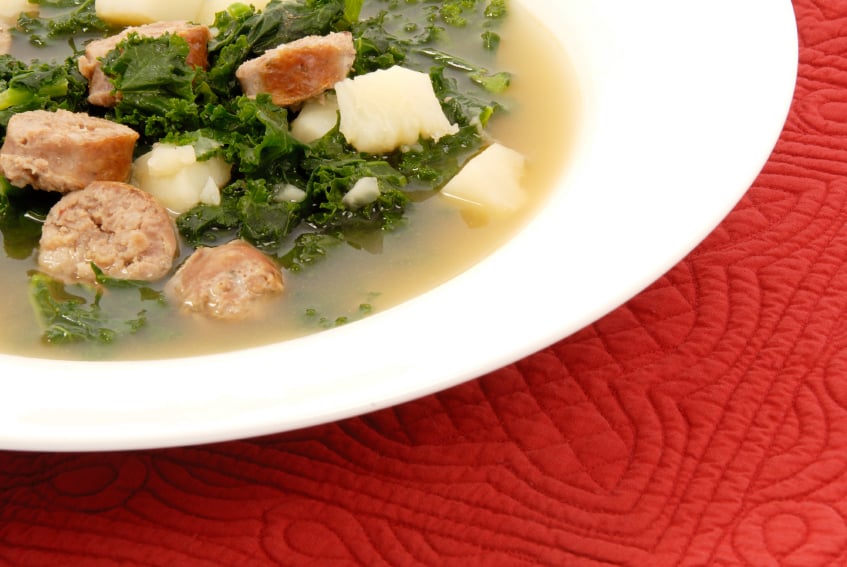 This spin on a traditional Tuscan soup replaces potato with cauliflower for a dish that retains its rich flavor without piling on the carbs. Make a batch on Sunday and you'll have enough for a week's work of lunches. Recipe from No Bun Please.
Ingredients:
2 cups chicken stock
1 quart water
1 pound Italian sausage, ground
3 cups kale, chopped
2 cups cauliflower, riced
2 cloves garlic, chopped
½ cup onion, diced
1 tablespoon heavy whipping cream
1 teaspoon crushed red pepper
¼ cup butter
Salt and pepper to taste
Fresh-grated Parmesan for serving (optional)
Directions: Brown the sausage, onion, and garlic in a large saucepan. After the meat is fully cooked and the onions are soft and translucent, use a little of the chicken stock to deglaze the pan, scraping up any bits that are stuck to the bottom of the pan.
Add the water, rest of the stock, crushed red pepper, salt, and pepper to the pan. Let simmer for about 30 minutes.
Add the butter, kale, and cauliflower. Cook for about 15 minutes, until vegetables are tender. Just before serving, stir in 1 tablespoon of heavy whipping cream. Garnish with fresh-grated Parmesan if you like.
3. Low-Carb Beef and Broccoli Stir Fry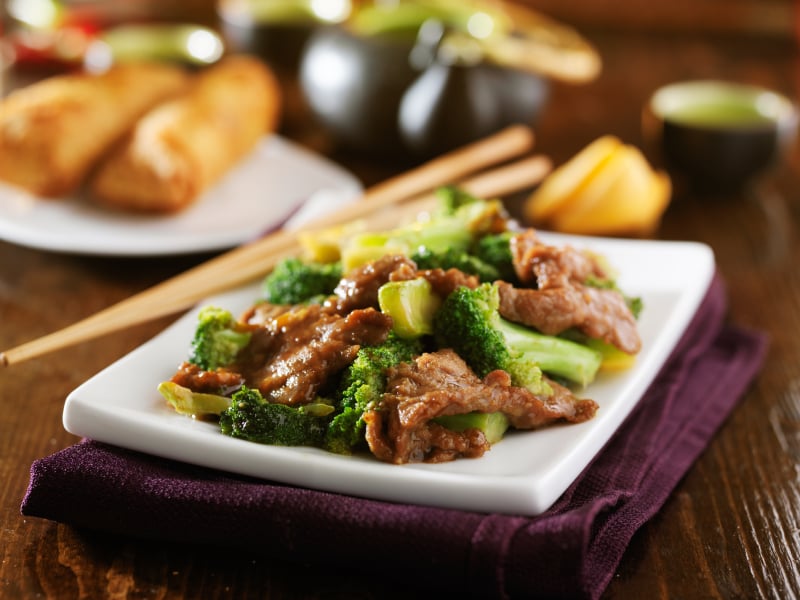 When served sans rice, a beef and broccoli stir fry is the perfect option for a quick, low-carb dinner. Unfortunately, many recipes call for coating your meat and veggies in a sweet sauce made thickened with flour or cornstarch – not exactly what you want on a low-carb day. This version from Food.com uses for guar gum for thickening while soy sauce and a small amount of sugar substitute add flavor.
Ingredients:
1 tablespoon canola oil
2 cups broccoli, blanched
½ cup thinly sliced carrot
½ cup onion, cut into wedges
6 ounces sirloin steak, boneless and cut into strips
1½ tablespoons chicken broth
1 tablespoon low-sodium soy sauce
½ teaspoon guar gum or cornstarch
¼ teaspoon Splenda sugar substitute
1⁄8 teaspoon salt (optional)
Directions: Heat the oil in a large skillet. Add the broccoli, carrot, and onion and cook, stirring frequently, until the vegetables are tender-crisp. Stir in the beef and cook until it reaches desired doneness.
Stir together the chicken broth, soy sauce, guar gum, Splenda, and salt in a small bowl. Add to the beef and vegetables and cook, stirring constantly until the sauce thickens, about 2 to 3 minutes.
4. Flank Steak Salad with Chimichurri Dressing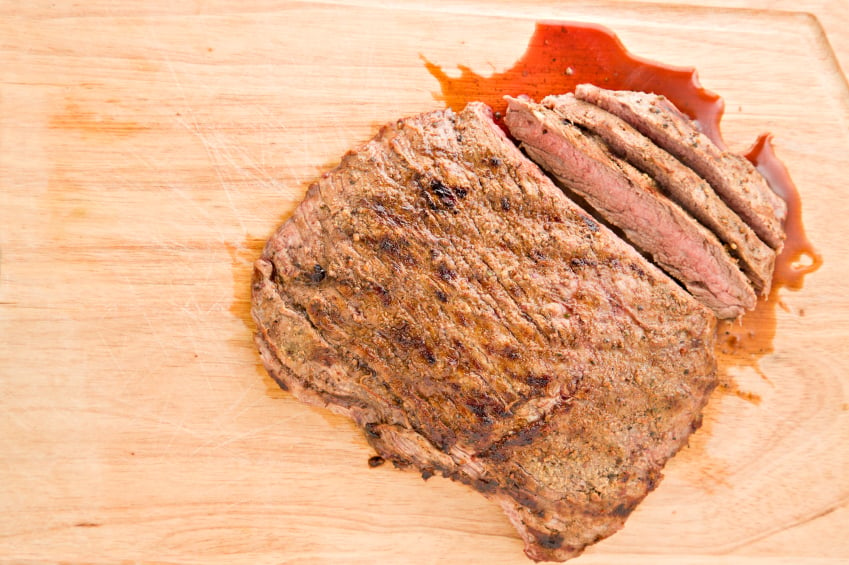 A grilled steak is served on a bed of healthy green and dressed with a delicious chimichurri sauce in this easy-to-make main dish salad. Recipe from Epicurious.
Ingredients:
1 large bunch fresh Italian parsley
2 tablespoons fresh oregano leaves
3 garlic cloves, peeled
½ cup olive oil
¼ cup red wine vinegar
1 teaspoon chipotle hot pepper sauce
1½ pounds flank steak
8 ounces mixed baby greens
12-ounce container marinated small fresh mozzarella balls, drained
Directions: Prepare barbecue (medium-high heat). Combine parsley (with stems), oregano, and garlic in processor; blend 10 seconds. Add ½ cup oil, vinegar, and hot pepper sauce; blend until almost smooth. Season dressing to taste with salt and pepper.
Brush grill rack with oil. Sprinkle steak on both sides with salt and pepper. Grill steak to desired doneness, about 5 minutes per side for medium-rare. Transfer steak to work surface; let rest 5 minutes.
Meanwhile, toss greens in large bowl with some dressing. Transfer to large platter. Sprinkle mozzarella over.
Thinly slice steak across grain on slight diagonal. Arrange steak atop greens. Drizzle with remaining dressing.
5. Seared Scallops and Wilted Greens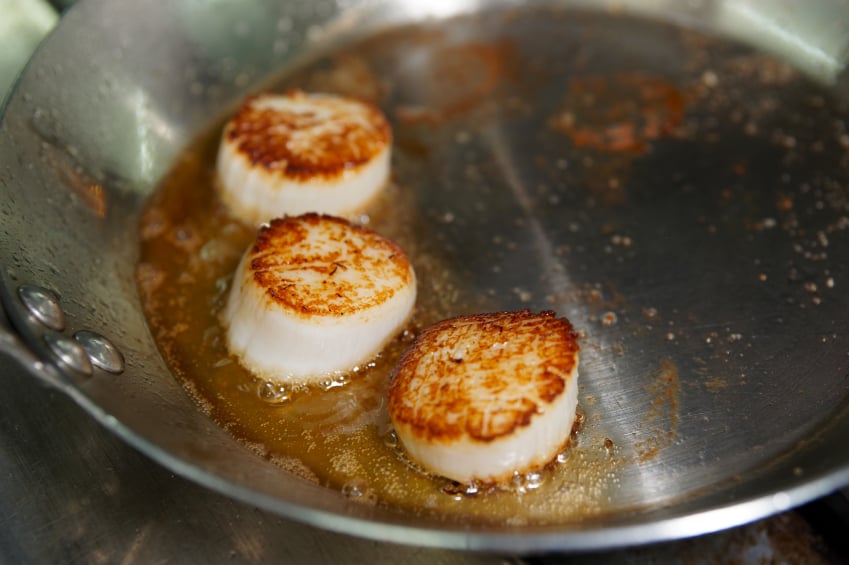 Hearty scallops are seared in butter and oil and then served on a bed of shallots and wilted greens cooked with thick-cut bacon in this recipe from A Spicy Perspective. Best of all, you can prepare this flavorful and filling dish in under 30 minutes.
Ingredients:
3 slices of thick-cut bacon, cut into pieces
2 shallots, sliced thin
2 to 3 cloves garlic, minced
2 bunches of kale (or substitute chard or beet greens)
1 tablespoon soy sauce
1 tablespoon red wine vinegar
Salt
Pepper
12 large sea scallops
2 tablespoons olive oil
1 tablespoon butter
Directions: Slice kale leaves into large strips and the stems into thin pieces. Set aside.
Heat a large, high-sided pan over medium-high heat. Add the bacon and cook for 3 to 4 minutes. Add the shallots and continue to cook for another 3 to 4 minutes. Add the garlic and kale stems to the pan and cook for 4 to 5 minutes. Then, add the kale leaves and toss until wilted.
Add the soy sauce, vinegar, and pepper to the kale and bacon mixture. Set aside and keep warm.
Heat a cast-iron skillet over high heat. Dry the scallops, then season with salt and pepper. Add olive oil to the pan and swirl to coat. When the oil begins to smoke, add the scallops and cook for 1 to 2 minutes.
Flip the scallops and add the butter to the pan. Continue to cook for another 1 to 2 minutes. Serve over the warm kale and bacon.
6. Fried Eggs with Prosciutto and Asparagus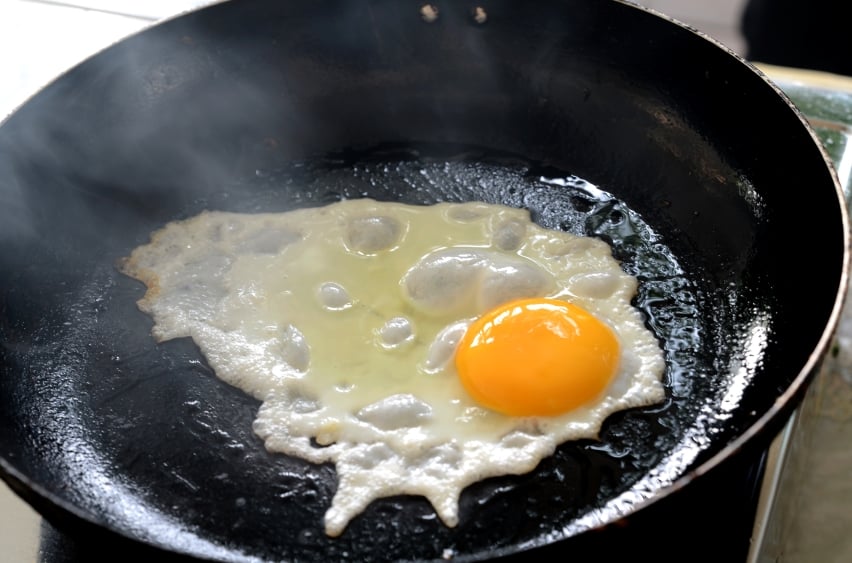 A fried egg with prosciutto and asparagus is perfect for either a quick lunch or a simple dinner. Blanching the asparagus for just a few minutes ensures that your vegetables are tender enough to eat but not limp and soggy. Recipe from Martha Stewart.
Ingredients:
1 pound (16 spears) asparagus
Salt
Freshly ground black pepper
1 tablespoon unsalted butter, melted
4 large eggs
¼ pound thinly sliced prosciutto
2 tablespoons freshly grated Parmesan cheese
1 tablespoon coarsely chopped flat-leaf parsley
Directions: Snap off and discard tough ends of asparagus. Bring a large sauté pan of salted water to a boil. Cook asparagus until just tender but still dark green, 4 to 5 minutes. Transfer to a clean kitchen towel; fold over. Set aside.
Heat half of the butter in a large nonstick skillet over medium-low heat. Break eggs into skillet. Season with salt and pepper, and cook, covered, until set, about 4 minutes.
Place several slices of prosciutto on each of four plates; arrange 4 spears asparagus on each. Brush with the remaining melted butter. Carefully place fried eggs on top, sprinkle with Parmesan and parsley, and serve.
7. 5-Minute Spicy Asian Chicken Salad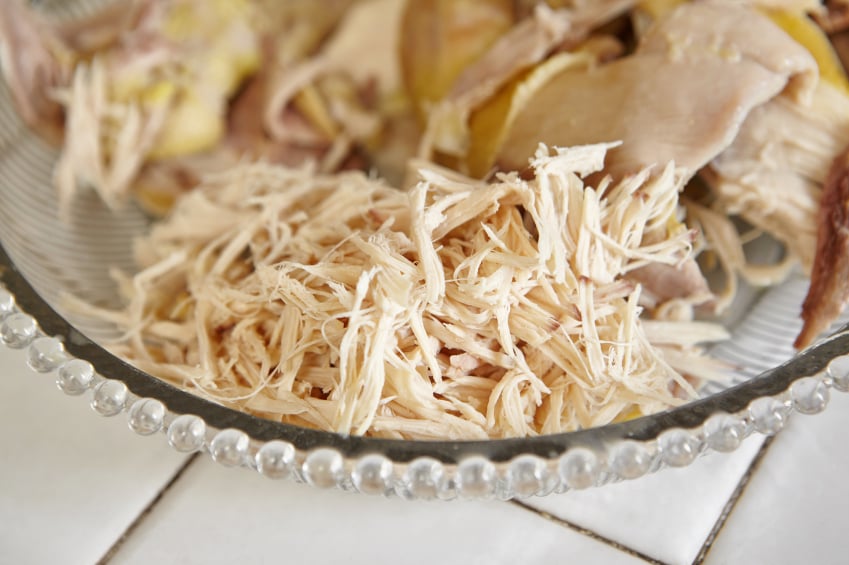 Low-carb lunches are no problem when you bring a Tupperware of this spicy chicken salad with you to work. You save time on prep by using meat from a store-bought rotisserie chicken and a pre-shredded salad mix. Recipe from Linda Wagner.
Ingredients:
2 bags shredded carrots
½  bag of slaw mix and ½ bag shredded kale, or use 1 bag of Cruciferous Crunch shredded salad from Trader Joe's
2 tablespoons black sesame seeds
1 jalapeño, halved and sliced very fine
Meat from 1 rotisserie chicken, shredded
Juice of 2 limes
4 tablespoons tamari or regular soy sauce
1 tablespoon Sriracha
5 to 6 drops liquid stevia or a drizzle of honey
Directions: Add all the ingredients to a large plastic bag or resealable container. Close, then shake vigorously to combine. Serve.
Follow Megan on Twitter @MeganE_CS
More from Culture Cheat Sheet: