7 Mother's Day Desserts You Can Make in 20 Minutes or Less
No matter how thoughtful it feels to prepare breakfast in bed for one of the moms in your life this Mother's Day, she'd probably rather get some rest. Besides, basic scrambled eggs aren't really that impressive. Dessert, on the other hand, always steals the show.
The only problem is many sweets take a huge amount of time, not to mention serious kitchen skills. Instead of attempting a towering cake, go for one of these seven simple, speedy desserts. No one will guess you managed something so delicious in less than 20 minutes.
1. Balsamic Berries
Sweet strawberries require very little to make an impressive dessert, and this speedy recipe from Every Day with Rachael Ray proves it. All you have to do is simmer a quick syrup featuring white balsamic vinegar, whip some sweetened mascarpone cream, and then assemble. A final sprinkle of black pepper is an unexpected finish that will score you heaps of praise.
Ingredients:
⅔ cup white balsamic vinegar
¼ cup sugar
½ cup heavy cream, chilled
½ cup mascarpone cheese, chilled
3 cups sliced strawberries
½ teaspoon lemon zest
Pepper
Directions: In a small saucepan, bring vinegar and 2 tablespoons sugar to a boil and let reduce for 8 minutes. Let cool.
Whip cream, mascarpone, and remaining sugar until fluffy, being careful not to overbeat. Toss berries with balsamic syrup and zest. Top with cream and a pinch of pepper.
2. Flourless Peanut Butter Cookies
As impossible as it sounds, perfect peanut butter cookies can be yours in just 20 minutes. The secret? A five-ingredient recipe that requires no special equipment from Claire Robinson, featured on Food Network. If you have a little extra time and want to impress even more, try dunking the cooled cookies halfway in some melted chocolate.
Ingredients:
1 cup natural peanut butter
1 cup sugar
1 teaspoon vanilla extract
1 large egg, lightly beaten
Coarse sea salt
Directions: Preheat oven to 350 degrees Fahrenheit and arrange racks in upper- and lower-thirds of oven.
In a medium bowl, mix peanut butter with sugar, vanilla, and egg until well combined. Drop tablespoon portions of dough onto ungreased baking sheets, leaving about 1 inch of space between each. Flatten dough with the tines of a fork to create a crosshatch. Sprinkle with salt.
Bake until golden at edges, switching and rotating pans halfway through, about 10 minutes. Transfer to wire racks to cool. Repeat with any remaining dough.
3. Sparkling Pineapple Soup
This elegant pineapple soup from The New York Times is so simple, it almost seems like cheating. It's made with nothing but fresh pineapple, sparkling wine, a squeeze of lemon juice, and a sprinkling of toasted coconut. This soup blurs the line between dessert and cocktail, which is perfect for the occasion.
Ingredients:
2 cups sparkling wine
3 cups grated pineapple flesh
2 tablespoons lemon juice
Toasted coconut
Directions: In a bowl, gently stir sparkling wine, pineapple flesh, and lemon juice. Serve immediately, garnished with coconut.
4. Instant Chocolate Mousse
Water is usually considered the ultimate villain when chocolate is concerned. If you've ever accidentally let a few drips find their way into some of the sweet stuff while melting, you're familiar with the horrendous results. For everyone else, take a look over at Food52.
While this grainy mess will happen with tiny bit of water, a larger amount can yield ultra smooth results. In fact, you can turn the resulting mixture into the fastest chocolate mousse you've ever had. Try the method with this recipe from Cafe Fernando, originally developed by chemist Hervé This. You don't even have to let this mousse set, so you can wait until after dinner to make it.
Ingredients:
9.35 ounces bittersweet 70% chocolate, chopped
1 cup water
4 tablespoons sugar (optional)
Directions: Place a large mixing bowl on top of a smaller one filled with ice water. You want the bottom of the large bowl to touch the ice.
Combine chocolate, water, and sugar, if using, in a medium saucepan. Set over over medium heat to melt, stirring from time to time. Once melted, pour into the large mixing bowl. Whisk mixture until thick, being careful not to overwhip.
Immediately divide among four cups and serve.
5. Chocolate Pound Cake with Ricotta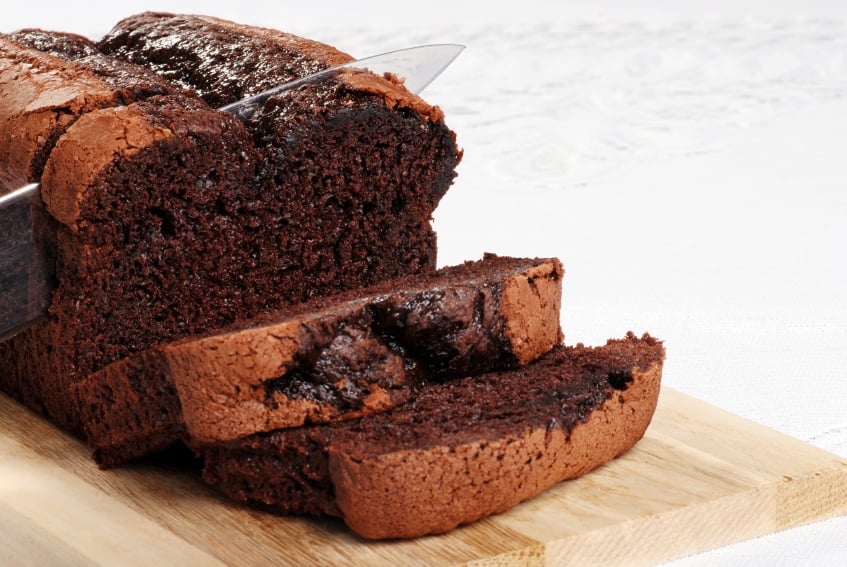 For those who have absolutely zero kitchen skills, this dead-simple dessert from Real Simple is the way to go. Though the recipe calls for chocolate pound cake, any variety available at your store will work. Score bonus points with mom by finishing things off with some chocolate shavings. For the best results, pop a good quality chocolate bar in the microwave for 10 seconds, then use a vegetable peeler to easily create perfect curls.
Ingredients:
4 slices chocolate pound cake
¾ cup ricotta cheese, at room temperature
¼ cup honey
Directions: Arrange each slice of cake on a plate and top equally with ricotta. Drizzle with honey and serve.
6. Almost-Instant Soft-Serve
Usually a dessert that requires days of planning ahead, ice cream becomes astoundingly quick when you opt for this method from Food & Wine. Just blend some frozen fruit with sweetened condensed milk, a splash of vanilla, and a pinch of salt. You can eat it immediately, or let it hang out in the freezer for a few hours.
Ingredients:
1½ pounds frozen strawberries, mangoes, or blueberries
¾ cup sweetened condensed milk
½ teaspoon vanilla extract
Kosher salt
Directions: In a food processor, pulse fruit, condensed milk, vanilla, and a generous pinch of salt until fruit is very finely chopped. Purée until smooth, 2 to 3 minutes. Scrape down sides of bowl and repeat, if needed. Serve immediately or transfer to a metal baking dish, cover, and freeze until just firm.
7. Tipsy Affogato
If mom likes to pair a cup of coffee with her dessert, you're in luck. With nothing more than the brewed beverage and some ice cream, you can create a great Italian dessert called Affogato. Since it's her special day, take things one step further with a spiked version from Martha Stewart's Everyday Food. Feel free to substitute another type of flavored liqueur or go for a splash of whiskey.
Ingredients:
1 pint vanilla bean ice cream
¼ cup strong coffee
1 ounce hazelnut liqueur
Directions: Divide ice cream among four glasses. Pour coffee and liqueur over each portion and serve at once.