7 Recipes Every Man Should Know How to Make
You don't need to master a ton of recipes to wow people with your cooking skills, but you do need to know some basics (and we don't mean just boiling an egg). Every home cook needs a library of simple, versatile dishes that they can turn to for everything from quick weeknight meals to unexpected dinner parties. They may not be the most elaborate culinary concoctions, but once you learn how to pull off a few recipes with aplomb, no one needs to know that you don't know a béchamel from a bisque.
Here's our list of seven recipes every guy should know how to cook, from a simple breakfast classic to a mouthwatering dessert.
1. Frittata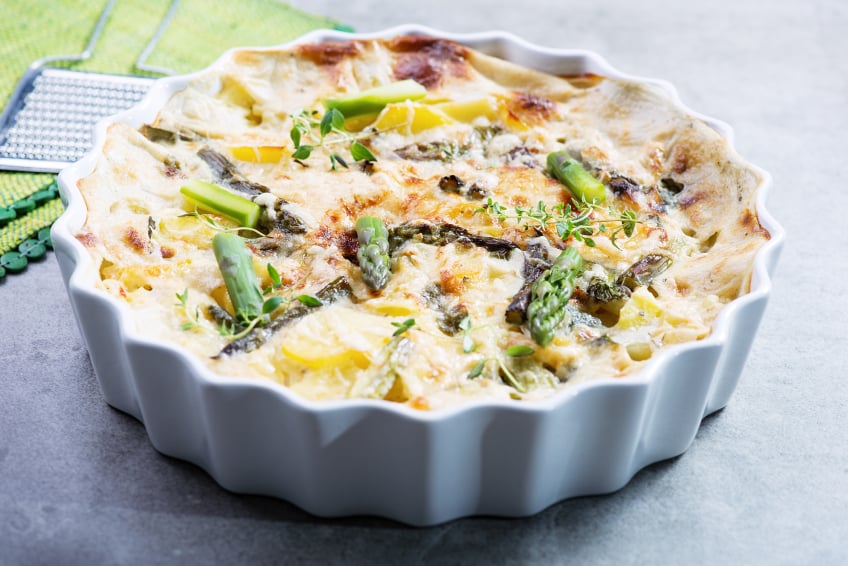 A frittata is the omelet's easier-to-make cousin (no flipping or folding required). This recipe from Alton Brown, which requires "no actual practice," calls for asparagus, ham, and parsley, but you can get creative and substitute whatever ingredients you have on hand and think would taste good together (for example, you might replace the asparagus with broccoli, or the Parmesan with Asiago).
Ingredients:
6 eggs, well beaten
1 ounce Parmesan cheese, grated
½ teaspoon black pepper, freshly ground
1 pinch kosher salt
1 tablespoon unsalted butter
½ cup chopped roasted asparagus, chopped
½ cup chopped country ham, chopped
1 tablespoon fresh parsley leaves, chopped
Directions: Heat the broiler to high. Set a rack in the upper third of the oven.
Put the eggs, cheese, pepper, and salt in a medium mixing bowl and stir them together using a fork. Heat a 10-inch nonstick, oven-safe sauté pan over medium-high heat for 2 to 3 minutes. When the pan is hot, add the butter to the pan and brush it around the surface of the pan. Add the asparagus and ham to the pan and sauté for 2 to 3 minutes, until heated through. Pour the egg mixture into the pan and stir with a silicone spatula. Cook for 4 to 5 minutes, until the egg mixture has set on the bottom and begins to set on top. Sprinkle with the parsley.
Place the pan under the broiler for 3 to 4 minutes, until lightly browned and puffy. Remove the frittata from the pan and cut into 6 wedges. Serve immediately.
2. Chicken Noodle Soup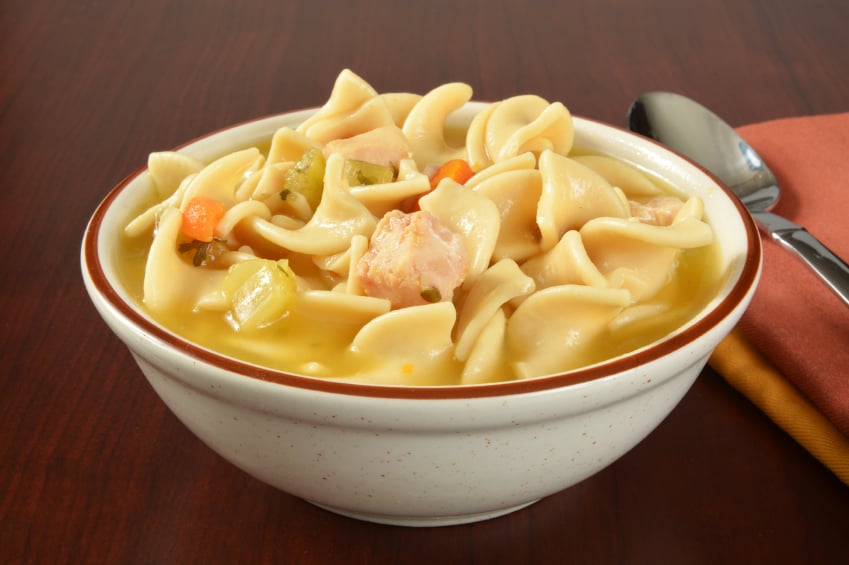 Just say no to canned chicken noodle soup. The homemade version is tastier and healthier, with less salt and fewer preservatives. Plus, it's simple to make. Whip up a batch the next time someone you love is sick, and you'll have their undying gratitude.
This easy-to-make recipe from Rachael Ray can be made with either store-bought or homemade stock and takes less than 30 minutes to cook. After you've mastered this simple dish, try these six other creative ways to cook chicken soup.
Ingredients:
2 tablespoons extra-virgin olive oil
2 medium carrots, peeled and chopped
1 parsnip, peeled and chopped
1 medium onion, chopped
2 ribs celery, chopped
2 bay leaves, fresh or dried
Salt and pepper
6 cups good quality chicken stock
1 pound chicken breast tenders, diced
½ pound wide egg noodles
A handful fresh parsley, chopped
A handful fresh dill, chopped
Directions: Place a large pot over moderate heat and add extra-virgin olive oil, 2 turns around the pan. Work close to the stove and, in the order they are listed, add vegetables to the pot as you chop.
Add bay leaves and season vegetables with salt and pepper, to taste. Add stock to the pot and raise flame to bring liquid to a boil. Add diced chicken tenderloins, return soup to a boil, and reduce heat back to moderate. Cook chicken 2 minutes and add noodles. Cook soup an additional 6 minutes or until noodles are tender and remove soup from the heat.
Stir in parsley and dill, remove bay leaves, and serve.
3. Balsamic Vinaigrette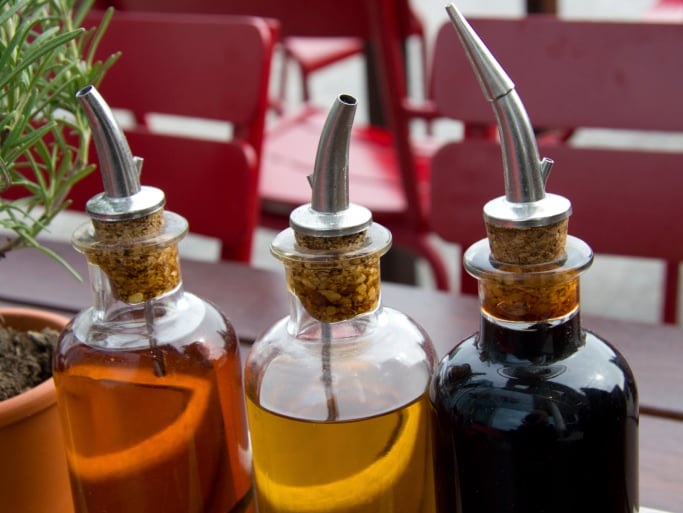 A good dressing can make or break a salad. You can turn even simple mixed greens into something tasty by topping it off with the right mix of oil, vinegar, and seasoning. This balsamic vinaigrette recipe from The Kitchn is a breeze to make and will keep for several weeks.
A couple of tips: You can add more flavor to this dressing by mixing in any of the following: a spoonful of mustard, minced shallots, minced garlic, minced fresh herbs, a teaspoon dried herbs, or a spoonful of honey or brown sugar. If you want to make a larger or smaller quantity of dressing, just follow the ratio of 3 parts oil to 1 part vinegar.
Ingredients:
¾ cup extra-virgin olive oil
¼ cup balsamic vinegar
Salt
Fresh-ground pepper
Directions: Combine the olive oil and balsamic in a jam jar or other container with a good-sealing lid. Add a big pinch of salt and a few grinds of black pepper. Screw on the lid and shake vigorously. Dip a piece of lettuce into the vinaigrette and taste. Adjust the salt, pepper, or the proportion of oil and vinegar to taste.
4.  Seared Steak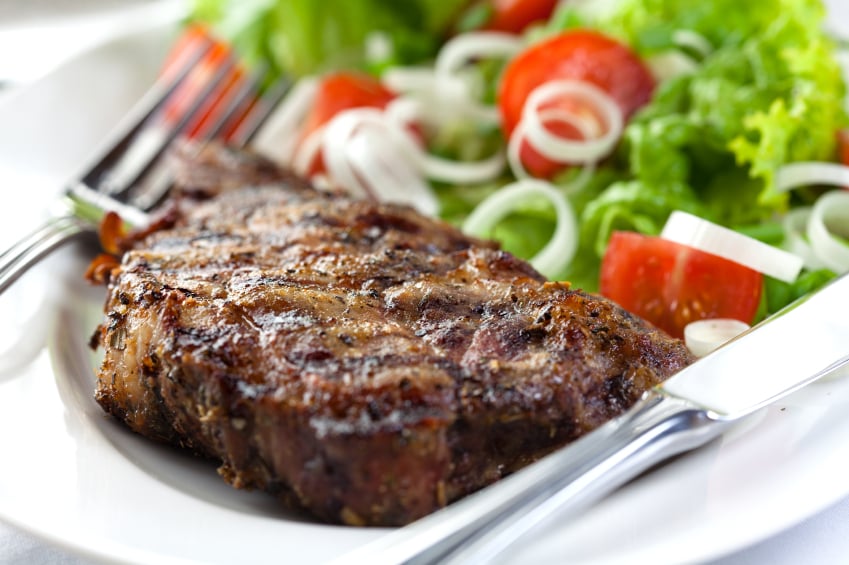 If you love steak, but only eat it in restaurants, it's time for a change. Steak is an impressive meal that is actually fairly easy to prepare, once you master the basic technique. Make sure you pick a quality cut of steak if you plan to try this recipe from Chow.com, since the meat is the main attraction here.
Note: Use a heavy-bottomed frying pan or skillet for this recipe, not a non-stick pan.
Ingredients:
1 (1¼ to 1½-inch-thick) New York strip steak (about 8 ounces)
1½ teaspoons kosher salt
¼ teaspoon freshly ground black pepper
1 teaspoon olive oil
Directions: Remove the steak from the refrigerator and let it come to room temperature, about 30 to 45 minutes.
Season the steak on both sides with the salt and pepper. Rub both sides with the olive oil and set aside.
Heat a medium heavy-bottomed frying pan over high heat until very hot but not smoking, about 3 to 4 minutes. Place the steak in the pan and let it cook undisturbed until a dark crust forms on the bottom, about 3 to 4 minutes.
Flip the steak using tongs or a spatula and cook until it's medium rare, about 3 to 4 minutes more. To check for doneness, use your finger to press on the steak: It should be firm around the edges but still give in the center. You can also use an instant-read thermometer; it should read about 125 degrees Fahrenheit to 130 degrees Fahrenheit. For a rare steak, shorten cooking time by one minute.
Transfer the steak to a cutting board and let it rest for at least 5 minutes before serving.
5. Chicken and Broccoli Stir Fry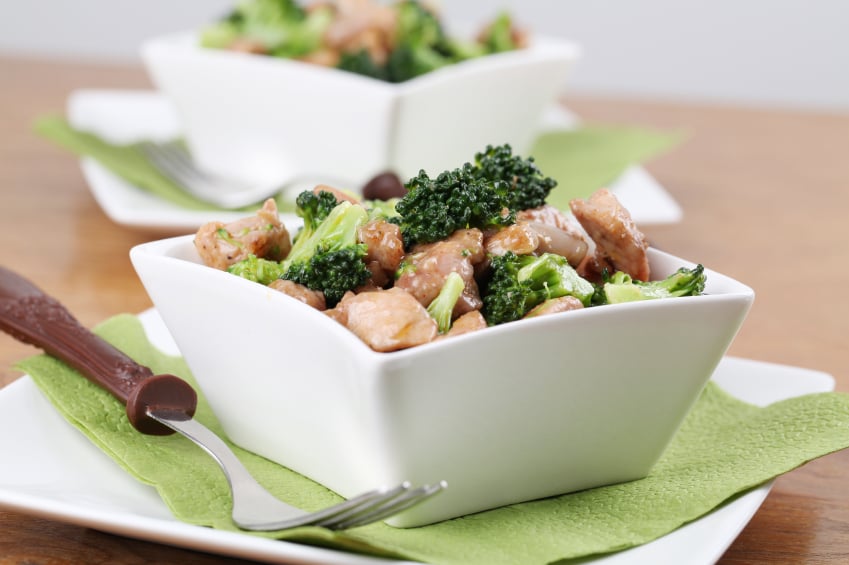 A fast-cooking stir fry is a great weeknight dinner and an easy way to add more vegetables to your diet. This protein-packed recipe from Whole Foods calls for chicken, broccoli, and carrots and contains about 440 calories per serving. Once you get comfortable with the stir fry technique, you can mix it up by adding your own favorite veggies.
Ingredients:
8 ounces whole-wheat linguine
¾ cup low-sodium chicken broth
3 tablespoons soy sauce
1 teaspoon rice vinegar
¼ teaspoon red pepper flakes
2 teaspoons cornstarch
2 tablespoons expeller-pressed canola oil, divided
1 pound boneless, skinless chicken tenderloins, cut into strips
3 cloves garlic, minced
2 teaspoons minced peeled fresh ginger
3 cups small fresh broccoli florets (from about 1 large crown)
1 carrot, peeled and cut into thin strips
Directions: Cook linguine according to package instructions, drain and keep warm. Meanwhile, combine broth, soy, vinegar, pepper, and cornstarch in a bowl.
Heat a wok or heavy skillet over high heat. When very hot, add 1 tablespoon oil. Add chicken and stir-fry until lightly browned, about 2 minutes. Remove from wok and set aside. Add remaining oil, garlic and ginger; stir-fry 30 seconds. Add broccoli and carrot; stir-fry 2 minutes. Add soy mixture and chicken, stir well, and cover. Lower heat to medium and simmer until vegetables are tender, about 3 minutes. Toss with linguine and serve.
6. Simple Syrup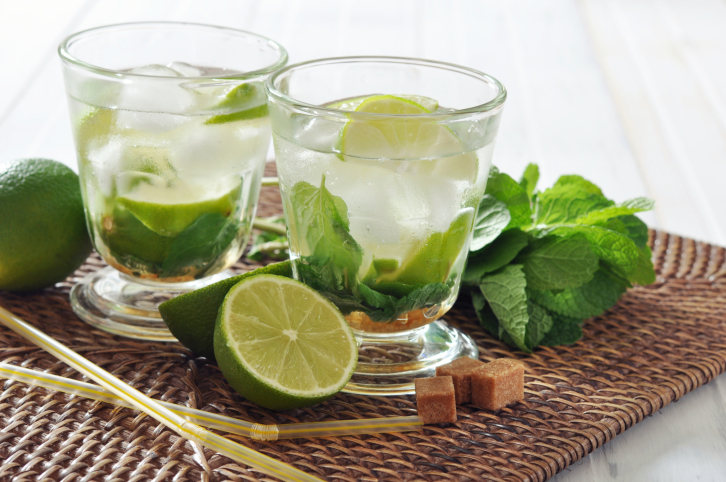 Simple syrup is an essential ingredient in many cocktails, including mojitos and whiskey sours, and can also be used to sweeten iced tea and lemonade. You can take your at-home bartending to the next level by having some of this easy-to-make sweetener on hand. This recipe from Food & Wine keeps up to one month in the refrigerator.
Ingredients:
Directions: In a small saucepan, bring sugar and water to a boil; simmer until the sugar is dissolved, 3 minutes. Remove from the heat and let cool completely
7. Brownies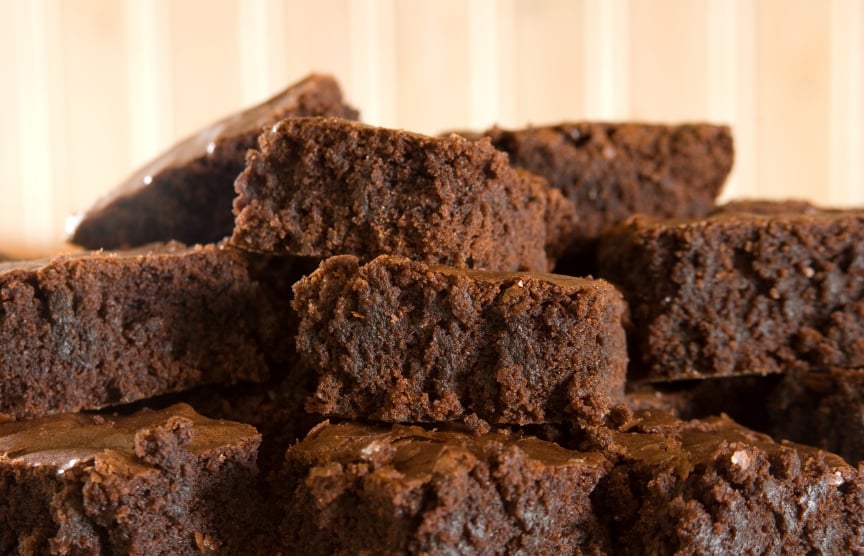 Who doesn't love dessert? Even if baking isn't your thing, it's hard to go wrong with a no-fuss brownie. And if you're cooking dinner for a special someone, you'll impress more with a sweet treat you made yourself rather than something you picked up at the bakery. These cocoa brownies from Bon Appétit are simple to prepare and ready in under an hour.
Ingredients:
Nonstick vegetable oil spray
½ cup (1 stick) unsalted butter, cut into 1 inch pieces
1¼ cups sugar
¾ cup natural unsweetened cocoa powder
½ teaspoon kosher salt
1 teaspoon vanilla extract
2 large eggs
⅓ cup all-purpose flour
Directions: Preheat oven to 325 degrees Fahrenheit. Line an 8-by-8-by-2-inch glass baking dish with foil, pressing firmly into pan and leaving a 2-inch overhang. Coat foil with nonstick spray; set baking dish aside.
Melt butter in a small sauce pan over medium heat. Let cool slightly. Whisk sugar, cocoa, and salt in a medium bowl to combine. Pour butter in a steady stream into dry ingredients, whisking constantly to blend. Whisk in vanilla. Add eggs one at a time, beating vigorously to blend after each addition. Add flour and stir until just combined. Scrape batter into prepared pan; smooth top.
Bake until top begins to crack and a toothpick inserted into the center comes out with a few moist crumbs attached, 25 to 30 minutes.
Transfer pan to a wire rack; let cool completely in pan. Using foil overhang, lift brownie out of pan; transfer to a cutting board. Cut into 16 squares.
Follow Megan on Twitter @MeganE_CS
More from Culture Cheat Sheet: