7 Recipes Reinventing Classic Easter Desserts
Holiday dishes and desserts are often traditions in people's families and rarely change. Pumpkin pie at Thanksgiving, Buche de Noel at Christmas, and carrot cake at Easter are seasonal sweet treats you can almost always expect. But it doesn't hurt to switch things up, and serve treats with a twist now and again. Keeping family meals interesting and your guests guessing is a fun and tasty way to get the most out of your favorite holidays. And now that Easter is here, we're zeroing in on spring desserts as we highlight recipes that enlist twists on traditional treats.
If you're in charge of Easter dinner and dessert this year, check out these seven recipes that reinvent our favorite spring sweets.
1. Lemon Pound Cake Muffins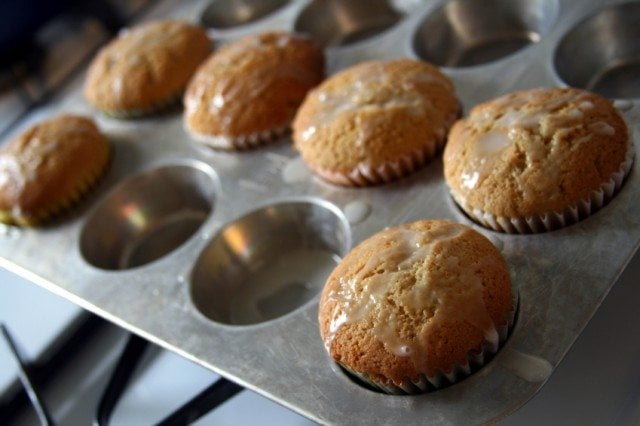 As spring rolls in, consumers' cravings for refreshing, light desserts also strike, and citrus sweets are often the Easter treats of choice. Lemon pound and poppy seed cake are baked in many revelers' ovens, but you don't need to bake your lemon desserts in cake form to appease your crowd. Here's a muffin recipe from Taste of Home that is perfect for after your big Easter meal. These muffins are easy to bake just as they are sweet to eat, and they take just 15 minutes to prepare.
Ingredients:
½ cup butter, softened

1 cup sugar

2 eggs

½ cup sour cream

1 teaspoon vanilla extract

½ teaspoon lemon extract

1¾ cups all-purpose flour

½ teaspoon salt

¼ teaspoon baking soda

2 cups confectioners' sugar

3 tablespoons lemon juice
Directions: In a large bowl, cream the butter and sugar until light and fluffy. Add eggs, one at a time, beating well after each addition. Beat in the sour cream and extracts. Combine the flour, salt, and baking soda; add to creamed mixture just until moistened.
Fill greased or paper-lined muffin cups three-fourths full. Bake at 400 degrees Fahrenheit for 18 to 20 minutes or until a toothpick inserted near the center comes out clean. Cool for 5 minutes before removing from pan to a wire rack. Combine the glaze ingredients; drizzle over muffins. Serve warm.
2. Carrot Cake Cookies
These carrot cake cookies from Amy's Healthy Baking are a different delicious and nutritious option that will go just a little easier on your springtime waistline. While everyone loves their cream cheese frosting, not everyone loves the calories that accompany it. If you're trying to get in shape for summer but enjoy Easter desserts, too, try these healthier oatmeal cookies and still enjoy your carrot cake flavor.
Ingredients:
1 cup instant oats
¾ cup whole-wheat flour
1½ teaspoons baking powder
1½ teaspoons ground cinnamon
⅛ teaspoon salt
2 tablespoons coconut oil or unsalted butter, melted and cooled slightly
1 large egg, room temperature
1 teaspoon vanilla extract
½ cup maple syrup
¾ cup grated carrots
Directions: In a medium bowl, whisk together the oats, flour, baking powder, cinnamon, and salt. In a separate bowl, whisk together the coconut oil, egg, and vanilla. Stir in the maple syrup until thoroughly incorporated. Add in the flour mixture, stirring just until incorporated. Fold in the carrots. Chill the dough for at least 30 minutes.
Preheat the oven to 325 degrees Fahrenheit, and line a baking sheet with parchment paper or a Silpat. Drop the cookie dough into 15 rounded scoops on the baking sheet. Bake at 325 degrees Fahrenheit for 12 to 15 minutes. Cool on the baking sheet for at least 15 minutes before turning out onto a wire rack.
3. Mini Coconut Cream Pies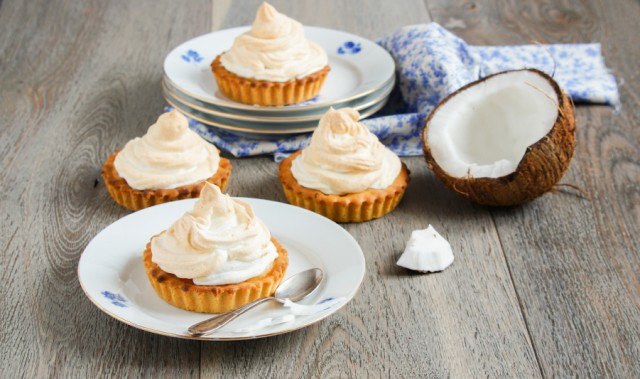 These mini coconut cream pies from Country Cleaver are the perfect springtime finger foods. This fun twist on the always popular dessert gives you a taste of the dreamy sweetness that is coconut cream pie without catapulting you into a coconut coma. Instead of having to master a pie crust, all you need for this recipe are mini phyllo cups and then you're ready to concentrate on your filling.
Ingredients:
30 pre-baked frozen mini phyllo cups, 2 packages
¾ cup coconut milk
½ cup milk
⅓ cup sugar
¼ shredded coconut
Pinch of salt
3 egg yolks
1½ tablespoons corn starch
1 tablespoon butter, cut into 4 pieces.
½ teaspoon vanilla extract
¾ cup heavy whipping cream
1 tablespoon sugar
1 teaspoon sum
¼ teaspoon vanilla extract
Toasted shredded coconut, for garnish
Directions: In sauce pan, bring coconut milk, milk, one half of the sugar, shredded coconut, and salt to a gentle simmer over medium heat. In a separate bowl, whisk together egg yolks, other half of the sugar and cornstarch until it is smooth. Gently temper the egg yolk mixture by slowly whisking in the heated coconut and milk mixture. Whisk constantly. Pour whole mixture back into sauce pan and over medium heat whisk constantly until the mixture starts to thicken, about 1 minute. Add in cubed butter and vanilla extract and whisk until smooth and butter has melted. Immediately remove from heat and pour into bowl. Press plastic wrap onto the top of the custard and place in fridge for at least one hour to cool.
For the topping: In stand mixer, whip the heavy cream, sugar, rum, and vanilla together until soft peaks form. When ready to finish dollop up about 1 tablespoon of coconut cream into the phyllo cups. Or spoon coconut cream into plastic bag and snip off the end of the bag, piping the cream into the phyllo cups. Top with prepared whipped cream topping by either dolloping on top or piping on top of the coconut custard. Sprinkle with toasted coconut and serve.
4. Lemon Meringue Pudding Cups
Here's another pre-portioned dessert highlighted on Woman's Day that offers a fun spin on traditional Easter sweets. These lemon meringue pudding cups will quench your citrus cravings and make you master the art of the meringue. Instead of making a traditional pie, try this alternative and see how delicious mini pudding cups can be.
Ingredients:
1½ cups sugar
¼ cup cornstarch
1 tablespoon grated lemon zest
¼ teaspoon salt
½ cup milk
4 large eggs, yolks and whites separated
½ cup lemon juice
1 tablespoon unsalted butter
Less than ¼ teaspoon cream of tartar
Directions: Heat oven to 350 degrees Fahrenheit. Arrange 6 ovenproof glass mini-coffee mugs, ramekins, or custard cups on a rimmed baking sheet. In food processor, combine 1¼ cups of the sugar, the cornstarch, lemon zest and salt; process until zest is finely ground and mixture is tinted very pale yellow. Transfer mixture to a medium saucepan. Whisk in milk until smooth. Bring to a boil over medium heat, stirring gently until pudding thickens. Boil 1 minute, whisking, then remove from heat.
Whisk yolks in a small bowl until blended. Gradually whisk in 1 cup of the hot pudding; return to saucepan and whisk in lemon juice. Bring mixture back to a boil, whisking constantly, and boil 1 minute longer. Remove from heat; whisk in butter until melted and incorporated. Spoon pudding into mugs; place a large sheet of foil over custards to keep warm.
Beat 2 egg whites and cream of tartar in large bowl with mixer on medium speed until soft peaks form. Gradually beat in remaining ¼ cup sugar and continue to beat until stiff, glossy peaks form. Transfer meringue to a 1-gallon zip-top bag. Gather meringue to one corner of the bag. Cut off ½-inch tip from that corner with scissors. Pipe meringue onto top of each hot pudding to cover completely, piping the meringue about 2 inch high. Place puddings in oven 6 to 8 minutes, until meringue sets and lightly browns. Cool to room temperature, then chill 2 hours before serving.
5. Strawberry Cake Roll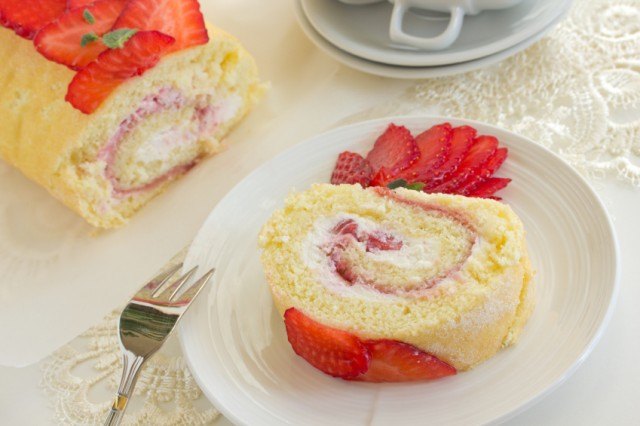 If you're craving fresh berries now that spring has arrived, try them in cake roll form via this recipe for a strawberry cake roll from Real Simple. Cake rolls can be intimidating, but if you follow these foolproof directions found on Real Simple, we promise you'll have an appetizing and aesthetically-pleasing log on your hands. In addition, this cake is packed with strawberries, heavy cream, and sugar, so no matter how your dessert looks, we have a feeling guests will have no trouble polishing it off.
Ingredients:
¾ cup all-purpose flour
1 teaspoon baking powder
½ teaspoon salt 4 eggs, separated
1¼ cups granulated sugar
2 teaspoons vanilla
confectioners' sugar
1 pint heavy cream
2 pints strawberries, cut in half if large
Directions: Heat oven to 375 degrees Fahrenheit. Lightly coat a jelly-roll pan with vegetable cooking spray. Line the bottom with wax paper. Combine the flour, baking powder, and salt in a small bowl; set aside. Using an electric mixer at high speed, beat egg whites until foamy. Gradually add ½ cup of the granulated sugar, 1 tablespoon at a time, and continue beating until stiff peaks form.
In another bowl, beat egg yolks and another ½ cup of the granulated sugar until pale and thick. Beat in 1 teaspoon of the vanilla. Use a rubber spatula to gently fold the flour and beaten yolks into the whites until just blended. Spread in pan. Bake 15 minutes or until the cake springs back when lightly touched.
Meanwhile, place a clean dish towel on the counter and dust it lightly with confectioners' sugar. When the cake is done, loosen the edges from the pan with a knife and invert the cake onto the towel. Peel off the waxed paper. Roll the cake lengthwise, along with the towel, and set aside, at room temperature, to cool. Can be made up to one day ahead. Whip the cream with the remaining ¼ cup of sugar and 1 teaspoon vanilla until soft peaks form. Unroll the cake and spread with half the whipped cream. Top with half the strawberries, and reroll without the towel. Serve with the remaining strawberries and whipped cream.
6. Hot Cross Cookies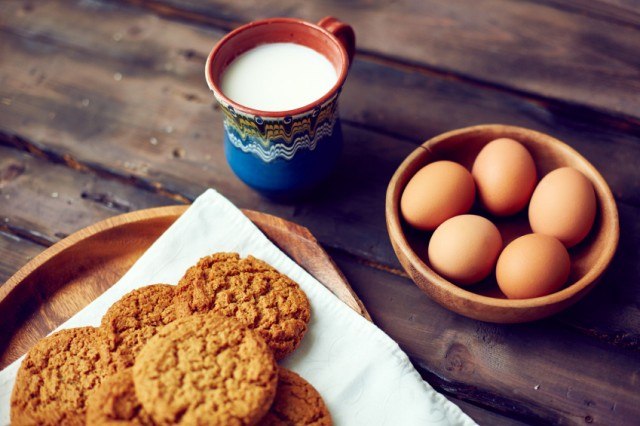 In the No. 6 spot are hot cross cookies from Butter Baking. They're your favorite buns in cookie form. Bake the Easter classic with a little extra sugar and no one will be complaining. Whether you make these cookies with raisins or chocolate chips, just make sure you don't forget the frosting, and now you can serve the treats after your holiday meal rather than during.
Ingredients:
½ cup unsalted butter, softened
1 cup brown sugar
2 eggs
1 teaspoon vanilla extract
2½ cups self-raising flour
2 teaspoon ground cinnamon
¼ teaspoon nutmeg
¼ teaspoon chili powder
⅓ cup milk
1 cup chocolate chips or sultanas
75 grams white chocolate, for the crosses
Directions: Preheat the oven to 325 degrees Fahrenheit and line 3 trays with baking paper. Using an electric mixer, beat the butter and brown sugar for about 8 minutes, until pale and creamy. Add the eggs and vanilla, little by little, beating well between each addition. Turn the mixer onto a low speed and add flour, cinnamon, nutmeg, chili powder, milk, and chocolate chips or sultanas, beating until the ingredients are just combined. Roll tablespoons of the dough into balls and place onto the lined baking trays, about 2 inches apart. You may need to lightly flour your hands.
Bake for 14 minutes, or until lightly golden. Allow to cool on the trays. Melt the white chocolate in the microwave in 30 second bursts, stirring between each burst. Spoon into a piping bag or zip-top bag and pipe a cross onto each cookie.
7. Buttermilk Lime Pound Cake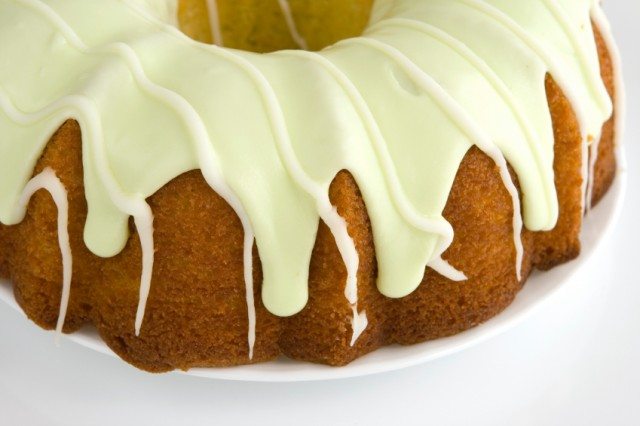 Last is buttermilk lime pound cake from Southern Plate — don't knock the flavor combo until you try it. This cake is surprisingly good and the recipe developer calls it "the marriage of an all butter pound take and key lime pie." Baking in a bundt cake, this unique dessert couldn't be easier. Mix things up this Easter, and master something different.
Ingredients:
1½ cups butter, at room temperature
2 cups sugar
6 eggs
3 cups all-purpose flour
½ teaspoon baking powder
¼ teaspoon salt
1 cup buttermilk
¼ cup bottled lime juice
1 teaspoon vanilla
Glaze
1 tablespoon lime juice
3 to 4 tablespoons milk
1½ cups confectioner's sugar
Directions: Place butter and sugar in large mixing bowl. Mix until light and fluffy. Add eggs and mix until well incorporated. In a separate bowl, stir together flour, baking powder, and salt. In another bowl, stir together milk, lime juice, and vanilla. Add wet and dry ingredients to cake batter. Mix for 2 to 3 minutes, scraping down sides as needed, until fully incorporated and well blended. Add a few drops of green food coloring, if desired, and mix again. Pour batter into well greased bundt pan and bake at 325 degrees Fahrenheit for 1 hour and 15 minutes. Allow to cool for 10 minutes before turning out onto cake plate.
For the glaze: Place all glaze ingredients in a cup and stir together for a few minutes until smooth. If glaze is too thin, add another tablespoon or so of confectioner's sugar. If glaze is too thick, add more milk in ½ tablespoon increments until it is of the desired consistency. Pour over cooled cake.