Easy Ways You Can Cook With Fresh Herbs
Not only does produce peak in the spring and summer, so, too, do herbs. Fresh mint, chives, dill, scallions, and thyme can do wonders for your dishes. Put dill on your eggs, mint in your salads, and thyme in your pasta and you'll appreciate the flavors of spring and summer all over again. We're highlighting 7 recipes that take full advantage of in-season herbs so you can see just how easy it is to incorporate the fresh finds in your dishes.
1. Dill Feta Scramble
First up is the aforementioned dill feta scramble from Martha Stewart. Upgrade your eggs by adding feta and dill to the mix and your morning meal just got a lot fancier. This recipe serves two and Martha Stewart encourages you to pack a pita with your eggs so you have the perfect mix of protein and carbs. Regardless of whether you've mastered your egg game, the addition of herbs, carbs, and cheese will make anything taste delicious.
Ingredients:
2 large eggs plus 4 large egg whites
Coarse salt and ground pepper
1 ounce feta cheese, crumbled
2 teaspoons olive oil
2 tablespoons fresh dill, coarsely chopped, plus more for garnish
1 whole-wheat pita (6-inch), halved
Directions: In a medium bowl, whisk together eggs and egg whites; season with salt and pepper. Whisk in cheese. In a small nonstick skillet, heat oil over medium-low. Cook eggs, scraping bottom frequently with a flexible heatproof spatula, until just set, 1 to 2 minutes; stir in dill. Spoon eggs into pita halves, and garnish with more dill.
2. Arugula & Mint Salad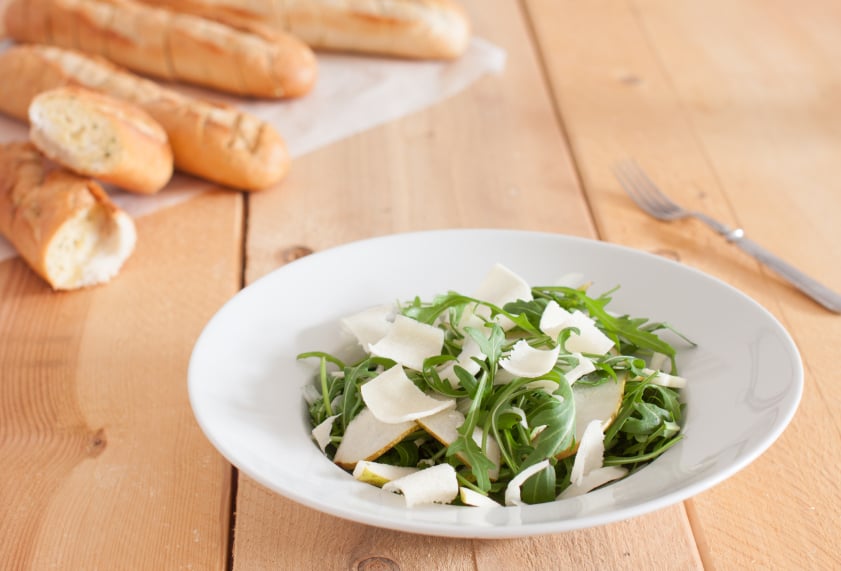 Up next is a light, refreshing salad from Food & Wine. The simple arugula & mint salad is fresh and healthy, devoid of meat or cheese, but it's still flavorful thanks to the addition of mint, fennel, and a homemade vinaigrette. Pair your greens with a light lunch or dinner and enjoy the natural flavors of spring. Many people find the simplest dishes to be the most appetizing, and this salad proves that what comes straight from the ground is often what tastes and satiates best.
Ingredients:
¼ teaspoon fennel seeds
1 tablespoon red wine vinegar
½ tablespoon Dijon mustard
Kosher salt and freshly ground pepper
2 tablespoons extra-virgin olive oil
4 cups curly green-leaf lettuce
4 cups young arugula leaves
20 mint leaves
Directions: In a mortar or spice grinder, coarsely grind the fennel seeds. In a small bowl, whisk the ground fennel with the red wine vinegar and Dijon mustard; season with salt and pepper. Gradually add the olive oil, whisking until the dressing is emulsified. In a bowl, toss the lettuce with the arugula and mint. Add the dressing and season with salt and pepper. Toss well and serve.
3. Herby Artichoke Feta Garlic Bread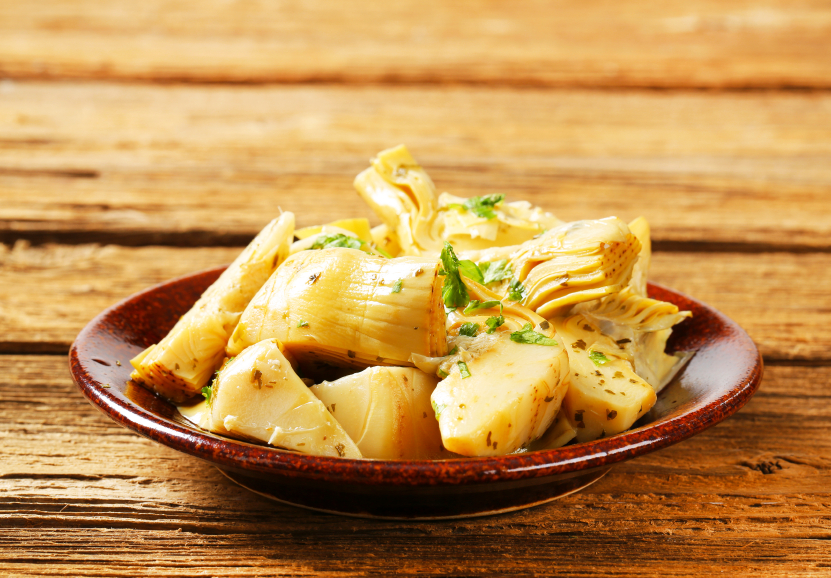 If you want seasonally appropriate bread to go along with your greens, try out this recipe from Warm Vanilla Sugar for herby artichoke feta garlic bread. Leave the frozen stuff in the freezer and instead make your own at home by combining an Italian loaf with fresh spring herbs such as parsley, dill, basil, garlic, and chives. Artichoke hearts and feta also get thrown into the mix, as does the most important ingredient: butter.
Ingredients:
½ cups parsley, chopped
¼ cups dill, chopped
8 basil leaves, chopped
¼ cups chives, chopped
6 whole marinated artichoke hearts, chopped
6 cloves garlic
¼ cups Feta cheese, crumbled
Salt and pepper, to taste
1 stick butter
1 whole Italian loaf of bread
Directions: Preheat the oven to 350 degrees Fahenheit.
Chop the first 4 ingredients and place them in a food processor. Blend. Add artichoke hearts. Blend. Add the garlic, feta, softened butter and salt and pepper to the food processor and mix until smooth.
Slice the bread in 1-inch slices, stopping before the base of the bread. Stuff the bread with the mixture.
Wrap the bread in foil and bake for 25 minutes. Serve while hot.
4. Cilantro-Pepita Pesto with Squash Ribbons and Fettucine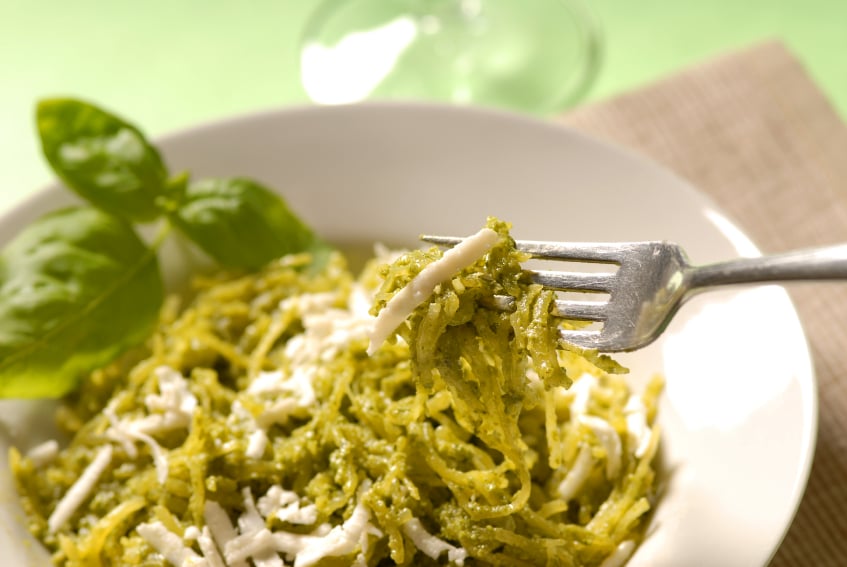 Speaking of carbs, here's another formula starring the good stuff from Cookie & Kate. This one yields cilantro-pepita pesto with squash ribbons and fettucine. In other words, it's a fettucine dish topped with fresh pesto and mixed with zucchini and squash. To make your homemade pesto, you'll combine olive oil, cilantro, garlic, jalapeño, and lime. Then, take the green sauce and pour it over pasta and squash ribbons and you're good to go. This is the perfect example of a dish that is seemingly decadent, but also nutritious and delicious.
Ingredients:
Cilantro-pepita pesto:
⅓ cup raw pepitas
1 cup packed cilantro
2 teaspoons seeded and roughly chopped jalapeño
2 cloves garlic, roughly chopped
1 lime, juiced
½ teaspoon fine-grain sea salt
⅓ cup extra virgin olive oil
Pasta and squash ribbons:
8 ounces (½ pound) whole grain fettuccine or linguine
2 small zucchini
1 yellow squash
Directions: Lightly toast the pepitas in a small pan over medium-low heat for a few minutes, tossing frequently, until fragrant. Transfer the pepitas to a bowl to cool a bit.
Remove any discolored skin from the squash with a paring knife. Use a julienne peeler to slice the squash lengthwise, one side at a time.
Bring a large pot of salted water to a boil, and cook fettuccine until al dente. Drain and set aside.
In a food processor, combine the cilantro, jalapeño, garlic, lime juice, salt and cooled pepitas. While running the food processor, drizzle in the olive oil. Stop processing once the pesto is well blended.
Toss the cooked pasta and ribboned squash with the pesto and serve.
5. Spaghetti with Cremini Mushrooms, Lemon, and Thyme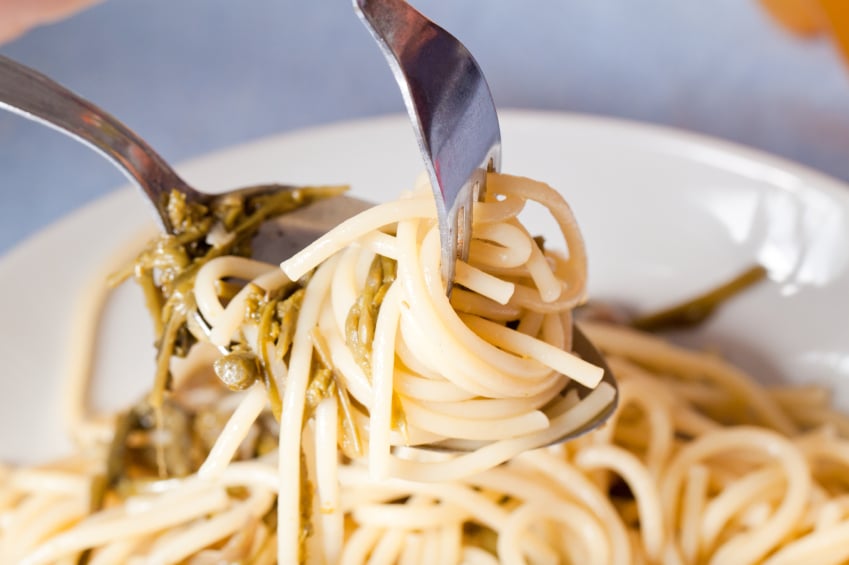 A different take on herby carbs is this spaghetti with cremini mushrooms, lemon, and thyme from Epicurious. The easy dinner will take you less than an hour to make and it serves four. It can feed meat-eaters and vegetarians alike and it's a refreshing take on pasta when you want the carbs but aren't craving a heavy dish. Make this next time you have spaghetti, mushrooms, fresh thyme and lemon juice on your hands and you'll enjoy a delicious dish that tastes like spring.
Ingredients:
1 pound spaghetti
1 cup coarse fresh bread crumbs
3 tablespoons olive oil
1 teaspoon salt
½ stick unsalted butter
1½ pound cremini mushrooms, trimmed, cut into ¼-inch-thick slices
1 teaspoon freshly grated lemon zest
3 garlic cloves, chopped (1 tablespoon)
1 teaspoon Worcestershire sauce
2 tablespoons fresh lemon juice
1 teaspoon minced fresh thyme
½ teaspoon black pepper
2 tablespoons minced fresh parsley
1 ounce finely grated Parmigiano-Reggiano plus additional for serving
Garnish: lemon wedges
Directions: Cook pasta in a large pot of boiling salted water until barely al dente.
While pasta is cooking, stir together bread crumbs, 1 tablespoon olive oil, and ¼ teaspoon salt in a bowl until combined well. Transfer to a 12-inch heavy skillet and cook over moderate heat, stirring, until golden, 3 to 5 minutes, then return to bowl.
Heat 2 tablespoons butter and remaining 2 tablespoons oil in skillet over moderately high heat until foam subsides, then sauté mushrooms, stirring, until golden, about 4 minutes. Add zest and garlic and sauté, stirring, until mushrooms exude liquid, about 3 minutes. Add Worcestershire sauce and lemon juice and cook until most of liquid is evaporated, about 2 minutes.
Stir in thyme, pepper, and remaining ¾ teaspoon salt.
Reserve 1 cup pasta cooking water, then drain pasta in a colander.
Transfer mushrooms to pasta pot, then add ½ cup reserved cooking water and bring to a boil. Stir in parsley and remaining 2 tablespoons butter. Return pasta to pot and add cheese, tossing to combine. If pasta seems dry, moisten with more cooking water.
Serve pasta sprinkled with bread crumbs and additional cheese.
6. Herbed Potato Salad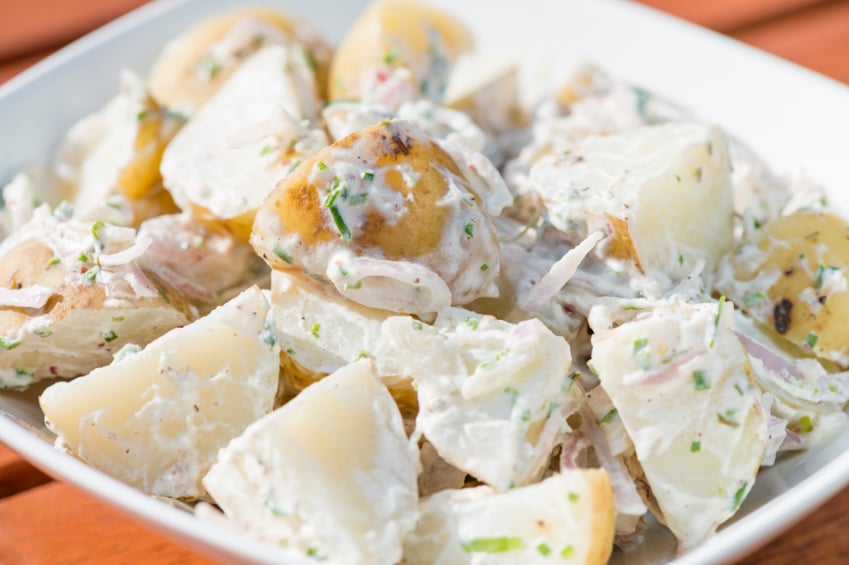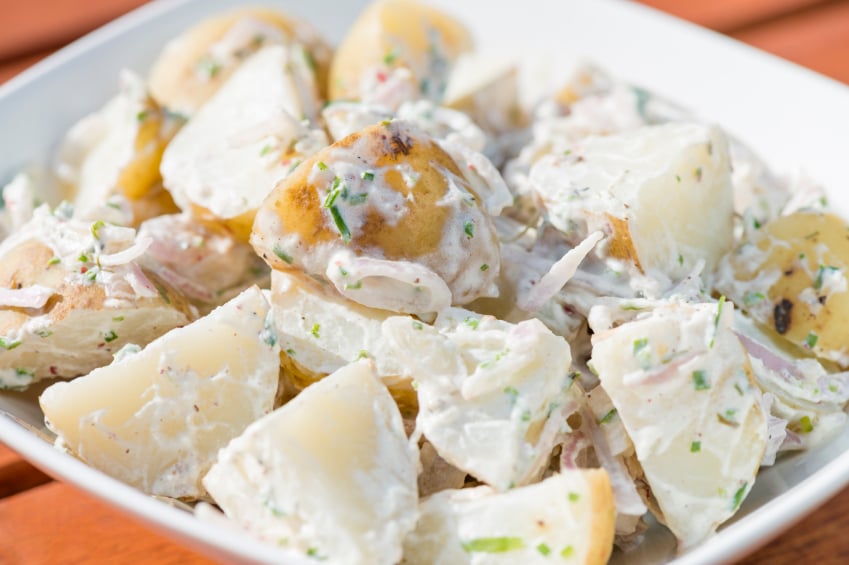 Potato Salad is especially popular in the warmer months when outdoor picnics are all the rage, and next time you want to bring a carby salad to a party, bring this herbed potato salad featured on Food Network. While most potato salads go too hard on the mayonnaise, this one gets its flavor from vinaigrette instead, parsley, tarragon, and dill also make appearances. White or red potatoes are enlisted in the dish, and they'll get boiled before they're mixed with homemade dressing. Last, toss the tots with salt and and pepper and serve your salad at room temperature.
Ingredients:
2½ pounds golf-ball-sized white or red new potatoes, scrubbed
1/3 cup olive oil
1/3 cup finely chopped shallot (from about 1 medium shallot)
3 tablespoons champagne vinegar
1 tablespoon Dijon mustard
2½ teaspoons kosher salt, plus more as needed
¼ teaspoon freshly ground black pepper, plus more as needed
¼ cup finely chopped fresh Italian parsley leaves
¼ cup finely chopped fresh tarragon or dill leaves, or a combination
Directions: Place the potatoes in a large pot filled with heavily salted water and bring to a boil over high heat. Reduce the heat to medium and simmer until a paring knife can easily be inserted into the potatoes, about 12 to 14 minutes. Meanwhile, whisk the oil, shallot, vinegar, mustard, 1 teaspoon of the measured salt, and the measured pepper in a large, nonreactive bowl and set aside.
When the potatoes are ready, drain them, transfer to a rimmed baking sheet, and spread into an even layer. Set aside until cool enough to handle but still warm, about 20 minutes. Slice the potatoes into ½-inch rounds and place in the bowl with the dressing.
Add the herbs and the remaining 1 ½ teaspoons of salt and gently toss to combine. Taste and season with additional salt and pepper as needed. Serve warm or at room temperature.
7. Fresh Herb Pizza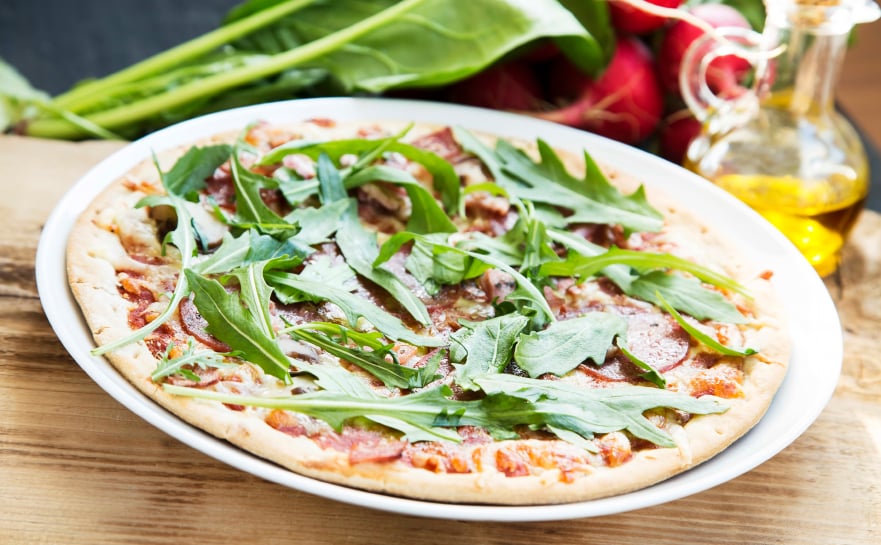 Pizza is the last recipe on our list and this vegetarian-friendly pie comes from Food Network. Impress your guests by enlisting fresh herbs in your pizza and they won't even miss the meat. You'll be making homemade dough for the fresh herb pizza, and even with that work, the prep time required caps out at 15 minutes. Anyone can set aside that amount of time when homemade pizza is involved, and this pie is the simple and healthy kind. Your green pizza will get topped with arugula, basil, parsley, and Parmesan cheese, and you'll bake it until the crust is golden, about 12 to 15 minutes.
Ingredients:
½ teaspoon active dry yeast
2 cups all-purpose flour
Kosher salt
Scant ¼ cup olive oil, plus more drizzling
1 tablespoon extra-virgin olive oil, plus more for drizzling
Freshly ground black pepper
2 mozzarella balls, sliced
1 bunch arugula
1 bunch fresh basil leaves
1 bunch fresh parsley leaves
1 tablespoon balsamic vinegar
Grated Parmesan, for serving
Directions: Sprinkle the yeast over ¾ cup warm (not lukewarm) water in a bowl and leave to sit for a bit.
In a mixer, add the flour and ½ teaspoon salt, and with the mixer running on low speed (with the paddle attachment), slowly pour in the olive oil and keep going until it's mixed through. Next, pour in the yeast/water mixture and mix until just combined.
Coat a separate mixing bowl with a light drizzle of olive oil, tip the dough in and form it into a ball. Toss to coat the dough ball in the olive oil, then cover the bowl tightly with plastic wrap and allow the dough to rise for at least 1 hour, or up to 3 or 4 days.
Arrange the oven rack in the lowest position and preheat the oven to 500° F. Drizzle a large baking sheet with olive oil.
Roll out the pizza dough as thinly as possible and place it on the baking sheet. Drizzle over some extra-virgin olive oil, sprinkle over some salt and pepper and place the mozzarella slices all over the dough.
Bake until the crust is golden and the cheese is bubbly, 12 to 15 minutes.
Put the arugula, whole basil leaves and parsley in a bowl and toss with the extra-virgin olive oil and balsamic vinegar. Scatter over the pizza, sprinkle with grated Parmesan and serve.
More from Culture Cheat Sheet: