7 Recipes to Help You Master Spices and Seasonings
Spices and seasonings are the secret to taking dishes from dull to delicious, and it's all about picking the right one. A certain spice can completely transform a dish and even give it a certain ethnic flare, but determining the correct flavor to fit your dish is key. Practice makes perfect, and after experimenting in the kitchen, you'll soon find your groove in seasoning your meals. We're starting you off on the right foot by highlighting seven recipes that especially shine thanks to the spices and seasonings on their dishes' ingredients list. Whether you like your food with a spicy kick or more mild, you'll find a dish on this list that you can't wait to season in your own kitchen.
1. Turmeric Chicken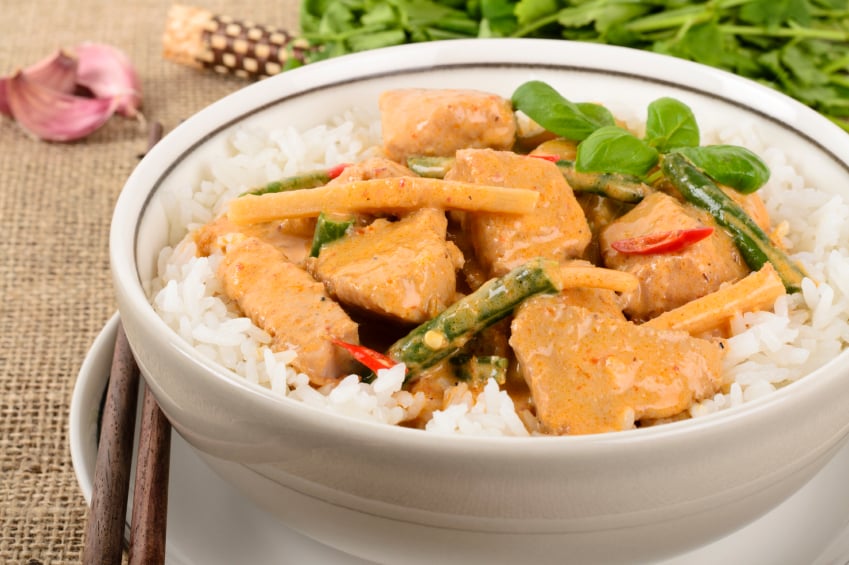 If you like Indian food, this first recipe from Budget Bytes is for you. It yields a dish of Turmeric Chicken and if you couldn't guess from its name, turmeric is the star spice on the ingredients list. Turmeric is known to have great anti-inflammatory and antioxidant properties, and aside from that, it tastes great and lends deep flavors to dishes. In this recipe, turmeric pairs with fresh ginger, garlic, cumin, cinnamon, and red pepper to yield a flavorful chicken breast, and the Turmeric Chicken can be made in 55 minutes or less. Try your hand at Indian cooking with this recipe and start experimenting with turmeric.
Ingredients:
2 tablespoons olive oil
½ large red onion
2 inches fresh ginger
1 tablespoon minced garlic
½ tablespoon turmeric
½ teaspoon cumin
½ teaspoon cinnamon
¼ teaspoon crushed red pepper
1 whole bay leaf
2 pounds chicken (breast or thigh)
1 (15-ounce) can diced tomatoes
1 (13-ounce) can coconut milk
Salt and pepper, to taste
¼ bunch cilantro (optional)
2 cups uncooked jasmine rice
See recipe directions at Budget Bytes. 
2. 10-Spice Vegetable Soup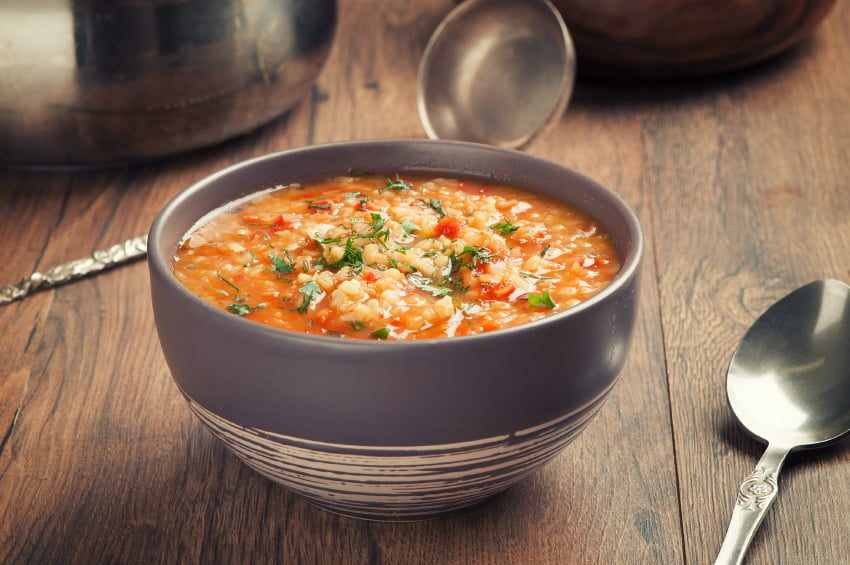 Need a soup that warms you from the inside out? Try this 10-Spice Vegetable Soup from Oh She Glows. As its name suggests, the vegan soup is chock full of warming spices and healthy vegetables, making it a go-to dish after months of holiday indulging. The recipe developer behind this food formula makes her own 10-spice blend and it stars paprika, garlic powder, dried oregano, onion powder, basil, thyme, salt, and three kinds of pepper. Simply combine your spices before making your soup in a large pot and you're good to go. This 10-Spice Vegetable Soup is vegan, gluten-free, grain-free, refined sugar-free, and soy-free, meaning anyone and everyone can eat it.
Ingredients:
¾ cup raw cashews, soaked
6 cups vegetable broth, divided
1 tablespoon extra-virgin olive oil
3 large cloves garlic, minced
1 sweet or yellow onion, diced
3 medium carrots, peeled and chopped
1 red bell pepper, chopped
1 cup peeled and chopped sweet potato, regular potato, or butternut squash
2 stalks celery, chopped
1 can diced tomatoes, with their juices
2 bay leaves
1-1½ tablespoons homemade 10-spice blend, to taste
Fine-grain sea salt and freshly ground black pepper, to taste
1 to 2 cups baby spinach or destemmed torn kale leaves
1 (15-ounce) can chickpeas or other beans, drained and rinsed
Homemade Spice Blend:
2 tablespoons smoked paprika
1 tablespoon garlic powder
1 tablespoon dried oregano
1 tablespoon onion powder
1 tablespoon dried basil
2 teaspoons dried thyme
1½ teaspoons freshly ground black pepper
1½ teaspoons fine grain sea salt
1 teaspoon white pepper (optional)
1 teaspoon cayenne pepper
See recipe directions at Oh She Glows. 
3. Beef Brisket with Lemon-Oregano Sauce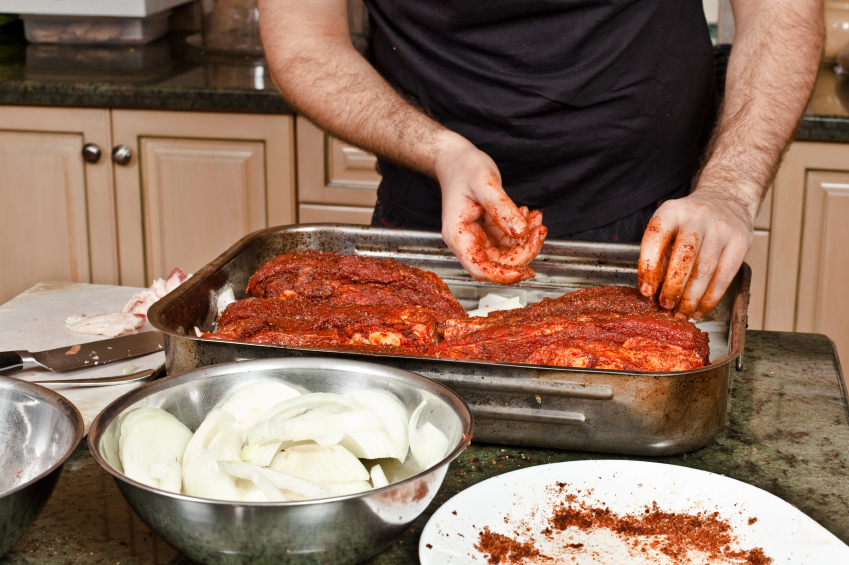 For our next recipe from Food & Wine, the spice is found in the sauce. Meat lovers will rejoice when you serve this Beef Brisket with Lemon-Oregano Sauce for Sunday supper. It's perfect for a cold winter night, and it's surprisingly easy to make. As long as you plan ahead of time, you'll only have to devote 40 minutes of active time to the Beef Brisket, and then the oven will do the rest of the work for you. On top of the juicy brisket, you'll ladle a refreshing and zesty sauce made out of lemon juice, garlic, and oregano, and then it's bon appetit!
Ingredients:
3 tablespoons extra-virgin olive oil
12 garlic cloves, minced
⅓ cup chopped oregano leaves (about 2 bunches)
1 tablespoon kosher salt
2 tablespoons coarsely cracked black peppercorns
1 tablespoon juniper berries, crushed
One 6-pound first-cut brisket, with fat cap attached
2 quarts chicken stock or low-sodium broth
2 quarts water
Sauce:
3 tablespoons fresh lemon juice
3 garlic cloves, finely chopped
½ cup chopped oregano leaves
½ cup plus 3 tablespoons extra-virgin olive oil
Kosher salt
Freshly ground pepper
See recipe directions at Food & Wine. 
4. Ginger and Cilantro Baked Tilapia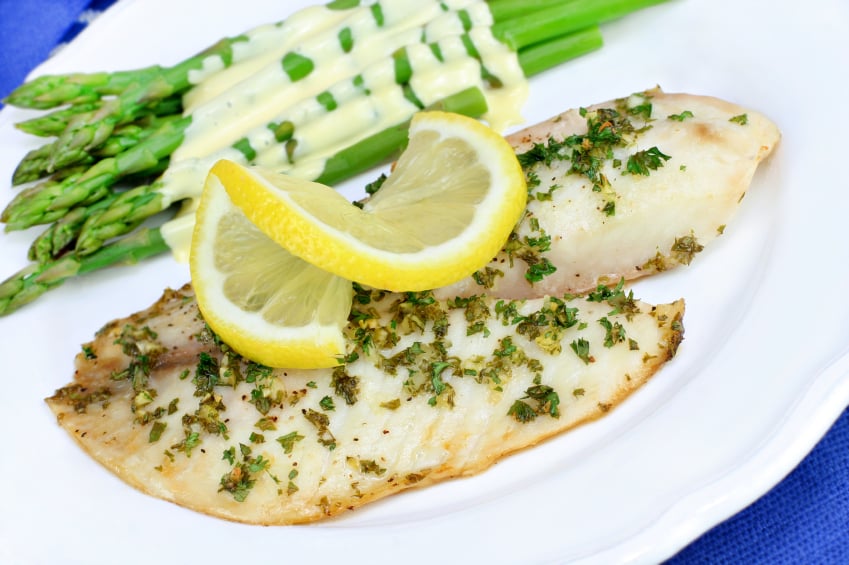 Ginger and cilantro may seem like an unlikely combination, but it works in this Ginger and Cilantro Baked Tilapia from The Kitchn. Together, the spice and herb flavor the fish in a natural and satisfying way, and when baked in the oven, the dish is a healthy one that anyone can master. This Ginger and Cilantro Baked Tilapia is easy enough that it can even be cooked on a weeknight, and as it is made with ingredients you likely already have in your pantry, you might not even have to do a grocery store run.
Ingredients:
1 pound tilapia fillets, or other thin fish fillet
Kosher salt and freshly ground pepper
3 garlic cloves, peeled and smashed
1-inch piece fresh ginger, grated
1 jalapeño pepper, roughly chopped (optional)
⅓ cup roughly chopped cilantro leaves
¼ cup white wine
2 tablespoons soy sauce
1 teaspoon sesame oil
Scallions, chopped for garnish
Extra cilantro, to garnish
See recipe directions at The Kitchn. 
5. Spicy Garlic Tofu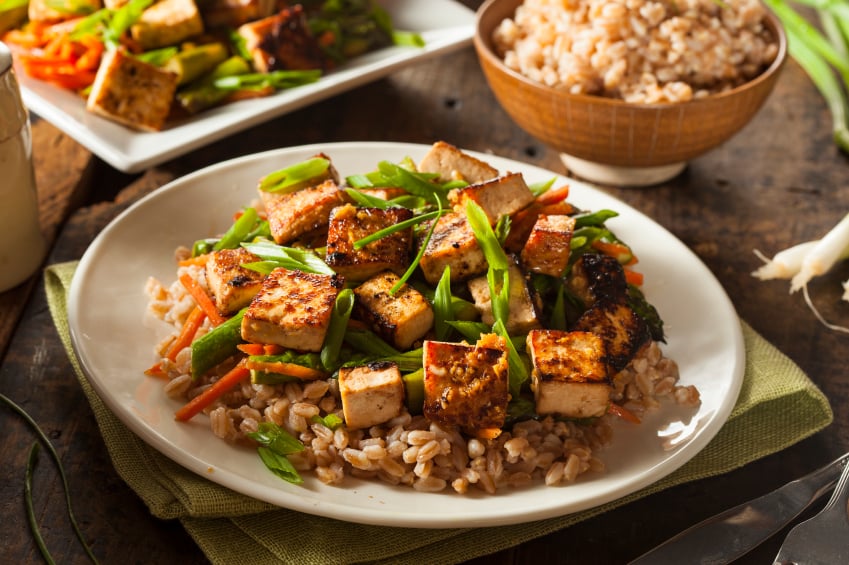 Tofu is a non-animal protein source that especially needs a good seasoning in order to appeal to people. Luckily, a little seasoning goes a long way, and vegetarians and meat-lovers alike can enjoy tofu, especially when garlic is involved. That is the case with this Spicy Garlic Tofu from My San Francisco Kitchen. The recipe developer cooks her tofu with garlic, soy sauce, cayenne pepper, brown sugar, and crushed red peppers flakes, making this healthy and satisfying dish a spicy one while still keeping it low-maintenance. If you need an easy tofu dish, this is the way to go, especially as this recipe only serves 2, so you won't be strapped with many leftovers.
Ingredients:
2 tablespoons olive oil
300g organic firm tofu, cubed
½ red bell pepper, chopped
¼ cup finely chopped red onion
4 cloves garlic, minced
1 tablespoon soy sauce
1 tablespoon fresh lemon juice
1 teaspoon rice vinegar
½ teaspoon brown sugar
1 tablespoon paprika
½ teaspoon crushed red pepper flakes
¼ teaspoon cayenne pepper
Parsley for garnish
See recipe directions at My San Francisco Kitchen. 
6. Moroccan Vegetable Stew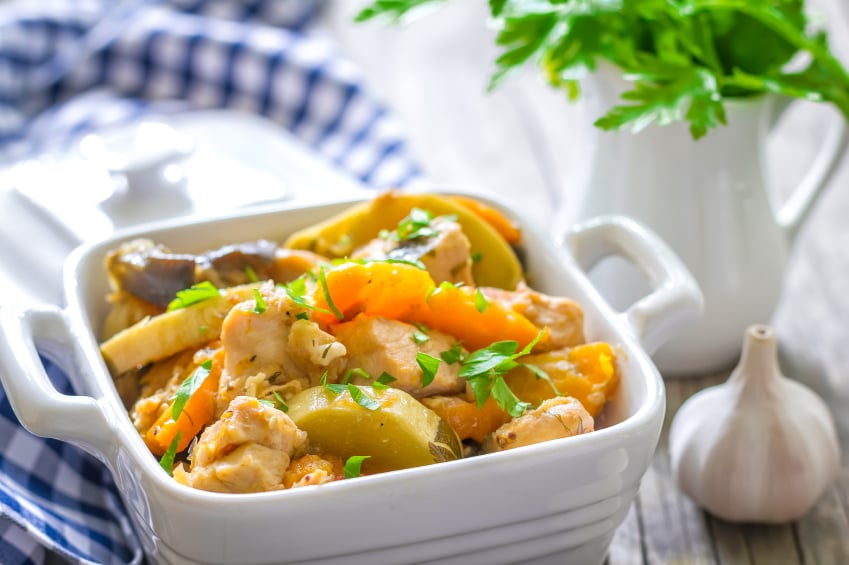 The best stew has the right seasonings, and this food formula for Moroccan Vegetable Stew featured on Sunset gets it right. Garlic, coriander, cumin, cayenne, and cinnamon flavor the vegetables that are slow-cooked in a crock-pot for 8 to 9 hours, and after pureeing the stew to your liking, you can enjoy a warm Moroccan dish that will warm you through the cold Winter months. This Moroccan Vegetable Stew doesn't need any meat thanks to its fibrous veggies and flavorful spices and the best part is the crockpot does all the work for you.
Ingredients:
2 tablespoons olive oil
3 cloves garlic, peeled and crushed with the side of a knife
1 teaspoon ground coriander
1 teaspoon ground cumin
½ teaspoon cayenne
¼ teaspoon ground cinnamon
5 cups vegetable or chicken broth
4 carrots, peeled and cut into ½-inch lengths
2½ cups diced peeled eggplant
2½ cups sliced zucchini
2 cups cauliflower florets
1 cup diced onion
2 cans stewed tomatoes
1 can garbanzos, drained and rinsed
¾ cup dried currants
1 cup chopped toasted almonds
½ tablespoon kosher salt
See recipe directions at Sunset. 
7. Cumin Beef Pepper Steak and Brown Rice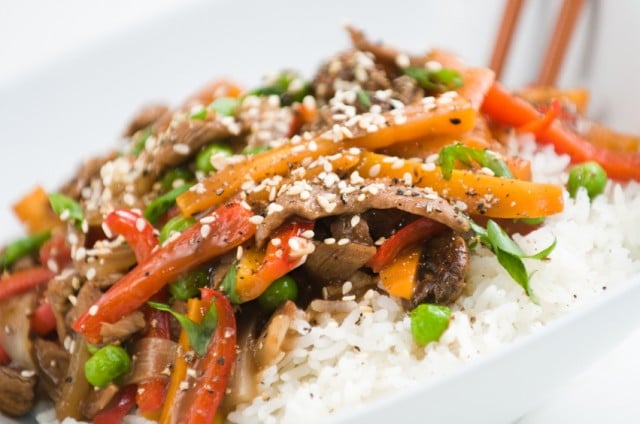 Cumin is a pungent spice, but when enlisted correctly, it makes a dish shine. Take this Cumin Beef Pepper Steak as an example. The recipe is featured on Rachael Ray's website and it yields a stir fry that is well flavored with toasted cumin and peppercorns. Stir fries are easy to whip up on a busy weeknight, and when you plate your beef over brown or wild rice, you have a protein-packed and well-balanced meal. Serving 4, this Cumin Beef Pepper Steak is the perfect dish to enjoy after a busy day of work when you're craving ease but also want to treat yourself.
Ingredients:
1 ½ cups brown rice or brown-and-wild-rice blend, cooked according to package directions in chicken stock rather than water
1-1 ½ pounds flatiron steak, flank steak or petite filet
1 tablespoon cumin seed or 1 rounded tablespoon ground cumin
1 ½ teaspoons peppercorns or 2 teaspoons ground pepper
2 tablespoons stir fry oil with ginger and garlic or peanut oil
2 green bell peppers or large green mild frying peppers, seeded and thinly sliced
2-3 small dried whole red chili peppers
1 onion, chopped
4 cloves garlic, thinly sliced
1 1-inch piece of ginger root, peeled and ground
1 small piece cinnamon stick
3 tablespoons Tamari (dark soy sauce) or liquid amino
A handful of cilantro tops
1 bunch scallions, thinly sliced on an angle
See recipe directions at Rachael Ray. 
More from Culture Cheat Sheet: