Easy Sausage Recipes to Cook on the Grill This Week
While we eat our fair share of hot dogs, they're not the most popular food to eat in an oblong bun. According to the National Hot Dog and Sausage Council, grocery stores sold $2.74 billion worth of dinner sausage in 2014 while hot sales lagged at $2.5 billion. With so many flavor choices, it's no wonder the casing-wrapped meals are gaining fans. They're also incredibly versatile, working in everything from sandwiches to packets. Give your next cookout a boost with these seven sausage dishes to seriously wow your guests. But be warned, once they get a taste of these recipes, they might never let you get away with basic hot dogs again.
1. Apple and Cheddar Breakfast Sausage Burger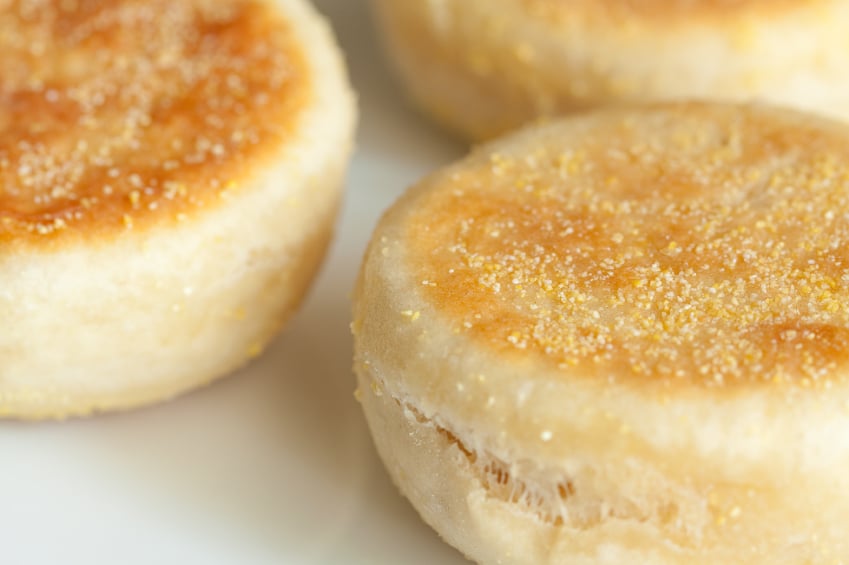 There's no reason to limit your grilling to the afternoon and evening. Invite your friends over for weekend brunch and surprise them with these flame-kissed breakfast sandwiches from Chow.com. The combination of apple, cheddar, and sausage is a nice departure from the standard bacon, egg, and cheese. While English muffins make great buns, you can substitute any of your favorite types of bread. We like to finish these with a little drizzle of spicy brown mustard.
Ingredients:
12 ounces fresh pork breakfast sausage, casings removed
1 medium tart apple, like Granny Smith
Vegetable oil
1 tablespoon maple syrup, plus more
4 English muffins, split
4 ounces sharp cheddar cheese, thinly sliced
Directions: Divide sausage into four even portions, and shape each into a ¼-inch-thick patty. Using your thumb, make a shallow indentation in the center of each patty. Transfer to a plate, and set aside.
Heat grill to medium-high. Slice apple into ½-inch-thick slices. Set aside the four widest slices, and remove seeds. Save extra apple for another use.
Using tongs, oil grate with several layers of paper towels coated with vegetable oil. Transfer apple slices and sausage patties, indentation-side up, to the grill. Cover, and cook until marks appear on bottom of apples and sausage, about 3 to 4 minutes. Flip, and brush with syrup. Cover, and cook until patties are cooked and apples are slightly softened, 3 to 4 minutes longer. Remove to a clean plate, and tent with foil.
Place muffins, cut-side down, on grill and toast until golden on one side, 2 to 3 minutes. Flip, and top with cheese, cover, and cook until cheese melts, 3 minutes longer.
Assemble sandwiches with sausage, apple, and muffins. Serve with additional syrup.
2. Grilled Merguez Sandwiches with Caramelized Red Onions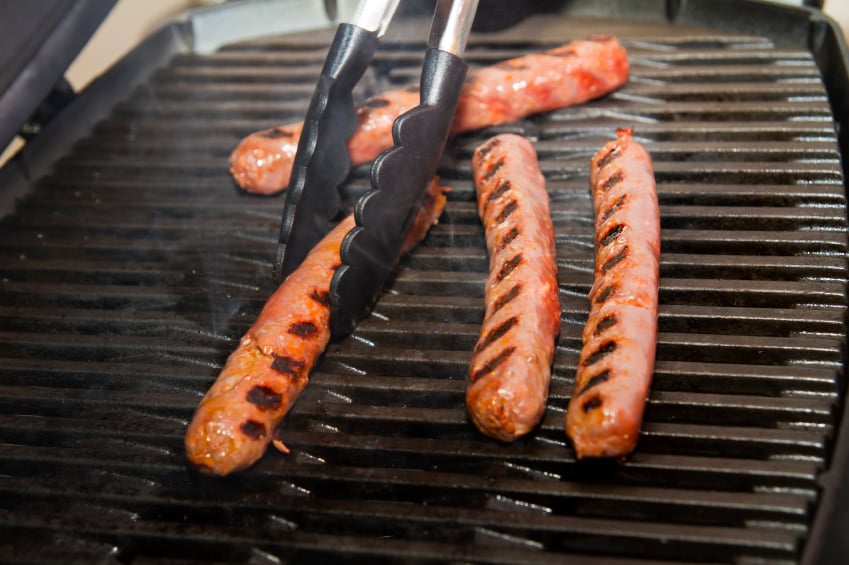 Merguez is one sausage worth adding to your rotation. These links boast tons of flavor thanks to harissa and lamb. They hail from North Africa, where they're used in tons of different dishes. The sausages are particularly delicious when tucked into Food & Wine's sandwiches with caramelized onions.
While the harissa gives these sandwiches a bit of heat, it's pretty tame. If you'd like a spicier meal, add a sprinkle of cayenne to the onion mixture or garnish with some sliced chiles.
Ingredients:
3 tablespoons extra-virgin olive oil
2 medium red onions, sliced ¼-inch thick
Salt
1 tablespoon honey
1 tablespoon balsamic vinegar
Freshly ground pepper
4 (6-ounce) merguez sausages, pricked all over with a fork
4 (6-inch) pieces of baguette, split and toasted
12 cilantro sprigs
4 lemon wedges
Directions: In a large skillet, heat olive oil. Add onions, and season with salt. Cook over moderately high heat, stirring, for 5 minutes. Reduce heat to medium, and cook, stirring occasionally, until onions are softened, about 10 minutes. Add honey and balsamic, and cook over low heat, stirring occasionally, until deeply caramelized, about 10 minutes. Season with salt and pepper.
Light a grill. Cook sausages over medium heat, turning occasionally, until nicely charred and fully cooked, about 15 minutes.
Build sandwiches with baguette, sausage, onions, and cilantro. Serve with lemon wedges.
3. Grilled Chorizo Tacos with Roasted Poblano Peppers, Roasted Tomato Salsa, and Pepper Jack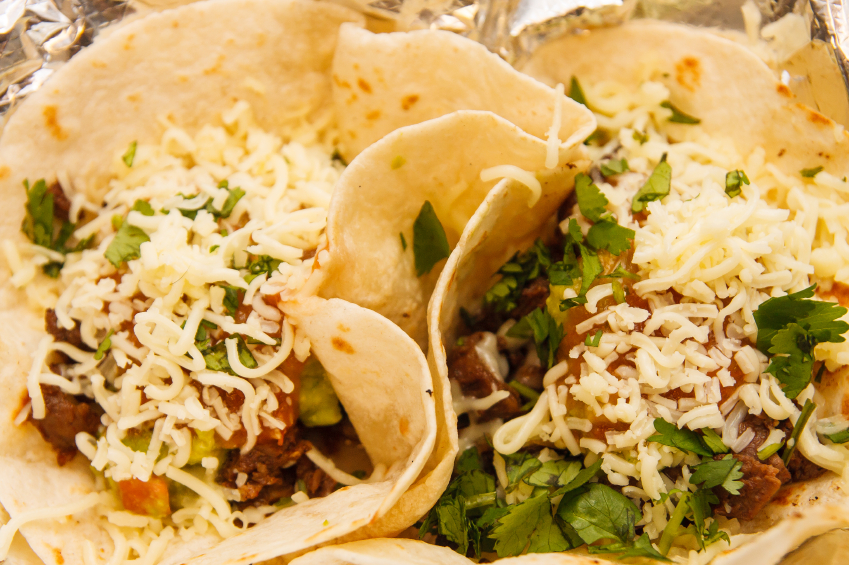 Most chorizo tacos feature the Mexican version of the sausage, which is raw, but substituting the Spanish kind makes the dish a little more grill-friendly. See for yourself with Emeril Lagasse's delicious tacos, featured on Food Network. Though the salsa recipe calls for using the broiler, you can use a grill basket to turn it into an outdoor endeavor. While you're at it, use the grill to warm the tortillas. Wrap them in foil, and toss the packet on the grates to heat through.
To make the roasted poblanos, you can toss the whole peppers onto the grill grates. Let them get really charred all over, turning occasionally. They should be almost completely black by the time they're finished. Transfer the peppers to a bowl, and cover with plastic wrap to let them steam. Once they're cool enough to handle, just peel away the skins and remove the seeds.
Ingredients:
 Salsa
4 to 6 plum tomatoes, cored, and halved
1 large jalapeño, stem removed
1 large onion, peeled, and cut into 8 pieces
2 garlic cloves, unpeeled
¾ teaspoon salt
2 tablespoons chopped cilantro
2 tablespoons fresh lime juice
1 teaspoon sherry vinegar
3 tablespoons water
Tacos
1 pound Spanish chorizo, sliced on the diagonal into ½-inch-thick pieces
8 corn tortillas
4 roasted poblanos, peeled, seeded, and sliced into strips
4 ounces pepper Jack cheese, grated
Directions: Preheat broiler to 500 degrees Fahrenheit. Line a baking sheet with parchment paper, and place tomatoes and jalapeño at one end of sheet. Place onion and garlic at other end. Broil until onions and garlic are blistered and beginning to char, about 10 minutes. Remove onions and garlic to a small bowl. Return pan to oven, and cook until tomatoes and peppers are charred, bubbling, and soft, 10 minutes longer. Remove from oven, and let cool.
Peel garlic, and transfer to a food processor with onions, tomatoes, jalapeño, and accumulated juices. Pulse until just combined. Add salt, cilantro, lime juice, vinegar, and water, and stir to combine. Transfer to a bowl, and set aside.
Prepare grill. Using tongs, grill sausage slices 2 to 3 minutes per side, until slightly charred. Transfer to a plate, and cover with aluminum foil.
Set a steamer basket inside a medium saucepan of simmering water. Wrap tortillas in a damp kitchen towel, and add to steamer. Cover, and steam until tortillas are soft and pliable, about 4 minutes. Remove from steamer, and build tacos with chorizo, poblanos, cheese, and salsa.
4. Grilled Sausages with Charred Tomato Relish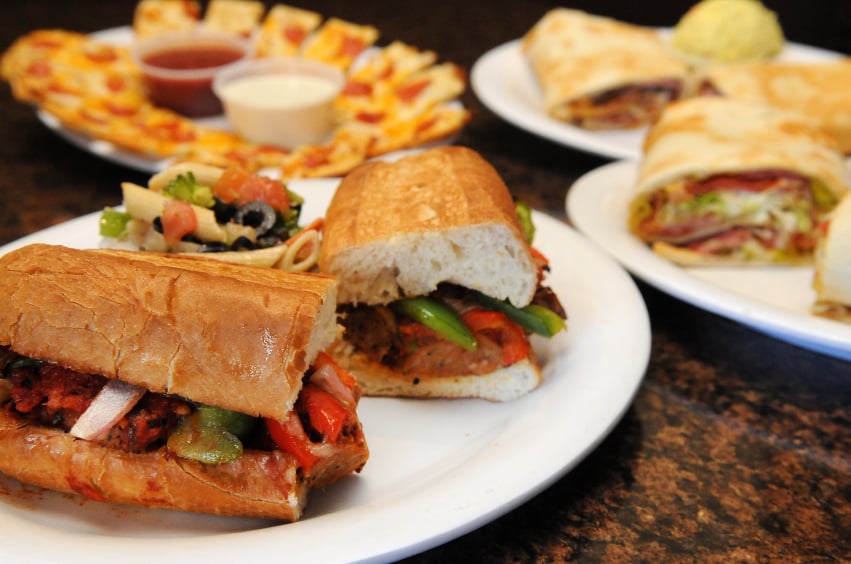 Simple recipes can deliver just as much flavor as ones with a lengthy ingredient list. This sausage and relish recipe from Martha Stewart Living takes the easier route by topping the links with a relish made from grilled tomatoes and chiles. Just chop the veggies, and mix in a little bit of garlic, vinegar, and sugar. Serve this meal on some crusty bread to soak up all the flavorful juices.
Ingredients:
1 pound mixed chiles, such as habanero, finger, and at least 1 jalapeño
6 plum tomatoes, halved lengthwise
3 to 4 pounds Italian sausage links
1 garlic clove, minced
1½ teaspoons red wine vinegar
1 teaspoon sugar
Coarse salt and freshly ground pepper
Crusty rolls or other bread
Directions: Grill chiles and tomatoes directly on grates over a medium-high grill, turning, until charred and softened, about 10 minutes. Transfer to a plate. Reserve tomatoes and jalapeño for reslish.
Grill sausages on grates, turning, until fully cooked, 12 to 15 minutes.
Chop charred tomatoes and jalapeño, and transfer to a bowl. Stir in garlic, vinegar, and sugar. Season with salt and pepper. Serve chiles and sausages with relish and bread.
5. Grilled Bratwurst with Beer, Mustard, and Sauerkraut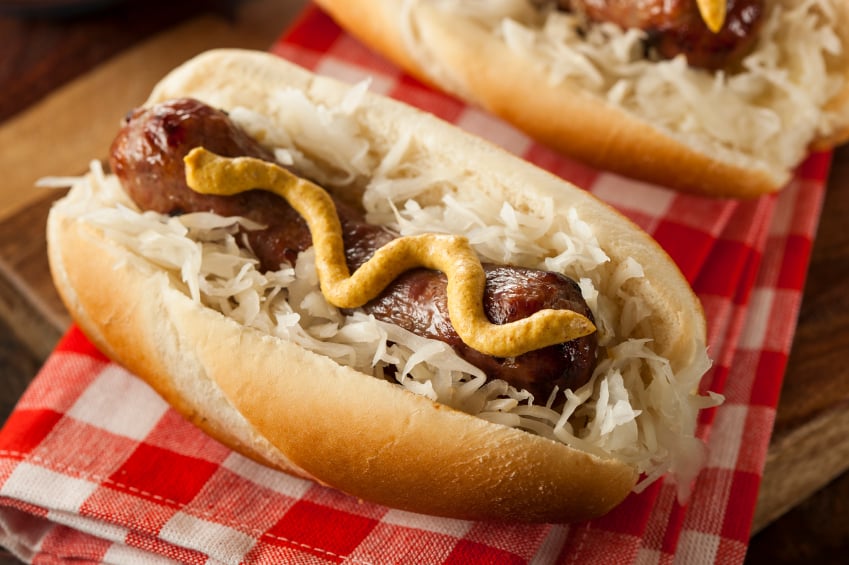 Brats are usually braised in beer or crisped on the grill, but this recipe from Serious Eats gets the best of both worlds. Starting the sausages in a pan filled with sauerkraut, mustard, and beer gives them tons of flavor while a final sizzle on the grates adds a little bit of smoky flavor. For another tasty topper, try grilling some sliced onion rings.
Ingredients:
2 cups lager
3 tablespoons whole-grain mustard, plus more
1 (1-pound) package sauerkraut, with juices
6 thyme sprigs
2 pounds bratwurst
Buns
Directions: Light one chimney full of charcoal. Once covered with ash, pour coals over one side of grate, and set cooking grate in place. Cover, and allow to heat for 5 minutes. If using a gas grill, set half of burners to high heat, and preheat 10 minutes.
Combine beer, mustard, and sauerkraut in a 10-inch square, disposable aluminum pan. Or construct your own out of aluminum foil. Stir until combined. Add thyme and sausages to pan, nestling into sauerkraut.
Place tray on hot side of grill. Cook until simmering, about 4 minutes. Slide to cooler side of grill. Cover with vents over sausages. Cook with vents open until sausages register 140 to 145 degrees Fahrenheit on an instant-read thermometer, about 20 minutes, turning once.
Remove lid. Using tongs, transfer sausages directly to grates on hot side. Cook, turning occasionally, until browned and crisp, about 3 minutes longer. Return to sauerkraut. Toast buns. Serve sausages with buns, sauerkraut, and additional mustard.
6. Grilled Shrimp and Sausage Skewers with Smoky Paprika Glaze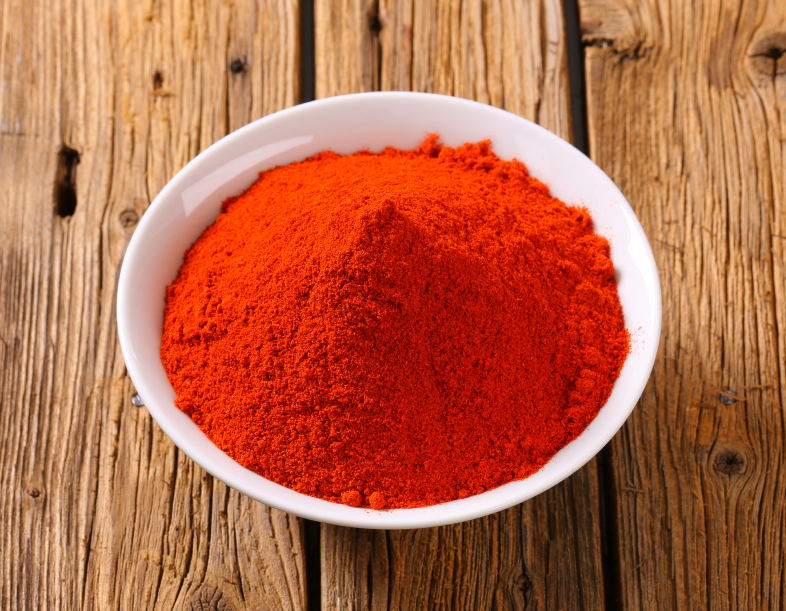 Skewers featuring different kinds of food can be a complete disaster if you aren't careful. This smart recipe from Epicurious does it the right way by using fully cooked sausage, raw shrimp, and quick-cooking veggies. The onions, tomatoes, and andouille will get just enough char in the amount of time it takes for the shrimp to cook.
The sherry and paprika glaze works wonderfully on all sorts of meats, so keep this recipe in mind anytime you plan on grilling some simple chicken or pork. You can also use it to make some great skewers for your vegetarian friends. Just replace the meat and seafood with cubed tofu or halloumi cheese.
Ingredients:
¾ cup olive oil
4 garlic cloves, minced
2 tablespoons chopped fresh thyme
5 teaspoons smoked paprika
4 teaspoons sherry wine vinegar
¾ teaspoon salt
½ teaspoon freshly ground black pepper
½ teaspoon crushed red pepper flakes
12 extra-large shrimp, peeled, and deveined
12 (1-inch-long) slices of andouille sausage
12 cherry tomatoes
12 (2-layer) sections of red onion wedges
Nonstick cooking spray
Directions: Whisk oil, garlic, thyme, smoked paprika, vinegar, salt, black pepper, and pepper flakes in a medium bowl to combine. Transfer half of glaze to small bowl, and reserve.
Alternately thread shrimp, sausage, tomatoes, and sections of onion onto each of 6 long skewers. If using wooden skewers, soak in water at least 15 minutes prior to assembling skewers.
Coat grill rack with nonstick spray and prepare grill from medium-high heat. Brush skewers with glaze. Grill until shrimp are cooked, turning, and brushing with glaze occasionally, 6 to 8 minutes.
Transfer to a platter. Serve with reserved glaze.
7. Barbecue Grilled Kielbasa Dinner Packets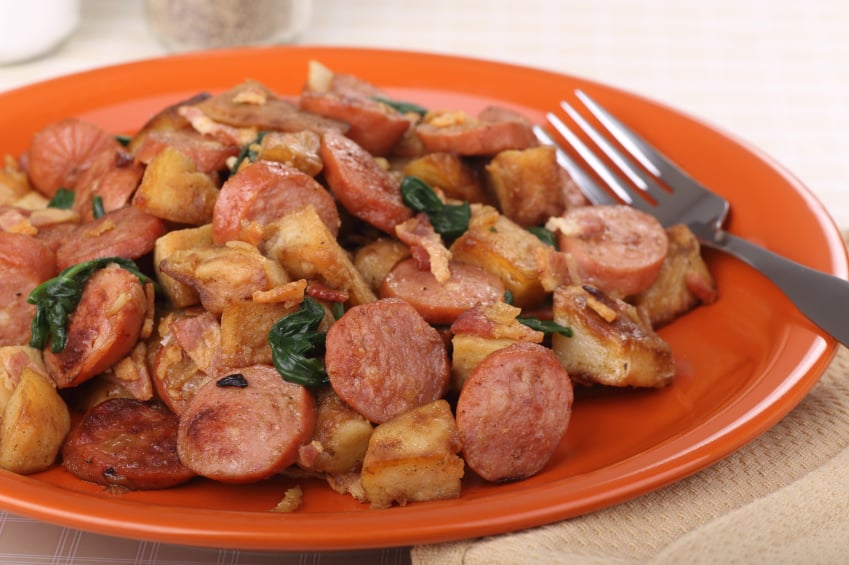 It can be kind of a bummer to host a party that you don't even get to enjoy because you spend the whole time manning the grill. Food.com's low-maintenance kielbasa packets let you enjoy all of the fun of cooking outside without chaining you to a pair of tongs. Just fold the sausage, potatoes, onions, and rosemary into some foil pouches, then let them cook for about 30 minutes. Toss some green beans or zucchini on the grill during the last few minutes, and you'll have a complete meal.
Ingredients:
1 pound kielbasa, cut into 2-inch-thick slices
2 large red potatoes, chopped into 1-inch pieces
1 medium yellow onion, roughly chopped
1 tablespoon olive oil
Salt and pepper
1 tablespoon fresh rosemary, roughly chopped
Directions: Preheat grill for medium-high heat. Tear two pieces of heavy-duty aluminum foil into 18-by-16-inch sections. Stack to create a double layer.
Place kielbasa, potatoes, and onion on foil, and drizzle with oil. Season with salt, pepper, and rosemary. Toss to combine. Fold packet to seal. Cover and grill 30 minutes, or until potatoes and onions are tender. Serve.
More from Culture Cheat Sheet: