7 Secrets to Making Healthy Homemade Soup That Tastes Good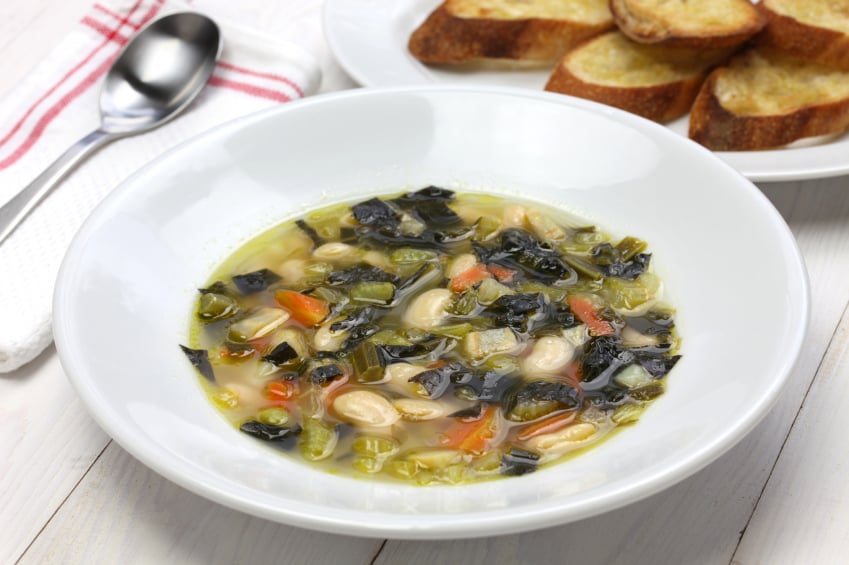 Whether you're having it as a between-meal snack to stave off hunger or as the main attraction for dinner, here's how to transform your soup into a nutrition powerhouse. Pro-tip: Make a big batch Sunday night, and freeze after dinner to reheat and use throughout the week. Your frazzled weeknight self will thank you.
1. Rethink the base
"Instead of using canned stocks and broths, boost the vitamin and mineral richness of your soups by making your own homemade stocks and bone broths," suggests Elliott Prag, of New York City's Natural Gourmet Institute.
2. Omit cream
"If a recipe calls for cream, there is without a doubt a way to make it without. The substitution will leave the soup lighter in both calories and grams of fat," explains Lisa Hayim, registered dietitian and founder of The WellNecessities. "I'm a huge fan of almond milk. I usually substitute cream for unsweetened almond milk. If I want the dish to be a bit thicker, I recommend trying one of the non-dairy creamers or coconut milk from the can (full fat) which are lower in saturated fat compared to heavy cream." says Hayim. "Remember, just because it's non-dairy, does not make it a 'freebie,'" cautions Hayim.
3. Include leafy greens
"For a delicious and generous dose of vitamin C and calcium, add dark leafy greens to your soup. Add kale or collard greens near the end of cooking so as not to overcook them and preserve their nutrient content," says Prag.
4. Sneak in some water
Don't be afraid to dilute! "Many soups are supposed to have water like consistency anyway, so adding additional water won't ruin the flavor. This allows you to 'have a little extra' without the extra calories. Think of it as more bang for you buck!" offers Hayim.
5. Add some immunity-boosters
"Soups are a great vehicle for foods that boost your immunity that you wouldn't eat alone. Try adding a bit of fresh garlic, ginger, a dark leafy green, or even some seaweed into the mix," suggests Hayim. While you're at it, be sure to sprinkle in potent spices like cayenne, turmeric, and even cinnamon. Vegan? Tap in some nutritional yeast for a dose of B12.
6. Include healthy garnishes
"Garnish your soup (once served into the bowl) with some fresh herbs — cilantro or parsley — instead of dolloping heavy cream or cheese on top. You can also use tomato slices, sprouts or alfalfa (for added iron)," comments Cat Smiley, author of The Planet Friendly Diet and Owner of Whistler Fitness Vacations weight loss retreat. For creamy soups like carrot or corn, try adding toasted nuts like walnuts or pecans on top for textural contrast and added nutrition.
7. Make the most of veggies on the brink of going bad
Wilting spinach? Don't just reserve it for your daily power smoothies. "Save un-used veggies (instead of throwing them away) when they start to look done — pop them in the freezer to be used for soup! Also you can save meals that you don't finish throughout the week to be revamped into soup — rice, barley, vegetables, beans — it can all go into the pot and come out an incredibly delicious soup," shares Smiley.
More from Culture Cheat Sheet:
Want more great content like this? Sign up here to receive the best of Cheat Sheet delivered daily. No spam; just tailored content straight to your inbox.