7 Valentine's Day Desserts That Anyone Can Make
This year for Valentine's Day you can surprise your special someone with the ultimate sweet treat that doesn't come from a package. Homemade gifts are best, and if you can whip up a special dessert, it'll blow any kind of boxed chocolate out of the water. Baking is all about following a formula, and anyone can do it. We're rounding up seven dessert recipes perfect for Feb. 14.
1. Small-Batch Brownies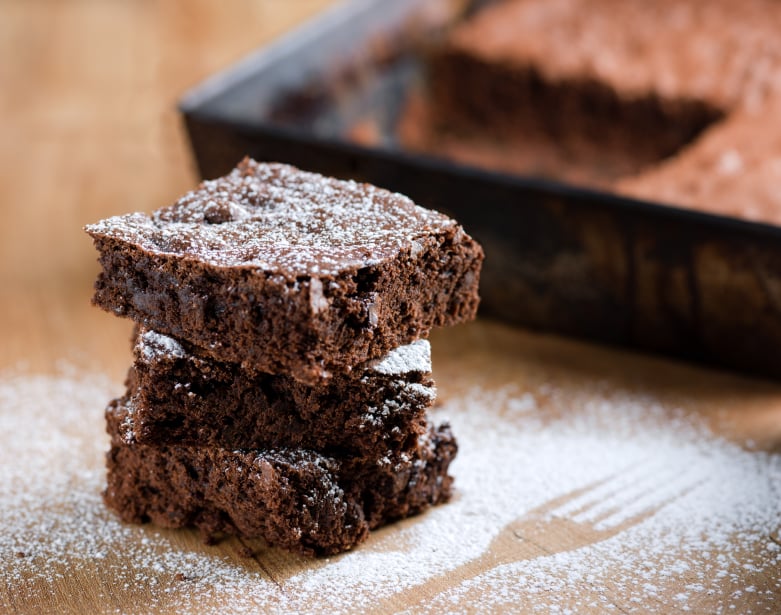 The problem with baking your brownies homemade is that recipes often serve many and then you're left with a pan of irresistible chocolate goodness. Everyone wants a brownie, but 24 brownies is another story. That's where this recipe from Dessert for Two comes in. It yields a small batch of brownies and will only make two sweet treats — one for you and your valentine. The classic chocolate brownies are studded with seasonally colored red and pink M&Ms, and you can feel free to throw chocolate chips in there, too. Pull out your 9-by-5-inch loaf pan and get going.
Ingredients:
4 tablespoons unsalted butter, diced
½ cup + 1 tablespoon granulated sugar
¼ cup + 2 tablespoons unsweetened cocoa powder
¼ teaspoon salt
½ teaspoon vanilla extract
1 large egg
¼ cup all-purpose flour
¼ cup M&M candies
See recipe directions at Dessert for Two. 
2. Deep Dish Chocolate Chip Cookies for Two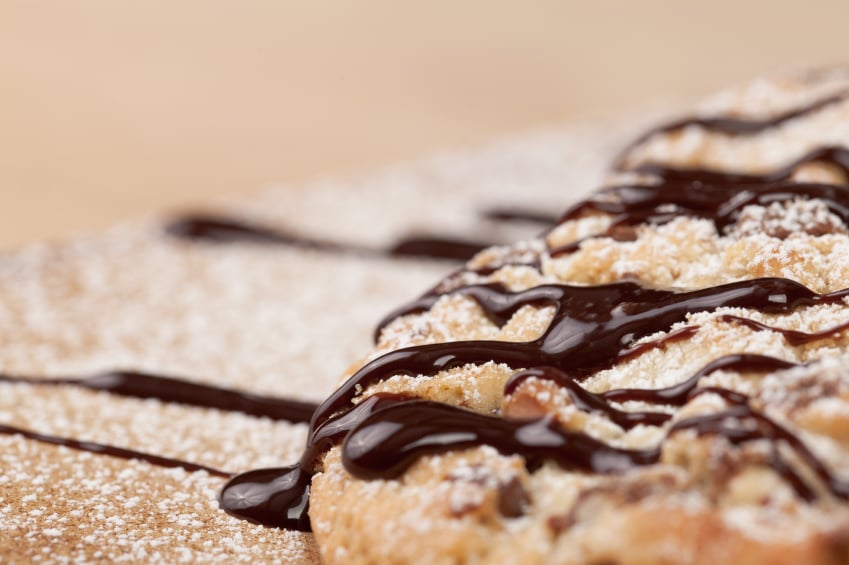 Here's another recipe from Dinners, Dishes, and Desserts that only serves 2. Have you ever heard of pizookies? They are warm deep dish chocolate chip cookies you serve topped with ice cream. As you can imagine, they're a dessert dream come true, and this recipe teaches you how to make them for two. Your valentine will never love you as much as he or she does when you serve up this decadent dessert, and you might just have to start a holiday tradition.
Ingredients:
3 tablespoons butter, softened
3 tablespoons sugar
3 tablespoons brown sugar
½ teaspoon vanilla
1 egg yolk
¼ teaspoon salt
⅛ teaspoon baking soda
½ cup flour
¼ cup chocolate chips
See recipe directions at Dinners, Dishes, and Desserts.
3. Chocolate Cake for Two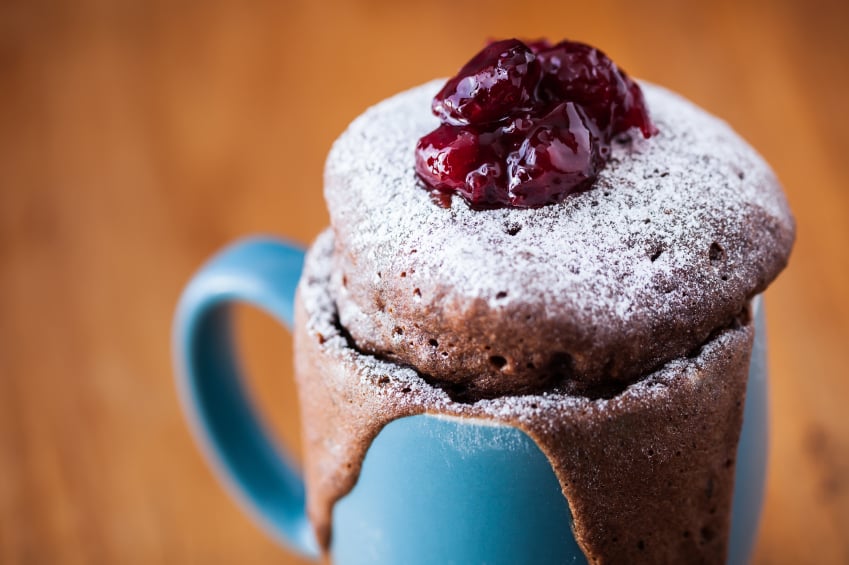 Even if you don't have a lot of time on your hands, you can whip an impressive homemade dessert if you follow this food formula from Broma Bakery. The chocolate cake serves two and only takes 30 minutes to make. The triple chocolate cakes are actually cooked in the microwave and mastered in mugs, so you won't even need to turn on your oven. Once you microwave your mug cakes, you'll top them with homemade frosting, and then you'll have an indulgent dessert on your hands that doesn't leave you with leftovers.
Ingredients:
½ cup sugar
7 tablespoons all purpose flour
3 tablespoons cocoa powder
¼ teaspoon baking powder
¼ teaspoon baking soda
¼ teaspoon salt
1 egg
¼ cup milk
2 tablespoons canola oil
½ teaspoon vanilla extract
2 tablespoons water
For the frosting
4 tablespoons butter, room temperature
3 tablespoons cocoa
½ cup powdered sugar
2 tablespoons milk
dark chocolate shavings (optional)
4. Chocolate Cupcakes for Two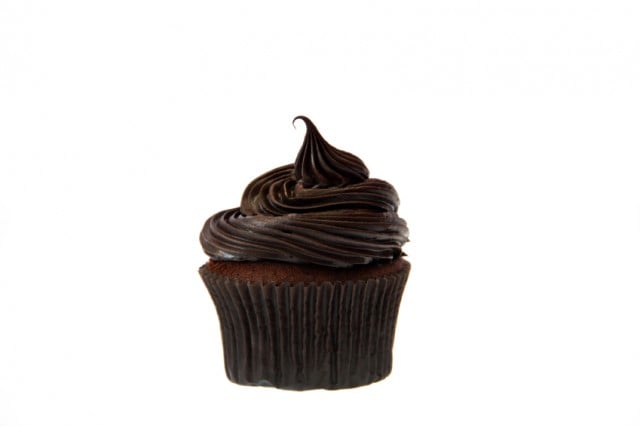 We've covered mug cakes, but we can't forget about cupcakes. Some say the cupcake phase is over, but others believe it's just begun. If your valentine falls into the latter camp, make him or her a chocolate cupcake with this recipe from Treats and Eats. Once again, the recipe only serves two, but these cupcakes do get baked in the oven. They can be topped with peanut butter, Nutella, more chocolate, or homemade frosting.
Ingredients:
5 teaspoons unsweetened cocoa powder
2 tablespoon + 1 teaspoon all-purpose flour
2 tablespoons + 1 tsp granulated sugar
¼ teaspoon baking powder
⅛ teaspoon salt
1 large egg white
4 teaspoons milk
4 teaspoons vegetable oil (such as canola)
¼ teaspoon vanilla extract
4 teaspoons very hot (almost boiling) water
See recipe directions at Treats and Eats.
5. Chocolate Pudding for Two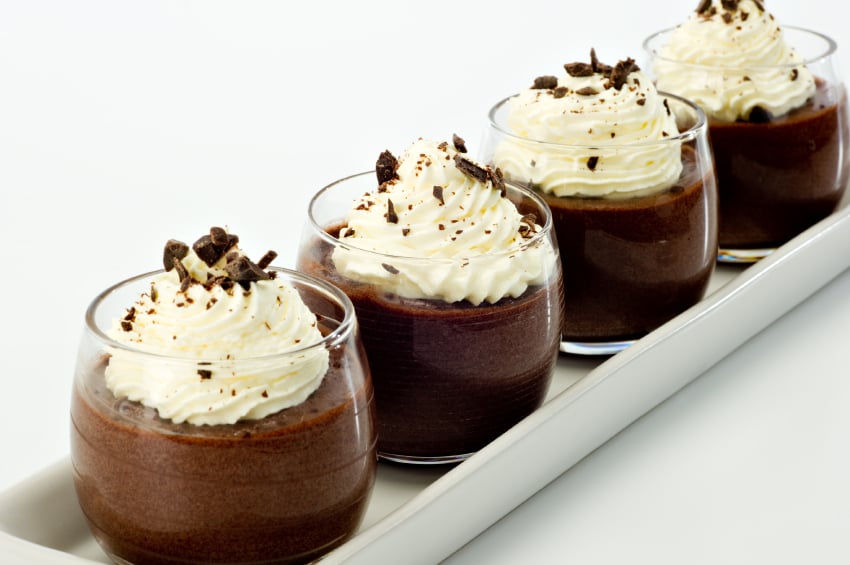 If your valentine wants to eat his or her homemade dessert with a spoon rather than a fork, go the pudding route. Chocolate pudding is a nostalgic dessert that one too many bakers forget about, and you should consider bringing it back this Valentine's Day. The Faux Martha has a recipe for Chocolate Pudding for Two, and it's as easy as they come. You'll make your pudding in a sauce pan and then top with homemade whipped cream, and the ingredients for this chocolately dessert are ones you likely already have on hand.
Ingredients:
1 ¾ tablespoons all-purpose flour
1 ½ tablespoons cocoa powder
½ cup sugar
hefty pinch of coarse salt
¾ cup milk
1 tablespoon unsalted butter, softened
½ large egg, beaten
½ teaspoon vanilla extract
⅓ cup heavy cream
1 teaspoon powdered sugar
cocoa powder or shaved chocolate, for garnishing
See recipe directions at The Faux Martha.
6. Chocolate Cheesecake for Two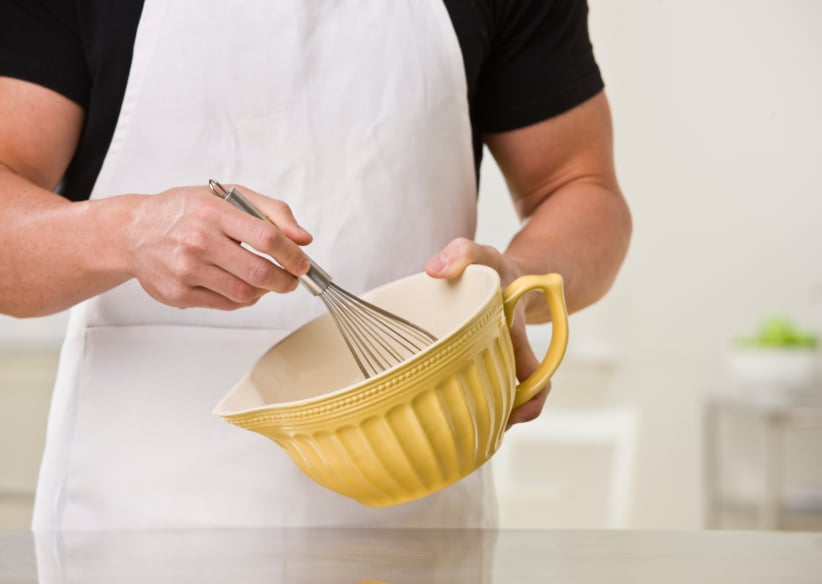 Think you can't master the cheesecake? Think again. This recipe from Chocolate Moosey will show you how it's done, and won't even strap you and your date with leftovers. The dessert formula serves only two and it yields perfectly portioned chocolate cheesecakes that are made from butter, sugar, cream cheese, and cookie crumbs. You'll serve up your cheesecake in ramekins and garnish with any toppings of your choice. Just make sure you prepare ahead so you can refrigerate the dessert four hours prior to eating, or overnight.
Ingredients:
¼ cup chocolate sandwich cookie crumbs
1 tablespoon unsalted butter, melted
6 ounces full-fat cream cheese, softened
⅓ cup granulated sugar
1 egg
2 ounces semisweet chocolate, melted
¼ teaspoon vanilla extract
⅛ teaspoon espresso powder (optional)
See recipe directions at Chocolate Moosey.
7. Chocolate Fondue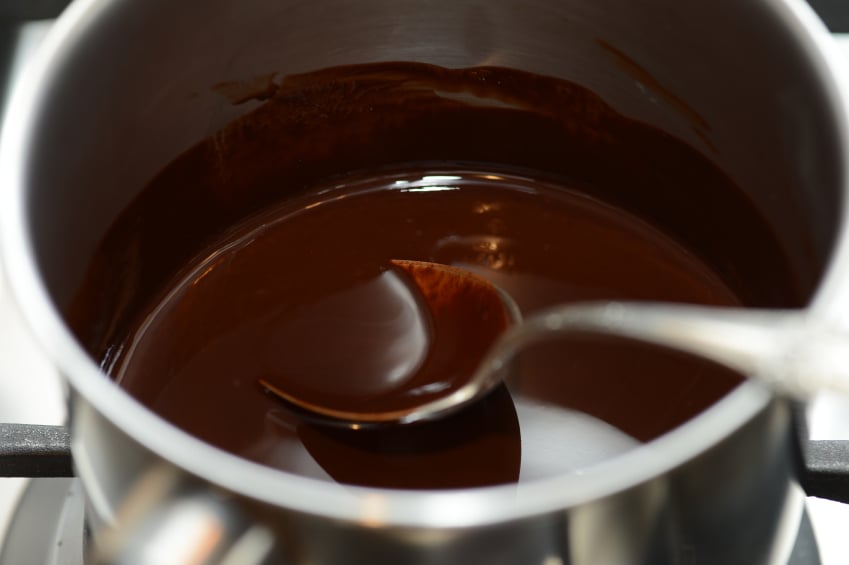 Saving the best for last, we come to this recipe for Chocolate Fondue from Eating Well. Dip your crackers, cookies, and fruit in homemade fondue and your valentine will love you more than ever. Chocolate Fondue is surprisingly easy to make, and once you whip it up once, you'll never go back to over-priced restaurant desserts again. As long as you have the right ingredients, you're good to go, and then it's up to you to determine the best vehicles for your chocolate. Similar to the other food formulas on our list, this recipe only serves two, so you won't have to worry about putting you and your loved one in an over-served chocolate coma.
Ingredients:
3 ounces bittersweet chocolate, chopped
2 tablespoons heavy cream
1 tablespoon brewed espresso
½ teaspoon vanilla extract
Pinch of salt
1 banana, peeled and cut into 8 pieces
8 1-inch chunks fresh pineapple
4 strawberries
See recipe directions at Eating Well.
More from The Cheat Sheet: