8 Easy Recipes for Your Labor Day Picnic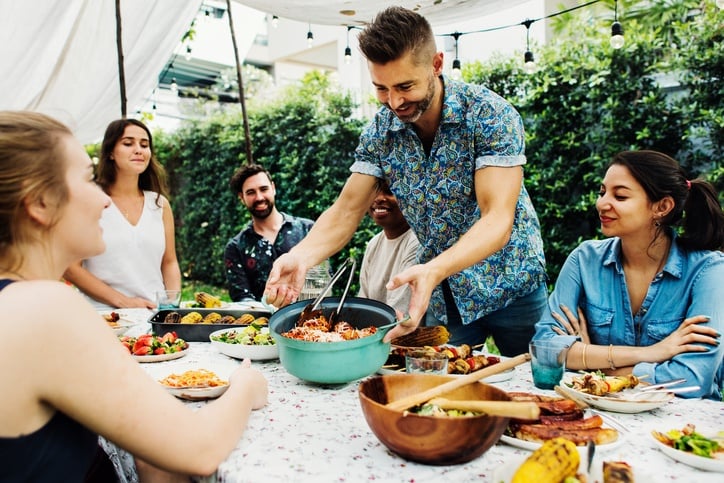 Labor Day: The holiday that celebrates the achievements of American workers, but gives Americans a day off from even having to think about work. When it comes to throwing a Labor Day party or bringing a dish to a picnic, most people would like to continue the trend of doing as little work as possible.
If you try any of these easy Labor Day picnic recipes, you'll get the best of both worlds by whipping up dishes people will love all while guaranteeing more time for relaxation.
1. Watermelon salad with mint and lime
Labor Day may mark the end of summer, but don't expect the hot weather to have gone away just yet. Watermelon is a perfectly refreshing treat for temporarily escaping the heat — and not to mention, is easy to serve. Rather than simply offering slices of watermelon, kick it up a notch with this flavorful (and easy!) watermelon salad with mint and lime recipe.
If your picnic is adults-only, Food & Wine recommends a splash of rum in your salad. "It's even more satisfying, then," they claim.
2. Vegan coleslaw
Coleslaw may be a Labor Day picnic classic, but you definitely have to try this vegan version from TheVegLife. Not only will everyone at the party be able to eat it, but those who do eat dairy won't even realize there's none in (it if you don't tell them). Coleslaw is the perfectly refreshing side to any Labor Day dish, so be sure to make plenty for everyone to get seconds.
3. BBQ grilled corn
Let's face it: It's just not a Labor Day picnic without corn. Rather than basic corn on the cob, you can fancy it up with a myriad of flavors recommended by Delish. We're most interested in their BBQ grilled corn recipe, which includes brushing your corn on the cob with barbecue sauce and sprinkling it with potato chips after grilling it. The chips may sound like an odd topping, but the crunchy, salty goodness might add just the right flavor.
4. Bunless burger bites
If you're ready for burgers-meet-kabobs, you have to try this bunless burger bites recipe. Not only will you be cutting out some bread, but picnic-goers will love this easy, mess-free, and innovative way to eat a burger. The combined prep and cook time is only 25 minutes, so you can spend more time eating all the Labor Day food than making it.
5. Ranch potato salad
You may think you've tried every potato salad out there, but this one from Taste of Home will leave people asking you for the recipe. With the perfect creamy texture, the cheese, bacon, and ranch salad dressing will make this your new Labor Day picnic staple.
6. Berry cheesecake bars
For a perfectly themed Labor Day treat, you'll definitely want to try these red, white, and blue berry cheesecake bars from Delish. They're easy for guests to grab-and-go, and provide just the right amount of creamy and fruity satisfaction.
7. Sparkling rosé margarita
If you're feeling those "rosé all day" vibes for Labor Day, this cocktail will fit the bill. Plus, it's deliciously refreshing with a margarita twist. The best part? You can make the concoction in under five minutes. The only ingredients you'll need are tequila, fresh lime juice, agave syrup, sparkling rosé, strawberries, limes, and salt. If that sounds good to you, you should definitely check out the full recipe.
8. Mini s'mores sandwiches
Gathering around a campfire to say goodbye to summer sounds like the perfect way to celebrate. However, if your Labor Day picnic is filled with tons of guests, it may be difficult for everyone to fit around the fire pit to make their own s'mores. Instead, prepare some mini s'mores sandwiches that guests can easily grab (without making a mess).