Easy Shortcut Dessert Recipes That Anyone Can Master
Everyone loves a good homemade dessert, but not everyone likes to take the time to make one. That's where baking shortcuts come in. Instead of picking up your next cake or pie at the grocery store, enlist baking shortcuts and make homemade desserts with the help of a little cake, pudding, or biscuit mix. This summer, instead of wasting your time in the kitchen, prepare one of these eight recipes, and then get out in the sun while your homemade shortcut dessert bakes in the oven or cools in the refrigerator.
1. Easy Monkey Bread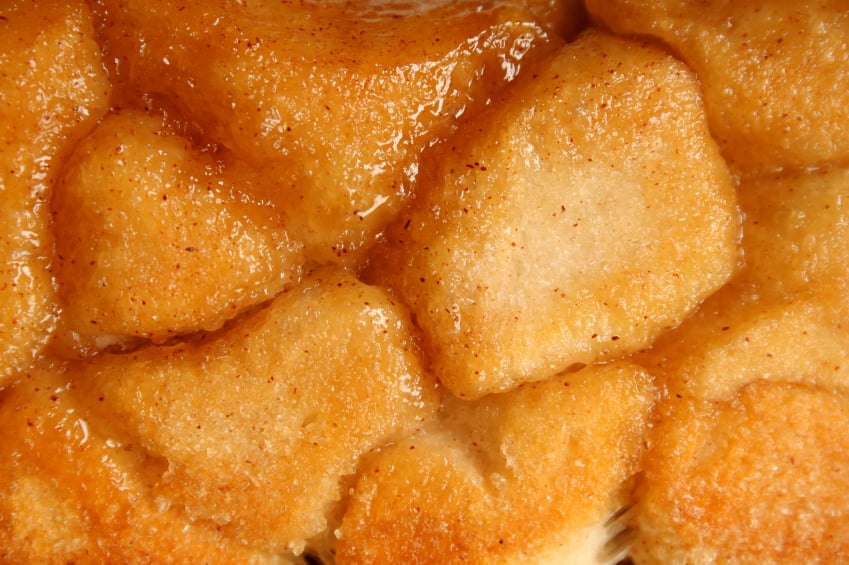 This recipe from PopSugar is the perfect example of how a seemingly sophisticated breakfast treat or dessert can become quite simple with the help of a few shortcuts. While the idea of homemade monkey bread can seem daunting, this recipe requires only five ingredients, and can be baked in just 25 minutes. Instead of wrestling with flour and yeast, pick up refrigerated biscuit dough at the grocery store and you're good to go. Then, all you need is sugar, brown sugar, cinnamon, and butter to make your monkey bread dreams come true.
Ingredients:
3 cans refrigerated biscuit dough
½ cup granulated sugar
2 tablespoons cinnamon
12 tablespoons butter, melted
1 cup packed brown sugar
Directions: Preheat your oven to 350 degrees Fahrenheit. Thoroughly grease a bundt pan with nonstick cooking spray.
Add the granulated sugar and cinnamon to a resealable plastic bag, seal it, and shake until combined. Separate the dough into the biscuit rounds, and then cut each into quarters. Add them to the bag in two batches; shake to coat.
Arrange the biscuit pieces in the bundt pan. Whisk together the butter and brown sugar. Pour it over the biscuits. Bake for 25 to 30 minutes or until golden brown and no longer doughy in the middle. Serve warm.
2. Easy Fruit Shortcakes
Another dessert you can make with refrigerated biscuit dough is an easy shortcake with the summer fruit of your choice. Instead of making your own buttermilk biscuits, buy them at the store and save yourself the hassle of making them from scratch. While this recipe from Recipe.com calls for canned peaches, feel free to take advantage of the season and enlist fresh fruit instead.
Ingredients:
1 can refrigerated buttermilk biscuits
1 tablespoon sugar
1 can sliced peaches in syrup, drained and ½ cup liquid reserved
1 cup frozen whipped topping
Ground cinnamon
Directions: Heat oven to 375 degrees Fahrenheit. Separate dough into 5 biscuits. Place on ungreased cookie sheet. Sprinkle sugar evenly on tops of biscuits. Bake 11 to 15 minutes or until golden brown. Cool 5 minutes.
To serve, split biscuits; on 5 individual serving plates, layer with peaches, reserved juice, and whipped topping. Sprinkle with cinnamon.
3. Pina Colada Pie
If you like pina coladas and getting caught in the rain, try this super simple recipe for pina colada pie from Mix and Match Mama. It's the perfect ice cream pie for summer, and the recipe requires only five ingredients. Locate the good stuff and get ready to love this pie.
Ingredients:
1 graham cracker crust
1 pint of coconut gelato, sherbet or ice cream
2 cups of whipped topping, thawed
1 (8-ounce) can of crushed pineapple, drained
3 cups of sweetened and flaked coconut, divided
Directions: In a mixing bowl, add your gelato, whipped topping, pineapple, and 1½ cups of the coconut in. Mix together with a wooden spoon until just combined. Spread this mixture into your prepared pie crust. Cover and freeze at least 2 hours.
When you're ready to serve, garnish the pie with toasted coconut. Add the remaining 1½ cups of coconut to a clean, dry skillet over medium-high heat and toast them. Garnish pie and serve frozen.
4. Moo Less Chocolate Pie
If you're hosting a backyard BBQ this summer and know you'll have some picky eaters on your hands, make a dessert that everyone can enjoy without slaving away in the kitchen. This chocolate pie from Alton Brown is the ticket, as it's decadent, rich, chocolaty, and completely vegan. The star ingredient in this pie is tofu, and while we know the idea of tofu in pie can be a hard pill for some to swallow, we promise you won't even notice it. Tofu simply adds to the creaminess of the pie and provides a substitute for the usual heavy cream and egg yolks. Trust us when we say you need to locate the nearest pre-made crust (or make your own) and try this pie. Prepare to be surprised.
Ingredients:
13 ounces semisweet chocolate chips
⅓ cup coffee liqueur
1 teaspoon vanilla extract
1 pound silken tofu, drained
1 tablespoon honey
1 (9-inch) prepared chocolate wafer crust
Chocolate Wafer Crust
6½ ounces chocolate wafer cookies
1 tablespoon sugar
3 ounces unsalted butter, melted and slightly cooled
Directions: Place enough water in the bottom of a 4-quart saucepan to come 1 inch up the sides. Bring to a simmer over medium heat.
Melt the chocolate chips with the liqueur and vanilla in a medium metal bowl set over the simmering water, stirring often with a rubber or silicone spatula. Combine the tofu, chocolate mixture, and honey in a blender or food processor and spin until smooth, about 1 minute. Pour the filling into the crust and refrigerate for 2 hours, or until the filling sets firm.
For Chocolate Wafer Crust: Preheat the oven to 350 degrees Fahrenheit.
Spin the cookies and sugar in a food processor until fine crumbs. Then drizzle in the butter, pulsing to combine. Press this mixture firmly and evenly into the bottom, up the sides and just over the lip of a 9-inch metal pie pan.
Bake on the middle rack of the oven until crust is set and appears dry, 18 to 20 minutes. Remove from the oven and cool completely, about 1 hour.
5. Easy No-Bake Cheesecake
If you think cheesecakes are out of your dessert recipe reach, you haven't seen this formula from Just a Taste for easy no bake cheesecake. Impress your next dinner guests with a homemade cheesecake and see for yourself just how simple the sweet treat is to make. Thanks to cream cheese and sweetened condensed milk, all you have to do is mix the ingredients in your electric stand mixer before pouring the filling into an easy graham cracker crust. Keep your cheesecake out of your reach in the refrigerator until your guests arrive and then count down the minutes until you can dig in.
Ingredients:
2 sleeves graham crackers
11 tablespoons unsalted butter, melted
2 tablespoons sugar
2 packages cream cheese, at room temperature
1 can sweetened condensed milk
¼ cup fresh lemon juice
1½ teaspoons lemon zest
1½ teaspoons vanilla extract
⅓ cup pomegranate seeds, for garnish
Directions: Place the graham crackers in the bowl of a food processor and pulse until finely ground. Transfer the graham cracker crumbs into a medium bowl and stir in the melted butter and sugar until the mixture is well combined.
Press the graham cracker mixture firmly into the bottom and up the sides of a 9-inch springform pan. Cover the crust with plastic wrap and refrigerate it for 20 minutes.
In the bowl of a stand mixer fitted with the paddle attachment, beat the cream cheese until smooth and then stream in the sweetened condensed milk. Add the lemon juice, lemon zest, and vanilla extract and beat until combined. Pour the filling into the chilled graham cracker crust, cover the cheesecake with plastic wrap and refrigerate it for 3½ to 4 hours, or until firm.
When ready to serve, remove the cheesecake from the fridge and unclasp the spring on the springform pan to remove the outer ring. Top the cheesecake with the pomegranate seeds then slice and serve.
6. Cake Batter Funfetti Cookies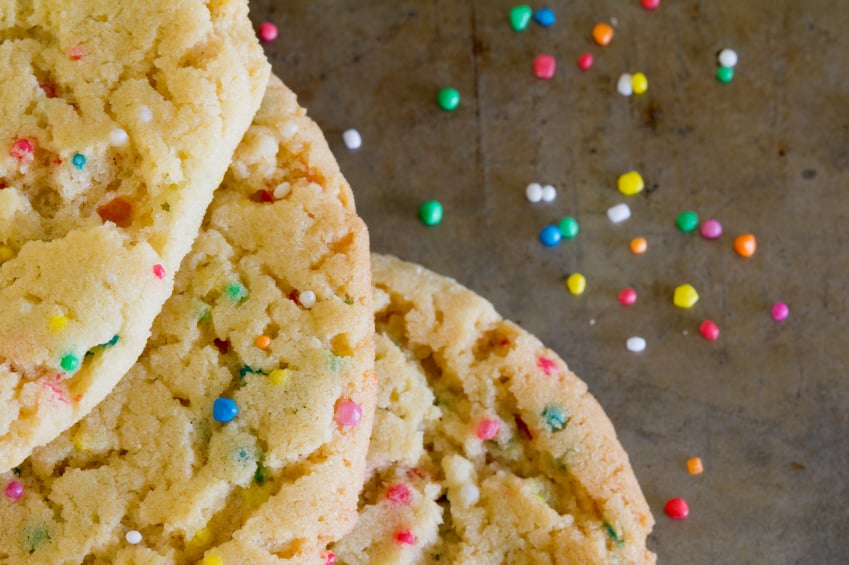 Rainbow sprinkles not only pair perfectly with vanilla ice cream on a hot summer day — they also provide the perfect aesthetic kick to easy breezy sugar cookies. Try these cake batter funfetti cookies from Diethood and see what we mean. The recipe developer behind these treats enlists an easy cake mix to master the cookies, and that gives you an excuse to get out of the kitchen and get outside. Pick up the six ingredients needed for these cookies, preheat the oven, bake for nine minutes, and then dig in!
Ingredients:
1 box funfetti cake mix
1 teaspoon baking powder
2 eggs
⅓ cup canola oil
1 teaspoon vanilla
Additional sprinkles
Directions: Preheat oven to 350 degrees Fahrenheit. Line 2 baking sheets with parchment paper; set aside.
In a large mixing bowl, whisk together cake mix and baking powder; set aside. In a separate bowl, whisk together eggs, oil, and vanilla; whisk until combined and mixture is a pale yellow. Add egg mixture to cake-mix mixture; stir until thoroughly incorporated. Drop 1-inch rounded balls of dough, two inches apart, onto previously prepared baking sheets. Add a few sprinkles on top of each dough-ball and press lightly so they do not roll off. Do not flatten cookie-dough balls.
Bake for 9 minutes. Remove from oven and let stand 2 minutes. Transfer cookies to a wire rack and cool completely. Serve.
7. Peanut Butter Swirl Brownies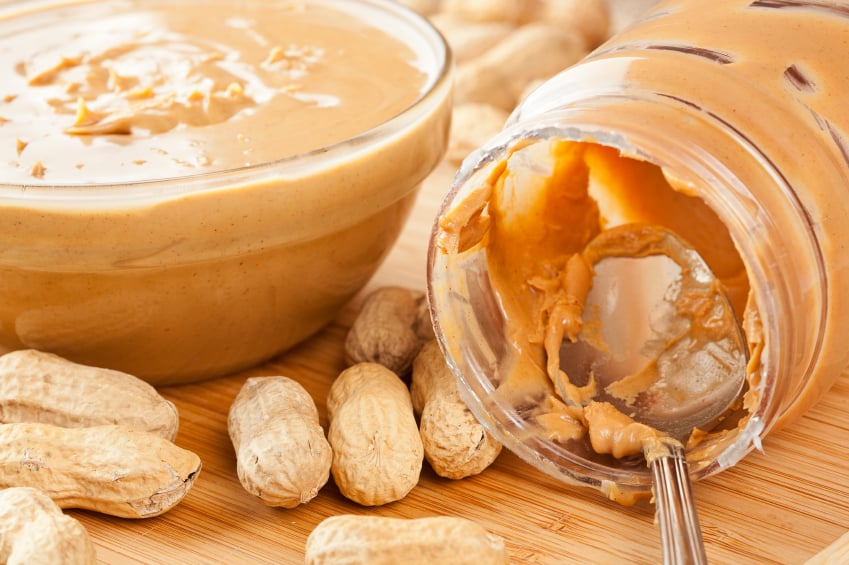 If brownies are your dessert of choice, try enlisting the help of boxed mix. No one can resist chocolate brownies, and if you want to take your simple sweet treats up a notch, add in a peanut butter swirl, and follow this recipe from The Hungry Housewife. No one will care if these brownies are made from scratch when they catch sight of the swirl. After you see how well the peanut butter pairs with the chocolate, you may never go back to basic boxed mix brownies again.
Ingredients:
1 box brownie mix
Eggs (the amount the box calls for)
Oil (the amount the box calls for)
Water
⅓ cup peanut butter
1 tablespoon powdered sugar
Directions: Preheat the oven per package directions. Line a 8-by-8 or 9-by-9 pan with non stick for or parchment paper.
Mix the brownies per the package directions. Heat the peanut butter in the microwave for 15 to 20 seconds or until slightly runny. Stir powdered sugar into the peanut butter. Plop the peanut butter over the top of the brownie mixture and swirl with a knife. Bake per the package directions. Allow to completely cool before cutting.
8. Easy Chocolate Pudding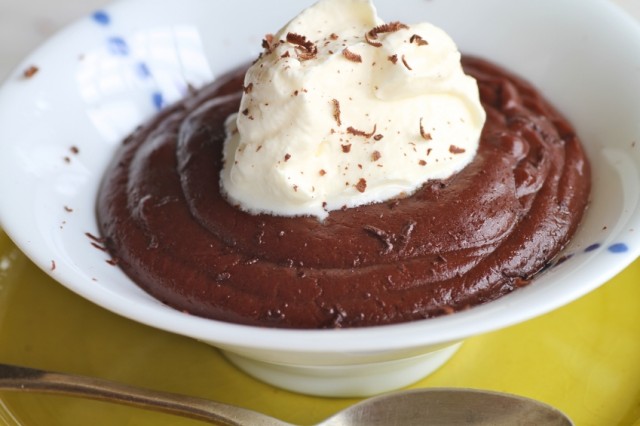 Last but not least: a decadent dessert you can prepare in 10 minutes or less. Is anything more refreshing than chilled chocolate pudding? If we've just triggered a craving, check out this recipe from Taste of Home. No pudding mix is necessary for this dessert formula — it's easy enough to make homemade. This recipe serves two.
Ingredients:
6 tablespoons sugar
¼ cup baking cocoa
2 tablespoons cornstarch
1½ cups milk
½ teaspoon vanilla extract
Whipped topping, optional
Directions: In a saucepan, combine the sugar, cocoa, and cornstarch. Gradually stir in milk until smooth. Bring to a boil over low heat, stirring constantly. Cook and stir for 2 minutes or until thickened. Remove from the heat; stir in vanilla. Pour into two serving dishes. Cover and refrigerate until chilled. Garnish with whipped topping if desired.
More from Culture Cheat Sheet: