A Behind-the-Scenes Look at Olympic Village in Pyeongchang
For most people, it's hard to imagine what it's like to travel halfway around the world to compete with the best athletes in the world. Most us will never have the privilege of participating in the Olympic games.
But thanks to social media, we can at least get a glimpse into their living quarters and marvel at what it would be like to be there, too. These are the beds Olympians will sleep in before and after they compete. These are the kitchens where they'll scramble eggs and brew coffee before winning gold medals.
Thankfully, the apartments are completely finished and inhabitable, unlike the disaster of the summer Olympic Games in Rio. Read on for a peek inside the place that (most) Olympic athletes will call home during the biggest competition of their lives.
Olympic Village is huge
There are two villages: Pyeongchang Village has eight 15 story buildings while Olympic Village at Gangneung has nine 25 story buildings. Athletes started moving in and preparing for the games on February 1, 2018.
The village is like a miniature town complete with cafeterias featuring cuisine from around the world, 24-hour gyms, banks, post offices, laundry, media centers, convenience stores, and churches. There are also game rooms, a relaxations room, and even a McDonald's.
Next: Here's how many people moved in.

The village operates as home base for thousands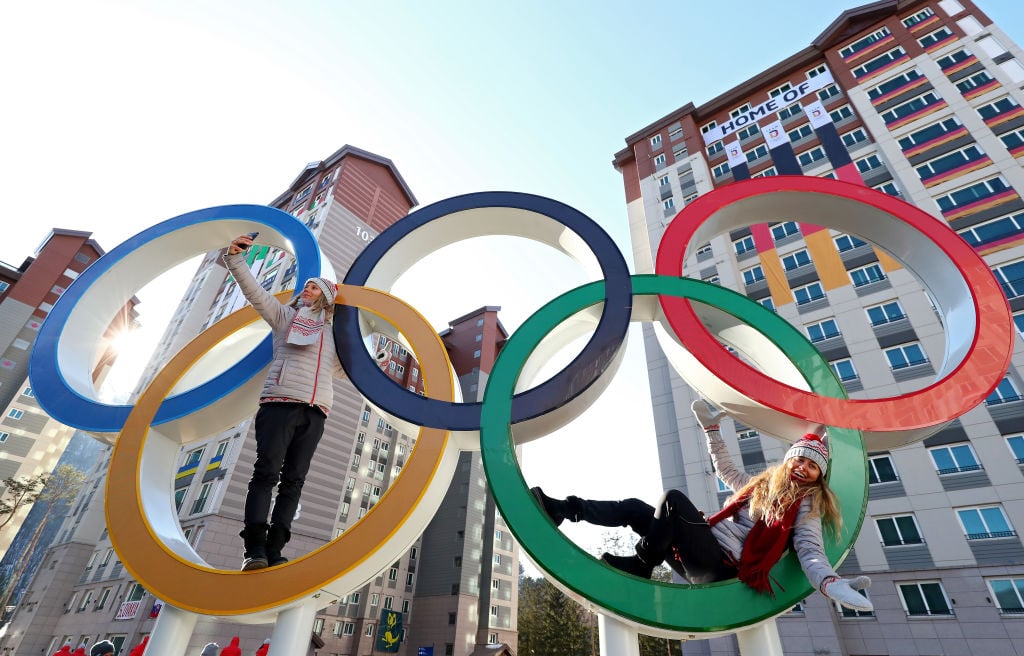 This is where Olympic competitors eat, sleep, train, pray, meditate, and live their lives before and after events. But it's not just athletes moving in. According to Olympic.org, the Pyeongchang Village houses as many as 3,894 athletes and team officials during the Olympic Winter Games and will then host up to 2,268 people during the Paralympic Winter Games.
The Gangneung Village houses more than 2,900 people at the Olympic Winter Games only. This is the location where the hundreds of journalists from around the world set up camp.
Next: The setup may look familiar.

Living quarters are very similar to dorms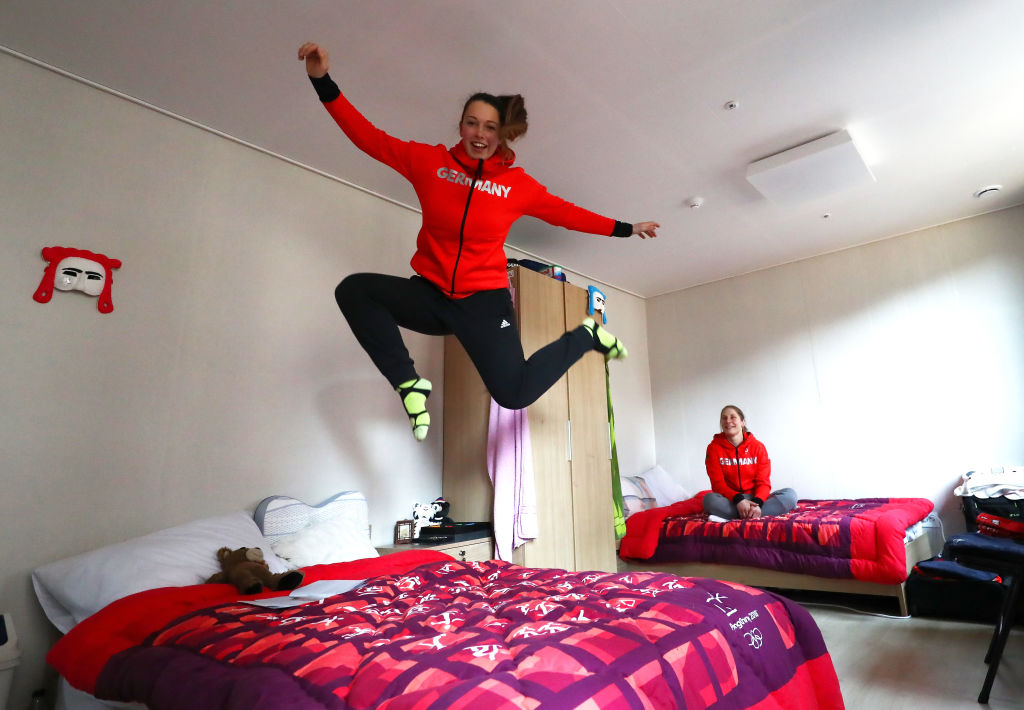 The buildings are designed with multiple bedrooms surrounding communal kitchens, dining areas, and lounges. All the spaces are sleek and modern, with a decidedly minimalist aesthetic. This clutter-free design style is ideal for helping the athletes focus on the task at hand without distraction.
Next: There's a common theme for personalizing the rooms.

The personalization started right when competitors moved in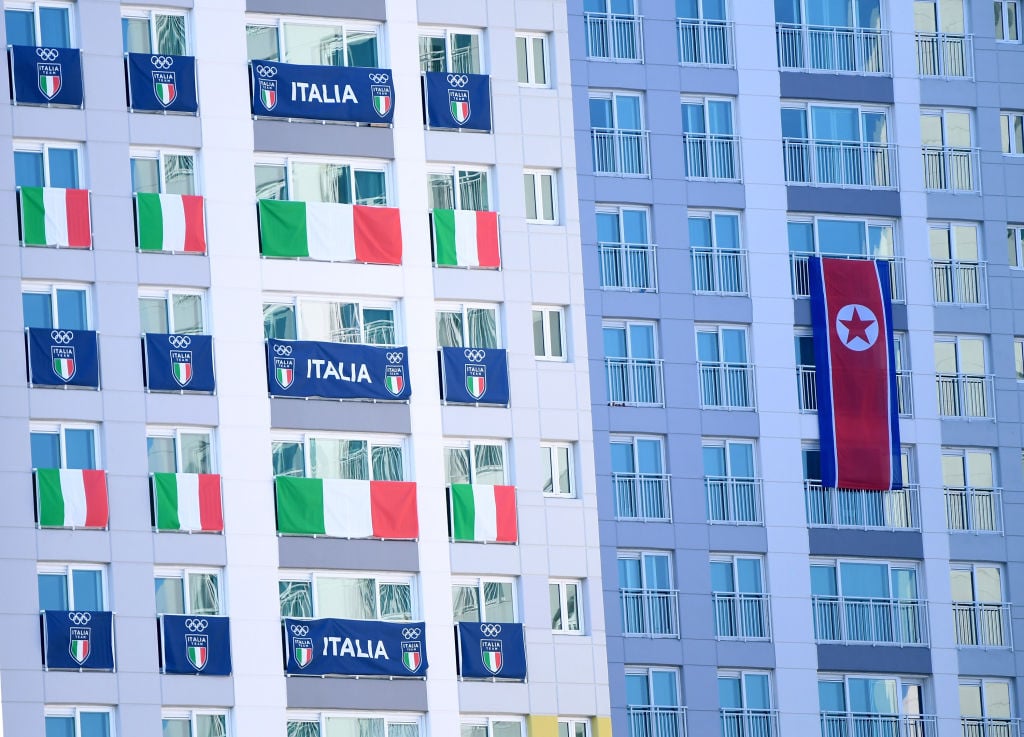 But just because all the rooms looked the same when the athletes arrived, it doesn't mean they still do.
As soon as the competitors moved in, they started personalizing their spaces. Flags adorn every available surface, from bedspreads to common area walls and even draped from the balconies of the buildings.
There are 242 athletes representing the United States and Switzerland has the second most with 169. Germany, Italy, Finland, Norway, and Sweden are each sending more than 100 athletes.
Next: There's a surprise in the bedrooms.

The bedrooms come equipped with everything competitors need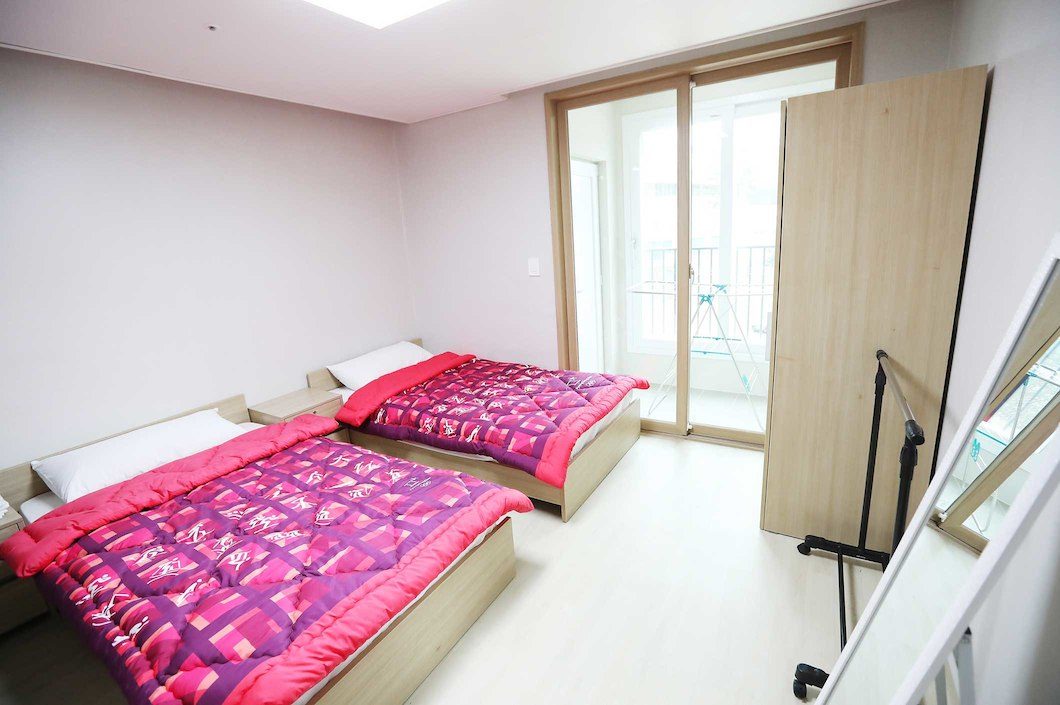 The bedrooms are adorned with low, platform style double beds, nightstands, a tall cabinet for storage, and garment racks. Some have floor to ceiling windows and balconies. Most of the colors in the room are neutral, except for the bright red and blue bedspreads (which athletes get to keep when they leave).
Speaking of bedrooms — Olympic athletes got a record number of condoms this year. The total number distributed was 110,000, which equals out to 37 condoms per athlete.
Next: Not all competitors stay in the village.

Some athletes choose to room off-campus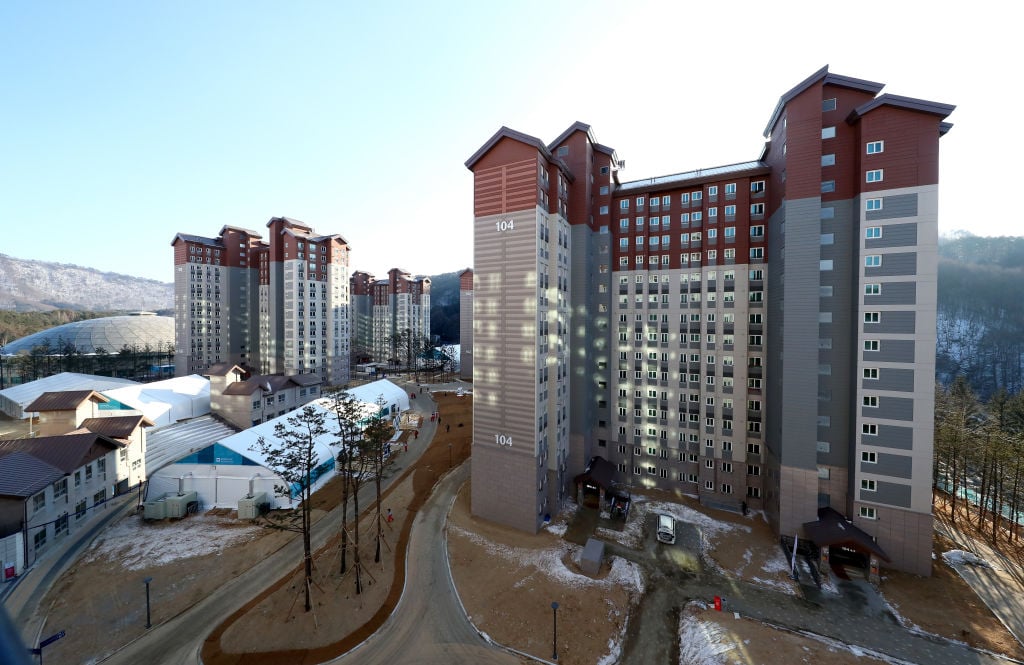 The U.S. men's and women's basketball teams haven't stayed in an Olympic Village since 1988, and in 2016 they chose to bunk on a cruise ship instead.
For the 2018 winter games in Pyeongchang, the U.S. Alpine team including big names like Lindsey Vonn, Mikaela Shiffrin, and Gus Kenworthy won't be unpacking their stuff at Olympic Village.
But most athletes stay in the village and even share rooms. Unless they're Usain Bolt, in which case they get their own room.
Next: There's even a swag bag.

It seems like organizers thought of everything
The athletes received a pile of free stuff when they moved in, including waffle robes, duffel bags, and a stuffed animal version of the official Olympic Games mascot, Soohorang. "Sooho" means "protection" and the likeness is based on Korea's guardian animal, the white tiger.
There's also an impressive lending library of popular Korean books which have been translated into other languages.
Next: Here's how the athletes are just like you and me.

The world's best athletes are refreshingly normal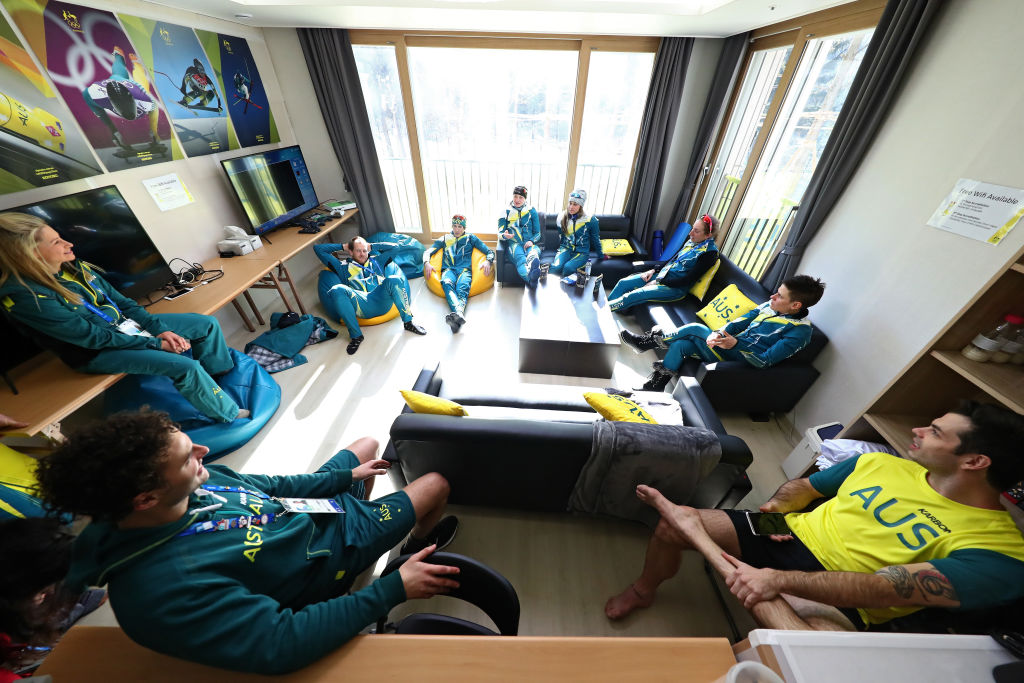 Whether it's prepping breakfast or lounging in their bathrobes, the behind-the-scenes photos posted on social media prove that even elite Olympic-level athletes are refreshingly down-to-earth. They hang out in slippers and robes sipping coffee and yes, they even wash their own laundry.
Read more: All the Worst Reasons You Don't Want the Olympic Coming to America
Check out The Cheat Sheet on Facebook!