A Completely Honest Review of Plated Meal Kits From a Mom Who Can't Cook
You know those people with meal plans and color-coded grocery lists? I'm not one of those people. I'm not even in the same universe.
Usually, I feed our family of five, including myself, my husband, and our three children who are all younger than five, from a dependable rotation of favorites. Crockpot meatballs, chicken breasts haphazardly dashed with spices, and at least one occasion of brinner (that's breakfast + dinner) because let's face it, nothing is easier than scrambling up eggs and microwaving bacon on a busy weeknight.
I'm no culinary wizard is what I'm saying. I'm not creative or adventurous or even particularly good at cooking the few meals I do manage to throw together. That's why when the opportunity to try Plated, one of those highly lauded meal delivery services arose, I hungrily jumped at the chance. Literally.
About Plated
Like so many others, Plated is a meal delivery service that provides fresh, pre-portioned meal kits to your doorstep so you can cook like a pro at home. You won't need to spend hours researching recipes or hitting the grocery store for ingredients – with Plated, you simply choose from a constantly changing selection of recipes (plus desserts, hello!), place your order, and wait for the box to arrive. There are 20 options every week and no chance of getting bored, ever. Everything you need arrives pre-measured and ready to cook along with a detailed instruction card laying out all the steps for making the meal.
Getting the box
From the first minute my Plated order arrived, I felt just a little bit cooler. The box helpfully said PLATED in big letters and the mailman delivered it straight to the center of the porch. I left it outside for probably an hour on purpose just to announce to the neighborhood that yes, I had my act together, and I was cooking a gourmet meal that evening. Before bringing the box inside, I added the photo to my Instagram stories to prove I was #winningatdinner.
Opening the box
I received two meals in one box, and though the amount of packaging was slightly surprising, I justified all that packing material as a necessary part of becoming a gourmet home chef overnight. I divided out the ingredients for their respective nights and did a little research on what the heck, "scallions" were. I've never purchased them before (stop judging me, Brenda) and they seemed to feature prominently in both recipes for the week.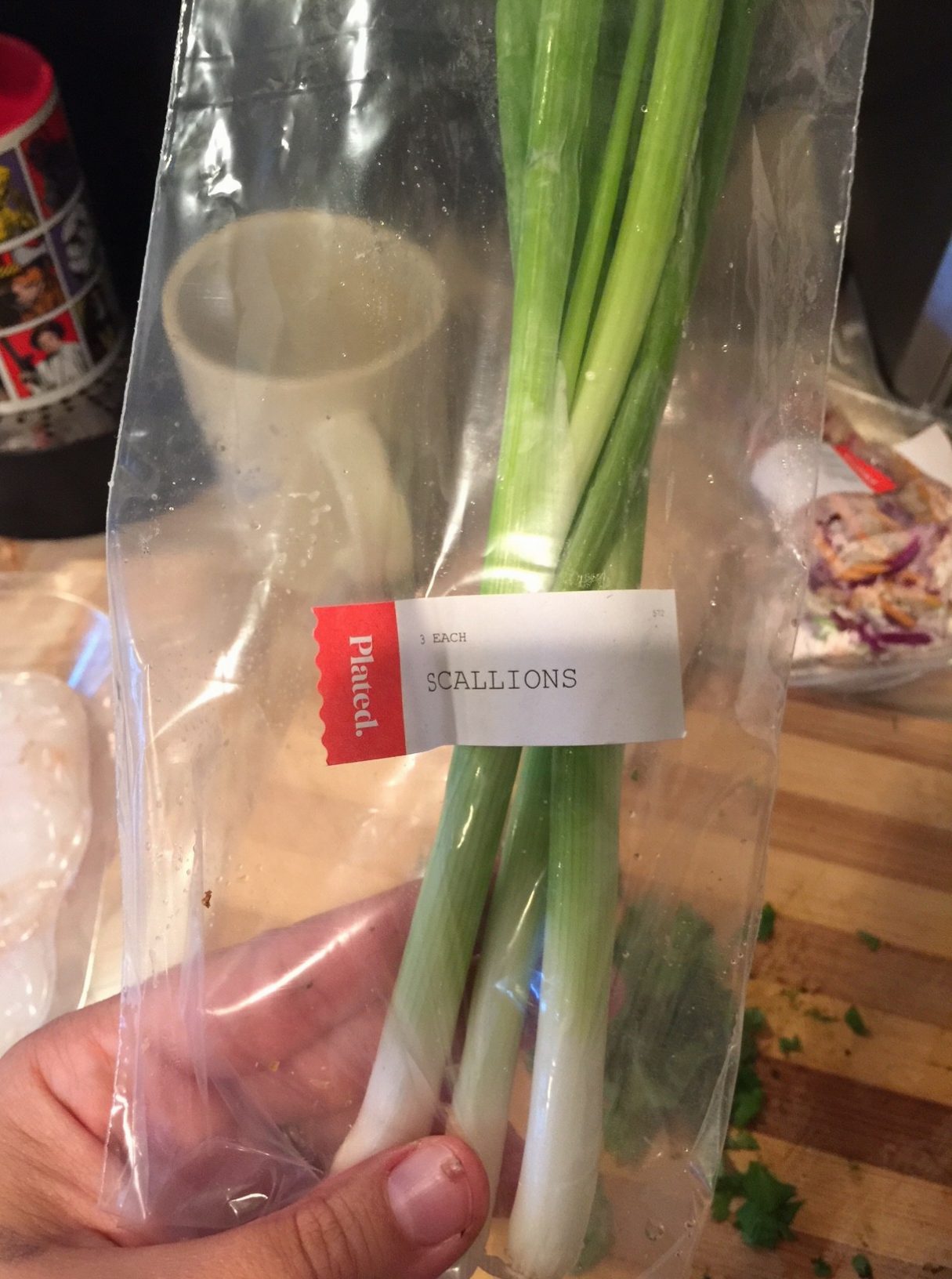 Planning dinner
One important note for families: these meals might be a little fancy for your toddler. Or perhaps you're the sort who feeds your 2-year-old avocado toast and kefir, in which case, please share those Salmon Burgers generously. My kids are usually willing to try something new, but since we had only opted for the two-person servings, they got to watch their parents eat well while I made them chicken nuggets and other simple meals like the great mother I am.
For my trial, I tried to choose a variety of different meals. We ended up selecting Crispy Shrimp Tacos with Cabbage Carrot Slaw and Chipotle Mayo, Scallop Piccata over Angel Hair Pasta with Broccolini, Chinese Pork Lettuce Wraps with Creamy Ginger Sauce, and Vietnamese Beef Meatballs over Rice with Chili-Lime Dressing.
Are you drooling yet? I am just thinking about it.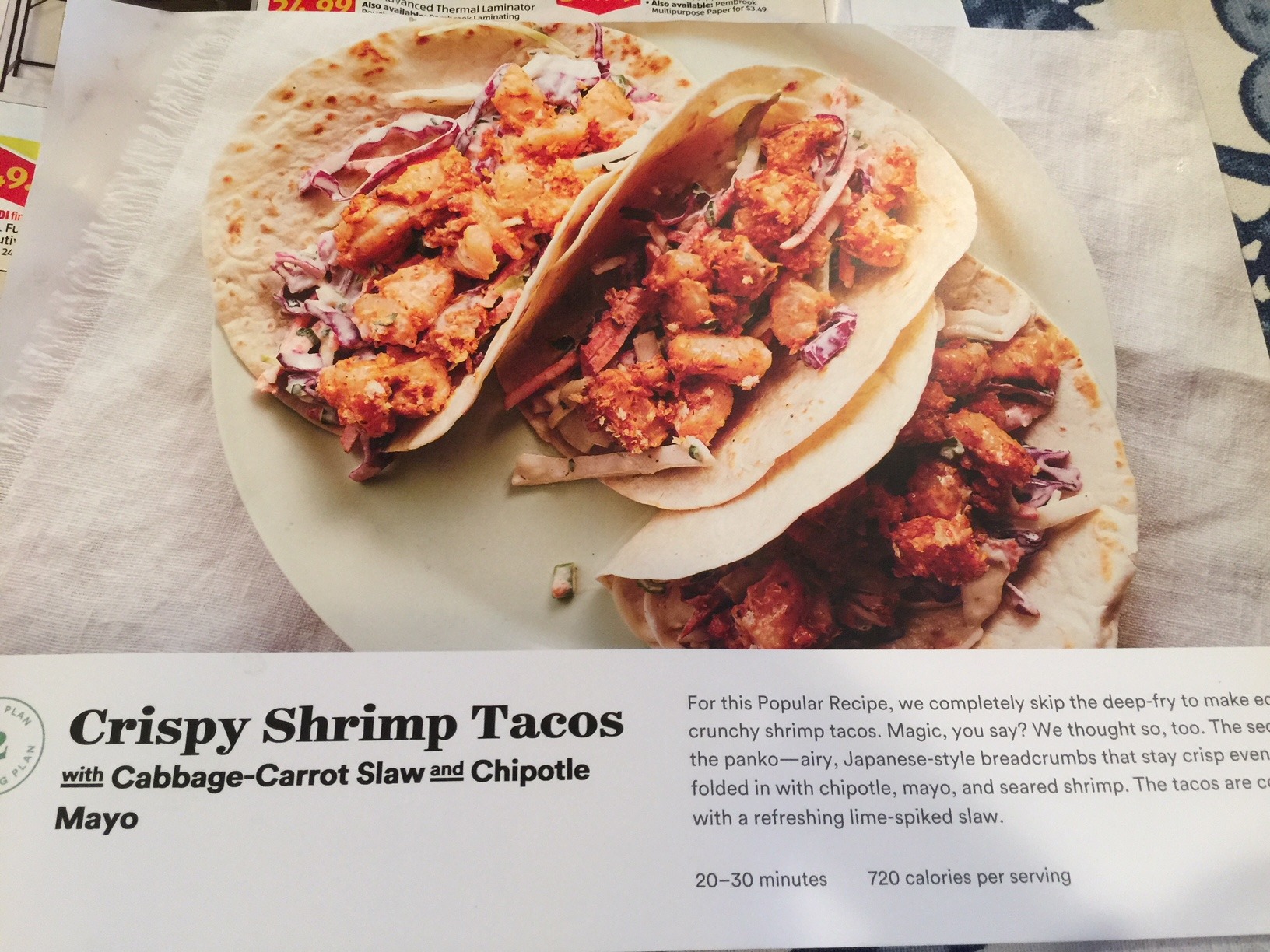 Making dinner
Part of the issue I have with making dinner in general, besides a deep lack of culinary creativity, is that I have little time for prepping. By the time I finish work for the day (I work from home), I'm tired, mentally spent, and the kids are screaming in hunger. That's why fast and easy is an absolute prerequisite for anything I make.
With the Plated meals, I totally appreciated how everything was pre-measured for me, so I didn't have to waste time digging out the ol' measuring cups and estimating 1 cup of zucchini. One suggestion? I understand that freshly chopped veggies probably taste better, or something, but if the meal kits came with everything pre-cut I would be eternally grateful.
After mentally congratulating myself for buying a garlic press at a Pampered Chef party many years ago AND somehow finding it amongst the eleventy billion other kitchen tools I rarely use, I managed to chop up all the veggies. As a mom, I'm used to preparing a few different meals at once, so it was no big deal to work on making the shrimp tacos while burning a few grilled cheese sandwiches for the kiddos and trying to keep my baby from getting trampled as I moved from the chopping board to the stove and back again. She wasn't happy about it, but we survived.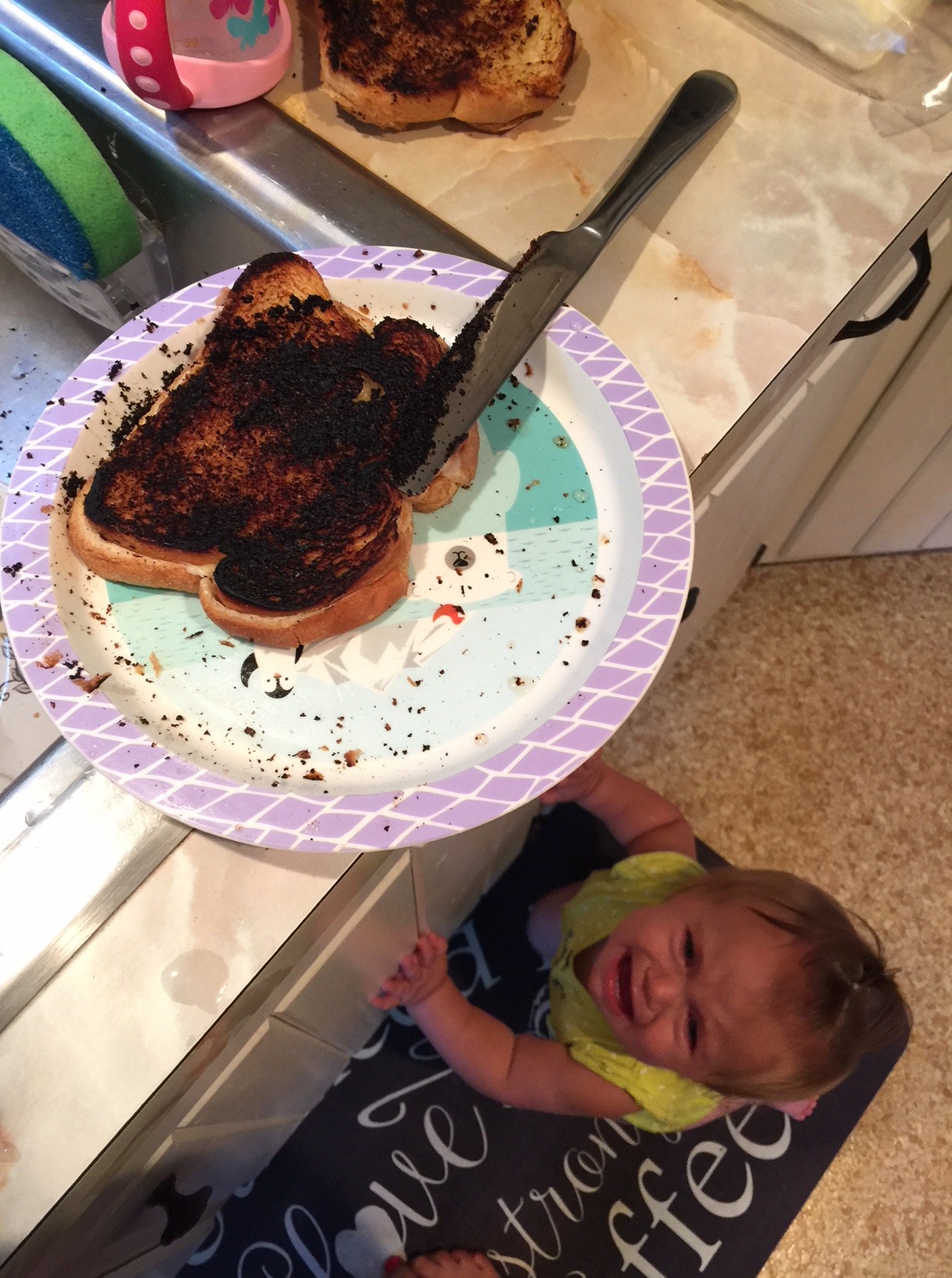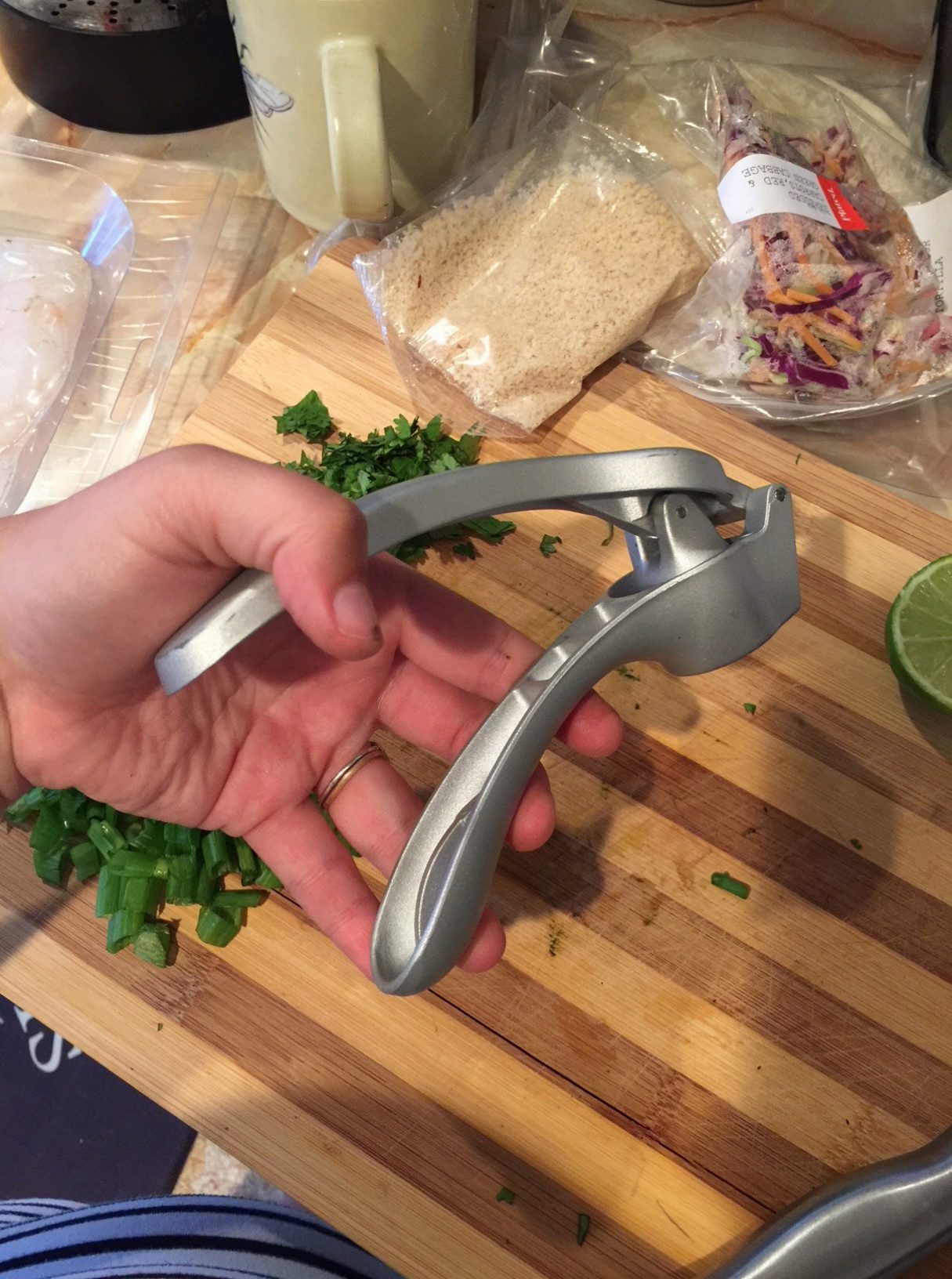 I was pleasantly surprised that the directions were incredibly accurate time-wise. Even with the added burden of making a simultaneous and unrelated meal, our Crispy Shrimp Tacos were completed almost exactly 40 minutes after I started. They also looked a lot like the picture thanks to the clear, easy-to-follow instructions. Even for a novice like me.
Eating dinner
Of course my husband chose the first night of Plated dinners to work late, meaning he never got to appreciate the slightly warmed tortilla shells for the tacos. I dug in solo and almost exclaimed over how fresh everything tasted – and how I had almost magically cooked it all by myself. I checked out the instruction card as I ate, mentally planning the next time I could make the exact same meal on my own. It wasn't that hard, right? I felt totally comfortable cutting scallions. And even purchasing them at the store.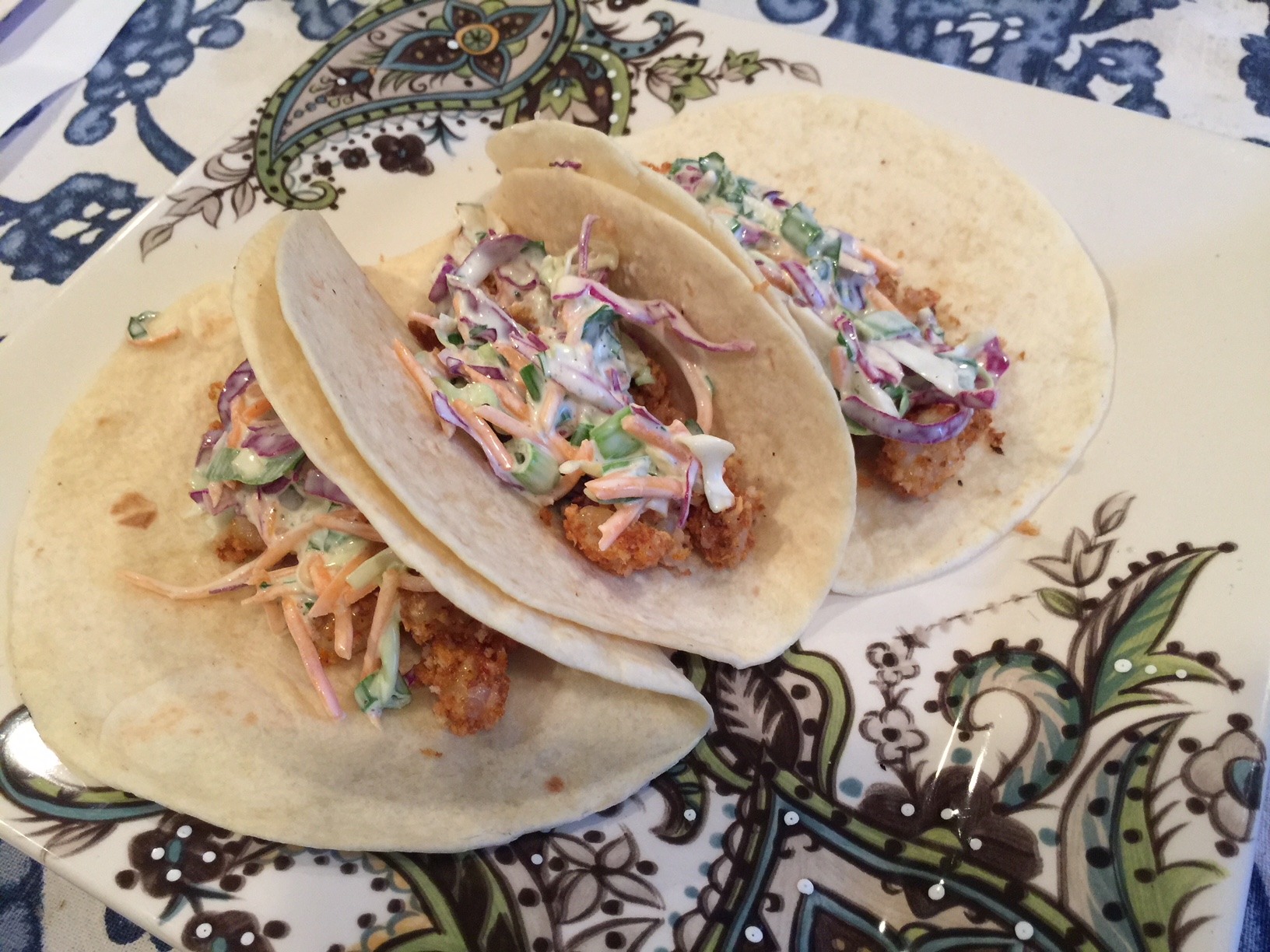 Reflecting on the Plated experience
In total, I got to try four different Plated meals, though my mother-in-law prepared one of them for me and that's the meal that obviously tasted the best. Is it because she's a better cook? Or perhaps because food always tastes better when someone else cooks it? The world may never know.
As a busy mom, I can say I would definitely recommend Plated to my friends and would jump at the chance to use it again. I'd opt for the larger meal sizes and force my kids to expand their palates a little bit so I didn't have the added stress of making multiple meals at once. I've never tried any other meal kit service, so I don't have anything to compare it to if you're shopping around. However, the food was so tasty and easy to make that Plated set the bar high if I ever do try another brand.
The final verdict
My recommendation? Give Plated a try. They often run promotions so you can test it out for less and cancel whenever you want. Sure, it costs more than groceries. But what pre-packaged meal kits save you in time and energy is worth every. single. penny.
Editor's note: Plated meal kit trial was provided by Small Girls PR. Opinions are my own.