A Fancy 5-Minute Snack: Burrata With Pistachio and Lemon
Inviting some pals over to hang out can quickly turn stressful when you realize they're going to expect some food. Before you reach for your phone to order delivery, take a few deep breaths. Homemade eats don't have to be difficult. With original recipes from our Everyday Appetizers series, you can pull off showstopping starters without losing your cool. 
The ideal entertaining scenario involves weeks of advanced planning. Because life is not ideal, gatherings with friends often come together in about an hour. Cooking something involved is out, but making a phenomenal appetizer isn't. Just pick up some creamy cheese, a lemon, and some pistachios from the nearest store. With these ingredients, you can assemble one of the most delicious snacks you've ever had in a matter of minutes.
About this recipe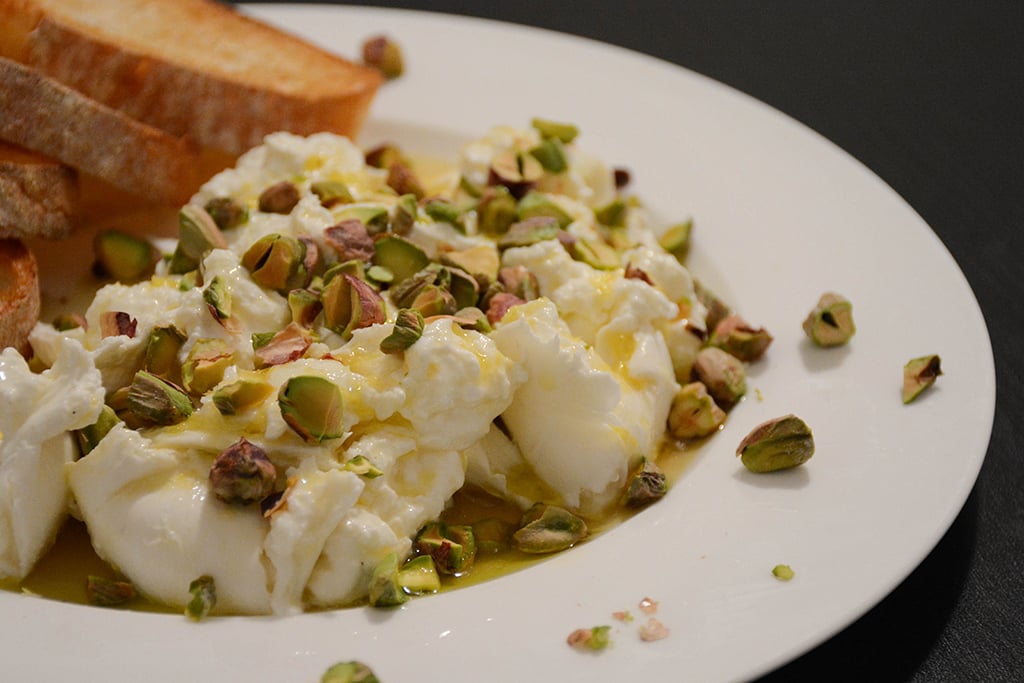 A cheese plate is often the first thing that comes to mind when you need a fast appetizer. Things go downhill pretty fast when you're confronted by the overwhelming number of choices at the cheese department. Trying to assemble the best selection is too stressful, so go for burrata. It's essentially fresh mozzarella that's been stuffed with cream and more shreds of mozzarella. Whether your friends like low-brow cuisine or the finest dining, everyone will be happy with this rich, creamy cheese. Adding just a few other ingredients transforms it into a complete appetizer.
Since this dish comes together so fast, wait until all your pals have arrived before assembling. Then start with the dressing. Mix equal parts honey and olive oil with a bit of lemon zest and lemon juice. This is a great opportunity to showcase a high-end olive oil if you have one, but you don't need to spend a fortune. You do want to use extra-virgin oil, though, because it has the best flavor in unheated preparations.
If you feel like veering off the tracks a little bit, you can try substituting other citrus for the lemon. Orange, grapefruit, and lime would all work, but keep in mind you might have to adjust the amount of juice to get the right level of acidity. No matter what fruit you choose, the method is exactly the same.
Once your dressing is ready, use your hands to pull the cheese into large pieces. Do this directly over the serving platter to avoid getting cream all over your counter. We like to keep the burrata to one side of the plate so you can arrange bread or crackers on the other side. Now drizzle the dressing all over the cheese. Sprinkle on the chopped pistachios, then finish with a generous pinch of salt. Once again, you can go as fancy or un-fancy as you want with the salt. Something flaky is nice for a textural contrast, but regular table salt will still taste good.
Add some crackers or bread, and this starter is good to go. It's sweet, a bit sour, creamy, and crunchy all at the same time. It'll make every cheese plate you've had in the past feel like a disappointment.
Because it's a fresh cheese, burrata has a relatively mild flavor that makes it most suitable for white wines. Think Sauvignon Blanc or Pinot Gris. Stay away from anything terribly acidic or you'll obliterate the taste of the cheese. A rosé can also work. Matching Food & Wine recommended a fruit-forward rosé with a dish of burrata, watermelon, and pickled fennel. Though the ingredients are different, the sweet and tart flavor profile of this recipe is similar.
Beer drinkers will want to keep things on the lighter side as well. Saison would be a great choice. Serious Eats said fruit beers tend to pair well with burrata, so you could try something in that department as well. Head over to HopHeadSaid for even more interesting ideas.
For the cocktail crowd, something with a sweet and slightly acidic flavor profile is going to work wonderfully with this dish. It's also useful to think of other ingredients that might pair with the food, like mint. Try a spiked lemonade with a bit of the herb. You can also go super simple with a White Lady.
Burrata with Pistachios, Lemon, and Honey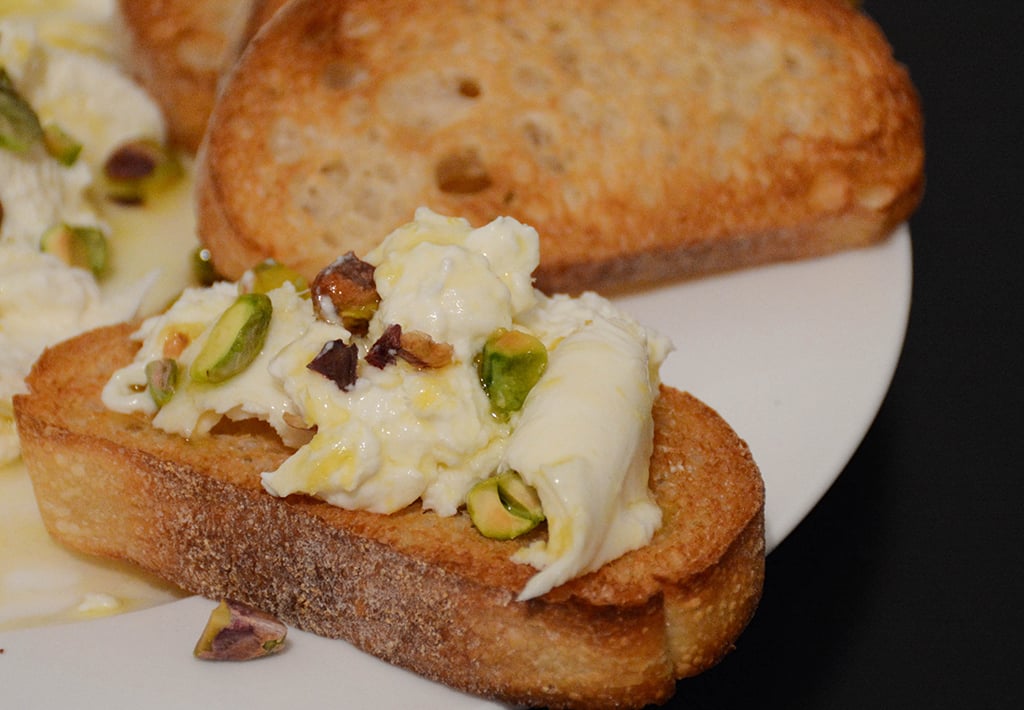 You can substitute another fresh cheese, such as chevre or ricotta, if you have trouble finding burrata. This recipe makes enough for 4 people.
Ingredients:
1 tablespoon extra-virgin olive oil
1 tablespoon honey
½ teaspoon lemon zest
1 teaspoon lemon juice
8 ounces burrata, drained and patted dry
Salt
¼ cup chopped toasted pistachios
Crusty bread or crackers
Directions: In a small bowl, mix olive oil, honey, lemon zest, and lemon juice to combine. Tear burrata into large pieces over a serving platter. Drizzle lemon-honey dressing all over cheese. Top with pistachios and sprinkle with a generous pinch of salt. Serve with bread or crackers.
See you back here next week.
More from Culture Cheat Sheet: