A Spaghetti and Meatballs Recipe That Won't Mess Up Your Diet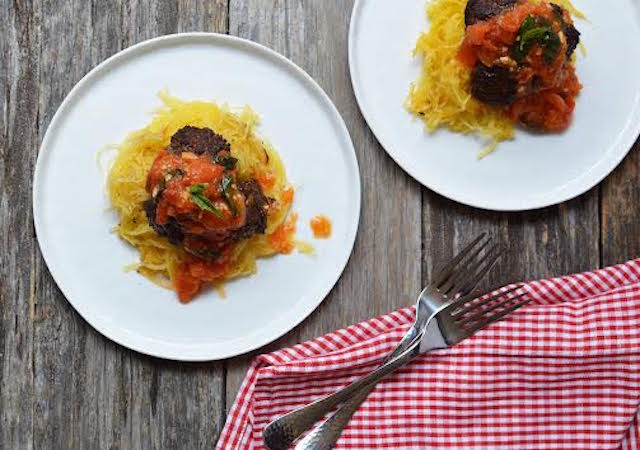 Nothing spells comfort food quite like spaghetti and meatballs. But many recipes for the staple comfort food can be laden with fat, calories, and even sugar (if you're buying store-bought tomato sauce, check the label to make sure it doesn't compete with a candy bar). Natural Gourmet Institute, a health-supportive culinary school in New York City, reveals to The Cheat Sheet a healthier version, which lightens up this beloved favorite in a fall-friendly, belt buckle-approved way.
This is a nutritious meal for those watching their glycemic intake but who still want a hearty, comforting meal. First, the recipe swaps carb-heavy and nutrient-poor white pasta for spaghetti squash. It gives you that same wonderful sensory experience of slurping down pasta, but with extra nutrients and fewer empty calories. To give the dish even more of a healthy lift, try adding some sauteed spinach right before serving. Used to topping your meatballs with some grated parm or some shredded mozzarella? Skip the cheese, and swap it for a nutritional yeast fortified with B12 (Check your local health food store or Whole Foods for these flakes.) You'll save on added calories and get a cheesy-tasting, healthy topper instead.
Save leftover meatballs to stick between wedges of multigrain bread with sauteed peppers and onions for a quick lunch the next day, or jump-start your day with them over eggs for breakfast. And chomp on this: Since grass-fed cows, well, grazed on grass, they have more healthy omega-3 fatty acids than conventional beef.
Continue to page 2 for the nutritious and delicious recipe.
Grass-fed Meatballs with Roasted Spaghetti Squash and 10-Minute Tomato Sauce
(Yield: 4 servings)
Ingredients:
For the squash and tomato sauce
1 spaghetti squash, halved and seeded (3 to 4 pounds)
3 tablespoons extra-virgin olive oil, divided
Sea salt and freshly ground black pepper
3 garlic cloves, minced
4 cups finely diced vine tomatoes (about 3 large tomatoes)
1 tablespoon maple syrup
1 ounce basil, torn
For the meatballs
1 pound ground grass-fed beef
1 egg, beaten
⅓ cup fresh bread crumbs
½ teaspoon salt
½ teaspoon dried thyme
½ teaspoon onion powder
¼ teaspoon red pepper flakes
¼ teaspoon freshly ground black pepper
2 to 3 tablespoons extra-virgin olive oil
Directions: Preheat oven to 400 degrees Fahrenheit. Rub squash halves with 1 tablespoon oil, and season with salt and pepper. Please on a baking sheet cut-side down, and roast until flesh gives easily when pressed, 40 to 50 minutes. When squash is cool enough to handle, scrape out the flesh with a fork, and place in a bowl. Set aside. Heat remaining 2 tablespoons oil in a large saucepan over medium-low heat, and add garlic. Cook until fragrant, 30 to 60 seconds.
Add tomatoes and pinches of salt and pepper. Cover, and simmer until tomatoes are broken down, stirring occasionally, about 10 minutes. Turn heat off. Stir in maple syrup and basil. Taste, and season with salt or more maple syrup, if needed. To make meatballs: In a large bowl, combine all ingredients except olive oil. Using your hands, mix all the ingredients until thoroughly combined.
In a large skillet over medium heat, heat enough oil to cover the bottom of the skillet. Using approximately 1 teaspoon of meat mixture, make a small patty, and cook on both sides. Taste the tester, and re-season meat mixture, if needed. Using your hands, form remaining mixture into slightly smaller than golf ball-sized balls. Cook (in batches, if needed) until cooked through and browned on all sides, turning occasionally, about 8 minutes. Transfer to a paper towel-lined platter.
Serve meatballs with spaghetti squash, topped with tomato sauce.
For more great recipes, check out The Natural Gourmet Institute blog.
More from Culture Cheat Sheet:
Want more great content like this? Sign up here to receive the best of Cheat Sheet delivered daily. No spam; just tailored content straight to your inbox.