An Inside Look at Guy Fieri's House (His Kitchen Is What You'd Expect)
Guy Fieri is one of the biggest celebrity chefs in America. Have you ever stopped to think about what his kitchen might look like? Read on for an inside look at Fieri's house and what he and his wife went through to make it the dream home it is today.
1. Making sure his children grow up in the house they were born in is important to Guy
It's common for celebrities to move around a little bit through the years; it's not often they really put down roots. Such is not the case for Fieri. Fieri and his wife, Lori, have lived in their Santa Rosa home for over 20 years now. "It's important to me that the kids grow up in the house we had when they were born," Fieri told Food Network.
Next: Guy bought the fixer upper without checking with his wife.
2. Guy and Lori didn't see eye-to-eye when picking out a home
When Fieri and Lori first set out in search of a home to raise their family in, they had different priorities. Fieri wanted "a sprawling, rustic property," while Lori "had a more modern space in mind," according to Daily Herald.
In the end, Fieri pulled the trigger on a fixer-upper property without checking with Lori. She called him "a dead man" when she finally saw the home, but Fieri was determined to turn things around.
Next: Guy gives the brutally honest truth about the condition of the house.
3. The home was a definite fixer-upper
"The house was a dump," Fieri told Desert News. When he first saw the property with his real estate agent, there was an old, beat-up car in the driveway and a camper in the backyard. On the very day he and his wife closed the property, construction workers were there to begin knocking walls down so the two could start from scratch. "We painted every surface, pulled out all the flooring," said Fieri.
Next: Here's what the house feels like today.
4. Today, the home has a light, understated feel
As loud as his personality is on camera, one might be surprised to learn of the design elements in Fieri's home. Combining Fieri's need for a rustic space and Lori's need for something modern, the home features an abundance of wood and light (there are 27 skylights). Other elements include lots of black iron, hammered steel for texture, and ornate handles.
Next: The kitchen is a dream office for Guy.
5. The kitchen (aka Guy's office)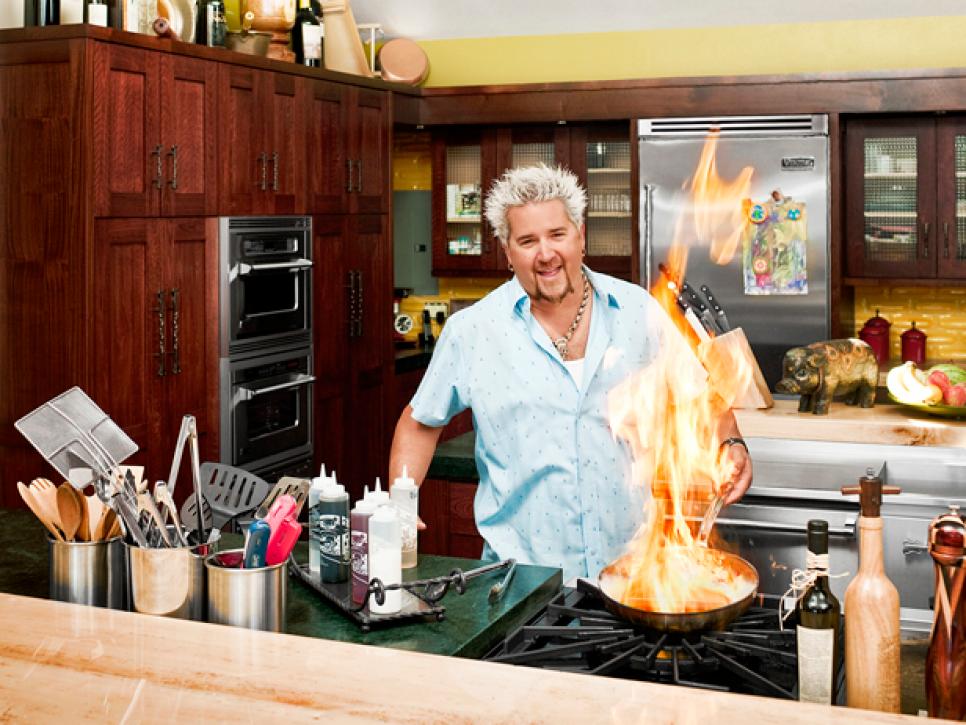 According to Desert News, Fieri considers the kitchen his home office. This star-studded kitchen features elements only a celebrity chef could think of. This special room houses a 27,500-BTU Viking gas wok burner because Fieri hates nothing more than "waiting for a huge pot of pasta to boil," his-and-hers refrigerators, a flat-top griddle, a digital jukebox, and three foot-pedal sinks because "Nothing's worse than touching a faucet with some nasty raw chicken on your hands," he tells Food Network.
Next: The surprising items Guy keeps in his kitchen.
6. TV show memorabilia
What better place to show off his many souvenirs from his travels than the kitchen? On top of his kitchen cabinets, he keeps some of his favorite items from Diners, Drive-Ins and Dives. Highlighted specifically is the autographed pizza peel from the original Vito & Nick's Pizzeria in Chicago, reports Food Network.
Next: He wanted to give his kids this so they wanted to play outside.
7. Every kid's dream backyard
Upon moving into their Santa Rosa home, Fieri wanted to create a backyard that would promote playing outside for his boys. This meant a big backyard with a pool, basketball hoop, and a $175 trampoline.
"One of the major attractions of the property was that Fieri knew he'd be able to give his children the same outdoorsy childhood he enjoyed," said Daily Herald.
Next: Here's what their Christmas looks like by the fireplace.
8. Christmas
Here's what Christmas looks like for the Fieri family. Not a bad way to celebrate. The stone fireplace and wood mantle is a great rustic look, especially for the holidays.
Next: We can't forget the rest of the Fieri family.
9. The rest of the family
Meet Cowboy and Roxy. They are also members of the Fieri household and love to go on morning hikes on the ranch.
Check out The Cheat Sheet on Facebook!