Are Disney Fireworks Eco-Friendly? 4 Ways the Parks Reduce Their Environmental Impact
Aside from its impressive parades, there's nothing quite like a Disney fireworks display. But, with thousands of fireworks used every year, just how eco-friendly are they? As Disneyland and Walt Disney World continue to reduce their environmental impact through plastic straw bans and waste management, we can't help but wonder: Are Disney fireworks eco-friendly?
We uncover the answer, plus share four ways Disney is reducing its environmental impact, ahead.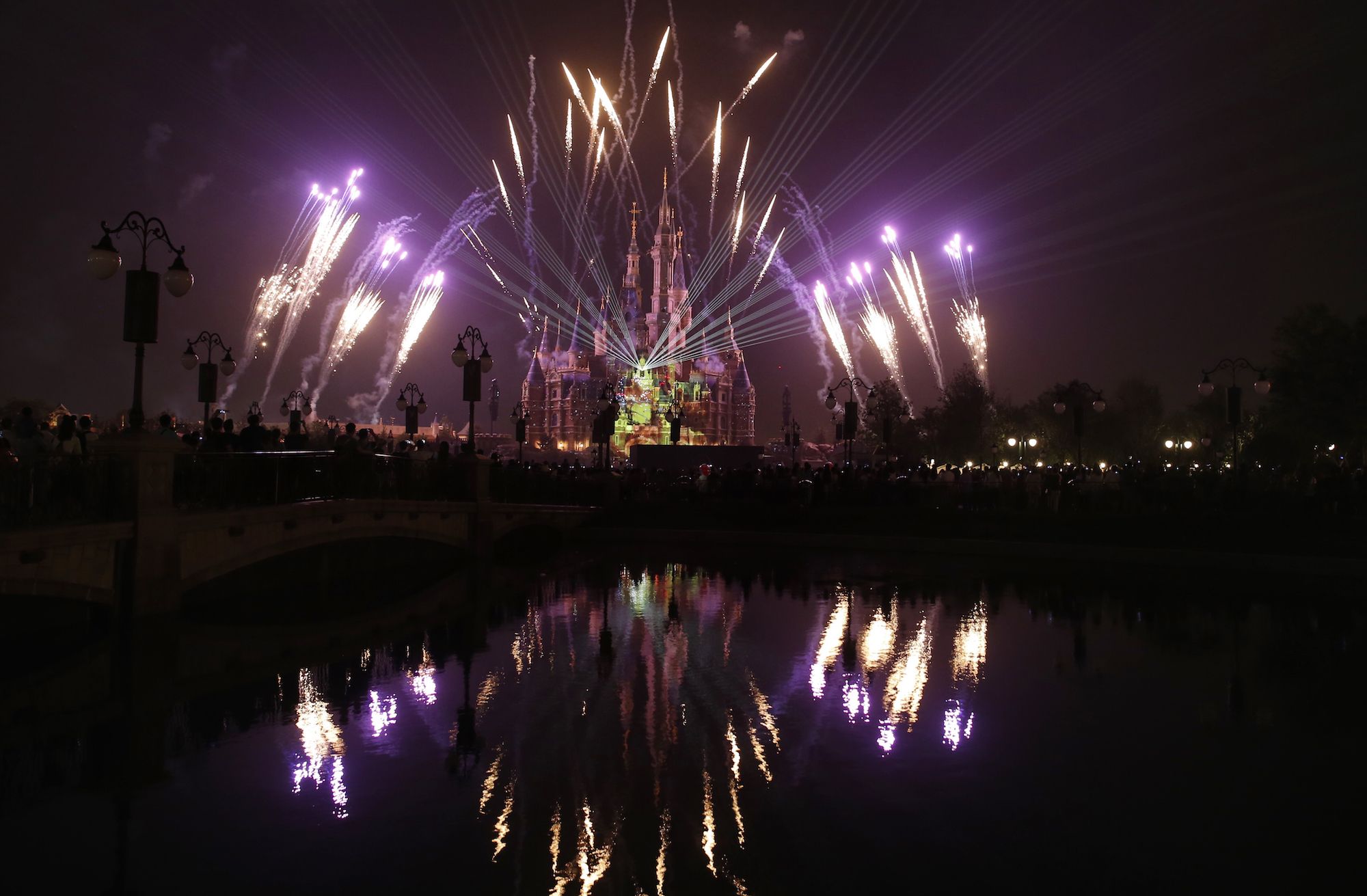 Disneyland started its firework tradition in 1956
One year after opening its gates and changing theme parks forever, Disneyland began wowing guests with fireworks. At first, the park's firework displays were lit by hand, but that all changed in the 1960s when the park added an electronic system to launch them.
After going electronic, Disney upped the ante with synchronized music — similar to what we hear today. In 2000, a new addition was made: Tinker Bell and Dumbo! Today, the parks show one of the characters flying over Sleeping Beauty's Castle during the spectacular display.
Disney is the largest user of fireworks in the United States
Between Disneyland and Walt Disney World, Mickey Mouse orders a lot of fireworks every year. In fact, Disney is the largest fireworks consumer in the United States. According to 2003 reports, the parks use around 90,000 pounds of fireworks every year.
There are over 230 firework shows per year
What is a trip to Disney without a spectacular firework show? Unfortunately, the displays can't run every day of the year as they are dependant on weather conditions. That said, Disney still manages to wow guests with over 230 shows every year.
The best place to watch Disneyland fireworks
The wow-factor all depends on where you view the firework display from. For guests visiting Disneyland, the park recommends posting up "in front of Sleeping Beauty Castle," on Main Street U.S.A. (between the Central Plaza and Main Street Train Station is best), outside of It's a Small World, or somewhere along the Rivers of America in Frontierland.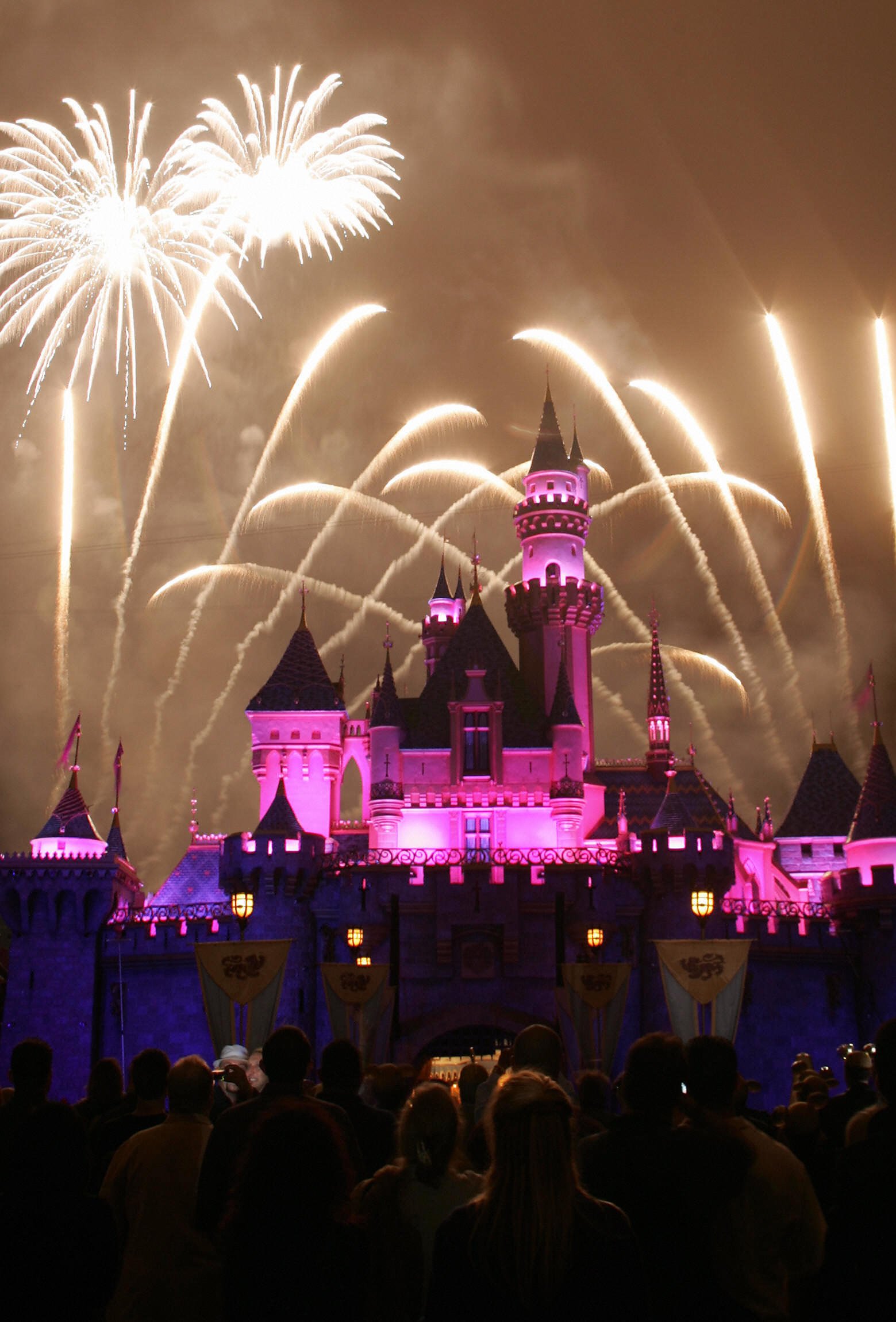 The best place to watch Disney World fireworks
Like Disneyland, there are several best places to watch Disney World fireworks. Some guests prefer to stand front and center in front of Cinderella Castle, but there are a handful of other good viewing spots. Partners, FastPass+ Viewing Areas, Tomorrowland Entrance, Main Street U.S.A. Train Station and the Transportation Center Dock are some fan-favorite spots to watch Disney World fireworks.
Are Disney fireworks eco-friendly?
When Disney first introduced fireworks to its parks, the show was far from eco-friendly. However, after receiving complaints about the smoke, odor, ash, and even property damage caused by Disney fireworks, the company took a deep dive into eco-friendly pyrotechnics.
In 2004, the parks introduced a patented air-launch pyrotechnics system that substitutes gunpowder for compressed air. This eco-friendly alternative requires less material, which ultimately has a more positive impact on the environment.
Disney's environmental impact
In addition to its firework displays, Disney has some practices in place to help reduce the parks' environmental impact and move towards a more Zero Waste operation. Keep reading for some of the most promising ways Disneyland and Disney World are reducing their environmental impact.
1. Waste reduction and compost
Surprisingly, Disney really cares about waste reduction — so much so that it has a Zero Waste goal! While the company is far from reaching a waste-free operation, it has made significant changes to reduce waste. Some operations — including the Circle D Corral ranch — even have a gold-level Zero Waste Certification by the U.S. Zero Waste Business Council. That means 99 percent of the ranch's waste is composted or recycled.
2. Electricity and recycled energy
It should come as no surprise that Disney uses a lot of energy. Between Disneyland, Walt Disney World, and several international parks (a total of 11 theme parks, plus a handful of water parks) the company is finding new ways to save electricity and energy. The parks have made significant strides in more eco-friendly energy with the addition of power-saving lasers at some Disney World attractions and an energy recycling system at Shanghai Disney Resort.
3. Plastic straws and other single-use plastics
Earlier this year, Disney joined the plastic straw ban movement and announced it would do away with plastic straws and stirrers at all of its parks in 2019. Doing so would reduce "more than 175 million straws and 13 million stirrers annually," says the company website.
In addition to straws, Disney also hopes to reduce plastic bag consumption in stores and look deeper into reusable in-room amenities at resorts. It also plans to do away with polystyrene cups at all of its parks and resorts.
4. Food waste and water conservation
Like energy and electricity, food waste and water conservation are also important to Disney. Disneyland Paris is leading the way in both efforts with a special food waste program that turns all leftovers into organic matters used in soil. It also has a water conservation system in place that saves around 53 million gallons of water annually.
Check out The Cheat Sheet on Facebook!