Delicious Bacon-Packed Recipes to Make for Dinner
Bacon isn't only for breakfast. It's for dinner, too. The cured meat is a carnivore's delight, and the thin, crispy strips of the good stuff can be enlisted in many dinner recipes so bacon can be enjoyed in the morning and at night. We're rounding up seven of the best food formulas with bacon on their ingredients list so you can see what we mean, and while some of these recipes are healthier than others, they all share a common bond of deliciousness.
1. Bacon Mac and Cheese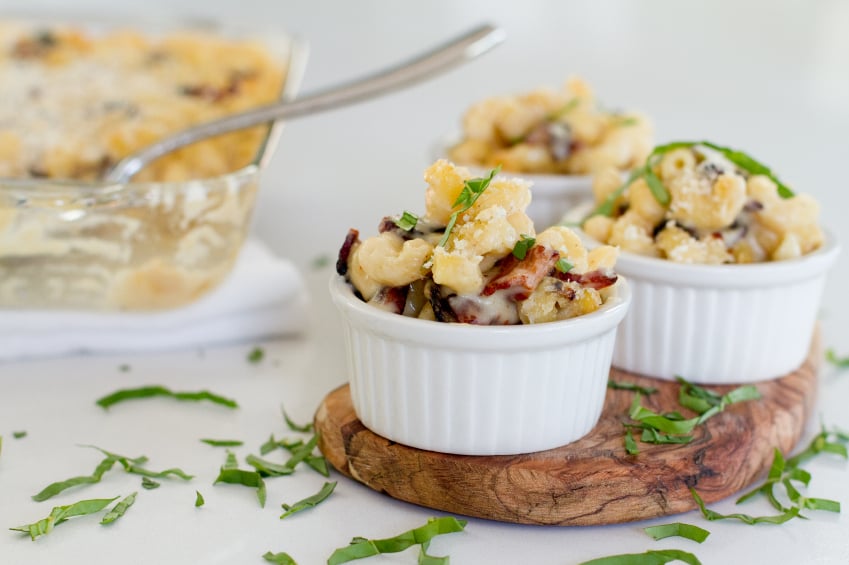 We're kicking things off on an indulgent note with this bacon mac and cheese recipe from Martha Stewart. Comfort food dreams really do come true, and this food formula proves it. The addition of bacon takes this already decadent dish up just one more notch, and when butter, bacon, and three kinds of cheese are involved, you really know you've hit a dinner home run.
Ingredients:
8 slices bacon
6 tablespoons unsalted butter
1 cup fresh breadcrumbs
¼ cup grated Parmesan
½ cup all-purpose flour
6 cups 2% milk
¾ pound elbow macaroni
3 cups grated gouda
1 cup grated Gruyère
1 teaspoon Dijon mustard
Salt and pepper
Directions: Cook bacon until crisp. Remove from skillet and crumble. Discard bacon fat.
Heat broiler. In a large straight-sided, oven-safe skillet, melt butter. Remove 1 tablespoon butter and combine with breadcrumbs and Parmesan.
Whisk in flour and cook, stirring, 1 minute. Very gradually whisk in milk and bring to a simmer. Add macaroni and cook, stirring constantly and scraping bottom of pan, until tender, about 6 minutes. Remove from heat, stir in remaining cheese and the bacon and mustard, and season with salt and pepper. Top with breadcrumb mixture and broil until golden brown, 1 to 2 minutes.
2. Bacon and Tomato Spaghetti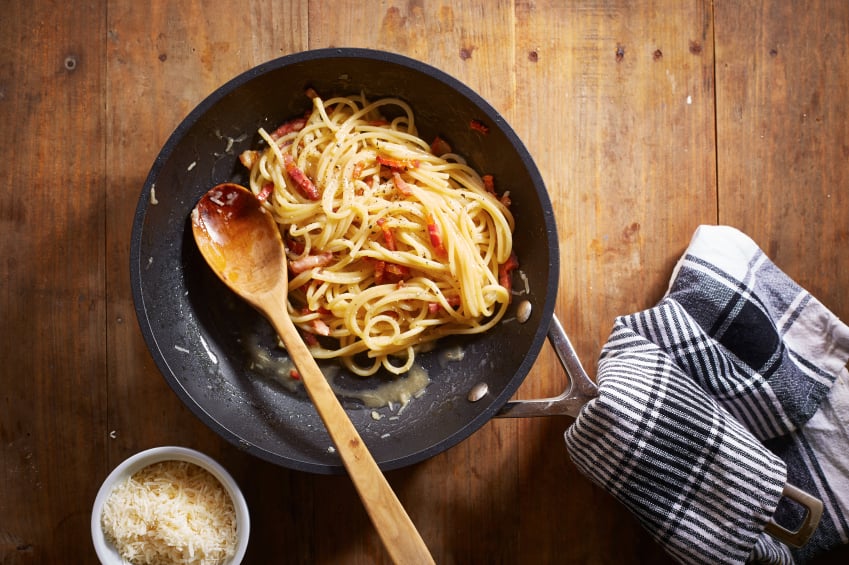 Another cheesy dish comes in the form of this bacon and tomato spaghetti from Taste of Home. This pasta is just as easy on the eyes as it is on your tastebuds thanks to the pops of color from tomatoes, spinach, and bacon. What's more — it couldn't be easier to prepare, just as long as you know how to follow directions about how to cook spaghetti. Toss your carbs with bacon, fresh veggies, a tangy vinaigrette, and you're good to go. This dish is just another example that you can't go wrong with carbs, bacon, and cheese.
Ingredients:
8 ounces uncooked spaghetti

½ pound thick-sliced bacon strips, chopped

2 cups cherry tomatoes, halved

3 cups fresh baby spinach

¼ cup balsamic vinaigrette

½ teaspoon salt

¼ teaspoon pepper

Grated Parmesan cheese
Directions: Cook spaghetti according to package directions.
Meanwhile, in a large skillet, cook bacon over medium heat until crisp. Remove to paper towels with a slotted spoon; drain, reserving 2 tablespoons drippings. Saute tomatoes in drippings until tender. Drain spaghetti; stir into skillet. Add the spinach, bacon, vinaigrette, salt and pepper; heat through. Sprinkle with cheese.
3. Bacon Wrapped Chicken Breasts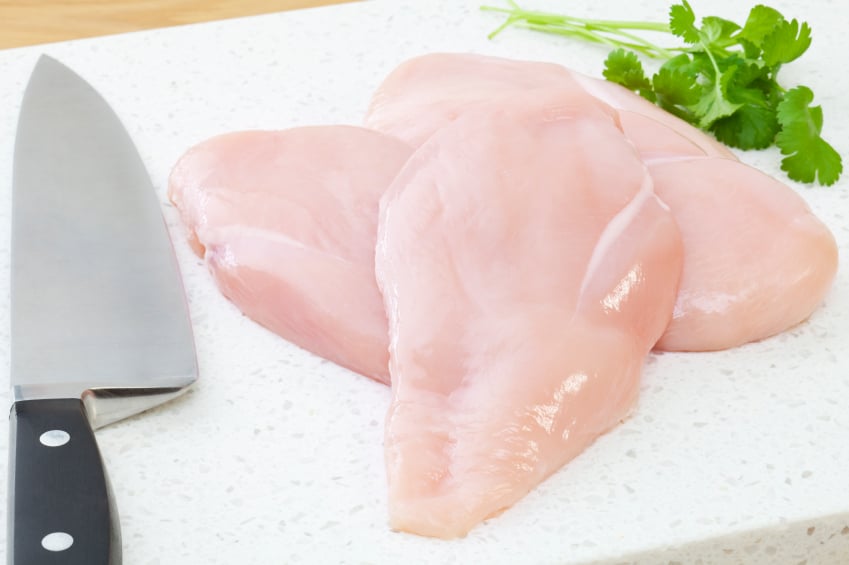 For a slightly more sophisticated meal that still stars bacon, try these bacon wrapped chicken breasts from The Healthy Foodie. We promise you'll impress your guests when you serve them these stuffed chicken breasts wrapped in bacon, and with this dish, you don't get to eat only one kind of meat, but rather, two. All you need are chicken breasts, bacon, and the handful of ingredients that make up the simple yet satisfying stuffing.
Ingredients:
2 large skinless, boneless chicken breasts
¼ teaspoon Himalayan or unrefined sea salt
10 slices organic, sugar-free bacon
Stuffing
½ can artichoke hearts, chopped
½ cup sliced water chestnuts, chopped
50 grams sundried tomatoes, finely chopped
¼ cup pine nuts
1 large clove garlic, minced
1 teaspoon fresh rosemary, finely chopped
1 teaspoon freshly cracked black pepper
½ teaspoon smoked paprika
Directions: First, make the stuffing by mixing all the ingredients in a small mixing bowl. Set aside.
Preheat your oven to 375 degrees Fahrenheit. Slice your chicken breasts open by placing the blade of your knife parallel to your cutting board, putting your hand flat on top of the breast and carefully slicing down the middle almost all the way to the end, stopping about ¾ of the way through.
Lay the chicken breasts open on a cutting board and, with a meat mallet or small saucepan, delicately pound them until they're about ½-inch thick. Place your now flat chicken breasts on your cutting board, sprinkle with salt and deposit half the stuffing in the middle of each breast. Spread the stuffing as evenly as possible but don't go all the way to the edge; you want to leave about one inch all around.
Roll the breasts as tightly as you can then carefully wrap each one with the bacon strips.  Place the breasts seam side down in a baking dish, cover loosely with aluminum foil and bake at 375 degrees Fahrenheit for 40 minutes.
Remove foil, drain pan juices and return to the oven, uncovered, for 15 to 20 minutes or until bacon is crispy.
Remove from oven, tent loosely and let the meat rest for 10 to 15 minutes before slicing.
4. BLT Bread Salad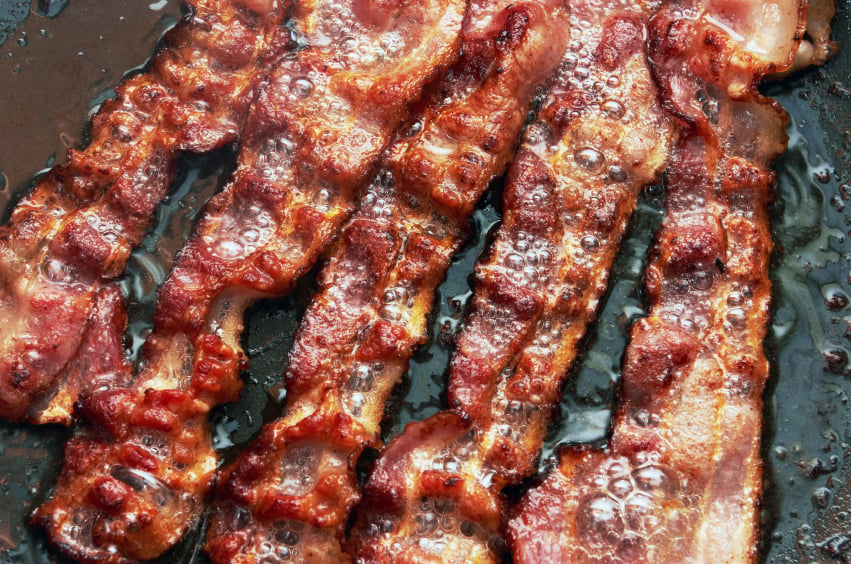 Next, get ready for the best salad recipe ever. Enter: the BLT bread salad from Food & Wine. Yes, carbs and greens can mix, and this formula for this salad proves it. Into your salad will go cubes of bread, along with bacon. If you want to enjoy your BLTs but eat healthy, too, try having your sandwich the healthy way atop a bed of greens. To make this dish more waistline friendly, the recipe developer behind this salad even goes easy on the mayonnaise and instead enlists tofu.
Ingredients:
3 (¾-inch-thick) slices of rustic white bread, cubed
3 ounces soft silken tofu
¼ cup basil leaves
2 tablespoons canola oil
1 tablespoon Champagne vinegar
½ small shallot, coarsely chopped
Kosher salt and freshly ground black pepper
4 thick slices of bacon (4 ounces), cut crosswise into ½-inch strips
1 head butter lettuce, torn into bite-size pieces
1 cup red cherry tomatoes, halved
1 cup yellow pear tomatoes, halved
Directions: Preheat the oven to 250 degrees Fahrenheit. Spread the bread cubes on a rimmed baking sheet and toast in the oven for about 15 minutes, until the bread cubes are dry.
Meanwhile, in a blender, combine the tofu with the basil leaves, canola oil, Champagne vinegar, and chopped shallot and puree until very smooth. Season the dressing with salt and pepper and reserve.
In a medium skillet, cook the bacon over moderate heat, stirring occasionally, until crisp, about 6 minutes. Transfer the bacon to paper towels and let drain.
In a large bowl, toss the toasted bread cubes with the bacon, lettuce, and tomatoes. Add the basil dressing, toss the salad until evenly coated and serve.
5. Creamy Cauliflower and Bacon Soup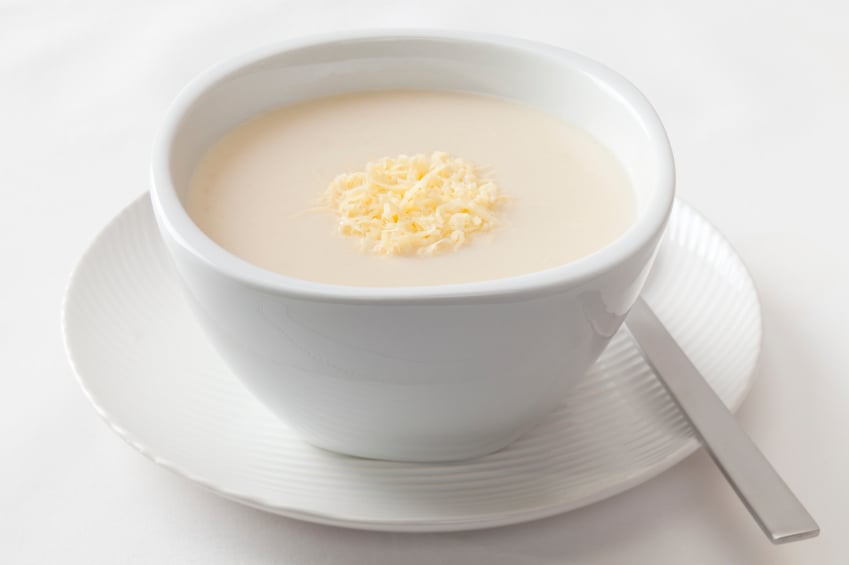 You'll be slurping up the next bacon recipe with a spoon. Check out this cauliflower and bacon soup from Serious Eats. The soup is not only indulgent thanks to bacon, but also due to the addition of heavy cream. Luckily, the healthy cauliflower helps counteract some of the decadence of this creamy and dreamy soup, and a handful of seasonings also come into play. This food formula serves 4 and can be on your table in just 45 minutes.
Ingredients:
½ pound sliced bacon, cut into ½-inch pieces

1 medium onion, finely chopped

6 scallions, white and pale green parts only, thinly sliced

4 medium cloves garlic, thinly sliced

1 quart chicken stock

2 bay leaves

1 cup half-and-half or heavy cream

1 head cauliflower, cut into florets

Kosher salt and freshly ground black pepper
Directions: Heat bacon in a large Dutch oven over medium-high heat, stirring constantly until bacon is completely crisp. Remove from Dutch oven with a slotted spoon and set aside, leaving the fat in the dutch oven.
Add onions, half of scallions, and garlic, and cook, stirring constantly and scraping up browned bits from the bottom of the pan until onion is softened, about 5 minutes.
Add chicken stock, bay leaves, half-and-half (or cream), and cauliflower. Season to taste with salt and pepper. Cover and cook until cauliflower is completely tender, about 30 minutes. Working in batches, blend soup until completely smooth. Season to taste with salt and pepper and serve sprinkled with crisp bacon pieces and remaining scallions.
6. Shrimp and Bacon Risotto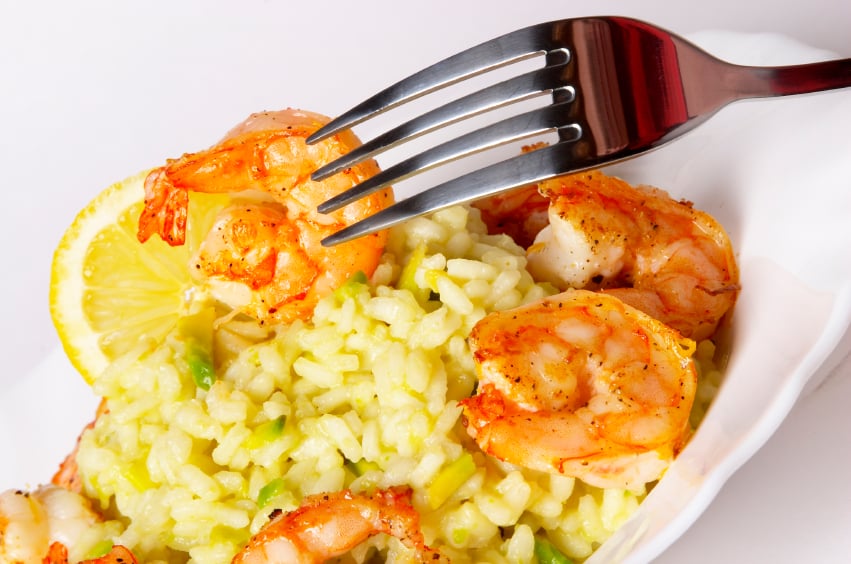 Shrimp and bacon risotto, anyone? Your seafood dreams just came true thanks to How Sweet It Is. Jessica's recipe enlists rice, wine, shrimp, and bacon to yield a dish that puts all other risottos to shame. We promise this bacon-filled dish won't disappoint.
Ingredients:
1 cup arborio rice
4 slices bacon, chopped
1 cup dry white wine
2 cups chicken stock, plus more if needed
1 clove garlic, minced
6 ounces cooked shrimp
2 tablespoons chopped parsley
Directions: Heat a saucepan on medium heat. Chop bacon slices and add to pan, frying until crispy. Remove with a slotted spoon and drain on a paper towel, leaving bacon drippings in pan. Measure one cup of rice and add to pan, along with minced garlic. Stir to toast rice, about 2 to 3 minutes.
Pour in one cup of white wine and turn heat down to a simmer, and allow rice to soak it up. Add chicken stock one cup at a time, allowing rice to absorb it. The easy way for me to do risotto is to pour enough liquid in so it is about ¼ inch above the rice, let it absorb, then taste it for doneness. If it is not soft, add another ½ to 1 cup.
Stir in shrimp and fold in bacon, reserving a few pieces for garnish. Stir in parsley. Serve immediately.
7. Bacon Cheeseburger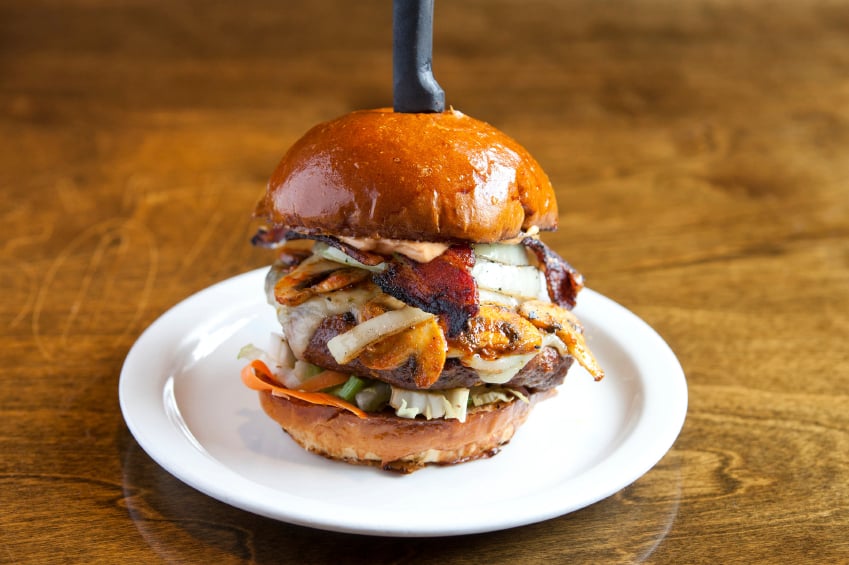 Last but not least: the perfect bacon cheeseburger recipe. Because how could we conclude a list of bacon recipes without highlighting the classic lunch or dinner dish? Bacon cheeseburgers are almost universally enjoyed by all carnivores, and this recipe from Chowhound puts McDonald's and Wendy's to shame. Instead of shamelessly heading to your closest fast food establishment, make your own cheeseburger at home and feel better about what you're feeding yourself. These burgers couldn't be easier to make and will save you from your post-drive-through guilt.
Ingredients:
1½ pounds ground chuck
8 bacon slices, cut in half crosswise
Kosher salt
Freshly ground black pepper
8 slices cheddar, Swiss, or American cheese
Directions: Heat the oven to 200 degrees Fahrenheit, arrange a rack in the middle, and place a baking sheet on the rack.
Divide the meat into 4 equal portions. Shape each portion into an even ½-inch-thick patty that's about 1 inch wider in diameter than the hamburger buns. Using your thumb, make a shallow 1½-inch-wide indentation in the center of each patty.
Place the bacon in a large frying pan. Cook over medium heat, turning once, until browned and crispy, about 10 minutes. Transfer the bacon to a paper-towel-lined plate and set it aside. Remove about half of the bacon fat from the pan and set it aside.
Season the hamburger patties generously on both sides so that you can see a thin layer of salt and pepper. Return the pan to medium heat, place 2 of the patties in the pan indentation-side up, and let them cook undisturbed in the bacon fat until browned on the bottom, about 4 minutes. Flip the patties over, place 2 slices of cheese on each, and continue cooking until the patties are just slightly pink in the center for medium and the cheese is melted, about 4 minutes more. Transfer to the baking sheet in the oven to keep warm. Wipe out the pan with paper towels, add the reserved bacon fat, and cook the remaining 2 patties.
When all of the burgers are ready, place a patty on each bun bottom, top with 4 of the bacon pieces, garnish as desired, and cover with a bun top.
More from Culture Cheat Sheet: