Try This Delicious Bar Food Mashup: Cheeseburger Nachos
Inviting some pals over to hang out can quickly turn stressful when you realize they're going to expect some food. Before you reach for your phone to order delivery, take a few deep breaths. Homemade eats don't have to be difficult. With original recipes from our Everyday Appetizers series, you can pull off showstopping starters without losing your cool. 
Combining two winning foods to create one dish either ends deliciously or disastrously, and you never really know until you try. For some reason, we were pretty confident the marriage between nachos and a cheeseburger would work. We were correct.
About this recipe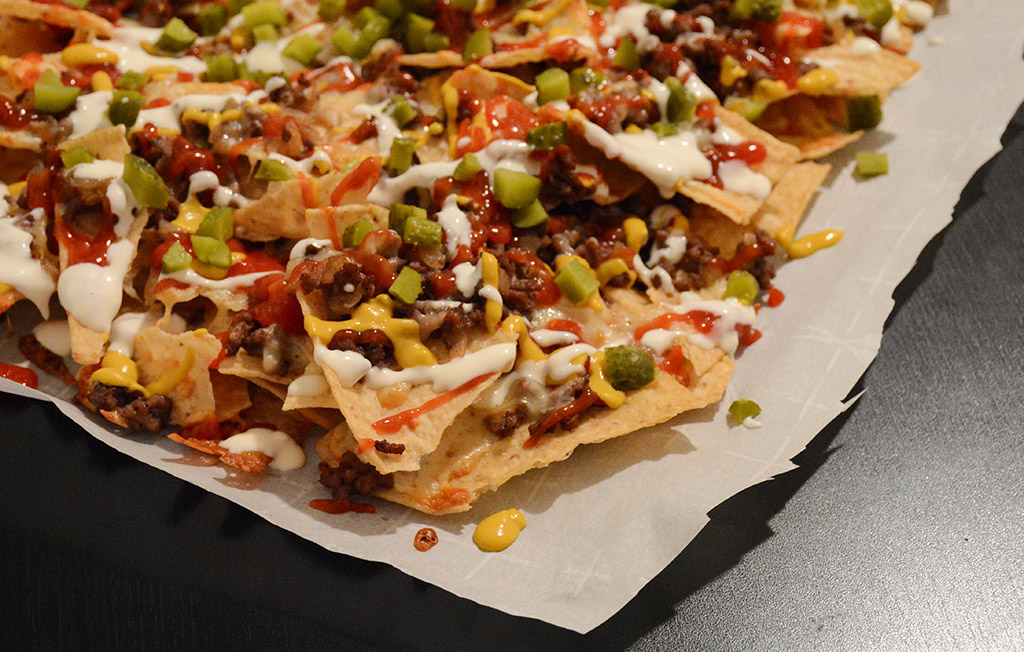 Food mashups are known for being over-the-top, criminally delicious, and a ton of work. We wanted to make something that kept the cooking firmly in the easy category while still delivering on the first two promises because making food for your friends shouldn't be stressful. We managed to achieve our goal by cooking a simple onion and beef topping and using the standard burger fixings instead of making a bunch of condiments from scratch.
Start by cooking the onions in a bit of oil. Adding this one extra ingredient to the meat delivers a surprising dose of flavor without the harsh bite you run into when using raw onion. Once they're softened and browned around the edges, add the meat along with a hefty amount of salt and pepper. Because ingredients are kept to a minimum, the meat mixture needs to be really well-seasoned.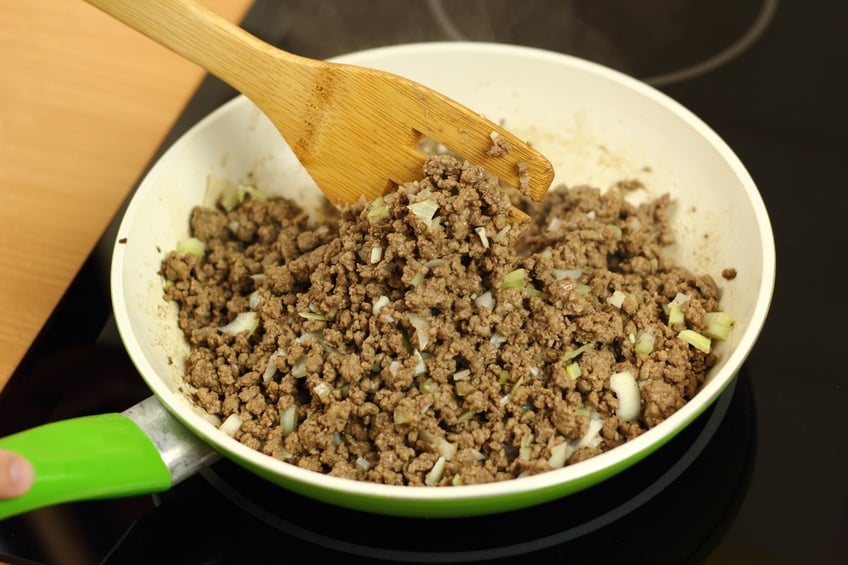 As with a regular burger, use beef that contains 20% fat. It has tons of flavor and stays really juicy, even when fully cooked. That's really important for these nachos because the meat will get heated again in the oven. Once your meat is nicely browned, just use a few paper towels to soak up the extra grease. Then, you're ready to build.
Most nacho recipes go wrong by layering all of the chips, all of the meat, then all of the cheese. You wind up with a handful of great bites, but then a bunch of naked chips are left on the bottom. The solution is as simple as doing it twice. Lay out half of the chips, top with half the meat, sprinkle with half the cheese, then repeat. And speaking of cheese, we went with a smoked cheddar here to help recreate some of that grill-like flavor.
The nachos need about 10 minutes to bake, then things go pretty fast. As soon as the dish comes out of the oven, drizzle the entire tray with plenty of ketchup, mustard, and mayo that's been thinned with a bit of water. You can get as fancy with the condiments as you like, but we stuck with basic ketchup and yellow mustard. Top with some chopped dill pickles, then dig in as soon as your fingers can tolerate the heat. Keep the napkins handy.
Cheeseburger Nachos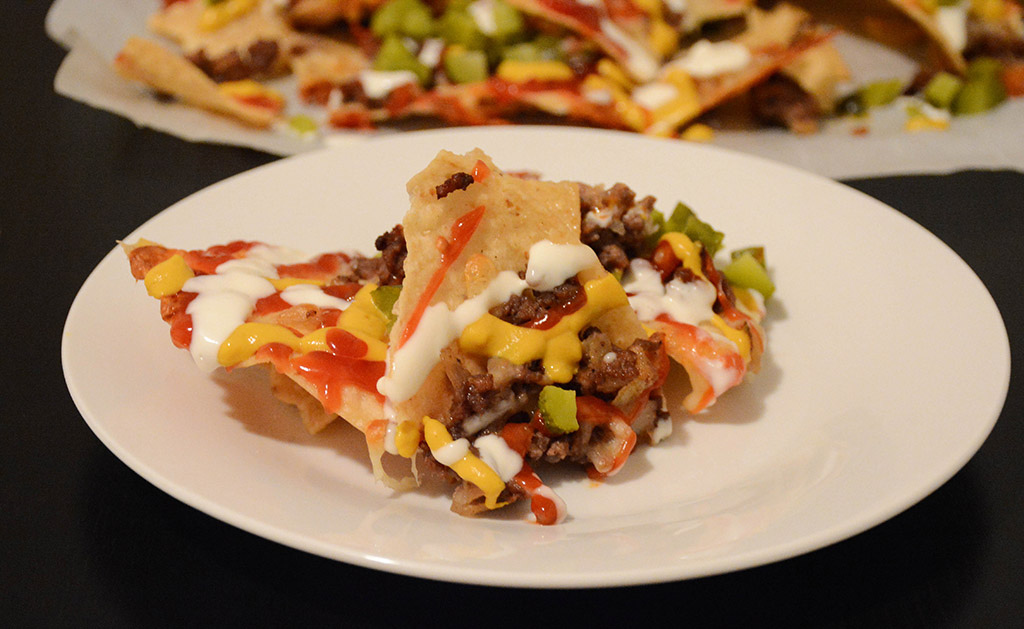 Exercising restraint when cooking is usually a good idea, but you can honestly add any other toppings you'd like to these nachos. Pickled jalapeños, coleslaw, diced tomatoes, and sweet relish would all be pretty at home. This recipe makes enough for 4 to 6 people.
Ingredients:
1 tablespoon canola or vegetable oil
½ yellow onion, diced
Salt and pepper
¾ pound 80% lean ground beef
6 ounces tortilla chips
8 ounces smoked cheddar cheese, grated
3 to 4 tablespoons ketchup
2 tablespoons mustard
2 tablespoons mayonnaise thinned with 2 teaspoons water
½ cup chopped dill pickles
Directions: Preheat oven to 425 degrees Fahrenheit. Heat oil in a large skillet set over medium-high heat. Add onion and season with salt. Cook, stirring, until softened and beginning to brown, 5 to 7 minutes. Add beef and season generously with salt and pepper. Continue to cook, occasionally breaking meat into smaller pieces with a wooden spoon, until browned, about 6 to 7 minutes. Remove from heat and drain off fat.
On a parchment paper-lined baking sheet, spread half the chips in an even layer. Top with half the beef mixture, then half of the cheese. Repeat layers once more, transfer to the oven, and bake until cheese is melted and bubbling, about 10 minutes.
Drizzle nachos with ketchup, mustard, and thinned mayo. Sprinkle chopped pickles over top and serve immediately.
Follow Christine on Twitter @christineskopec