Behind-the-Scenes Images of President Clinton in Office You've Never Seen Before
What makes a great president? The answer may change depending on who you talk to. But whether a president is remembered fondly or not is often due to the way they acted while serving our country.
President Bill Clinton had one of the most talked-about presidencies of all time. From the booming economy in the 90s to the infamous Monica Lewinsky scandal, Clinton constantly made headlines as he led the country. Love him or hate him, he will be remembered for generations to come.
Let's take a quick look at some rarely seen images from his time in office, including a photo with Vladmir Putin most people don't know about (No. 12).
1. Bill and Hillary on the campaign tour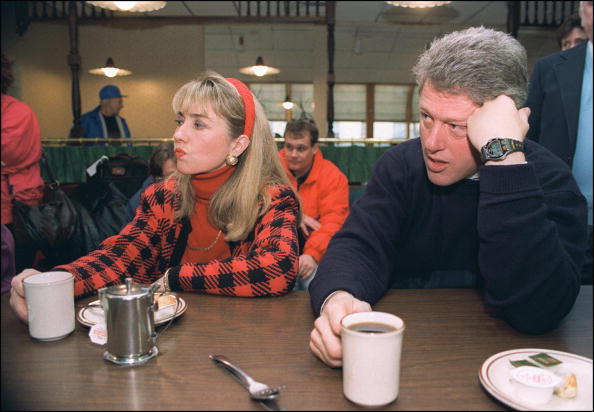 Bill Clinton was born William Jefferson Blythe III in Hope, Arkansas on August 19, 1946. His father, a traveling salesman, died 3 months before he was born and his mother later remarried. Clinton took his stepfather's last name when he was a teenager.
He graduated from Yale Law School, which is also where he met his future wife, Hillary. He ran for a seat in the U.S. House of Representatives but lost. Later, Clinton became governor of Arkansas and eventually won the bid for Democratic presidential candidate.
Next: Clinton on the campaign trail

2. Clinton on his final campaign weekend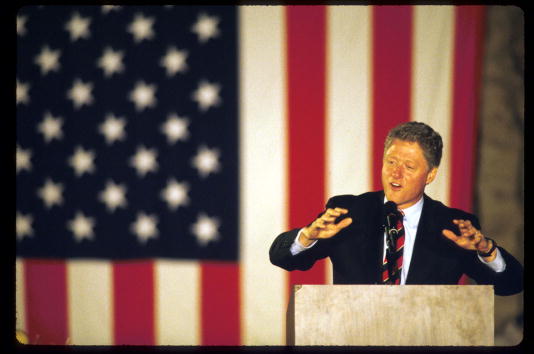 Clinton defeated incumbent George Bush Sr. by a margin of 370-180 electoral votes and 43% of the popular vote (The third party candidate, Ross Perot, took home close to 19% of the popular vote). On Clinton's inauguration day in January 1993, he was the third youngest president to take office at the age of 46.
Next: Clinton meets Monica Lewinsky

3. White House intern Monica Lewinsky meeting President Bill Clinton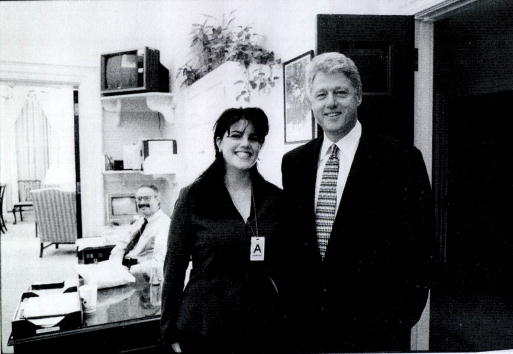 Only two United States presidents have ever been impeached: Bill Clinton and Andrew Johnson. But contrary to popular belief, just because a president is impeached, it doesn't mean they're removed from office. Getting a sitting president removed is much harder than impeachment.
Above, a photograph shows Clinton meeting White House intern Monica Lewinsky. It was submitted as evidence during the impeachment proceedings.
Next: Clinton and Lewinsky at a party

4. President Clinton greets former intern Monica Lewinsky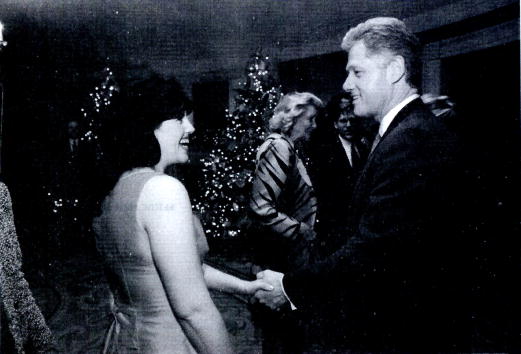 The sexual relationship between White House intern Monica Lewinsky and President Bill Clinton began in 1995 and continued sporadically for the next two years. Lewinsky eventually got transferred to a job at the Pentagon and shared the secret of the affair with a friend named Linda Tripp. But rather than keep it quiet, Tripp secretly taped Lewinsky's confessions. That became fodder for the drama that played out in the media.
Next: Lewinsky in the Oval Office

5. Monica Lewinsky working in the Oval Office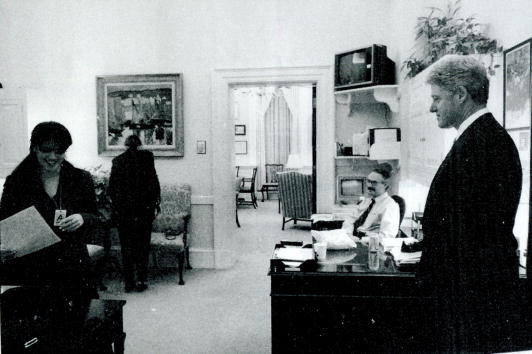 News of Clinton and Lewinsky's affair broke in 1998. At first Clinton denied the affair and later he admitted to having "inappropriate sexual relations." A large group of people were more outraged over his blatant lies about the scandal more than the sexual relationship itself. Lewinsky was seen as a willing participant in the affair.
Next: Hillary and Bill

6. Hillary Clinton and Bill Clinton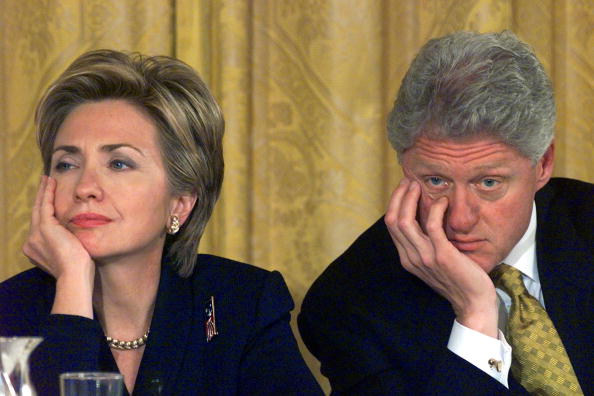 Bill and Hillary Clinton chose to stay married even after news of the affair swept the nation. Clinton finished out his second term with strong approval ratings even after being impeached. He settled the Paula Jones lawsuit for $850,000 while admitting no wrongdoing.
Next: Clinton with the Kennedys

7. Bill Clinton in Martha's Vineyard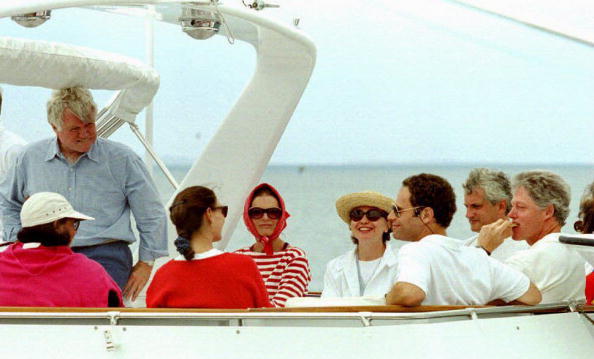 Like so many other presidents, Bill Clinton enjoyed his time off work, too. He spend leisure time rubbing elbows with some of the nations most elite families, including the Kennedys. This photo depicts a boat outing in Martha's Vineyard with First Lady Hillary (right center), Sen. Edward Kennedy (left) and Jacqueline Kennedy Onassis (left center) along with other family members.
Next: President Clinton working in office

8. President Clinton signs the NAFTA agreement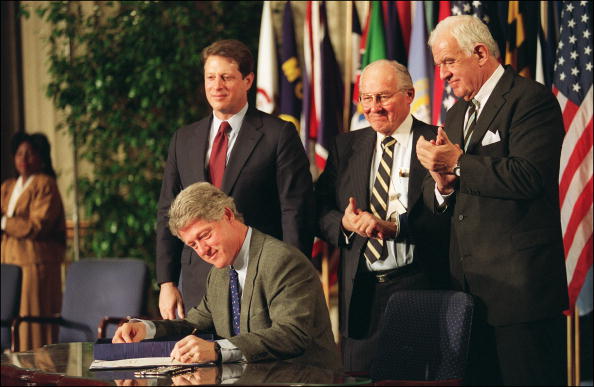 Clinton's time in office wasn't just scandals and vacations, though. He also enacted laws with lasting impact. Above, Clinton is signing the North American Free Trade Agreement (NAFTA) in 1993. The controversial pact will phase out tariffs between the U.S., Mexico, and Canada.
NAFTA came into the news again in 2018 when President Trump said he wasn't planning to sign the deal without a huge renegotiation.
Next: The first family

9. The first family attends a Renaissance weekend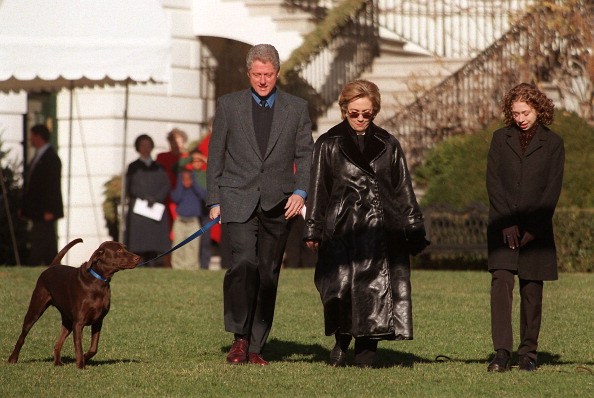 Bill and Hillary had one child, Chelsea, in February 1980. Chelsea was incredibly bright and learned to read and write at a young age. Due in part to her early life spent in the public eye, Chelsea is now a huge advocate for the rights of privacy for children of politicians. Hillary tried to shield her from the press during their tenure in the White House.
Next: Clinton with Michael Jackson

10. President Clinton with Michael Jackson and Stevie Nicks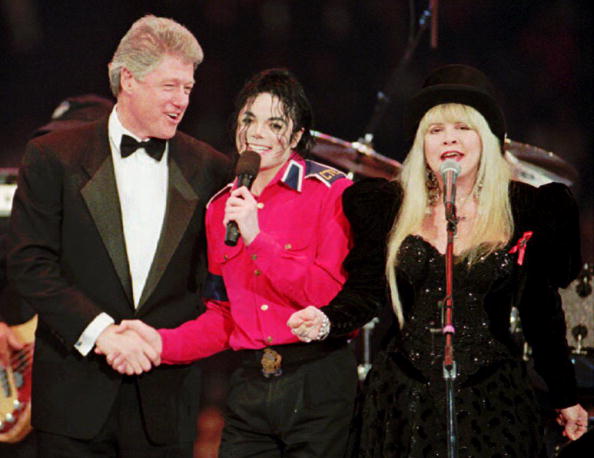 Clinton was a well-liked and popular president. That's partly due to his personality, and partly because he served during a healthy economy, low unemployment rates, and a technological boom that made lots of people very wealthy. When the citizens were happy, they naturally looked to the president as the likely source.
Next: Clinton in a Mustang

11. President Clinton in a Ford Mustang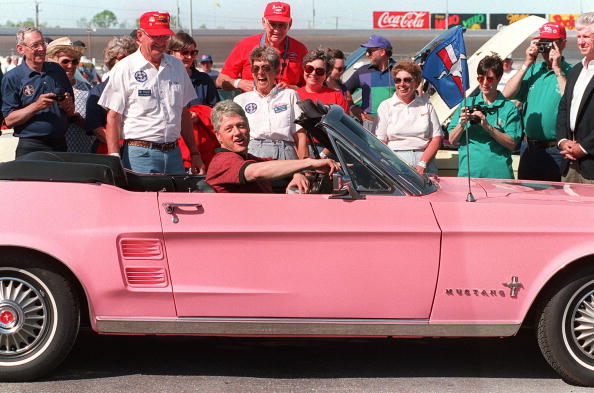 Clinton appointed several women and minorities to positions of power while he was in office. Janet Reno became the first female Attorney General in 1993 and Madeleine Albright was sworn in as the first female secretary of state in 1997. He appointed Ruth Bader Ginsburg to the Supreme Court in 1993.
Next: Clinton and Putin

12. President Clinton and Vladmir Putin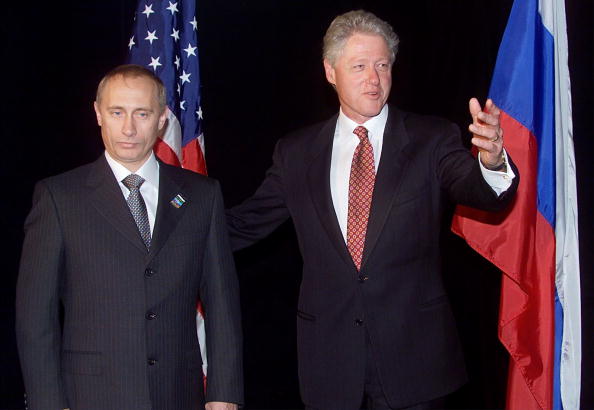 President Clinton took office soon after the fall of the Soviet Union and the end of the Cold War. Foreign relations between the two countries improved gradually. Questions about the Clinton's dealings with Russia – both Bill's and Hillary's – surfaced years after he left office.
Next: Bill and Hillary planting a tree

13. Bill and Hillary plant a dogwood tree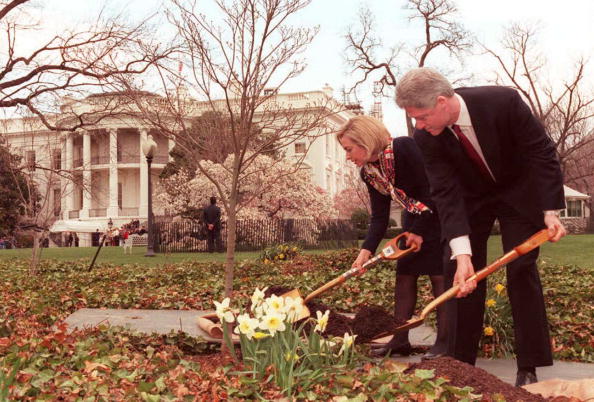 In this photo, President Clinton and Hillary plant a dogwood tree in memory Commerce Secretary Ron Brown who was killed in a plane crash in Croatia. Clinton traveled to Oklahoma City, Oklahoma later in the month to attend ceremonies in remembrance of the victims of the 1995 bombing of the Arthur P. Murrah federal building.
Next: Clinton gives the State of the Union

14. President Clinton give the State of the Union address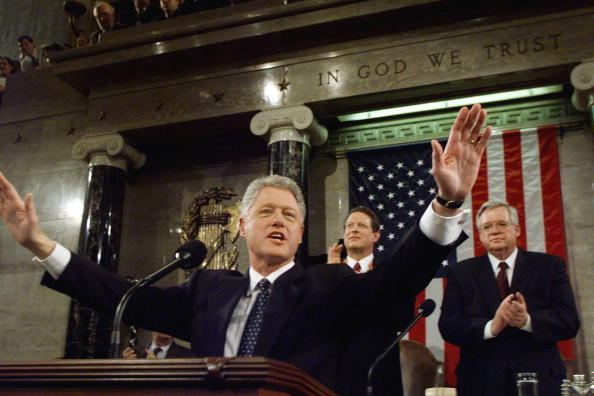 The incumbent Clinton easily beat Senator Bob Dole during his re-election run in 1996. He won by a margin of 379-159 electoral votes with 49.2% of the popular vote. Once again, third party candidate Ross Perot received a hefty 8.4% of the popular vote.
Next: The president takes a second term

15. The president is sworn in for a second term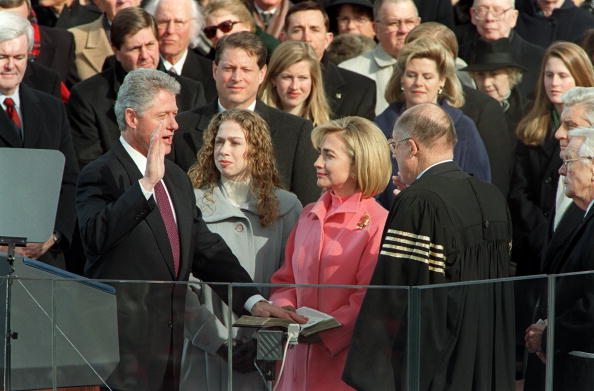 Clinton's Secret Service name was "Eagle." He's 6 feet, 2 inches tall and is one of the tallest presidents to ever take office. He enjoyed huge approval ratings for the duration of his presidency even after the huge Monica Lewinsky scandal hit the news.
Next: Bill and Hillary on vacation

16. President Bill Clinton and First Lady Hillary Clinton dancing on the beach in St. Thomas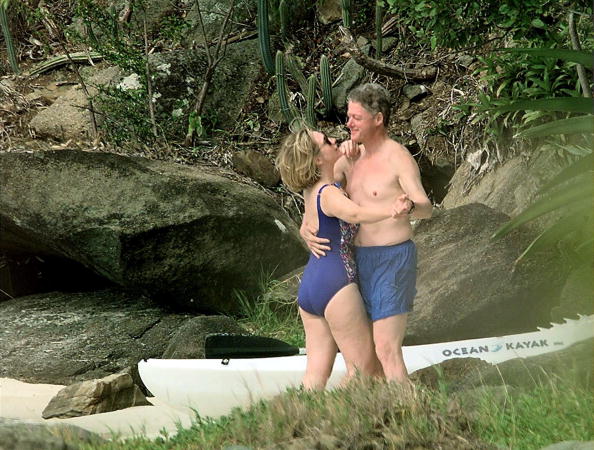 This photo depicts Bill Clinton and First Lady Hillary Clinton dancing on the beach of Megan Bay, St. Thomas, US Virgin Islands after going for a dip. A poll of New York voters found them divided on the issue of why the former First Lady Hillary Clinton penned her soon-to-be released memoirs. Many believed it was to tell her side of the story, while others thought it was a way to prepare for her eventual presidential run.
Next: Bill with Kermit the Frog

17. Bill Clinton with Kermit the Frog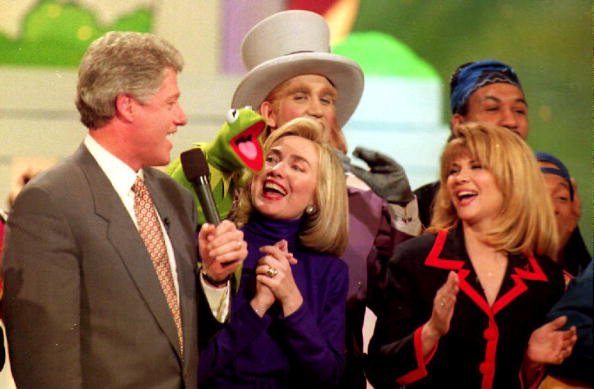 Clinton wasn't the first president to have a scandalous affair with someone who wasn't his wife, but he was the first to get caught so publicly. It was partially due to living in the age when mainstream media started becoming more obsessed with celebrities in general.
Next: Bill playing the saxophone

18. The president plays the saxophone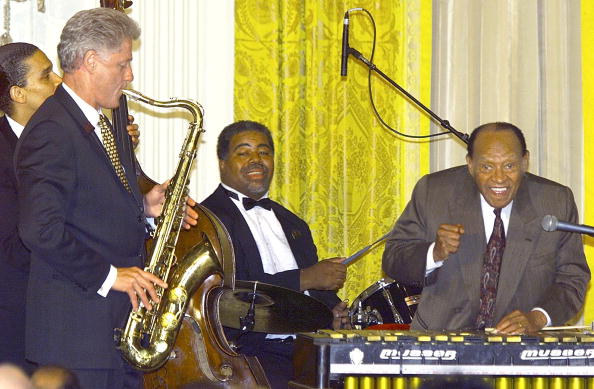 This 1998 photo shows President Clinton playing saxophone next to jazz great Lionel Hampton during a 90th birthday celebration for Hampton in the East Room of the White House. Clinton was well known for his sax skills and made a now famous appearance on the Arsenio Hall Show with his version of "Heartbreak Hotel" during his campaign.
Next: Bill and Hillary serving the homeless

19. Bill and Hillary serve the homeless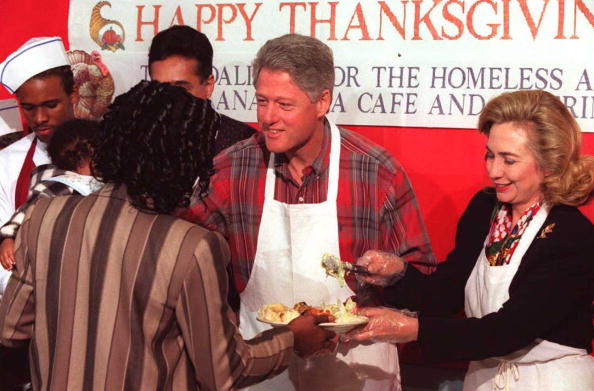 The Clinton administration placed a huge focus on solving the problem of homelessness. He suggested doubling the amount of funds spent fighting the issue to $1.7 billion. The HUD initiative had largely bipartisan support and focused on reaching out to homeless people right where they were.
Next: Clinton with the pope

20. President Clinton and Pope John Paul II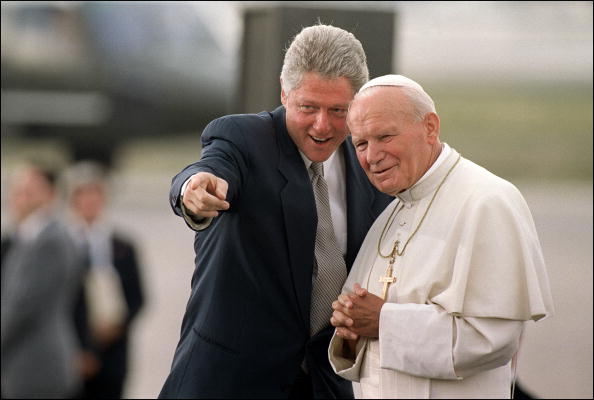 President Clinton met with dozens of prominent leaders during his two terms in office, including leader of the Catholic Church Pope John Paul II. The pair is seen here at Stapleton International Airport in Denver as the pope arrived to celebrate World Youth Day.
Next: Clinton gets a degree

21. Clinton receives an honorary degree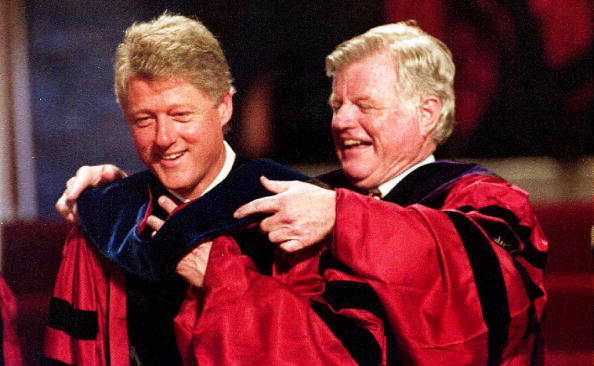 President Clinton has received a slew of honorary degrees, awards, and recognitions from colleges and universities. Here he's receiving his hood from Senator Edward Kennedy at Northwestern University in 1993. Clinton also spoke to the graduating class about his economic plan and national service program.
Next: Clinton with his daughter

22. Bill and Chelsea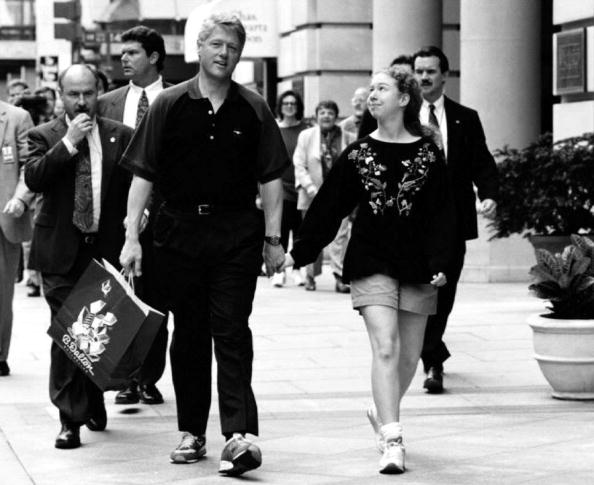 Being the president isn't always easy. Even for a simple outing like a family shopping day, Secret Service members must accompany the president and their family to keep everyone safe. Agents are trained to jump in front of a bullet if it every comes down to that.
Next: Clinton golfing

23. Clinton goes golfing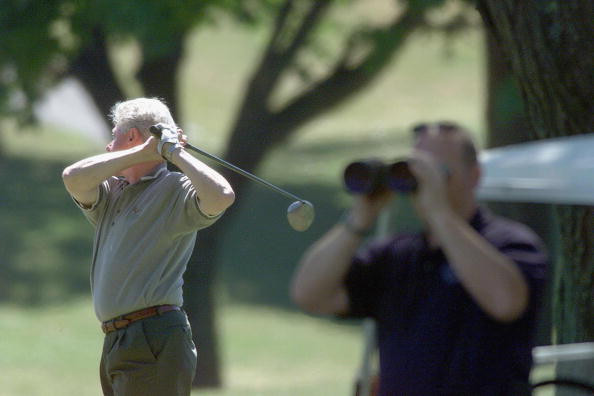 Many presidents enjoyed golfing, and President Bill Clinton was no exception. This photograph, which was taken in Syracuse, New York in 1999, shows the president taking a practice swing while a uniformed Secret Service agent keeps watch. Clinton later played a round with his friend and Democratic fundraiser Terry McAuliffe and six other Syracuse locals.
Next: Clinton tutoring a student

24. The president helps with tutoring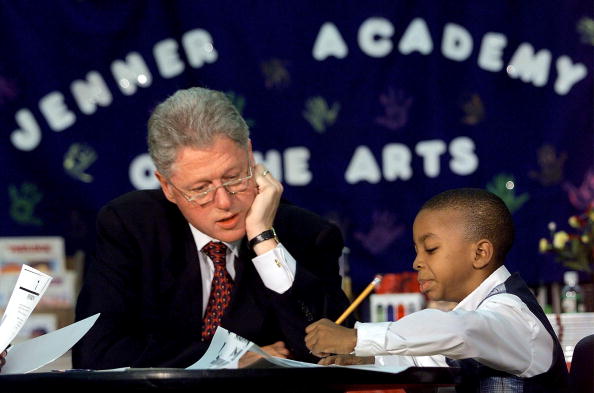 Clinton had some thoughts on education reform. His proposal? "Support what works and stop supporting what doesn't work." He wanted to states to either turn around failing schools or give up and shut them down. He also lobbied for better quality preschool and after school programs.
Next: Clinton and Bush

25. Presidents Bush and Clinton at the White House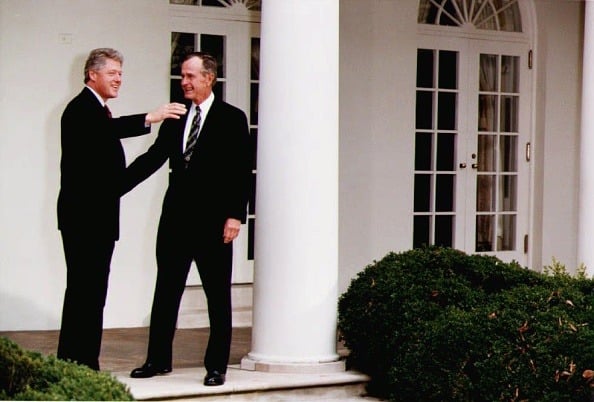 A smooth transition of power is possible. Here, President George Bush talks with President-elect Bill Clinton outside the White House in 1992. The photo shows both men looking at ease with one another even though Clinton has just defeated Bush for the presidency.
Next: Clinton looking at North Korea

26. President Clinton peeks at North Korea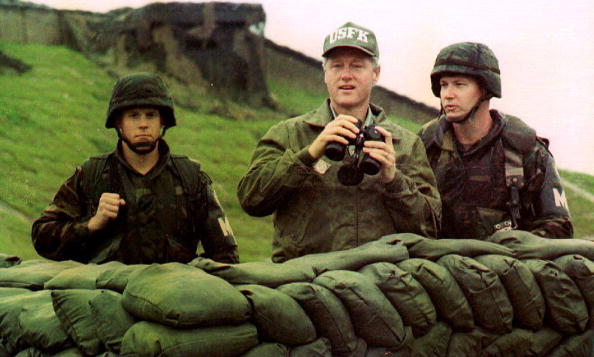 Tension between the United States and North Korea has always been tense. In this photo, President Clinton uses binoculars to look across the Demilitarized Zone into North Korea while flanked by two soldiers. Clinton said that America would stay "strong and resolute" in their dealings with North Korea.
Next: Clinton watching the Super Bowl

27. President Clinton watching the Super Bowl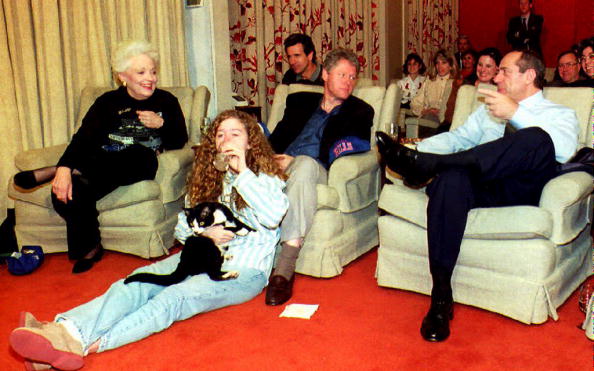 Super Bowl XXVII took place in 1993 and even the president was watching. Here he's shown at a Super Bowl party with Texas Governor Ann Richards, Clinton's daughter, Chelsea, and the family cat, Socks. The Dallas Cowboys won the game that day.
Next: Next: Clinton on the campaign trail

28. The presidential hopeful goes for a run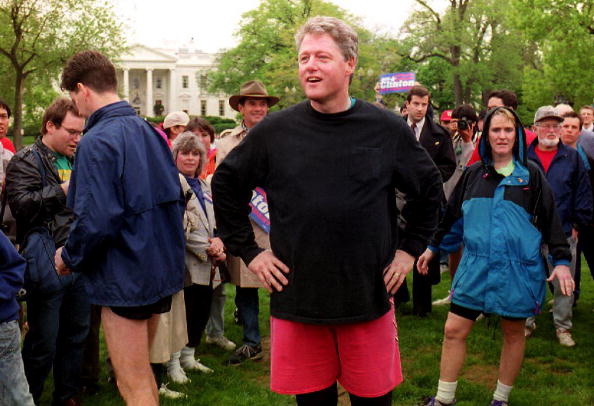 Clinton was one of the most athletic presidents, playing basketball in his church league as the team's top scorer. He's also an avid golfer and enjoys watching football. In this photo, the president-elect is participating in a "run for the White House," a fundraising event for his campaign.
Next: Clinton in office

29. In the Oval Office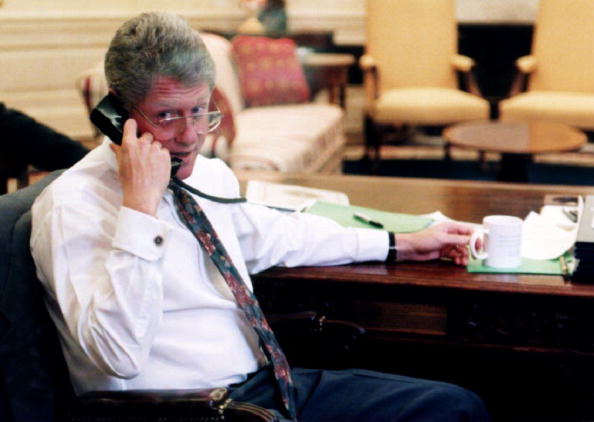 In 1998, Toni Morrison made a surprising and controversial comment about the president. She said, "white skin notwithstanding, this is our first black President. Blacker than any actual black person who could ever be elected in our children's lifetime." She meant that people already saw him as guilty before they heard everything about his crimes.
Next: Clinton and his dog

30. Clinton throws a ball for his dog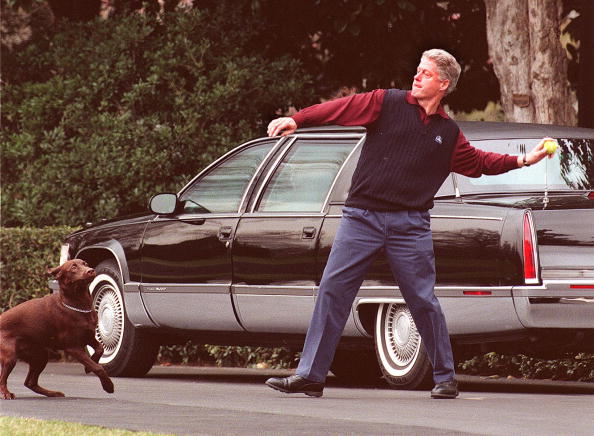 Socks the cat wasn't the only four-legged friend in the White House — Clinton also had a dog named Buddy while he served in office. He joins a long line of presidents who brought pets with them on their presidential journey. Often, the animals are just as popular with the public as the people are.