The Best Airport Lounges in the U.S. (and How You Can Get In)
Standing in line at the TSA checkpoint and then schlepping your suitcase up and down the terminal in search of a Starbucks doesn't exactly make for a glamorous way to travel. But airport lounges — both ones that belong to a single airline and those associated with a program like Priority Pass — offer a touch of luxury. Plus, the best airport lounges not only feel luxe, but make you feel like you spent a lot more than you did to gain access to their perks and amenities.
The New York Times reports that in addition to airport lounges exclusive to an airline, like the American Airlines Admirals Club or the United Club, you can visit lounges associated with one of your credit cards, like American Express's Centurion Lounge network. You can visit lounges shared by airlines through groups like Star Alliance. You can also join independent lounges networks like The Club or Airspace Lounge, or even networks of lounge networks, such as The Global Lounge Collection. Dizzy yet?
Below, check out the very best airport lounges in the United States. You won't want to miss this list — plus our best tips on  how you can get in to each of our favorite lounges, even without a first-class ticket.
1. Alaska Airlines Board Room, Seattle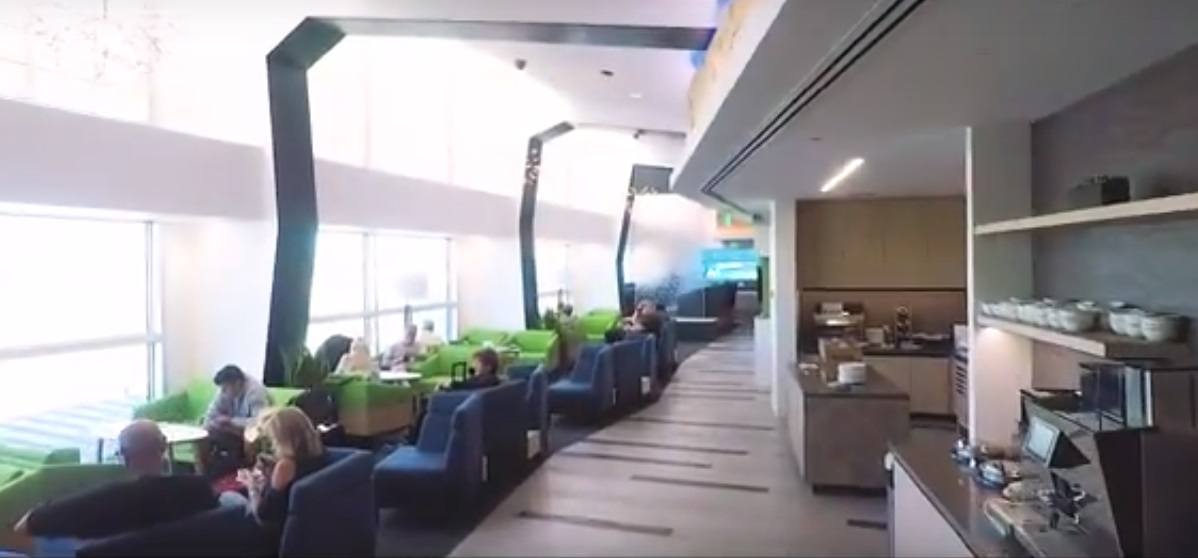 Planning a layover at the Seattle-Tacoma International Airport? Then you won't want to miss your chance to check out the Alaska Airlines Board Room. GateGuru, reporting for the Travel Channel, reports that you can enjoy people watching without the crowds at the Board Room. (The two-floor lounge actually overlooks Concourse C!) You can also enjoy delicious food, like fresh pancakes prepared each morning. Plus, the lounge offers complimentary cocktails, beer, wine, and Starbucks coffee. The airline even offers a concierge service you can access right in the lounge.
How to get in: You can purchase a day pass for $45. Otherwise, you'll need to purchase a membership to access the Board Room, and the other airport lounges operated by Alaska. Memberships start at $295.
Next: Check out the great service at this airport lounge in Los Angeles. 
2. American Airlines Admirals Club, Los Angeles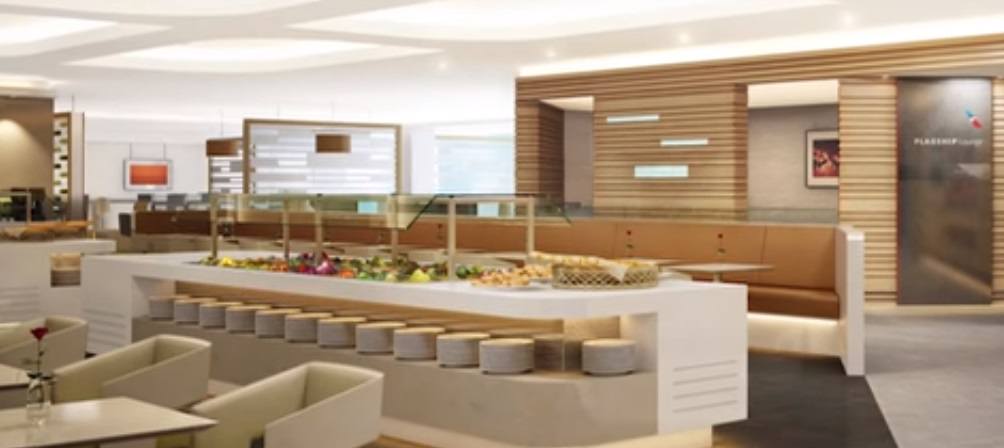 When you fly through Los Angeles, you'll have your pick of numerous airport lounges. But GateGuru reports for the Travel Channel that one of the best airport lounges in the United States is the American Airlines Admirals Club lounge at Los Angeles International Airport. Travelers love that it feels spacious and uncrowded (unlike LAX at large). They also appreciate that it typically stays quiet, thanks at least in part to a separate play area for children. If you spend your layover at this lounge, you can also expect delicious food and attentive service, plus the opportunity to take a hot shower.
How to get in: You can qualify for access to Admirals Club airport lounges in numerous ways. You can get in by buying a day pass or a membership. You also qualify by flying First or Business class on a flight operated by American or a OneWorld airline. Or, you can gain access as an Executive Platinum, Platinum Pro, or Platinum elite, as a OneWorld Emerald or Sapphire member, or with a Citi AAdvantage Executive card.
Next: You won't want to miss out out on the fine dining at this San Francisco lounge.
3. American Express Centurion Lounge, San Francisco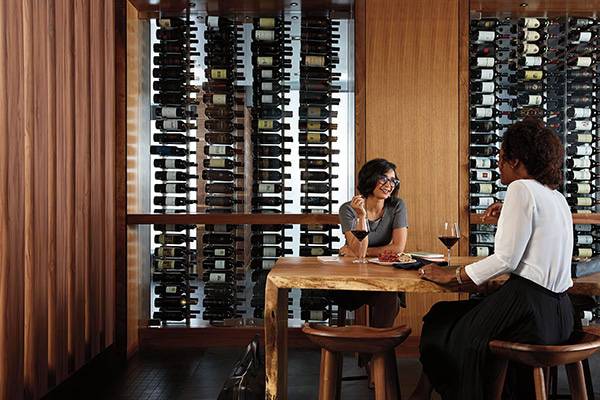 The airport lounges in American Express's Centurion network earn consistently high marks. But Men's Journal actually names the San Francisco Centurion Lounge as one of the most luxurious in the world. You may feel tempted to book a long layover just to spend more time in this lounge, where you can get a Napa Valley wine tasting experience, plus cocktails by mixologist Jim Meehan. Plus, you can relax with a shower suite, or get work done in an individual workspace with high-speed Wi-Fi. And of course, you can also enjoy fine dining with a seasonal menu by Cédric Vongerichten.
How to get in: You can get access to Centurion airport lounges with a Platinum, Business Platinum, or Centurion card and ID. If you have a different American Express card, you can purchase a $50 one-day pass at the club.
Next: Enjoy lavish surroundings at this New York lounge.
4. British Airways Concorde Room, New York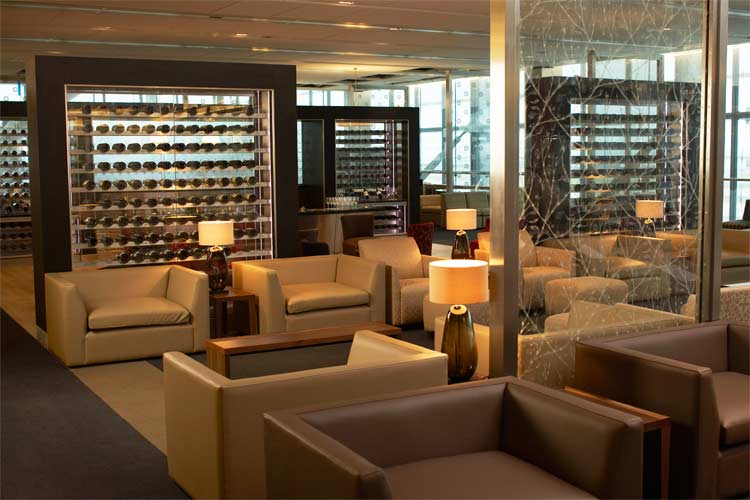 Men's Journal also recommends the Concorde Room, a British Airways lounge you can find at JFK. You'll enjoy an elegant atmosphere with luxurious furniture, beautiful chandeliers and artwork, and dining in private booths with full waiter service. You can also take advantage of the business suite to power through some work, or you can unwind between flights with a drink on the terrace.
How to get in: British Airways airport lounges are open to passengers who fly in first class on a British Airways flight, are Gold Members of the airline's Executive Club, or are a OneWorld Emerald member.
Next: Enjoy a zen getaway between flights in San Francisco.
5. Cathay Pacific Lounge, San Francisco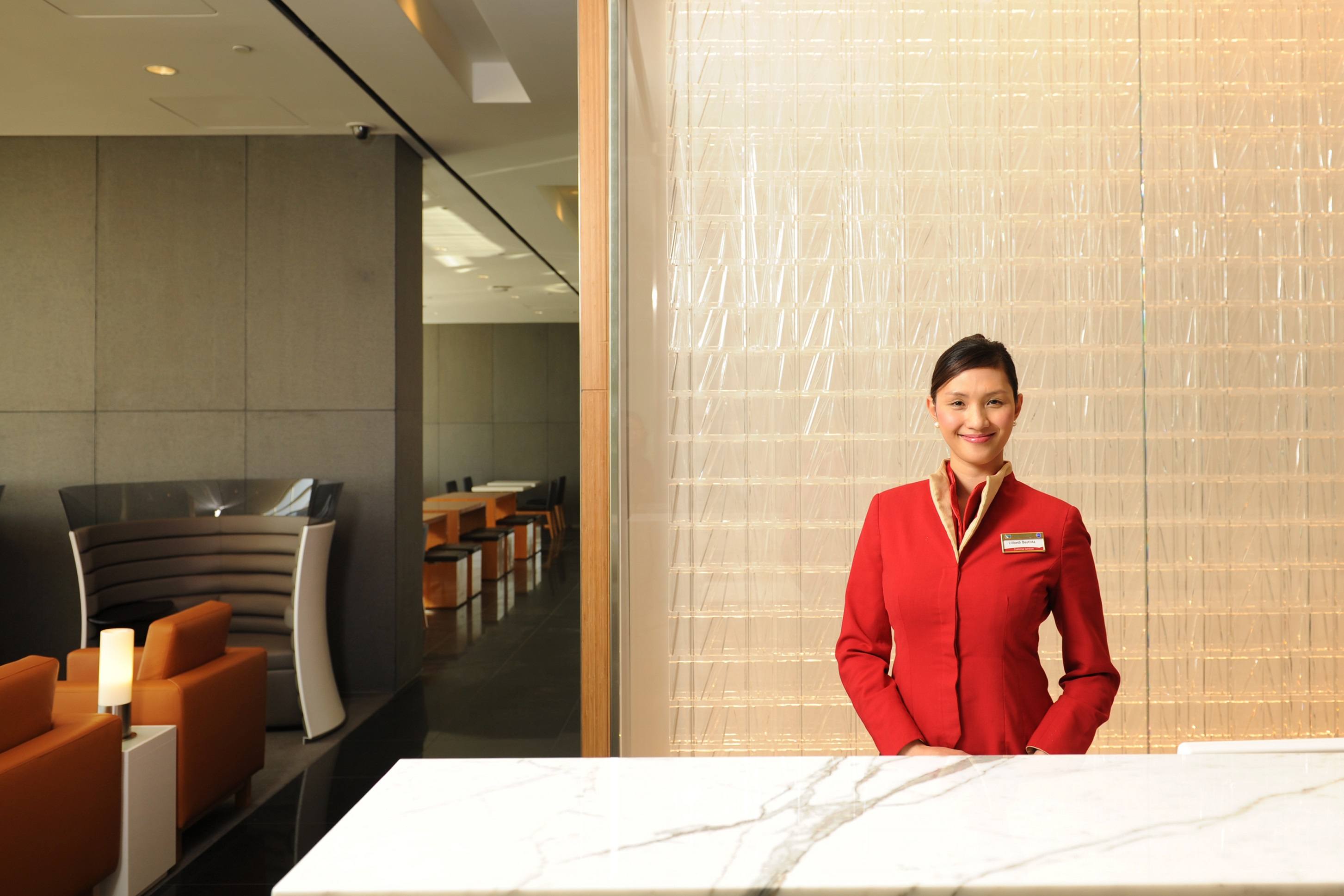 Bravo reports that Cathay Pacific, based in Hong Kong, offers one of the best airport lounges in the United States. This 9,000 square foot lounge accommodates 175 passengers, which means that it won't feel too crowded. Bravo characterizes the club's aesthetic as "contemporary Zen," perfect for relaxing between flights. You can wash off the day's stress with a private shower suite. Or, you can stay productive with a work station and free high-speed Wi-Fi. If you get hungry, you can enjoy the airline's signature noodle bar or the large dining area with a self-serve buffet. The lounge even offers an espresso bar for caffeine-deprived travelers.
How to get in: You'll need to fly in first or business class on Cathay Pacific or one of its Oneworld partners. Or, you can get in if you're a Oneworld Sapphire or Emerald elite member.
Next: Get away from the hustle and bustle with this Atlanta lounge.
6. Delta Sky Club, Atlanta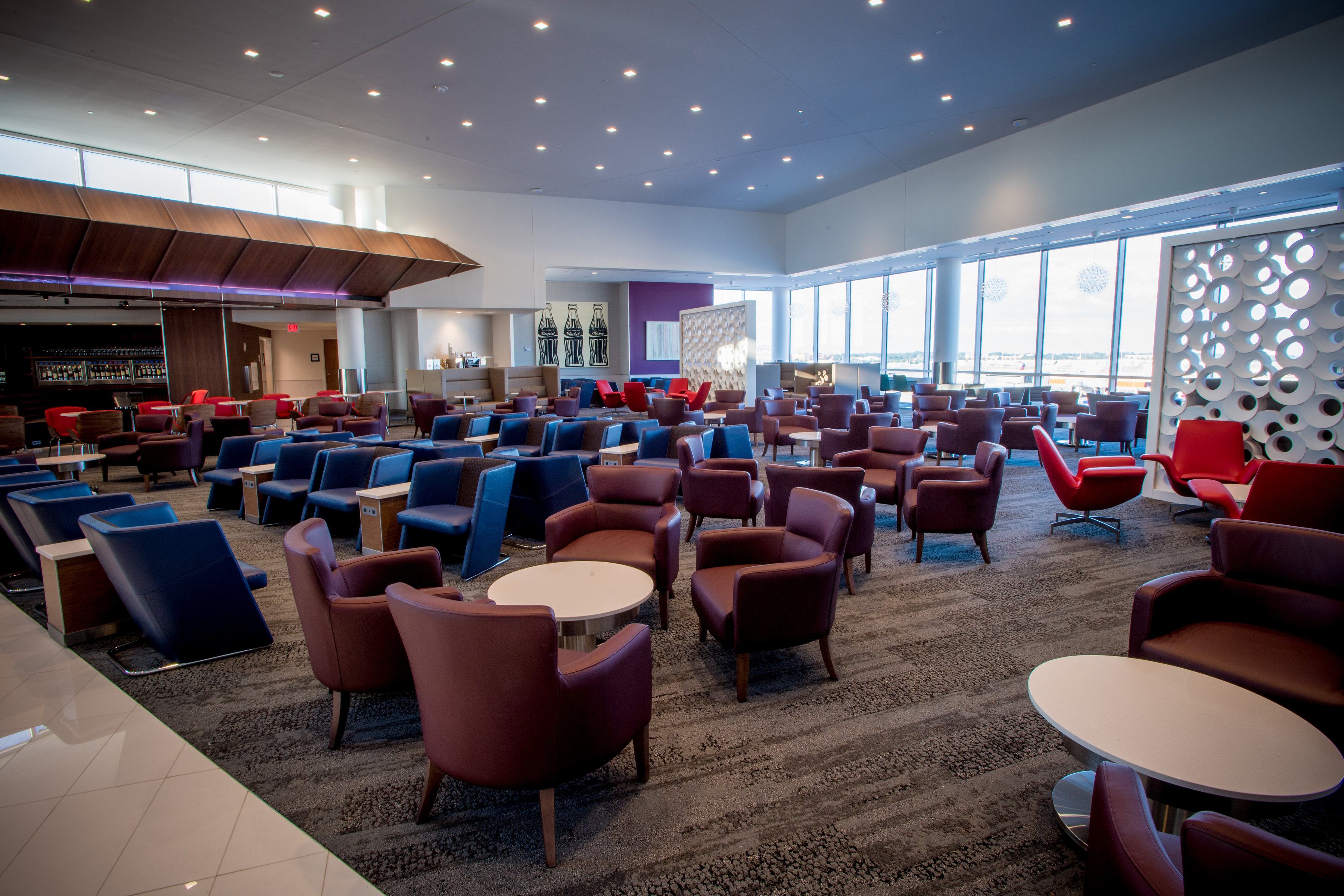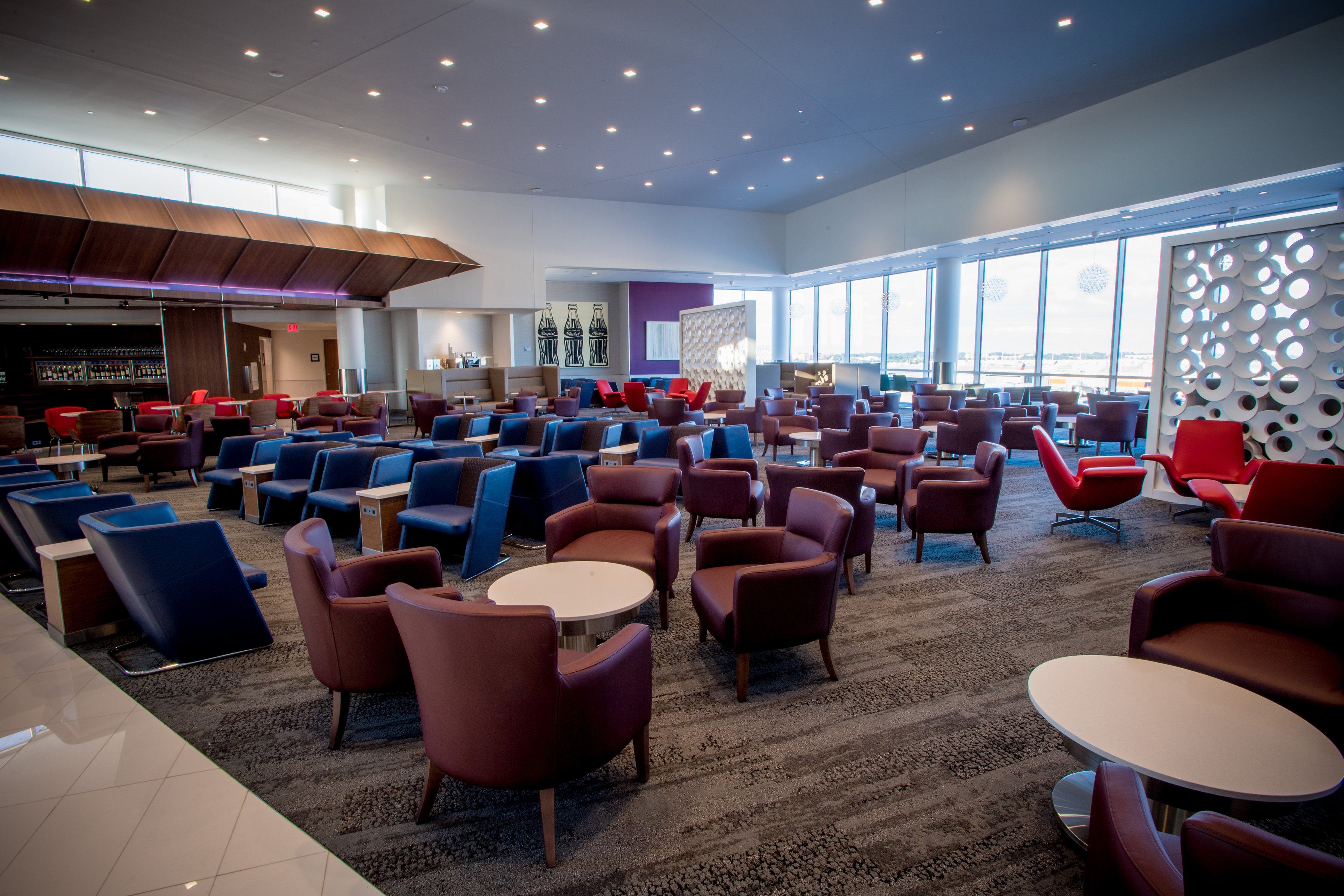 Flying through the Hartsfield-Jackson International Airport in Atlanta? Then you won't want to miss the Delta Sky Club, one of the airport lounges that GQ cites as a great reason to upgrade to first class. With flagship airport lounges at JFK's Terminal 4 and Atlanta's Concourse F, the Delta Sky Club gives you access to a Sky Deck, or a huge outdoor patio, where you can watch the planes go by or kick back with a drink while you wait for your flight. The lounge also features "window cubes," which give you a quiet environment to relax or to get some work done.
How to get in: To gain access, you'll need an international or transcontinental first class ticket, elite status with Delta, or an American Express Platinum or Centurion card.
Next: Enjoy the most luxurious airport lounge in New York.
7. Etihad Airways Terminal 4 Lounge, New York
https://www.instagram.com/p/BZWb-tIHEsq
The next time you book a layover at JFK, you'll want to check out the Etihad Airways lounge at the airport's Terminal 4. Business Insider characterizes it as "the most luxurious airport lounge in New York." The airline reports that the lounge's objective is to provide "unparalleled luxury," and it seems to succeed. You can enjoy a fully stocked bar, an assortment of fine dining options, and huge windows that offer you a birds-eye view of operations on the ground. There's even a secret door, through which you can access a private lounge only for passengers flying aboard "The Residence" on the airline's Airbus A380, also known as the most exclusive first-class seat in the world.
How to get in: Etihad ticket holders, plus premium cabin passengers with Air Serbia, can access the lounge.
Next: Visit a lounge within a lounge in New York.
8. Lufthansa First Class Lounge, New York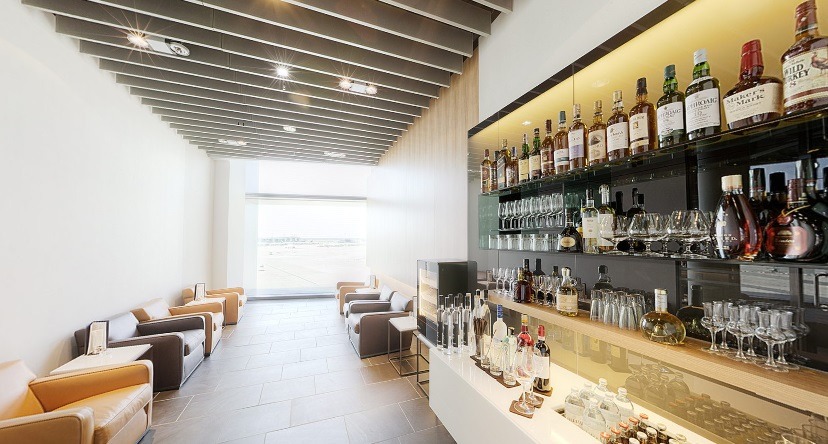 JFK has several great airport lounges. Bravo recommends the Lufthansa First Class Lounge, which consistently ranks as one of the best airport lounges in the world. As Bravo explains, "This one is actually a little lounge-within-a-lounge on the third and top floor of the larger Lufthansa business-class lounge at New York JFK. Because of that, it's fairly compact, but once you see what's here, you won't want to venture anywhere else." The lounge offers a cold and hot buffet. It also has a self-serve bar with top-shelf spirits and wines. Or, you can head to the dining room for made-to-order fine dining from an à la carte menu.
How to get in: You'll need to fly first class on Lufthansa. Another option is, as Bravo puts it, to "be an über-elite HON Circle member with the airline's Miles & More program."
Next: Kick back at an indoor fire pit in Los Angeles.
9. OneWorld Lounge, Los Angeles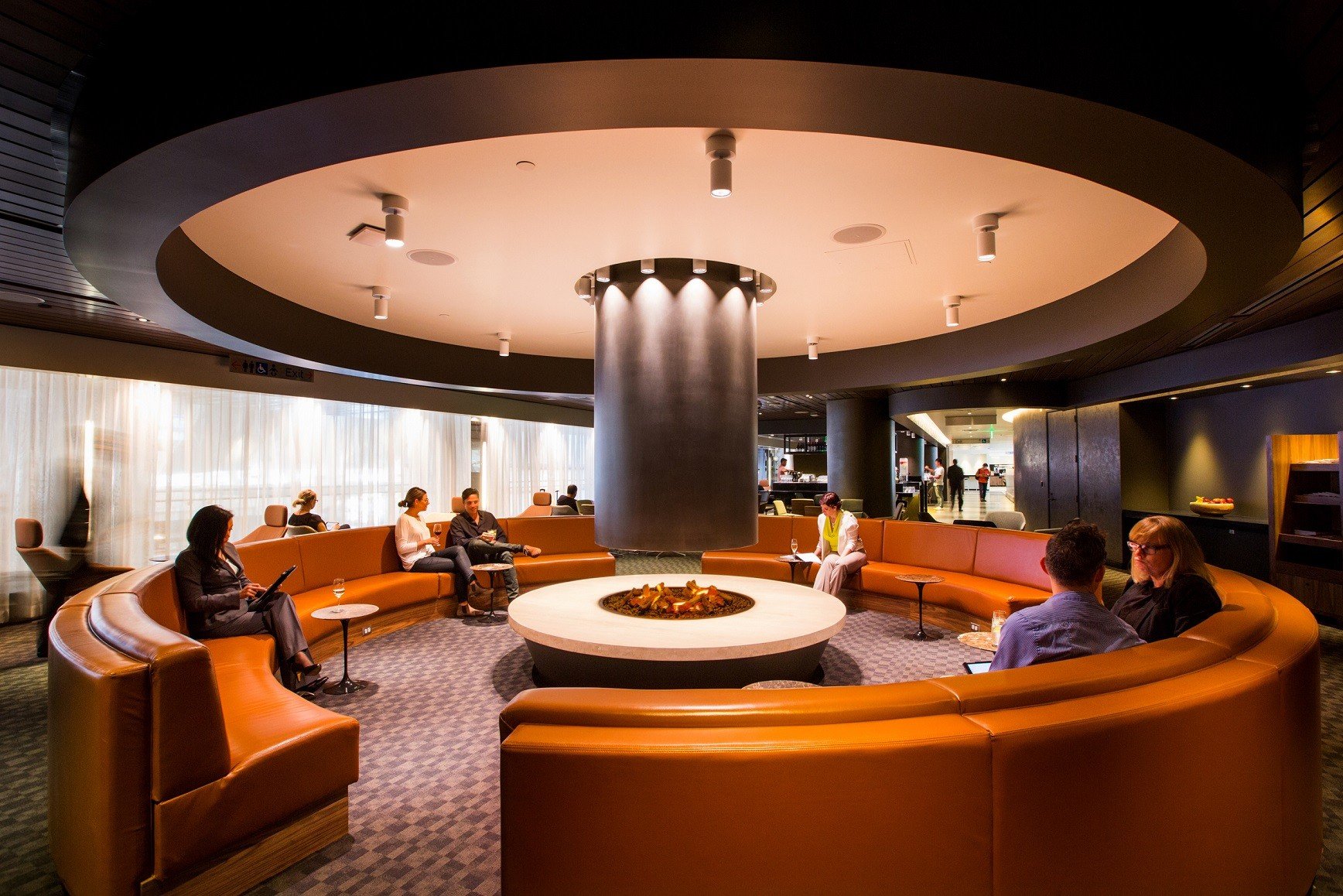 If you love midcentury-modern decor, the OneWorld Lounge at LAX will likely top your list of favorite airport lounges. Bravo reports that this club contains a large business class lounge, and a smaller Qantas-branded lounge for first class passengers. It boasts a huge atrium, a dining area that serves a menu overseen by Neil Perry, plus a bar where you can order complimentary cocktails or a selection of wine. Other perks? You can lounge by an indoor fire pit. Or, take advantage of one of the 16 shower suites.
How to get in: You can get in with a business class ticket on Oneworld flights. You'll also get access if you're a Oneworld Emerald or Sapphire elite flying in any class on a Oneworld carrier. If you want to get into the first class section, you'll need a first class ticket with a Oneworld carrier. Or, you'll have to rank as a Oneworld Emerald member flying in any class on a Oneworld airline.
Next: Lounge like a celebrity in Los Angeles.
10. The Private Suite, Los Angeles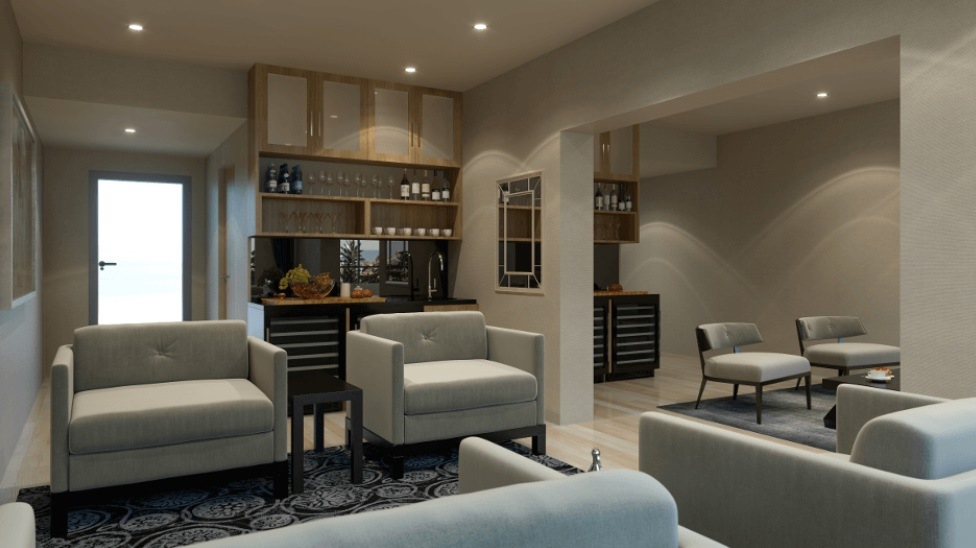 Vanity Fair reports that one of the most luxe airport lounges in the United States is The Private Suite at Los Angeles International Airport. Access doesn't come cheap, but if you want to fly like a celebrity, you'll enjoy private parking, private black car escorts, private rooms with a private lounge, food prepared by celebrity chefs, and even a private entrance. Rooms have been specifically curated with items needed by Muslim travelers, parents of babies, and parents of young children. Each private room also includes a refrigerator stocked with snacks, plus essentials like headphones, dress shirts, ties, cufflinks, socks, belts, shoes, and raincoats.
How to get in: Membership costs a hefty $7,500 per year. After that, a group of up to four people will pay an additional $2,700 (domestic) or $3,000 (international).
Next: Enjoy complimentary cocktails at this expansive Houston lounge.
11. United Club, Houston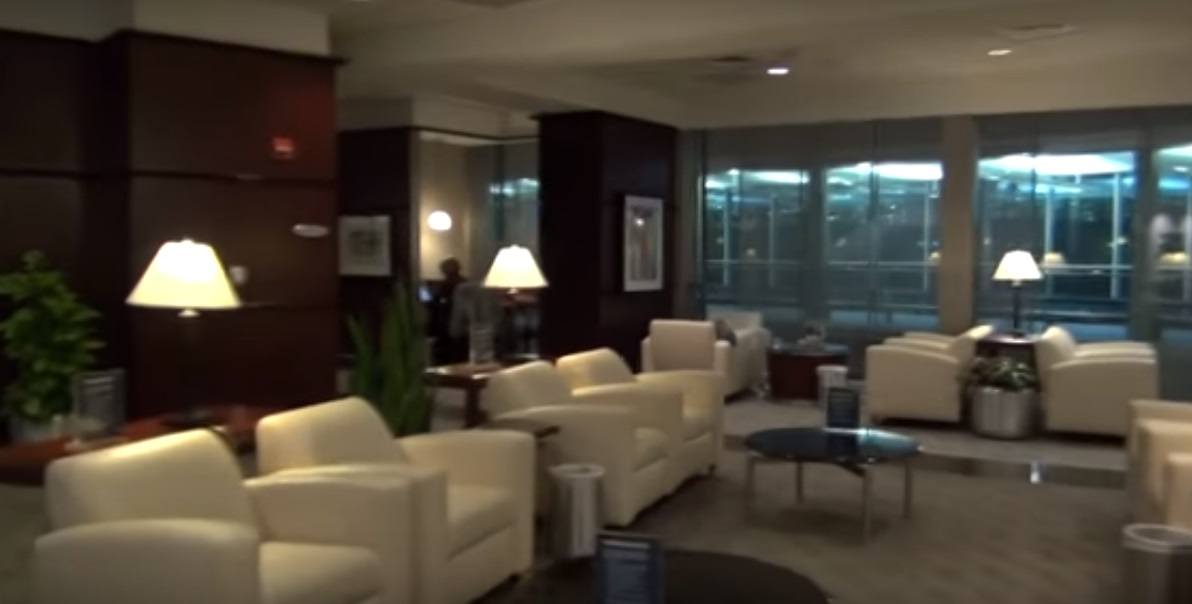 At Houston's George Bush International Airport, you'll find one of the top-ranked airport lounges in the country: the United Club. The Travel Channel characterizes this flagship club as "modern" and "very clean." It offers private showers, always a welcome perk at airport lounges. Plus, gaining access gives you three floors of space to explore and stretch out between flights. Even better? Most cocktails at the lounge are complimentary, perfect if you need a drink to chill out during your layover.
How to get in: To access United's airport lounges, including the United Club, you'll need to fly in a premium cabin on an international or transcontinental flight. (That includes Polaris first class, Polaris business class, United Business, First Class on a Star Alliance carrier, or Business Class on a Star Alliance airline.) Alternately, you can get in with Star Alliance Gold status. Or, you can purchase a United Club membership or a one-time pass.
Next: Get some privacy at this Chicago lounge.
12. United Polaris Lounge, Chicago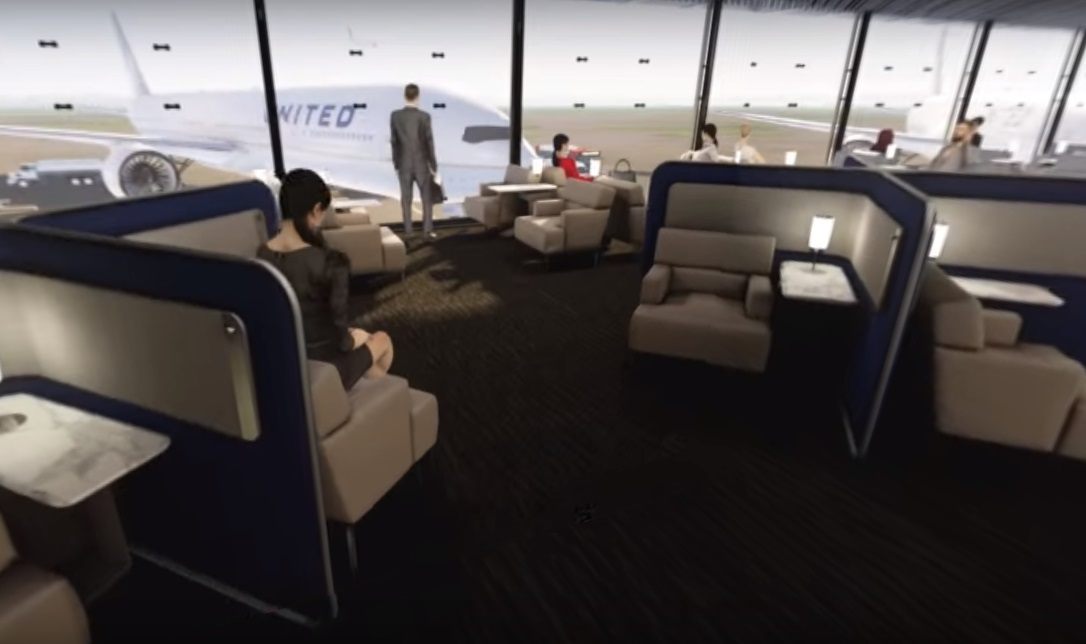 Planning a layover at Chicago's O'Hare International Airport? Then Bravo recommends that you check out the United Polaris Lounge. The publication reports that "privacy is paramount" at this lounge. (We wish more airport lounges would take a cue from United!) You'll enjoy single-person lavatories, plus seating pods with a single armchair and adjustable table. You can enjoy a meal at the dining area and a cocktail at the statement-making bar. Or, kick back in a relaxation room or a private shower suite.
How to get in: You have to fly United Polaris — the airline's new term for business class — or business or first class on a Star Alliance carrier to gain access to this lounge.
Next: Get a VIP room at this Los Angeles lounge.
13. VIP Star Alliance Lounge, Los Angeles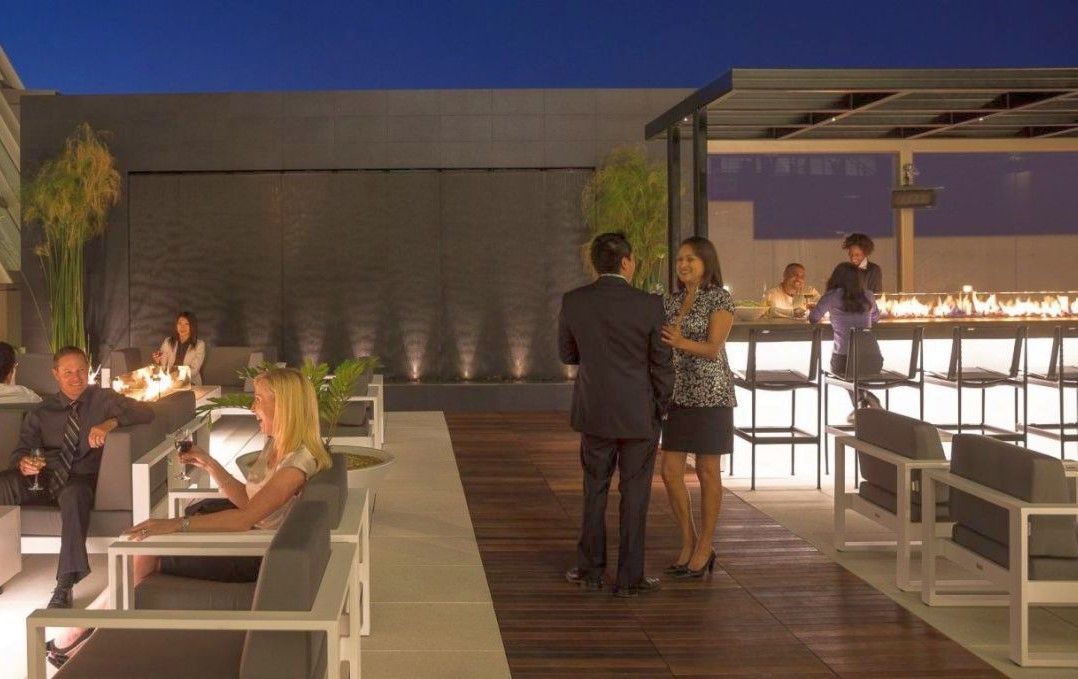 The Points Guy characterizes the VIP Star Alliance Lounge at LAX as one of the most exclusive airport lounges worldwide. The blog reports, "Getting to the two VIP rooms in the Star Alliance lounge in TBIT at LAX is a bit like pulling off the layers of a nesting doll." You first have to access the business class lounge. Then, you get an access code to enter the first-class section. Finally, if you've been designated a VIP by the airline you're flying, you could get access to one of the two mid-century modern VIP rooms available to special guests. Either way, you can enjoy fine dining and drinks in the first class section.
How to get in: There don't seem to be any specific rooms on who gets access to the VIP rooms. But to relax in the first class lounge, you'll need to fly first class on a Star Alliance airline.
Next: Order a cocktail at another Los Angeles airport lounge.
14. Virgin America Loft, Los Angeles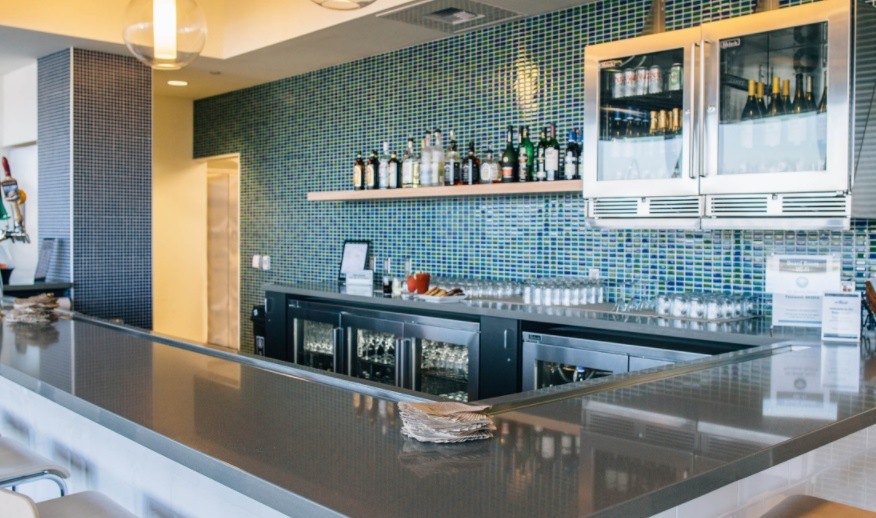 Bravo characterizes the Virgin America Loft as one of LAX's best airport lounges. Travelers consistently love the mood-lit bar. There, you can order cocktails with tongue-in-cheek names, like the Mile High Margarita. Frequent travelers also rave about the new menu, which has snacks and full meals alike for sale. (You can get anything from crunchy kale salad to a chipotle pineapple pizza with chicken.) The lounge doesn't allow children under 12. So if you just want some quiet time between flights, the Loft should top your list of airport lounges to check out. Unfortunately, this lounge closed in early 2017 thanks to Virgin's merger with Alaska Airlines. However, ticket holders will potentially find similar perks at the Alaska Lounge instead.
How to get in: You don't have to fly first class. Nor do you have to have reached elite status. Lounge access is free to passengers in first class, or Elevate Gold members traveling on Virgin America. You'll pay $15 for access as an Elevate Silver elite. Or, access costs $45 for anyone else traveling near the lounge.
Next: Enjoy a salon or spa treatment at this New York lounge.
15. Virgin Atlantic Clubhouse, New York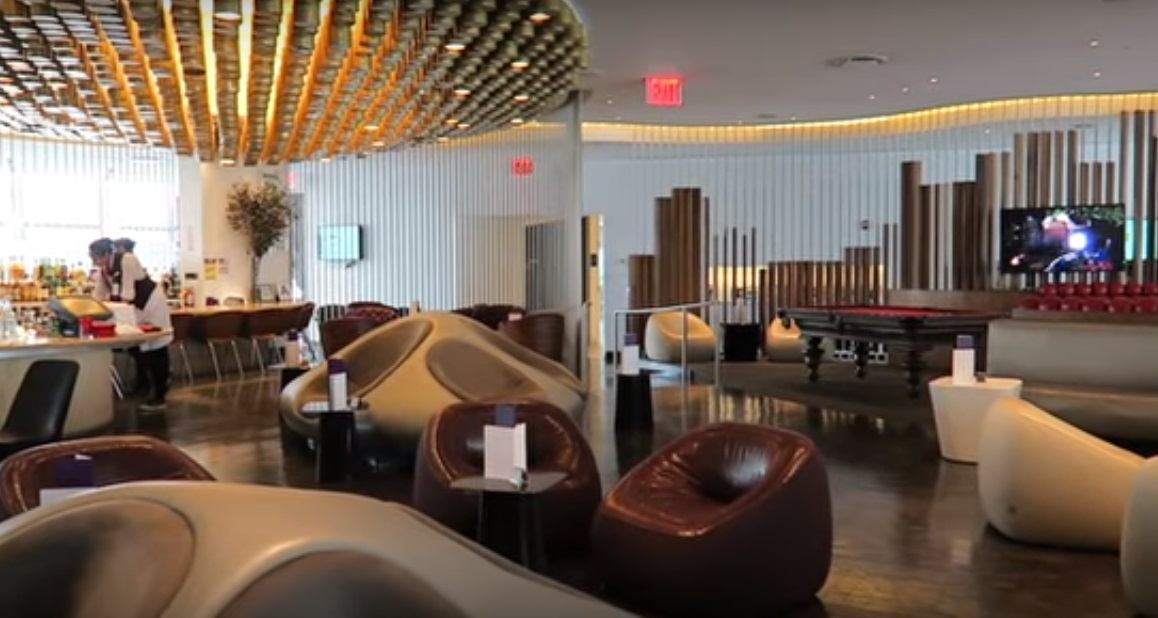 The next time you fly through JFK, you owe it to yourself to check out the Virgin Atlantic Clubhouse on Terminal 4. One of the newer airport lounges on the scene, this one has definitely generated its fair share of hype. But according to GateGuru, the Clubhouse has "all the amenities to back it up." Bravo notes that this lounge boasts a marble-topped cocktail bar. There, you can enjoy complimentary cocktails ranging from classic drinks to bespoke libations. Plus, the futuristic decor, the pod-like cocoons, the Bumble and bumble salon, and the spa will win over any tired traveler.
How to get in: You'll need to fly Virgin Atlantic's Upper Class, be a Gold elite member of the Flying Club, or have Diamond, Platinum, or Gold Medallion status with Delta on a flight to the U.K. operated by Virgin or Delta. Or, if you're an Elevate Gold member with Virgin America — or flying in First Class or Main Cabin Select — you can pay $75 per adult for access.
Read more: The Most Surprising Secrets TSA Agents Really Wish You Knew
Check out The Cheat Sheet on Facebook!