From Martha Washington to Melania Trump, These Are the Best (and Worst) First Lady Portraits Ever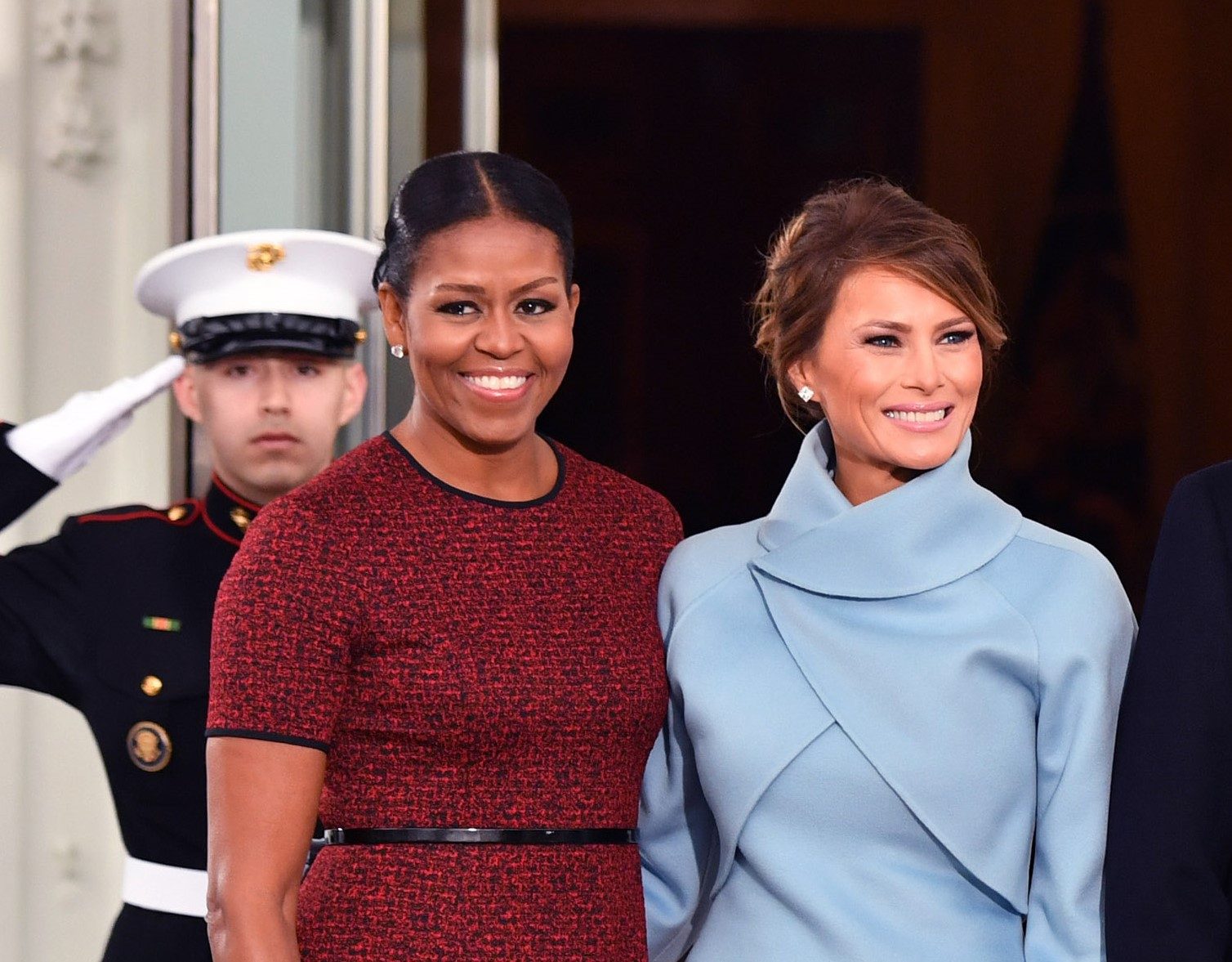 A first lady portrait is a piece of history.
If you want a snapshot of a political environment, look no further than a portrait. Based on clothing worn, painting or photograph style, and other elements, it not only depicts the era, but the feel of a presidency, too. From warm, inviting tones to cold colors, a lot goes into the mood of each first lady portrait.
And while a look through the White House's first lady portrait archives provides good insight into each first lady's life and role at the White House, some portraits are complete eyesores. Let's take a quick look at some of the worst and best first lady portraits ever — starting with the worst.
1. Melania Trump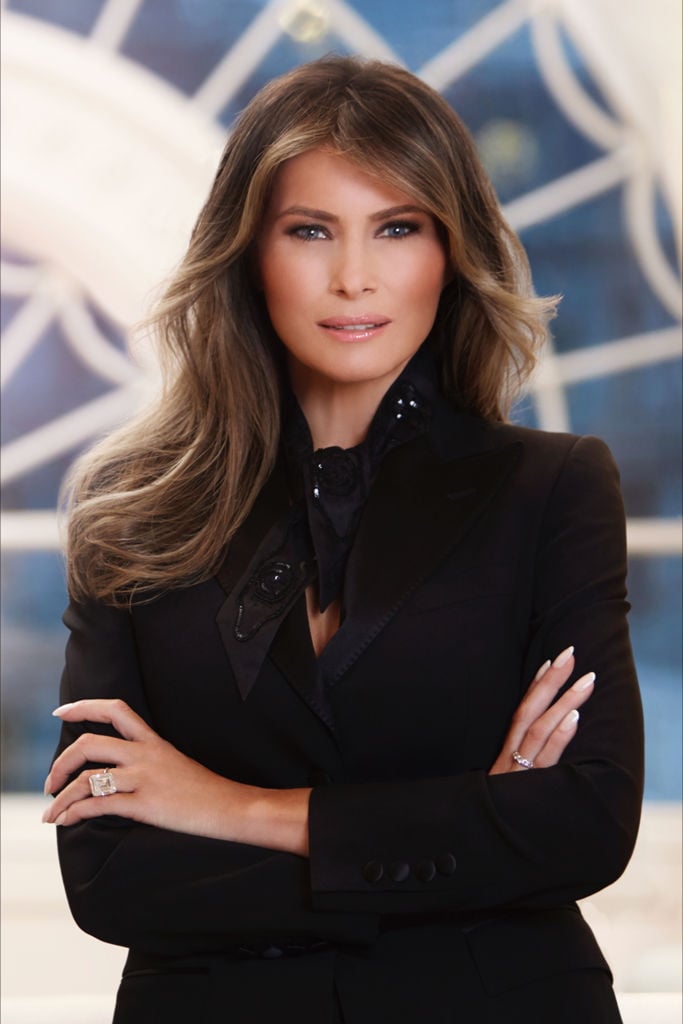 From inappropriate hurricane relief outfits to her astronomically priced garments, Melania Trump has done and worn some questionable things during her tenure as first lady. So, it should come of no surprise that the current first lady of the United States received some criticism for her official White House portrait.
In true Trump fashion, the first lady resembles more of a reality TV judge (that blue background resembles the American Idol set, doesn't it?) than a first lady.
Next: This first lady's portrait features a surprisingly abstract artistic style. 
2. Martha Jefferson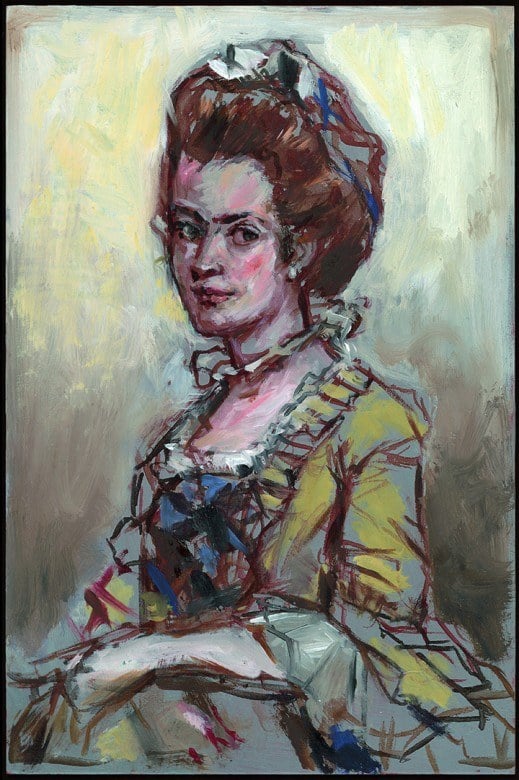 While we appreciate the abstract strokes in Martha Jefferson's official first lady portrait, the entire thing is a bit strange. The abstract style would look right at home at many museums but doesn't do a great job of conveying what Jefferson actually looks like. Not to mention: It sort of looks like fridge artwork done by a child.
Next: Conversely, this portrait might be a little too realistic. 
3. Mary Lincoln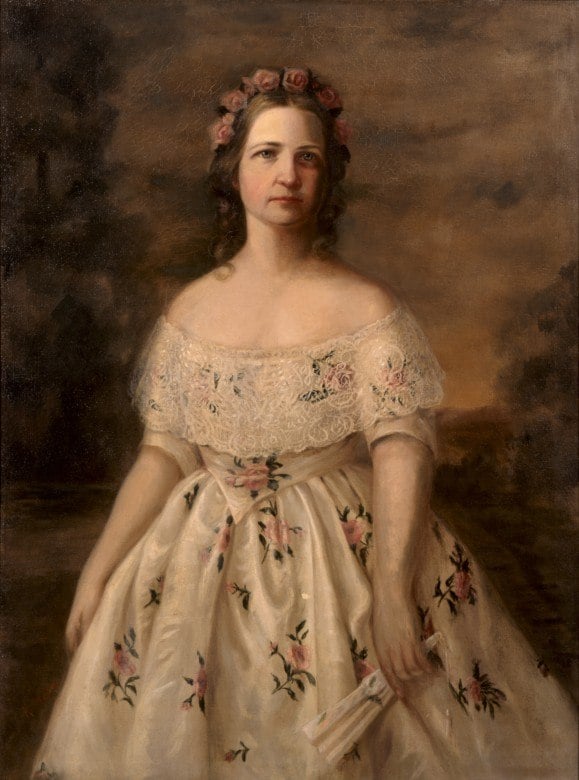 While we love Mary Lincoln, her first lady portrait could use some touching up. Particularly in the eye area, as it appears the former first lady had a black eye at the time of her sitting. Whether it's real or not, you'd think the artist could have covered it up for her!
Next: This is one confusing portrait. 
4. Eleanor Roosevelt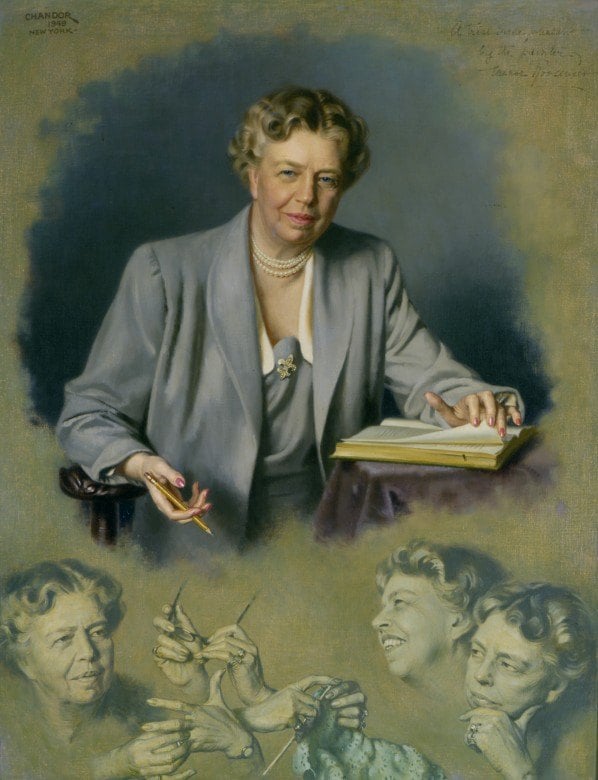 Eleanor Roosevelt's official first lady portrait brings on a wave of questions. For starters: What's with all of the facial expressions and hand gestures? We get that she wears glasses, likes to knit, and occasionally needs to remove her wedding ring, but is it necessary to capture these and include them in an awkward sequence below her portrait?
Next: This portrait looks a little too ghostly. 
5. Jacqueline Kennedy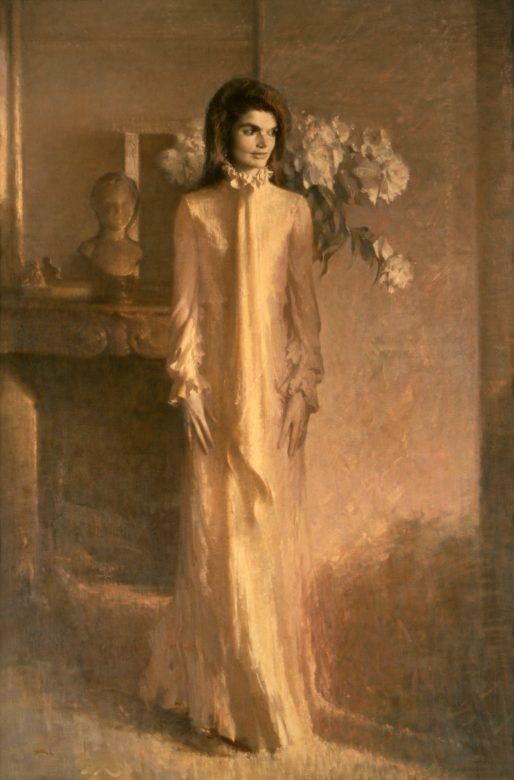 While most photographs of Jackie O. emulate impeccable style and grace, her official first lady portrait as Jacqueline Kennedy looks as if the former first lady is the White House's resident ghost. The artist's rendering of her pale complexion — and the first lady's choice of a long and old-fashioned dress — definitely don't make the painting any less eerie.
Next: This portrait looks very eerie. 

6. Rachel Jackson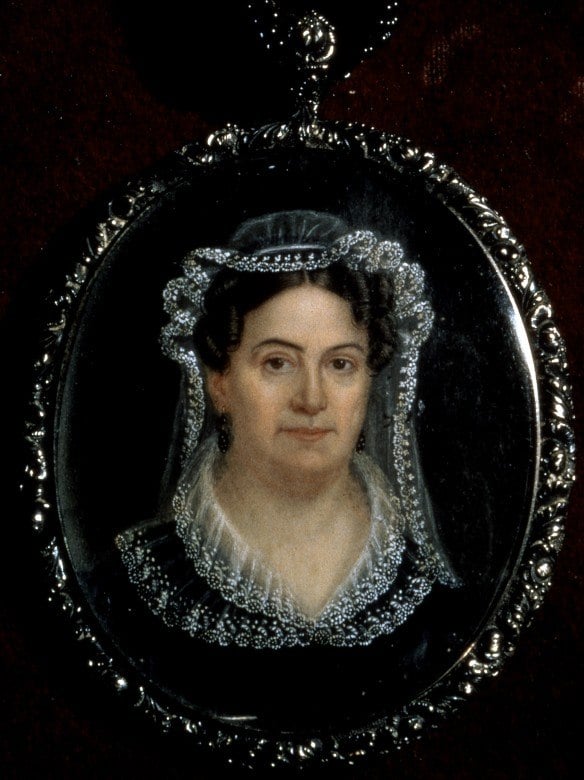 Is it just us, or does Rachel Jackson's first lady portrait look like it belongs in the Haunted Mansion at Disneyland? Resembling a haunted mourner, it looks like the kind of portrait where the subject's eyes would follow you, no matter what angle you view it from. In fact, we'd hate to tip-toe past this portrait on our way to the White House kitchen for a midnight snack.
Next: This photo seems too candid to serve as an official portrait. 
 7. Jane Pierce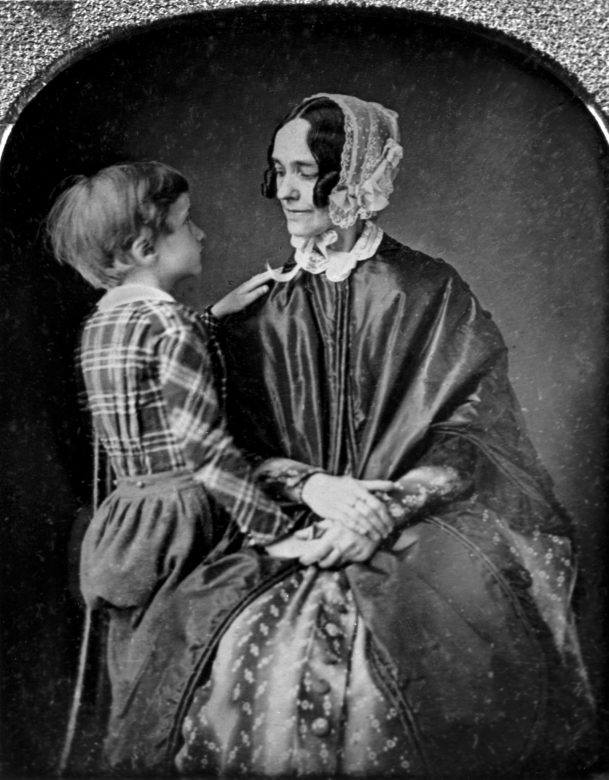 While there's nothing wrong with her first lady portrait, per se, Jane Pierce's White House portrait looks more like a sweet photo between mother and child than an official portrait.
Now that we've haunted you with the worst first lady portraits, let's take a look at some of the best. From Nancy Reagan to Michelle Obama, we share the most glamorous first lady portraits, ahead.
Next: This portrait looks picture-perfect. 
8. Michelle Obama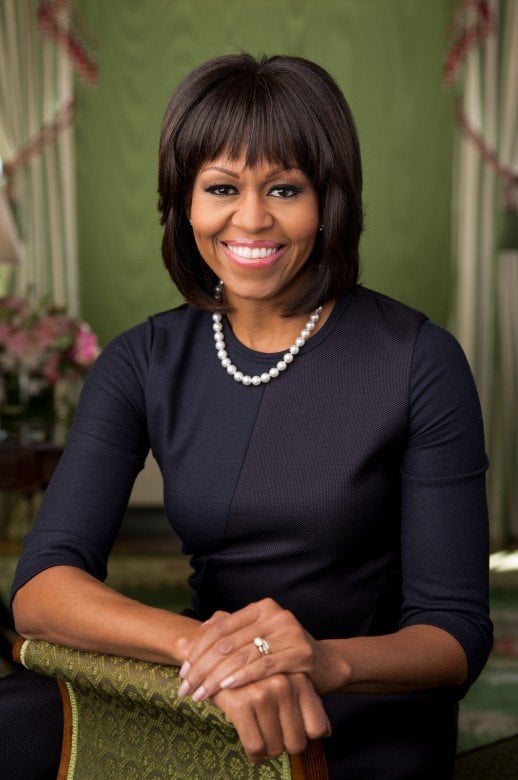 In a crisp photograph, Michelle Obama's warm, inviting smile beams from ear-to-ear (in a welcome contrast with the somber expressions of some of the first ladies who came before her). Not only does the former first lady look incredibly graceful and calm, but the mix of warm lighting and cool colors gives a more neutral feel to the piece.
Next: This stylized portrait still gives us an idea of what this first lady looked like.
9. Frances Cleveland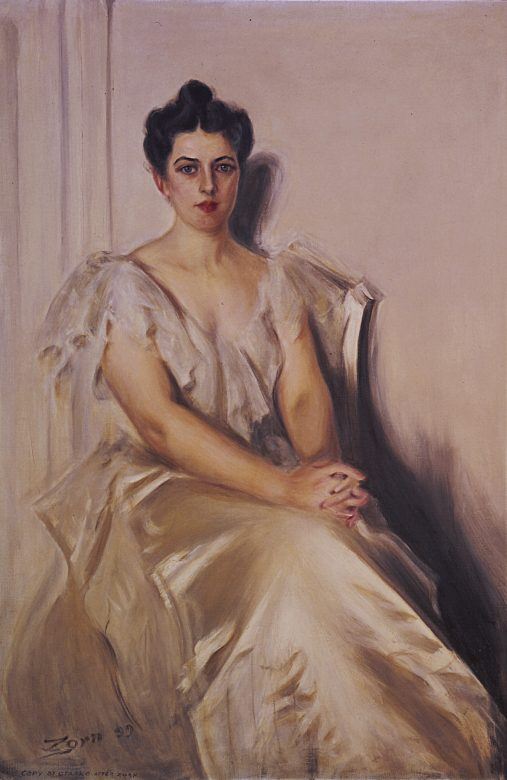 In a soft pink portrait, Frances Cleveland's official White House portrait has some major ballerina vibes. And while it is an older, more stylized portrait, we can still get a clear sense of what the former first lady looked like (which you can't say for a painting like Martha Jefferson's portrait).
Next: This portrait keeps things simple. 
10. Ellen Arthur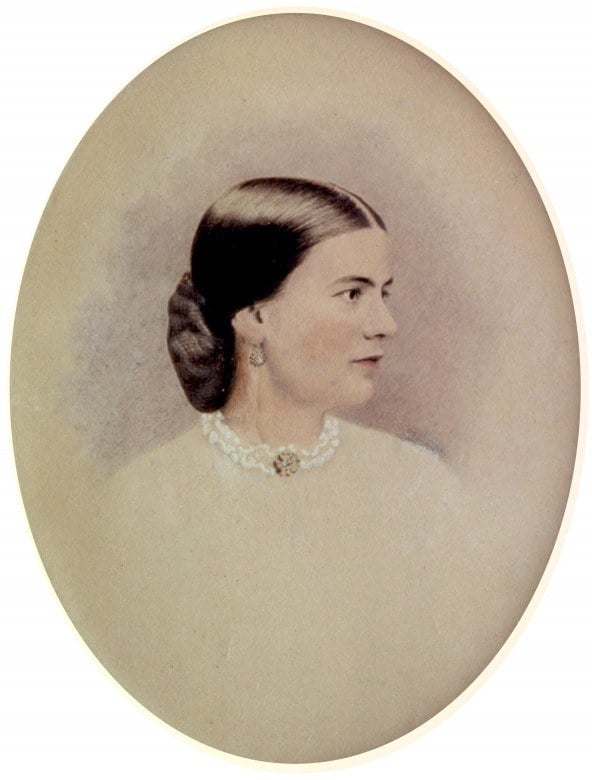 Perhaps one of the most simple portraits of the former first ladies, Ellen Arthur's official White House portrait proves that you don't need to be captured in a fancy dress or against a luxurious background to make an impression. We love the soft, simple brushstrokes in this portrait, as well as the profile angle of the former first lady.
Next: This first lady portrait looks glamorous but warm. 
11. Edith Roosevelt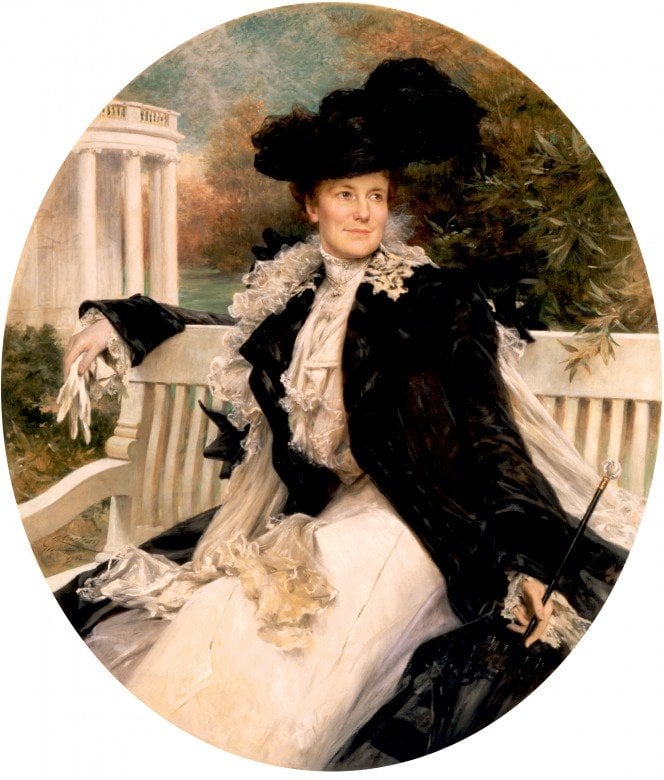 Edith Roosevelt brings early-1900s American glamour to life in her official first lady portrait. Sitting on a bench in Victorian-esque garb, the former first lady appears to be taking a break from her duties. The portrait looks warm and inviting. Not to mention: The expression on her face gives us a glimpse of her personality.
Next: This portrait includes a White House pet.
12. Grace Coolidge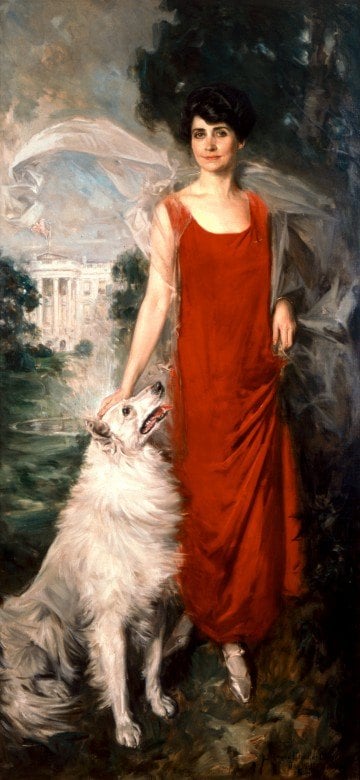 Grace Coolidge is the only first lady to include her most loyal companion in her official portrait, and we could not love her more for it. In addition, the former first lady chose to have her portrait painted in the White House gardens. She's seen in a chic, red, floor-length, and 1920s-esque gown. If you ask us, she looks ultra stylish and chic.
Next: This first lady looks just like a tourist in Washington.
13. Lady Bird Johnson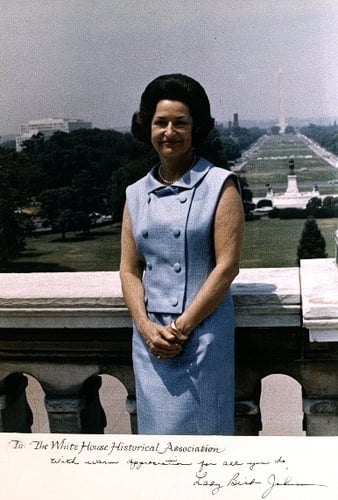 While she looks like a tourist admiring the National Mall, we can't help but swoon over Lady Bird Johnson's 1960s style in her first lady photograph. Pictured on a balcony of the U.S. Capitol, the first lady has an expression of pride across her face and shows a warm, welcoming smile.
Next: This portrait makes good use of a pastel color scheme. 
14. Betty Ford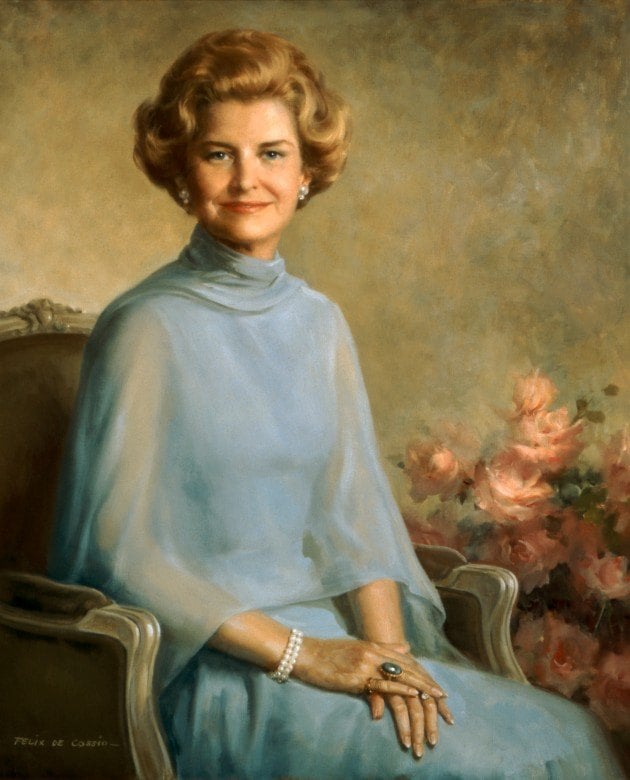 Pastels look good on Betty Ford! For her first lady portrait, she went with a warm pastel color story, featuring her in a baby blue flowy gown and coral-colored roses. The warmth of the portrait feels inviting and friendly, and it also gives the former first lady a sense of sweetness.
Next: This first lady looks glamorous in her portrait. 
15. Nancy Reagan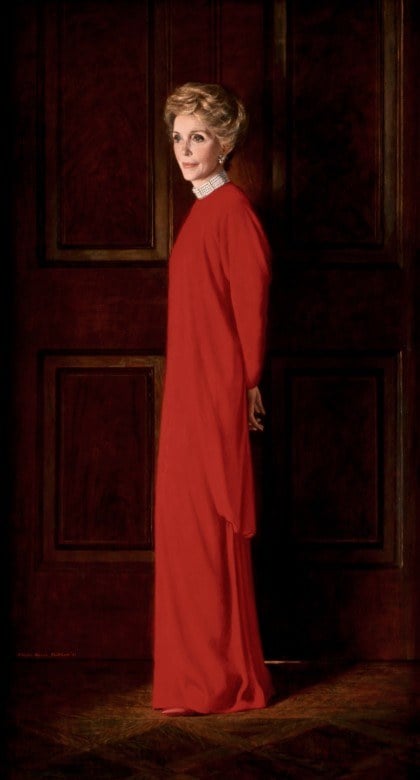 As a film actress turned first lady of the United States, Nancy Reagan has a regal air in her first lady portrait that shouldn't surprise anybody. Standing in a doorway with a warm spotlight on her, she emulates old Hollywood glamour, especially in her red gown.
Read more: These Are the Worst Presidential Portraits of All Time
Check out The Cheat Sheet on Facebook!