Best Blueberry Recipe Ever: The Only Blueberry Crumble Recipe You'll Ever Need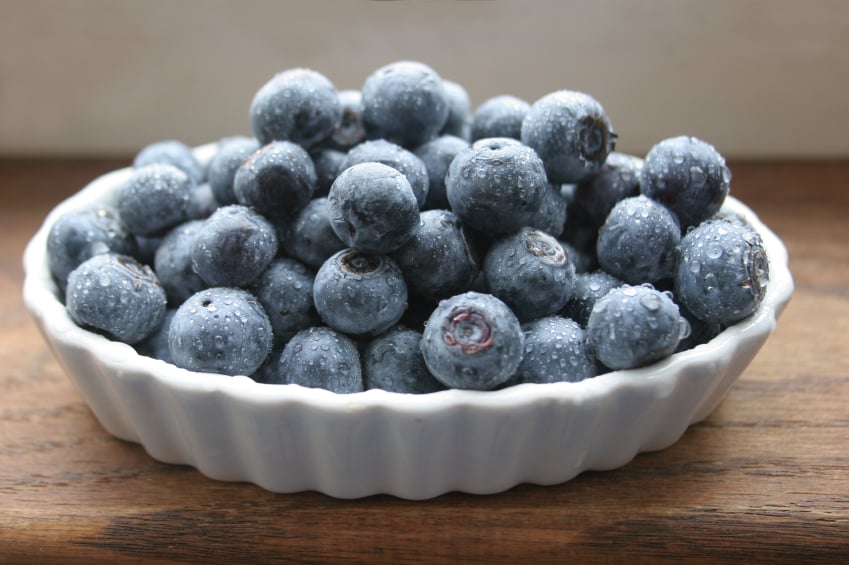 Stop wasting time in the kitchen. We've found the best recipes for your favorite foods, from burgers to breakfast burritos, so you can cook with confidence.
Fresh blueberries are in season in the U.S. from April through late September, and if you scooped up a few pints of this healthy fruit during your last shopping trip, you may be wondering what to do with them. Fortunately, there are plenty of delicious ways to incorporate this healthy fruit (blueberries are full of vitamin C and fiber and a good source of antioxidants) into your meals, from sprinkling them onto cereal or salads to baking them in a classic blueberry pie.
When I brought home a bucket full of fresh-picked blueberries last weekend, I  considered making a pie or pancakes with my bounty. But instead, I opted for blueberry crumble bars, which are just as tasty as a blueberry pie (in my opinion, at least), but way less fussy to make. I've made this recipe from Smitten Kitchen several times in the past, and always achieved near-perfect results with very minimal effort.
What makes this such an easy dessert? Rather than messing with pastry crust, these bars, which take only 30 minutes or so to prepare, have a simple press-in-pan shortbread base. The fresh blueberries are mixed with fresh lemon juice, sugar, and cornstarch, dumped on the shortbread, and then covered with a crumble topping. Once baked, they store well in the fridge (if they last that long!) and are easy to transport to picnics, potlucks, and parties. For someone like me, who enjoys baking but sometimes lacks the patience and attention to detail that more complicated recipes require, it's pretty close to a perfect summer dessert.
Blueberry Crumble Bars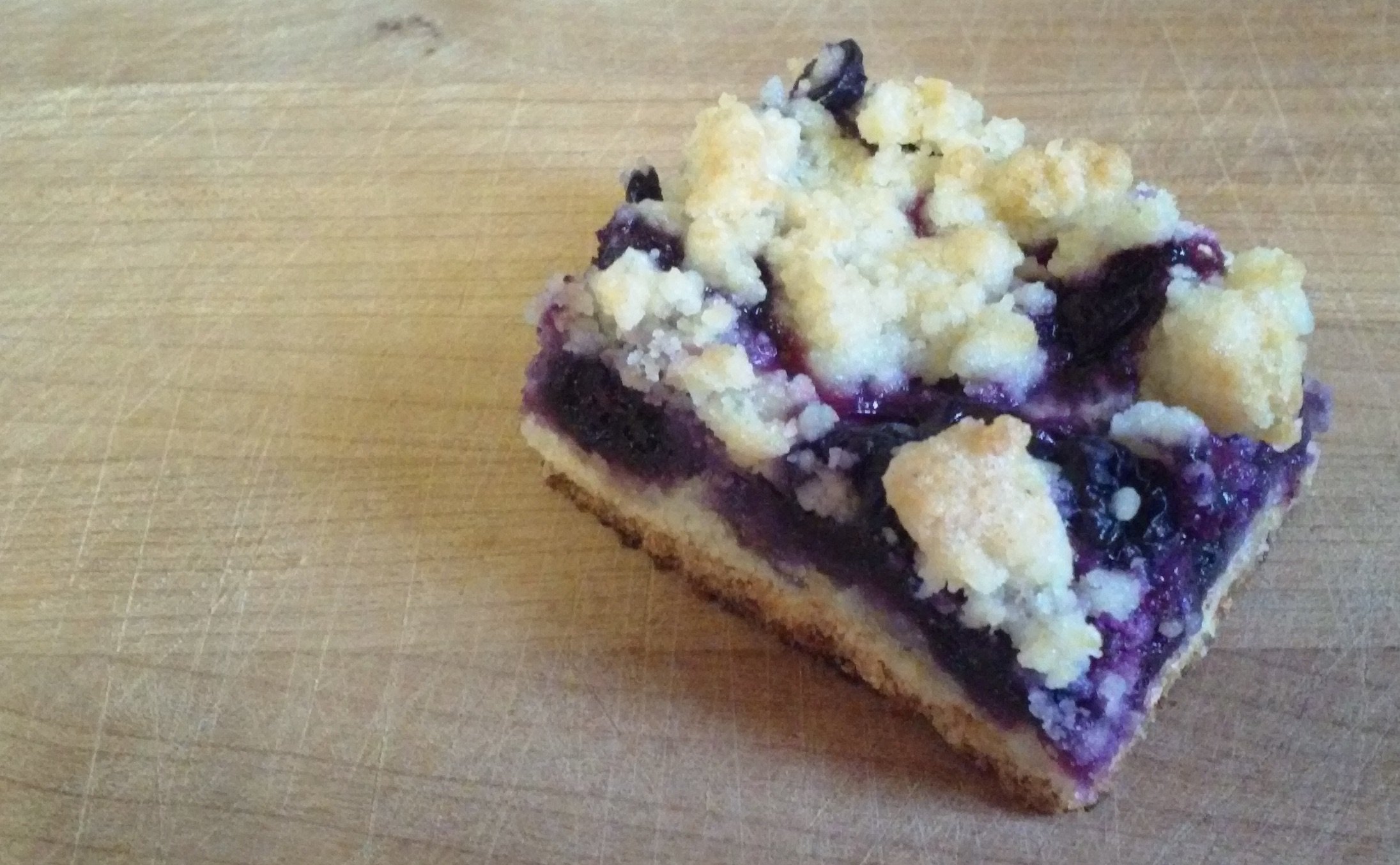 Deb Perelman at Smitten Kitchen upgraded a blueberry crumble bar recipe from Allrecipes.com by substituting unsalted butter for shortening and adding some fresh lemon juice and zest. Those small changes led to a dessert that's, in her words, "tart and buttery and fruity and tangy and crumbly." We agree and can't think of any way to improve on her version, which is reproduced below.
Ingredients:
1 cup white sugar
1 teaspoon baking powder
3 cups all-purpose flour
1 cup cold unsalted butter (2 sticks or 8 ounces)
1 egg
¼ teaspoon salt
Zest and juice of one lemon
4 cups fresh blueberries
½ cup white sugar
4 teaspoons cornstarch
Directions: Preheat oven to 375 degrees Fahrenheit. Grease a 9-by-13-inch baking pan.
Stir together 1 cup of sugar, 3 cups flour, and the baking powder in a large bowl. Mix in the salt and lemon zest. Using a pastry cutter or fork, blend in the butter and egg. (The dough will have a crumbly texture.) Divide the dough in half and pat half into the prepared pan, forming an even layer.
In a separate bowl, stir together the sugar, cornstarch, and lemon juice. Gently stir in the blueberries. Sprinkle the prepared blueberries over the shortbread crust. Crumble the remaining half of the dough over the berries.
Bake bars in the preheated oven for 45 minutes, until the top is slightly brown. Let cool completely, then slice into squares. Serve immediately or store, covered, in the refrigerator. Makes about 36 small bars.
Blueberry crumble recipe tips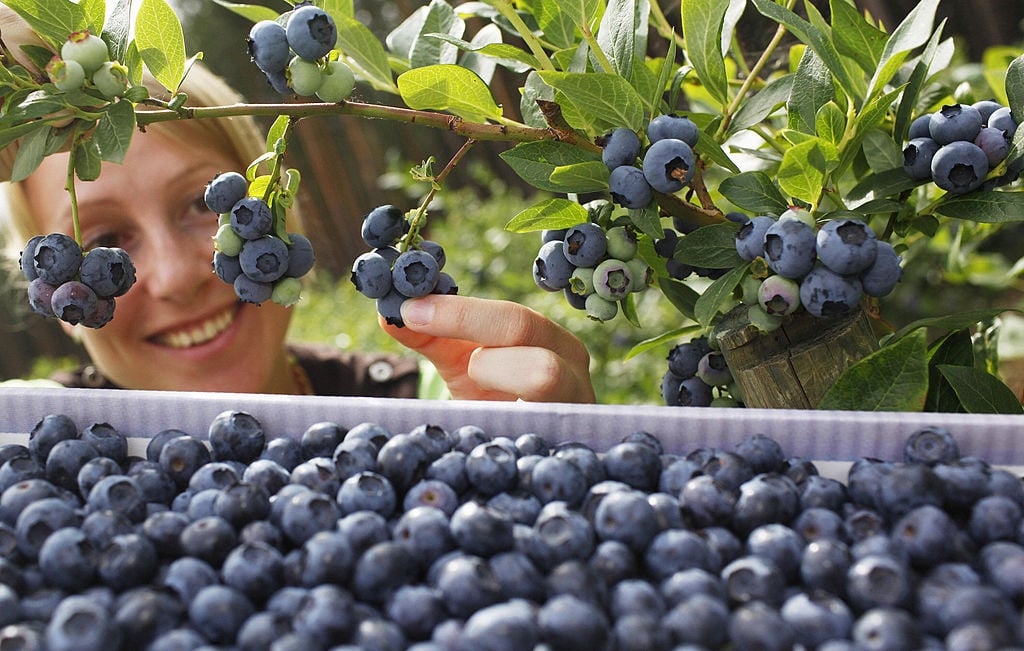 This recipe calls for fresh blueberries, but you can try using frozen blueberries if you have them. Some commenters on the original recipe suggest adding a little extra cornstarch to prevent sogginess if you do use frozen fruit. You can also experiment with using different types or combinations of berries, such as raspberries, sour cherries, blackberries, or cranberries. You may need to adjust the amount of sugar and cornstarch, however, if you substitute a different fruit. If you use cranberries, Perelman suggests using orange juice and zest rather than the lemon.
One ingredient you absolutely shouldn't substitute in this dish is the fresh citrus and zest. When I made my most recent batch of these bars, I discovered I didn't have a lemon on hand after I started cooking, so I used bottled lemon juice as a substitute. The result was still tasty, but it lacked the noticeably fresh lemon flavor that really makes the bars stand out.
It goes without saying that the better your blueberries, the better your bars will be. When shopping for fresh blueberries, look for ones that are firm, plump, and have a smooth skin with silvery bloom on the surface, according to the U.S. Highbush Blueberry Council. Don't worry so much about size, though; small blueberries are just as delicious as huge ones. But you should avoid fruits that aren't a deep purple-blue or blue-black color, as well as those that are shriveled or soft.
More from Culture Cheat Sheet: