10 of the Best Breakfast Casseroles to Make You Crawl Out of Bed
A breakfast casserole is a night owl's best friend. It makes it easy to prepare your breakfast the night before. In the morning, crawl out of bed, preheat your oven, and enjoy a hot breakfast in minutes. Breakfast casseroles are customizable, and they feed a crowd. You can either serve them for a Saturday morning brunch or prepare them on Sunday night for weekday breakfasts. Whether you like your morning meals savory or sweet, there's a breakfast casserole recipe for you. Check out this list to see where you want to start first.
1. Sausage-Hash Brown Breakfast Casserole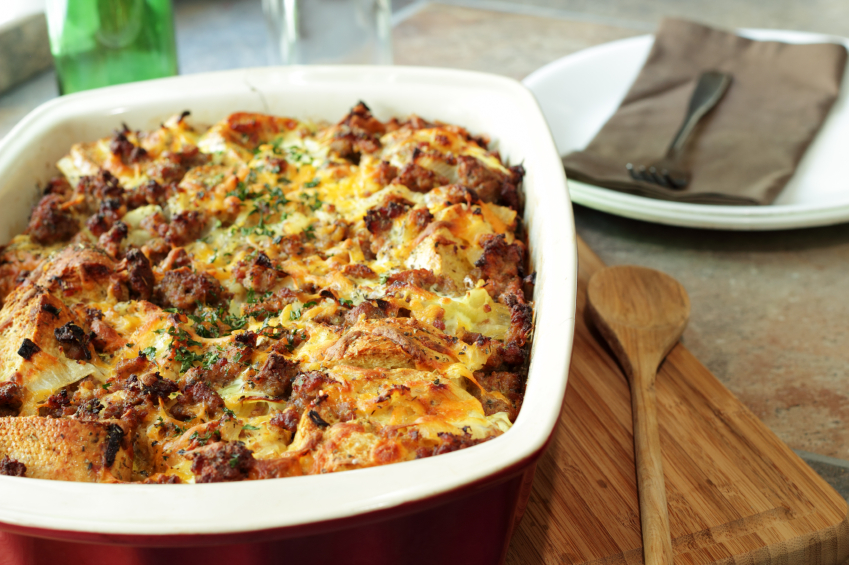 We're starting out on an indulgent note with this sausage-hash brown casserole from Southern Living. It's what brunch dreams are made of, and your guests will come back for seconds for good reason. The breakfast is made in a 9-by-13-inch baking dish. First go layers of sausage, hash browns, and cheese, followed by eggs. Bake the casserole for 35 to 40 minutes, and get ready for a hot breakfast that will wow your crowd. The recipe yields 10 servings, and you might find yourself hiding leftovers.
Serves: 10
Ingredients:
1 pound mild ground pork sausage
1 pound hot ground pork sausage
1 (30-ounce) package frozen hash browns
1½ teaspoons salt, divided
½ teaspoon pepper
1 cup shredded cheddar cheese
6 large eggs
2 cups milk
See recipe directions from Southern Living.
2. Ham and Cheese Brunch Bake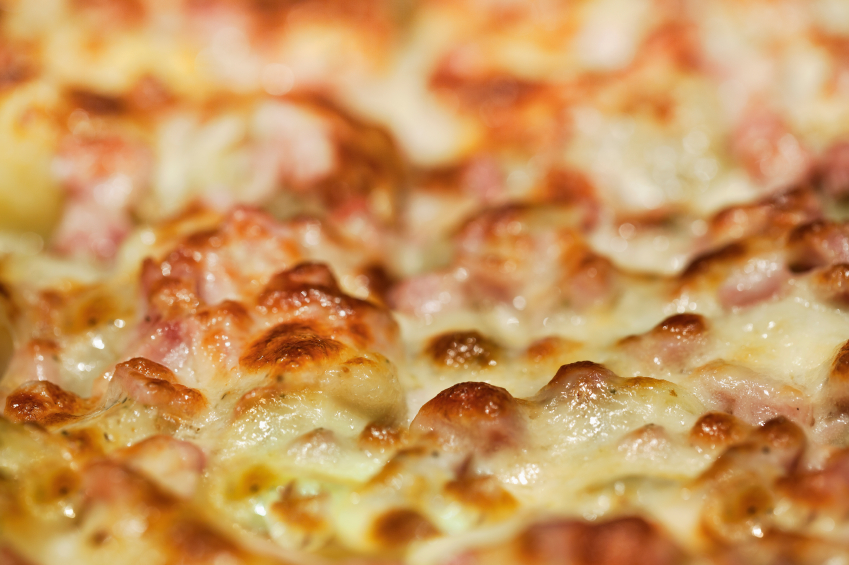 Meat and cheese lovers will go for this ham and cheese bake from Delish. It has all the components that make up a good morning: eggs, ham, cheese, and bread. The brunch bake will ease you into your day, and it's just as easy to make as it is to eat. You'll assemble your ingredients in a baking dish, and then bake your breakfast for about 45 to 55 minutes. If you're preparing your ham and cheese bake the night before, simply cover your dish with aluminum foil, and then bake as directed in the morning.
Ingredients:
10 large eggs
1½ cups milk
2 teaspoons Dijon mustard
2 teaspoons fresh thyme leaves, plus more for garnish
1 teaspoon garlic powder
Kosher salt
Freshly ground black pepper
4 cups cubed French bread or baguette
½ pound ham, chopped
1½ cups shredded white cheddar
See recipe directions from Delish.
3. French Toast Casserole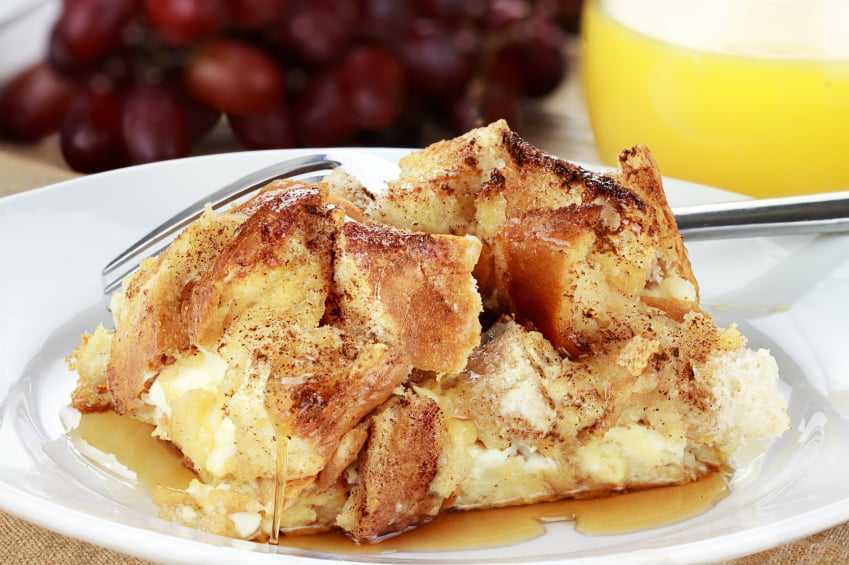 Breakfast casseroles can also be sweet, depending on your cravings for the morning. For those who like to start their days on a sweet note, there's this overnight French toast casserole from Tablespoon. It's all about the carbs, cinnamon, brown sugar, and vanilla. By preparing your casserole the night before, you allow the bread to marinate in the mixture overnight, and the carbs soak up the cinnamon vanilla flavor. The next morning, simply bake the casserole for 45 minutes, and enjoy. Luckily, the breakfast serves 16, so there's plenty to go around. And it's the perfect "treat yourself" morning meal if you need help getting out of bed.
Serves: 16
Ingredients:
¼ cup butter
¾ cup brown sugar
6 eggs
2 cups milk
1 teaspoon vanilla
1 tablespoon powdered sugar
¼ cup brown sugar
½ teaspoon cinnamon
1 French loaf toast bread, cut into ½ inch slices
2 tablespoons melted butter, for drizzling
¼ cup pecans, if desired
See recipe directions from Tablespoon.
4. Pancake Breakfast Casserole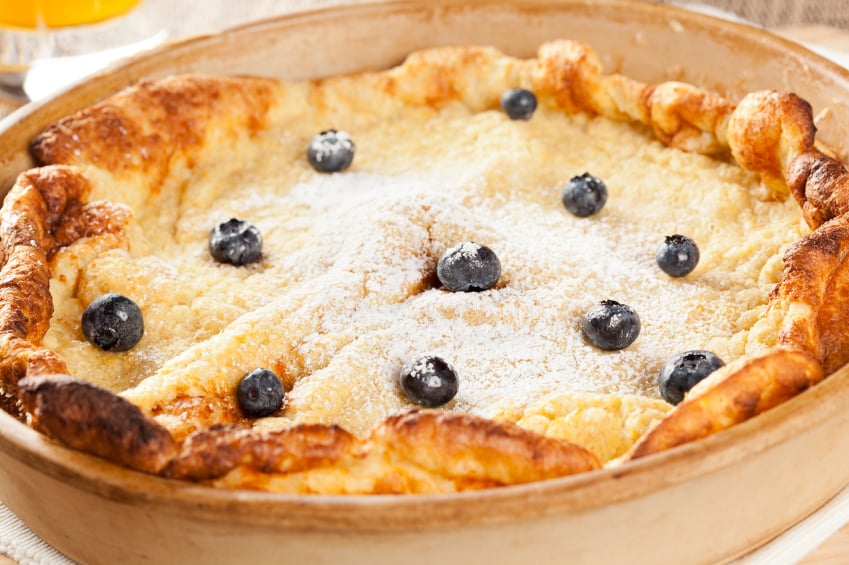 You can also make your favorite pancake breakfast into a casserole. See this recipe from Food Network for directions. It's all about baking your hot cakes in a rich creamy custard made from half-and-half, vanilla, eggs, and sugar.  The end result will be a decadent breakfast casserole you can serve with maple syrup, blueberries, and butter. You and your family deserve to take your typical pancakes up a notch, and now you can by combining the hot cakes with creamy custard in a baking dish. Plan on baking your breakfast for 50 to 60 minutes.
Serves: 6 to 8
Ingredients:
1¾ cups all-purpose flour
1½ teaspoons baking powder
1¾ cups buttermilk
See recipe directions from Food Network.
5. Red Pepper, Potato, and Ricotta Casserole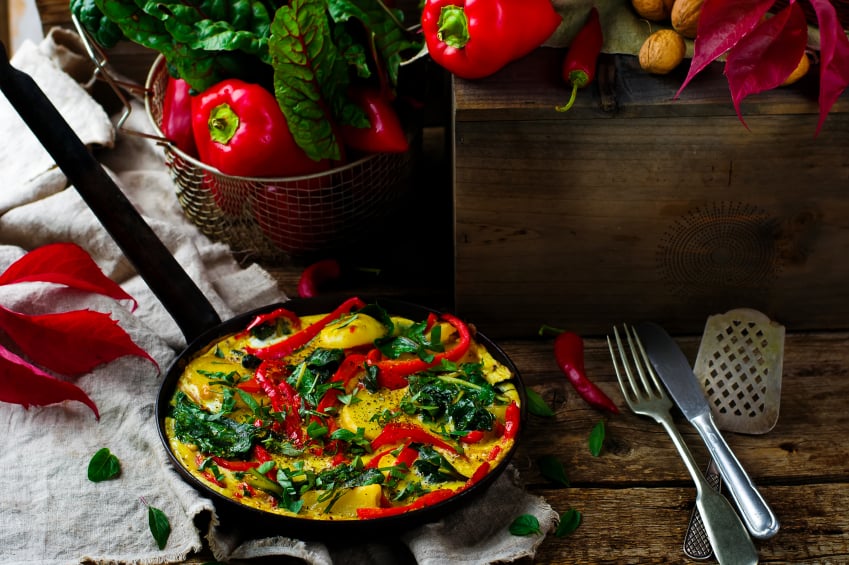 This next Italian casserole recipe is different than the aforementioned on our list in that it's perfected in a skillet, rather than a baking dish. The red pepper, potato, and ricotta casserole from Southern Living is meat-free, meaning it can be fed to eaters of all kinds. Who needs meat when you have an egg dish studded with rich ricotta, salty potatoes, and crunchy peppers? Even more cheese in the form of Parmesan is thrown into the mix, along with fresh chives and parsley. You'll bake your breakfast casserole for about 40 minutes until it's puffy and set, and then you can serve it immediately.
Serves: 6
Ingredients:
1 jarred roasted red bell pepper
12 large eggs
½ cup freshly grated Parmesan cheese
3 garlic cloves, minced
2 tablespoons chopped fresh flat-leaf parsley
2 tablespoons chopped fresh chives
¾ teaspoon salt
¼ teaspoon pepper
16 frozen rosemary-and-garlic potato wedges, thawed
6 tablespoons ricotta cheese
See recipe directions from Southern Living.
6. Spicy Kale and Sweet Potato Egg Bake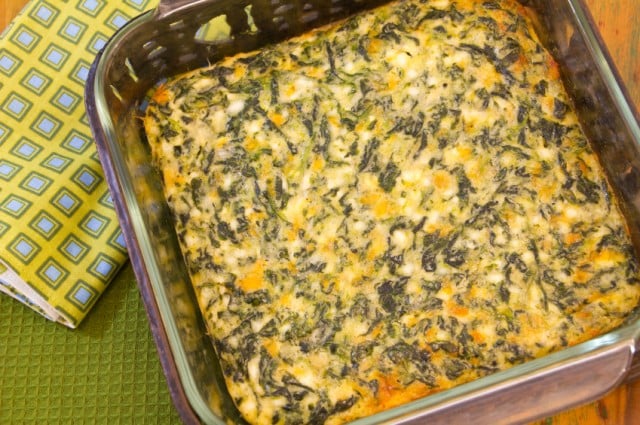 Here's another healthy vegetarian breakfast casserole you can feel good about eating each morning: the spicy kale and sweet potato egg bake from The Kitchn. You can prepare the spicy kale and sweet potatoes two days in advance, and then all you need to do is add them to a baking dish along with the egg mixture and cheese. Bake for 35 minutes, and then get ready to dig in. The breakfast bake might seem sophisticated, but it's easy to make. And the combination of sweet potatoes, kale, and eggs is a surprisingly delicious trifecta.
Serves: 6
Ingredients:
2 medium sweet potatoes (about 1½ to 2 pounds total), peeled and cut into 2-inch cubes
3 tablespoons olive oil, divided
1 teaspoon kosher salt, divided
¼ teaspoon freshly ground black pepper
Cooking spray or butter
2 medium shallots, diced
2 cloves garlic, minced
3 cups coarsely chopped kale leaves with the center ribs removed
1 teaspoon ground cumin
½ teaspoon smoked paprika
8 large eggs
¾ cup full-fat sour cream
1 tablespoon gochujang
⅓ cup shredded Parmesan cheese
See recipe directions from The Kitchn.
7. Bacon and Eggs Breakfast Casserole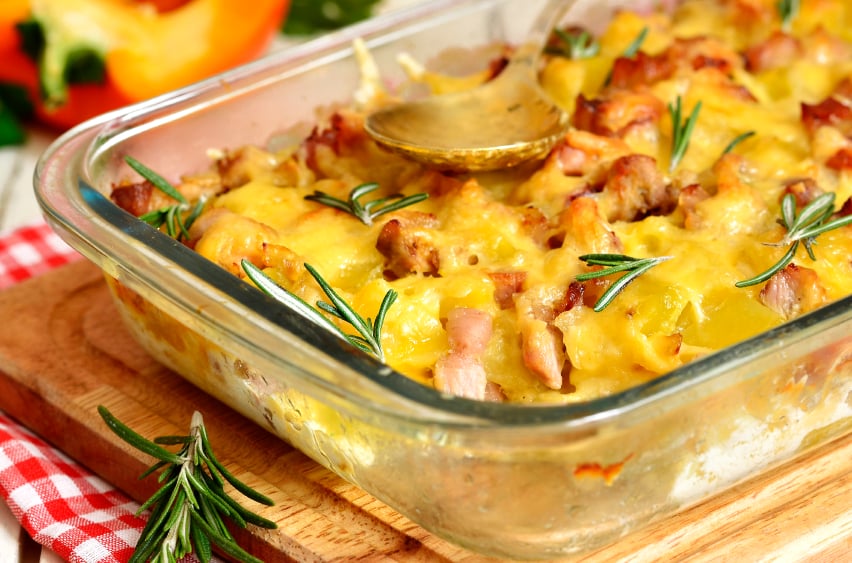 Back to the indulgent side of things, we come to this bacon and eggs breakfast casserole from Martha Stewart. It's similar to a quiche in that it has a custard center, but it takes a welcomed short cut with store-bought puff pastry. That helps cap the prep time at 25 minutes, and you'll bake your casserole for 40 minutes. Similar to a couple of other breakfasts on our list, this bacon and egg bake is perfected in a dough-lined skillet, and you'll know it's done when the filling is set and the top is golden brown.
Serves: 4
Ingredients:
¼ pound store-bought puff pastry, thawed
8 ounces (about 12 slices) bacon, cut crosswise into ½-inch strips
1 medium onion, halved and thinly sliced
3 large eggs
½ cup heavy cream
Salt and fresh ground pepper
1½ cups grated (4 ounces) Gruyere cheese
See recipe directions from Martha Stewart.
8. Bananas Foster Breakfast Casserole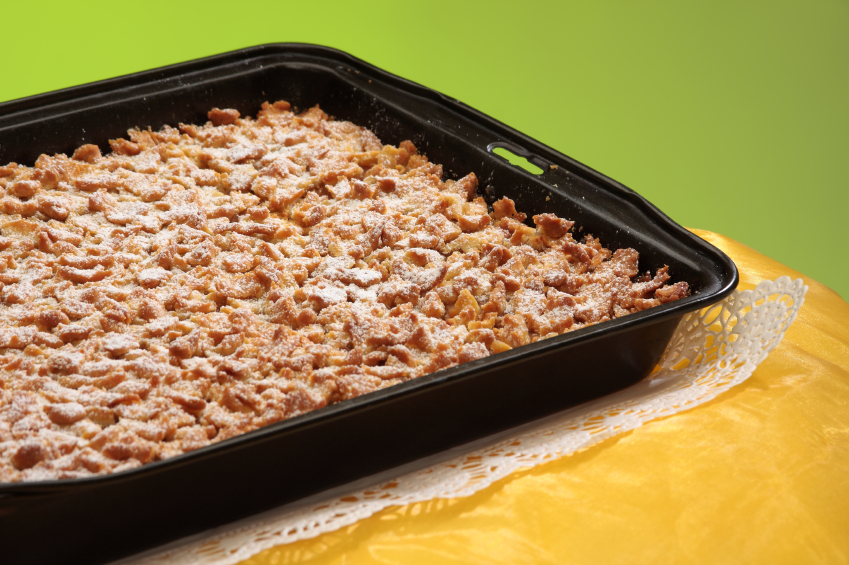 A bananas foster breakfast casserole is the morning meal everyone deserves for getting out of bed on time. Follow these instructions from Cooking Light, and make yours on your own. If you have 15 minutes of time on your hands, you can do it. You even get to add rum to the mix. You'll first master the buttery banana-studded casserole, and then it's time to prepare your streusel. The end result is a deliciously decadent bananas foster breakfast strata that is worth devastating every diet. There are times to splurge, and that time is now.
Serves: 14
Ingredients:
Casserole:
1 tablespoon canola oil
1 tablespoon butter
3 medium bananas, sliced
½ cup rum
1 cup packed brown sugar
½ teaspoon salt
1 cup half-and-half
½ cup granulated sugar
4 large eggs, lightly beaten
2 (12-ounce) cans fat-free evaporated milk
1 (1-pound) French bread baguette, cut into ½-inch cubes
Cooking spray
Streusel:
1½ ounces all-purpose flour (about ⅓ cup)
¼ cup chopped walnuts
¼ cup packed brown sugar
¼ cup old-fashioned rolled oats
⅛ teaspoon salt
1 tablespoon canola oil
2 tablespoons powdered sugar
See recipe directions from Cooking Light.
9. Slow-Cooker Overnight Breakfast Casserole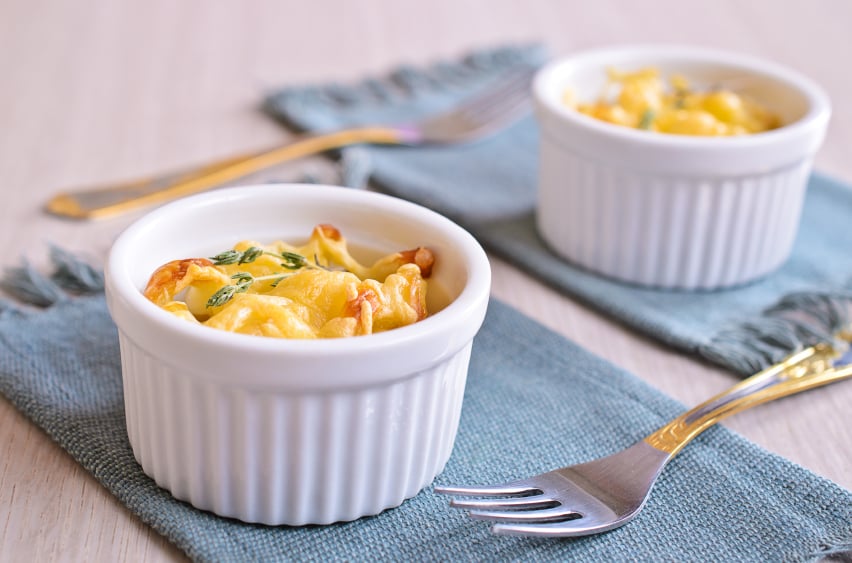 Lazy home cooks will love this next option of making your overnight breakfast casserole in a slow-cooker. The recipe comes from Food Network, and it teaches you how to enlist your crockpot to do the hard culinary work for you. The end result is a breakfast casserole you can enjoy all week. Your sausage, egg, and cheese casserole cooks for seven to eight hours in the crockpot, and hash browns and green onions are also thrown into the mix. You'll love the layers of your favorite breakfast items cooked together in one casserole, and when you wake up to the smell of this hot breakfast, you'll thank your slow cooker for making mornings that much easier.
Serves: 12
Ingredients:
2 packages breakfast sausage
1 cup chopped green onions
1 sweet red bell pepper, chopped
1 can (4 ounces) diced mild green chilies
¼ cup chopped fresh cilantro
1 package (30 ounces) frozen shredded hash brown potatoes
1½ cups shredded cheddar cheese
12 eggs
1 cup milk
½ teaspoon salt
⅛ teaspoon pepper
See recipe directions from Food Network.
10. Apple-Stuffed Breakfast Casserole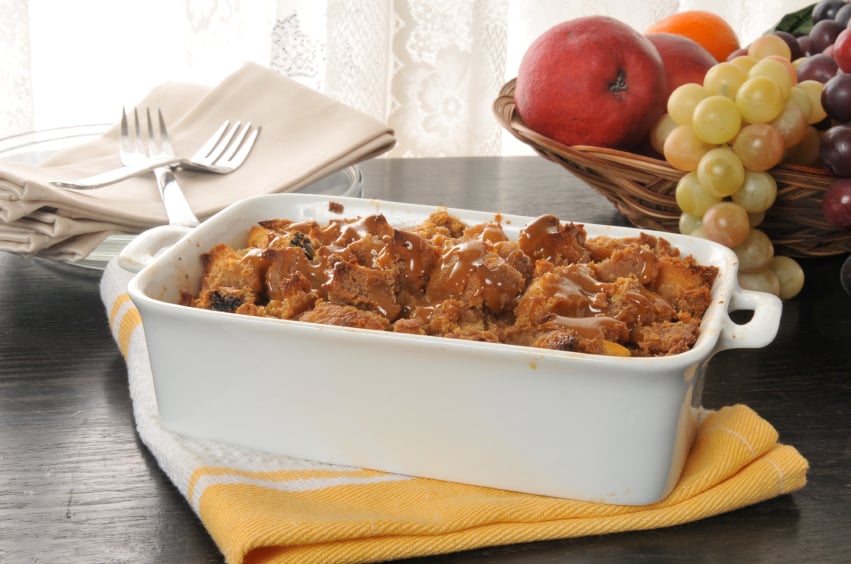 Concluding things on a sweet note, we come to this apple-stuffed breakfast casserole from Cooking Light. It's one last make-ahead breakfast that requires minimal effort in the morning. You can prepare the entire casserole the night before, and then simply add pecans and sugar in the morning before baking your breakfast for about 50 minutes. The casserole can either serve as the perfect Saturday morning breakfast or a simple treat for yourself every morning of the week. It's hard to get out of bed in the morning, but when you have an apple-stuffed strata waiting for you, the alarm clock doesn't sound as bad.
Serves: 8
Ingredients:
2 teaspoons butter
4 cups sliced peeled apple
6 tablespoons granulated sugar, divided
Cooking spray
12 (1-ounce) slices cinnamon-swirl bread, cut in half diagonally
¾ cup chopped pecans, divided
1½ cups 1% low-fat milk
½ teaspoon ground cinnamon
5 large eggs
1 tablespoon turbinado or granulated sugar
See recipe directions from Cooking Light.