The Best Chocolate Cake Recipes You Need to Try
Chocolate cake is a no-brainer when it comes to desserts that are sure to please a crowd. Not many can turn down the classic show-stopper that is chocolate cake and few want to resist it. A thick slice of chocolate cake is the perfect way to round out a meal and it doesn't hurt that the classic treat is easy to make, either. We're rounding up the best chocolate cake recipes so you can pull out your ingredients and quickly get to work the next time you're baking to impress. Follow the fool-proof cake formulas and get ready to become your guests' new best friend.
1. Classic Chocolate Cake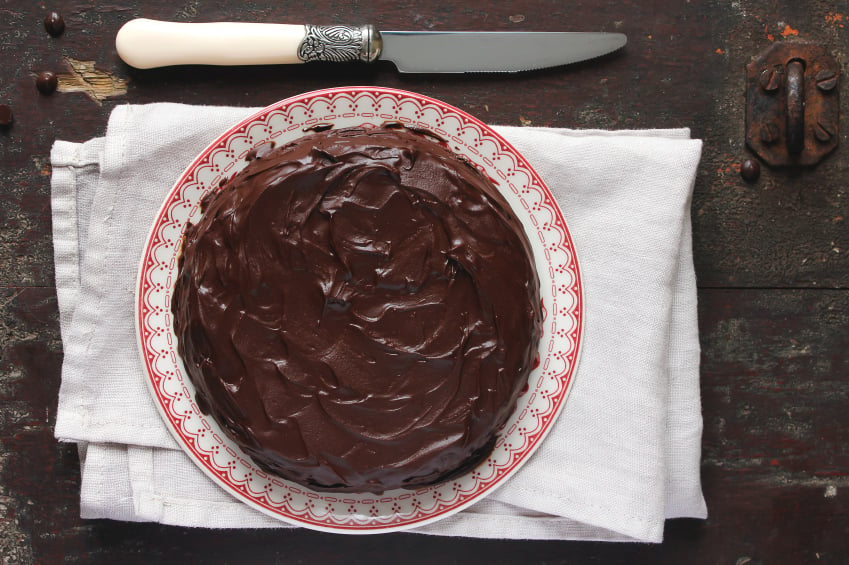 Our first recipe comes from Food & Wine and it yields the classic chocolate cake you've grown up eating. Food & Wine labels it mom's chocolate cake, and it's an old-fashioned layer cake that is made from baking staples and is extremely easy to prepare. The cake is best baked the day before serving, so get it in your oven on the eve of your party and be sure to let the layer cake cool if you can resist dipping into it.
Ingredients:
2 cups all-purpose flour
2 teaspoons baking powder
2 teaspoons baking soda
1 teaspoon salt
2 cups sugar
4 ounces unsweetened chocolate
6 tablespoons unsalted butter
1 teaspoon pure vanilla extract
2 eggs, lightly beaten
Chocolate frosting
Head to Food & Wine for the full recipe. 
2. Red Wine Chocolate Cake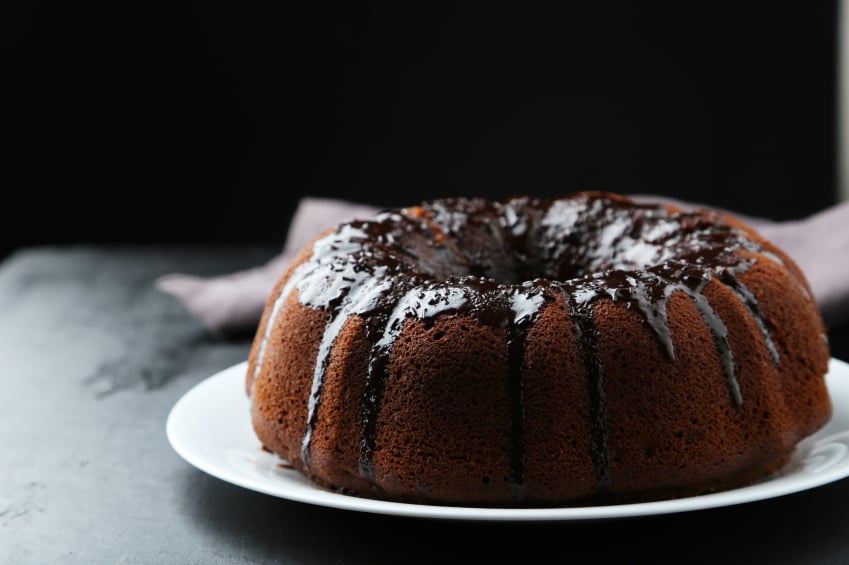 It doesn't get better than chocolate cake. And then wine gets involved and all your boozy dessert dreams come true. This recipe for red wine chocolate cake comes from Broma Bakery, and the booze is in both the cake layer and chocolate ganache. The red wine keeps the cake moist while also lending its black cherry flavor, and the rich dark chocolate cake takes only 40 minutes to bake.
Ingredients:
Bundt cake
12 tablespoons butter, room temperature
¼ cup brown sugar
¾ cup granulated sugar
3 large eggs
2 teaspoons vanilla extract
2 ¼ cups all-purpose flour
¾ cup unsweetened cocoa powder
2 teaspoons baking powder
1 teaspoon baking soda
½ teaspoon salt
½ cup yogurt
¾ cup Pinot Noir
Red wine-chocolate ganache
5 ounces dark chocolate
⅓ cup Pinot Noir
Head to Broma Bakery for the full recipe. 
3. Flourless Chocolate Cake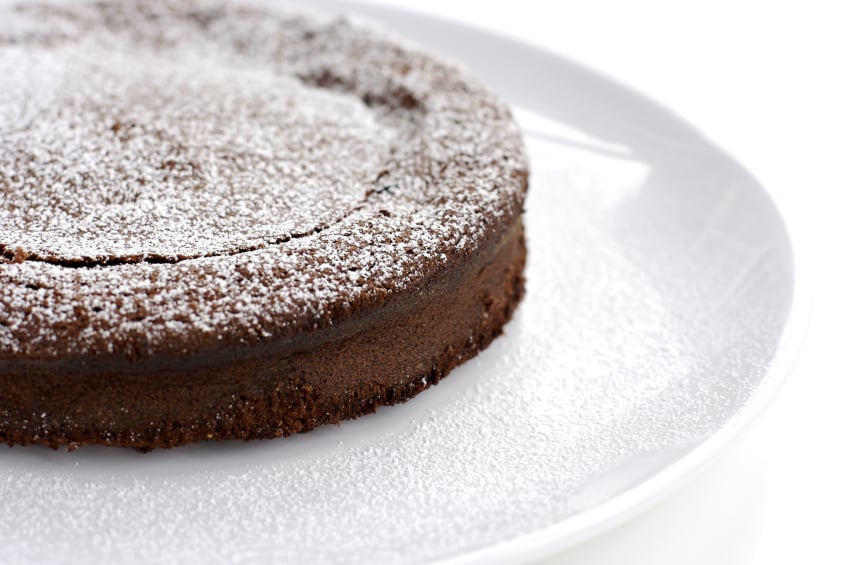 Another classic chocolate cake formula is that which goes without flour. Flourless chocolate cake is rich and fudgy, and this recipe from Martha Stewart requires only 5 ingredients: butter, chocolate, eggs, and two types of sugar. The cake will have a crispy outer layer and a moist inside, and it is delicious enough on its own that it doesn't need a frosting, but rather, only a light dusting of confectioners' sugar.
Ingredients:
6 tablespoons unsalted butter, plus more for pan
8 ounces bittersweet or semisweet chocolate, finely chopped
6 large eggs, separating yolks and egg whites
½ cup granulated sugar
Confectioners' sugar, for dusting
Sweetened whipped cream, for serving
Head to Martha Stewart's website for the full recipe. 
4. Chocolate Peanut Butter Cake
Here is another chocolate cake that doesn't require flour, but instead, enlists another special ingredient: peanut butter. The chocolate peanut butter cake comes from Gimme Some Oven and it again only requires a handful of ingredients and 30 minutes of prep time. The peanut butter chocolate ganache swirl that decorates the top of the cake also makes it a show-stopper, meaning it not only tastes delicious, it looks great, too. As long as you have eggs, chocolate, butter, heavy cream, and peanut butter, you can make this cake.
Ingredients:
Cake
8 large eggs, cold
1 pound dark, semisweet or bittersweet chocolate, coarsely chopped
1 cup unsalted butter, cut into small pieces
½ cup creamy peanut butter
Peanut Butter-chocolate ganache swirl
3 ounces dark, semisweet or bittersweet chocolate, coarsely chopped
⅓ cup heavy cream
⅓ cup creamy peanut butter
Head to Gimme Some Oven for the full recipe.
5. Molten Chocolate Cake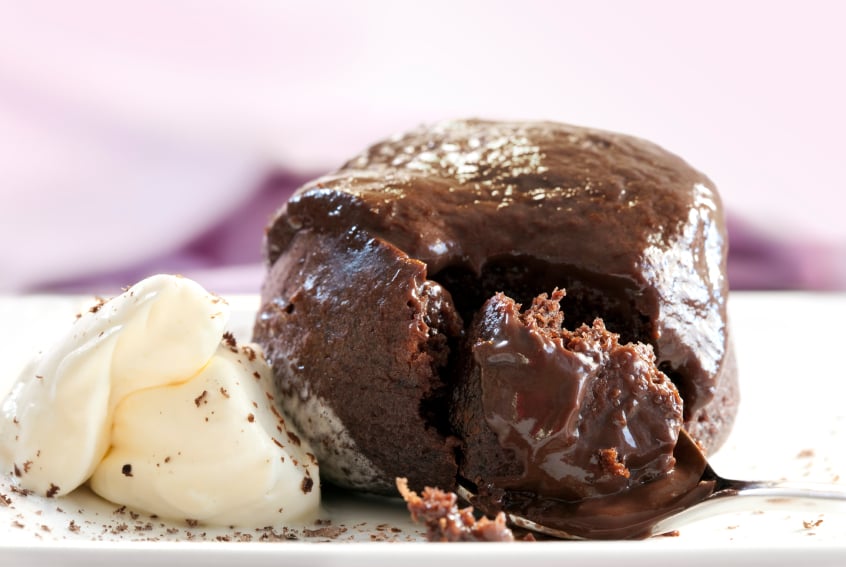 Molten cakes are generally reserved for restaurant desserts, but you can easily master the molten at home, too. Follow this recipe for a molten chocolate cake from Bon Appétit and see how it's done. The secret to the perfect molten cake is all in the baking time, and while many recipes call for under-baking the cake to get a raw, runny middle, Bon Appetit's version actually has you melting the ganache center. Follow the fool-proof instructions and get ready to impress yourself.
Ingredients:
¼

cup

heavy cream

7

ounces

bittersweet chocolate, chopped into small pieces, divided

6

tablespoons

unsalted butter, plus more for ramekins

Demerara or raw sugar (for sprinkling)

3

large eggs

⅓

cup

light brown sugar

1

teaspoon

vanilla extract

3

tablespoons

all-purpose flour

½

teaspoon

kosher salt
Head to Bon Appétit for the full recipe. 
6. Chocolate Sheet Cake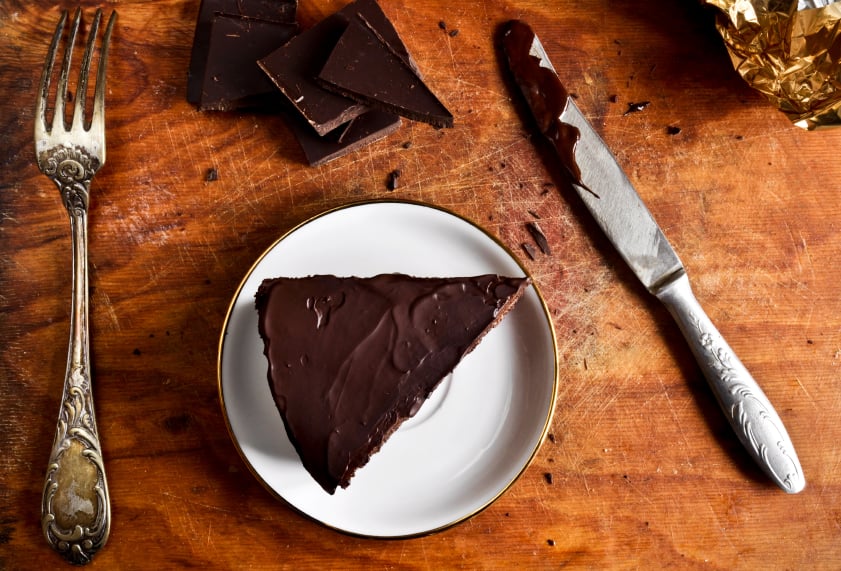 Last is the traditional chocolate sheet cake featured on Food Network. It feeds a crowd (24!) and is sure to please everyone, making it the perfect dessert to serve when you know you need to satiate and satisfy an army. This cake is a fuss-free treat that takes fewer than 30 minutes to prepare and is simple to bake, cut, and serve. The old-fashioned cake is a classic for a reason, and the simple chocolate base with traditional icing will appeal to eaters of every age. Get your butter and get baking.
Ingredients:
Cake
2 cups all-purpose flour
2 cups sugar
¼ teaspoon salt
½ cup buttermilk
1 teaspoon baking soda
1 teaspoon vanilla extract
2 large eggs
2 sticks butter
4 heaping tablespoons cocoa powder
Icing
1 ¾ sticks butter
4 heaping tablespoons cocoa powder
6 tablespoons milk
1 teaspoon vanilla extract
1 pound powdered sugar
½ cup finely chopped pecans, optional
Head to Food Network for the full recipe.