The Best Healthy Chicken Recipes to Make For Dinner
If your midweek chicken meals are boring and bland, you're doing dinner wrong. There are many easy, delicious, and healthy chicken recipes. As long as you arm yourself with a multitude of different chicken dinners, your dining guests won't groan about the weeknight staple. And you can feel good about serving dishes that are both nutritious and tasty. Here are 10 of the best healthy chicken recipes you and your family will enjoy.
1. Spicy Kale and Corn-Stuffed Chicken Breasts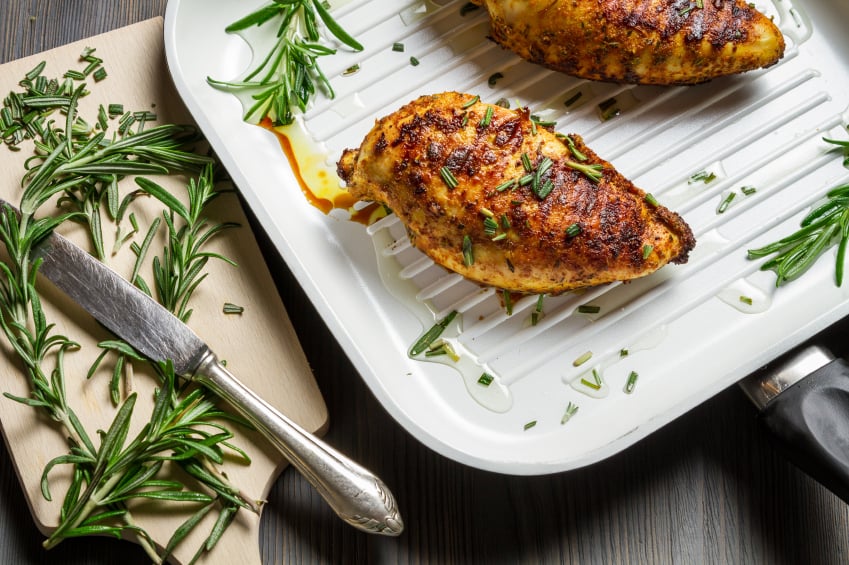 Chicken breasts might not sound like the most exciting dinner, but when they're stuffed with a creamy mixture of cheese, kale, and corn, it's a different story. This recipe from Food Network yields a dinner that is both healthy and heavenly, proving superfoods can star in your dinner while also making it delicious. The stuffed chicken breasts come with a spicy kick, thanks to the pepper jack cheese. And you can always sub out the pepper jack and sub in Monterey Jack or Havarti if you prefer creamy over heat. Next time chicken is on the menu, take it up a notch by stuffing it with vitamin-rich kale, corn, and cheese.
Serves: 4
Ingredients:
4 teaspoons olive oil
5½ ounces frozen chopped kale (about 2 cups)
2 cloves garlic, finely chopped
Kosher salt
⅓ cup frozen whole kernel corn
2 ounces pepper jack cheese, grated (about ½ cup)
4 8-ounces boneless skinless chicken breast halves
Freshly ground black pepper
½ cup low-sodium chicken broth
1 teaspoon all-purpose flour
1½ teaspoons fresh lemon juice
See recipe directions from Food Network.
2. Chicken Teriyaki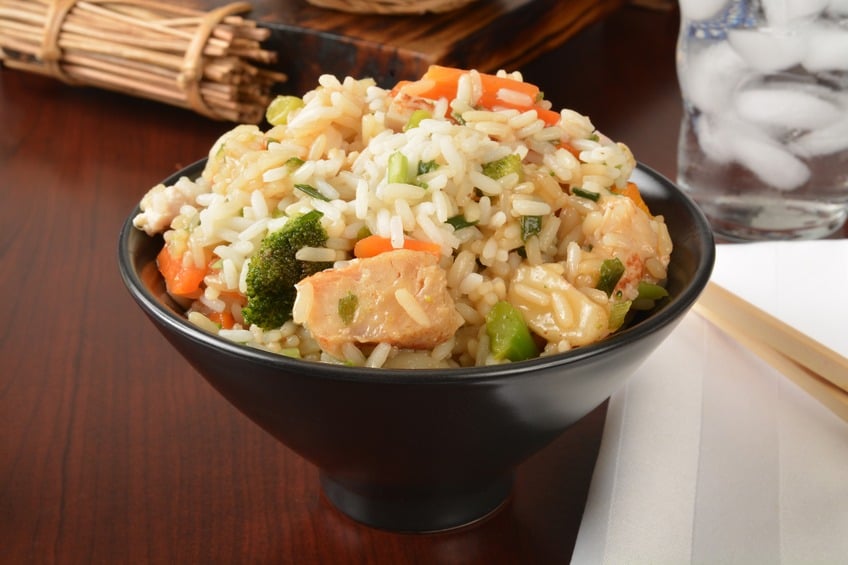 Not everyone gets excited about weeknight chicken dinners, but everyone gets into takeout. And this is the homemade version. The recipe for chicken teriyaki comes from Food & Wine, and it promises to take you only 30 minutes. Making your own teriyaki sauce might sound intimidating, but if you can combine chicken stock with soy sauce, sugar, mirin, and sake in a medium saucepan, you can do it. After that, all you need to do is brown your chicken, and then it's time to combine sautéed peppers with chicken breasts, teriyaki sauce, and rice.
Serves: 4
Ingredients:
1 cup chicken stock or low-sodium broth
⅓ cup low-sodium soy sauce
⅓ cup sugar
2 tablespoons mirin
2 tablespoons sake
4 6-ounce skinless, boneless chicken breasts, lightly pounded
Salt
Freshly ground pepper
2 tablespoons canola oil
2 large Italian frying peppers, cut into ½-inch strips
Steamed short-grain rice, for serving
See recipe directions from Food & Wine.
3. Skinny Chicken Fajitas
Chicken fajitas are another dinner many people think they can't accomplish at home. When you prepare your own chicken fajitas, you can make them healthier and add any garnishes you like. We're talking bell peppers, onions, tortilla strips, shredded cheese, and more. Don't pay extra for guacamole when you can make homemade chicken fajitas so easily, and this food formula from Skinny Taste shows you how. The skinny chicken fajitas boast only 299 calories per serving, and they'll be on the dinner table in less than one hour.
Serves: 4
Ingredients:
16 ounces boneless skinless chicken breasts
1 red bell pepper, cut into strips
1 green or poblano pepper, cut into strips
1 medium onion, cut into strips
3 tablespoons lime juice
1 teaspoon ground cumin
1 teaspoon garlic powder
A pinch ancho or Mexican chili powder,  to taste
Salt and pepper to taste
2 teaspoons olive oil
8 reduced-carb whole wheat flour tortillas
For garnish:
½ cup reduced-fat shredded Mexican cheese
Reduced-fat sour cream (optional)
Guacamole (optional)
See recipe directions from Skinny Taste.
4. Grilled Chicken Tenders with Cilantro Pesto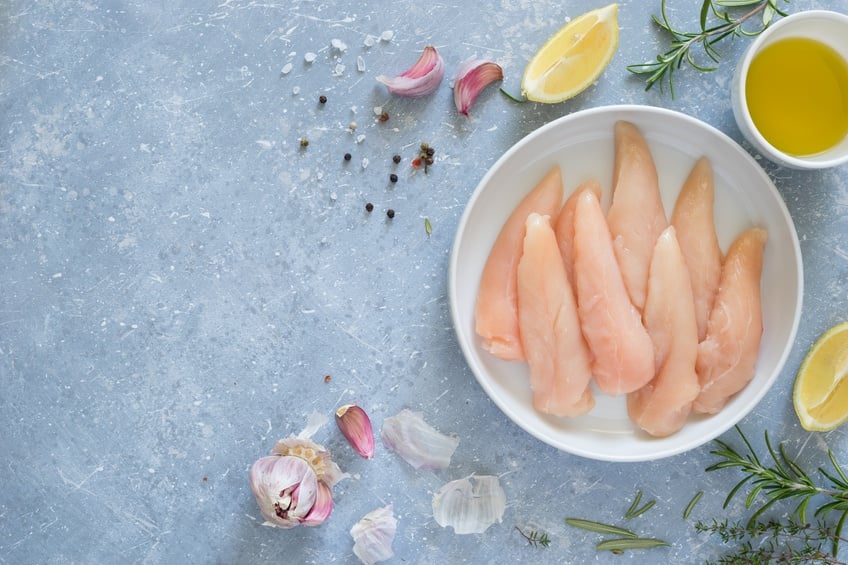 Chicken tenders are a fan favorite, but if you resort to the fried kind, you'll eventually pay for it. Luckily, when done right, grilled chicken tenders can just be as tasty — and easier on your waistline and wallet when you make them at home. This recipe from Eating Well yields grilled chicken tenders with cilantro pesto. You're taking fried chicken tenders up a sophisticated notch and making them healthy with only a handful of ingredients and 35 minutes of prep time. No one needs to fry their tenders when you're dipping them in a flavorful homemade pesto made from cilantro, scallions, and sesame seeds.
Serves: 4
Ingredients:
¼ cup lime juice
¼ cup reduced-sodium soy sauce
1 tablespoon canola oil
1 teaspoon chili powder
1 pound chicken tenders
2 cups loosely packed fresh cilantro leaves
2 scallions, sliced
2 tablespoons toasted sesame seeds
See recipe directions from Eating Well.
5. Santa Fe Chicken Salad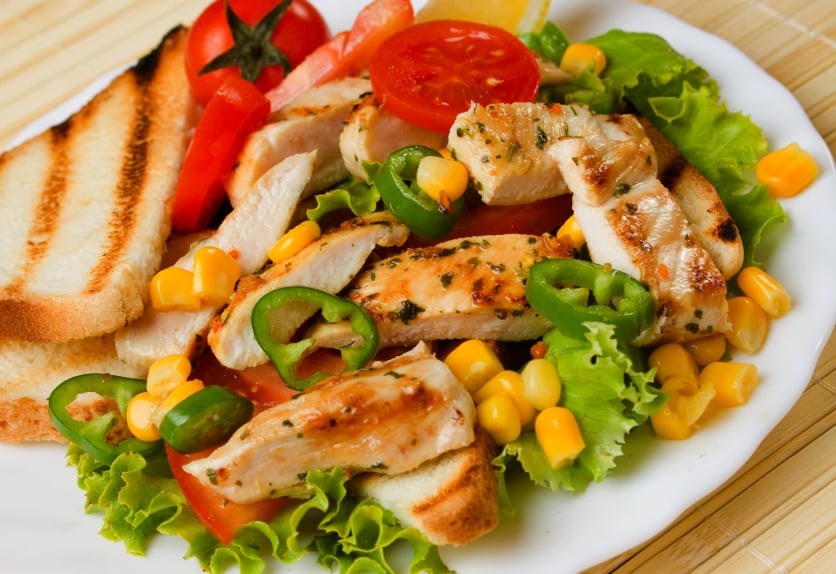 Anyone can get excited about a chicken salad when you make this variety from Delish. The recipe yields a Sante Fe chicken salad, a colorful dish full of flavor and texture. The key to enjoying a healthy chicken salad is keeping it interesting by adding ingredients, such as beans, avocado, corn, and cheese, and this dish has you covered. Enjoy this healthy chicken salad on a weekday, and pat yourself on the back for a delicious chicken dinner well done.
Serves: 3 to 4
Ingredients:
¼ cup extra-virgin olive oil
Pinch of crushed red pepper flakes
¼ cup lime juice
2 cloves garlic, minced
½ teaspoon ground cumin
Kosher salt
Freshly ground black pepper
3 tablespoons vegetable oil, divided
2 small corn tortillas
2 boneless, skinless chicken breasts
4 cups chopped romaine lettuce
1 cup black beans, drained
1 avocado, chopped
⅔ cup corn
1 cup shredded Monterey Jack
¼ cup chopped cilantro
See recipe directions from Delish.
6. Lemon Chicken and Potatoes in Foil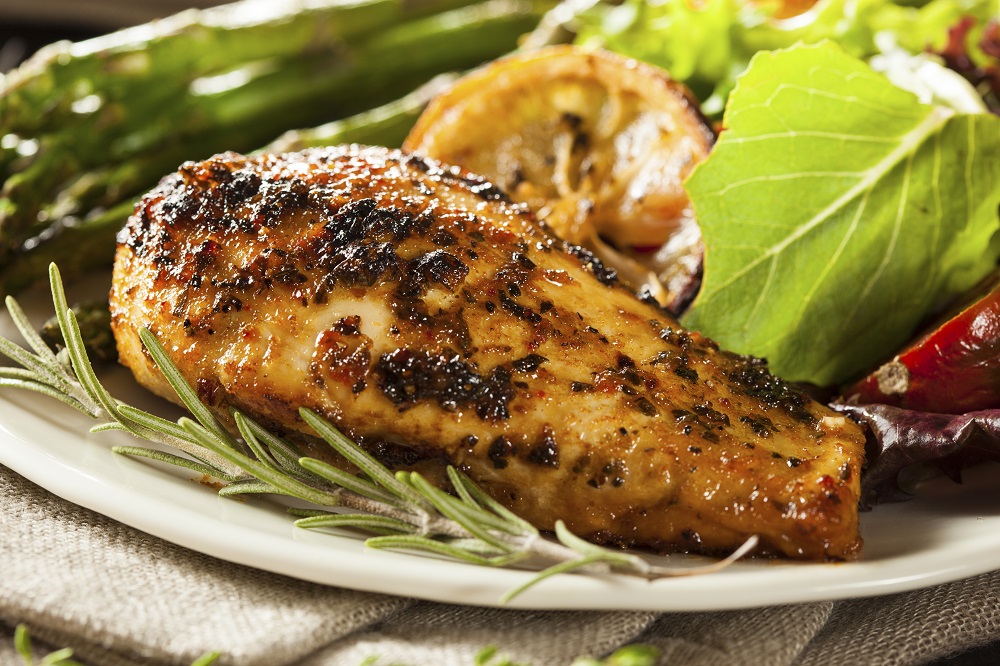 Have you ever cooked chicken or fish in foil? If not, you're missing out. Not only do foil packet dinners save you on a big cleanup, they also promise to deliver on flavor. This recipe from Damn Delicious makes a dinner of lemon chicken and potatoes in foil, as each of your chicken breasts is cooked on a bed of red potatoes flavored with Dijon mustard, lemon, and herbs. The foil packets go into the oven and cook for about 25 to 30 minutes, and then you can serve them, foil and all, no plate required.
Serves: 4
Ingredients:
3 tablespoons olive oil
1 tablespoon Dijon mustard
1 tablespoon whole grain mustard
½ teaspoon dried thyme
¼ teaspoon dried rosemary
Zest of 1 lemon
Kosher salt and freshly ground black pepper, to taste
16 ounces baby red potatoes, halved
Kosher salt and freshly ground black pepper, to taste
4 boneless, skinless chicken breasts
1 lemon, thinly sliced
2 tablespoons chopped fresh parsley leaves
See recipe directions from Damn Delicious.
7. 20-Minute Healthy Chicken Parmesan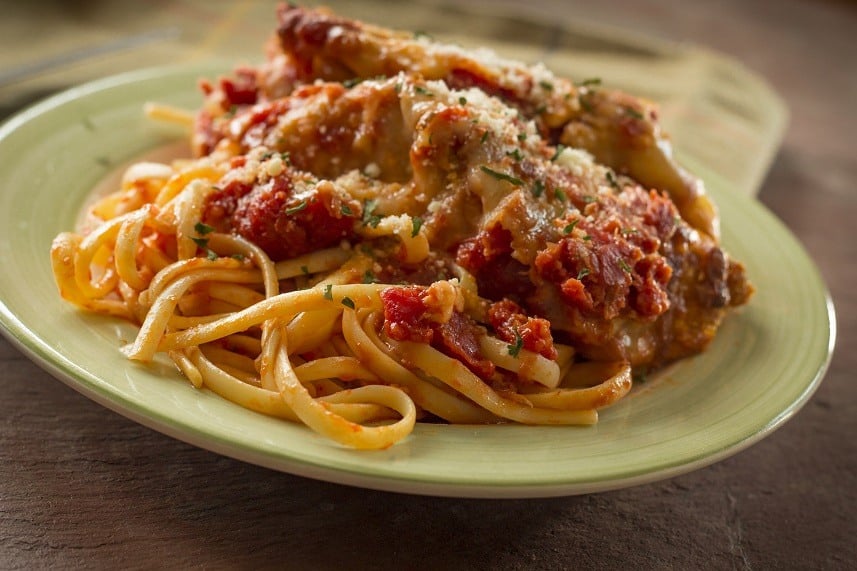 Chicken Parmesan might not seem like the healthiest weeknight dinner, but you can easily make it more nutritious by serving it over zucchini noodles. This recipe from Pinch of Yum lets you have the best of all worlds, as you'll have meat, cheese, and vegetables on your plate. And the whole dinner still only takes 20 minutes. The dish requires seven ingredients, clocking in at 344 calories per serving. Have your healthy chicken Parmesan, and try your hand at zucchini noodles, too.
Serves: 4
Ingredients:
¼ cup whole wheat breadcrumbs
¼ cup panko breadcrumbs
¼ cup Parmesan cheese
1 teaspoon dried Italian herbs
Salt and pepper
2 tablespoons oil
4 chicken breasts (about 1 pound)
1½ cups tomato sauce
4 slices fresh mozzarella cheese
2 zucchinis
See recipe directions from Pinch of Yum.
8. Chicken Caesar Kebabs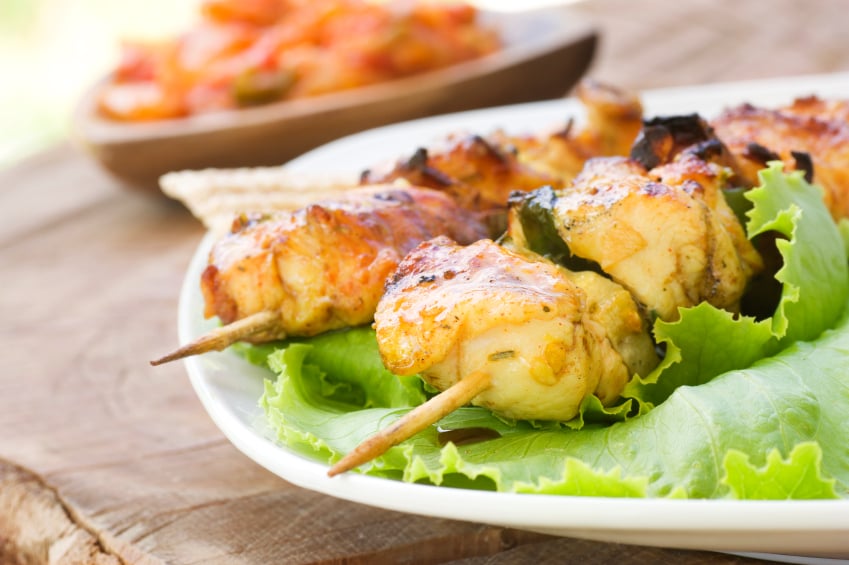 Next up is a healthy weeknight chicken dinner you can enjoy with your hands. You're going to love these chicken Caesar kebabs from Rachael Ray, as they take only 20 minutes of preparation time and are easily thrown on the grill. To make your chicken Caesar kebabs, first marinate your meat in a sauce made from olive oil, vinegar, mustard, anchovy pasta, and garlic. And then after 30 minutes in the refrigerator, you can start threading your chicken onto your skewers. The chicken will take only 10 to 15 minutes to cook, and you can serve it with grilled corn and a romaine salad for a healthy, fresh meal.
Serves: 4
Ingredients:
¼ cup plus 2 tablespoons extra-virgin olive oil
2 tablespoons red wine vinegar
1 tablespoon Dijon mustard
1 teaspoon anchovy paste
2 large cloves garlic, smashed
Salt and pepper
3 large boneless chicken breast halves, cut into 1-inch pieces
4 ears corn, husked and halved crosswise
¼ cup plus 1 tablespoon grated Parmesan cheese
2 romaine lettuce hearts, cut crosswise into ribbons
See recipe directions from Rachael Ray.
9. Grilled Chicken Florentine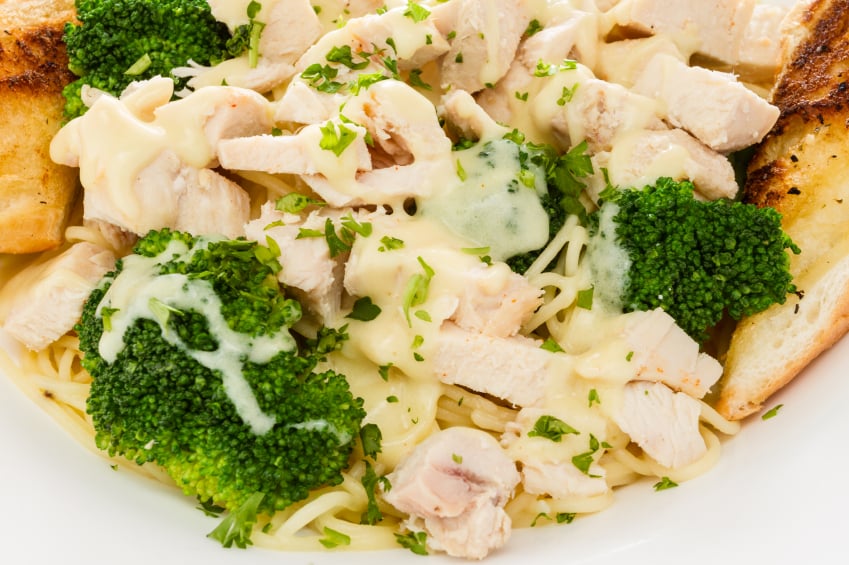 Chicken Florentine is comfort food at its finest, and you might be surprised to find you can add it to your healthy dinner rotation by taking a few steps. This recipe from Cooking Light for grilled chicken Florentine enlists grilled chicken, spinach, a light cream sauce, and linguine to make a rich and comforting meal that yields only 332 calories per serving. Milk and Parmesan cheese are also involved for the light cream sauce. But as long as you keep your serving size of the dinner to 1½ cups and stick to the prescribed amount of cheese, you can have your favorite comfort chicken dish without feeling any guilt.
Serves: 4
Ingredients:
2 (6-ounce) bone-in chicken breasts, skinned
¾ teaspoon salt, divided
¾ teaspoon black pepper, divided
Cooking spray
8 ounces uncooked linguine
2 tablespoons canola oil
3 tablespoons all-purpose flour
1 teaspoon chopped fresh garlic
1 cup whole milk
1 cup fat-free, lower-sodium chicken broth
3 ounces Parmesan cheese, grated (about ¾ cup)
4 cups fresh spinach leaves
See recipe directions from Cooking Light.
10. Spicy Chicken Tacos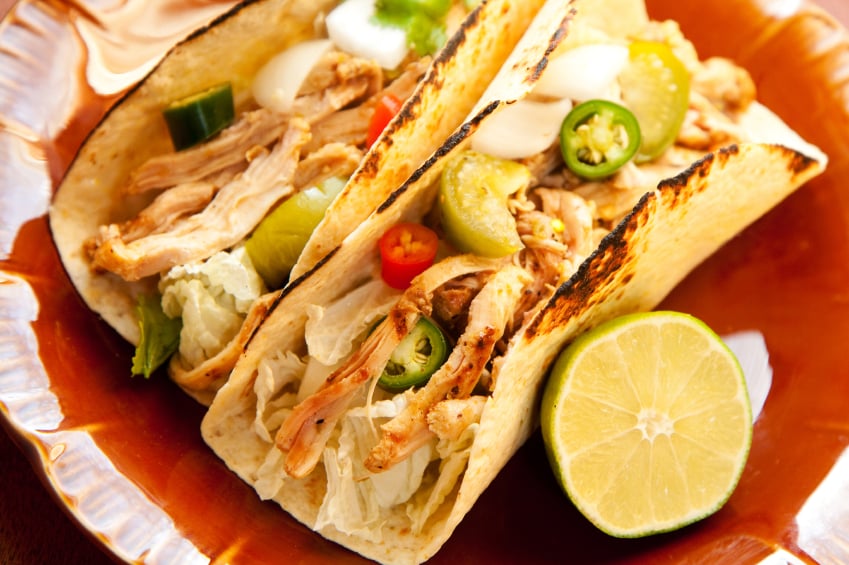 Last up are spicy chicken tacos from Eating Well. You can't go wrong with these. Serving your chicken with a spicy kick in tortillas keeps your poultry game interesting. After browning your chicken breasts in a large skillet, you'll add onion, bell peppers, garlic, jalapeno, and cumin to the mix. Then, it's time to stir in the salsa, and cook until the chicken is heated through. Serve your spicy chicken in warmed tortillas with scallions, tomatoes, and sour cream.
Serves: 4
Ingredients:
8 corn tortillas
1 pound boneless, skinless chicken breasts, trimmed of fat and cut into thin strips
¼ teaspoon salt, or to taste
2 teaspoons canola oil, divided
1 large onion, sliced
1 large green bell pepper, seeded and sliced
3 large cloves garlic, minced
1 jalapeño pepper, seeded and minced
1 tablespoon ground cumin
½ cup prepared hot salsa, plus more for garnish
¼ cup chopped fresh cilantro
Sliced scallions, chopped fresh tomatoes and reduced-fat sour cream, for garnish
See recipe directions from Eating Well.