6 of the Best Single-Serve Recipes to Make for Dinner
Cooking at home is easy on both your wallet and your waistline, but many recipes yield 4 to 6 (even sometimes 8) servings, and if you're only cooking for one, that's a lot of leftovers. You can only eat meatloaf or chicken casserole so many times before you can't look at it anymore, let alone taste it. That's why the key to cooking for yourself at home and liking it, too, all lies within the idea of single-serve recipes. Today, we're highlighting six. These dinner recipes are quick, easy, and don't require any ingredients you can't pronounce. While not all of them make just one meal, they all at least stick to a few servings and promise not to leave you with a lot of leftovers. Single living never tasted so good.
1. Stir-Fry for One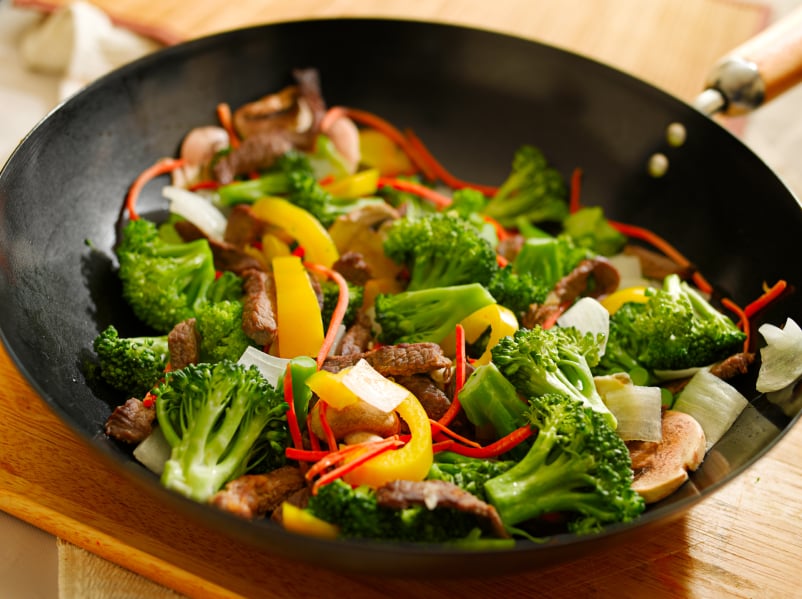 Perhaps the easiest delicious and nutritious dish you can master for one is the stir-fry. As long as you have a skillet or a wok, you're good to go, and you don't even have to turn on the oven. What you throw into your stir-fry is completely up to you, but this recipe from Taste of Home calls for sirloin steak, along with a number of other veggies. Stir-fries take just 25 minutes to make, and they only serve one. Though, this is one meal you might not mind eating over and over again.
Ingredients:
1 tablespoon soy sauce

2 teaspoons cider or red wine vinegar

1 garlic clove, minced

½ teaspoon sugar

¼ pound beef top sirloin steak, cut into ¼-inch strips

¼ cup broccoli florets

¼ cup cauliflowerettes

½ teaspoon vegetable oil

¼ cup diced green or sweet red pepper

¼ cup diced cabbage

¼ cup sliced water chestnuts

2 green onions, sliced

3 tablespoons beef broth

1 teaspoon cornstarch

Hot cooked rice
Head to Taste of Home for the full recipe. 
2. Chicken Bacon Pasta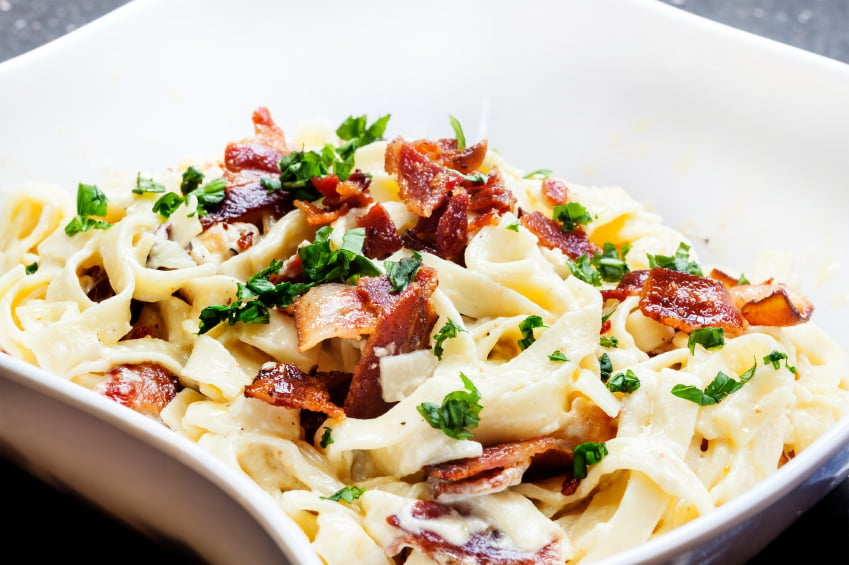 If you're in the mood for some carbs, try this recipe from Dessert for Two for chicken bacon pasta. The food formula yields 2 servings, so you can have this meal for lunch and dinner — or maybe just dinner if you're particularly hungry. Chicken bacon pasta requires just five ingredients and takes 20 minutes to cook in total. This is small-batch comfort food at its best.
Ingredients:
8 ounces pasta, dry and any shape
3 slices bacon
1 breast of rotisserie chicken, with skin removed
½ cup plain greek yogurt
½ teaspoon all-purpose grilling seasoning mix
Head to Dessert for Two for the full recipe. 
3. Pork Chop with Pineapple Salsa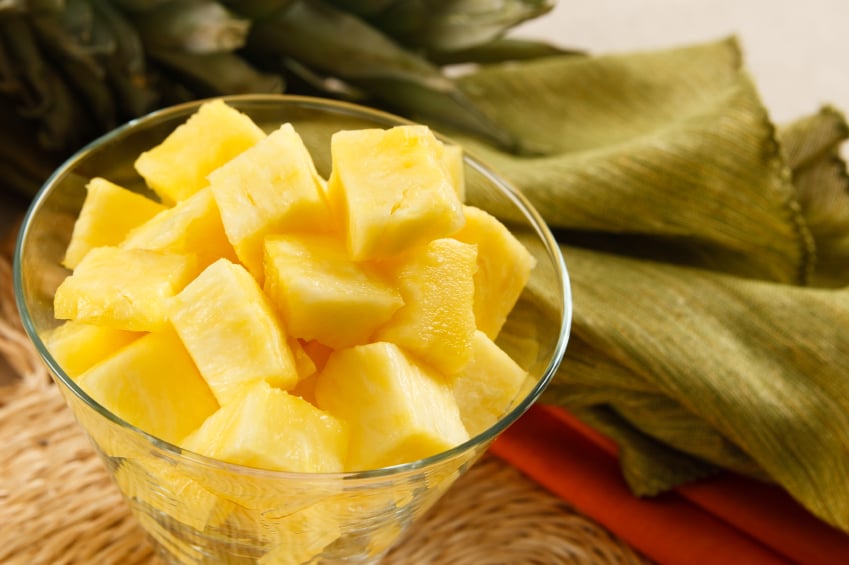 Introducing a different kind of meaty dish, we come to this recipe for a pork chop with pineapple salsa featured on Delish. This recipe serves just one, and not only is it easy on the stomach, it's easy on the eyes, too, thanks to the pop of color from the pineapple. Just say no to takeout food and treat yourself to a sophisticated dinner tonight.
Ingredients:
1 cup pineapple chunks
½ cup small red onion
½ jalapeño chile
1 tablespoon honey
¼ cup fresh cilantro
Coarse salt
Ground pepper
1 tablespoon vegetable oil
1 bone-in pork loin chop
1 teaspoon all-purpose flour
Head to Delish for the full recipe. 
4. Single-Serving Shrimp Scampi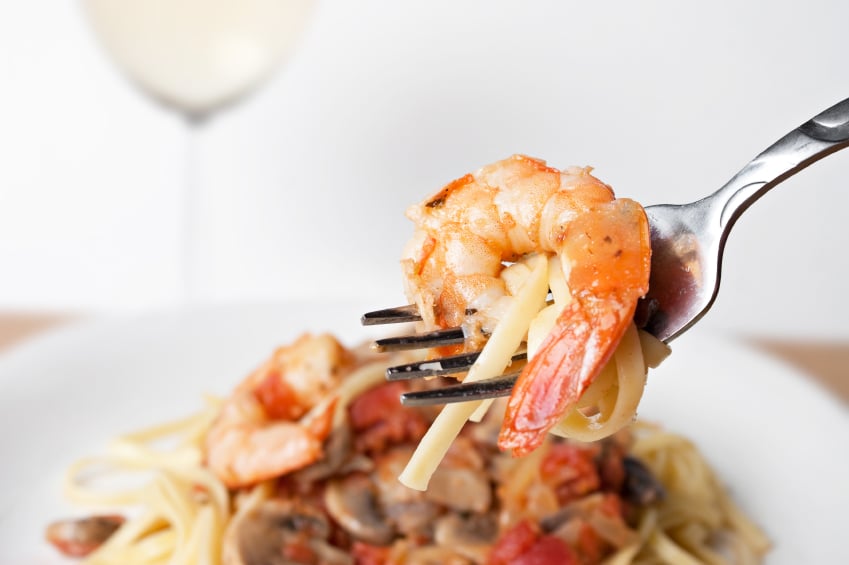 Here's another sophisticated single-serving dish you deserve to try at home. Enter: shrimp scampi from Macheesmo. There's no reason you can only indulge in this meal while out at a restaurant. Making it at home is both cheaper and more healthy, as you can control exactly what you put into your dinner. Follow Macheesmo's food formula and impress yourself with what you can do with shrimp, butter, cream, Parmesan cheese, and spaghetti. With ingredients like that, it's safe to say that whatever you come up with, it's destined to be good.
Ingredients:
¼ pound jumbo shrimp, about 6
1 large shallot, minced
2 to 3 cloves garlic, minced
2 tablespoons butter
3 tablespoons cream
Splash of white wine
⅛ teaspoon crushed red pepper flakes
Parmesan cheese
Salt and pepper
Spaghetti
¼ cup reserved pasta water
Head to Macheesmo for the full recipe. 
5. Single-Serving French Onion Soup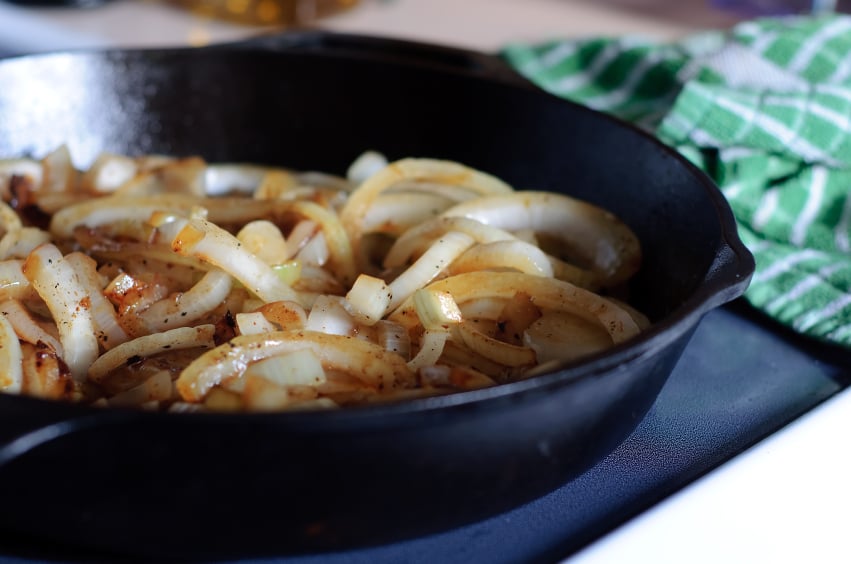 The recipe from Butter & Brioche yields one serving of French onion soup, and it takes just 35 minutes to make. This dish is a favorite comfort food for many, and now thanks to this food formula, you don't have to be stuck with leftovers for days. Grab your gruyere, your onions, and your butter — soup's on!
Ingredients:
3 white onions, thinly sliced
3 tablespoons butter
1 tablespoon garlic, minced or finely chopped
1 tablespoon thyme leaves
2 cups beef stock
¾ cup red wine
3 tablespoons balsamic vinegar
Salt and pepper
1 baguette, sliced
1 tablespoon butter
1 tablespoon Dijon mustard
50 grams Gruyrère cheese, sliced (about 2 slices)
Head to Butter & Brioche for the full recipe. 
6. Chopped Salad for One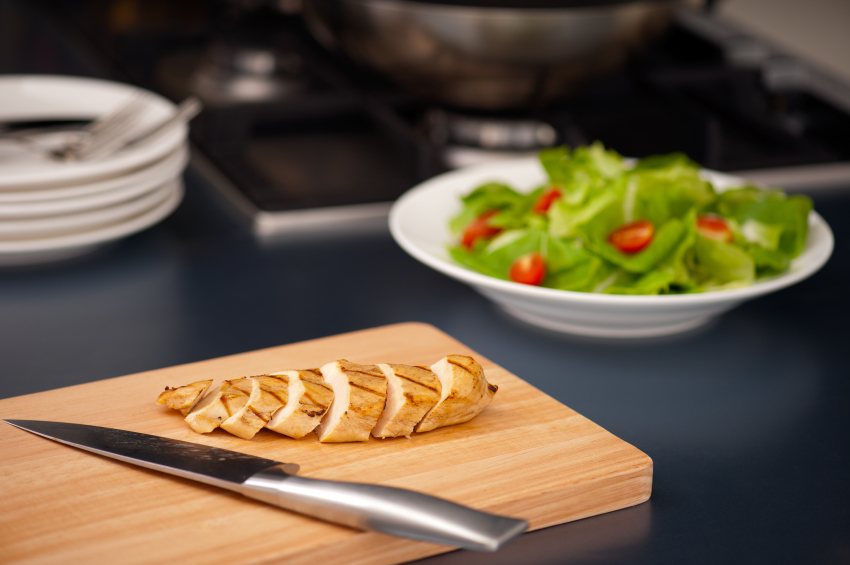 This chopped salad for one from Martha Stewart is a single-serving recipe that's on the lighter side. Healthy never tasted so good, and it's all thanks to fresh veggies and cooked chicken breast. For a light lunch or dinner, try this salad that is packed with cucumbers, tomatoes, celery, and green beans. Chicken is the protein of choice in this plate of greens, but you can sub any meat you like.
Ingredients:
3 cups romaine hearts, chopped into ½-inch pieces
½ plum tomato, chopped
½ rib celery, chopped
1 English cucumber, chopped
6 to 8 green beans, blanched and chopped into ½-inch pieces
1 tablespoon herbs, such as basil, chervil, or parsley, chopped
3 ounces cooked chopped chicken breast
Blue cheese vinaigrette
Head to Martha Stewart for the full recipe.