This Is the Best Starbucks Frappuccino You Can Order
Whether you like to walk on the wild side with the unofficial Starbucks secret menu or keep things classic with official orders only, there are plenty of frappuccinos to try. These blended drinks pack plenty of flavor (and sugar), and come in a practically endless number of varieties. But if you're wondering which one is the best frappuccino, you've come to the right place.
Read on to check out the top contenders for the prize as the best Starbucks frappuccino. And remember your favorites for the next time you find yourself at a Starbucks and don't know what to order!
9. Chai crème frappuccino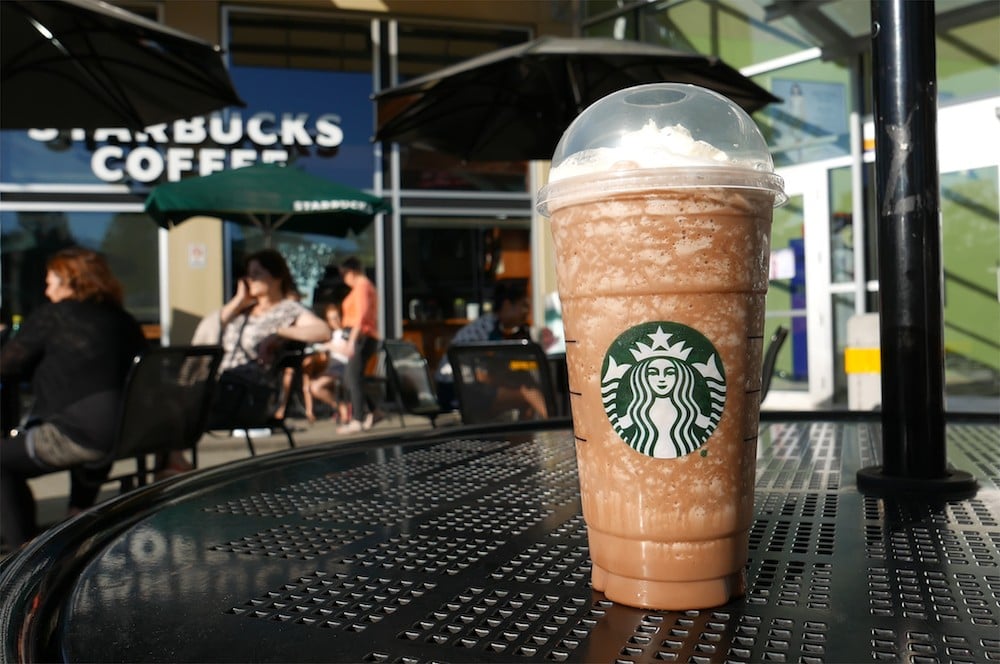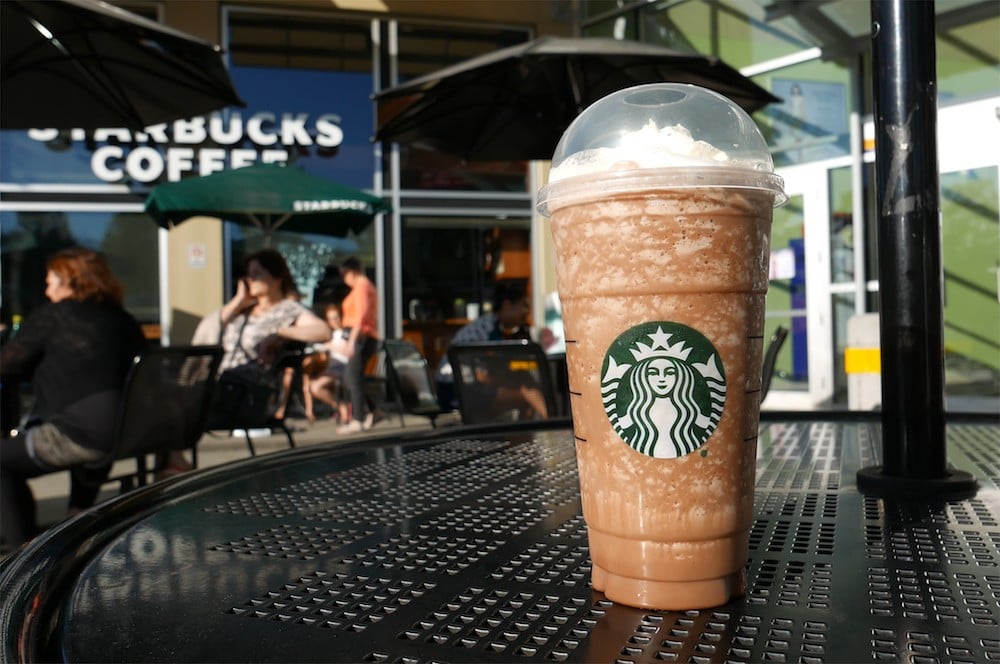 Chai isn't just for lattes! You can also enjoy this delicious flavor in a creamy frappucino, where you'll taste a little bit of the traditional ingredients such as black tea, cardamom, black pepper, ginger, cinnamon, and cloves. Of course, the Starbucks chai latte isn't particularly authentic. (And the frappuccino gets even farther from the real thing you'd taste in India. But even some people who know how to make the real thing — or grew up drinking it — appreciate the mild, sweet flavor of the Starbucks version. Spoon University reports that it's also one of the top-selling frappuccinos at Starbucks.
8. Honey green tea frappuccino
Spoon University reports that the green tea crème is one of the best-selling frappuccinos at Starbucks. But if you want a frappuccino that tastes great but also has a few health benefits, then you may want to try the honey green tea frappuccino. The unofficial Starbucks secret menu site notes that this beverage uses honey instead of classic syrup for a healthier twist. Just order a green tea frappuccino with honey instead of classic syrup, topped with whipped cream or honey drizzle if you want. The site also recommends ordering this drink double-blended to make sure the honey mixes in evenly, but we all know how much Starbucks baristas hate that.
7. Horchata frappuccino
We'd also nominate the horchata frappuccino as a contender for the title of the best frappuccino — if only because it references a traditional drink with an "epic history," as Food52 puts it. The horchata frappuccino doesn't have any real horchata in it. But horchata supposedly originated in Valencia, Spain, where residents soaked tiger nuts in water to produce a milk substitute. As Food52 notes, "Spanish invaders then brought the drink to the Americas, where it's taken on a variety of interpretations." The publication explains that "the rendition consumed in the U.S. is inspired by the Mexican preparation made by blending soaked rice with cinnamon, vanilla, and sugar."
6. S'mores frappuccino
Many people consider the S'mores flavor the best Starbucks frappuccino of all, probably thanks to the familiar flavor combination reminiscent of childhood summers. PopSugar reports that this frappuccino has remained a fan favorite since its inception. The publication says that this particular drink appeals to Starbucks customers "partially because of the marshmallow cream," which adds a rich flavor without being too sweet," and because of the crumbled graham cracker on top that gives you a bit of crunch."
5. Java chip frappuccino
Another delicious contender for the prize as the best Starbucks frappuccino? The java chip frappuccino, which also numbers among the top-selling blended drinks at the coffee chain. This frappuccino is best-suited for people who like the taste of coffee (and not people who order a frappuccino so that they don't have to taste the coffee)! As Starbucks itself explains, baristas make this drink by blending mocha sauce and Frappuccino chips with coffee, milk, and ice. Then, of course, they top the drink with whipped cream and mocha drizzle.
4. Strawberries and crème frappuccino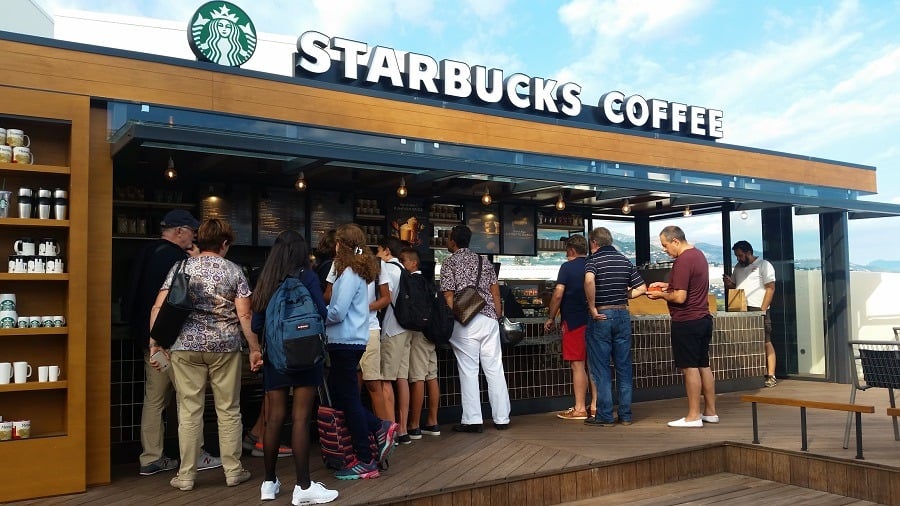 Another classic — and popular — frappuccino? The strawberries and crème, which many people will tell you is the best Starbucks frappuccino of all. What's not to love about the original pink drink? When you ask your barista to make you one, they'll blend strawberries and milk, and then top the beverage with a swirl of whipped cream. It's indulgent. But you wouldn't be in the mood for a frappuccino if you didn't want something decadent, now would you?
3. White chocolate mocha frappuccino
Another fan favorite frappuccino? The white chocolate mocha frappuccino. The ingredients list for this treat includes Starbucks' addictive white chocolate mocha sauce. And it's the perfect drink for someone who wants the same amount of caffeine in a cup of coffee with a much sweeter, creamier flavor. Spoon University reports that this is one of the best-selling frappuccinos on the Starbucks menu, and it's easy to see why!
2. Mocha frappuccino
Even better than the white chocolate mocha is the plain-old mocha frappuccino, if you ask many Starbucks customers. Especially if you want something slightly less sweet than the white chocolate version, you'll want to give the mocha frappuccino a try. Spoon University reports that "this light milk chocolate drink goes down super smooth." Sometimes that's exactly what you need when you're looking for a boost of caffeine and sugar.
1. Caramel frappuccino
As for the best Starbucks frappuccino at all? Many fans of the coffee shop chain would tell you it's the caramel frappuccino. Plenty of people like trying new concoctions from the secret menu. And others love testing out seasonal drinks and limited releases. But the great thing about the caramel frappuccino is that it's a total classic, with a caramel taste that's the perfect blend of sweet and salty. The caramel frappuccino will always be there on the menu for when you need a simple frappuccino, without excessive toppings and add-ons.
Read more: 21 Things You Should Never Ask a Starbucks Barista
Check out The Cheat Sheet on Facebook!