The Best Way to Eat Brussels Sprouts: The Only Recipe You Need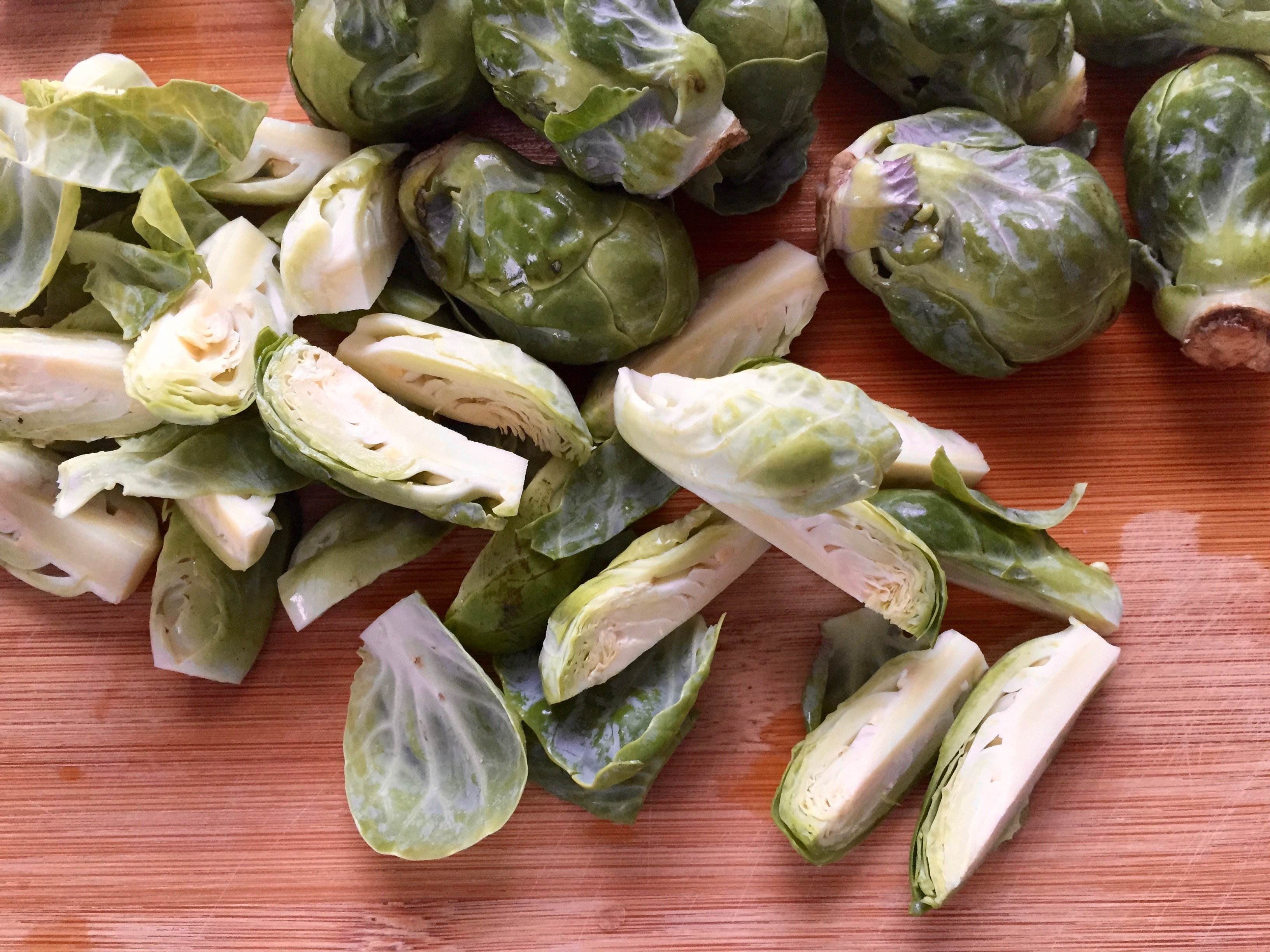 I didn't grow up hiding Brussels sprouts in my napkin or sneakily dropping them to the kitchen floor, hoping to escape eating them under my parents' watchful eyes. That was reserved for peas. My mom served plenty of vegetables at our dinner table, but Brussels sprouts never made it on the menu. Perhaps my parents didn't like them, or subjecting me to peas was punishment enough. Either way, I didn't develop an early aversion to the tiny cabbage-like greens.
Still, I knew Brussels sprouts were supposed to be terrible in the same way I know Antarctica is frigid and CrossFit is more intense than I can handle. Word gets around. Needless to say, I was wary about adding sprouts to my recipe repertoire.
I first tried the sprouts when I got on a roasting kick — tossing every vegetable in sight with olive oil, salt, and pepper, and baking them in the oven. Brussels sprouts have a nutty flavor after they've been cooked, which is enhanced by roasting them. I realized I could like, even enjoy, the vegetables, especially considering how good they are for you. Brussels sprouts are in the same family as kale, spinach, and broccoli, meaning they're high in vitamins C and K, along with potassium, folate, and a healthy dose of antioxidants. Just half a cup of cooked sprouts can give you the vitamin C you need for the entire day. 
You can only eat a side dish prepared the same way for so long before growing bored with it, which is exactly what happened with the roasting method. Plus, I always seemed to get the oil-to-veggies ratio wrong, either adding too little oil for scorched sprouts or bathing them in too much, seeming to negate any healthy benefits of eating the sprouts in the first place. We'll blame the chef for that mistake, but in any case I went searching for another way to make Brussels sprouts that would still help me avoid boiling them. Boiling vegetables, at least to me, is only good when you're going to mash them later. I wanted a recipe that would crisp up the sprouts, get the oil content under control, and allow me to add extra variations of flavor.
Sautéed Brussels sprouts with bacon and lemon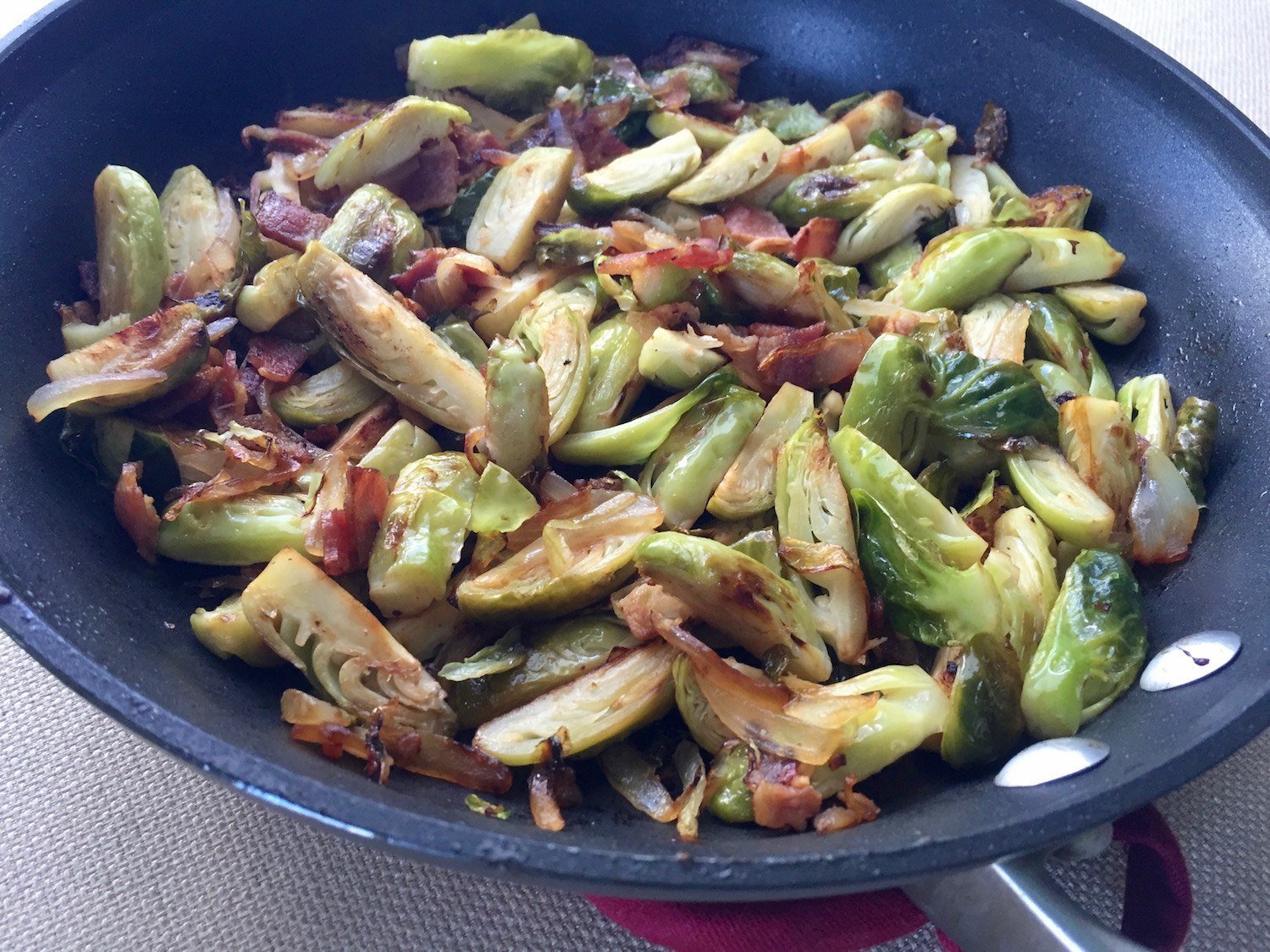 After doing some research, I decided to try my hand at throwing together ingredients in a skillet on the stovetop. Sautéeing is a method that's perfect for any time of year. This recipe is light and full of flavor, thanks to the added bacon, onions, and secret ingredient of fresh lemon juice to add a little acidity and put freshness back into each bite. Once you've got the ingredients and general process down, it's also really difficult to mess up this dish — so feel free to get creative. Add red pepper flakes, drizzle balsamic glaze over the top … whatever floats your boat. 
Ingredients:
3 slices of bacon

2½ cups Brussels sprouts, trimmed and quartered

½ medium onion, diced or coarsely chopped

4 teaspoons fresh lemon juice

Olive oil

Salt, to taste
Directions: In a medium skillet, cook bacon on medium heat until browned and crispy; remove from pan. Chop coarsely, then set aside.
Drain bacon fat from pan, and either clean completely or leave a light coating on the bottom of the pan. (If you clean the pan, add about a tablespoon of olive oil before adding the other ingredients.) Sautée onions on medium heat until they become soft and translucent, about 4 minutes. Add trimmed and cut Brussels sprouts, sprinkling salt over top before covering the pan to cook.
Stir occasionally until Brussels sprouts become tender, about 7-8 minutes. Add chopped bacon pieces and 2 teaspoons of lemon juice, incorporating completely. Cook uncovered until the sprouts reach the desired level of tenderness and crispiness on the outside; likely around 5 minutes. Toss with remaining 2 teaspoons of lemon juice while over the heat, then remove and serve immediately.
Recipe tips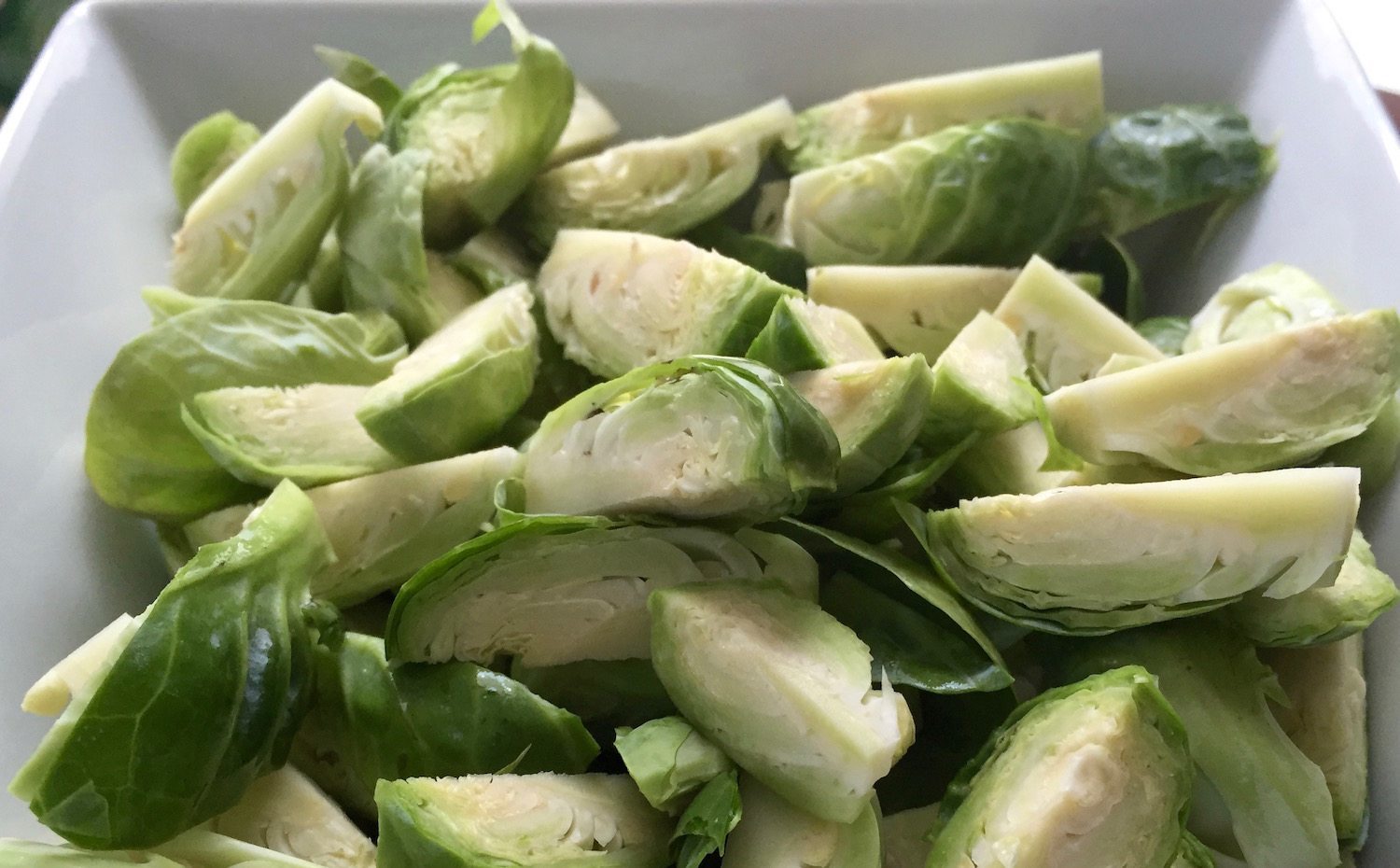 As your first step, you'll need to trim the brown, hardened ends off the Brussels sprouts, also removing any outer leaves that have become wilted. By quartering them, you'll allow the sprouts to cook faster, and also give more surface area for the sprouts to brown in the pan. If leaves fall off as you're trimming them, add them into the mix. Those will often end up becoming crispy and browned during the cooking process, adding another texture.
I enjoy the bright acidity of the lemon juice, so I add it twice — halfway through cooking, and then another splash at the end to revive the flavors. If you prefer the flavor to be toned down, add just half of the juice halfway through cooking, which will allow the sprouts to absorb it and not be quite so front and center.
As with most sautéed dishes, there are many variables at play. Smaller Brussels sprouts will cook faster, and you might even want to keep them halved instead of quartered if they're especially small. Onions will simply begin to caramelize the longer they're in the pan, which in this dish is a welcome flavor. As long as the onions have become translucent, you can't go wrong with cooking them too little or for too long.
If you find that the Brussels sprouts have absorbed the fat you initially used to coat the pan and are sticking or becoming too dark before fully cooking, add additional olive oil in teaspoon increments. Less is more, especially as the sprouts begin to cook down. To avoid an oily mess, the small additions should be enough. Plus, as long as the sprouts don't burn, the slight char will result in the texture you want: crisp on the outside, tender on the inside.