These Are the Biggest Feuds Celebrity Chefs Have Ever Started
Few celebrity chefs have a reputation for keeping their opinions to themselves. Anthony Bourdain just might be the easiest example, with his numerous colorful insults for everything from the pumpkin spice latte to gluten-free foods. But celebrity chefs don't just have harsh words for the foods they dislike. They also usually don't hesitate to clash with each other over their differences. In fact, the big personalities on the Food Network and beyond have led to some pretty memorable celebrity chef feuds.
Read on to check out the biggest feuds that celebrity chefs have started over the years.
1. Jamie Oliver vs. Gordon Ramsay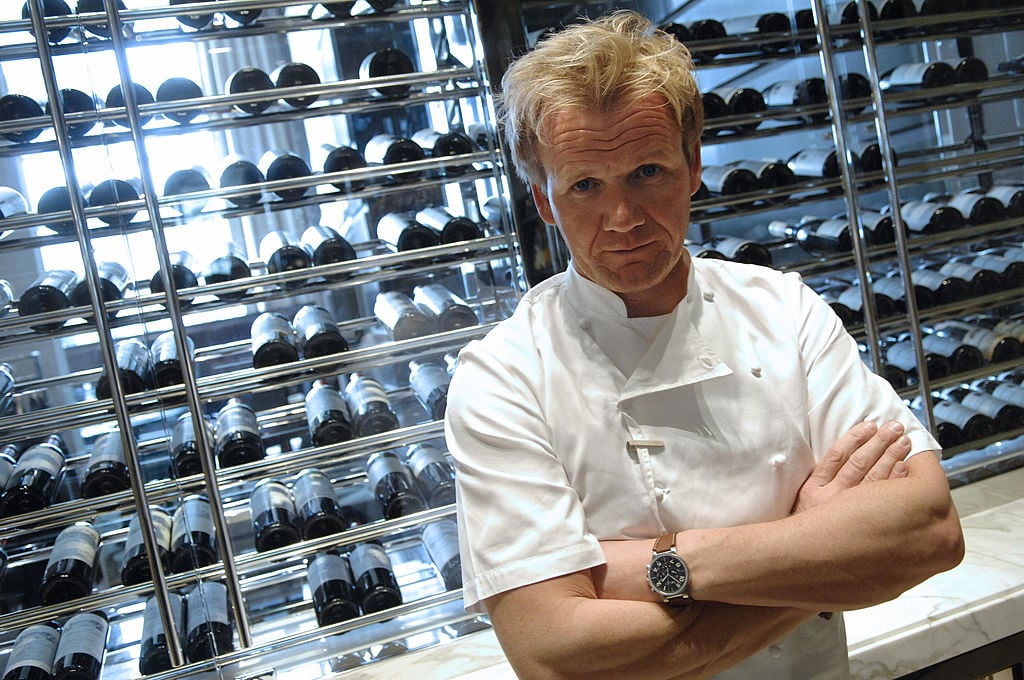 One of the most infamous feuds between celebrity chefs has gone on for years between Jamie Oliver and Gordon Ramsay. The feud began in 2009, when Oliver stuck up for a journalist whom Ramsay had insulted. The celebrity chefs have traded jabs ever since. At one point, Ramsay referred to Oliver as "a one-pot wonder." He explained derisively, "Everything kind of gets mixed in — hands in. It's a very different style to me. He sticks it in the oven, comes back three hours later and it's done."
Oliver retaliated by accusing Ramsay of getting Botox. He also quipped, "If I was to choose between Gordon Ramsay's cookbook or Tana Ramsay's, it would be Tana's every time. In my opinion, her books are a damn sight better than his." Oliver then characterized Ramsay as "deeply jealous" of his success. And he also said of Ramsay, "He is too busy shouting and screaming and making our industry look like a bunch of shouters and screamers. He's paid to rant. He's paid to shower negativity."
Next: These two celebrity chefs have never gotten along.
2. Anthony Bourdain vs. Paula Deen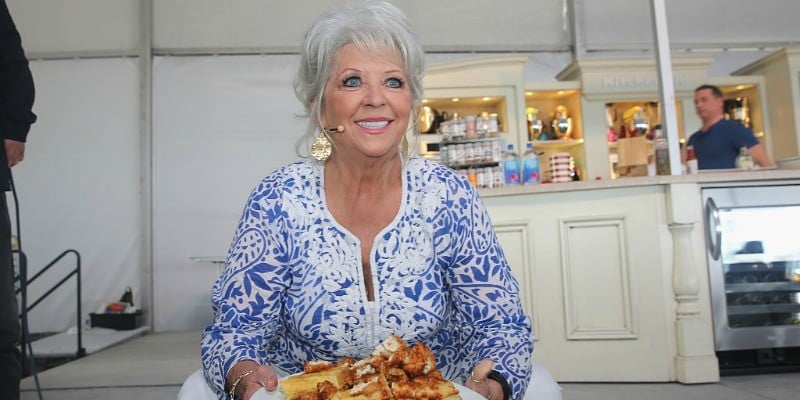 Combine two of the most infamous personalities in the food business, and you're bound to see some drama. As The Huffington Post explains, Anthony Bourdain made it quite clear that he doesn't like Paula Deen's cooking. Nor does he appreciate her influence over what people eat in the United States. He characterized Deen as "the worst, most dangerous person to America."
Deen responded that "not everybody can afford to pay $58 for prime rib or $650 for a bottle of wine." She added, "My friends and I cook for regular families who worry about feeding their kids and paying the bills." The feud garnered lots of attention and criticism. But neither celebrity chef seems to have backed down.
Next: This feud started with a very childish insult. 
3. Gordon Ramsay vs. Mario Batali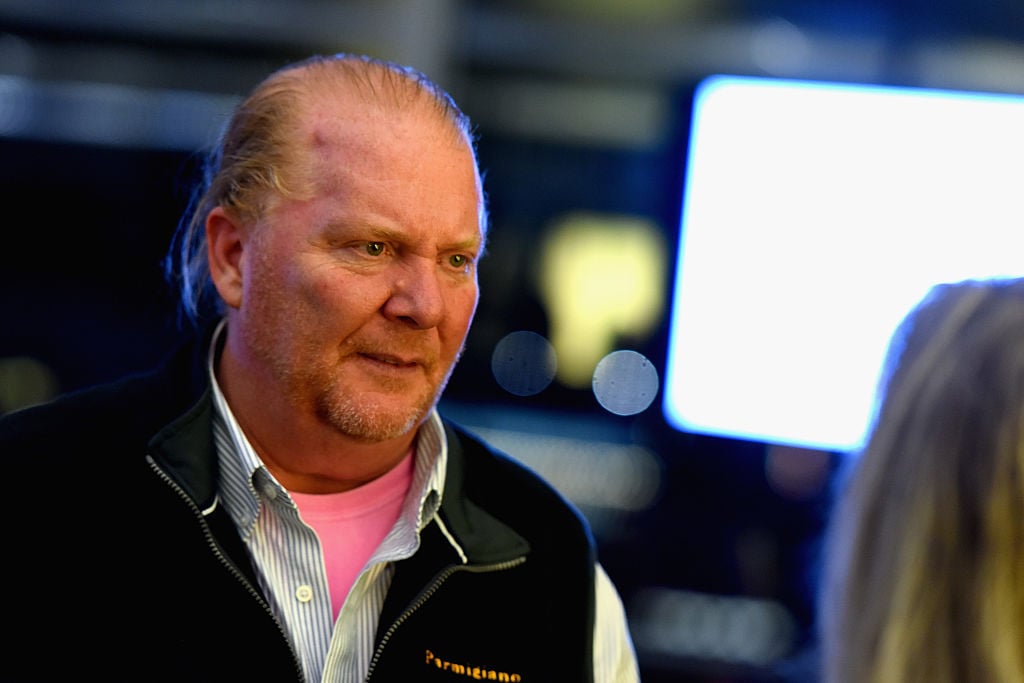 Another pair of celebrity chefs who have traded insults over the years? Gordon Ramsay and Mario Batali. The most notorious development in the feud came when Ramsay took to calling Batali "Fanta Pants." (He was referring to Batali's penchant for bright orange shorts.) That sound pretty immature, but apparently it really got under Batali's skin.
In fact, the relationship between the chefs reportedly got so bad that Batali decided to ban Ramsay from his restaurants. However, Batali did admit that if Ramsay "called me himself and said, 'Let's sit down for a drink.' I'm sure it would be fine. We'd be cool. But right now it's not cool." Additionally, Batali said on another occasion that he felt thinks Ramsay plays a role that differs from his real personality. "He's like playing the bad guy in Macbeth. That's just the role he's got. I don't think he's like that honestly."
Next: This celebrity chef insulted a much younger newcomer, but quickly got over it.
4. Emeril Lagasse vs. Rachael Ray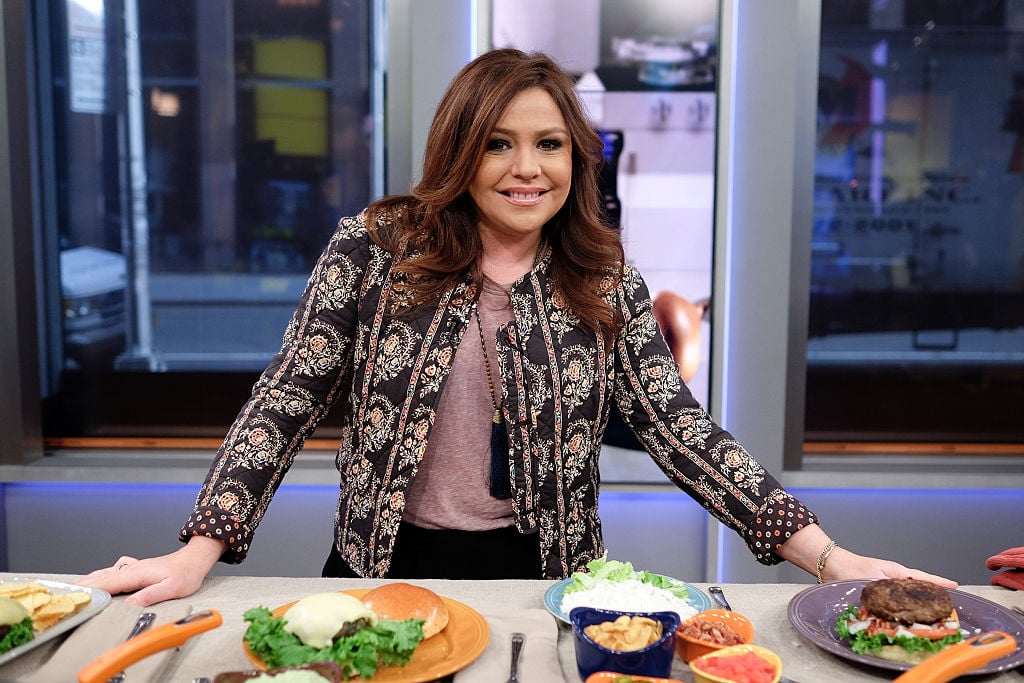 The Daily Beast reports that Emeril Lagasse once tried to start a feud with Rachael Ray. But he probably thought better of it sooner rather than later. When Ray had just joined the Food Network, Lagasse wasn't a fan. And he didn't make any effort to hide his feelings. Lagasse once said that Ray "doesn't know anything about food." He added, "I would not put her on."
But the feud doesn't seem to have lasted long, as the two have since done some filming together. In fact, Lagasse has even served as a co-host on the Rachael Ray Show. Clearly, not all feuds between celebrity chefs have to last forever.
Next: These TV personalities are reportedly friends. But one insulted the other pretty viciously.
5. Anthony Bourdain vs. Adam Richman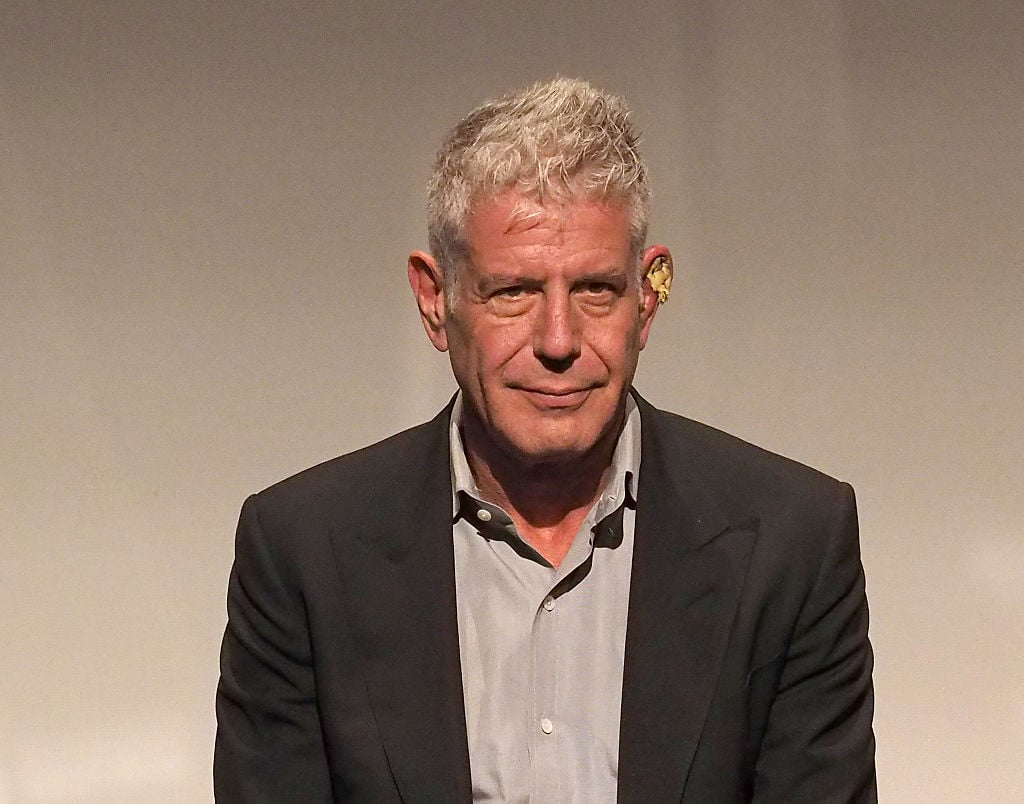 Anthony Bourdain has a much higher profile than Adam Richman, who used to host the show Man vs. Food. But that didn't stop Bourdain from insulting Richman onstage at a standup performance in Atlanta. "Why did we watch that show? Admit it. You wanted him to die," Bourdain joked. Bourdain said that on his travels, he noticed that Richman's show had gained popularity in countries like Yemen, Iran, Libya, and Afghanistan. In Bourdain's view, "The show confirms their worst suspicions—that Americans are fat, lazy, slothful, [and] wasteful."
Fortunately, the insult might not have been quite as sincere as it seemed. Richman later answered an interview question about Bourdain's joke. He explained, "Tony is actually a friend of mine and I talked to him about it. I was like 'You threw me under the bus.' I understand the need for a good line but I hope that his want of a good friend is greater than that, and he made it clear that it was."
Next: These infamous celebrity chefs have feuded for years. 
6. Anthony Bourdain vs. Guy Fieri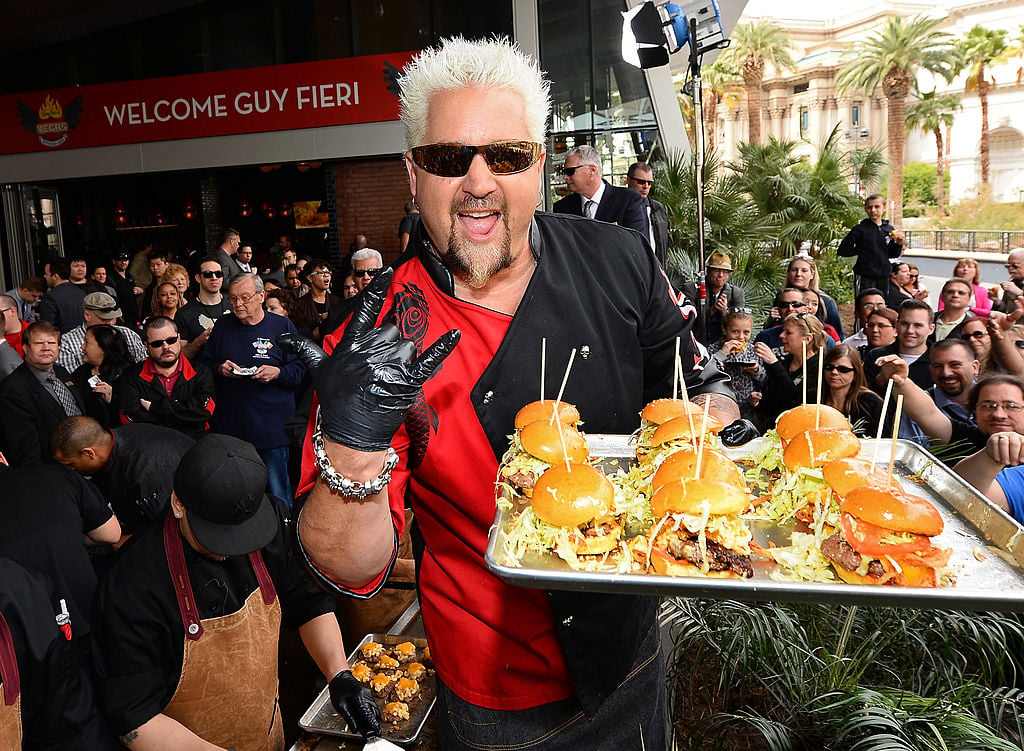 We can't say we feel surprised to learn that Anthony Bourdain doesn't have much affection for Guy Fieri, one of the most hated celebrity chefs in the United States. At the same Atlanta event where he insulted Richman, Bourdain also took a shot at Fieri. Bourdain quipped that when he became a father, he immediately knew he needed to make some changes in his life. "So I sort of feel in a heartfelt way for Guy [Fieri]. I wonder about him. He's 52 years-old and still rolling around in the flame outfit . . . What does he do? How does Guy Fieri de-douche?"
Guy Fieri has had a couple of responses to repeated jabs from Bourdain. Fieri said that he doesn't "buy in" to the hate. In fact, he concluded that Bourdain's "definitely gotta have issues." Fieri explained, "I don't like him making fun of people, and I don't like him talking shit. And he's never talked shit to my face." He added, "what are you doing? What is your instigation? You have nothing else to fucking worry about than if I have bleached hair or not? I mean, fuck."
Next: This celebrity chef feuded with his mentor.
7. Gordon Ramsay vs. Marco Pierre White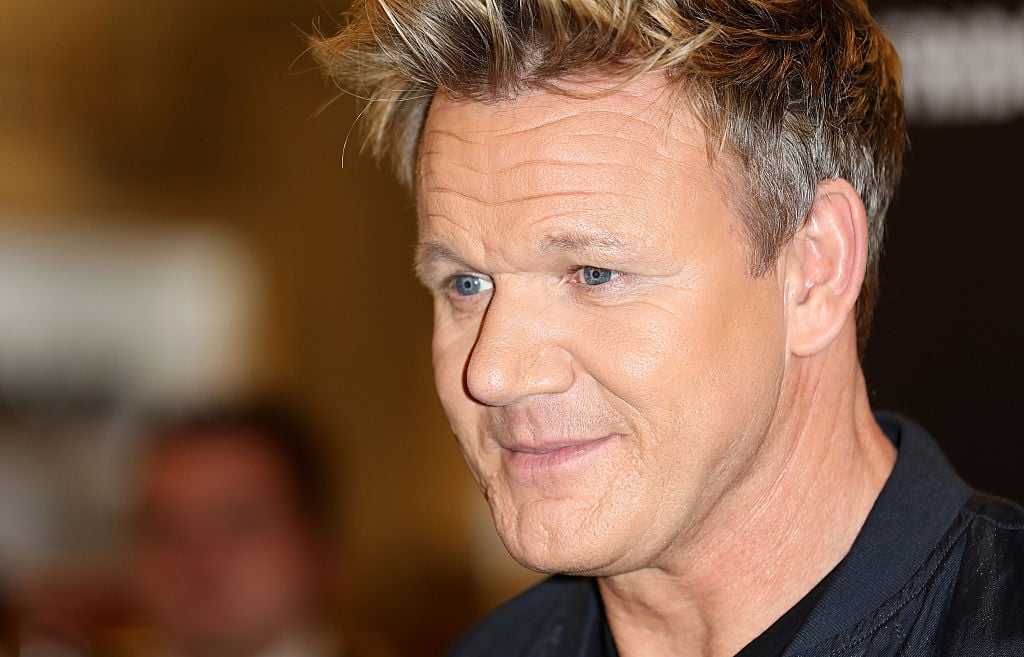 The Telegraph reports that another infamous feud between celebrity chefs occurred between Gordon Ramsay and Marco Pierre White. Does White sound familiar? He's the chef who gave Ramsay his first job in the restaurant business. Ramsay became White's most famous protégé, which reportedly strained the relationship between the two chefs.
Ramsay said in an interview that he didn't believe that White was a good restaurateur. And Ramsay reportedly attended White's wedding with his own camera crew in tow. Perhaps even worse? Ramsay stole the reservation book from one of his own restaurants, and publicly blamed White. We don't really blame White for turning against him.
Next: These chefs have thrown very different insults at each other.
8. Anthony Bourdain vs. Sandra Lee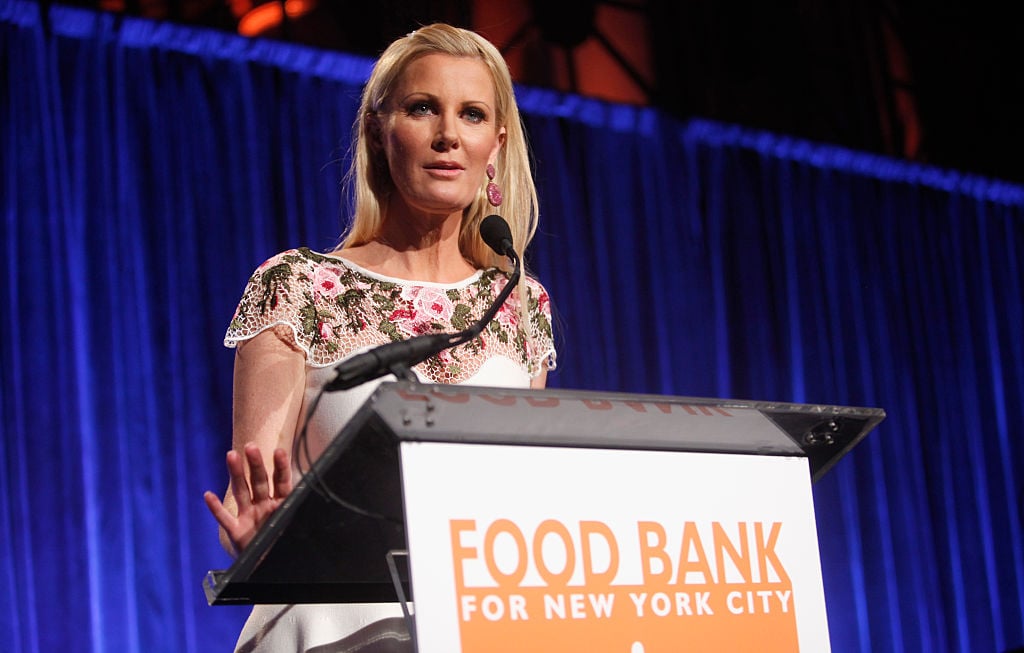 As The Daily Beast reports, the feud between Anthony Bourdain and Sandra Lee has also been long and fierce. Bourdain threw numerous insults in the direction of the Semi-Homemade cook. He referred to her show as "a war crime on television." Bourdain also claimed, "This frightening Hell Spawn of Kathie Lee and Betty Crocker seems on a mission to kill her fans, one meal at a time."
Then Lee, responding to an interview question about whom she'd most like to host for dinner, selected Bourdain. She said, "I'd like to tell him that he needs to have a cocktail. He needs to have a cocktail and lighten up." Lee added, ""I would cook him a yummy, mommy comfort food meal, like something with meat and mashed potatoes in it." She also said, "We all need good comforting."
Next: This chef insulted two other celebrity chefs at one time.
9. Mario Batali vs. Guy Fieri (and Anthony Bourdain)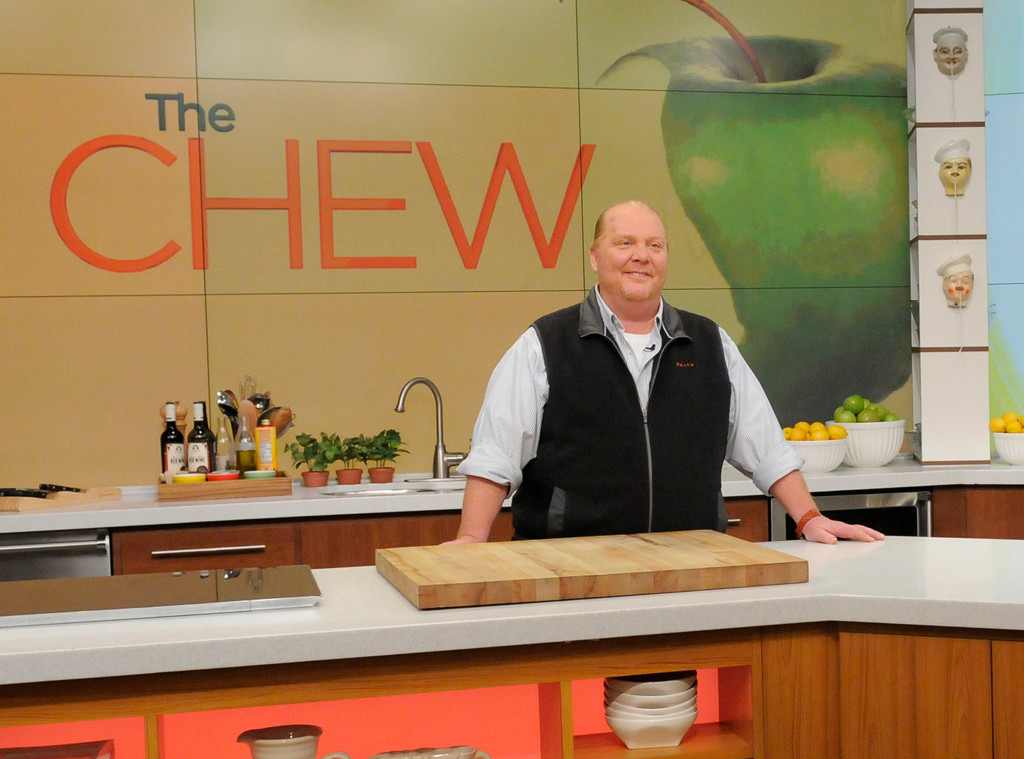 Appearing on ABC's The Chew, Mario Batali also took a shot at Guy Fieri. As Eater explained, Batali had Anthony Bourdain on the episode to demonstrate how to make a Budae Jjigae, or Korean stew. The dish required a variety of ingredients, including spam, hot dogs, kimchi, and ramen noodles. Bourdain combined them all in the same pot, where they would cook in broth.
Sound simple? As Eater notes, it's an easy dish for most amateur chefs. But Batali thought it was too easy. And he seemed to insult Bourdain, and another celebrity chef, when he said so. "This is a dump-and-stir?" Batali asked Bourdain. "Guy Fieri could make this dish!" Bourdain, in Eater's estimation, looked "obviously hurt" and responded, "Oh, that's so cruel, man, so cruel."
Next: Bourdain actually insulted Batali, too. 
10. Anthony Bourdain vs. Mario Batali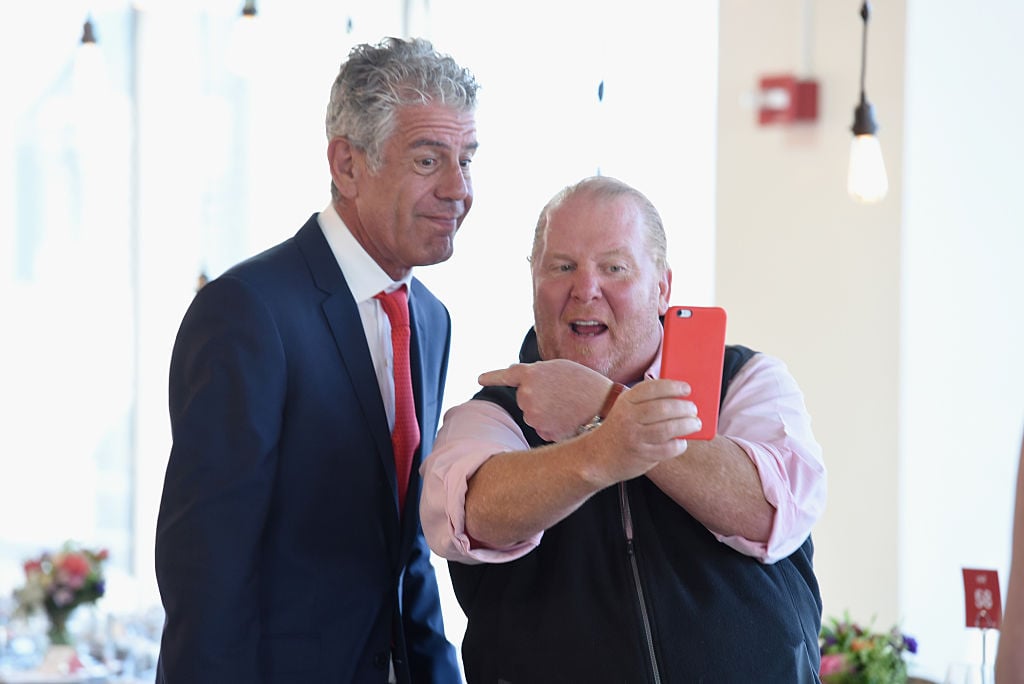 Anthony Bourdain doesn't hold his tongue. So it didn't take him long to comment on the allegations of sexual misconduct directed at Mario Batali. He wrote that "any admiration I have expressed in the past" for Batali "is, in light of these charges, irrelevant." Bourdain added that despite any past friendship with Batali, "In these current circumstances, one must pick a side. I stand unhesitatingly and unwaveringly with the women."
Bourdain also added that he feels ashamed that he wasn't the kind of person that such women could confide in. And he concluded, "To the extent which my work in Kitchen Confidential celebrated or prolonged a culture that allowed the kind of grotesque behaviors we're hearing about all too frequently is something I think about daily, with real remorse."
Next: These celebrity chefs have very different opinions of proper conduct in the kitchen. 
11. Bobby Flay vs. Masaharu Morimoto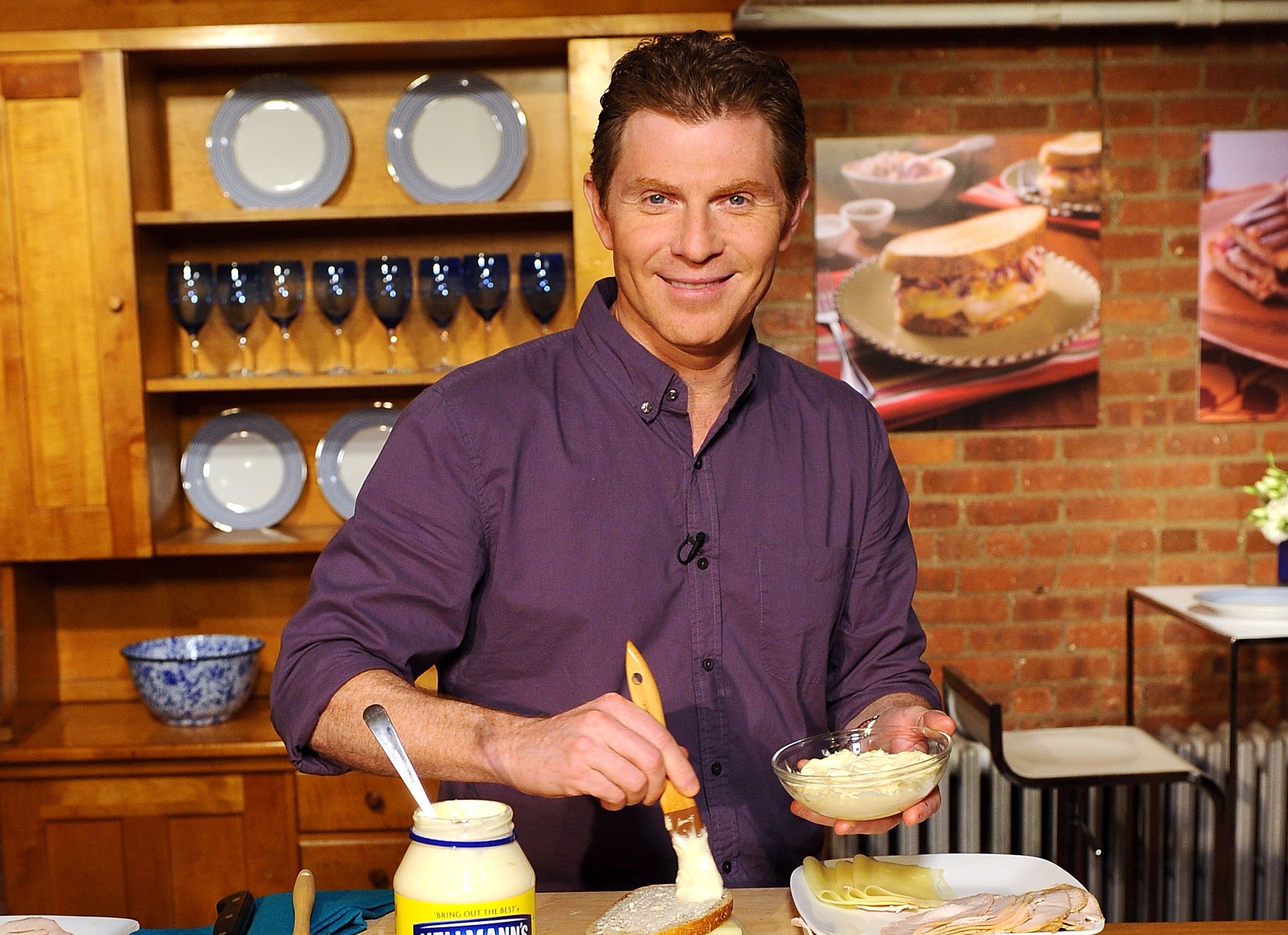 Another chef who's encountered plenty of criticism for his personality and his conduct in the kitchen? Bobby Flay. He's traded insults with several celebrity chefs, most notably with Masaharu Morimoto. Before the launch of the American version of Iron Chef, the original Japanese show hosted an American special. Bobby Flay competed against Morimoto. Unfortunately, Flay deeply offended his fellow chef when he jumped on the counter and trampled Morimoto's knives and cutting board.
Asked by the on-camera reporter about his competitor, Morimoto replied, "He's no chef." Morimoto's rationale? "He stood on the cutting board. In Japan, the cutting board is sacred to us." The story grew into an international scandal — but also set up Iron Chef America as a culture phenomenon for the Food Network.
Next: This celebrity chef inadvertently insulted another chef.
12. Alton Brown vs. Anthony Bourdain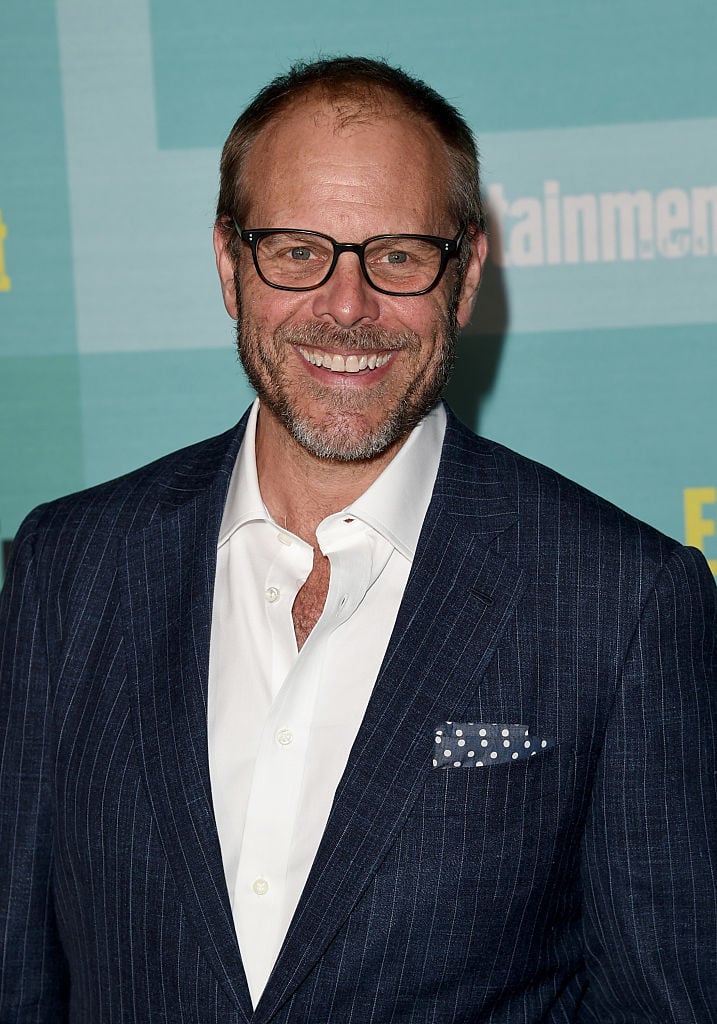 In the process of complimenting Ina Garten, Anthony Bourdain insulted most of the other people who have shows on the Food Network. "I love Ina Garten. She's one of the few people on Food Network who can actually cook," Bourdain said, apparently angering Alton Brown.
Eater reports that Brown fired back. He replied, "I don't have to defend my skills against anybody. I've got 14 years and 252 episodes of a show called Good Eats that I'm pretty sure I can use as a résumé for my skills." Brown added, "When was the last time you saw Anthony Bourdain actually cook anything? I've spent 14 years cooking my own food on television and I've never seen him cook a meal."
Next: This chef insulted a fellow 'lifestyle arbiter.'
13. Martha Stewart vs. Gwyneth Paltrow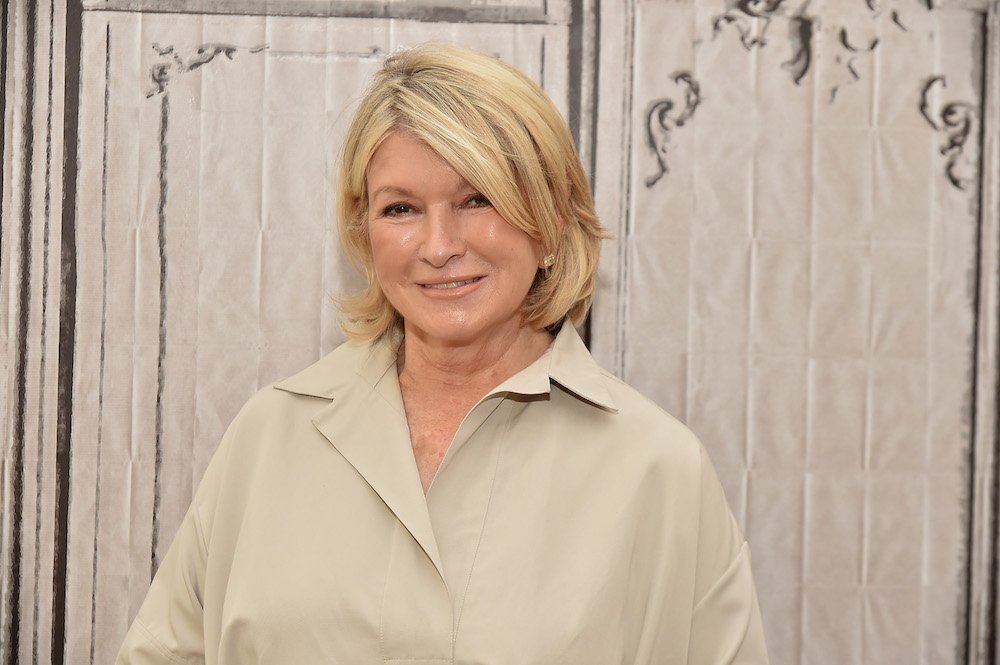 Martha Stewart may not count as a celebrity chef in exactly the same way as others. But you won't want to miss the details of her legendary feud with Gwyneth Paltrow. As ABC explains, the feud seems to have started in 2013, when Stewart said passive-aggressively of Paltrow, "She wants to be a lifestyle arbiter. Fine. Good. I think I started this whole category of lifestyle."
Paltrow finally responded, joking, "No one has ever said anything bad about me before, so I'm shocked and devastated." But she added more sincerely, "I'm so psyched that she sees us as competition." The two traded thinly-veiled jabs via dessert recipes (the conscious coupling and pie and the jailbird cake). But Stewart doesn't seem to have let the feud go. When asked whether she was happy about the news of a watchdog investigation into Paltrow's brand, Stewart joked, "Who's Goop?" Then she added, "No, that's not true. She's a good girl."
Next: Stewart insulted another celebrity chef, too.
14. Martha Stewart vs. Rachael Ray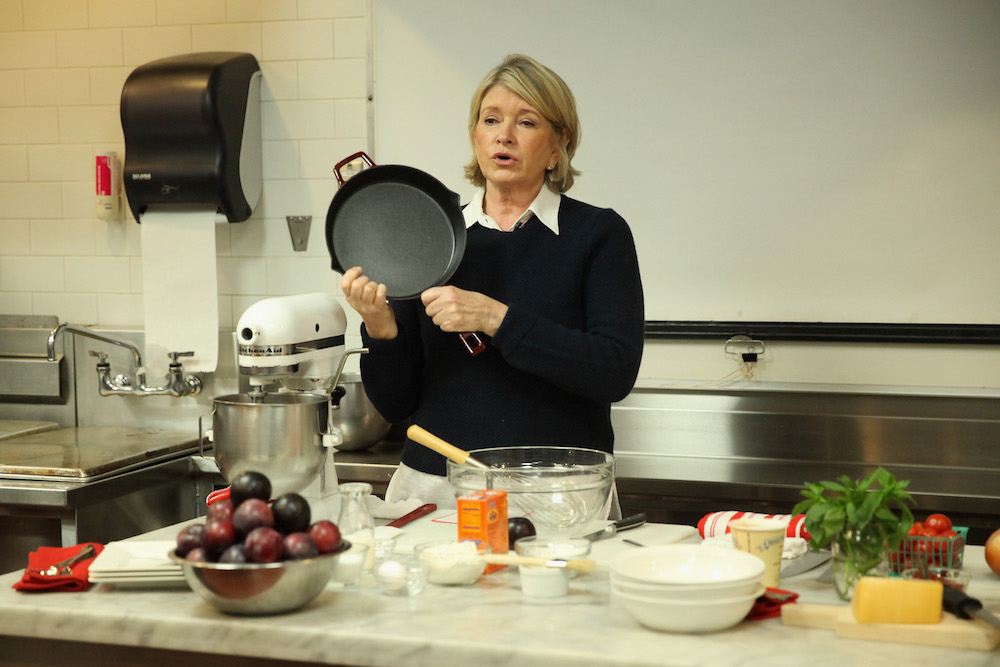 Another target of Martha Stewart's insults? Rachael Ray. Stewart accused Ray of rewriting recipes from her old books and magazines to publish a new book. Stewart said that that practice just isn't "good enough for me. I mean, I really want to write a book that is a unique and lasting thing. Something that will really fulfill a need in someone's library." She added that Rachael Ray is "more of an entertainer, with her bubbly personality, than she is a teacher like me."
But Ray basically agreed with Stewart, calling into question whether you can really call the whole exchange a "feud" at all. Ray said of Stewart, "Her skill set is far beyond mine. That's simply the reality of it. That doesn't mean that what I do isn't important, too… I don't consider it needling. I really just think she's being honest. She does have a better skill set than I do when it comes to producing a beautiful, perfect, high quality meal. I'd rather eat Martha's than mine, too." Stewart eventually apologized, possibly to put the incident behind her, because she re-edits recipes just like Ray.
Next: This celebrity chef feud hinted at big differences of philosophy.
15. Anthony Bourdain vs. Alice Waters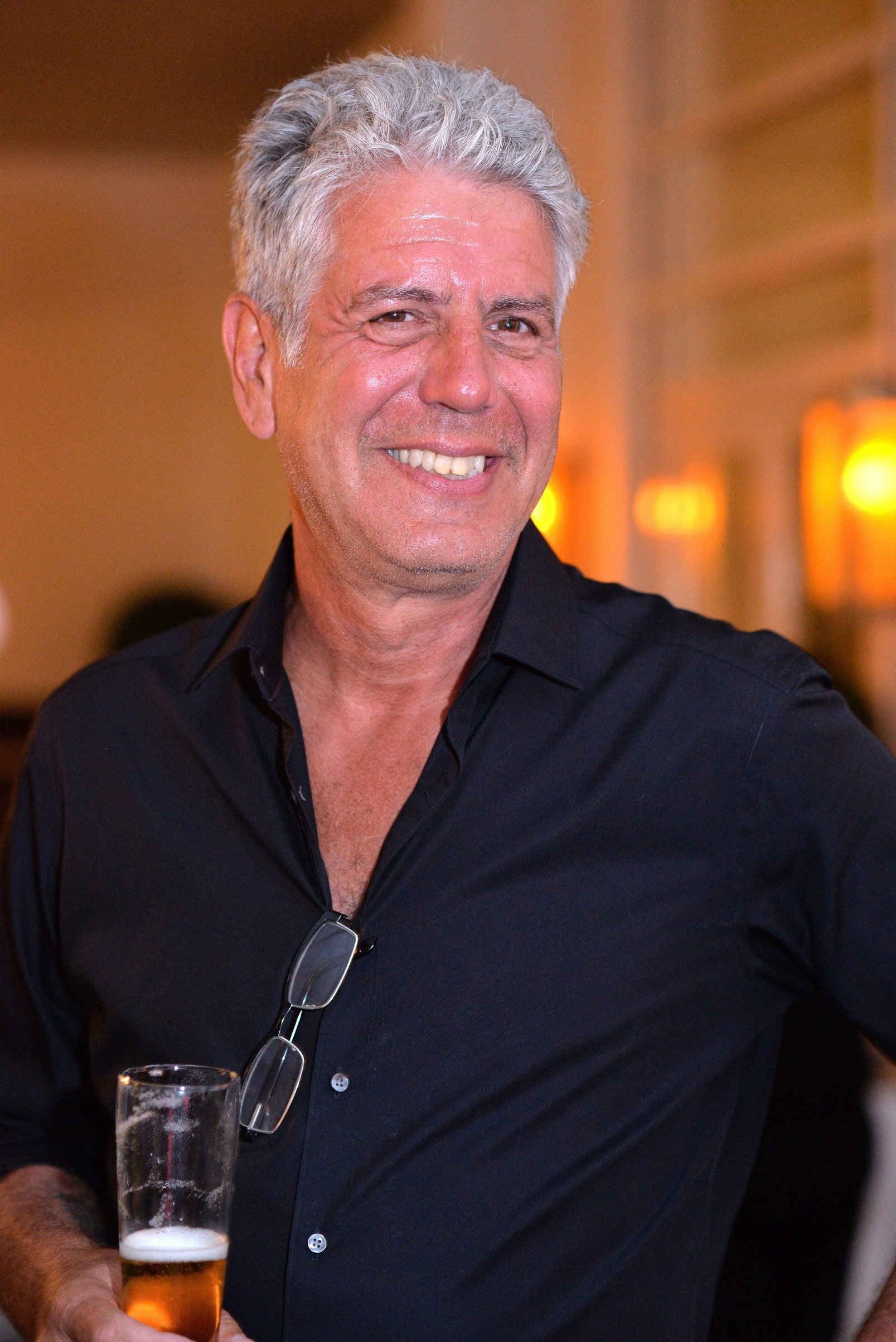 The last of the celebrity chefs at whom Anthony Bourdain has taken aim? Alice Waters, a well-known American restaurateur. He explained in an interview, "Alice Waters annoys the living shit out of me. We're all in the middle of a recession, like we're all going to start buying expensive organic food and running to the green market. There's something very Khmer Rouge about Alice Waters that has become unrealistic."
Bourdain admitted, "I'm not crazy about our obsession with corn or ethanol and all that, but I'm a little uncomfortable with legislating good eating habits. I'm suspicious of orthodoxy, the kind of orthodoxy when it comes to what you put in your mouth. I'm a little reluctant to admit that maybe Americans are too stupid to figure out that the food we're eating is killing us."
Read more: This Is the 1 Thought We All Have Every Time We Watch 'Barefoot Contessa'
Check out The Cheat Sheet on Facebook!