13 Bisquick Recipes for Fast and Easy Meals
Harried cooks everywhere should raise a toast to Bisquick, that ubiquitous mix of flour, fat, salt, and baking powder. It might be hard to imagine today, when grocery store aisles are lined with an endless array of convenience foods, but there was a time when the idea of just adding water to a prepared mix and ending up with a fluffy biscuit was a revolutionary concept.
When General Mills introduced Bisquick in 1931, there was nothing quite like it on the market. It didn't take long for at-home cooks to realize this handy baking mix could be used to make more than biscuits. People started using Bisquick in all kinds of dishes, including pancakes, dumplings, and crustless pies.
Today, Bisquick might not be the mind-blowing product it once was, but it's still a lifesaver for cooks who are short on time. Next time you need to make a meal fast, try one of these time-saving Bisquick recipes.
1. Bisquick Sausage Balls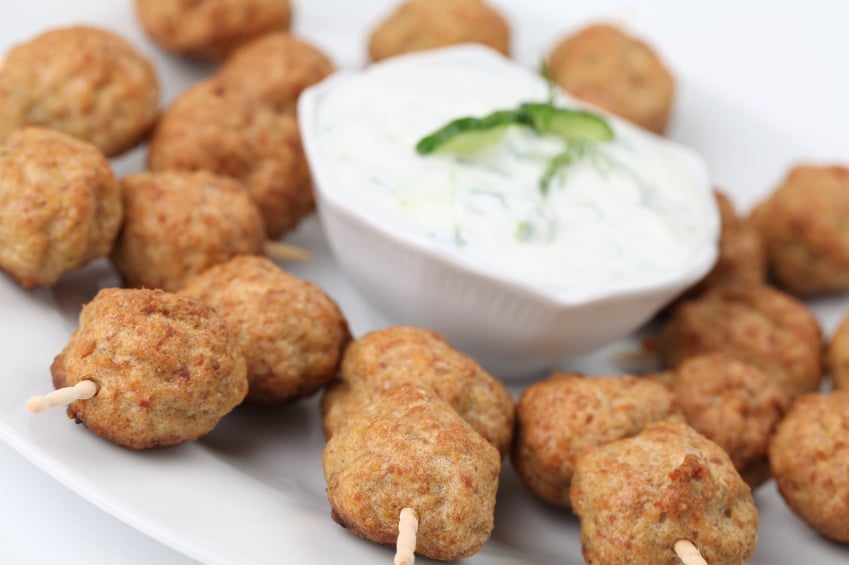 When it comes to party appetizers, it doesn't get much easier than Bisquick sausage balls. Once you taste this bite-size, Southern-style snack, you'll see why they're so popular. This version from The Wicked Noodle has just four ingredients, and is the perfect dish to serve at parties and potlucks.
Ingredients:
1 pound ground Italian sausage
8 ounces cream cheese, softened
2 cups Bisquick baking mix
1 ½ cups shredded sharp cheddar cheese
Directions: Preheat oven to 350 degrees Fahrenheit. Place sausage and cream cheese in the bowl of a stand mixer. Mix just until combined. Add the Bisquick, and beat on low until combined. Add the cheddar cheese, and mix on low until just combined.
Line a baking sheet with parchment paper or aluminum foil. Using a cookie or meatball scoop, spoon up some of the meat mixture. Shape into a round ball, and place on the prepared baking sheet. Repeat until you've used up all the of meat. Transfer tray of sausage balls to the refrigerator, and let chill for at least 15 minutes. (If chilling overnight, be sure to cover the pan.)
Bake the Bisquick sausage balls in the oven for 30 minutes, until lightly browned and cooked through. Transfer cooked balls to a serving plate, spear each with a toothpick, and serve with mustard or another dipping sauce.
2. Zucchini Bisquick Casserole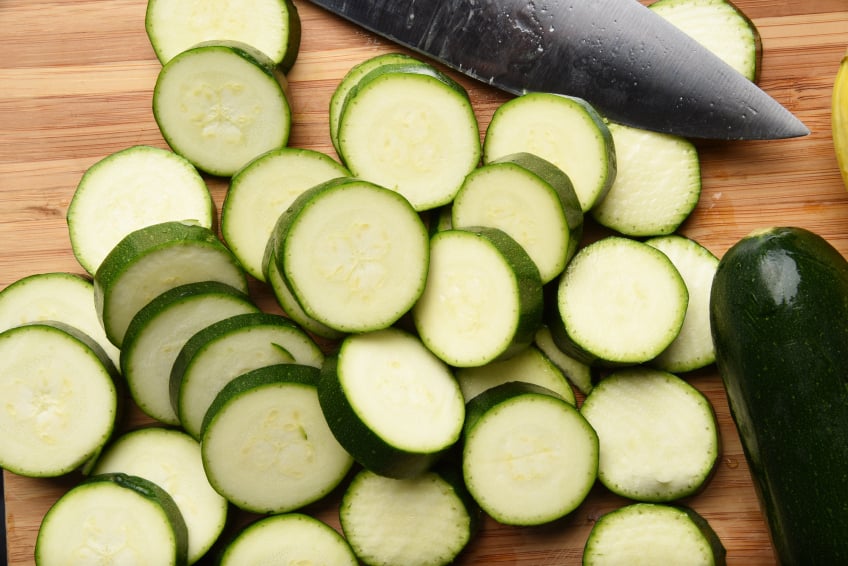 To make this simple casserole, just mix the ingredients together, dump into a pan, and bake for a half hour. The result is a light, slightly cheesy casserole that's perfect for breakfast, brunch, or even dinner. The recipe is from Keeping with the Times.
Ingredients:
3 cups zucchini, cored, and cut into ½-inch cubes
½ cup chopped onions
2 tablespoons parsley
½ teaspoon oregano
1 clove garlic, minced
½ teaspoon Lawry's Seasoned Salt
Dash of pepper
1 cup Bisquick
½ cup Parmesan cheese
4 eggs, slightly beaten
½ teaspoon salt
½ cup vegetable or olive oil
Directions: Preheat oven to 350 degrees Fahrenheit.
Grease a 9-by-13-by-2-inch pan. Add all the ingredients in a bowl. Stir to combine. Pour into prepared pan. Bake for 25 minutes. Remove from oven, and serve.
3. Baked Blueberry Pancakes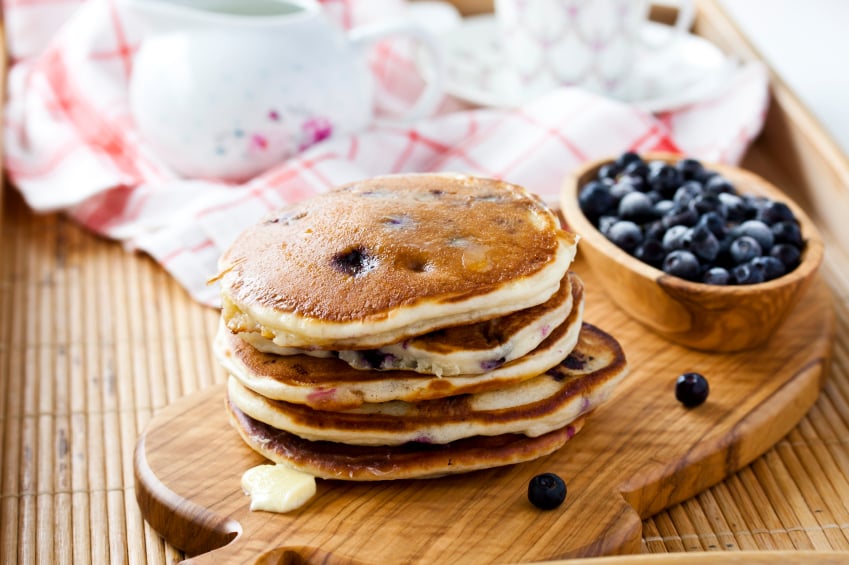 Pancakes are the perfect weekend morning treat, but when you wake up with your stomach rumbling, who wants to spend time in front of the stove flipping flapjacks? These baked blueberry pancakes from Taste of Home are the solution to your A.M. dilemma. Just prepare and bake the pancakes the night before, then microwave for a few seconds to warm in the morning.
Ingredients:
2 cups Bisquick or other pancake mix
1 ½ cups fat-free milk
1 egg
1 tablespoon canola oil
1 teaspoon ground cinnamon
1 cup fresh or thawed frozen blueberries
Butter and maple syrup
Directions: Preheat oven to 400 degrees Fahrenheit.
In a large bowl, combine the pancake mix, milk, egg, oil, and cinnamon just until blended (batter will be lumpy). Fold in blueberries.
Spread into a greased 15-by-10-by-1-inch baking pan. Bake for 10 to 12 minutes or until golden brown. Serve with butter and syrup.
4. Sweet Strawberry Cobbler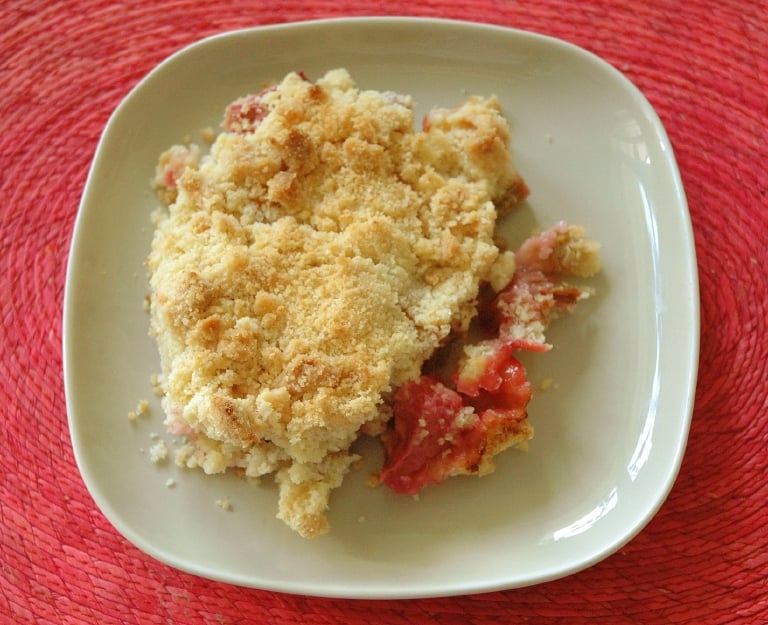 Homemade dessert was never easier than with this simple five-ingredient strawberry cobbler recipe from Mostly Homemade Mom. Fresh strawberries are topped with a sweetened Bisquick crumble, baked, then served with dollop of whipped cream. It's so good no one will believe it took less than 10 minutes to prepare.
Ingredients:
1 pint fresh or thawed frozen strawberries
1 cup sugar
1 cup Bisquick or other baking mix
1 egg
1 stick butter, melted
Directions: Preheat oven to 350 degrees Fahrenheit.
Hull and quarter the strawberries. Place fruit in the bottom of a square baking dish. Mix together the sugar and Bisquick in a medium bowl. Stir in the egg (the mixture will be clumpy). Sprinkle the Bisquick mixture over the strawberries. Drizzle the melted butter over the Bisquick and fruit. Bake for 35 to 40 minutes, until lightly browned. Spoon cobbler into bowls, and top with whipped cream.
5. Impossibly Easy Spinach and Feta Pie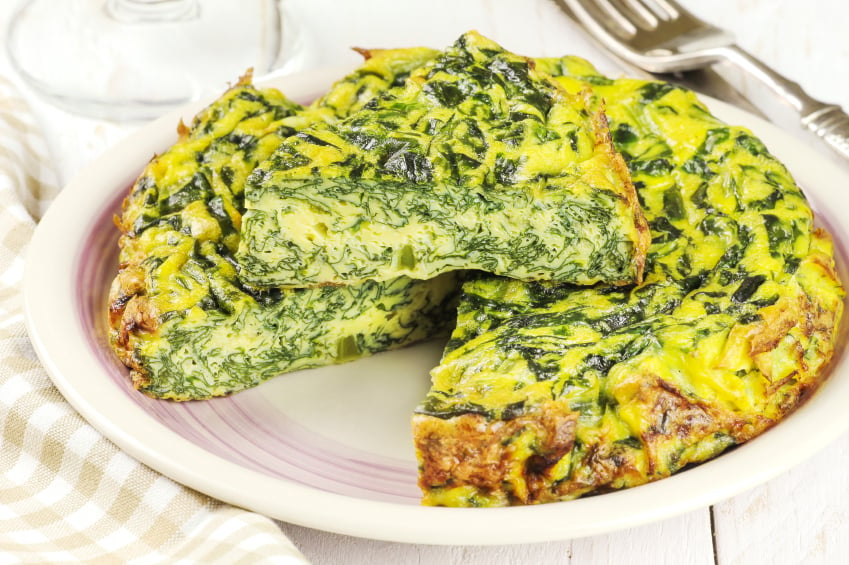 Love quiche, but don't have time to mess with pie crust? Mixing Bisquick in with the other ingredients in this quiche-like dish produces a pie that forms its own crust as it bakes. The recipe is from Betty Crocker.
Ingredients:
1 (10-ounce) package frozen chopped spinach, thawed and squeezed to drain
½ cup crumbled feta cheese
4 medium green onions, sliced (¼ cup)
½ cup Bisquick baking mix
2/3 cup milk
¼ teaspoon salt
1/8 teaspoon pepper
2 eggs
Directions: Preheat oven to 400 degrees Fahrenheit. Grease a 9-by-1¼-inch pie plate. Mix spinach, cheese, and onions in pie plate.
Stir remaining ingredients until blended. Pour into pie plate.
Bake for 30 to 35 minutes or until knife inserted in center comes out clean. Let stand 5 minutes before serving.
6. Bisquick Chicken and Dumplings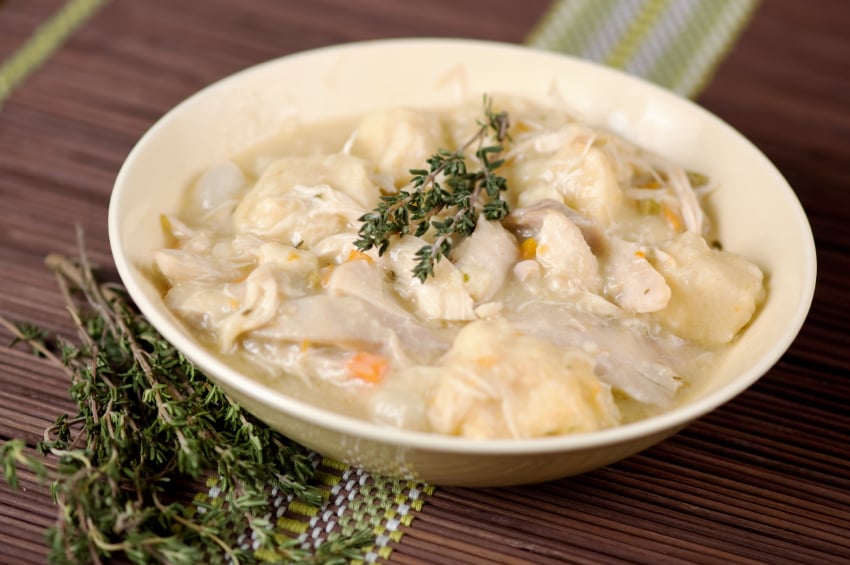 When you want the ultimate comfort food with a minimum amount of effort, try this chicken and dumplings recipe from The Weary Chef. You can make this simple meal with basic fridge and pantry staples, including Bisquick, chicken broth, milk, and carrots. It's the perfect dinner solution for lazy, rainy days.
Ingredients:
48 ounces chicken broth
4 medium carrots peeled and diced
1 cup frozen peas
2 boneless, skinless chicken breasts
2¼ cups Bisquick baking mix
⅔ cup milk
Salt and pepper to taste
Directions: Pour the chicken broth into a large stockpot. Add the chicken breasts and carrots, then season with salt and pepper. Bring to a boil, then cover, reduce heat, and let simmer for 30 minutes, until carrots are tender.
As the chicken and carrots cook, mix together the baking mix and milk to form a dough.
Remove the chicken from the pot, and set aside. Stir in the frozen peas, and bring mixture to a boil. Drop grape-size balls of dough into the broth. Stir, making sure dumplings are submerged.
Use two forks to shred the chicken. Return the meat to the pot, and stir. Simmer for 10 minutes, then serve.
7. Bisquick Chicken Parmesan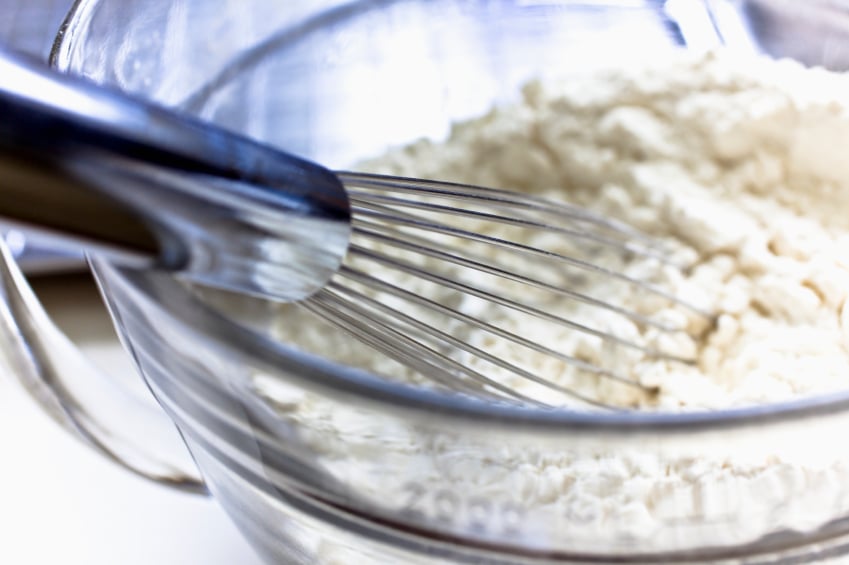 Kids and adults, alike, will love this easy-to-make version of chicken Parmesan from Mix and Match Mama. To make the breaded chicken, all you need is some Bisquick, Italian seasoning, egg, and a little Parmesan cheese. Bake the chicken in the oven, then serve with pasta and tomato sauce for a simple yet satisfying meal.
Ingredients:
1 pound chicken breasts
¾ cup Bisquick
2 tablespoons Italian seasoning
2 heaping tablespoons grated Parmesan cheese
1 egg, beaten
2 tablespoons melted butter
Directions: Preheat oven to 400 degrees Fahrenheit. Line a baking sheet with foil, and coat lightly with nonstick cooking spray.
Mix together the Bisquick, Italian seasoning, and cheese in a shallow dish. In another shallow dish, beat the egg. Dip each chicken breast in the Bisquick mixture, then in the egg, then again in the Bisquick. Shake off any excess coating, and place each chicken breast on the prepared baking sheet.
Brush about half of the melted butter over the tops of the chicken breasts. Bake in the oven for 8 minutes. Turn the chicken breasts over, and brush with the remaining melted butter. Bake for another 8 minutes. Remove from the oven. Chicken should be crispy and lightly browned.
Serve baked chicken with pasta and tomato sauce, garnished with additional Parmesan cheese if desired.
8. Garlic Cheddar Biscuits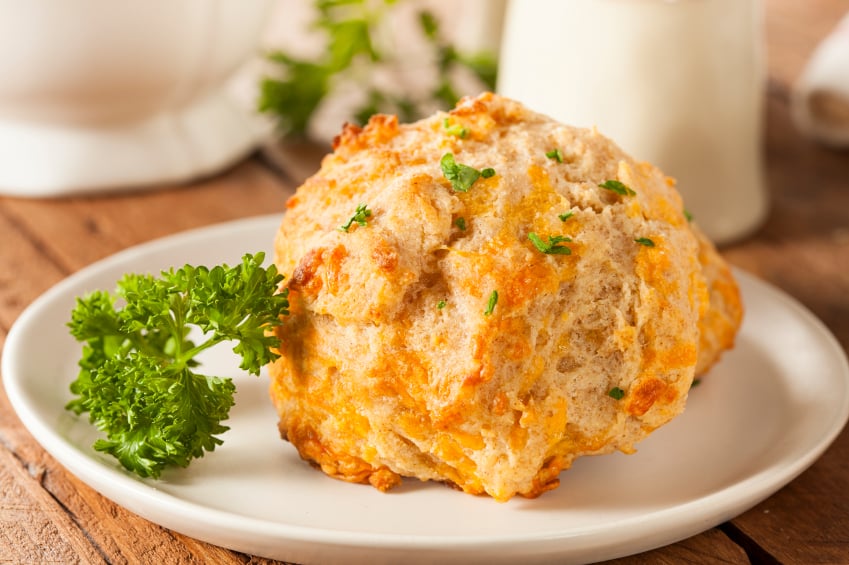 Red Lobster fans won't be able to get enough of this 20-minute copycat recipe for the seafood chain's popular Cheddar Bay biscuits from Gimme Some Oven. Even better, there's a good chance you already have all the ingredients you need on hand for this addictive appetizer, including cheddar cheese, milk, and butter.
Ingredients:
2 cups Bisquick buttermilk biscuit mix
1 cup grated cheddar cheese
½ teaspoon garlic powder
2/3 cup milk
2 tablespoon butter
2 teaspoon dried oregano
¼ teaspoon garlic salt
Directions: Preheat oven to 400 degrees Fahrenheit. Coat a baking sheet with nonstick spray.
Combine the Bisquick, grated cheese, and garlic powder in a large bowl. Pour in the milk, and stir until well combined. (The dough will be sticky.)
Using a spoon or your fingers, form the dough into lumps the size of biscuits, then drop onto the prepared baking sheet.
Transfer pan to the oven, and bake until biscuits start to brown slightly, about 10 to 13 minutes.
As the cheddar biscuits bake, prepare the warm butter mixture. Add 2 tablespoons of butter to a microwave-safe bowl, and microwave until melted. Then, add the oregano and garlic salt, and stir to combine. Immediately after removing the biscuits from the oven and before removing from the baking sheet, brush them with the garlic-butter mixture until well-coated. Serve warm.
9. Bisquick Doughnuts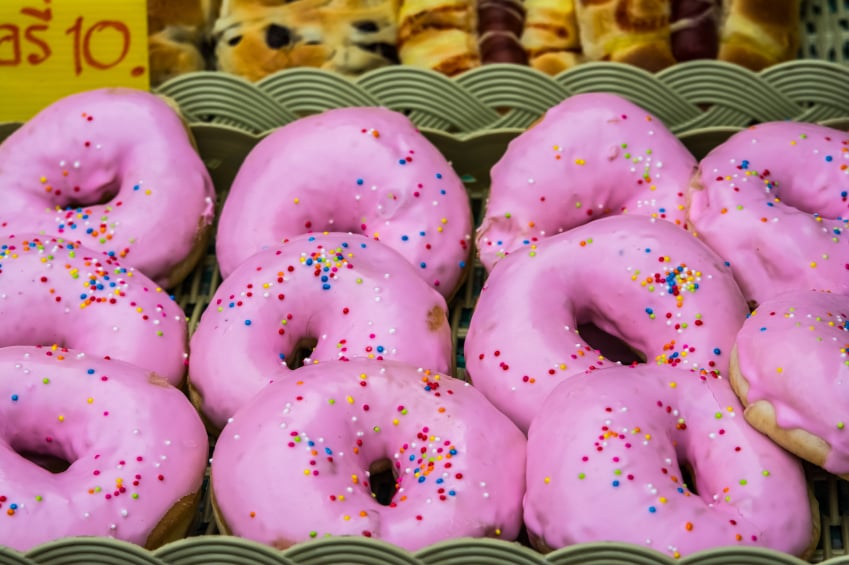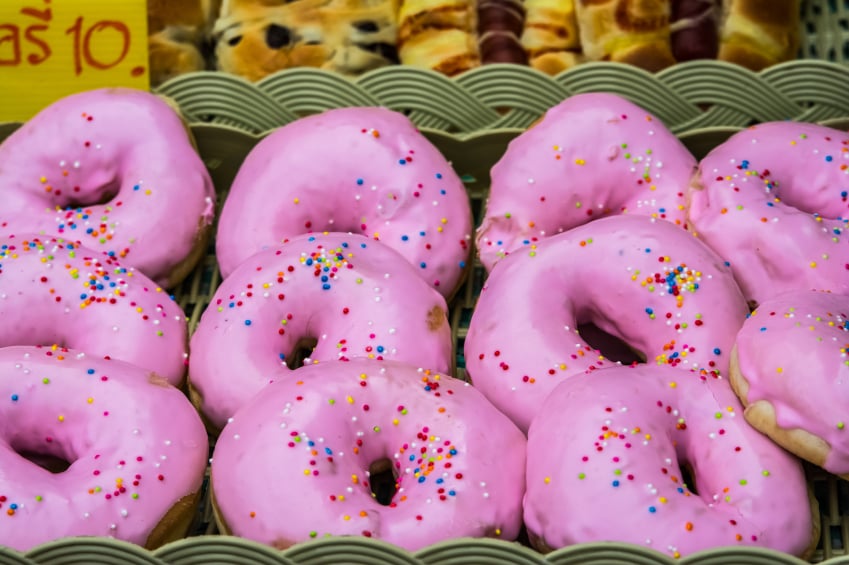 You don't have to make a run to Dunkin Donuts to enjoy a special breakfast treat. Making your own doughnuts is a cinch with the help of baking mix, and cooking them doesn't have to be as messy as you might think.
This four-ingredient recipe for Bisquick doughnuts comes from Ashton at Something Swanky, and she suggests using a 2-quart saucepan with about 3 cups of oil to minimize spatter. Also, use tongs to flip the doughnuts, rather than a spoon or spatula, to avoid the risk of burns.
Ingredients:
3 cups vegetable oil
1 ½ cups Bisquick Heart Smart Baking Mix
½ cup low-fat milk
Canned frosting, softened, or make your own chocolate ganache or powdered sugar glaze
Directions: Pour the oil into a 2-quart saucepan. Turn heat to medium, and let warm for about 5 minutes.
As the oil warms, combine the Bisquick and milk in a large bowl, and stir until you have a soft dough. Flour your hands to prevent sticking, and then turn the dough out onto a nonstick or floured work surface. Press until the dough is about ¼-inch thick, and cut out 3- to 4-inch rounds using a biscuit or cookie cutter.
Sprinkle a few drops of cold water into the pan to test if the oil is hot enough. If it bubbles and splatters a bit, it's hot enough. (If the cooking oil isn't the right temperature, your doughnuts will be greasy.)
Add the doughnuts to the pot one at a time. They should float to the top right away; if not, the oil is not hot enough. Don't crowd the pan; you may need to cook in batches. Once the underside of the doughnuts has started to turn brown (about 1 minute), use the tongs to flip, and cook for 1 minute more.
Transfer doughnuts to a wire rack, and let cool. Once cool, cover with frosting or other garnish.
10. Bisquick Chicken Nuggets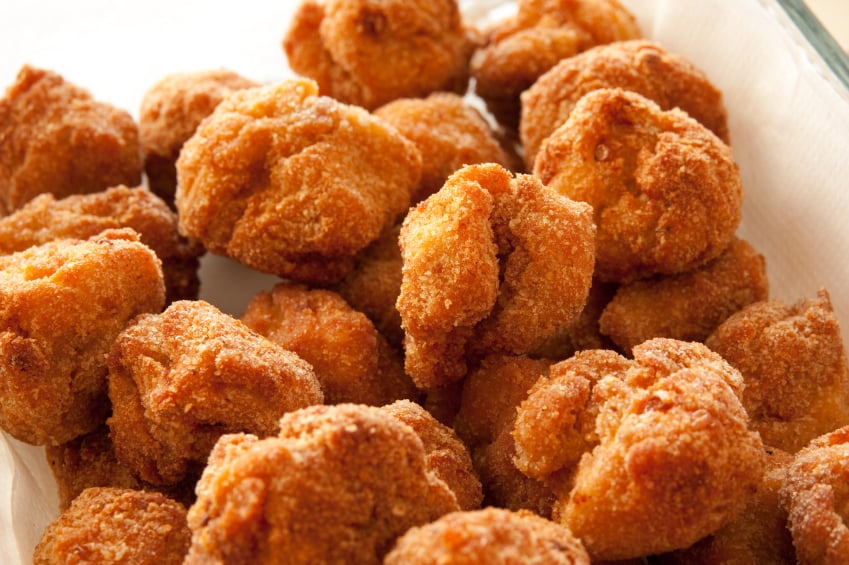 Chicken nuggets don't have to be junk food. You can make this kid-friendly nugget recipe from High Heels and Grills in about 20 minutes with some Bisquick and a few other ingredients, including grated Parmesan and paprika. Makes 3 to 4 servings.
Ingredients:
3 boneless, skinless chicken breast halves cut crosswise into ½-inch strips, then cut into smaller, nugget-sized bites
2/3 cup Bisquick mix
½ cup grated Parmesan cheese
½ teaspoon garlic salt
½ teaspoon paprika
1 egg
3 tablespoons butter or margarine, melted
Directions: Preheat oven to 450 degrees Fahrenheit. Line a baking sheet with aluminum foil, and coat with nonstick cooking spray.
Add the Bisquick, Parmesan cheese, salt, and paprika to a resealable bag. Shake to combine.
Lightly beat the egg in a shallow bowl. Dip half the chicken nuggets in the egg, then add them to the bag with the Bisquick mixture. Shake until the chicken is well coated. Transfer the chicken pieces to the prepared baking sheet, and then repeat the process with the remaining chicken.
Drizzle the melted butter over the coated chicken pieces. Transfer to the oven, and bake for 12 to 14 minutes, turning once after 6 to 7 minutes of cooking. Serve with your preferred dipping sauce.
11. John Wayne Casserole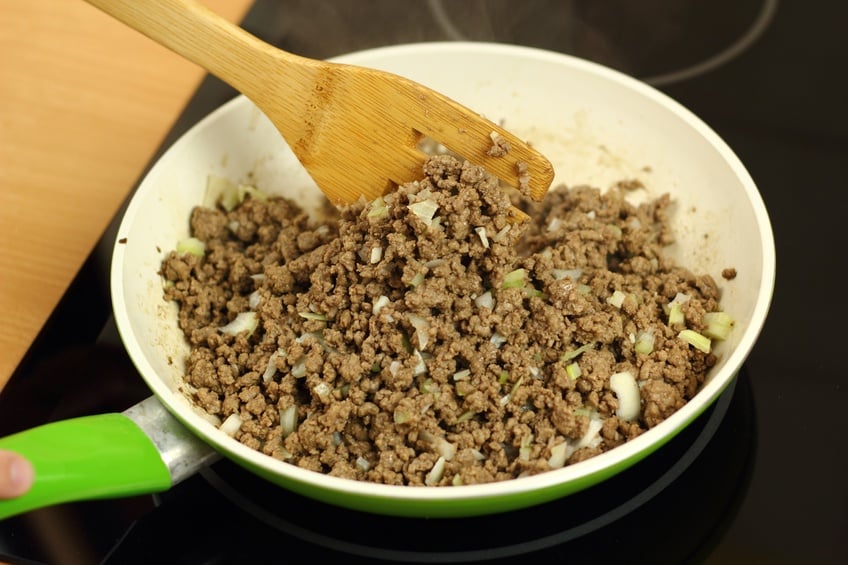 We're not quite sure why this meaty casserole is named after the famous actor, but if you're a fan of hearty comfort food, you're sure to love this dish (even if you don't like old Westerns).
It's made with ground beef, taco seasoning, bell peppers, and tomatoes, among other ingredients, all sitting atop a biscuit crust. This version comes from Six Sisters' Stuff.
Ingredients:
2 pounds lean ground beef
1 (1-ounce) packet taco seasoning, or 2 tablespoons homemade taco seasoning
¾ cup water
½ cup sour cream
½ cup light mayonnaise
1 cup cheddar cheese, shredded
1 onion, diced
2 cups Bisquick
1 cup water
2 Roma tomatoes, diced
1 green bell pepper, diced
1 (4-ounce) can green chilies
Directions: Preheat oven to 325 degrees Fahrenheit. Coat a 9-by-13-inch baking dish with nonstick spray.
Heat a large skillet over medium-high heat, and brown the ground beef until no pink remains. Add the taco seasoning and ¾ cups of water, stir, and let simmer for 3 to 4 minutes.
As the meat cooks, mix the sour cream, mayonnaise, half of the shredded cheddar cheese, and half the diced onion in a medium bowl. Set aside.
In a second bowl, combine the Bisquick and 1 cup of water. Stir until a soft dough forms. Press into the bottom and ½-inch up the sides of the prepared pan.
In a separate skillet, sauté the green peppers and remaining onions until tender-crisp.
Pour the cooked ground beef into the baking dish. Top (in this order) with the diced tomatoes, green pepper and onion mixture, green chilies, and the sour cream and mayo mixture. Sprinkle on the remaining cheddar cheese.
Transfer to the oven, and bake for 30 to 35 minutes. Remove from oven, let sit for 5 minutes, then serve.
12. Bisquick Churros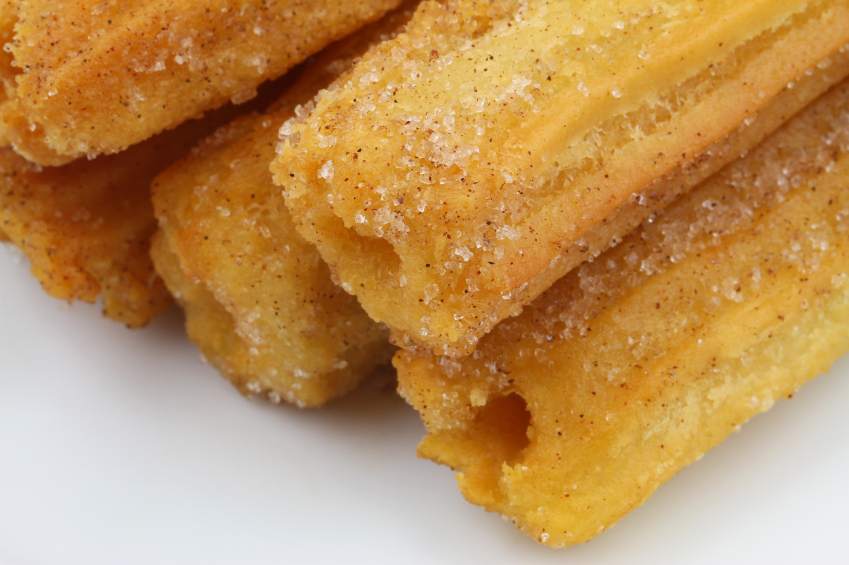 Five ingredients are all you need to make these Bisquick churros from Qué Rica Vida. The doughnut-like treats, coated with cinnamon and sugar, are surprisingly easy to make and the perfect thing to serve at breakfast or as a special snack. You'll need a pastry bag with a star tip to form the churro dough into its signature shape.
Ingredients:
Vegetable oil
4 tablespoons sugar
2 teaspoons ground cinnamon
3 ¼ cups Bisquick
1 cup hot water
Directions: In 3-quart saucepan, heat oil (2 to 3 inches) over medium-high heat until thermometer inserted in oil reads 375 degrees Fahrenheit.
In small bowl, mix 3 tablespoons sugar and the cinnamon; set aside. In medium bowl, stir Bisquick, hot water, and remaining tablespoon of the sugar with spatula until dough forms.
Spoon mixture into pastry bag fitted with ¼-inch star tip. Pipe 5-inch strips of dough into hot oil. If necessary, cut dough with knife or scissors between each churro. Cook 2 to 3 minutes, turning frequently, until are golden brown. Carefully remove from oil; drain on paper towels.
Immediately sprinkle churros generously with sugar-cinnamon mixture. Serve warm.
13. Baked Chicken Meatballs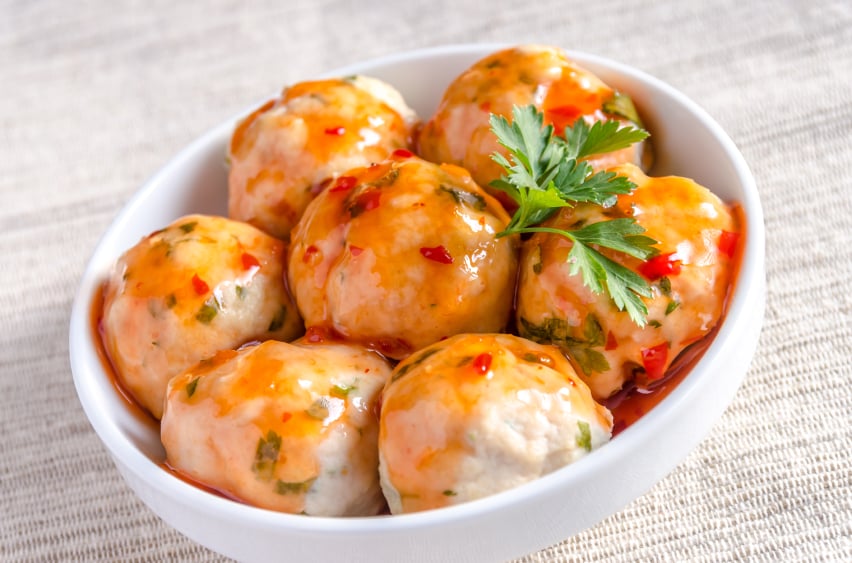 Lighten up your next plate of spaghetti and meatballs with this recipe from Delish. The meatballs are made with ground chicken and seasoned with thyme and fennel seed. Bisquick, rather than breadcrumbs, helps keep the meatballs tender and moist. The recipe makes about 25 meatballs.
Ingredients:
1 pound ground chicken breast
½ cup finely chopped yellow onion
1 teaspoon chopped fresh thyme leaves
½ teaspoon fine sea salt
½ teaspoon freshly ground black pepper
1 tablespoon chopped fresh flat-leaf parsley
¼ teaspoon red pepper flakes
2 teaspoons lightly crushed fennel seed
¾ cup grated Parmesan cheese
1 ½ cups Bisquick
¼ cup heavy cream
1/3 cup milk
1 tablespoon balsamic vinegar
1 tablespoon olive oil
Directions: Preheat oven to 350 degrees Fahrenheit.
Combine all ingredients in a large mixing bowl, stirring gently with a spoon until well mixed.
Spray a large baking sheet or jelly roll pan with nonstick cooking spray. Before moving onto the next step, also coat clean hands with cooking spray or a thin layer of vegetable oil to keep the meatballs from sticking.
Scoop about 1 ½ tablespoons of meatball mixture into hands, and roll into balls. Place meatballs on greased baking sheet, and bake about 30 to 35 minutes, or until chicken is completely cooked through and tops of meatballs have lightly browned.