South Korea's Poop Cafe and Every Other Bizarre Restaurant Around the World
Yes, there's actually a poop-themed joint in South Korea. And the worst part is, it serves food. Yikes. While South Korea's take on what's appropriate for a cafe certainly pushes the envelope, there are plenty of spots that make the list of totally bizarre, off-the-wall eateries.
Interested in hearing more? We thought you might be. Without further ado, here are 15 themed restaurants, cafes, and pop-up spots that'll leave you scratching your head.
1. Cure Maid Cafe, Tokyo, Japan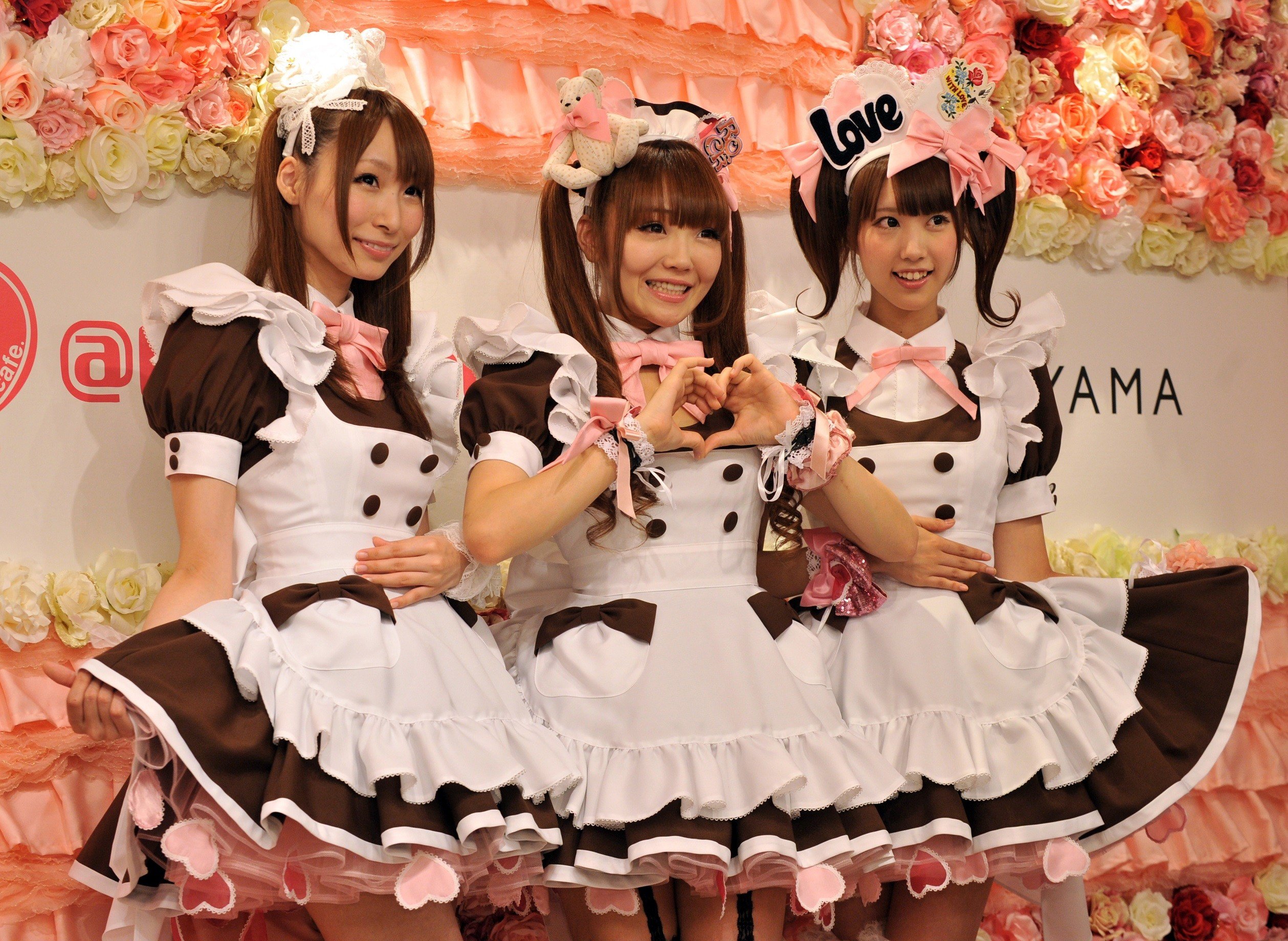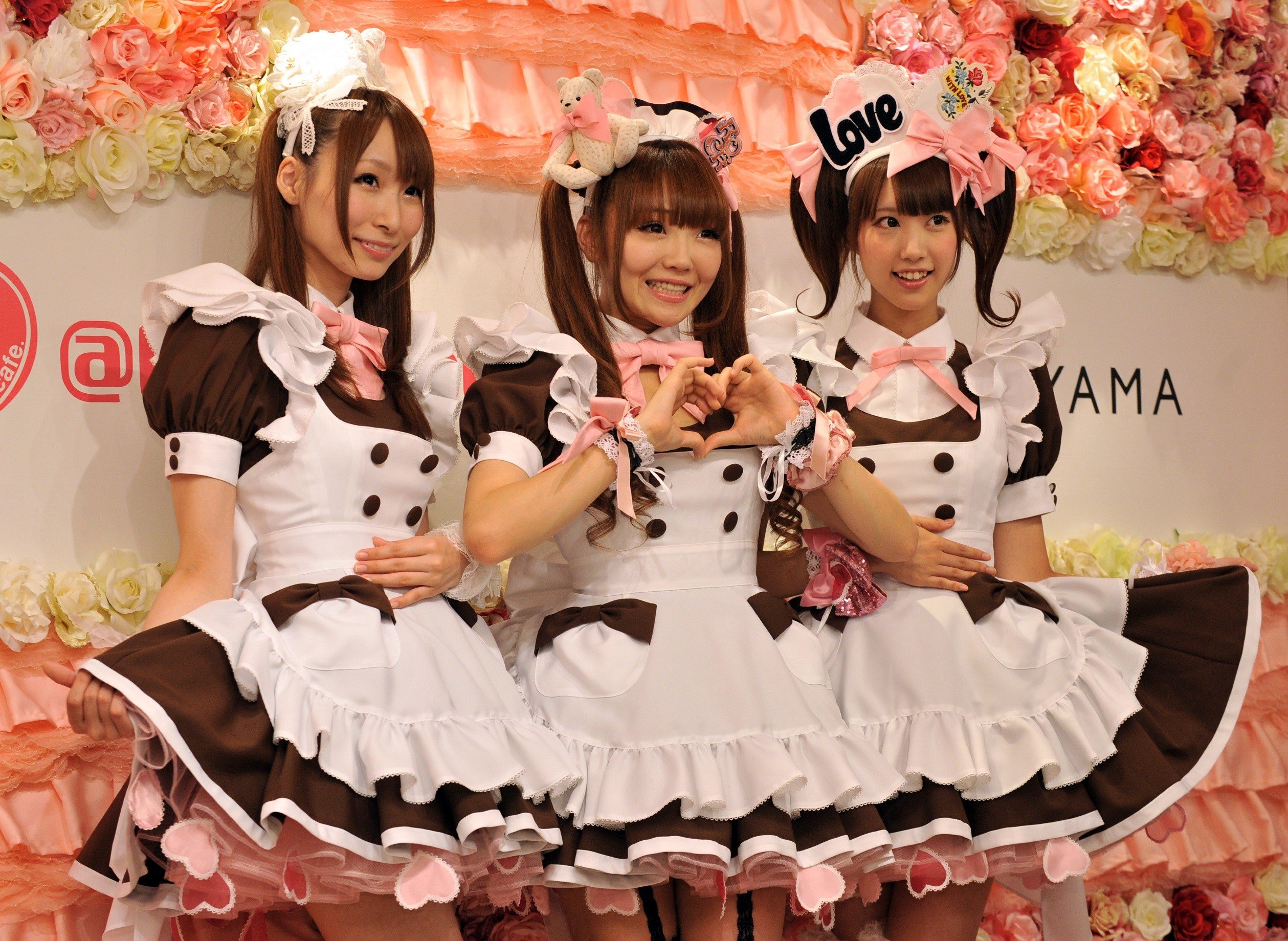 This may be the first, but it's certainly not the only Japanese maid cafe. In fact, there are over 200 of these in Japan alone, with more popping up in other countries across the world. So, what exactly do these cafes entail in the first place? Well, it's a rather bizarre sight for those who've never experienced it before.
Young women are clad in cutesy outfits. Some wear bunny ears, and they're even ready to don the customers with a pair, too. The main theme at most of these maid cafes is for the employees to act as servants would in your own home. Kind of creepy if you ask us.
Next: The maid cafes' counterpart
2. Schoolboy-themed cafe, Harajuku, Japan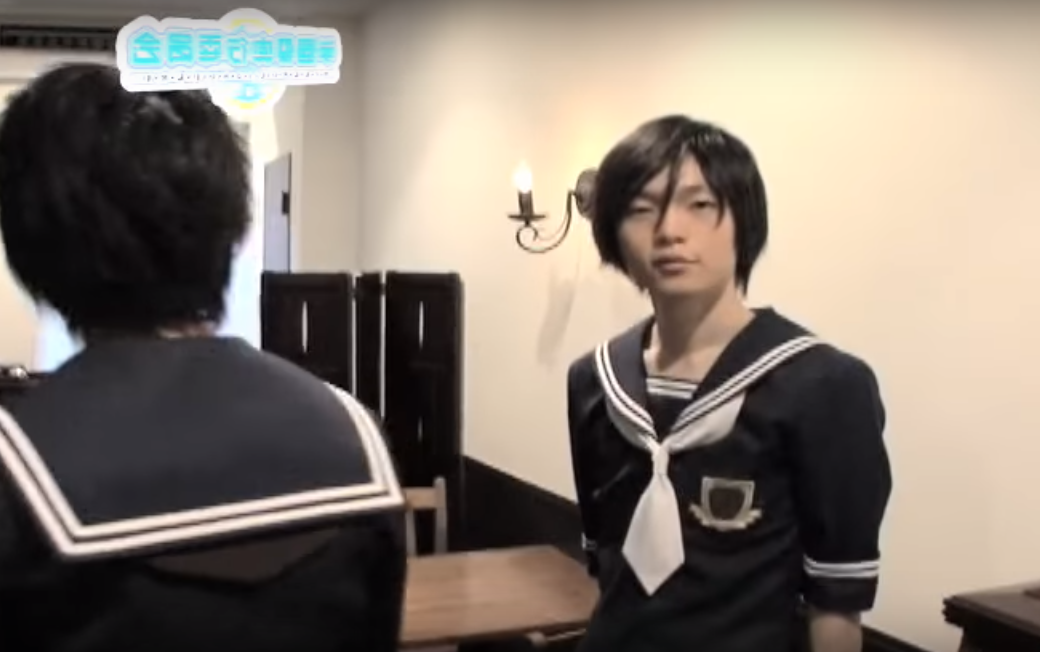 So, yeah, there's also a place where young boys are the objects of affection. At Edelstein Cafe in Japan, it's the women who are doing the fantasizing. According to CNN, "The café pretends to be a private boys school somewhere in Europe, where the young male students double as waiters for visitors, especially those who like 'boys love,' or manga about beautiful boys in love with each other." This place sounds like it's really humping the fence of what's legal, or at least appropriate.
Next: And possibly the grossest food concept of all time goes to …
3. The Poop Cafe, Seoul, South Korea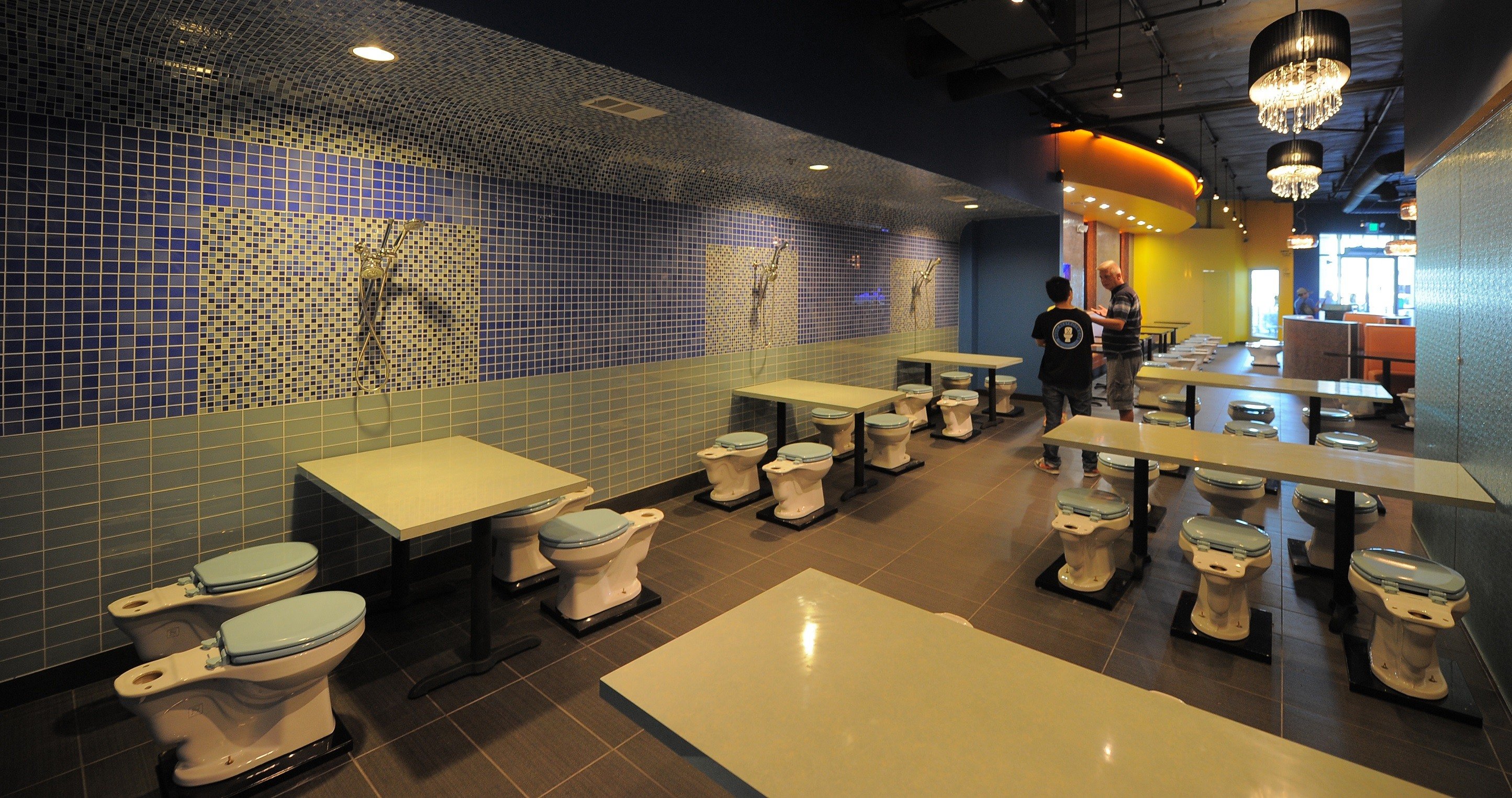 This is the moment you've been waiting for. Here, we present you with, at first glance, the most disgusting restaurant concept of all time. Find it in Seoul, South Korea, and never, ever look back. The poop emoji is certainly enjoying its 15 minute, and never has it been more evident than inside The Poop Cafe. (In fact, there used to be one of these spots in California, too. But it went down the toilet years ago.)
Restroom-inspired drawing cover the walls, pastries come in the shape of poop, and menu items are served up in mini toilet bowls. No. Joke.
Next: You'll have to go through security to get into this place.
4. Fife & Drum at the Northeastern Correctional Center in Concord, Massachusetts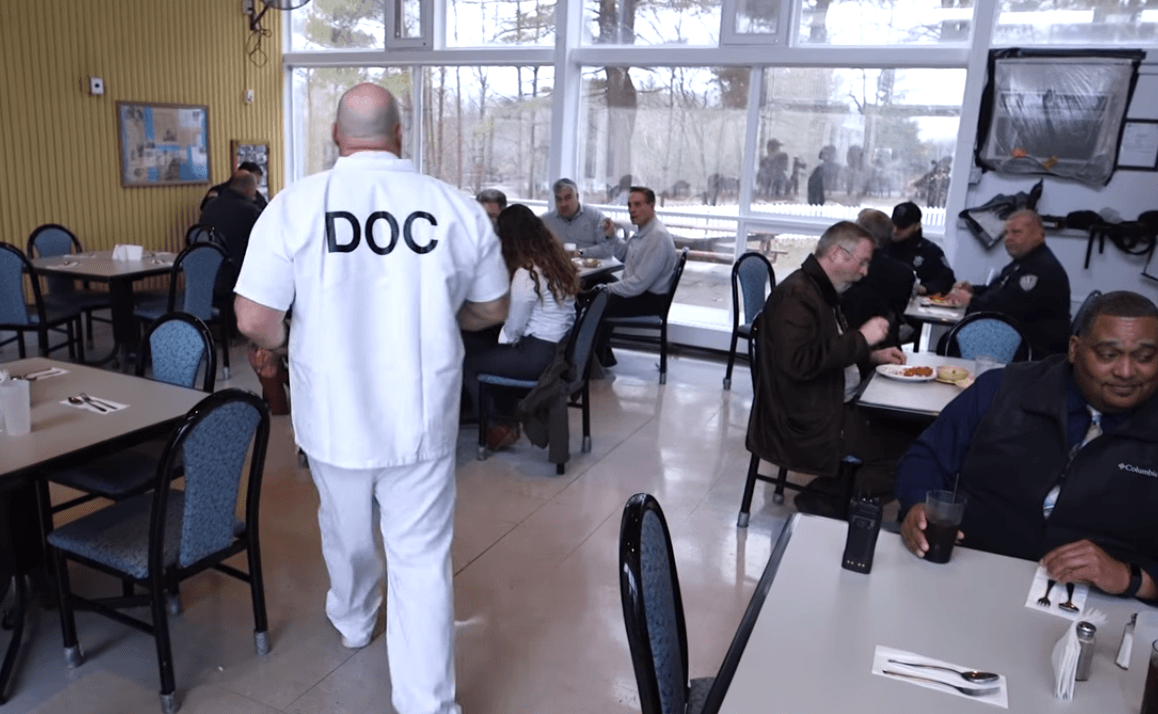 While most places on this list are the definition of an Instagram-lover's dream, this place is not. In fact, it'd be rather tough to snap a pic inside this restaurant, because it's located inside a prison. With only 12 tables and an atmosphere that leaves much to be desired, Fife and Drum is the only prison restaurant open to the public. But don't let the stark environment of this minimum-security prison fool you.
The farmland setting means that the produce is locally grown, and that the prisoners get to do meaningful work — work they'll actually be able to use after they're released. In fact, one former inmate went on to work at the Food Network.
Meals are made from scratch, lunch costs $3.21, and customers are helping to support a worthy cause, all while enjoying delicious food. "The Fife and Drum offers culinary training for inmates, a program run for 22 years by Eddie Jacbos, a trained instructor and former restaurateur," The Boston Globe reports. And the inmates really do do it all, working as cooks, bakers, servers, busboys, and dishwashers.
Next: Obsessed with mermaids much? 
5. Mermaid Island Cafe, Pathum Thani, Thailand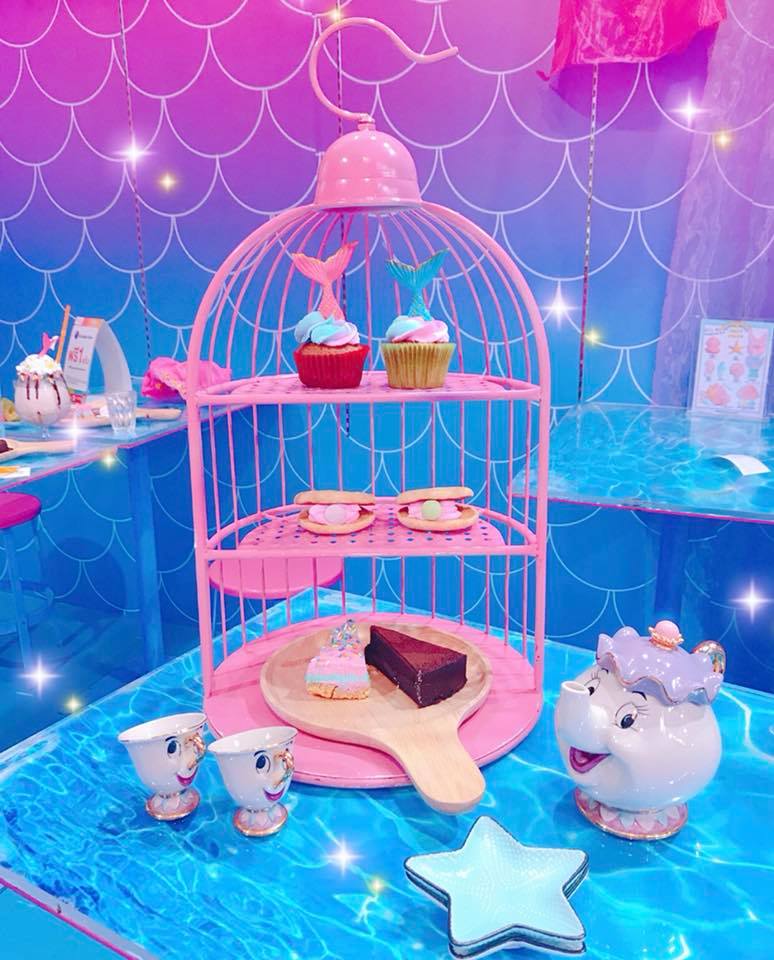 For some reason, mermaids have made quite the comeback. However, in our opinion, it's certainly a trend that needs to die. But that's neither here nor there. If you do happen to be into the mermaid sensation, then Thailand has just the place for you.
"Mermaid Island Cafe in Pathum Thani, Thailand, is an adorable deep-sea oasis that people are flocking to every day," PopSugar reports. "Put on one of the fins the cafe provides, get comfortable at a turquoise and pink table, and prepare for an ocean-themed experience."
Next: This place is at the top of the unicorn-themed-game.
6. Unicorn Cafe, Thailand
For everyone who's totally horn-over-heels for all things unicorn, this one's for you. Not a far cry from the aforementioned mermaid-themed spot, the Unicorn Cafe in Bangkok, Thailand packs quite the colorful punch, as well. In fact, the colorful nature of the place will slap you right in the face the second you walk in. Apparently, you can live in a world that's all rainbows and unicorns.
"The interior of the cafe looks like a pastel explosion fashioned by Lisa Frank on her most manic day," Delish writes. "There's unicorn wallpaper, unicorn carpet, unicorn statues, powder blue and pink furniture, and unicorn dolls and toys everywhere." And oh, if you'd rather eat your meal alongside a herd of My Little Ponies, you can do that, too.
Next: This place will actually make you want to eat on a plane.
7. The Airplane Restaurant, Colorado Springs, Colorado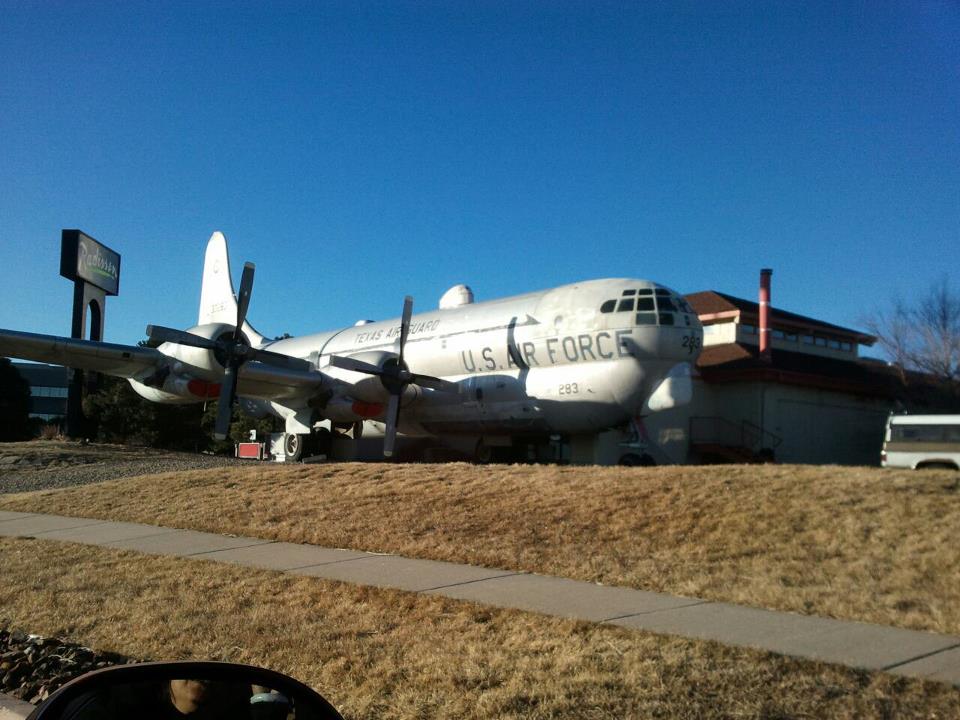 Colorado Springs is home to the Air Force Academy, which makes it the perfect location for this airplane-inspired eatery. The Airplane Restaurant is, quite literally, exactly what it sounds like. The venue is a Boeing KC-97 tanker that was built in 1953 and later transformed into a restaurant. This quirky spot has been serving up dishes with a side of patriotism and lessons in aviation history since 2002.
Next: This place gives "trailer trash" a whole new meaning.
8. The Trailer Park Lounge, New York, New York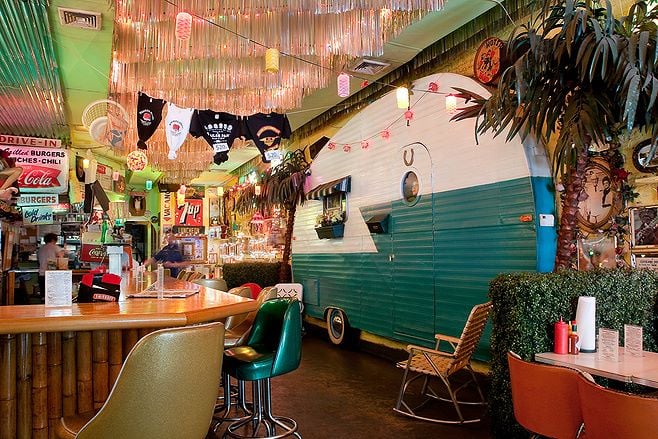 Touted as "The place to meet your next 'Ex,'" The Trailer Park Lounge is located in New York's hip Chelsea neighborhood. With a Tacky Tiki Bar, a  front screen door, kitschy decor, and 8-tracks playing in the background, this place really lives up to its name. It's all the fare you'd expect — chili, burgers, BLTs, and the like.
If you're still scratching your head on this one, perhaps this will help you make sense of it all. The idea was inspired by an Elvis impersonator with whom the owners had a brief, yet powerful encounter. The encounter, which took place at a doughnut shop in Florida, of all places, is the tale told. Whether this account is 100% true? We're not so sure. But who cares? The Trailer Park Lounge has gotten rave reviews, and that's really all that matters.
Next: We're dying to go to this cafe.
9. Cereal Killer Cafe, London
As our very favorite name on the list, the Cereal Killer Cafe is exactly what everyone's inner Saturday-morning-cartoon-loving kid-at-heart needs. The venue features ceiling-height shelves stocked high with the most enviable cereal collection known to man, and customer. One look at their Instagram account, and you'll get it.
And if you still need convincing, how about this: The seating area is in the basement, complete with a Bart Simpson bed and mini TV's playing none other than throwback cartoons.
Next: There are plenty of Hello Kitty lovers out there to keep this place in business.
10. Hello Kitty Cafe, Arcadia, California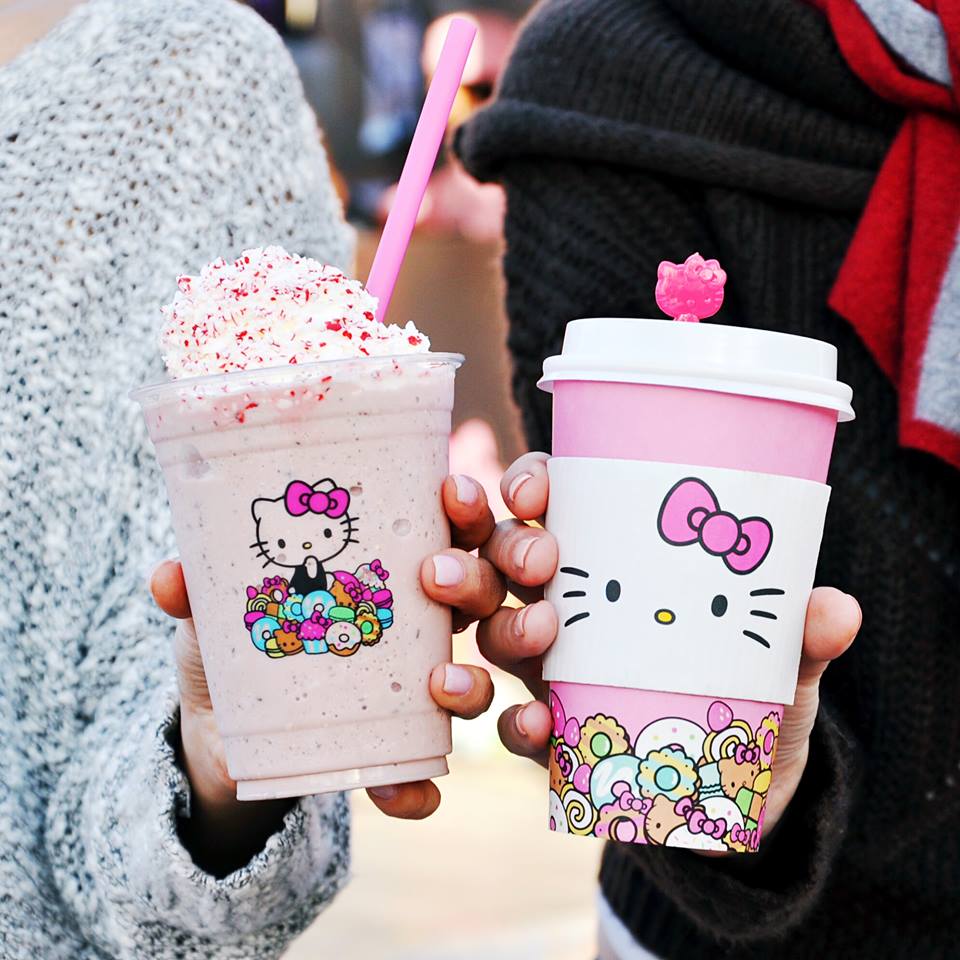 In April, 2017, Hello Kitty superfans got their ultimate wish. That's right, a Hello Kitty Mini Cafe opened in the Westfield Santa Anita mall. Taking the food court scene to the next level, the cafe is just as whimsical, cutesy, and colorful as one would imagine. Menu items include cookies, tarts, and even a Hello Kitty pocket pie. How adorable is that?
Next: Seeing double? 
11. Twin Stars diner, Moscow, Russia
Double vision even before you've had your fair share of cocktails? That's exactly what happens to customers who eat at the Twin Stars diner in Moscow, Russia. The place consists of an all-twins staff, so there's a good chance you'll be confused throughout your entire meal. But does this Moscow-based restaurant do it as well as the original? Not according to the identical twin sisters who owned and operated the twin-themed spot in New York City.
Turns out, the first restaurant in this category — if a twin-themed restaurant is even a category — was Twins Restaurant. Located in the Big Apple, the restaurant employed only identical sets of twins. And apparently, the spot attracted tons of sets of multiples over the years. However, Twins Restaurant closed in 2000, but there's talk of another location opening at some point.
Next: These cafes are just too cute.
12. Cat Cafes (multiple locations)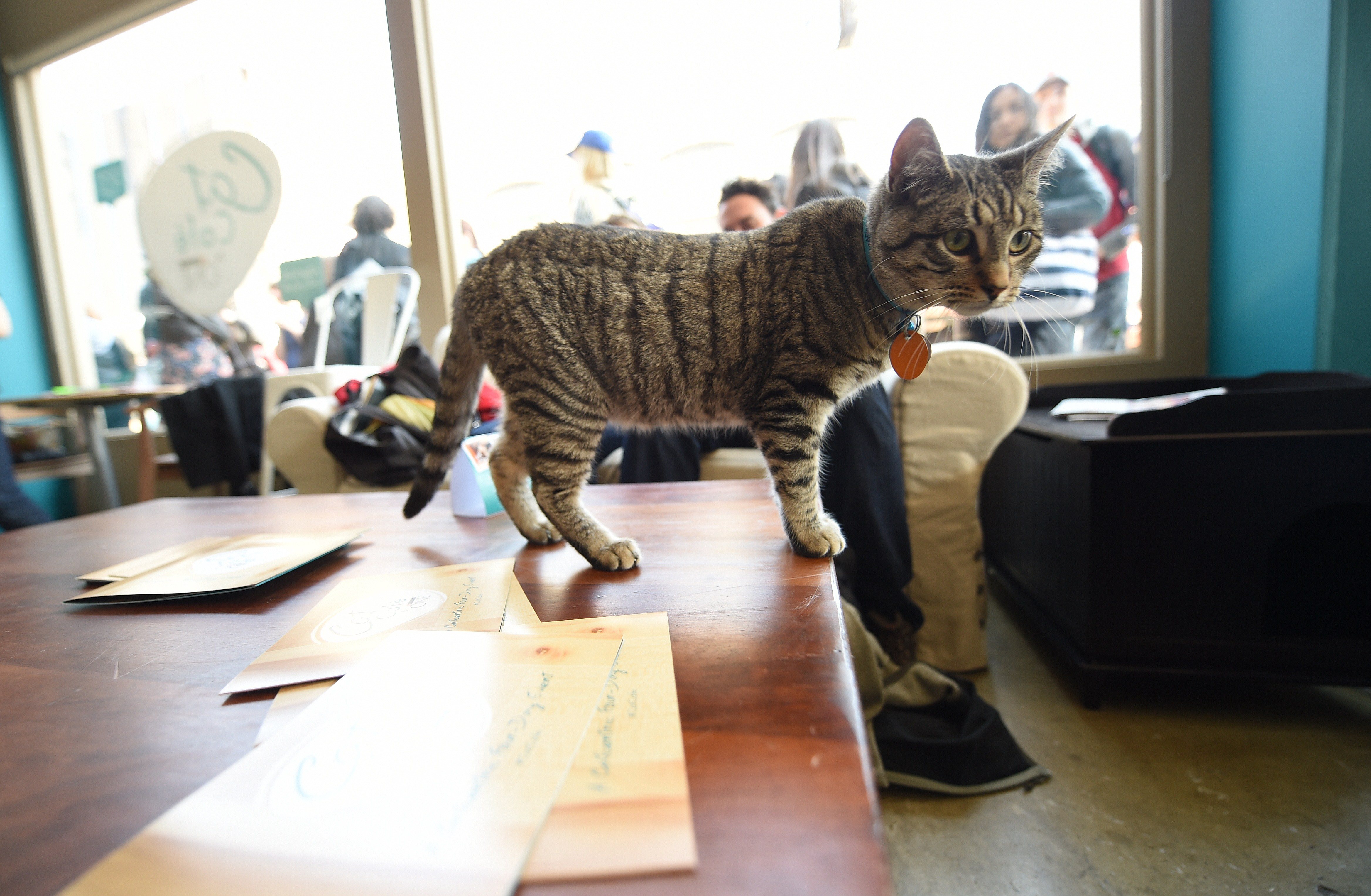 Cat cafes may be a relatively new concept in the U.S., but the idea isn't totally outside the (litter) box. In fact, Japan was hot on the trend years ago. And recently, cat cafes have been popping up all over the country in places such as Brooklyn, Philadelphia, Boston, and San Diego. The mission? To get cats off the streets, provide them with a safe environment, and offer patrons lots of kitty snuggles, of course.
And the best part is, customers are often allowed, and encouraged to adopt a cat, should they fall in love with one while sipping on a hot beverage.
Next: This restaurant gives the term "blind date" a whole new meaning. 
13. Opaque, San Francisco and Los Angeles, California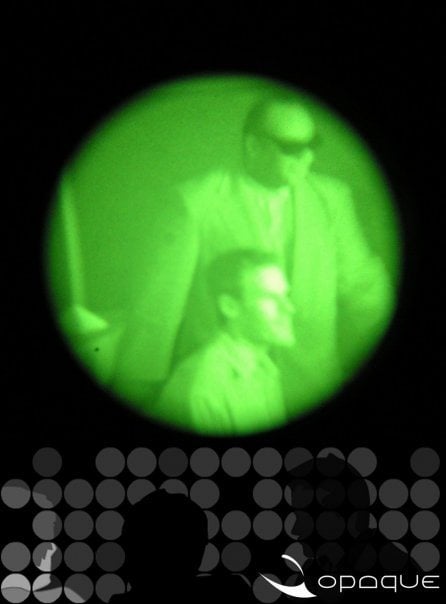 Here, we have a truly unique restaurant. More importantly, the restaurant has an unheard-of request, or rather a requirement, for every guest who dines there. The requirement at Opaque, by nature of the setting, is to leave technology behind, because you'll be dining in the pitch black.
At Opaque, customers feast on a pre-set menu in complete darkness. So, there's no room for snapping pics at this place. You'll actually have to make conversation throughout an entire meal. Imagine that!
Next: How good are your karate skills?
14. Ninja New York, New York, New York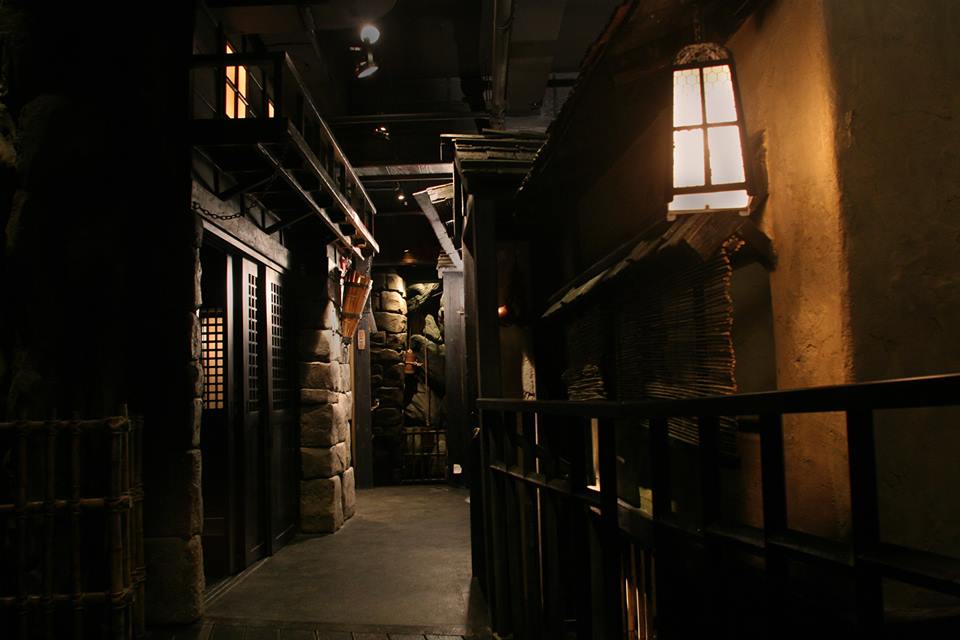 A ninja-themed restaurant? Only in New York, folks! According to Frank Bruni's review in The New York Times, Ninja New York seems like something from a Saturday Night Live skit. As Bruni describes the atmosphere, the restaurant "deposits you in a kooky, dreary subterranean labyrinth that seems better suited to coal mining than to supping. You are greeted there by servers in black costumes who ceaselessly bow, regularly yelp and ever so occasionally tumble, and you are asked to choose between two routes to your table."
Sound like fun to you? Give it a try next time you're in the city.
Next: If you need a refresher course in sex-ed, this place is for you.
15. Cabbages & Condoms (multiple locations in Thailand)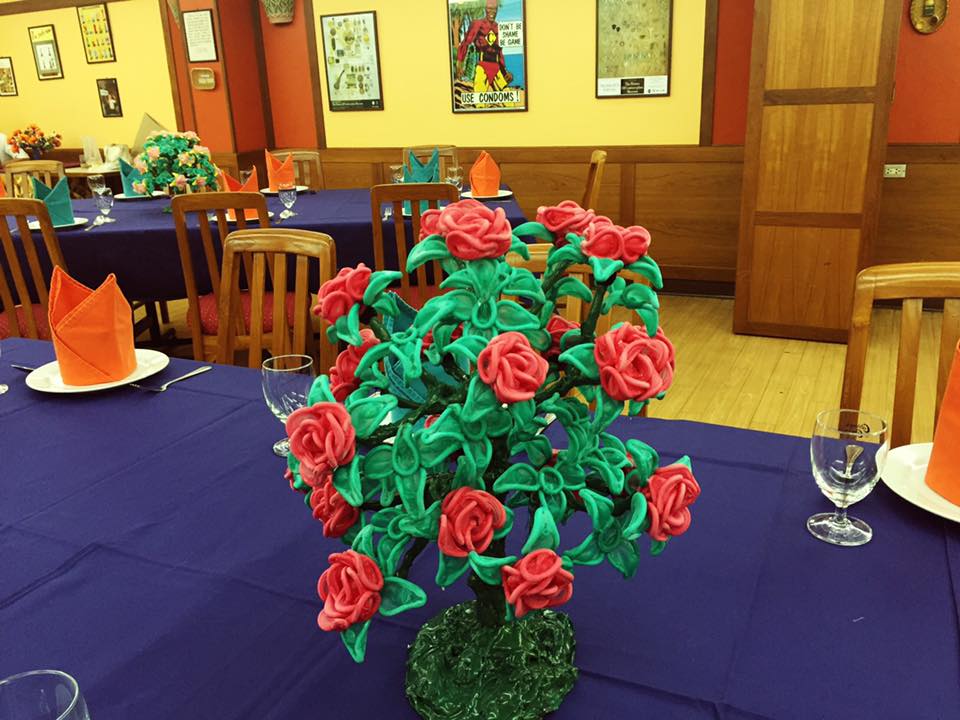 If there were ever a restaurant with a worthy cause, this is it. There's one mission at the forefront of Cabbages & Condoms, and that's to educate the public and "promote the health and safety aspects of condom use in a fun and amusing manner." All proceeds go to the Population and Community Development Association. Can ya dig it?
Read more: Do You Remember Eating at Any of These Failed Restaurant Chains?
Check out The Cheat Sheet on Facebook!