Breakfast Burrito Recipes You Can Make at Home
Not many breakfast foods are capable of traveling out the door with you. Most need to be eaten with a spoon or fork, which usually spells disaster for your outfit. Certain packaged foods work well in a pinch, but most of them require additional ingredients to make a complete meal. When you want an all-in-one breakfast that's substantial and ready to go, a homemade breakfast burrito is the perfect dish. You can go healthy with kale and sweet potatoes or slightly more indulgent with steak and Gruyère cheese. No matter what type of burrito you prefer, these fives recipes have breakfast all wrapped up.
1. Bacon, Kale, and Sweet Potato Breakfast Burrito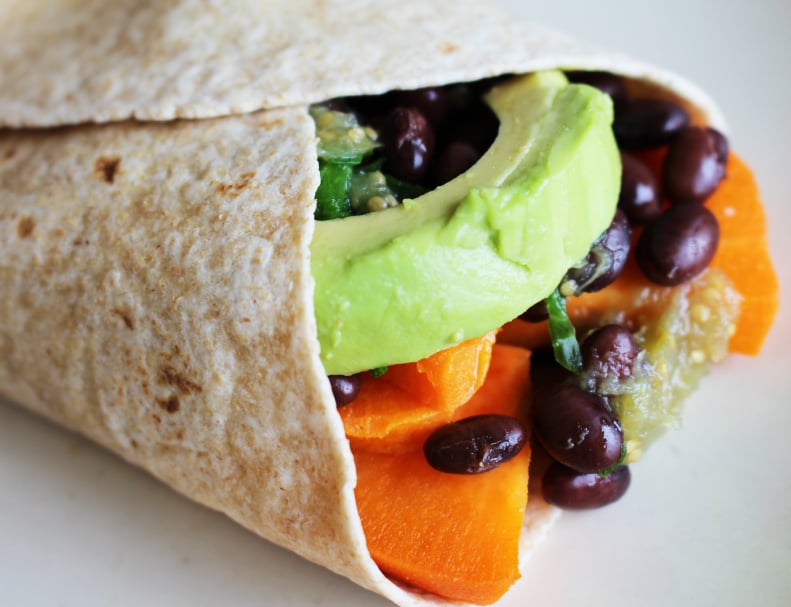 A healthy breakfast shouldn't make you feel as through you're eating rabbit food. For a happy medium, try these breakfast burritos stuffed with eggs, veggies, and a bit of bacon from Perry's Plate. Kale and sweet potatoes are loaded with fiber, vitamins, and other nutrients to give your breakfast a healthy boost while the bacon and cheese deliver phenomenal flavor.
These burritos are wonderful as written, but they're especially good with a little bit of spice. Try adding a sprinkle of ground chipotle powder to the sweet potato mixture or layer some thinly sliced chiles into the burritos as you're building.
Ingredients:
3 slices bacon, cut into pieces
2½ cups ( ½- to ¾-inch) sweet potato cubes
½ red bell pepper
½ cup chopped red onion
1 cup chopped kale
4 eggs
¼ cup chopped cilantro
½ salsa
½ cup shredded cheese
Salt and pepper
5 to 6 taco-size or 2 to 3 burrito-size tortillas
Optional toppings
Directions: In a large skillet set over medium heat, cook bacon until fat has rendered and bacon is crisped, about 8 to 10 minutes. Remove bacon pieces with a slotted spoon to a paper towel-lined plate and set aside.
Drain off all but 2 to 3 tablespoons of bacon grease. Return pan to medium heat. Add sweet potato, bell pepper, and onion. Season with salt and pepper. Cook veggies, stirring occasionally, for about 5 minutes, or until onion softens. Add kale and continue to cook until vegetables are completely tender, 8 to 10 minutes longer.
Push vegetables to one side of skillet, then add eggs to the cleared area. Cook until eggs are just set, then mix evenly with the vegetables. Stir in bacon, cilantro, and salsa. Cook just until heated through and eggs are fully cooked. Season with salt and pepper. Top with cheese.
Wrap mixture in tortillas and serve with sour cream and avocado, if desired.
2. Scrambled Eggs and Sausage Breakfast Burrito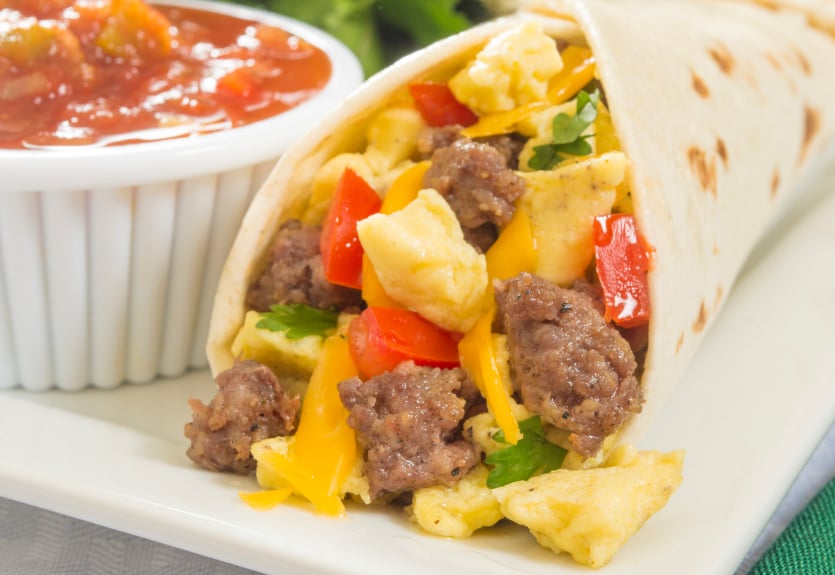 There's no reason to limit yourself to a Mexican flavor profile just because you're cooking burritos. These sausage, egg, and mushroom burritos from Foodie Crush are a welcome change that you're sure to love. If you're planning on taking one with you as you head out the door, just wrap it tightly in foil first.
Ingredients:
5 large eggs
Kosher salt
4 ounces mild Italian sausage, removed from casing
10 to 12 cherry tomatoes
4 brown mushrooms, such as cremini, sliced
1 green onion, chopped
1 cup spinach leaves
4 slices fresh mozzarella cheese, torn into pieces
2 (6-inch) flour tortillas
Hot sauce or salsa
Directions: In a small bowl, whisk eggs with a splash of water. Heat a large skillet over medium high-heat. Add sausage and cook, breaking with a wooden spoon, until well browned, Add tomatoes, mushrooms, and green onion. Cook, stirring very occasionally, until tomatoes begin to blister and mushrooms brown. Stir in spinach and cook just until wilted. Remove mixture to a bowl and set aside.
Wipe skillet clean, spray with nonstick cooking spray and set over medium-high heat. Add eggs and season with salt. Cook, without stirring, until edges begin to bubble. Using a rubber spatula, gently fold eggs until mostly cooked. Add sausage mixture and fold to combine. Add mozzarella and stir just until it begins to melt, about 30 seconds.
Heat tortillas in the microwave for 15 seconds to make more pliable. Fill each tortilla with a scoop of sausage and egg mixture. Fold into burritos and serve with hot sauce or salsa.
3. Black Bean and Avocado Breakfast Burritos
Whether you're a vegetarian or just want to add some more meatless meals to your repertoire, these breakfast burritos with black beans from Gimme Some Oven are fantastic. The flavor is huge thanks to a quick bean mixture that tastes sort of like chili. And don't skimp on the avocado. Research shows eating as much as half of the creamy fruit per day can aid in weight loss. You can even make the burritos with just beans and avocado if you don't care for eggs.
Ingredients:
Beans
2 teaspoons olive oil
¼ cup chopped red onion
¼ cup diced red bell pepper
1 garlic clove
1 (15-ounce) can black beans
½ teaspoon chili powder
½ teaspoon oregano
¼ teaspoon cumin
¼ cup chopped fresh cilantro
Juice of half a lime
Salt and pepper
Burritos
2 small tortillas
4 eggs, cooked until softly scrambled
1 avocado, diced
¼ cup shredded cheddar cheese
Salsa
Directions: Heat oil in a saucepan set over medium-high heat. Add onion and bell pepper to the pan and cook for 5 minutes, stirring, until onion is translucent. Add garlic and continue to cook, stirring, for 1 minute longer. Stir in beans, chili powder, oregano, and cumin. Bring mixture to a boil, reduce heat to medium low, and simmer for 5 minutes. Remove beans from heat. Stir in cilantro and lime juice. Season with salt and pepper.
On a work surface, lay out tortillas. Evenly divide eggs, cheese, avocado, and beans down the center of each tortilla. Roll into burritos and serve.
4. Steak and Egg Burrito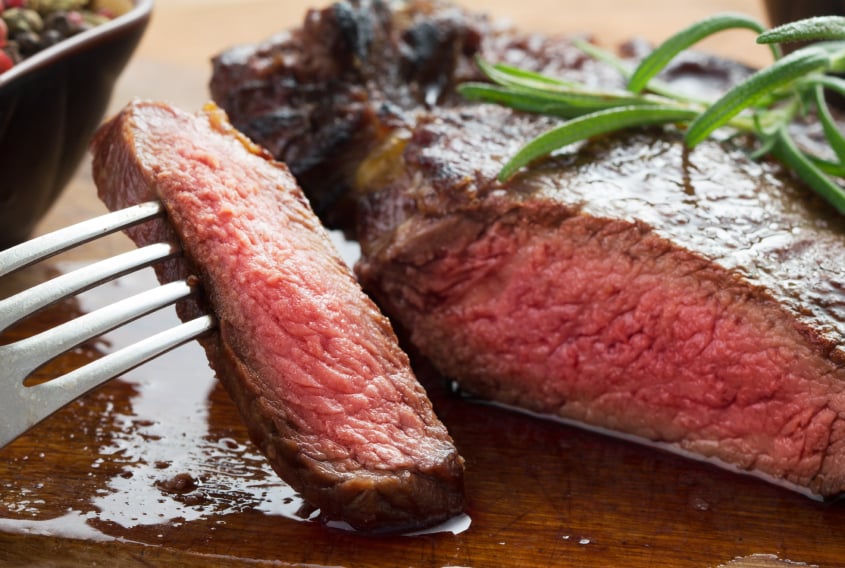 Steak and eggs are usually prepared pretty simply for breakfast, often featuring little more than salt and pepper. Make the duo even more impressive with Jeff Mauro's meaty burritos, featured on Food Network. They're brimming with eggs, New York strip, and Gruyère cheese, making them both delicious and substantial.
Ingredients:
1 cup sour cream
2 tablespoon hot sauce
2 tablespoon unsalted butter
1 medium onion, julienned
Salt and freshly ground black pepper
2 (8-ounce) New York strip steaks
6 large eggs
4 (12-inch) sun-dried tomato tortillas
1 cup shredded Gruyère cheese
Vegetable oil
Directions: In a small bowl, mix sour cream and hot sauce to combine. Set aside for later use.
In a large skillet, heat butter over medium heat. Add onions and cook, stirring very occasionally, until caramelized, about 20 minutes. Season with salt and pepper. Set aside.
heat a large, cast-iron skillet over medium-high heat. Season steaks liberally on both sides with salt and pepper. Cook in heated skillet until deeply browned and cooked to medium rare, about 5 to 6 minutes per side. Let meat rest for 10 minutes.
Meanwhile, whisk eggs in a small bowl with salt and pepper. Scramble eggs until slightly firm. Set aside.
Thinly slice steaks, removing any large pieces of fat. Layer cheese, steak, eggs, and onion on each tortilla. Roll into burritos, brush with vegetable oil and griddle for 2 to 3 minutes per side. Serve with spicy sour cream on the side.
5. Breakfast Burrito with Chorizo, Potato, and Egg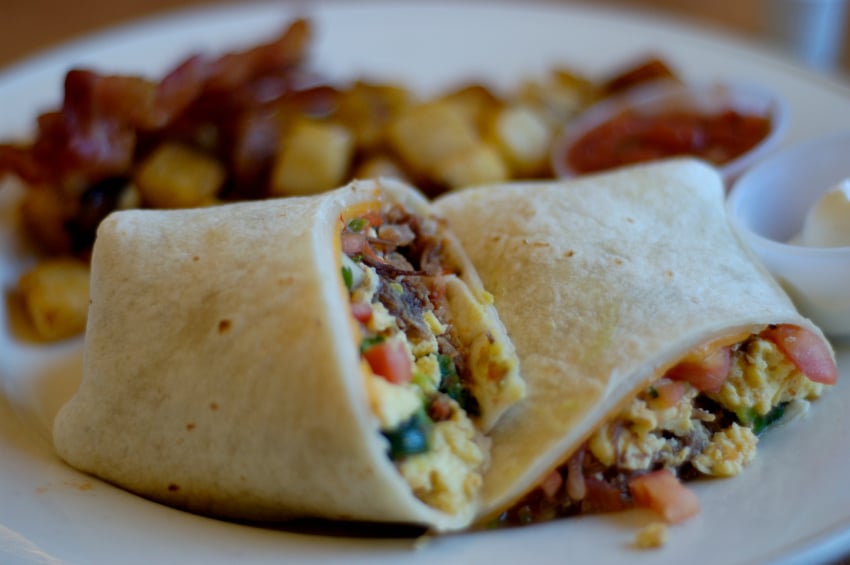 Every cuisine has a number of classic pairings and potatoes with chorizo is one of the most popular for Mexican food. Taste the combination in these satisfying breakfast burritos from Serious Eats. When buying chorizo, look for the raw, Mexican variety. Some grocery stores even sell it in bulk, which makes this dish even faster since you won't have to remove any casings.
Don't be tempted to use corn tortillas for this dish because flour ones work much better for the hefty fillings thanks to a softer, more pliable texture. And don't poo-poo flour tortillas for not being authentic. LA Weekly explained varieties made with wheat flour are just as native to areas in Mexico as the ones made with corn.
Ingredients:
1 large baking potato, peeled and cut into ½-inch cubes
1 teaspoon vegetable oil
12 ounces Mexican chorizo, casings removed
4 scallions, greens only, chopped
6 large eggs
1 tablespoon olive oil
4 (10-inch) flour tortillas
⅔ cup shredded Mexican melting cheese, such as chihuahua or Monterey Jack
½ cup chopped fresh cilantro
½ cup salsa
1 avocado, halved, pitted, and sliced
Directions: Toss potatoes in a medium bowl with 1 teaspoon oil and a pinch of salt. Cover bowl with plastic wrap,  transfer to microwave, and cook on high for 4 minutes. Carefully remove plastic wrap and check potatoes. If not yet tender, cover, and cook 1 minute longer.
Add potatoes to a nonstick skillet set over medium heat and cook, stirring occasionally, until potatoes are golden and slightly crisp. Set aside.
Cook chorizo in a large skillet set over medium-high heat. Cook, breaking up sausage with a wooden spoon, until fully cooked, about 5 minutes. Stir in scallions and cook 30 seconds longer. Transfer to a bowl and set aside.
Wipe skillet clean, then add olive oil. Return to the burner and adjust heat to medium. Whisk eggs in a medium bowl and season with salt and pepper. Add to skillet and cook, stirring with a wooden spoon, until softly scrambled. Immediately remove eggs to a bowl and set aside.
Wipe skillet clean once more. Return to medium heat. Warm tortillas in skillet until pliable, about 20 seconds per side. Fill tortillas with potatoes, chorizo, eggs, cheese, cilantro, salsa, and avocado. Roll into burritos and serve.