10 Breakfast Egg Recipes Everyone Needs to Know
Eggs might seem like a straightforward breakfast everyone can master. But a surprising number of people don't know the difference between their egg options, and they rely on a cafe or diner for their omega-3 fix. Eggs are easy, and there are many renditions you can make yourself in the morning. All you need are the right recipes. Read on to learn the difference between hard-boiled, soft-boiled, poached, scrambled, fried, sunny side up and more. It's time to try all of these techniques and determine your favorites to make at home.
1. Best Soft Scrambled Eggs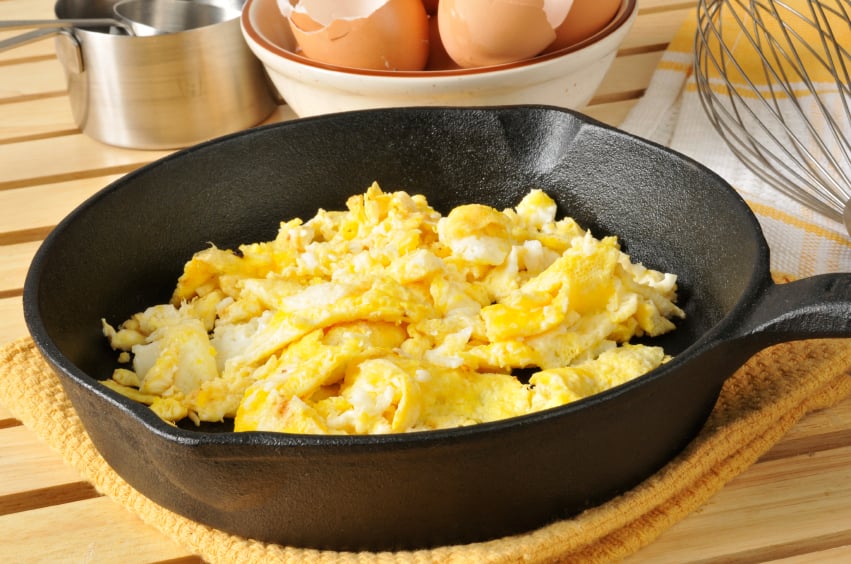 We're kicking things off with a form of eggs everyone knows and loves. Scrambled eggs are a morning staple, but there are a few tricks to make them perfect. Bon Appetit's recipe for soft scrambled eggs is all about the eggs and the butter. There is no cream on the ingredients list. And rather than whisking the butter into your eggs, the recipe says you can achieve the ultimate creamy, velvety texture by simply cooking the eggs in butter over medium-low heat. The recipe serves 2. Before you eat, sprinkle your eggs with sea salt. This recipe proves you don't need any fancy ingredients to perfect your eggs; you just need technique.
Ingredients:
4 large eggs
¼ teaspoon kosher salt
1 tablespoon unsalted butter
Flaky sea salt (for serving)
Directions: Crack eggs into a medium bowl, and add kosher salt. Using an immersion blender or whisk, whip eggs until completely homogeneous and pale yellow in color, about 30 seconds.
Cook butter in an 8-inch nonstick skillet over medium-low heat. When foam subsides, add eggs and cook, undisturbed, until a thin layer of cooked egg appears around the edge of the skillet. Using a rubber spatula and broad sweeping motions, push eggs all the way around the circumference of the skillet, then across the bottom. Continue to push eggs around and across skillet until fluffy and barely set, about 2 minutes; they should still look runny on top. Immediately divide between 2 plates, and sprinkle with sea salt.
2. Poached Eggs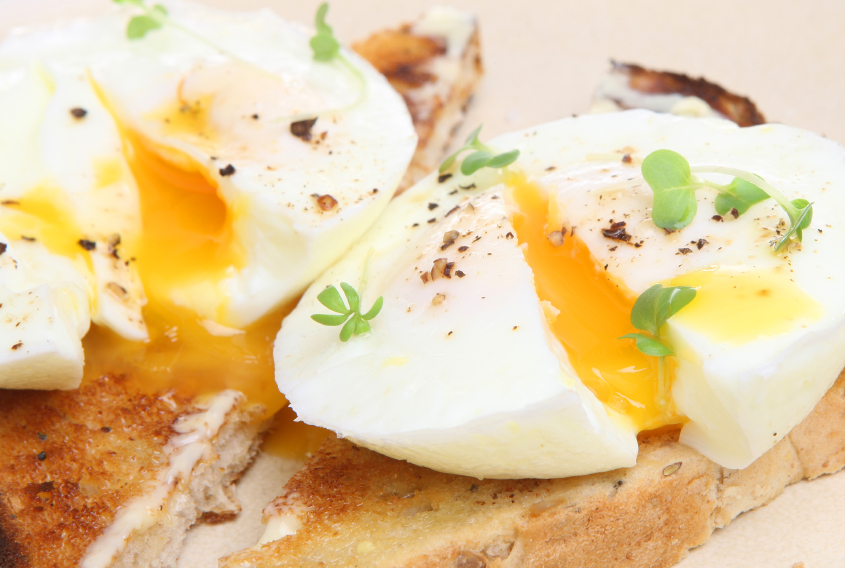 Next up are poached eggs — the variety of eggs some people avoid cooking. People love poached eggs on eggs Benedict, but the idea of making them correctly is intimidating. The good news is all you need is a kitchen timer and some vinegar to perfect the art of the poached egg. This recipe from Epicurious talks you through it. Once you bring your water and vinegar to a simmer, break an egg, slide it into the water, and then let the water simmer for 2 to 3 minutes. Transfer eggs to a paper towel using a slotted spoon, and enjoy them alone, with toast, or as part of an eggs Benedict breakfast. The possibilities are endless.
Ingredients:
1 teaspoon vinegar
4 very fresh large eggs
Directions: Combine 1½ inches water (about 2 quarts) and vinegar in a wide 3-quart heavy saucepan (preferably about 9 inches wide), and bring to a simmer.
Break 1 egg into a small bowl or cup, and slide egg into water. Repeat with each remaining egg, spacing them evenly in saucepan, and poach at a bare simmer until whites are firm and yolks are still runny, 2 to 3 minutes. Transfer eggs as cooked to paper towels using a slotted spoon.
3. Soft Boiled Eggs and Soldiers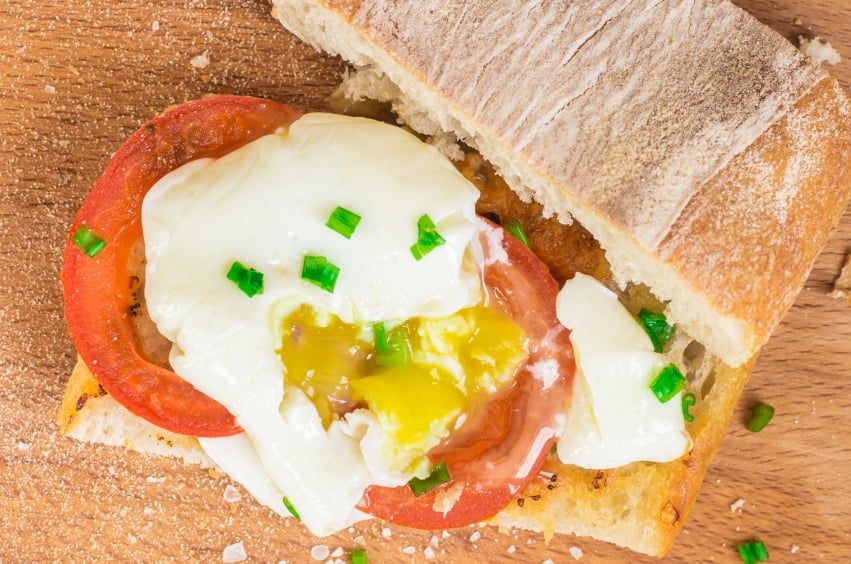 What about soft-boiled eggs? These are the kinds that have the exterior of a hard-boiled egg but a runny yolk that attracts your toast. A dish of soft boiled eggs and soldiers is a simple breakfast, and this recipe from Eating Well ensures it can come out of your kitchen. After your eggs have been cooked and set aside for 2 to 3 minutes, cut your toast into strips and transfer your eggs to egg cups. Crack the upper part of egg shell, remove, and get ready to dip your toast soldiers into the runny eggs. This recipe serves 1.
Ingredients:
2 large eggs
2 pieces of whole wheat bread
Salt
Pepper
Directions: Place eggs in a small saucepan, and cover with water. Bring to a simmer over medium-high heat. Remove from heat, and let stand for 2 to 3 minutes for soft-set yolks.
Cut toast into strips.
Transfer the eggs to egg cups or a bowl. Tap the top of each egg with a spoon to crack the upper part of the shell, and remove. Season with salt and pepper. Serve with the toast soldiers.
4. Perfect Hard-boiled Eggs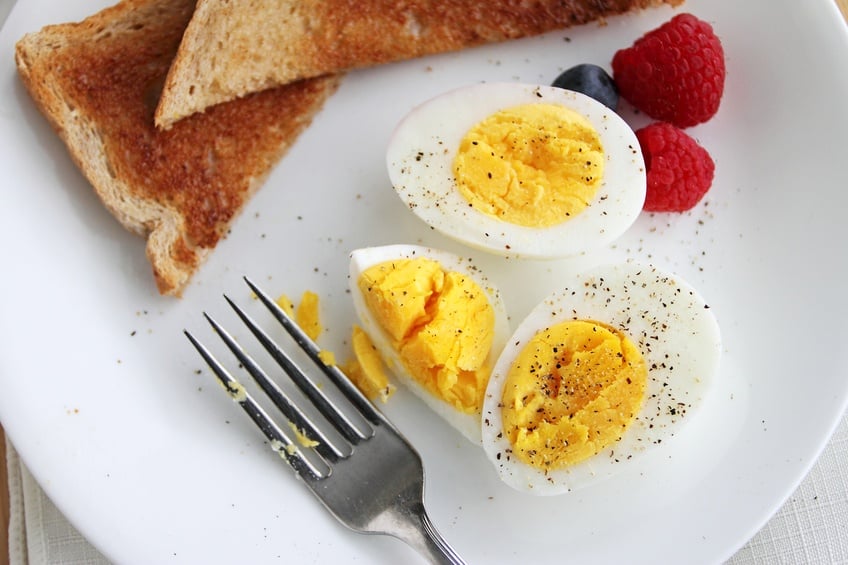 And then there is the ever-important hard-boiled egg recipe. Luckily, it's hard to mess this one up. Follow Chowhound's instructions to make sure you don't. Hard-boiled eggs are an easy source of quick protein, and they also help you get your omega-3s for the day. Enjoy them on toast, on their own, sliced and on salads, or paired with a vegetable of your choice, and you have a quick, healthy breakfast on your hands that you can easily prepare ahead of time.
Ingredients:
Directions: Place the eggs in a saucepan, and fill with enough cold water to cover the eggs. Bring to a boil over medium-high heat. As soon as the water comes to a boil, turn off the heat and cover the pan; let sit for 13 minutes.
Drain the eggs, then transfer to a bowl of ice water. Let cool completely.
To peel, gently crack the eggs on the countertop all over, then roll them between your hands. Peel the eggs.
5. Sunny Side Up Eggs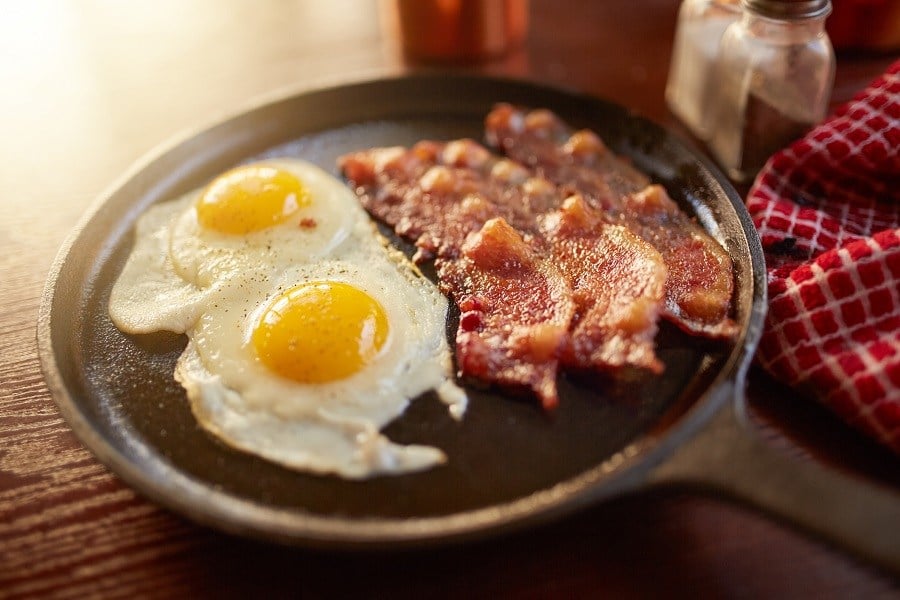 Next are sunny side up eggs for those who like easy access to runny yolks. Sunny side up eggs are easy because there is no flipping involved. They can be ready in 10 minutes with two ingredients. This recipe from Betty Crocker serves 4 and simply calls for eggs and butter. The eggs cook in a skillet for 5 to 7 minutes. Once the whites are set, you're good to go. Remove the eggs from the pan, and enjoy them with toast. Sunny side up eggs are also great to serve over salads, with beans, in rice bowls, or even in soups.
Ingredients:
2 tablespoons butter
4 eggs
Directions: In a heavy 10-inch skillet, heat the butter over medium heat until it begins to sizzle and look hot.
Break an egg into a custard cup, small bowl or saucer. Slip the egg carefully into the skillet. Repeat with the remaining eggs. Reduce heat to low. 
Cook uncovered 5 to 7 minutes, frequently spooning butter from the skillet over the eggs, until the whites are set, a film forms over the yolks and the yolks are thickened.
6. Eggs Over Easy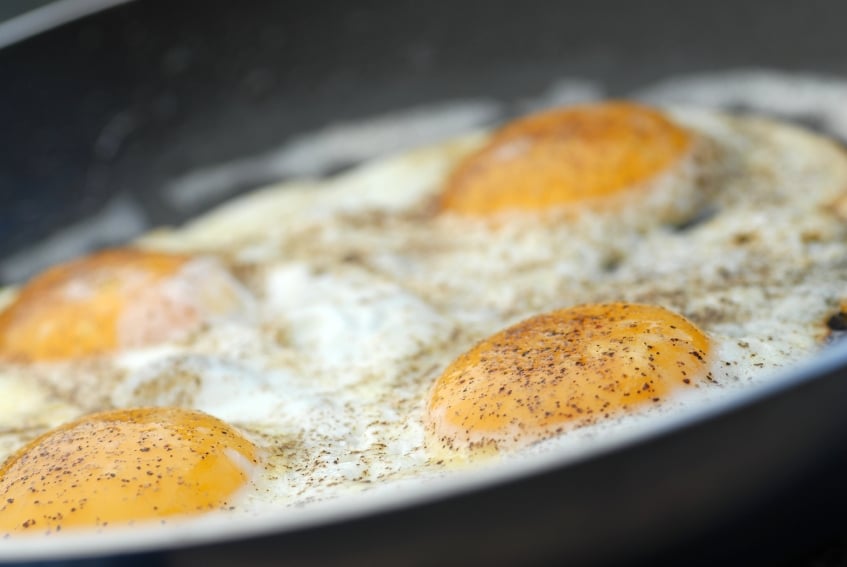 We have to talk about eggs over easy because some people get these and sunny side up eggs confused. They're both fried eggs, but egg over easy are fried on both sides. Fry the eggs for just long enough to set the whites but leave the yolk completely runny. For eggs over easy perfection, follow this formula from Food Network. It serves 1 and puts breakfast on the table in 5 minutes. If you're intimidated by the idea of flipping your eggs twice, this recipe talks you through it.
Ingredients:
Directions: Heat a small nonstick skillet over low heat, and add butter.
Once butter stops foaming, crack eggs into the pan. Lift the handle about an inch, allowing eggs to pool in the far corner of the pan. Hold for 30 seconds, and lower the handle. Season with a pinch of salt and pepper, and continue to cook over low heat until the whites become opaque.
Shake pan to loosen the eggs, then lift the pan, holding it about a foot above the heat. Flip the eggs once, raising the pan to meet them. After 10 seconds, flip the eggs again, slide them onto a plate and serve.
7. French Omelet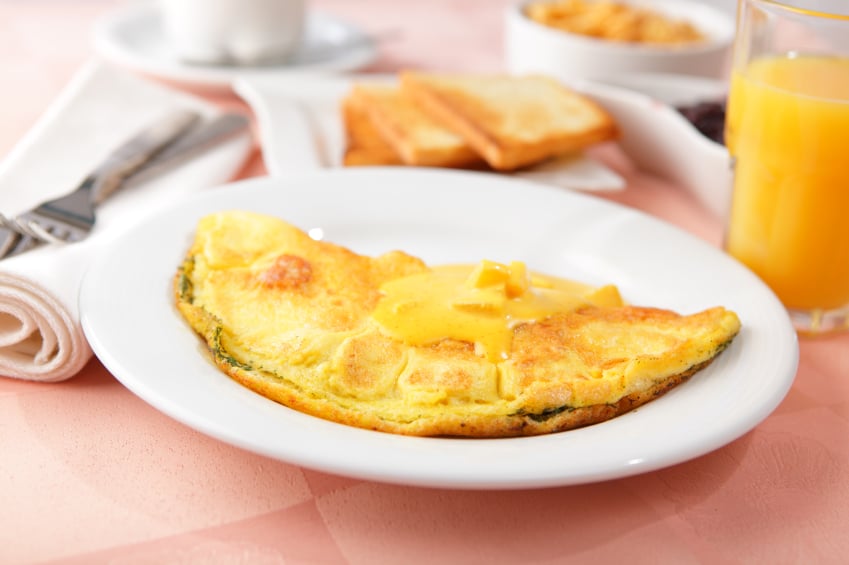 Moving on to a different kind of egg recipe, we come to the omelet. Everyone should know how to make the perfect omelet, and this recipe from Cooking Light shows you how to make a French one. French omelets are unique in their simplicity. No cheese or meat is listed on the ingredients list. Rather, it's all about the butter and eggs. That's all you need for a successful omelet, and this recipe shows you how to make yours golden on the outside and creamy at the center.
Ingredients:
⅛ teaspoon kosher salt, divided
⅛ teaspoon freshly ground black pepper, divided
4 large eggs, divided
1 teaspoon butter, divided
Directions
: Combine dash of salt, dash of pepper, and 2 eggs in a small bowl. Stir with a whisk until just blended.
Heat an 8-inch nonstick skillet over medium heat. Melt ½ teaspoon butter in pan; swirl to coat. Add egg mixture to pan; cook 60 seconds or until eggs are the consistency of very soft scrambled eggs, stirring constantly with a rubber spatula. Tilt pan while stirring to fill any holes with uncooked egg mixture. Run spatula around edges and under omelet to loosen it from pan. Push one end of omelet up onto front lip of pan. Roll other end of omelet toward lip to close omelet. Turn out onto a plate, seam side down. Repeat with remaining salt, pepper, eggs, and butter.
8. Simple Baked Eggs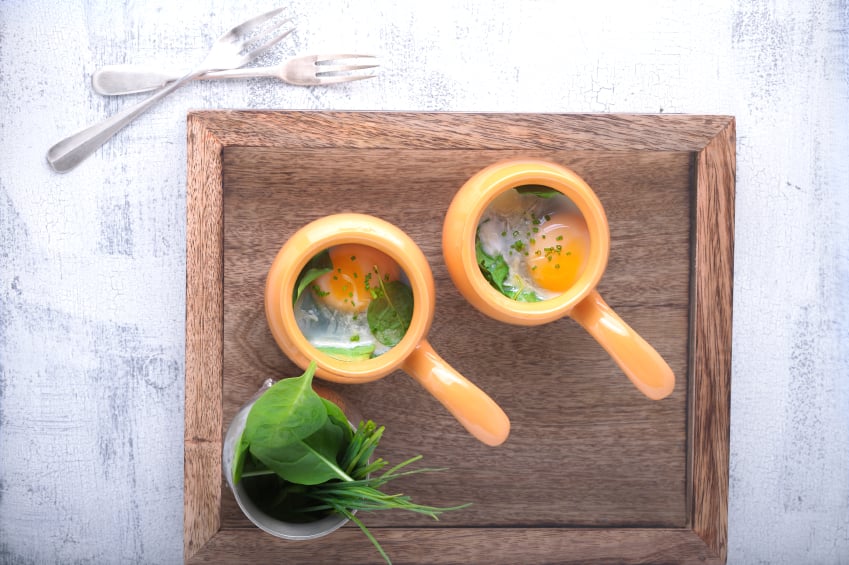 You can't forget about baked eggs. It's the easiest way to serve individual portions of eggs, making the dish especially ideal for breakfasts or brunches where you're preparing for a crowd. This recipe from Cooking Light has you baking your eggs in buttered ramekins. You don't need to worry about any flipping. Simply break your egg into the ramekin, spoon some cream over each egg, and then bake for 25 minutes. The end result is 6 servings of baked eggs that you can dole out to those who want their eggs along with the other breakfast treats you're serving.
Ingredients:
1 tablespoon butter
6 large eggs
1 teaspoon freshly ground black pepper
¾ teaspoon salt
2 tablespoons whipping cream
Directions: Preheat oven to 350 degrees Fahrenheit.
Coat each of 6 (6-ounce) ramekins or custard cups with ½ teaspoon butter. Break 1 egg into each prepared ramekin. Sprinkle eggs evenly with pepper and salt; spoon 1 teaspoon cream over each egg. Place ramekins in a 13-by-9-inch baking dish; add hot water to pan to a depth of 1¼ inches. Bake at 350 degrees Fahrenheit for 25 minutes or until eggs are set.
9. Deviled Eggs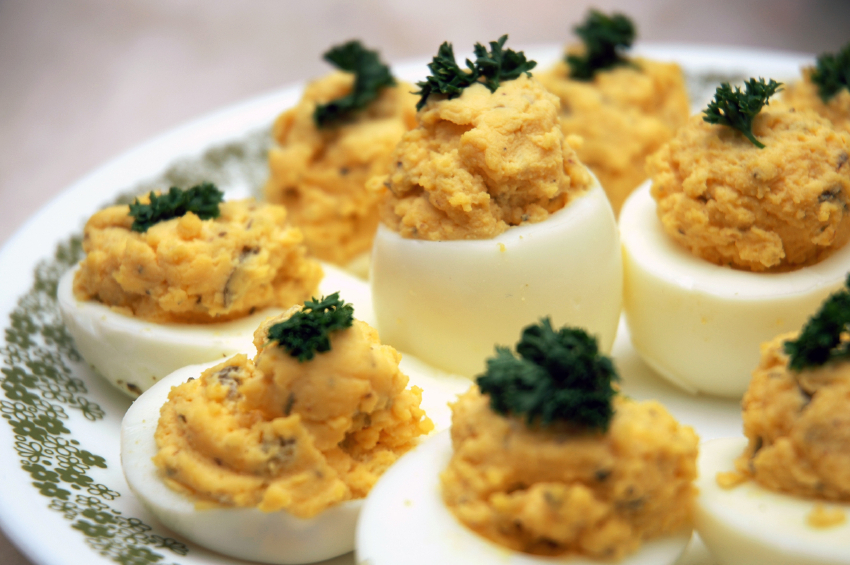 Deviled eggs: You either love them or hate them. The snack consists of hard-boiled egg whites encasing a creamy yolk combined with mustard, mayonnaise, and cayenne pepper. And for those people who want to make their own, this recipe from Epicurious is for you. Deviled eggs are easy to make, and the store-bought variety leaves much to be desired. So if you're going to eat deviled eggs, be sure you make them at home. This recipe yields 6 appetizer servings. Go easy on the cayenne if you don't like your eggs with a kick, but never leave out the paprika.
Ingredients:
6 large eggs
¼ cup mayonnaise
1 teaspoon Dijon mustard
⅛ teaspoon cayenne
Salt and pepper to taste
Paprika for garnish
Fresh chopped chives for garnish
Directions: Cover eggs with cold water by 1½ inches in a 3-quart heavy saucepan, and bring to a rolling boil, partially covered. Reduce heat to low, and cook eggs, covered completely, 30 seconds. Remove from heat, and let stand, covered, 15 minutes. Transfer eggs with a slotted spoon to a bowl of ice and cold water to stop cooking, and let stand 5 minutes.
Peel eggs and halve lengthwise. Carefully remove yolks, and mash in a bowl with a fork. Add mayonnaise, mustard, and cayenne, and stir with fork until smooth, then season with salt and pepper. Fill pastry bag with yolk mixture, and pipe into egg whites. Garnish with paprika and chives.
10. Easy Frittata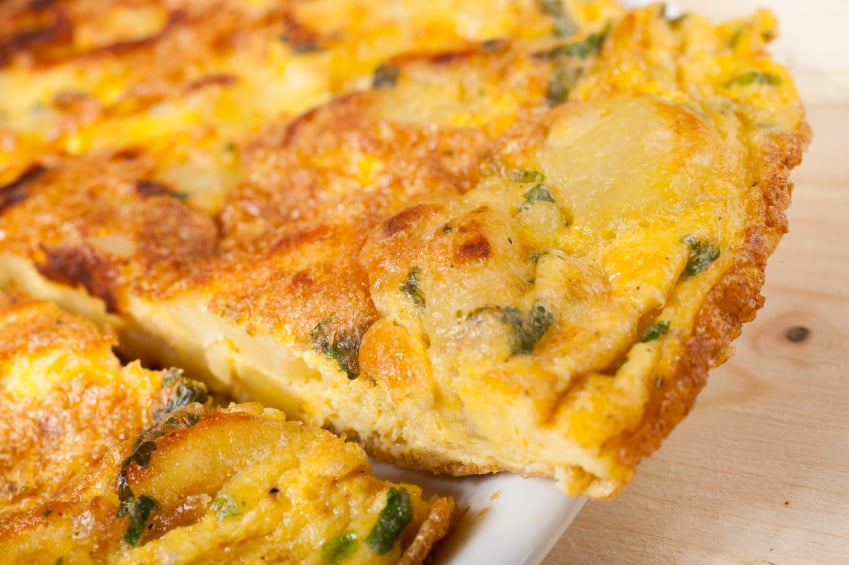 Last is an easy frittata recipe from Food Network. Everyone should have a frittata recipe in his or her back pocket. This rendition is meat-free and full of vegetables, so you can serve it to eaters of all kinds. The recipe feeds 8 and takes 35 minutes of active time to make. Once you've prepared your vegetables and cheeses and combined them with the egg mixture, you simply bake the frittata for 10 minutes and then serve. You can make frittatas for breakfast, lunch, or dinner and easily serve it with bread or a side salad.
Ingredients:
Directions: Preheat the oven to 450 degrees Fahrenheit.
Drizzle olive oil over the mushrooms and asparagus on a baking sheet, sprinkle with salt and pepper, and roast until a nice color is achieved, about 12 minutes. Set aside.
Beat together the eggs with some salt and pepper in a bowl. Stir in the Monterey Jack, Parmesan, and hot sauce, and set aside.
In a large ovenproof nonstick skillet, melt the butter over medium-high heat. Add the onions and cook, stirring frequently, until soft and golden brown, several minutes. Add the diced potatoes, sprinkle with salt and pepper, and stir to cook for a couple of minutes. Finally, add the asparagus, mushrooms, olives, and roasted red peppers, and cook, stirring, until everything is hot.
Make sure all the ingredients are evenly distributed across the bottom of the skillet, then pour in the egg mixture so that it evenly coats everything. Let it sit on the burner for 30 to 45 seconds to set the edges, then put the skillet in the oven. Cook, watching it carefully, until the eggs are set but not very brown on top, 10 to 12 minutes.
Slide the frittata out of the skillet and onto a cutting board. Sprinkle on the basil, and slice into wedges with a long, serrated knife.