5 Burger Recipes That Make the Ultimate Fall Meal
Even if you're a huge fan of fall, stashing away the grill until spring is kind of a bummer. For most, it usually means saying goodbye to a homemade burger until the warmer months return. Then again, you don't have to put your favorite piece of cooking equipment in storage if you don't want to. In fact, the Hearth, Patio & Barbecue Association reported 60% of Americans grill year-round. Join their ranks, and you can get your burger fix anytime.
On the rare occasion you can't stand to be outside due winter weather, a heavy skillet or grill pan will give you surprisingly good results. What we're trying to say is every season should be burger season, so introduce the juicy sandwich to fall with these five recipes.
1. Maple-Cheddar Burgers with Spicy Apple-Bacon Compote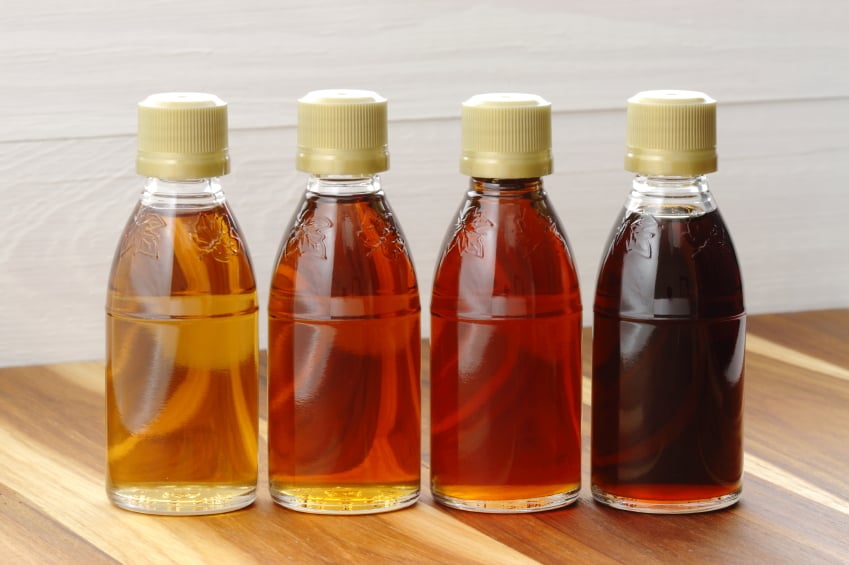 Maple pairs so well with fall fruits and spices, it's easy to lump it into the same seasonal category. Interestingly, the true time of year for this sweet syrup is spring when trees are tapped. Particulars aside, it's hard to argue with the flavor combination of apple, maple, and bacon when the weather cools off. Give the combo a delicious new home in these sweet and savory burgers from Donna Beck, which she shared with Avalon Winery. Both the burgers and the compote feature maple syrup, but we like to drive the flavor home even more using it in place of honey in the mayo.
If you can't get your hands on Granny Smith apples, any tart variety will do. Most other types of apple have thinner skin, too, so you can skip peeling them. Cooking times may vary, so keep your eye on the compote as it cooks.
Ingredients:
Mayo
1 cup mayonnaise
⅛ cup honey
1½ teaspoons cayenne pepper
Compote
3 thick slices of hickory-smoked bacon, chopped
3 medium Granny Smith apples, peeled, cored, and chopped
6 tablespoons maple syrup
3 teaspoons cayenne pepper
6 tablespoons water
Burgers and assembly
2 pounds ground beef
3 tablespoons maple syrup
1 teaspoon salt
1 teaspoon black pepper
6 slices sharp cheddar cheese
6 soft multigrain buns, split
Directions: In a small bowl, stir mayo, honey and 1½ teaspoons cayenne to combine. Set aside.
Meanwhile, cook bacon in a large skillet until fat has rendered and bacon is crisp. Use a slotted spoon to transfer to a paper towel-lined plate. Place apples, water, 6 tablespoons syrup, and 3 teaspoons cayenne in a small saucepan set over medium-high heat. Cook mixture, stirring, until apples have softened and most of the liquid has evaporated. Use your spoon to gently mash the mixture, then stir in the bacon. Keep warm.
Preheat a grill to medium high. In a medium bowl, mix beef, 3 tablespoons syrup, salt, and pepper gently with your hands, being careful not to overmix. Divide mixture into six patties and cook 4 to 5 minutes on each side. Top each patty with a slice of cheese immediately after cooking, and grill buns until lightly toasted. Smear a bit of mayo on each side of each bun. Top bun bottoms with a patty and some compote. Close with bun tops, and serve.
2. Crispy Autumn Veg Burgers with Apple Cider Slaw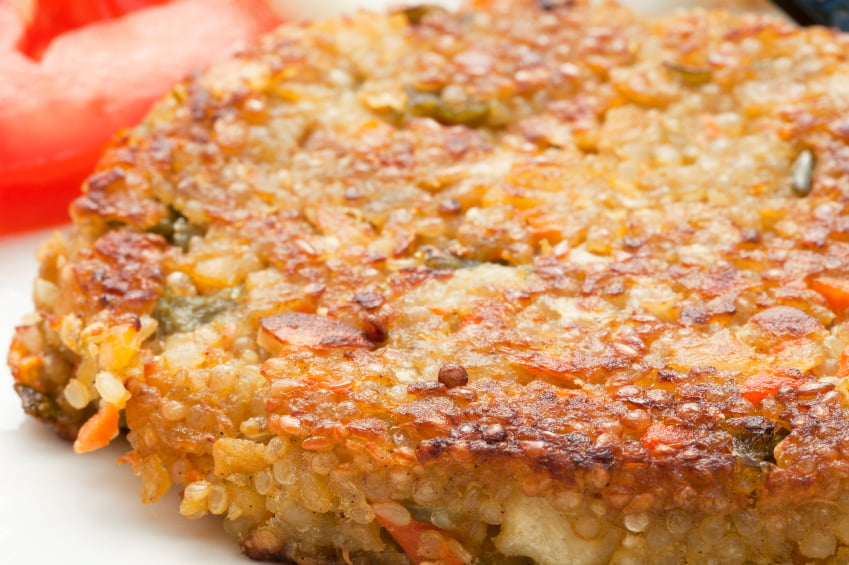 Veggie burgers rarely excite meat eaters. They're often bland, mushy, and just generally disappointing. Before you give up on the meatless patties forever, try this autumnal creation from How Sweet It Is. These patties are made with chickpeas, apple, Brussels sprouts, and balsamic vinegar for loads of flavor. The secret ingredient here is the quinoa, which crisps up as the burgers cook. Topped with plenty of gooey cheese, sweet slaw, and meaty mushrooms, these burgers will satisfy meat eaters and vegetarians alike.
Ingredients:
Slaw
⅓ cup apple cider
2 tablespoons apple cider vinegar
2 tablespoons honey
2 tablespoons olive oil
Pinch of salt and pepper
1 head savoy cabbage, thinly sliced
Burgers and assembly
4 tablespoons olive oil, divided
2 leeks, trimmed, washed, and sliced
1 small apple, chopped
½ pound Brussels sprouts, trimmed, and cut in half
½ teaspoon salt, divided
½ teaspoon pepper, divided
2 tablespoons balsamic vinegar
1 cup cooked quinoa
1½ cups chickpeas
2 large eggs, lightly beaten
⅓ cup flour
¼ teaspoon smoked paprika
6 ounces Havarti cheese, sliced
12 ounces sliced mushrooms
Whole-wheat buns
Directions: In a large bowl, whisk cider, vinegar, honey, oil, and a pinch of salt and pepper to combine. Add cabbage and toss until thoroughly coated. Taste and adjust seasoning , if needed. Cover and refrigerate until ready to use.
Heat a large skillet over medium heat and add 1 tablespoon olive oil. Add leeks, Brussels sprouts, and apple to pan. Season with salt and pepper. Cook, stirring, until vegetables have begun to soften, about 5 to 6 minutes. Stir in balsamic vinegar and cook to reduce, about 1 minute longer. Remove from heat and transfer mixture to a food processor along with quinoa, chickpeas, and eggs. Pulse mixture until combined, but still coarse. Transfer to a bowl, stir in flour and paprika, then form into 2-inch-wide patties about 1-inch thick.
Heat 1 tablespoon oil in the same skillet. Working in batches, cook burgers until golden and crisp on both sides, about 5 minutes per side. Reduce heat to low, top with cheese, and continue to cook until just melted.
Heat a large skillet over medium-low heat and add remaining olive oil. Add mushrooms and cook, stirring, until softened and brown, 8 to 10 minutes. Remove from heat and season with salt and pepper.
Give slaw one final toss. Serve burgers on buns with mushrooms and slaw.
3. Bison Burgers with Brie, Bacon, and Caramelized Pears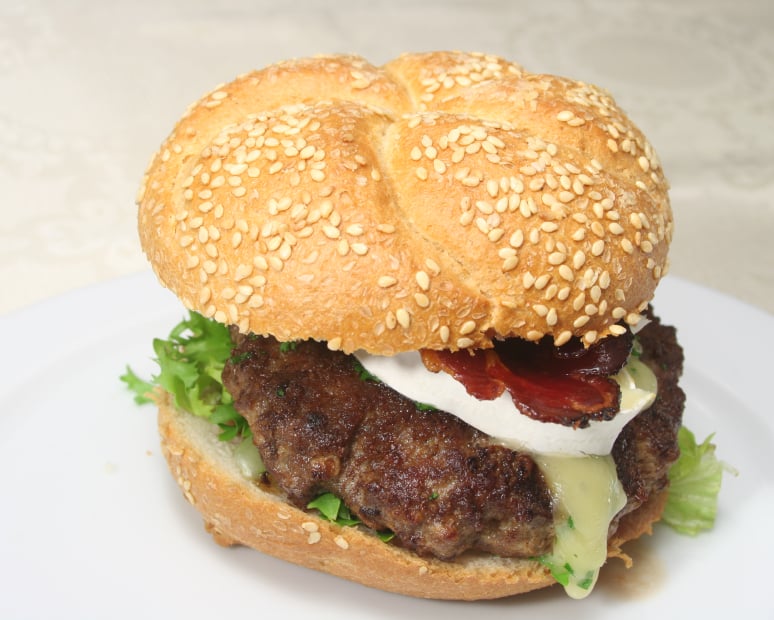 Pears are sort of a neglected fall fruit while apples enjoy the spotlight. Maybe it's because no one really knows what to do with them besides make a fruit salad. The next time you hit the grocery store, grab a few for your cart to make Cooking for Keeps' rich burgers. They're cheesy, salty, and a little bit sweet. These burgers are also effortlessly elegant, making them a standout for entertaining.
Bison is very similar to beef, both in flavor and the way it cooks. One important difference is the ratio of fat to meat. Bison is naturally leaner, so you really want to make sure not to overcook the patties. You may even want to keep them a bit rarer than you typically cook your beef burgers. Of course, you could also substitute beef.
Ingredients:
1 pound ground bison
½ onion, grated
1 garlic clove, grated
1¾ teaspoons salt, divided
⅛ teaspoon black pepper
1 teaspoon Worcestershire sauce
2 pears, halved, cored, and thinly sliced
1 tablespoon unsalted butter
4 teaspoons brown sugar
Pinch of red pepper flakes
8 slices center-cut bacon
4 ounces brie, sliced
2 cups arugula
Olive oil
4 burger buns
Mayonnaise
Directions: In a large nonstick skillet over medium heat, cook bacon slices until fat has rendered and bacon is crisp. Transfer to a paper towel-lined plate. Discard all but one teaspoon of the bacon grease in the skillet, or reserve for another use.
In same skillet, melt butter over medium-high heat. Cook until foaming subsides and butter begins to brown. Add pears, brown sugar, ¼ teaspoon salt, and red pepper flakes. Cook pears until just softened, about 3 to 4 minutes total. Set aside until ready to use.
In a large bowl, gently mix bison, onion, garlic, 1½ teaspoons salt, pepper, and Worcestershire sauce with hands, being careful not to overmix. Form mixture into four equal patties. Heat a grill pan over medium-high heat. Lightly drizzle buns with olive oil and grill until lightly toasted.  Add burgers to grill pan and cook to desired level of doneness, about 2 to 3 minutes per side for medium. During last minute or so of cooking, top each burger with brie and add a drizzle of water to the pan. Cover with a lid and cook until cheese is melted, about 30 seconds longer.
Spread buns with mayonnaise, top with arugula, burgers, bacon, and pears. Serve at once.
4. Turkey Burgers with Cranberry Relish
There's no reason you should only get to delight in the flavors of Thanksgiving one day a year. With Williams-Sonoma's turkey burgers, adapted from Essentials of Grilling, you can enjoy the meal whenever you want. The patties taste like a combination of roasted turkey and stuffing and the cranberry relish is every bit as festive as the version you eat on the big day with the added kick of horseradish. Serve these burgers with sweet potato fries to complete the experience.
Ingredients:
Relish
1 cup whole-berry cranberry sauce
2 tablespoons freshly grated or prepared horseradish
2 teaspoons fresh lemon juice
Pinch of ground cinnamon
Pinch of ground cloves
Salt and pepper
Burgers and assembly
1 tablespoon unsalted butter
½ cup finely chopped celery
½ cup finely chopped yellow onion
1½ pounds ground turkey
1 cup day-old cornbread, cut into small cubes
2 tablespoons chopped fresh flat-leaf parsley
1 tablespoon chopped fresh sage
1 tablespoon chopped fresh thyme
1 teaspoon poultry seasoning
1 teaspoon salt
½ teaspoon freshly ground pepper
1 egg
4 sandwich rolls
Directions: In a small bowl, stir together cranberry sauce, horseradish, lemon juice, cinnamon, and cloves. Season with salt and pepper and let sit at room temperature at least 15 minutes. Alternatively, cover and refrigerate up to 24 hours. Let relish return to room temperature before using
In a small skillet set over medium heat, melt butter. Add celery and onion. Cook, stirring often, until softened, about 4 minutes. Remove from heat and let cool.
In a large bowl, combine turkey, cornbread, parsley, sage, thyme, poultry seasoning, salt, pepper, egg, and cooked onion mixture. Using your hands, gently mix to combine. Divide mixture into four equal portions form into 4½-inch-diameter, ¾-inch-thick patties, being careful not to overwork.
Preheat a charcoal or gas grill for direct grilling over medium-high heat. Oil cooking rack. Cook burgers over hottest part of flame, turning once, until cooked through, 6 to 7 minutes per side. About 1 minute before burgers are done, toast rolls along edges of grill. Serve burgers on buns and top with relish.
5. Chicken Pot Pie Burgers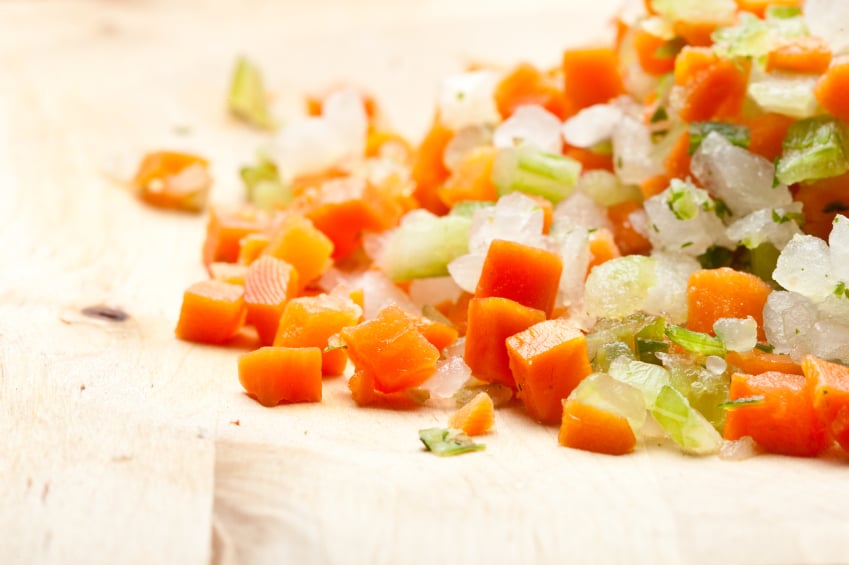 Turning a classic comfort food into a sandwich somehow makes it seem even cozier. Try these pot-pie inspired burgers from Climbing Grier Mountain to taste for yourself. Just form the ground chicken into patties, let them sizzle until just cooked through, then use the same pan to make a quick gravy with onion, celery, carrot, and peas. Cover the burgers with the sauce and some cheese, broil them briefly, then dig in. It's all the flavor of the classic chicken dish for a lot less work.
Ingredients:
2 tablespoons olive oil
1 pound ground chicken
¼ cup mayonnaise
1 large carrot, peeled, and diced
2 celery stalks, diced
½ yellow onion, diced
½ cup frozen peas, thawed
3 tablespoons unsalted butter
3 tablespoons flour
1¼ cup chicken stock
1 cup shredded mozzarella
2 to 3 brioche buns
Salt and pepper
Directions: In a medium bowl, combine chicken and mayonnaise. Season with salt and pepper and gently mix to combine. Form into two or three patties. Heat olive oil in a skillet set over medium-high heat. Add patties and cook about 5 minutes, then flip. Cook 2 to 3 minutes on second side, or until just cooked through. Remove burgers from skillet and let rest.
Melt butter in the same skillet then stir in carrot, celery, and onion. Season with salt and pepper. Cook until veggies have softened, about 7 minutes. Stir in peas, stir, then sprinkle in the flour. Continue to cook, stirring, for 1 minute. Slowly pour in stock while stirring and cook until gravy thickens, about 4 to 5 minutes. Remove from heat and season with salt and pepper, if needed.
Preheat broiler. Place bun bottoms on a baking sheet, top each with a patty and a ladle of gravy. Top with cheese. Broil until cheese is melted and beginning to brown, 1 to 2 minutes. Close with bun tops and serve.
More from Culture Cheat Sheet: