Butternut Squash Recipes You Haven't Tried Yet
You've used butternut squash for soup, roasted it with other vegetables, and even tucked it inside ravioli. Perhaps you think you've done all you can with this favorite fall and winter vegetable, but butternut squash — which is similar in taste and appearance to pumpkin — is more versatile than many people give it credit for. If you're looking for ways to get more of this healthy food (rich in fiber, vitamins A and C, and potassium) into your diet, look no further than these five unique butternut squash recipes.
1. Butternut Squash Pancakes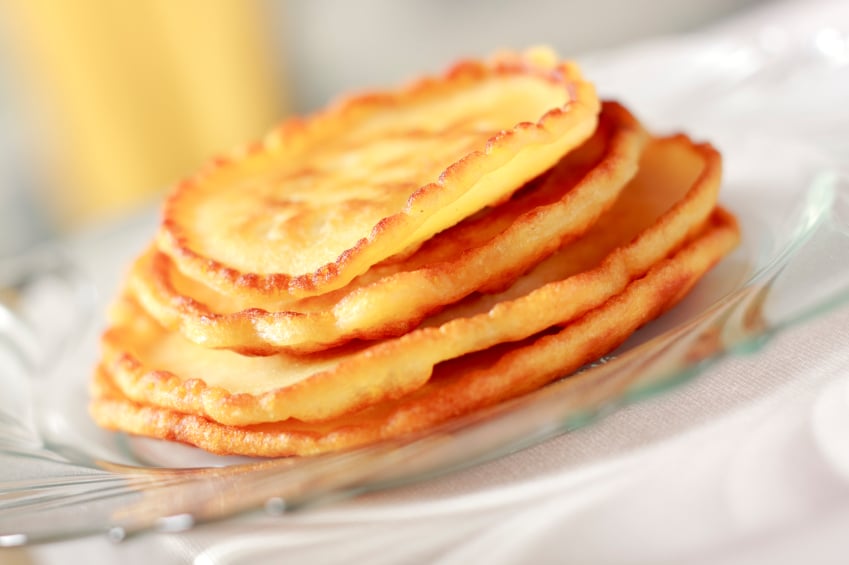 Warm up a cool fall morning with a batch of butternut squash pancakes flavored with cinnamon and nutmeg. This breakfast dish is also a good way to use up leftover cooked squash and add some extra nutrients to your hotcakes. The homemade maple butter helps to make this dish extra special. You can also substitute sweet potato for the butternut squash in this recipe from from Saveur, which makes about 24 pancakes.
Ingredients:
For the maple butter
1 stick unsalted butter, softened
3 teaspoons maple syrup
⅛ teaspoon salt
½ teaspoon cinnamon (optional)
For the pancakes
2 cups all purpose flour
2 tablespoons sugar
2 teaspoons baking powder
½ teaspoon baking soda
¾ teaspoon cinnamon
1⁄8 teaspoon nutmeg
½ teaspoon salt
¾ cup cooked and puréed butternut squash
1¼ cups milk
¼ teaspoon cider vinegar
2 eggs
½ teaspoon vanilla
Unsalted butter or cooking spray, for frying
Directions: To make the maple butter, stir together all ingredients in a medium bowl until well combined. Transfer to a serving dish if desired and set aside. Extras can be stored, covered in the fridge.
To make the pancakes mix together flour, sugar, baking powder, baking soda, cinnamon, nutmeg, and salt in a medium bowl; set aside. In a large bowl, whisk together squash, milk, vinegar, butter, eggs, and vanilla. Add dry mixture to wet and stir until just thick and combined. Some lumps are OK.
Heat a pan or griddle over medium-low heat; melt a little butter to the bottom or coat lightly with cooking spray. Ladle approximately ¼ cup batter into the pan for each pancake and cook until the undersides are brown and the tops are lightly speckled with bubbles. Flip pancakes and cook until undersides are browned.
Serve immediately topped with maple butter, or keep warm on a baking sheet in a 200-degree-Fahrenheit oven until you cook all the pancakes.
2. Butternut Squash Black Bean Enchiladas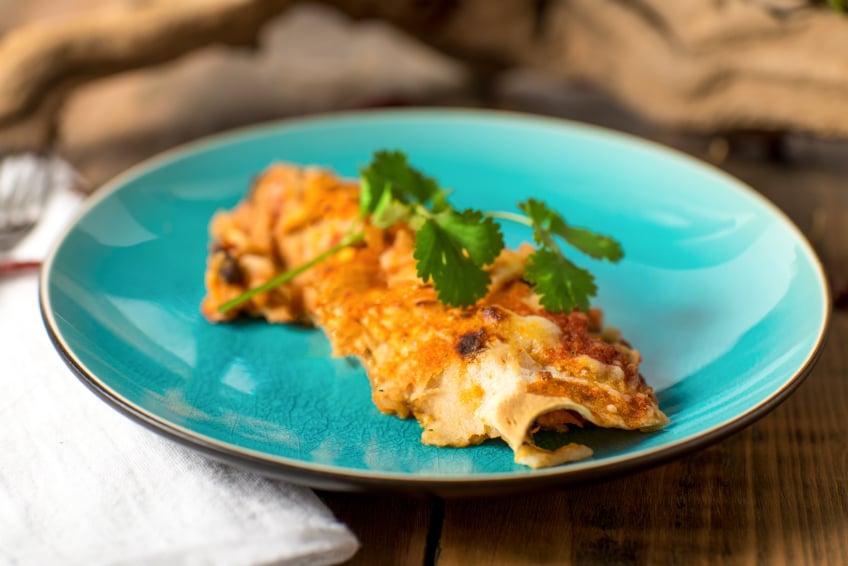 "Squash and black beans belong together," Dana of the Minimalist Baker explained when describing this recipe for butternut squash and black bean enchiladas. The dish is perfect for Meatless Monday (or any day of the week), especially since it has just 10 ingredients and takes only an hour or so to prepare.
Ingredients:
For the enchiladas
3 cups cubed butternut squash
1 tablespoon grape seed oil, avocado oil, or coconut oil
¼ teaspoon sea salt and black pepper, divided
1 (15-ounce) can black beans, slightly drained
½ teaspoon ground cumin, divided
7 to 9 white or yellow corn tortillas
For the sauce
1 tablespoon grapeseed oil, avocado oil, or coconut oil
3 cloves garlic, minced
1 (15-ounce) can tomato sauce
1 chipotle pepper in adobo sauce, plus 1 teaspoon adobo sauce
½ cup water, or substitute vegetable broth for more flavor
Sea salt and black pepper, to taste
1 to 2 tablespoons coconut sugar, or substitute maple syrup
Optional toppings
Red onion, diced
Ripe avocado, sliced
Fresh cilantro, chopped
Toasted pumpkin seeds
Directions: Preheat oven to 400 degrees Fahrenheit. Position a rack in the middle of the oven.
Place the cubed butternut squash on a baking sheet and drizzle with 1 tablespoons of oil. Sprinkle on a pinch of salt and pepper, then toss to combine. Bake in the oven for 15 to 20 minutes, until the squash is fork tender. Remove from oven and set aside to cool. Reduce oven to 350 degrees Fahrenheit.
As the squash cooks, prepare the sauce. Heat a large skillet over medium heat. Once the pan is hot, add 1 tablespoon of oil as well as the garlic. Cook, stirring, until the garlic is soft and just slightly browned, about 4 to 5 minutes.
Remove from heat and stir in the tomato sauce, diced chipotle pepper, 1 teaspoon of adobo sauce, and water or vegetable broth. Turn heat to low. Cover and let simmer for 5 minutes.
Transfer the sauce to a blender and process until completely smooth. Adjust seasonings to taste, then set aside.
Return the skillet to the stove and turn heat to medium. Add the black beans and season with salt, pepper, and cumin. Stir. Once the beans start to bubble, remove from heat and add the butternut squash, along with ¼ cup of the enchilada sauce. Stir, then taste and adjust seasonings.
Wrap the tortillas in a damp paper towel and microwave for 30 seconds to warm. Pour some sauce into the bottom of a 9-by-13-inch rectangular baking pan, spreading to coat.
Place a tortilla in the baking pan. Spoon a generous amount of the bean and squash mixture onto the tortilla, then roll up and place seam-side down in the dish. Continue until the pan is full and you've used all the tortillas.
Pour the remaining enchilada sauce over the tortillas, leaving the ends of the tortillas bare. Spray or brush the edges with a little oil to make them extra crispy. Bake at 350 degrees Fahrenheit for 15 to 20 minutes. Serve with your favorite toppings.
3. Glazed Salmon Over Asian Butternut Squash Salad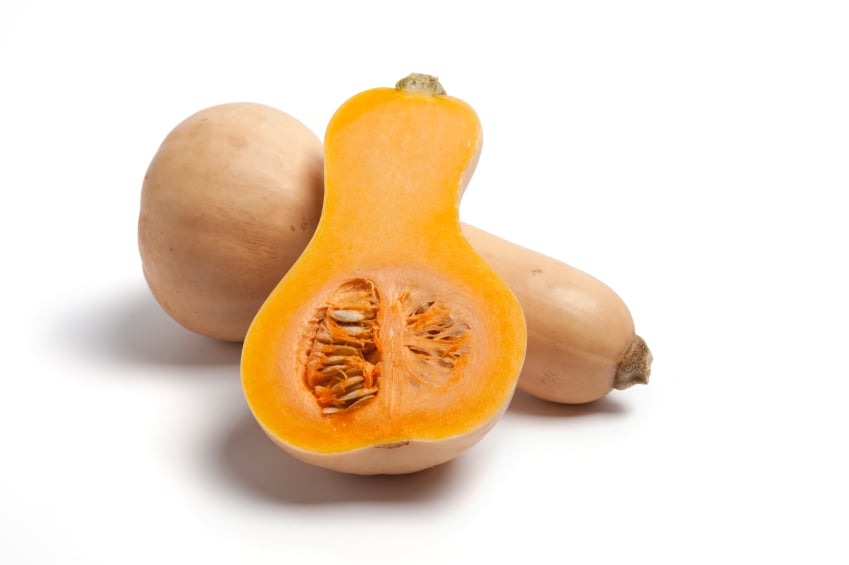 Butternut squash is transformed into pasta-like strands with the help of a spiralizer in this recipe from Carolina Girl Cooks. The squash is combined with bell pepper, edamame, cilantro, and a peanut dressing for an Asian-influenced salad, then served with a ginger- and soy-glazed salmon. Serves 4.
Ingredients:
For the salmon
16 ounces of salmon, separated into 4-ounce portions
½ cup coconut sugar or brown sugar
⅓ cup soy sauce
2 tablespoons of honey
2 tablespoons of hoisin sauce (or substitute your favorite barbecue sauce)
2 tablespoons of fresh, grated ginger
Juice of 2 limes
1 clove of garlic, minced
½ teaspoon of dried pepper flakes
For the squash salad
1 butternut squash
½ cup loosely packed chopped fresh cilantro
2 green onions, sliced
⅓ red bell pepper, diced
¼ cup roughly chopped peanuts
⅓ cup edamame
For the peanut dressing
¼ cup creamy peanut butter
3 tablespoons soy sauce
2 tablespoons rice vinegar
1 tablespoon grated fresh ginger
2 tablespoon honey
1 tablespoon Sriracha
1 tablespoon sesame oil
Zest and juice of 1 lime
Directions: To make the glazed salmon, combine the sugar, soy sauce, honey, hoisin sauce, ginger, red pepper flakes, garlic, and lime juice in a medium saucepan. Bring to a boil. Reduce heat to medium and cook for 15 to 20 minutes until a glaze forms. Set aside.
Preheat the oven to 350 degrees Fahrenheit. Line a baking sheet with parchment paper and place the salmon fillets on top. Baste each fillet with the glaze and let rest for about 10 minutes. Transfer baking sheet to the oven and cook for 15 minutes. Remove from oven and baste again with the glaze.
Make the butternut squash salad. Begin by washing and peeling and squash. Cut in half through the neck. Attach the top portion of the squash to the spiralizer and spiral into noodle-like strands.
Fill a large pot with water and bring to a boil. Add the squash to the pot and cook for 3 to 5 minutes, until tender-crisp. Drain and transfer to a large bowl.
As the squash cools, make the dressing. Add the peanut butter and all other ingredients to a bowl, mix well, and set aside.
Toss the cooked squash with the dressing. Then add the cilantro, green onions, bell pepper, peanuts, and edamame. Toss to combine. Dive the salad between four bowls. Brush the salmon with the glaze again, then place atop the squash salad and serve.
4. Butternut Squash Burgers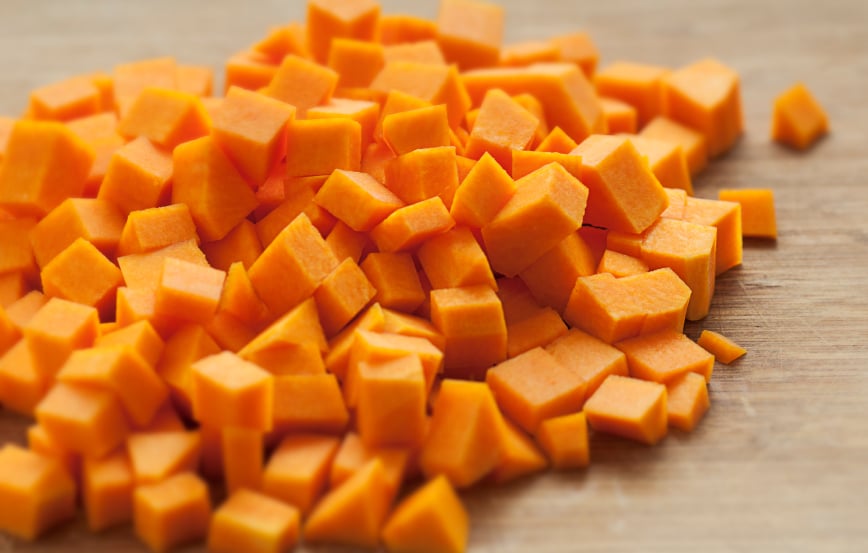 A veggie burger that actually tastes good? This recipe for butternut squash burgers from Feast with Sophie proves such a thing is possible. These patties are made with a combination of squash, rice, and rolled oats, then topped with feta and Greek yogurt sauce for a delectable, meatless meal.
Ingredients:
For the burgers
2 cups roasted butternut squash (about ½ a medium-sized squash)
1 medium red onion, finely diced
2 cloves garlic, minced
1 cup white rice, slightly overcooked
1 cup rolled oats
1 egg
1½ teaspoons ground cumin
½ teaspoon salt
Olive oil, for frying
For the Greek yogurt sauce
1 cup Greek yogurt
Handful of fresh mint, roughly chopped
Handful of fresh coriander, roughly chopped
Pinch of salt
For the burger toppings
Feta
Shredded fresh spinach or other greens of choice
Burger buns
Directions: Preheat oven to 435 degrees Fahrenheit.
Add some olive oil to a skillet and turn heat to medium-high. Add the onion along with a pinch of salt and sauté until the onion starts to soften and turn brown, about 4 to 5 minutes. Add the garlic and cumin and cook for 1 minute more. Remove from heat and transfer pan contents to a medium bowl.
Add the roasted squash to the bowl and long with about half of the cooked rice. Mix until smooth and combined. Add the rest of the rice, along with the rolled oats and egg. Mix with a fork until you have a thick and sticky mixture.
Line a baking sheet with parchment paper. Shape the squash mixture into patties and arrange on the baking sheet. Bake for 15 minutes, then flip and cook for 10 to 15 minutes more. Remove from oven and set aside.
To make the sauce, combine all the ingredients in a small bowl. Set aside. Just before serving, place feta in a baking dish and bake at 435 degrees Fahrenheit for 5 minutes. Flip the brick of cheese over and cook for 5 minutes more.
To assemble the burgers, spread some of the yogurt sauce on the bottom of a bun. Add a layer of spinach, then top with a butternut squash patty and some crumbled baked feta. Serve.
5. Maple Spice Squash Butter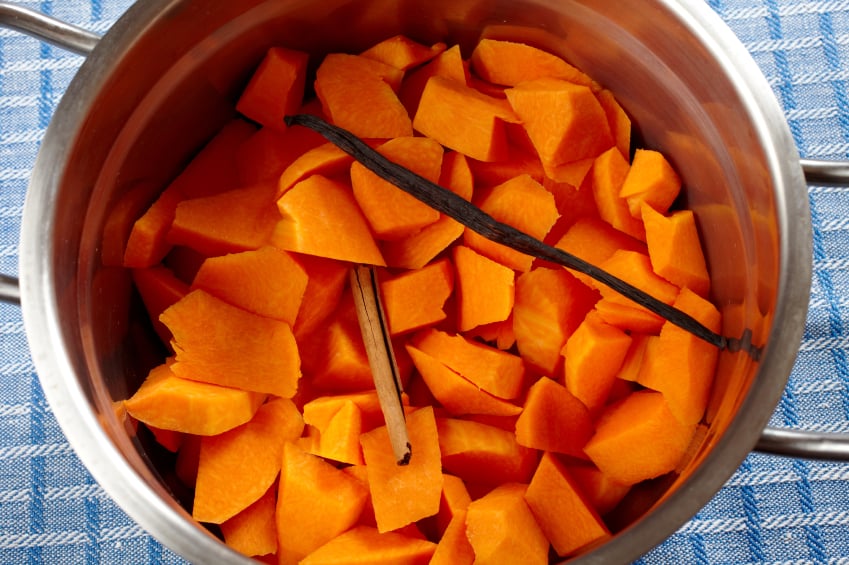 If you're wondering what to do with that extra butternut squash you have lying around, why not turn it into a sweet spread you can enjoy on scones, toast, and muffins? This recipe from Gourmande in the Kitchen makes about 10 ounces of vegan squash butter and is packed with your favorite fall flavors like cinnamon, maple, clove, star anise, and vanilla. Once made, it will keep in the refrigerator for several weeks or in the freezer for up to six months.
Ingredients:
1½- to 2-pound butternut squash cut in half, seeds removed
Filtered water for roasting
½ cup maple syrup (if using a smaller squash reduce to ⅓ cup)
½ vanilla bean , halved and scraped
2 cinnamon sticks
2 whole star anise
½ teaspoon ground cinnamon
⅛ teaspoon ground cloves
The juice of 1 small lemon or ½ a large lemon
Directions: Preheat oven to 400 degrees Fahrenheit.
Place the butternut squash on a large, rimmed baking sheet, cut sides down. Pour a few tablespoons of water onto the pan so that there is some steam while the squash roasts. Drape a large piece of parchment paper over the squash, then cover with aluminum foil. Tuck the foil under the edges of the baking sheet to seal. Roast in the oven for 60 minutes, or until the squash's flesh is tender when pierced with a fork. Remove from oven and let cool.
As the squash cooks, warm the maple syrup in a medium saucepan along with the cinnamon stick, vanilla bean, and star anise. Bring to a simmer, then cover and let the flavors infuse.
Strain the maple syrup into the bowl of a food processor. Reserve the whole spices. Scoop out the squash flesh and transfer to the food processor. Add the cinnamon, cloves, and lemon juice. Puree until smooth.
Pour the pureed squash back into the saucepan and add the reserved whole spices. Bring to a simmer over low heat and cook, uncovered, stirring frequently for 20 to 25 minutes.
Remove from heat and ladle squash butter into a jar. You can remove the spices if you like, but they'll continue to add flavor if you leave them. Cover and let cool to room temperature, then store in the fridge or freezer until ready to use.
Follow Megan on Twitter @MeganE_CS