Our Favorite Celebrity Chefs Take Us Inside Their Gorgeous Home Kitchens
When it comes to celebrity chefs, there's more to envy than their cooking skills alone. As most viewers can attest, celebrity chef kitchens are something to talk about in their own right. From Bobby Flay's impressive backyard oasis to Martha Stewart's inviting farmhouse decor, these kitchens are pure perfection.
So, are you ready to see 15 of the most stylish kitchens we've ever laid eyes on? Good, because one peek inside, and you'll be on your way to the Hamptons — as many famous chefs own homes there — for inspiration faster than you can say, "You've been chopped."
1. Bobby Flay's city kitchen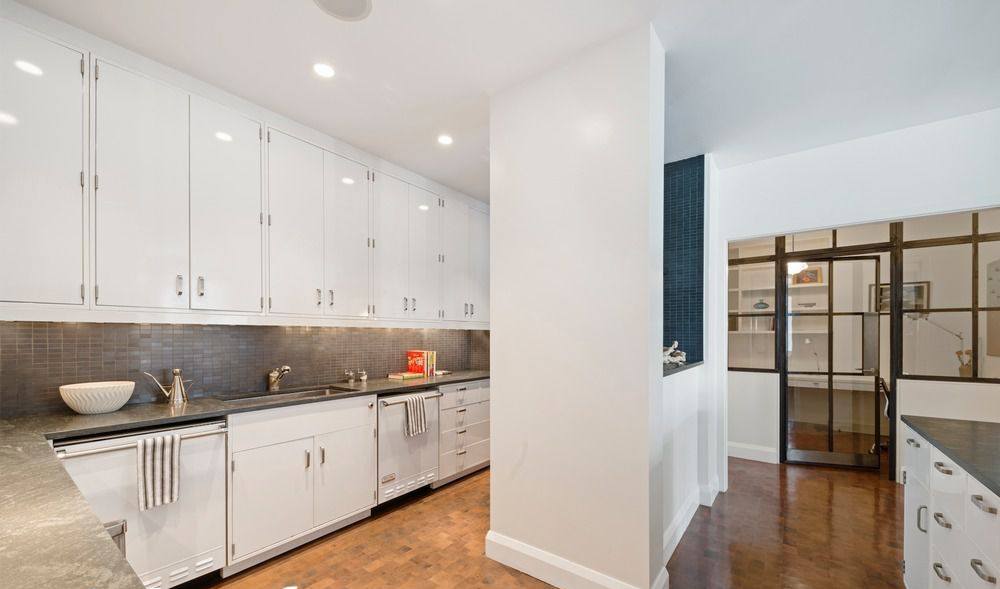 Location: New York, New York
This Iron Chef knows a thing or two about whipping up superb meals time and time again. Whether he's cooking at his Manhattan home or challenging a contender on Food Network, Bobby Flay is all about having plenty of counter space. Lucky for him, that's not a problem at his luxury duplex condo in the Big Apple, which can be yours for a cool $7.25 million.
The impressive kitchen features two ovens, a wine cooler, and a walk-in pantry. Furthermore, to top off the appliance list, there's a six-burner stove complete with a griddle and a side-by-side refrigerator and freezer. And not too surprisingly, Flay has some unique thoughts on freezer space. "In my opinion, freezers are for ice cream and vodka," Flay proclaimed during a Rachael Ray clip. His flavor of choice? Häagen-Dazs vanilla.
Next: This place has an outdoor brick pizza oven.
2. Bobby Flay's outdoor oasis
Location: Amagansett, New York
Think your grill setup has anything on this guy's? Think again. Bobby Flay's outdoor kitchen beats your backyard barbecue every time. Flush with a variety of grills, the space is truly what summertime dreams are made of. Sure, Flay's sprawl has a pool and boccee ball court, but the most winning element is undoubtedly the brick pizza oven.
Next: This kitchen has hidden (and double) appliances.
3. Ina Garten's picturesque barn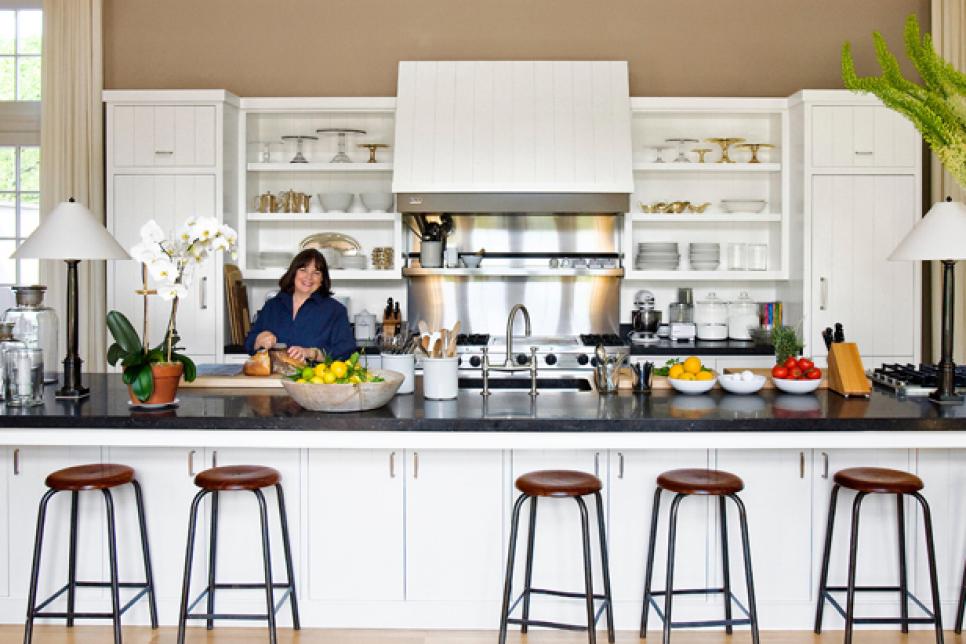 Location: East Hampton, New York
If Ina's kitchen is her idea of a barn — as she so lovingly calls it — we'd be curious to see what the rest of her East Hampton home looks like. Anyone who's ever watched Barefoot Contessa knows that there's no shortage of sophistication at Garten's abode, that's for sure.
The thoughtfully designed kitchen has two dishwashers located underneath the island, and her refrigerators are hidden behind clean, white cabinets. In addition to the matching Sub-Zero fridges, Ina has duplicate Viking ranges, and open shelves.
Next: A foot pedal sink makes for a hands-free operation. 
4. Guy Fieri's custom kitchen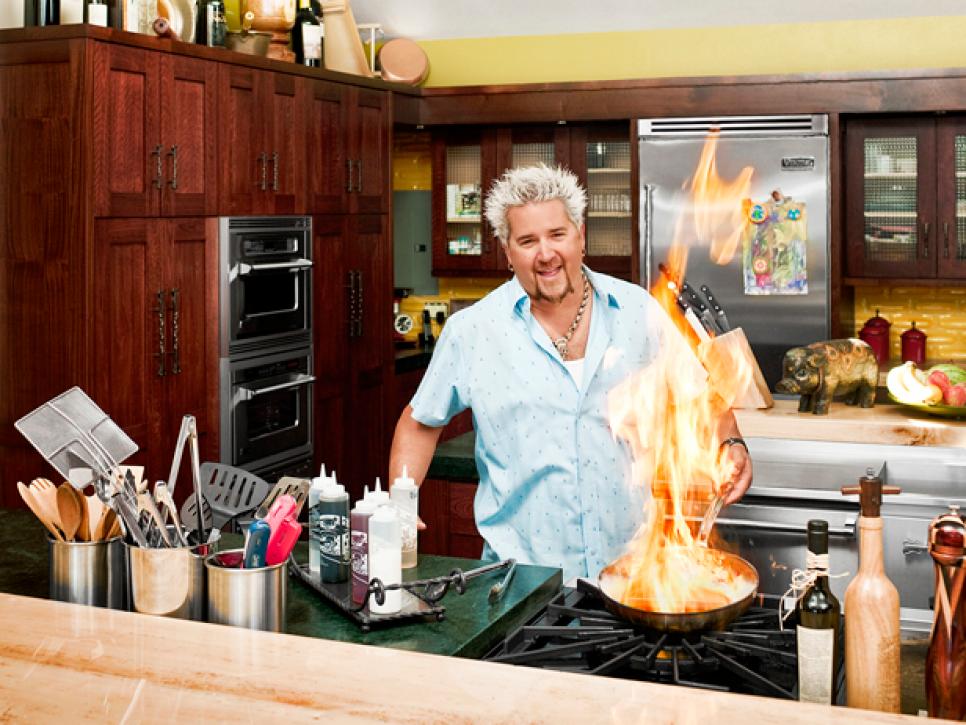 Location: Santa Rosa, California
He's still in the same house he bought over a decade ago, only now, it has an additional 2,200 square feet. The kitchen, in particular, comes in at about 900 square feet, and of course, it's built to Fieri's liking. In fact, the Food Network star's father built the kitchen. So, what exactly is important to Fieri?
For starters, his kitchen features a massive Viking gas burner, barn wood counters, and a foot pedal sink. "Nothing's worse than touching a faucet with some nasty raw chicken on your hands," Fieri says. And oh, did we mention the his and hers refrigerators? We could have sworn the key to a happy marriage was separate bathrooms, but clearly, it's separate freezer space for the Fieris.
Next: This chef loves cooking for her children. 
5. Valerie Bertinelli's gathering place
Location: Los Angeles, California
Valerie Bertinelli's family plays a huge role in her life, and on her TV show, Valerie's Home Cooking. Given the fact that she and her husband have five kids total, having plenty of space for family meals is of the essence. Following renovations that the couple completed in 2011, their California kitchen has his and hers sinks, a Wolf range, and cow-themed decor.
Lastly, we must mention the island big enough for everyone to "roll out dough on pizza night," because this celebrity chef's kitchen wouldn't be complete without it.
Next: When a food show host and an interior designer get together, the kitchen is bound to be beautiful.
6. Ted Allen's sensible space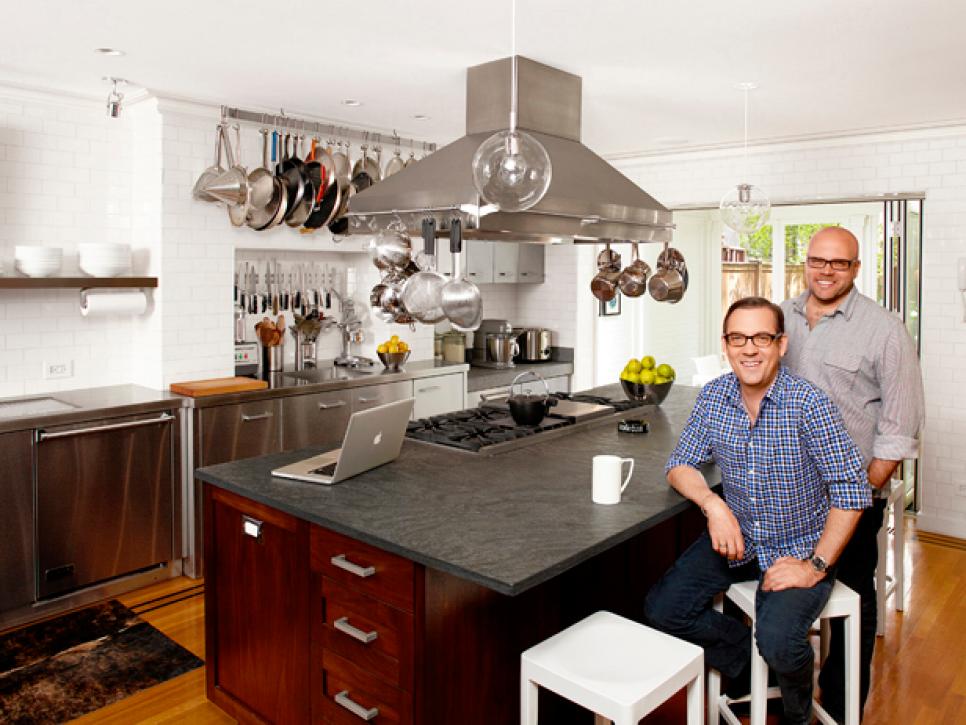 Location: Unknown
Some folks are lucky enough to have a partner who's just as talented as they are, which is exactly the case for Ted Allen and longtime partner Barry Rice. Allen's the food expert, and Rice is the design expert, which makes perfect sense after seeing their immaculate kitchen.
It's clear to see that the space was thoughtfully planned out by individuals who appreciate food, entertaining, and keeping things organized. In fact, the kitchen features pullout pantry shelves, double dishwashers, and three sinks, two of which have hands-free faucets. So, why three sinks? "I'm a fanatic about food safety," Allen explains to Food & Wine.
Next: This place is full of color — and personality. 
7. Rachael Ray's East Village culinary cove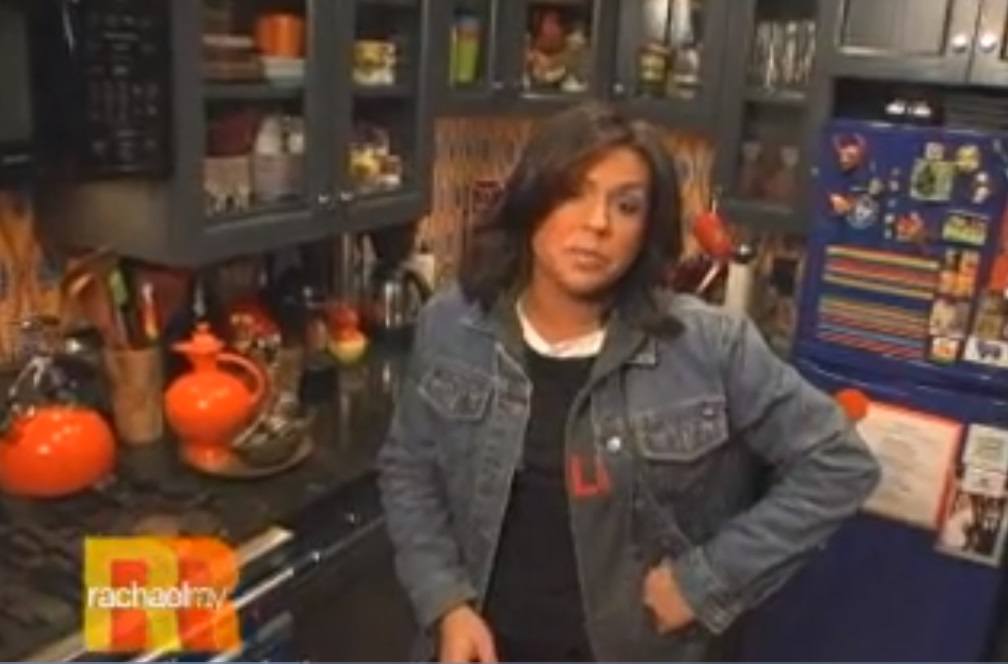 Location: New York, New York
Tiny, yet colorful, the kitchen inside Rachael Ray's Big Apple abode may surprise you. In fact, the powerhouse businesswoman even told The Wall Street Journal that first-time guests to her apartment are "shocked at how tiny my kitchen is." Even though Ray's kitchen is the smallest on this list, it perhaps has the most personality.
Case in point: She and her husband based the color scheme off of a tile they purchased in Italy. The cooking range is Portuguese Blue, the counter tops are butcher blocks, and the fridge, well, it's stocked with leftovers from last night's dinner. We'd expect nothing less from this 30 Minute Meals mogul.
Next: This home is on the market, so it could be yours! 
8. Rachael Ray's stunning Southampton sprawl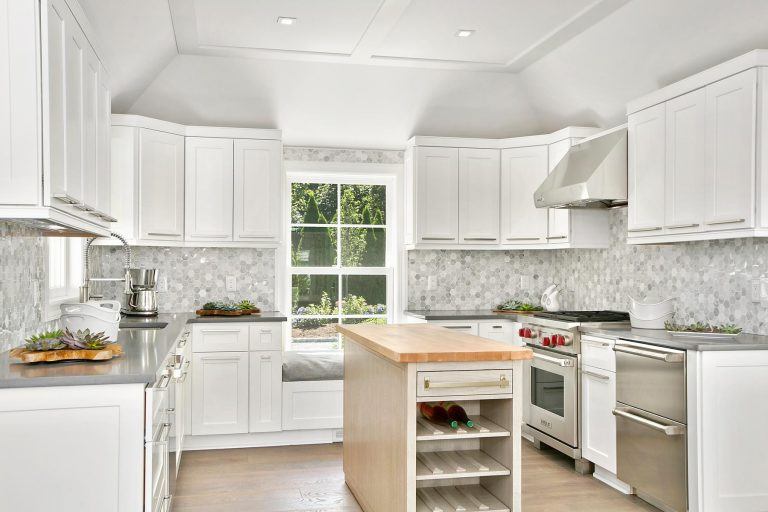 Location: Southampton, New York
Every celebrity chef needs her home in the Hamptons, right? And even though Ray's is on the market, we're still dying over how gorgeous it is. According to Architectural Digest, "The living and dinning spaces consist of an open floor plan—with several fireplaces—and the kitchen is, naturally, custom-designed with features like dual beverage-cooling drawers, an industrial stove, and a wine rack." Now, if only we had $4.9 million lying around.
Next: This kitchen is fit for an Iron Chef. 
9. Michael Symon's renovated workspace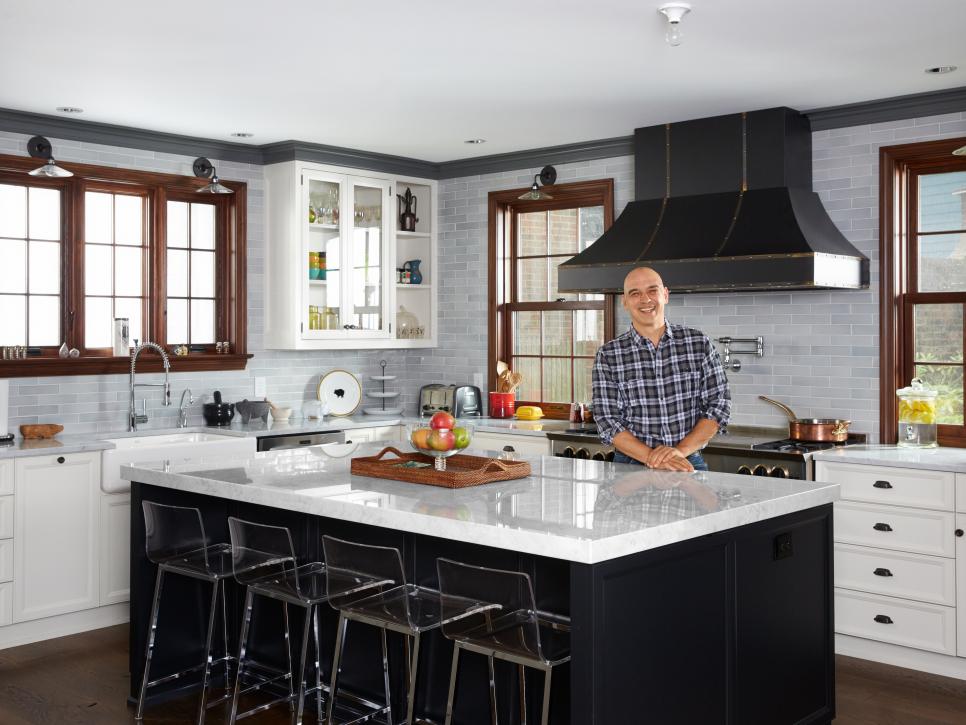 Location: Cleveland, Ohio
With a wine room that once served as a prayer room, Michael Symon and his wife's renovations to their Cleveland home have made all the difference. For starters, they replaced a wall of windows with a slat wall. Why? Because it holds three times the amount of pots and pans a drawer would hold.
Furthermore, there's one appliance this Iron Chef says he couldn't live without — a BlueStar range which he says "performs like a restaurant range." The remodeled kitchen also features an espresso station and a prep sink with foot pedals. According to Symon, "The last thing you want to do is touch anything while you're butchering a chicken." We couldn't agree more.
Next: A country kitchen fit for a country music star — and celebrity chef.
10. Trisha Yearwood's southern digs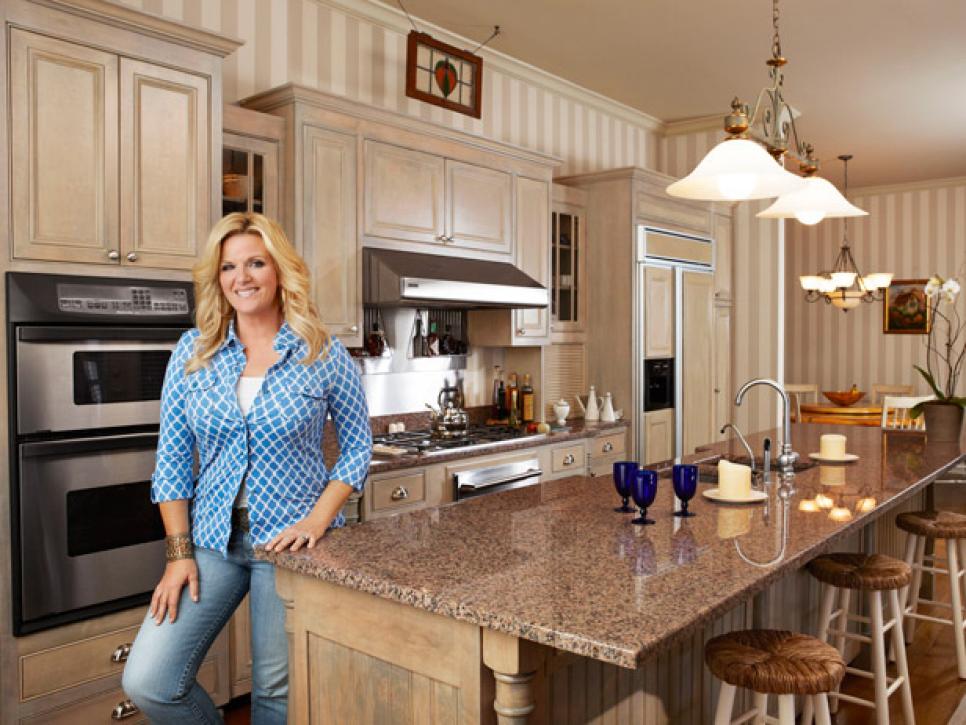 Location: Nashville, Tennessee
As the host of Trisha's Southern Kitchen, this country-music-star-turned-southern-cooking-household-name turns up the heat in her inviting Nashville home. The kitchen is complete with a heating lamp that's located underneath the oven hood, along with a warming drawer, which is Yearwood's favorite feature.
"The biggest obstacle to entertaining is having all the food ready at the same time," Yearwood says. "With this drawer, I can do that." The star also has a 500-pound kitchen table with a built-in lazy Susan, along with an antique mahogany cabinet.
Next: Guess whose kitchen has an in-island deep fryer?
11. Paula Deen's deep-fried southern sanctuary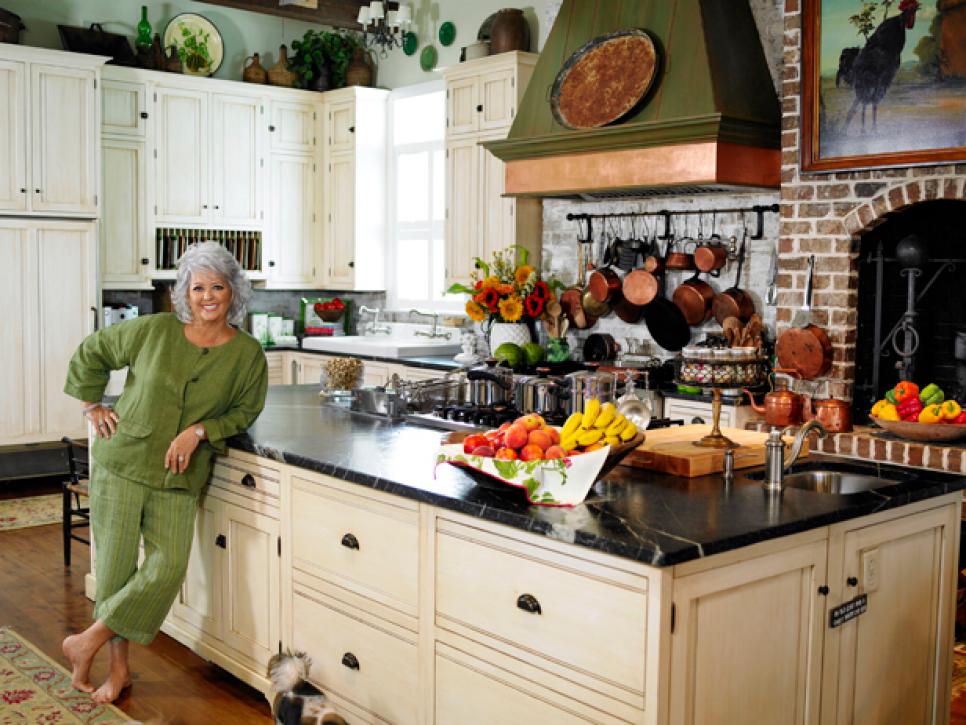 Location: Savannah, Georgia
OK, so maybe Paula Deen isn't exactly a household favorite anymore, but still, she made her mark on the culinary world, as did her impressive kitchen. While the queen of southern cuisine knows how to whip up a good meal, it's no secret that those meals, for the most part, are slathered in butter.
Inevitably, cooking with all that butter will leave you with more than just health problems — it'll leave you with a whole stack of dirty dishes. Deen's solution for this is one giant sink, basically so that she can hide all the dirty pots and pans in there. The chef also has an in-island deep fryer (naturally), fridge and freezer drawers, and a fireplace. Is it too hot to use one of these in the south? Of course, that's why she uses it for baking biscuits, and not much else.
Next: This kitchen features function over form. 
12. Martha Stewart's galley in the city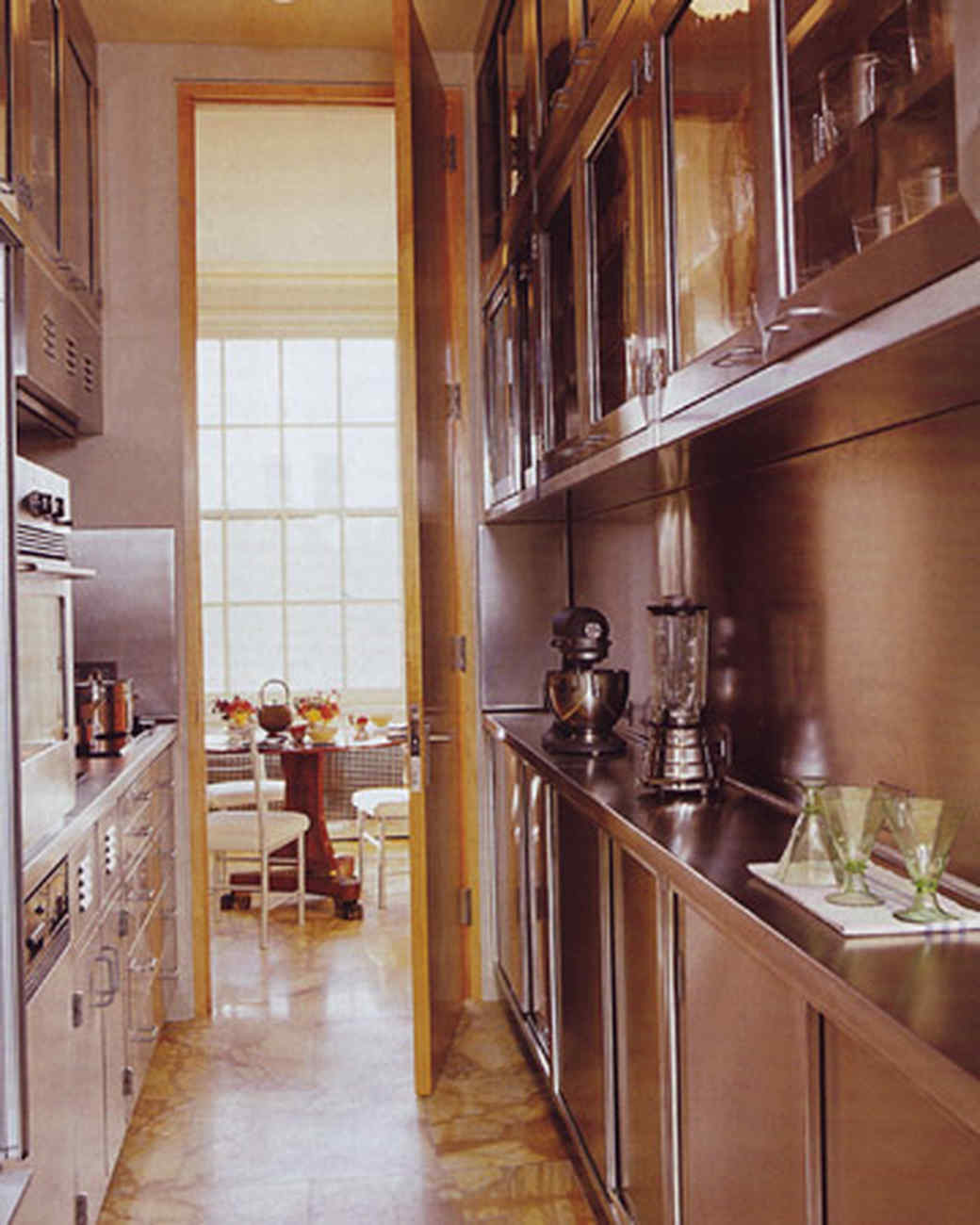 Location: New York, New York
It's no surprise that Martha Stewart's NYC kitchen has a place for everything. According to her website, the kitchen features floor-to-ceiling cabinets and sliding doors on the lower cabinets to help reduce "kitchen-traffic accidents from open-out doors." Furthermore, Stewart has glass cabinet doors to make the room look bigger. Lucky for her, this isn't the only kitchen she calls her own.
Next: This kitchen is fit for a hostess. 
13. Martha Stewart's immaculate setting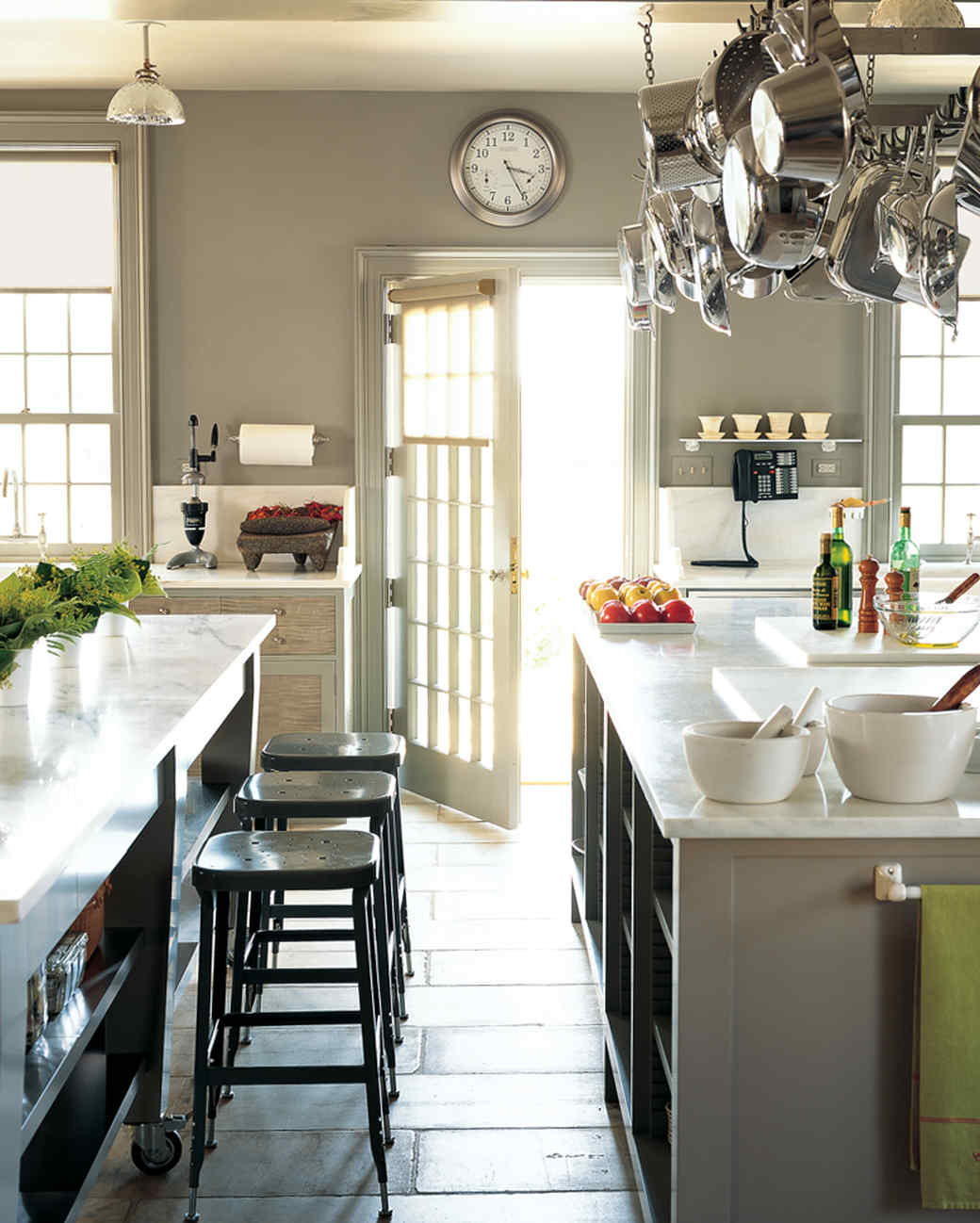 Location: Bedford, New York
When the woman behind her very own — and very well-known — lifestyle brand wants to start from scratch, that's exactly what she does. Having designed the kitchen herself, it's no surprise that Cantitoe Corners, her farm in Bedford, New York, is up to her high quality standards.
Two islands offer plenty of seating and storage, while an overhead steel rack provides an easily accessible spot for pots and pans. With a deep vegetable sink (because yes, produce deserves its own sink), a cappuccino counter that would delight the most hesitant of morning persons, and warming drawers ideal for hosting dinners, this house is an entertainer's dream come true.
Next: Nothing but the best for this Italian chef. 
14. Giada De Laurentiis' modern abode
Location: Pacific Palisade, California
This Food Network star and her husband, Todd Thompson, built the modern abode of their dreams, with breathtaking views of the Pacific ocean, to boot. The kitchen features a clean, modern design that's more than ideal for a celebrity chef.
The space is complete with industrial-grade appliances, including two dishwashers and four ovens. It's the stark contrast in color that really makes it pop, though. According to Architectural Digest, "Dark brown wenge-wood cabinets paired with white-concrete floors and white-marble countertops create a striking chiaroscuro effect."
Next: This charming home stays true to its original design. 
15. Nancy Fuller's farmhouse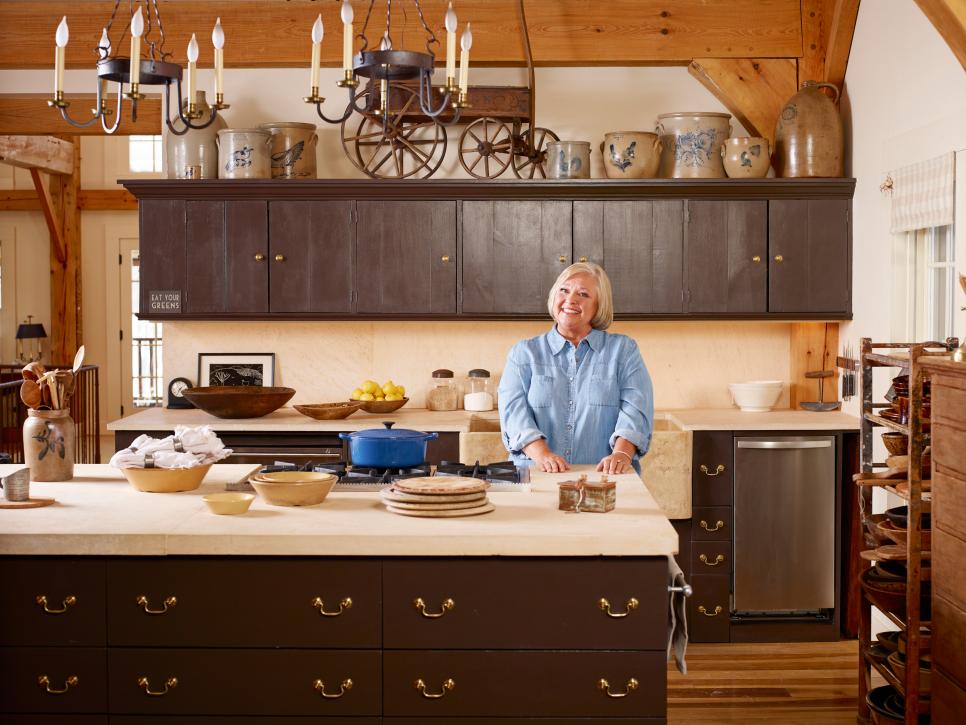 Location: Hudson Valley, New York
Leave it to the host of a show called Farmhouse Rules to see past the flaws of a 17th-century farmhouse with no working kitchen. Her answer to the problem? Turning the carriage house into the kitchen and dining room. With neutral brown cabinets, an island that stores just about everything, and modern appliances, Fuller's farmhouse is an ode to the time at which the house was actually built, without any unnecessary frills.
Read more: Chip and Joanna's 'Fixer Upper' Special and Other Celebrity Homes You Can Buy or Rent
Check out The Cheat Sheet on Facebook!