These Celebrity Chefs Have Found Themselves in the Shadiest Relationships
Everybody wants to find love. Even the celebrity chefs whom everybody hates! But just like anybody else, chefs like Giada de Laurentiis or Anthony Bourdain don't always make good choices in their love lives. In fact, numerous celebrity chefs have found themselves in some pretty shady relationships over the years.
Read on to get the scoop on their most regrettable relationships.
1. Anthony Bourdain
It's no surprise that Anthony Bourdain, with his constant use of profanity and references to drugs and sex, has made a few bad relationship decisions. The New Yorker reports that he described his first marriage, to high school sweetheart Nancy Putkoski, as a "kind of love and codependency and sense of adventure — we were criminals together." He explains that they did "seriously knuckleheaded shit" while using narcotics.
That included being pulled over by police with 200 hits of blotter acid in the car, and being watched by the Drug Enforcement Administration while retrieving a "letter from Panama" at the post office. Bourdain's later relationships — including a marriage to mixed martial artist Ottavia Busia and an ongoing relationship with actress Asia Argento — seem a bit less dramatic. (And a lot less dangerous, too.)
Next: This chef allegedly had a high-profile affair. 
2. Gordon Ramsay
Gordon Ramsay's relationship with longtime wife Tana, or Cayetana Elizabeth Hutcheson, has had more than its fair share of ups and downs. Some highlights over the years? Ramsay allegedly had an affair with a woman named Sarah Symonds from 2001 to 2008. The scandal unfolded with an intense level of scrutiny and press coverage, but Ramsay denied Symonds' claims.
Symonds is the one who broke the news of the reported affair. She repeatedly spoke to press, telling tabloids about what being a "professional mistress" feels like around the holidays, claiming that a sex tape existed, and writing a book about her experience. (Symonds also wrote a literal handbook for "the other woman.") Symonds has continued to talk about Ramsay, and even questioned whether Tana Ramsay actually lost a pregnancy, as Gordon Ramsay had reportedly told Symonds that he'd had a vasectomy. The Ramsays remain together, despite a major falling out between Tana's father and Gordon, and in spite of whatever actually happened between Ramsay and Symonds.
Next: This celebrity chef allegedly skipped his 10-year wedding anniversary.
3. Bobby Flay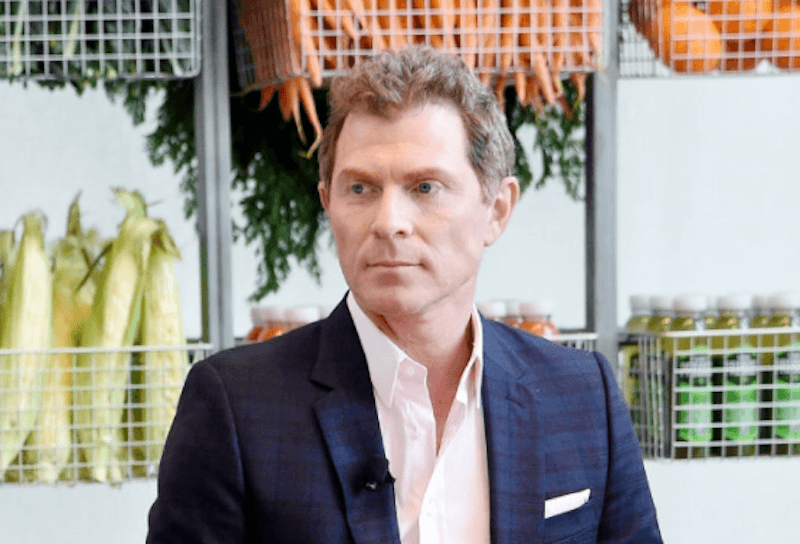 One of Bobby Flay's shadiest relationships was his marriage to Law & Order: SVU star Stephanie March. The Daily Beast reports that divorce proceedings between the two proved "chock full of juicy allegations." According to March, Flay failed to rush to her side when her appendix burst. He reportedly skipped their 10-year anniversary to attend a food and wine festival. March claimed that Flay's restaurant empire grew "in large part due to her terrific taste."
Flay cut off March's credit cards, and she retaliated by accusing him of a three-year affair with his assistant, Elyse Tirrell, an affair with actress January Jones, and infidelity with a third woman, as well. But those accusations likely shouldn't have surprised anyone. In the late 1990s, by which time Flay had already gone through two divorces, People reported snidely that Flay "has a reputation as a man-about-town."
Next: This chef has been accused of treating her divorce as a career move.
4. Giada de Laurentiis
Giada de Laurentiis has made a few questionable relationship decisions (and we're not talking about the widely discussed but mostly discredited rumors that she had an affair with Bobby Flay). Page Six reported that de Laurentiis ended an 11-year marriage with designer Todd Thompson to start a relationship with TV producer Shane Farley. The publication characterized de Laurentiis's divorce as "her best career move yet."
A source in the food world told Page Six, "It seems like this woman who appeared to be a nice, married mom has ambitions that go beyond what everybody thought they were." But not everybody applauded the move. Page Six reported that the the former spouses of Flay and Farley — actress Stephanie March and Manhattan-based personal trainer Jennifer Giamo — were seen "having a bitch fest" about de Laurentiis at a New York bar.
Next: This chef got into a custody battle when she got divorced.
5. Cat Cora
Cat Cora made headlines when her 17-year marriage to wife Jennifer ended. But even more headlines followed as divorce proceedings unfolded. The couple had four sons born via in vitro fertilization. And when Cat announced their divorce, she stated, "We are forever parents to our boys and are jointly committed to raising them in a peaceful, nurturing and healthy environment."
However, there were at least a few bumps in the road from there. The Daily Mail reports that Cat's lawyer asked for joint custody of the children, while Jennifer asked for full custody of the children plus spousal support. Not long thereafter, it was reported that Cat Cora had an affair with Brandi Granville, who appeared on The Real Housewives of Beverly Hills and on My Kitchen Rules, a show on which Cora served as a judge.
Next: This chef's marriage has been the subject of numerous rumors.
6. Rachael Ray
Rachael Ray's marriage to musician John Cusimano has made plenty of headlines — and been the subject of numerous divorce rumors over the years. But Ray and Cusimano's may be the rare case of a marriage that sounds a whole lot sketchier than it actually is.
As Fox News reported in 2013, the National Enquirer alleged that Cusimano frequented a Manhattan swingers' club, called Checkmate, always accompanied by female companions who weren't his wife. A representative for Ray denied the rumors entirely, reporting that Cusimano was exploring the possibility of legal action against the Enquirer. Back in 2007, Ray had addressed the topic of frequent rumors about her marriage, telling her audience, "The tabloids won't stop printing this junk until people stop buying it."
Next: This celebrity chef got out of a seemingly violent relationship.
7. Nigella Lawson
Nigella Lawson's marriage to art collector Charles Saatchi sounds like the very definition of a sketchy relationship. Vanity Fair reported that their relationship, "one of London's most glittering marriages" ultimately "combusted after a paparazzo snapped Saatchi apparently throttling his wife over lunch." A photographer snapped photos of the couple with Saatchi's hand around Lawson's throat. The photographs were published, and the couple soon divorced.
But things got even worse thanks to testimony in a fraud trial against the couple's former assistants. During the criminal case brought against the assistants — who defrauded Saatchi out of $1.1 million over four years — new accusations about Lawson's alleged drug use surfaced. People reported that according to Lawson, she occasionally used cocaine when she felt "subjected to acts of intimate terrorism by Mr. Saatchi." She added, "I have smoked the odd joint. I found it made an intolerable situation tolerable."
Next: This chef divorced his longtime wife and business partner.
8. Wolfgang Puck
Headlines about Wolfgang Puck, one of the original celebrity chefs, illustrate that even older stars aren't immune to becoming the subject of tabloid coverage when a relationship doesn't work out the way they intended. In 2002, news broke that Puck and longtime wife Barbara Lazaroff were splitting up. The Washington Post reported that the couple had built Puck's international restaurant empire together, and that court filings called the future of that empire into question.
Lazaroff had been responsible for the interior design of many of the couple's restaurants, so it was clear that trouble was brewing when Puck closed the Beverly Hills flagship for a redesign in 2012. Lazaroff wrote on Facebook that "ugly is ugly," criticizing the redesign. But we'll admit that the fallout after the divorce has been relatively tame, by tabloid standards.
Next: This chef ended up in a relationship with someone with a drinking problem.
9. Paula Deen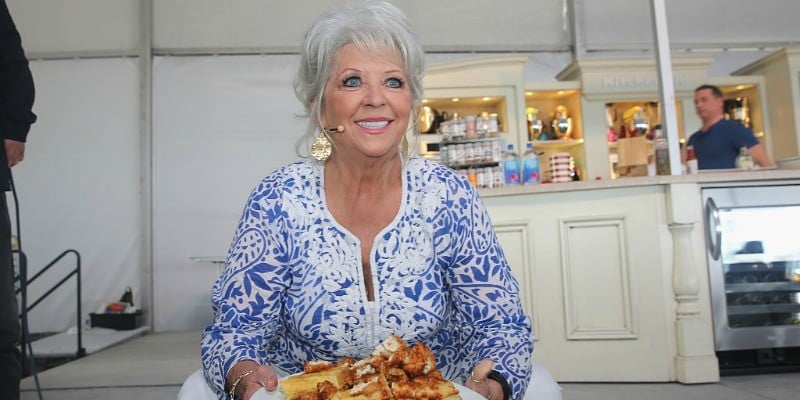 Celebrity chef and TV host Paula Deen is no stranger to scandal, so it's not surprising that her relationships have made some headlines, too. The National Enquirer reported in 2014 that Paula and her first husband, Jimmy Deen, separated in 1992. The chef wrote in her memoir that the 17-year marriage was broken, explaining, "He drank, and he drank way too much to suit me." She reportedly struggled with her husband's drinking as she coped with her father's death from injuries in a car crash and her mother's death to bone cancer.
Deen met her second husband, tugboat captain Michael Groover, in 2002. They married in 2004, and together weathered the scandal of Deen's use of racial slurs. Their marriage has also been the subject of its fair share of divorce rumors, which the couple has denied.
Next: This chef apparently hated her husband and costar.
10. Gina Neely
Gina Neely, cohost of Down Home with the Neelys, in 2016 announced her divorce from her costar and husband Pat Neely. People reports that Gina knew their 20-year marriage would fall apart when the couple began working on their Food Network show. "We went to therapy 12 times," she explains. "I tried to leave five times and I just didn't have the strength but the fifth time I held on to that. It became necessary for me to find my path."
That doesn't sound particularly sketchy. Neither does Gina's statement, "Pat is not a bad guy, he's just not for me. I didn't want to divorce my husband but it became necessary do it in order for me to be my best self." However, TMZ gave a different version of the story, reporting that the couple actually hated each other the entire time they filmed their show. In fact, sources told the publication that the two endured "11 seasons of mutual contempt before calling it quits."
Next: This chef had an affair with his costar.
11. Paul Hollywood
Celebrity chef Paul Hollywood, best known for serving as a judge on The Great British Bake Off, made quite a few headlines with his troubled marriage to wife Alexandra. In 2013, Hollywood admitted to cheating on his wife with Marcela Valladolid, an American chef who judged The American Baking Competition with Hollywood.  Hollywood's wife filed for divorce. (Valladolid also ended her marriage.)
But as The Daily Mail reported, Hollywood said that he wanted Alexandra back. He also characterized his affair as "the biggest mistake of my life." Alexandra insisted that there was no chance of reconciliation. She told the publication, "there is no going back and I just want this finished with and to move on." Yet by 2015, The Mirror had reported that the two had gotten back together.
Next: This chef went through several divorces, and then didn't want to divorce a wife from whom he separated.
12. Marco Pierre White
https://www.instagram.com/p/BNMWjbmg5ps/?taken-by=marcopierrewhit
Celebrated English chef Marco Pierre White has gone through a string of shady relationships. His first marriage, to Alex McArthur, began in 1988 and ended in divorce in 1990. His second, to Lisa Butcher, began in 1992, the same year that White began a relationship with Matilde Conejero, whom he married in 2000. The marriage to Conejero began to break down in 2005, when Conejero accused White of infidelity. White and Conejero began divorce proceedings in 2007, withdrew them in 2011, but separated again in 2012.
In fact, The Daily Mail reported in 2015 that White had been separated from Conejero for nearly a decade, and underwent what "seems to be the most protracted split in divorce history." Conejero reportedly "smashed up his Range Rover with a child's scooter" and stole his bank statements. But White told The Daily Mail that she was still his wife, even as he spent time with a serious girlfriend, Emilia Fox.
Next: This chef definitely sounds like a ladies' man.
13. Rocco DiSpirito
Rocco DiSpirito, a chef who has appeared on numerous TV shows, has also spent time in tabloid headlines thanks to his divorce. TimeOut New York characterized DiSpirito as a "ladies' man," echoing chatter in the food world. But the label appears to be born out by the evidence. As The Celebs Closet reports, he dated producer Tracey E. Edmonds, who herself had been married to Kenneth "Babyface" Edmonds and then engaged to Eddie Murphy.
He also dated journalist Whitney Casey and actress Yvonne Sciò. DiSpirito became engaged to Sciò, but the couple parted ways before marrying. He then married Natalie David, whom The New Yorker reported he would separate from with the help of "a high-priced divorce lawyer." Dizzy yet?
Next: This chef got a divorce, and soon thereafter a much younger girlfriend.
14. Daniel Boulud
Celebrated chef and occasional Top Chef judge Daniel Boulud is a great success in the kitchen, but perhaps not so much in his love life. Gawker reported in 2010 that Boulud's wife of 23 years, Michelle "Micky" Palmer Boulud, had filed for an uncontested divorce, which means that they had already been legally separated for at least a year. He told The Globe and Mail in 2013 that they divorced because "we didn't want to be so passive about each other."
The sentiment raised a few eyebrows, as did Boulud's disclosure that he had a new girlfriend who "keeps me young." He later married this young girlfriend, Katherine Gage. The Daily Mail reports that Gage actually worked for Boulud for five years — another eyebrow-raising revelation.
Next: This chef got into a custody battle over a child who isn't even his.
15. Guy Fieri
Guy Fieri seems to be happily married to wife Lori. So technically, we have no sketchy relationships to report here. But Fieri somehow still ended up in the middle of a custody battle after his sister, Morgan, died of cancer. When Fieri's sister died, her 11-year-old son became the subject of a custody battle between Morgan's parents and the boy's father.
The grandparents' petition for guardianship claimed that the boy's father, Dain Pape, shouldn't get custody because he was living out of a motor home and not making an income. TMZ reported that a Marin County court sided with Pape, but the boy had been vacationing with uncle Guy Fieri in northern California, where he had no phone service. The website of a northern California law office noted that that was "a remarkably convenient location for someone trying to keep a child out of the limelight and away from squabbling relatives."
Read more: 16 Behind-the-Scenes Secrets to Celebrity Cooking Shows
Check out The Cheat Sheet on Facebook!