Chip and Joanna Gaines Have a Baby on the Way: Everything You Can Look Forward To
Have you heard? Chip and Joanna Gaines are having another baby! The couple warmed shiplap-loving hearts everywhere by announcing that their fifth child is on the way. After the first new Fixer Upper episode of 2018, Chip announced on Twitter that the couple will welcome the newest member of the Gaines family later in the year. And later he revealed the couple is having a boy.
Below, check out all of the adorable milestones and updates you can look forward to along the way.
Joanna will probably design a beautiful nursery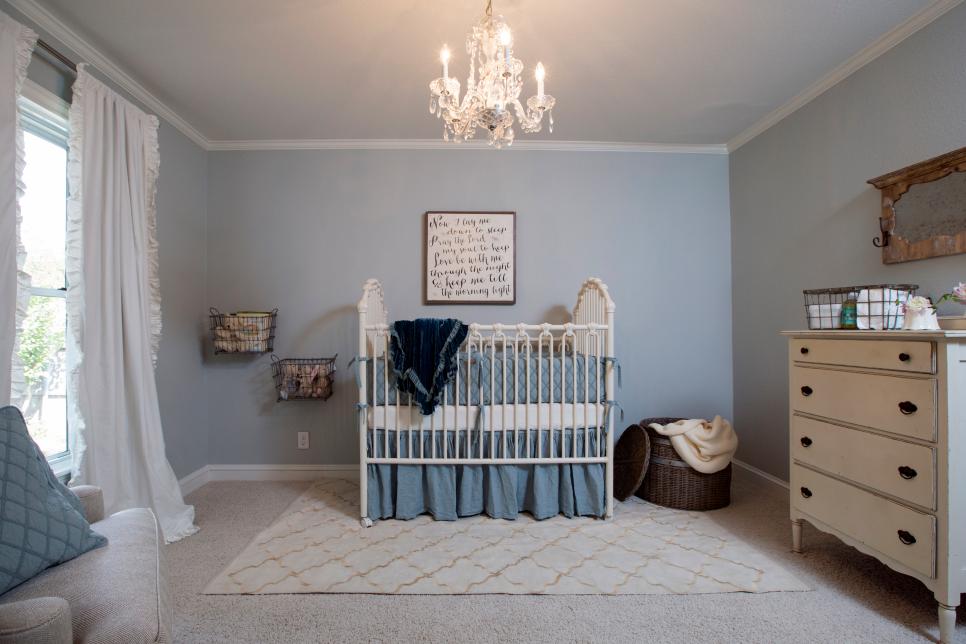 Rumors have repeatedly surfaced that Chip and Joanna were selling their Waco farmhouse. They aren't selling the beautiful property. But they may need to do some renovations to make a space that's perfect for baby No. 5. The couple already has four beautiful children. But even the youngest have long aged out of the nursery phase. So if we had to guess, Joanna will probably design a gorgeous nursery for the new baby.
Joanna has shared a few photos of the children's rooms at the farmhouse. It seems like only yesterday, but that was back in 2014, not long after the family moved into the house at the end of 2013. No guarantees, of course, but we can sense an update coming in 2018. 
She'll likely do more nesting
Everybody should have suspected something when Joanna shared the details of lots of projects at home over the holidays. As HGTV reports, "Her Instagram Stories as of late have included lots and LOTS of holiday baking and an impressive bout of attic cleaning (that really should have tipped all of us off)."
In the months before the baby arrives, we expect to see Joanna doing even more nesting. From cooking to cleaning to organizing to preparing the nursery for the baby's arrival, you'll likely see it all on Joanna's social media.
Joanna will share some adorable ideas for DIYs and keepsakes
Another clue that should have tipped us off to Joanna's pregnancy? In that series of posts about Joanna cleaning out the attic at the farmhouse, she shared the details of how she went through each of her children's baby clothes and packed up her favorites as a keepsake. Going through baby clothes over the holidays? We should have known!
The Fixer Upper star routinely shares amazing ideas for DIYs, crafts, and other projects on her Instagram and on her blog. So we'd bet you can expect to see more of those as she prepares the farmhouse to welcome a new baby. 
We'll hear more dad jokes from Chip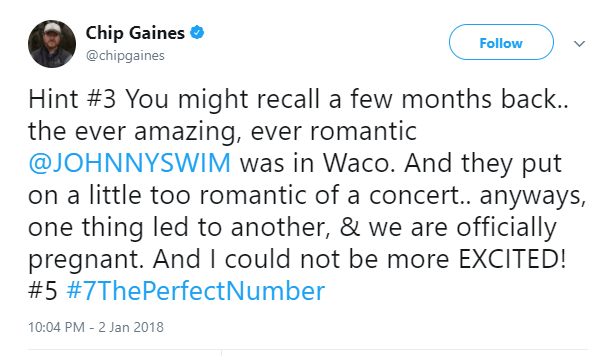 If there's one thing you can bet on with Chip and Joanna, it's that Chip serves as a constant source of humor. You can expect to hear plenty more dad jokes from Chip. He definitely hasn't lost his sense of humor now that there's a new baby on the way.
In fact, Chip has already posted a hilarious photo on Instagram. The image showed both Chip and Joanna comparing bellies. Only one of those bellies, of course, is a genuine baby bump. If we had to guess, we think Fixer Upper fans will see plenty more silliness from Chip both before and after the baby is born.
We'll also hear more wise words about parenting
As People reports, Chip and Joanna Gaines have said plenty of things about parenting — many of them quite wise. "Family is the most important thing in the world," Joanna once told the magazine. She also recently said of her kids, "They're so young, and we want to give them the chance to have a normal childhood."
So we expect to hear more from the couple about how family life goes after the final season of Fixer Upper has finished airing. There's no telling whether the Gaines children will have what the average American would call a "normal childhood." But at the very least, they'll have parents who don't have to film a hit HGTV series.
Chip and Joanna will share adorable family photos
Photos of the Gaines family at its current size are already enough to melt the hearts of Fixer Upper fans everywhere. But we expect that any family photos Chip and Joanna share this year will be even more adorable. Joanna already looks gorgeous with her baby bump. And once she gives birth to the fifth Gaines child? Then, there will be even more cuteness to go around!
As Us Weekly notes, the Gaineses must have some pretty adorable family photo albums. We can't wait to see some of the snapshots that get added after baby No. 5 arrives.
Everybody will wish Fixer Upper would come back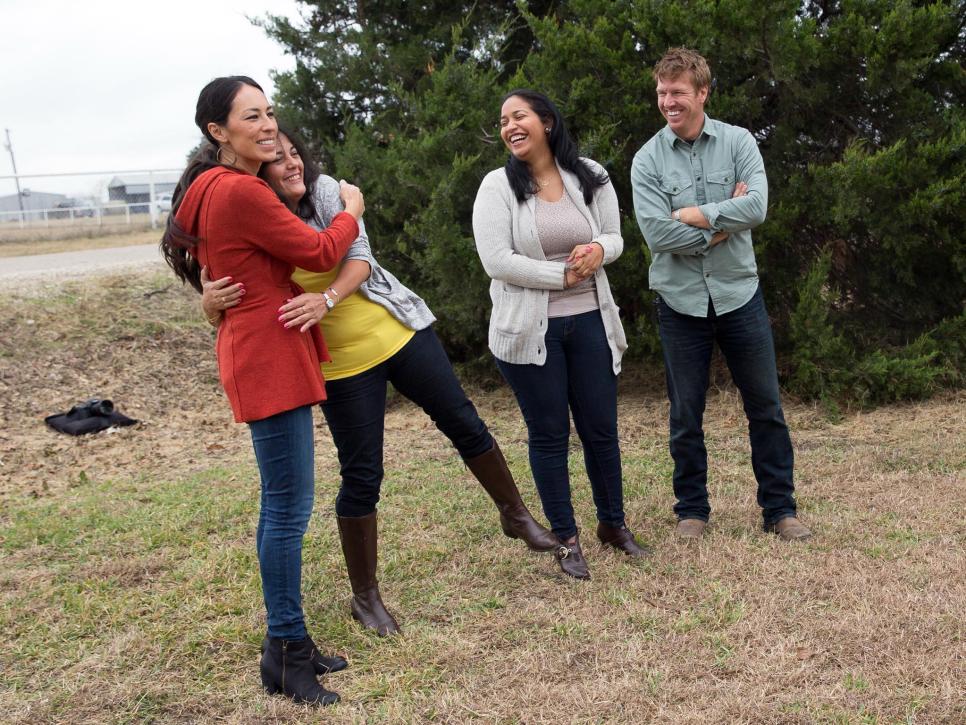 Chip and Joanna Gaines said when they ended Fixer Upper that they wanted to spend more time together as a family. "Our beautiful children are growing up so quickly," Joanna Gaines told fans. "Drake is almost a teenager. So I think the idea that we get to kind of take a step back and just get kind of fresh vision, get some rest, but also just hunker down with our kiddos, is something that we're excited about, but also sad that this chapter in our lives is coming to an end."
People notes "the decision to end their popular HGTV series after five seasons may have presented more opportunities to think about welcoming another child." And International Business Times posits that the new baby could have even been the reason the couple chose to end the show. We completely understand. But like most Fixer Upper fans, we can't help but wish the show would continue so we could see the adorable family in action.
People will speculate about whether the Gaineses will have yet another baby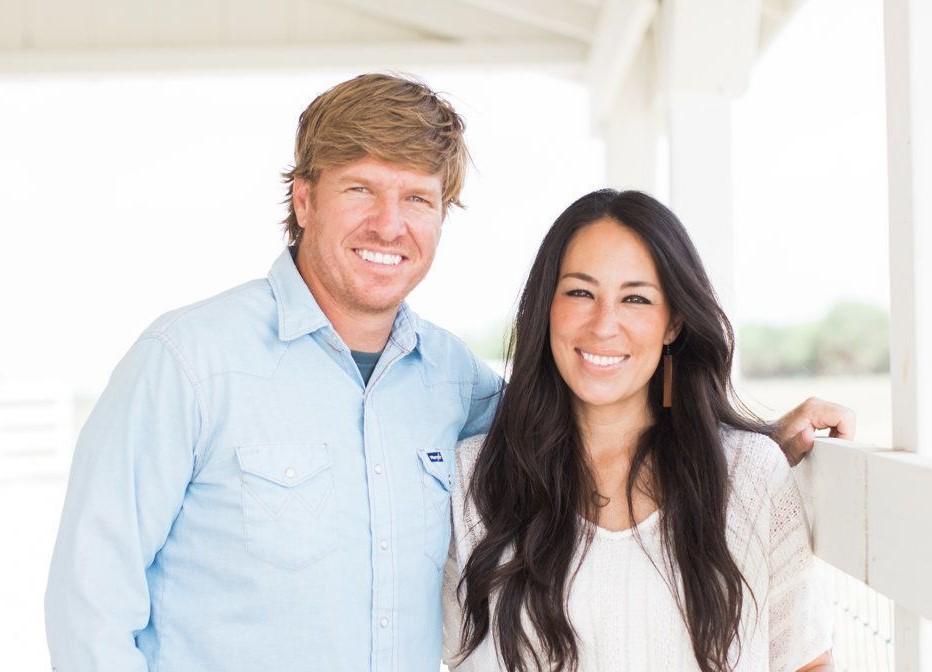 Everybody's excited about baby No. 5 right now. But if there's one thing that's constant in the Fixer Upper stars' lives, it's that their fan base speculates about everything (including whether they'll have another baby). So we wouldn't be surprised if the speculation starts back up again shortly after baby No. 5 arrives.
As MSN reports, the couple has had various responses to questions about the possibility of more babies."We had four babies right before the show started, and then we've had zero babies since the show started," Chip said not that long ago. And Joanna not so long ago said she wouldn't mind twins. We doubt that the speculation has really been put to bed.
Check out The Cheat Sheet on Facebook!