Why Christina El Moussa's Style at Home Is Totally Different From What You See on 'Flip or Flop'
Joanna Gaines's farmhouse looks a lot like most of the homes she designs on Fixer Upper. But not every HGTV star has the same style at home and at work. Case in point? Christina El Moussa, whose interior design style at home looks completely different from what she designs on Flip or Flop.
Below, check out all the most interesting ways that Christina's style looks completely different in real life than it does on camera.
Neutral colors are about the only thing Christina El Moussa uses at home and on 'Flip or Flop'
https://www.instagram.com/p/BY82Sc9jiZp/?taken-by=christinaelmoussa
Elle Decor reports that in Christina's 6,000-square-foot, Spanish-style house, "a palette of neutral colors like black, white and gray are the only commonality to her Flip or Flop homes." The home, located in the Yorba Linda neighborhood of Orange County, California, features plenty of black, white, and gray. It looks dramatic without appearing stark, thanks to the contrast between the textures and patterns on display.
The only other similarity that Elle found between Christina's style at home and her design choices on Flip or Flop? The HGTV star says that she "wanted to change everything" when she first walked into the house. 
She goes for a 'rustic glam' style at home
https://www.instagram.com/p/BPlXr4Lh6Jv/?taken-by=christinaelmoussa
Elle characterizes Christina's style in her own home as "a mashup of natural furnishings and glitzy finishing touches that she refers to as 'rustic glam.'" Both elements — rustic and glam — represent a departure from the style you see on episodes of Flip or Flop. While Christina varies her choices of tile, flooring, paint colors, and other finishings, they always seem chosen to appeal to the widest possible range of potential homebuyers.
Because Tarek and Christina flip homes that they want to sell quickly, they don't want to alienate buyers with design elements that might not appeal to everyone or might look dated in a few years. The upshot? Christina chooses appealing color palates and materials, but she rarely makes a major statement when designing or staging a home. That helps explain why her work looks so different from her personal style.
She doesn't think of herself as a glamorous person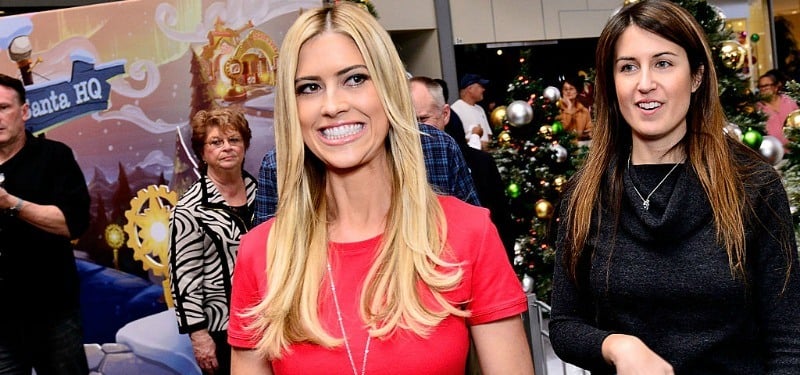 Though it's hard to deny the effect of crystal chandeliers and marble countertops, Christina El Moussa doesn't want fans to think that her luxe interior decorating style necessarily reflects her personality. "I think most people see me as a glamorous type of person, and at the end of the day, I'm more just a low-key mom," she tells Good Housekeeping. In fact, she doesn't quite agree with the popular opinion that she has "champagne taste" while Tarek is "a beer can kind of guy," as one source told People.
Good Housekeeping explains, "The public's perception of her (materialistic, high-maintenance, there's no shortage of digs for women who put effort into their appearances) has irked her at times — mostly because it's adjacent to a much more down-to-earth portrayal of Tarek." Christina herself adds, "We definitely have the same taste as far as wanting nice things because we work hard, so if you're going to say it, at least say 'both of them.' Don't just label me."
'Flip or Flop' homes usually just look fresh and clean
https://www.instagram.com/p/BP50_swBRCo/?taken-by=christinaelmoussa
While the houses that Tarek and Christina renovate on Flip or Flop are typically finished beautifully, the stars often focus on making each room feel fresh and clean. Given the timeline and budget they have to work with, they don't usually add a lot of character into the home. Christina's home, on the other hand, has a much more elevated and nuanced sense of style than the homes she designs for Flip or Flop.
In other words, if you were expecting the California condo-esque vibe of a Flip or Flop home in Christina's own home, you won't see it. You will, however, see crystal chandeliers and a wrought iron staircase. You'll see wallpaper with a classic trellis pattern and mirrored end tables. Plus, you'll see plenty of plants and numerous touches of marble, wood, leather, and stone. And you can't forget about the softer textures, too, like all the faux fur pillows or the luxe velvet drapes.
Christina's home has everything
Due to the economics of flipping houses in California, Christina and Tarek aren't usually renovating giant mansions. Instead, they flip modest homes that would work well for a family with a mainstream wishlist. But at home, Christina El Moussa enjoys all kinds of amenities that many people, even in suburban Los Angeles, wouldn't dream of having in their house. In fact, People reported that the home originally had an eye-popping seven bedrooms and nine bathrooms (now five bedrooms to accommodate other functions).
As Today reports, Christina's home features a billiards room, a library, and a home theater. And that's  just on the first floor. She also has a formal dining room, which she admits she doesn't often use. Elsewhere, Christina also has a dedicated playroom for the children and a home gym full of exercise equipment. There's even a pool and an outdoor kitchen in the backyard (more on that on the next page).
She added a sanctuary in the backyard
https://www.instagram.com/p/BXJPGQYj5BR/?taken-by=christinaelmoussa
Many of the houses that appear on Flip or Flop have pretty bare-bones backyards. (After all, if you had to devote most of your budget to fixing damaged drywall or reworking a nonfunctional layout in the house, you probably wouldn't spend a lot on landscaping, either.) But at her own home, Christina El Moussa pulls out all the stops to make the backyard just as beautiful and livable as the rest of the home.
Elle learned that Christina hasn't changed much about the design of the home since Tarek moved out. The exception? She added a brand-new backyard, which she equipped with a pool and a mini putting green. The pool features waterfalls, a swim-up grotto, and a water slide. Plus, Christina added an outdoor kitchen, which offers the perfect spot for eating dinner with the kids or with guests.
Christina and Tarek have taken years to renovate the home
https://www.instagram.com/p/BIm7DYyBEhK/?taken-by=christinaelmoussa
As for the reason why Christina's decorating style looks totally different at home versus on Flip or Flop? We'd attribute that to one important factor: Time. People reported in 2016 that the Yorba Linda house — then both Tarek and Christina's home — had taken two years to renovate.
The HGTV stars can make a home move-in ready in a matter of weeks when they need to flip a house. But it took them much longer to settle on the right look for their own capacious home. A few bumps in the road? Christina decided to change directions about 25% of the way through the renovation, so they started fresh. Then, they encountered construction issues that necessitated three months living out of a hotel room, a month living with Christina's parents, and a few more months living in a construction zone.
Christina El Moussa got to be more creative when decorating her own house
https://www.instagram.com/p/BJTLG1DhVo-/?taken-by=christinaelmoussa
In addition to getting more time to decorate her own home, Christina also had the license to get more creative with it than with a house that's going on the market immediately. "For flips, we want to make it appeal to the masses because we're trying to appeal to every different type of buyer," Christina tells People. "But for our own house, we were a little more creative, a little more personal."
Though it took a while to get there, Christina seems pleased with the result. "I personally love the rustic glam look," she tells People. "We tried to choose some elements that are timeless as far as the dark cabinets and marble. We picked stuff that we thought that we wouldn't get sick of, and that eventually if we ever sold, that other buyers would also like."
Check out The Cheat Sheet on Facebook!