Poverty: 10 Cities With the Most Homeless People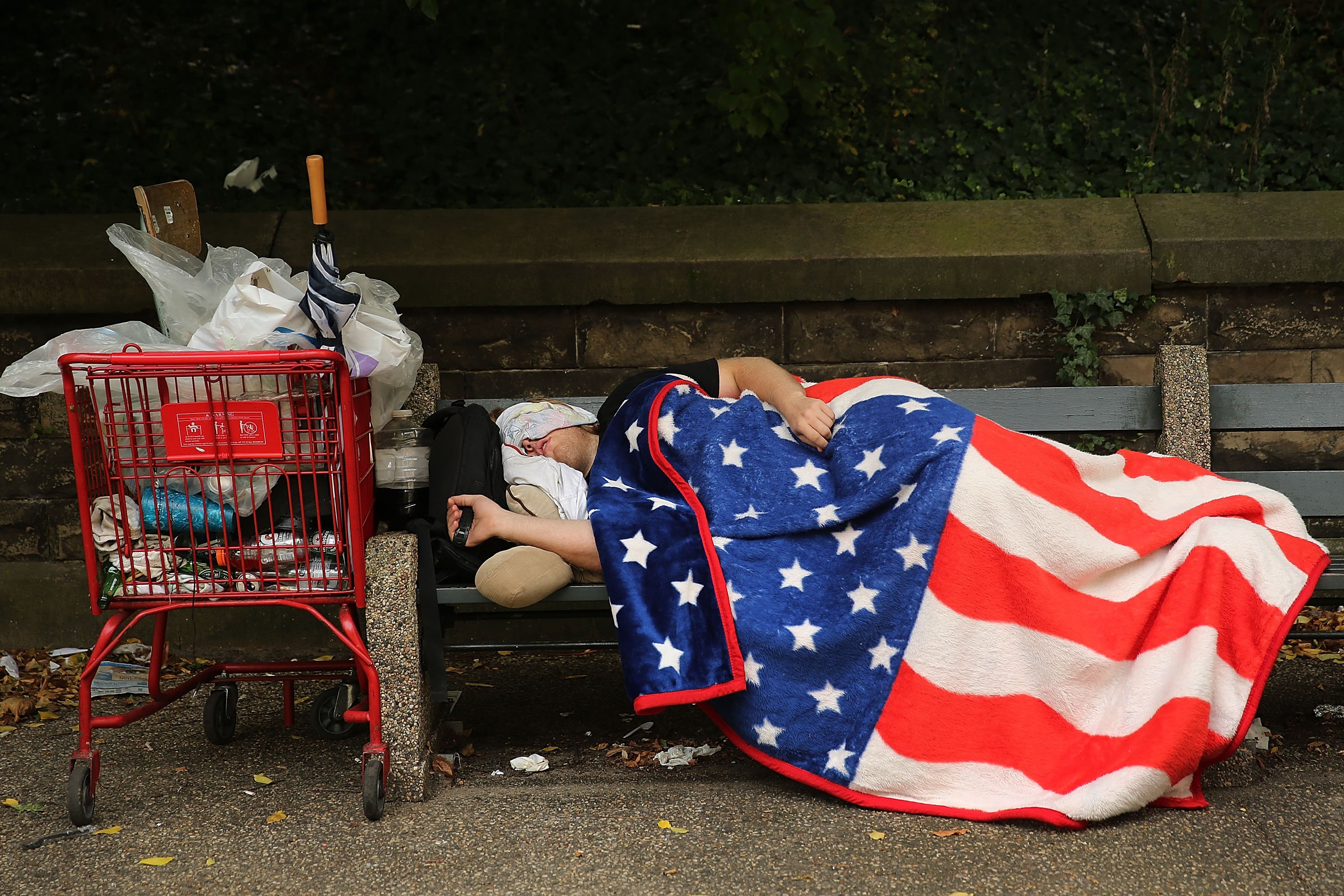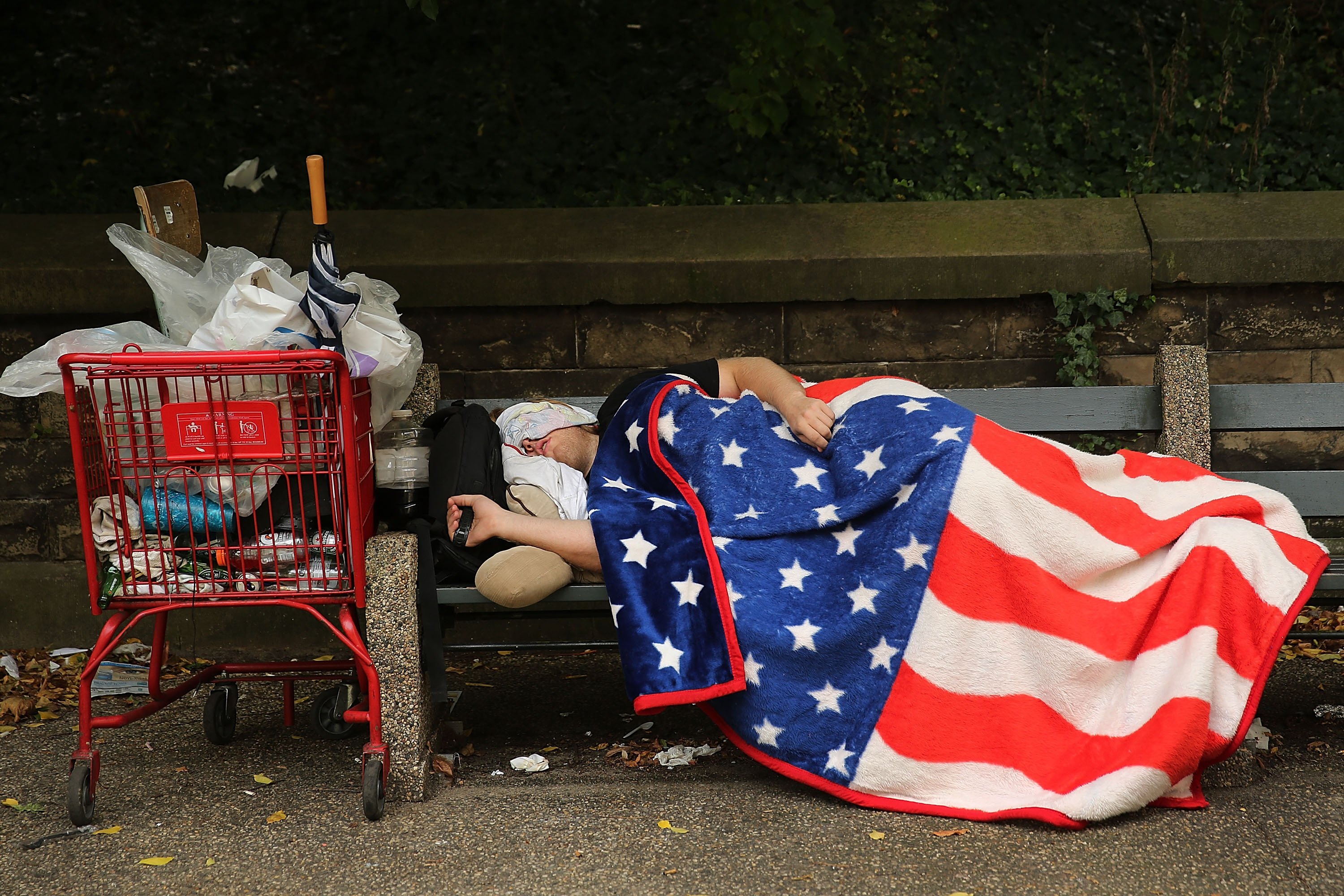 America may be the land of 2,600-square-foot starter homes with massive walk-in closets, but many people living in the United States will go to sleep tonight without a roof over their heads. Although the total homeless population has fallen almost 14% since 2010, there are still close to 550,000 people in the U.S. who don't have a fixed abode, according to estimates from the U.S. Department of Housing and Urban Development.
Unsurprisingly, larger metros, such as New York and Los Angeles, had bigger populations of homeless people than smaller cities, but homelessness is a problem in towns of all sizes. In Honolulu, with a population of less than 400,000, there were nearly 5,000 homeless. Orange County, California; Nassau and Suffolk Counties on New York's Long Island; and Monterey, California, all had homeless populations above 3,000. In Wyoming, the state with the smallest population, there are 857 homeless men and women.
Counting the homeless
Those figures are alarming enough, but the number of people who are actually homeless might be even higher. HUD's estimates of the homeless population come from annual point-in-time counts conducted in cities nationwide in January. During those counts, volunteers survey the number of homeless people living in emergency shelter or transitional housing (the sheltered homeless), as well as on the street, under bridges, in their cars, or in other places not typically used as residences (the unsheltered homeless). People who lack permanent housing of their own but are staying with friends and family aren't counted, nor are people who are living in hotels or motels. Specifically, homeless women, children, and young people might be undercounted.
Nonetheless, HUD's point-in-time counts still provide the clearest overall snapshot of homelessness in the United States. And though those numbers indicate the homeless population has been on the decline for the past five years, thousands of people in cities across the U.S. — including about 120,000 children — still lack permanent, stable housing.
In 2016, these 10 U.S. cities had the largest homeless populations
10. Philadelphia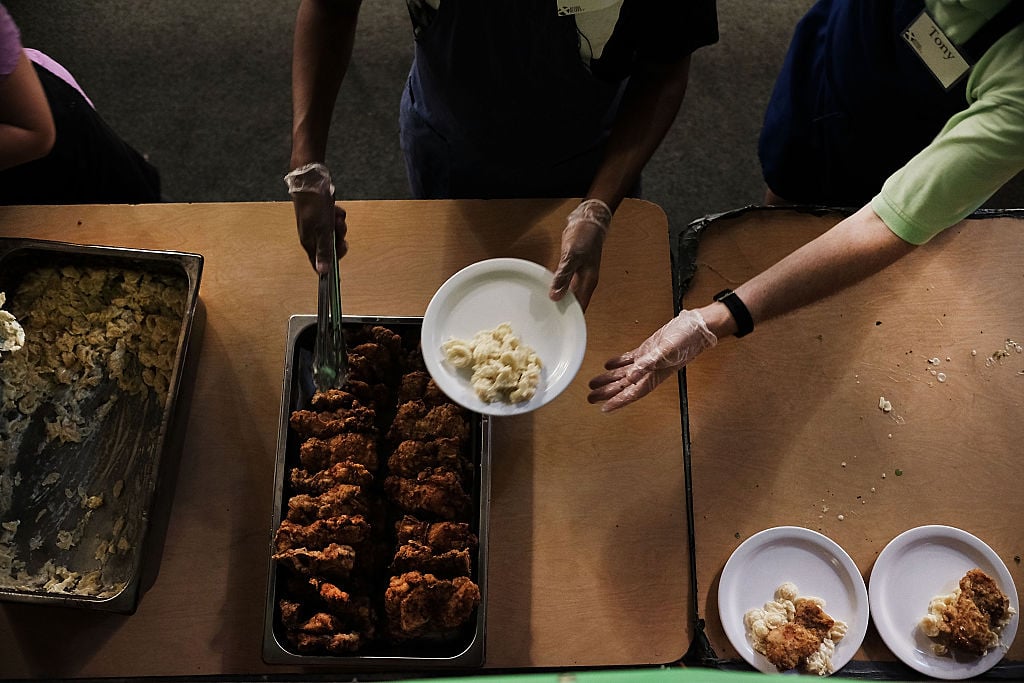 Total homeless: 6,112
A 26% poverty rate, low wages, high housing costs, and a lack of affordable transportation all contribute to the problem of homelessness in Philadelphia, according to Project Home, a local nonprofit group. An opiate addiction crisis is also causing the homeless population in the city to grow, Philly.com reported.
9. Las Vegas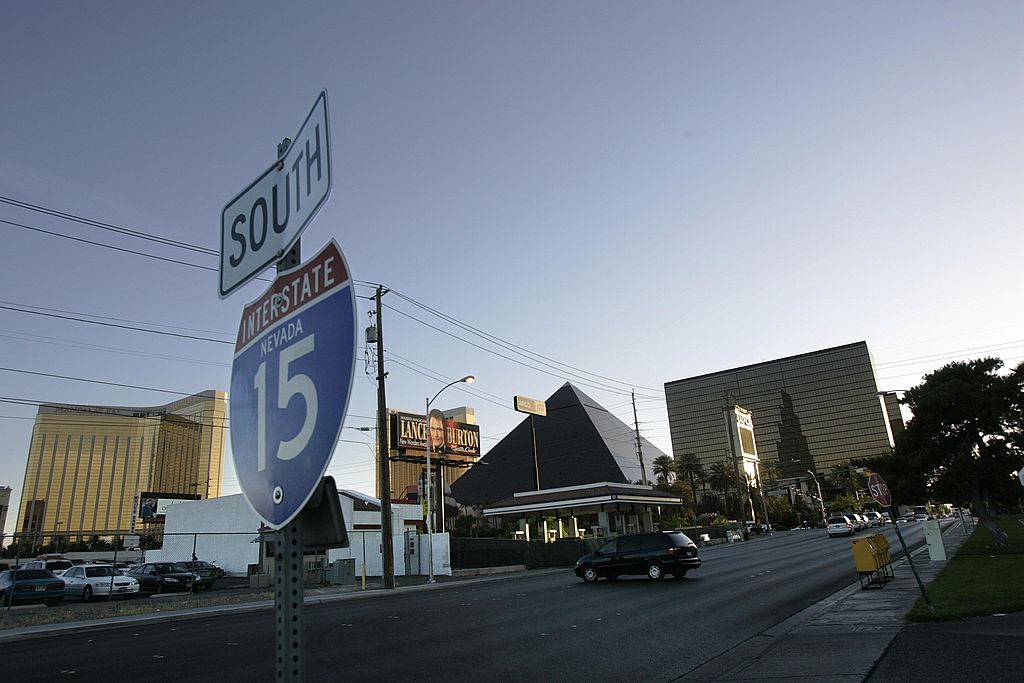 Total homeless: 6,208 (includes Clark County)
The number of homeless in Las Vegas dropped by over 1,000 from 2015 to 2016. But the city still has a large number of homeless youth and unsheltered homeless, according to HUD. Half of the homeless in the city were suffering from mental illness, according to the Nevada Homeless Alliance. Many others were victims of domestic violence.
8. Boston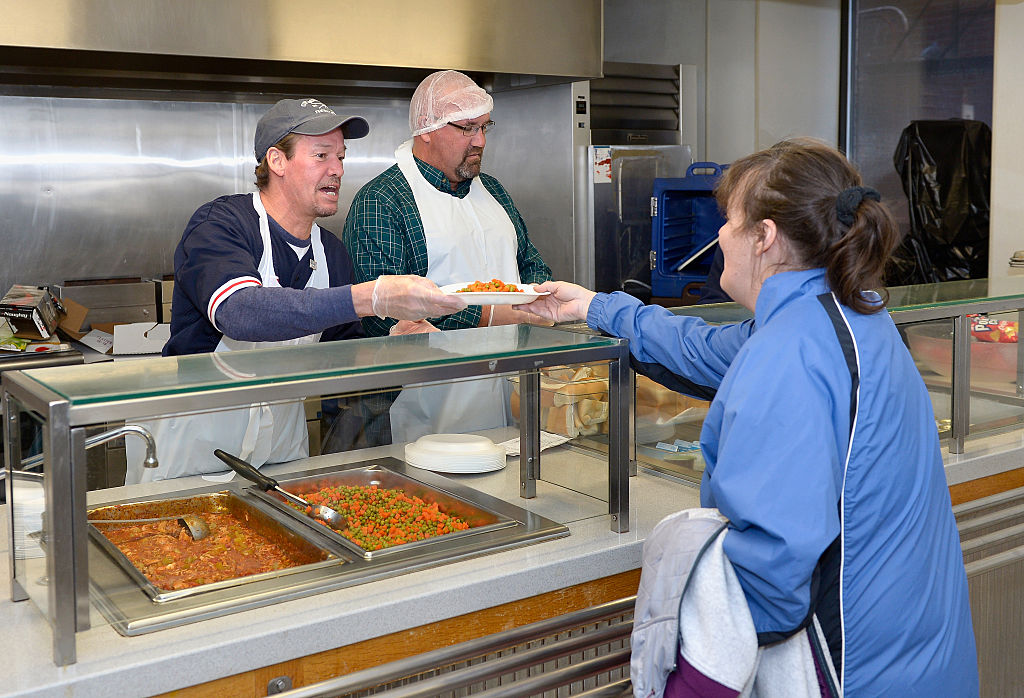 Total homeless: 6,240
In Boston, 3,755 of the 6,240 homeless people are part of families with children. In Massachusetts overall, the number of homeless families has more than doubled in the past nine years, according to the Boston Globe. Relatively few people in Boston are sleeping out of doors because Massachusetts is one of the few places in the U.S. where most homeless have a legal right to shelter. (New York and Washington, D.C., are the others.)
7. San Jose and Santa Clara, California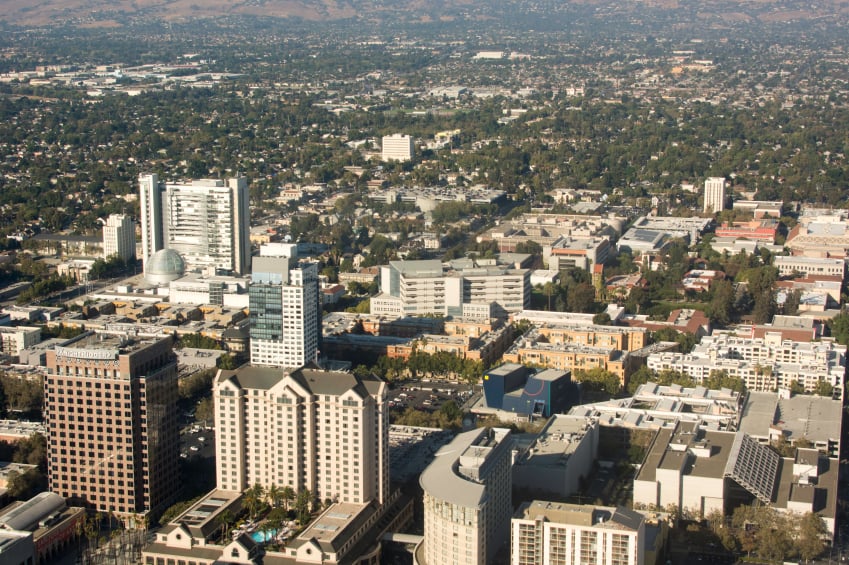 Total homeless: 6,524 (includes San Jose and Santa Clara City and County)
San Jose might be at the heart of wealthy Silicon Valley, but it's also home to one of the largest homeless populations in the U.S. Some of the homeless KQED said they worked full-time jobs but still couldn't afford to rent in one of the most expensive cities in the country.
Inadequate shelter space mean a significant number of homeless in San Jose and the surrounding area live on the streets or in their cars, including 88% of the city's 885 homeless young people. Sixty-four percent of homeless veterans in the city also lacked shelter, the largest percentage in the country.
6. San Francisco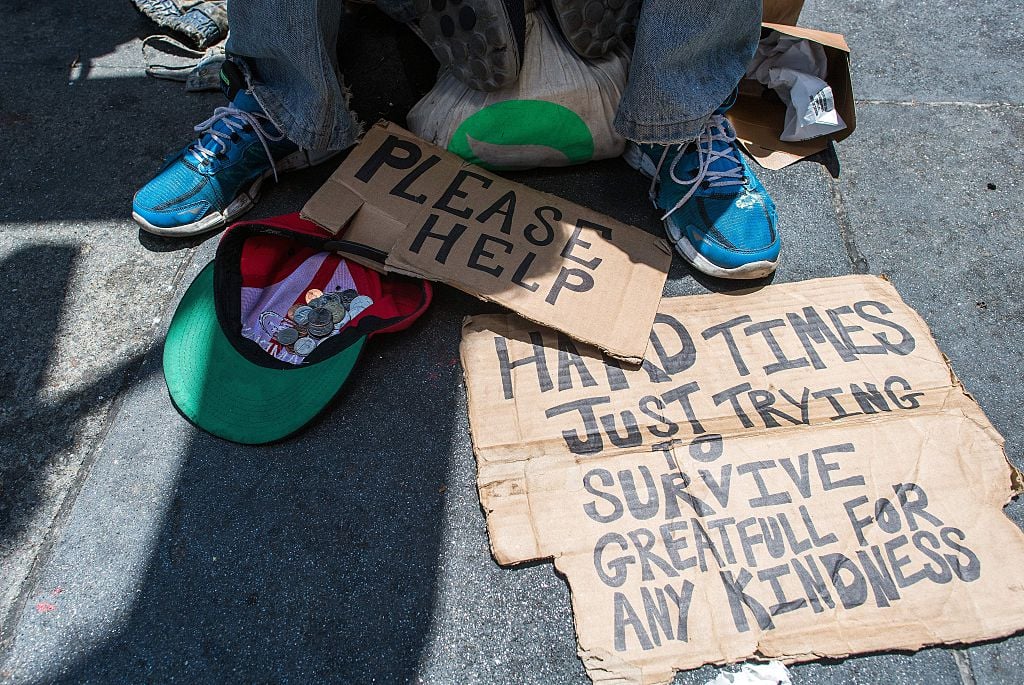 Total homeless: 6,996
HUD estimates there are just under 7,000 homeless in San Francisco, but the real number might be much higher. Local authorities and nonprofit groups estimate the real homeless population is somewhere between 10,000 and 12,000. The city has only 1,300 shelter beds, which means many homeless end up sleeping on the street, in tent encampments, and other spots around the city.
5. District of Columbia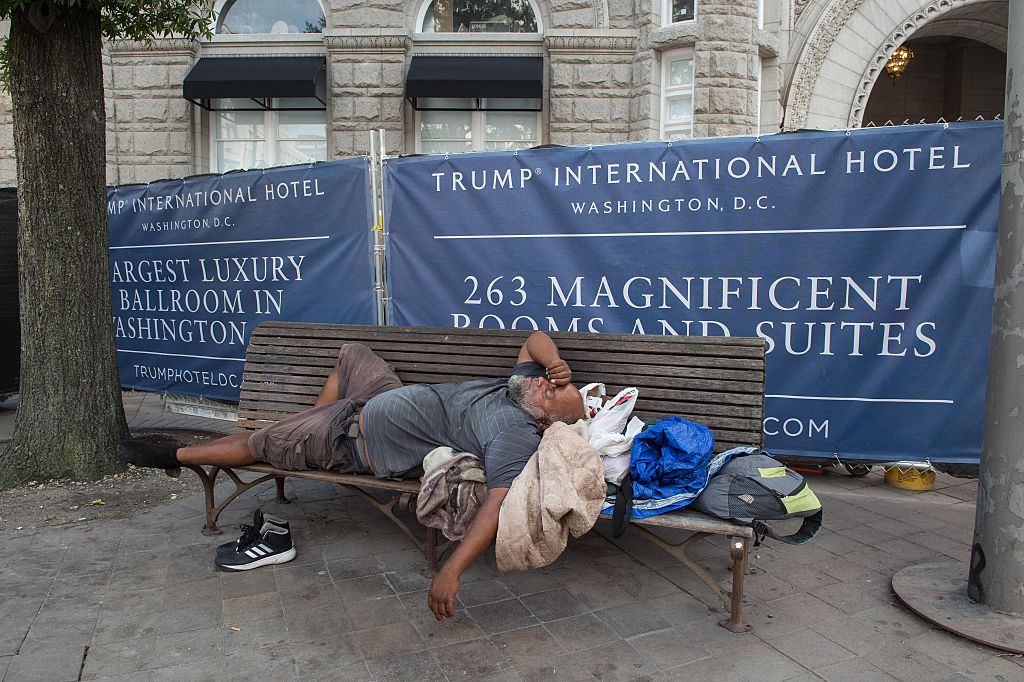 Total homeless: 8,350
The number of homeless in Washington, D.C., grew by 34% between 2009 and 2016, an analysis of HUD by the U.S. Conference of Mayors found. The city has 124 homeless for every 100,000 residents. The high cost of living in the nation's capital is to blame, local experts told the New York Times. Some low-wage workers, especially single mothers with children, simply can't find stable, affordable housing.
4. San Diego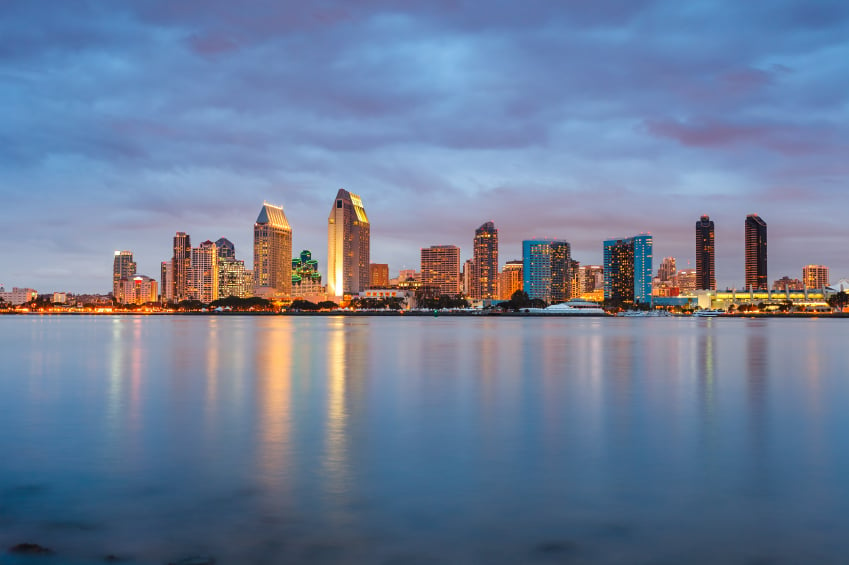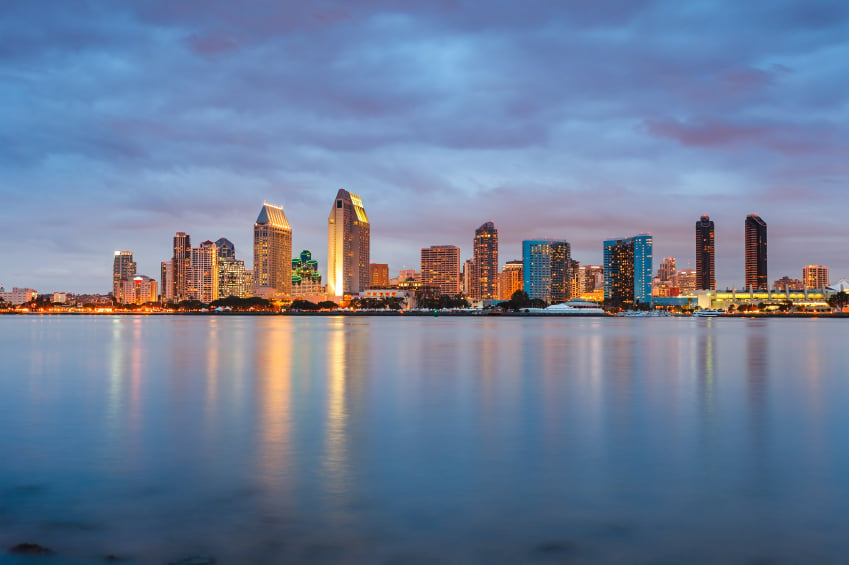 Total homeless: 8,669 (includes San Diego City and San Diego County)
Like many cities on this list, a lack of affordable housing is a key component of the homelessness crisis in San Diego. Even people who get housing vouchers are often unable to use them because of low vacancy rates and high rents, KPBS reported. Plus, redevelopment downtown has caused cheap, single-room occupancy units to vanish, pushing people onto the street. San Diego also has the second-largest population of homeless veterans in the country, at 1,156 people.
3. Seattle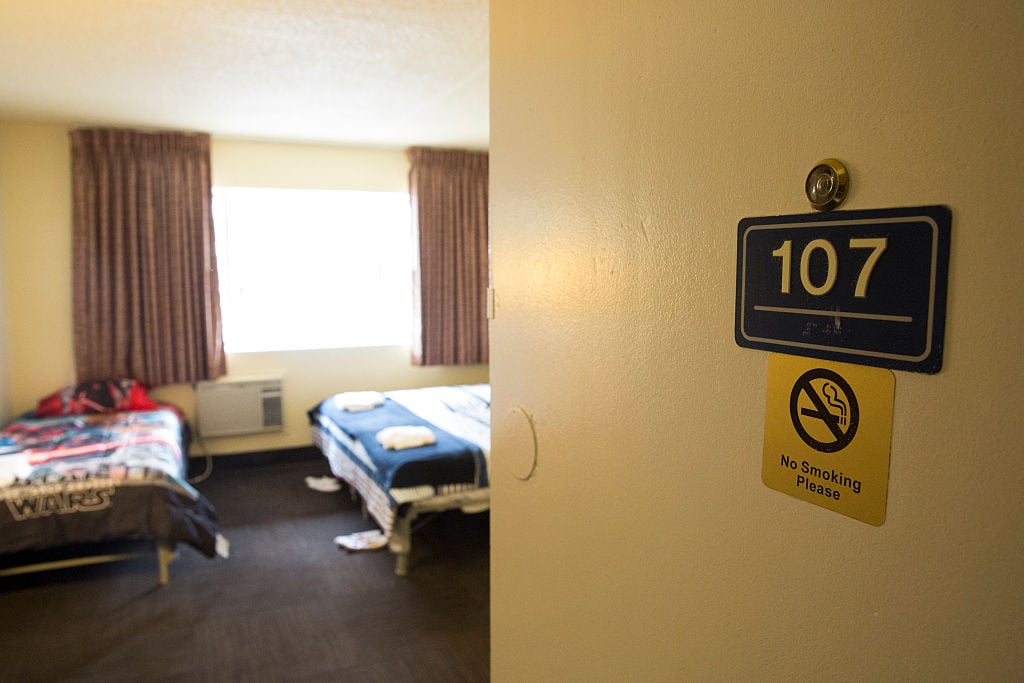 Total homeless: 10,730 (includes all of King County)
Rising rents and cuts to government programs are partly to blame for Seattle's large homeless population. The city has struggled to figure out what to do about the number of people living on the streets and in encampments. One innovative solution involved building tiny houses to serve as temporary housing for the homeless, though only a few dozen units have actually been constructed. The city's mayor, Ed Murray, has also said he plans to pursue a property-tax levy that would provide millions of dollars to help combat homelessness.
2. Los Angeles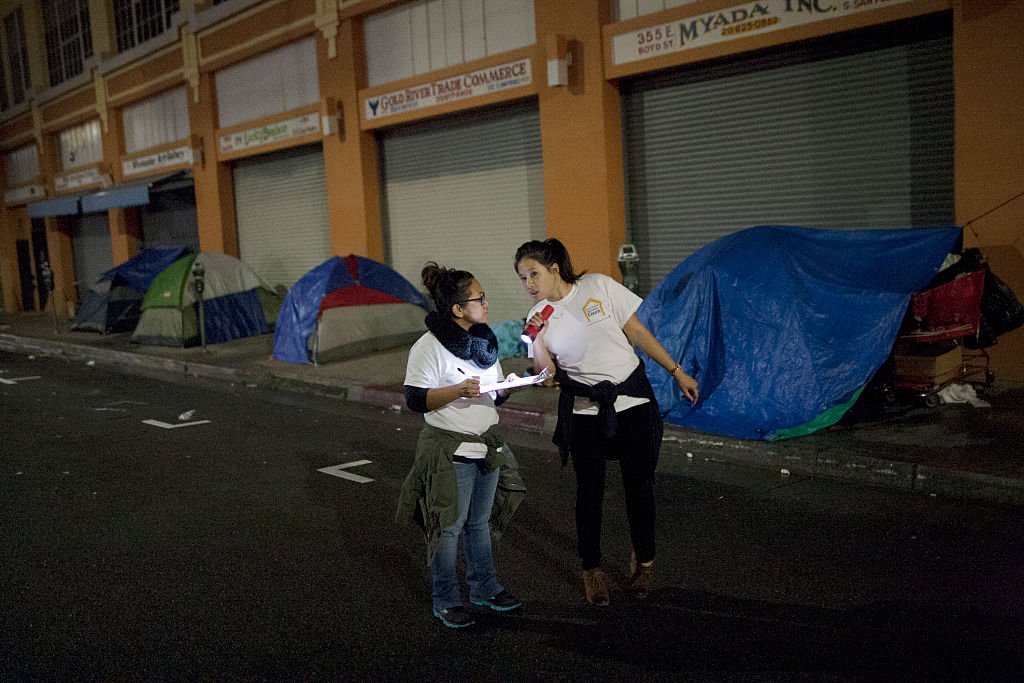 Total homeless: 43,854 (includes both Los Angeles City and Los Angeles County)
Los Angeles has more chronically homeless, homeless veterans, and homeless young people than any other city in the country. Seventy-five percent of all homeless people in Los Angeles are living on the streets, in their cars, or in other makeshift situations, the second-highest rate of in the country.
The sky-high cost of housing in the city is largely to blame for the homelessness crisis, the Los Angeles Times reported. But some relief is in sight. In November 2016, voters approved a bond measure that would cover the cost of building 10,000 permanent homes for the homeless in the next 10 years.
1. New York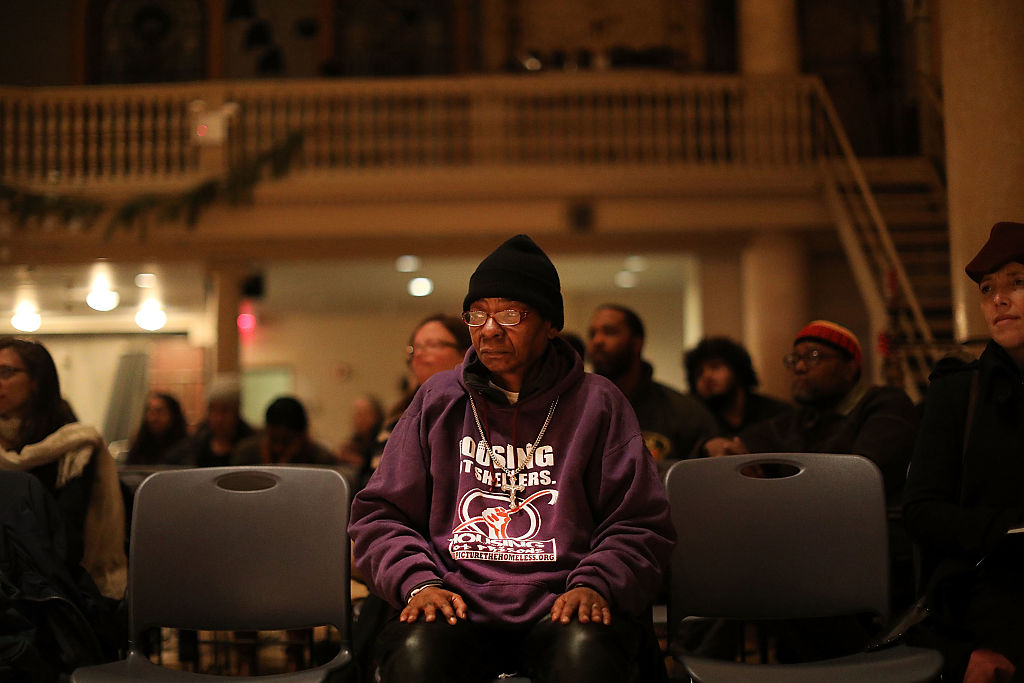 Total homeless: 73,523
Thirteen percent of all homeless people in the United States live in New York City. The city has a large number of homeless, but only about 4% of them live on the street, according to HUD. Homeless people in New York are legally entitled to shelter, but because of a lack of shelter space, the city has been spending millions of dollars every year to house the homeless in hotels, the New York Times reported.
Follow Megan on Facebook and Twitter
More from Money & Career Cheat Sheet: