10 Classic Irish Dishes You Need to Make This Week
Whether you're Irish by heritage or association, celebrating the culture always comes with a few certainties — including the excellent cuisine. There are many classic Irish dishes everyone can enjoy, and we're showcasing the recipes that will teach you how to make them. Whether you want to master your own brown bread, scones, or shepherd's pie, there's a recipe for you. Pour yourself some Guinness, and get to work.
1. Irish Brown Bread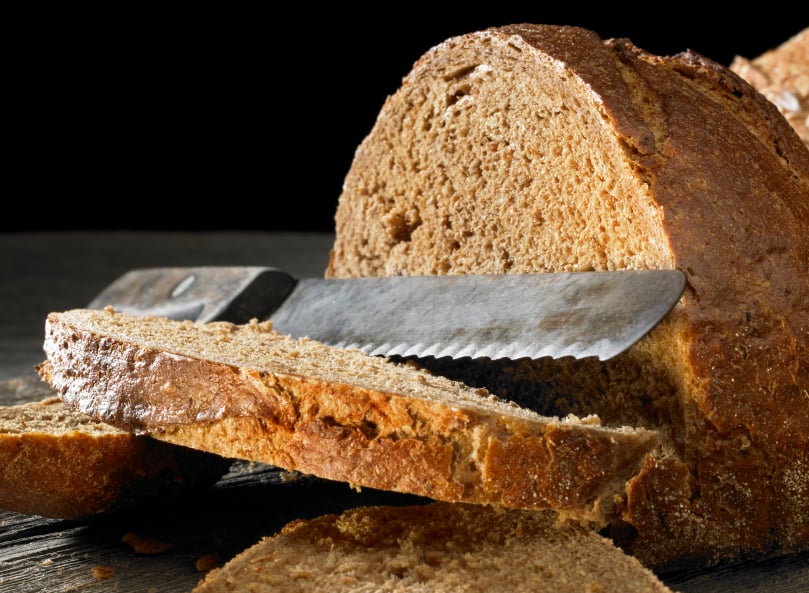 We're kicking things off with a recipe for a hearty Irish brown bread from Chowhound. This recipe requires no yeast, and it yields a mild, sturdy bread you can pair with any meal. You'll need only baking staples and 5 minutes of active preparation time. Pair your finished product with eggs, vegetable soup, or classic beefy Irish recipes. You'll easily bring Ireland to your own kitchen.
Ingredients:
2¼ cups whole-wheat flour
1¾ cups all-purpose flour, plus more for dusting
1½ teaspoons baking soda
1 teaspoon fine salt
2 cups well-shaken buttermilk
4 tablespoons unsalted butter (½ stick), melted
Directions: Heat the oven to 400 degrees Fahrenheit, and arrange a rack in the middle. Lightly dust a baking sheet with all-purpose flour; set aside.
Place both flours, baking soda, and salt in a large bowl and whisk to combine, breaking up any lumps. Add buttermilk and melted butter, and mix with your hands until almost all of the flour is moistened and the dough holds together, about 1 minute.
Lightly flour a clean work surface, and turn out the dough. Knead until it forms a fairly smooth ball with no visible pockets of flour, about 1 minute. Work the dough into a flat round about 7 inches in diameter and 2 inches thick. Place on the prepared baking sheet, and, using a sharp knife, slice an "X" across the top, edge to edge and about ½ inch deep.
Bake until the internal temperature registers 190 to 200 degrees Fahrenheit on an instant-read thermometer and the bread makes a hollow sound when tapped, about 35 to 40 minutes. Transfer to a wire rack, and cool completely before slicing, about 2 hours.
2. Irish Scones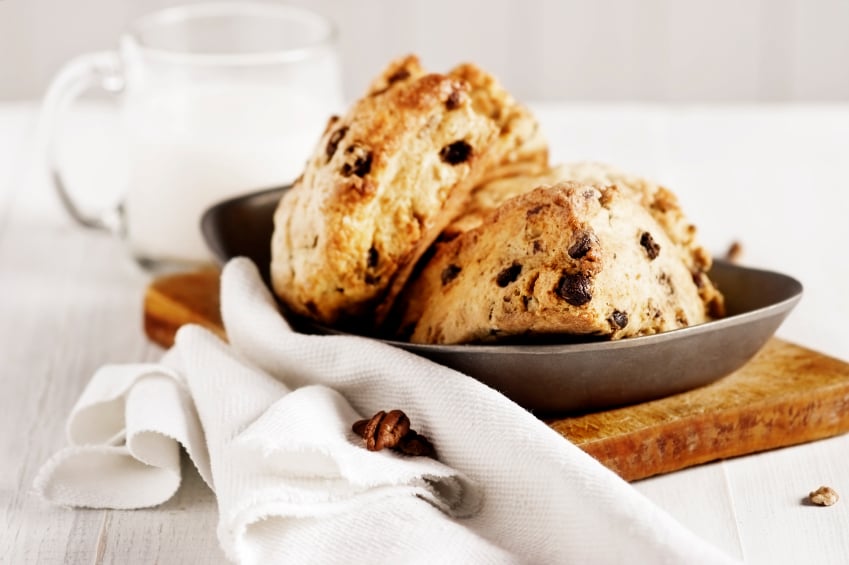 The Irish also appreciate their scones, especially when served with tea. After having one bite of a piping-hot scone slathered with butter, you will see why. The Irish like their scones biscuit-like, and that's the result you'll get when you make this recipe from The Kitchn. It makes 8 to 10 (1½-inch) scones that are perfect vehicles for butter, preserves, and whipped cream. They bake for only 15 minutes, and then they're ready to be served. When scones only require 5 ingredients and are served with cream and butter, there's no reason to resist.
Ingredients:
2 cups unbleached all-purpose flour
1 tablespoon baking powder
2 teaspoons granulated sugar
1 teaspoon fine salt
4 tablespoons unsalted butter, softened to room temperature
½ to ¾ cup milk, cream, or a combination
Directions: Preheat the oven to 400 degrees Fahrenheit. Place a baking sheet lined with parchment paper or a Silpat in the oven.
Sift together the flour, baking powder, sugar, and salt into a mixing bowl. Use your fingertips to work the butter into the dry ingredients until the mixture just holds together. Working the mixture as little as possible, add ½ cup milk, and mix until it forms into a soft, slightly sticky ball. Add more milk if needed to reach desired consistency.
Place the dough on a very lightly floured work surface. Using a floured rolling pin, gently roll the dough to a 1-inch thick slab. Slice the dough into triangles with a floured knife or bench scraper, or dip a biscuit cutter in flour and cut out the individual scones.
Remove the baking tray from the oven and arrange the scones on it. Bake 8 minutes, turn the scones over, and bake another 4 to 6 minutes, or until just barely brown.
Serve with butter, preserves, and freshly whipped cream.
3. Corned Beef Hash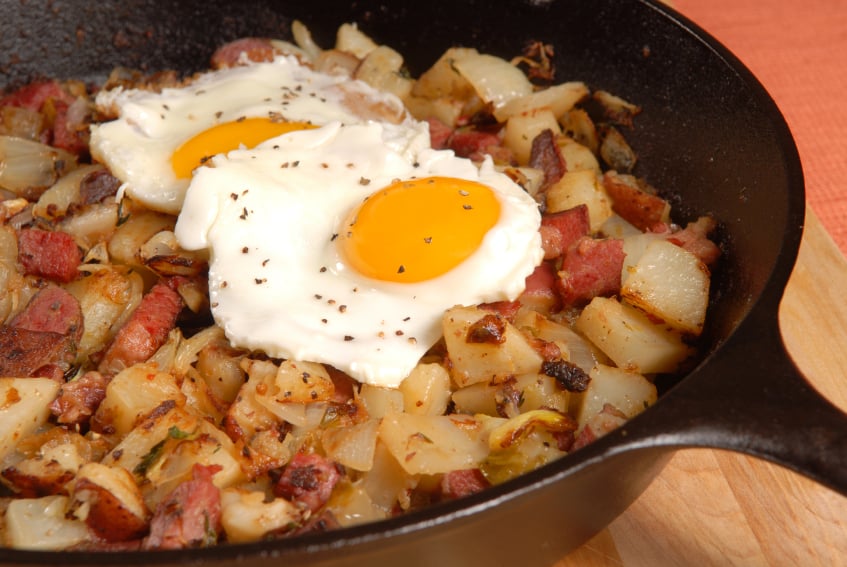 Corned beef hash is the perfect hangover cure, so drink your worries away on St. Patrick's Day, knowing this breakfast is waiting for you on March 18. A corned beef hash has shreds of corned beef, potatoes, and onions, simmered in broth before they're sautéed in rich Irish butter until the mixture is crisp around the edges. After that, top the hash with a poached egg, and then it's time to dig in. This recipe from Bon Appetit will allow you to make corned beef hash at home, and we promise it's so good and reviving that it'll make a lifelong St. Patrick's Day celebrator out of you.
Ingredients:
Corned beef:
2 pounds uncooked corned beef brisket (about 1 small), rinsed, trimmed if fatty, spice packet discarded if included
4 sprigs flat-leaf parsley
3 bay leaves, torn
1 tablespoon black peppercorns
1 tablespoon coriander seeds
1 tablespoon yellow mustard seeds
1 medium onion, peeled, halved through root
1 large russet potato, peeled, halved crosswise
Hash:
¼ cup chopped fresh flat-leaf parsley, plus more for serving
Kosher salt and freshly ground black pepper
4 tablespoons unsalted butter
1 teaspoon distilled white vinegar
4 large eggs
Chopped fresh chives (for serving)
Directions: For corned beef: Place corned beef in a large Dutch oven or other heavy pot, and add water to cover by 1 inch. Add parsley sprigs, bay leaves, peppercorns, coriander seeds, and mustard seeds. Bring to a boil; reduce heat, cover, and simmer, skimming surface often and adding more water to pot as needed to keep meat submerged, until corned beef is tender, 3½ to 4 hours.
Add onion and potato to corned beef in pot and cook until vegetables are very tender, 20 to 25 minutes. Remove onion and potato from pot. Let cool; wrap separately and chill. Let corned beef cool in cooking liquid. Transfer corned beef to an airtight container, and add as much cooking liquid as will fit. Cover and chill. Discard any remaining aromatics and cooking liquid.
For hash: Remove corned beef from cooking liquid, and shred enough to measure 2 cups.
Preheat oven to 200 degrees Fahrenheit. Thinly slice cooked onion and cut cooked potato into ½-inch pieces; toss in a large bowl with corned beef and ¼ cup parsley. Moisten with cooking liquid if mixture is dry; season with salt and pepper.
Heat 2 tablespoons butter in a medium nonstick skillet over medium heat. Add ½ of corned beef mixture and press into a pancake. Cook undisturbed until underside is brown and crisp, 6 to 8 minutes. Set a plate over pan and carefully invert pancake onto plate; slide back into pan, pressing back into shape if needed. Cook until second side is brown and crisp, 6 to 8 minutes. Transfer hash to a rimmed baking sheet, tent with foil, and keep warm in oven until ready to serve. Repeat with remaining butter and corned beef mixture.
Meanwhile, bring 2 inches of water to a boil in a large saucepan; reduce heat to a gentle simmer and add vinegar. Crack an egg into a small bowl and gently slide egg into water. Repeat with remaining eggs, waiting until whites are opaque before adding the next. Poach until whites are set and yolks are still runny, about 3 minutes. Using a slotted spoon, transfer eggs as they are done to paper towels.
Serve eggs over hash, seasoned with salt and pepper and topped with chives and more parsley.
4. Vegetarian Guinness Stew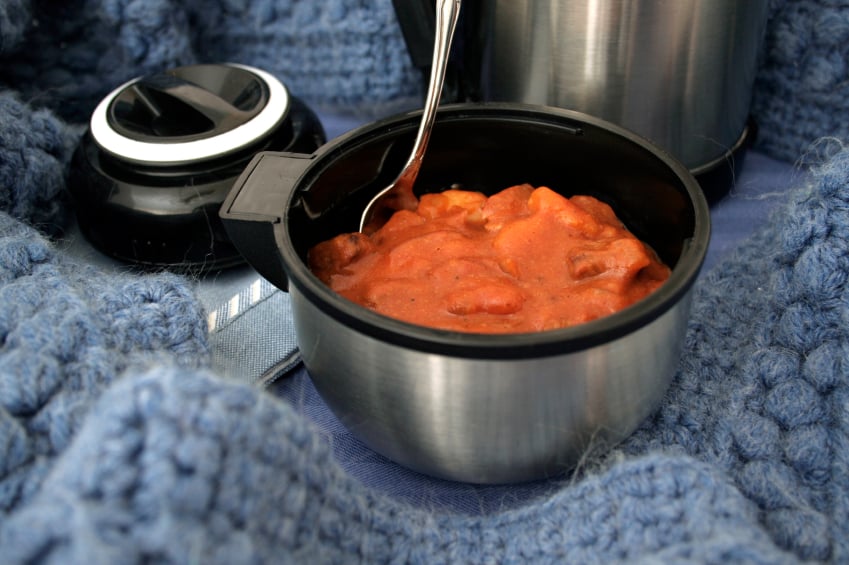 There's no doubt the Irish diet is full of meat and potatoes. But substitutions for vegetarians can easily be made, and this recipe from The Kitchn proves it. Both meat lovers and abstainers will try your vegetarian stew, thanks to Guinness' involvement. Along with the stout comes a hearty dish, filled with vegetables, potatoes, a thick broth, and the perfect amount of seasoning. The recipe serves 6 and comes together quickly. Enjoy the Guinness stew for your dinner on March 17, and toast to the Irish relatives you might not even have.
Ingredients:
1 tablespoon olive oil
3 celery stalks
3 small onions
1 pound button mushrooms, cleaned
3 pounds russet potatoes, peeled
3 large carrots, peeled
1 tablespoon flour
1 11.2-ounce bottle of Guinness
1 teaspoon mustard
1 tablespoon vegetable base
2 tablespoons tomato paste
1 bay leaf
1 teaspoon black pepper
1 teaspoon paprika
4 cups water
2 teaspoons sugar
1 teaspoon salt
Directions: Finely chop celery, 2 of the onions, and 4 mushrooms. Heat olive oil in a large soup pot, and add chopped vegetables. Cook until softened and beginning to brown, about 10 minutes.
Meanwhile, chop the remaining onion, potatoes, and carrots into large chunks. Set aside.
Add flour to the softened mixture, and stir to coat. Cook for 2 minutes. Pour in Guinness, and scrape up any browned bits from the bottom of the pan. Add the remaining ingredients, and bring to a boil. Reduce heat, and simmer uncovered until all vegetables are fork-tender, about 45 minutes.
5. Shepherd's Pie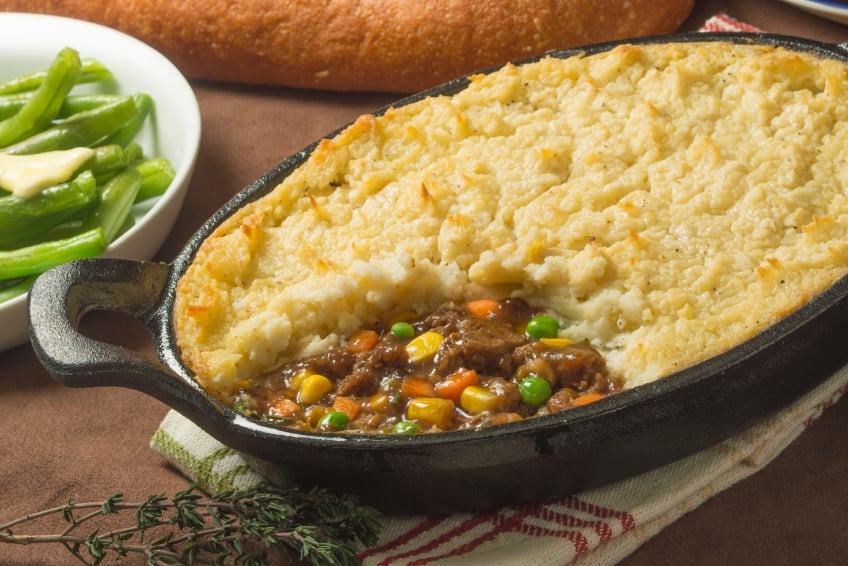 Back to the beef, we come to this shepherd's pie from Food Network. This one feeds a crowd, serving 8 people comfortably. Everyone will get their fill of the savory meat pie encrusted by mashed potatoes. Shepherd's pie isn't exactly a light dish, but it's quintessential stick-to-your-ribs food you can make at home to celebrate St. Patrick's Day. Dip into this homemade shepherd's pie, and relish the hearty combination of tender beef and potatoes.
Ingredients:
Potatoes:
1½ pounds russet ppotatoes
Meat filling:
Directions: Peel the potatoes and cut into ½-inch dice. Place in a medium saucepan, and cover with cold water. Set over high heat, cover, and bring to a boil. Once boiling, uncover, decrease the heat to maintain a simmer, and cook until tender and easily crushed with tongs, approximately 10 to 15 minutes. Place the half-and-half and butter into a microwave-safe container, and heat in the microwave until warmed through, about 35 seconds. Drain the potatoes in a colander, and then return to the saucepan. Mash the potatoes, and then add the half and half, butter, salt and pepper, and continue to mash until smooth. Stir in the yolk until well combined.
Preheat the oven to 400 degrees Fahrenheit.
While the potatoes are cooking, prepare the filling. Place the canola oil into a 12-inch saute pan, and set over medium-high heat. Once the oil shimmers, add the onion and carrots and saute just until they begin to take on color, approximately 3 to 4 minutes. Add the garlic, and stir to combine. Add the lamb, salt, and pepper, and cook until browned and cooked through, approximately 3 minutes. Sprinkle the meat with the flour, and toss to coat, continuing to cook for another minute. Add the tomato paste, chicken broth, Worcestershire, rosemary, thyme, and stir to combine. Bring to a boil, reduce the heat to low, cover, and simmer slowly 10 to 12 minutes or until the sauce is thickened slightly.
Add the corn and peas to the lamb mixture, and spread evenly into an 11-by-7-inch glass baking dish. Top with the mashed potatoes, starting around the edges to create a seal to prevent the mixture from bubbling up, and smooth with a rubber spatula. Place on a parchment lined half sheet pan on the middle rack of the oven, and bake for 25 minutes or just until the potatoes begin to brown. Remove to a cooling rack for at least 15 minutes before serving.
6. Salt and Vinegar Crispy Potatoes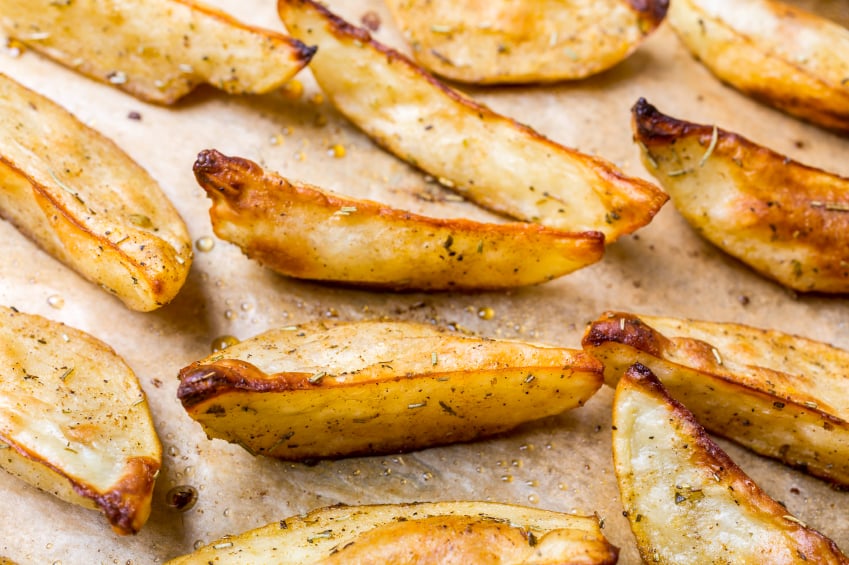 Potatoes are the Irish's specialty, and it's easy to eat like the Irish when that involves indulging in dishes, such as these salt and vinegar potatoes from The Kitchn. In Ireland, you'd enjoy these potatoes alongside fried fish or hearty beef, but you can make them at home and serve however you like. These potatoes are crispy on the outside and soft in the center. And they're naturally vegan and gluten-free, so everyone can enjoy them. The recipe feeds 6.
Ingredients:
2 pounds fingerling potatoes, cut in half
1 tablespoon kosher salt
1 cup distilled white vinegar
Water, enough to cover potatoes by an inch
2 tablespoons olive oil
Salt, to taste
Chives, for garnish
Directions: Add the halved potatoes, kosher salt, and vinegar to a large pot. Add enough water to cover the potatoes by an inch, and bring to a boil. Boil for 25 to 30 minutes or until fork-tender.
Drain potatoes. Pat them dry with paper towels or a clean dish cloth. Preheat the oven to 425 degrees Fahrenheit, and line a baking sheet with parchment paper.
Mix the potatoes with olive oil until generously coated. Evenly spread the potatoes out onto the prepared baking sheet. Bake for 25 minutes. After 25 minutes, broil the potatoes until crispy, stirring every 5 minutes to ensure that they don't burn. Allow them to crisp up to your liking — this might take anywhere from 5 to 15 minutes. Once they are crispy, remove them from the oven. Season with additional salt to taste. Sprinkle with chives.
7. Slow Cooker Corned Beef and Cabbage
Corned beef and cabbage is an Irish classic, and now you can make it in the slow cooker with this recipe from Martha Stewart. All you need to do is load celery, carrots, onions, potatoes, corned beef, and water into a slow cooker, and cook on high for a little over 4 hours. After that, arrange your cabbage over the corned beef, and continue cooking for 45 minutes. Then, it's time to dig into the nostalgic and quintessential St. Patrick's Day dish.
Ingredients:
2 celery stalks, cut into 3-inch pieces
3 carrots, cut into 3-inch pieces
1 small yellow onion, cut into 1-inch wedges (root end left intact)
½ pound small potatoes, halved if large
6 sprigs thyme
1 corned beef brisket (about 3 pounds), plus pickling spice packet or 1 tablespoon pickling spice
½ head savoy cabbage, cut into 1½-inch wedges
Grainy mustard, for serving
Directions: In a 5- to 6-quart slow cooker, place celery, carrots, onion, potatoes, and thyme. Place corned beef, fat side up, on top of vegetables, and sprinkle with pickling spice; add enough water to almost cover meat (4 to 6 cups). Cover and cook on high until corned beef is tender, 4¼ hours (or 8½ hours on low). Arrange cabbage over corned beef, cover, and continue cooking until cabbage is tender, 45 minutes (or 1½ hours on low). Thinly slice corned beef against the grain, and serve with vegetables, cooking liquid, and grainy mustard.
8. Colcannon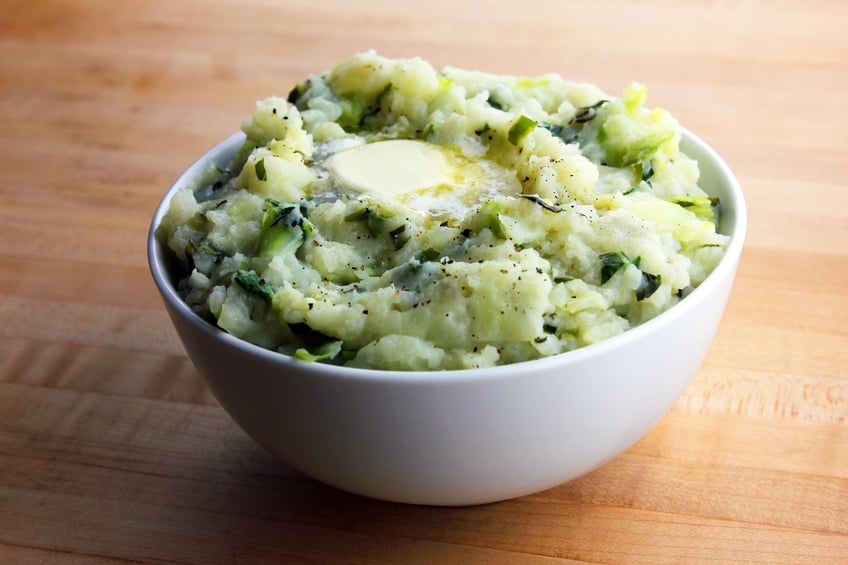 Next up is another potato side dish from Simply Recipes. It yields colcannon, the dish made of mashed potatoes, laced with kale and onions. Cream also makes an appearance. It is mixed into the potatoes, kale, and green onions until the colcannon is rich and creamy. Serve your potatoes hot with a generous patting of butter in the center.
Ingredients:
4 russet potatoes (2 to 2½ pounds), peeled and cut into large chunks
Salt
5 to 6 tablespoons unsalted butter (with more butter for serving)
3 lightly packed cups of chopped kale, cabbage, chard, or other leafy green
3 green onions (including the green onion greens), minced (about ½ cup)
1 cup milk or cream
Directions: Put the potatoes in a medium pot, and cover with cold water by at least an inch. Add 2 tablespoons of salt, and bring to a boil.
Boil until the potatoes are fork tender (15 to 20 minutes). Drain in a colander.
Return the pot to the stove, and set over medium-high heat. Melt the butter in the pot, and once it's hot, add the greens. Cook the greens for 3 to 4 minutes, or until they are wilted and have given off some of their water. Add the green onions, and cook 1 minute more. Pour in the milk or cream, mix well, and add the potatoes. Reduce the heat to medium.
Use a fork or potato masher and mash the potatoes, mixing them up with the greens. Add salt to taste and serve hot, with a knob of butter in the center.
9. Chocolate-Stout Brownies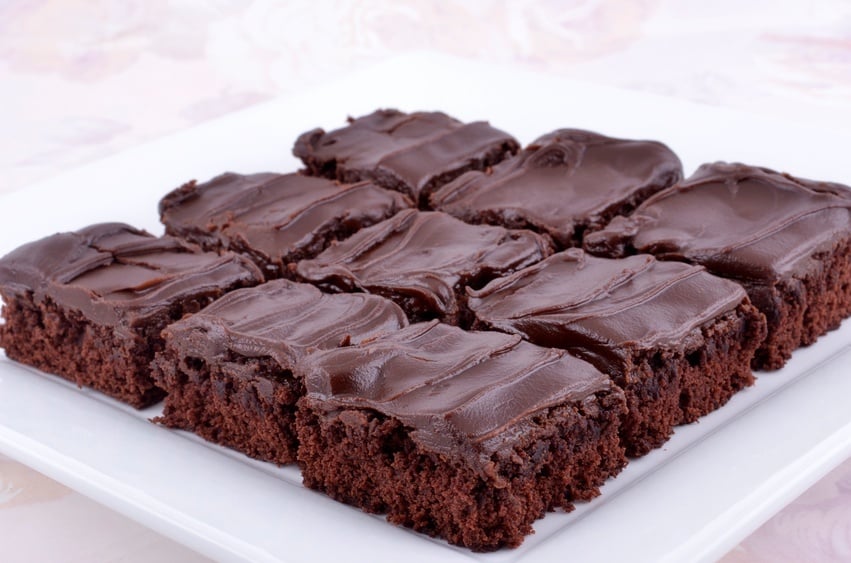 We're concluding things with two desserts you can enjoy on St. Patrick's Day. The first comes from Epicurious, and it yields chocolate-stout brownies. Guinness isn't only delicious to drink, it's good for baking, too. The stout brings out the chocolate flavor in these fudge brownies. And if you don't have Guinness on hand, you can use any stout of your choice. You'll get 16 servings of stout-chocolate brownies from this recipe, and it'll only take you 30 minutes. Stop drinking your Guinness, and instead measure out a cup of it to put into brownies.
Ingredients:
1 cup stout (such as Guinness)
16 ounces semisweet or bittersweet chocolate, chopped, divided
1 cup plus 2 tablespoons (2¼ sticks) unsalted butter
1½ cups sugar
3 large eggs
1 teaspoon vanilla extract
¾ cup all-purpose flour
1½ teaspoons kosher salt, divided
Directions: Preheat oven to 350 degrees Fahrenheit. Line a 9-by-9-by-2-inch metal baking pan with foil, leaving a 2-inch overhang. Bring stout to a boil in a medium saucepan; cook until reduced to ½ cup, about 12 minutes. Let cool. Reserve ¼ cup stout.
Stir 12 ounces chocolate and 1 cup butter in a medium metal bowl set over a saucepan of simmering water until melted and smooth. Whisk sugar, eggs, and vanilla in a large bowl to blend. Gradually whisk in chocolate mixture, then ¼ cup stout from pan. Fold in flour and 1¼ teaspoons salt. Pour batter into prepared pan.
Bake brownies until surface begins to crack and a tester inserted into center comes out with a few moist crumbs attached, 35 to 40 minutes. Transfer pan to a wire rack, and let cool for at least 20 minutes. Stir remaining 4 ounces chocolate in a medium metal bowl set over a saucepan of simmering water until melted and smooth. Add reserved ¼ cup reduced stout, remaining 2 tablespoons butter and ¼ teaspoon salt; whisk until well blended.
10. Chocolate Stout and Irish Cream Liqueur Cupcakes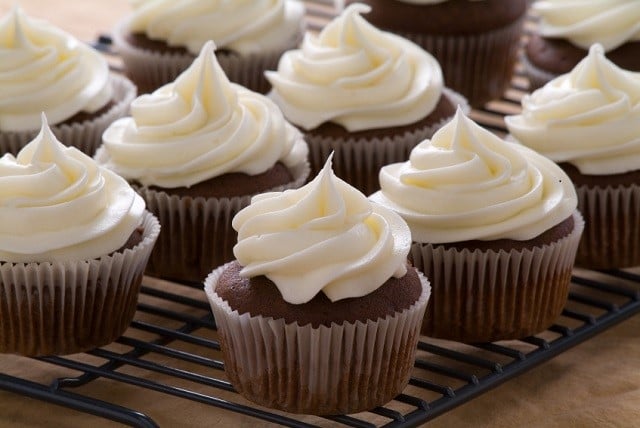 Last, but not least, are cupcakes from Food Network — chocolate stout and Irish cream liqueur cupcakes, to be exact. There's alcohol in the batter and frosting of this dessert, so you know it's perfect for St. Patrick's Day. As aforementioned with the brownies, the Guinness serves the same purpose in the cupcake base, bringing out the rich chocolate flavor. And Irish cream liqueur pairs with butter and confectioners' sugar for the frosting. Together, it's a match made in chocolate cupcake and liqueur-laced frosting heaven. And it's a delicious way to celebrate the Irish.
Ingredients:
1½ cups Irish stout
2½ teaspoons baking soda
Frosting:
4 tablespoons Irish cream liquor
Directions: Preheat the oven to 325 degrees Fahrenheit. Line a cupcake or muffin pan with 24 regular-size cupcake liners.
Place the stout and butter in a medium-size saucepan, and whisk together on medium heat until the butter is melted. Remove from the heat. Sift the cocoa powder into a medium-size bowl, and add the sugar. Slowly whisk into the stout mixture. In a small bowl, combine the sour cream, eggs, and vanilla and lightly whisk until smooth. Add this mixture to the saucepan and whisk thoroughly. Sift the flour and baking soda together in another small bowl, and then add it to the saucepan, mixing a final time until the color is even.
Fill the cupcake liners ¾ full with batter and bake until the cakes spring back after touching, about 27 minutes. Cool the cupcakes in their pan for 5 minutes before transferring to a cooling rack.
For Irish liqueur frosting: Cream the butter in the bowl of an electric stand mixer until pale. Turn the mixer to low speed and add the Irish liqueur in a steady stream. Slowly add the confectioners' sugar and continue beating until a creamy consistency is achieved.
To assemble: Pipe the frosting onto cooled cupcakes using a large plain tip. Dust with cocoa powder if preferred.